This is not the typical article you will expect on Monetize.info. Today we will talk about food, and most important how to make money by selling food to people. So go grab a snack or something before start reading because you will get hungry. 😉
Dreaming of having some passive income but don't have a business idea yet?
Do you have that strong desire to be an entrepreneur?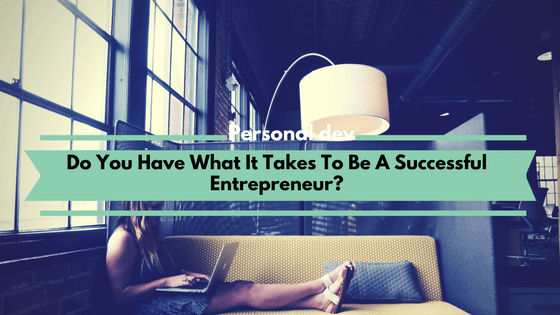 Today, nearly everyone has a side business. Well, if you have already saved up enough capital, there isn't a better time to start than now. If you're still struggling with that business idea, then you may want to think about a franchise investment.
Food businesses indeed continue to reign in the realm of franchising as one of the oldest, largest, and most popular franchise. To illustrate, McDonald's, Subway, KFS, Burger King, and Pizza Hut are the top five franchises around the world as of November 2018.
Food franchise investments can range from thousands to hundreds of dollars. For a few thousand dollars, you can already own your own food franchise. Here's a rundown of the best affordable burger franchises to own under $50,000.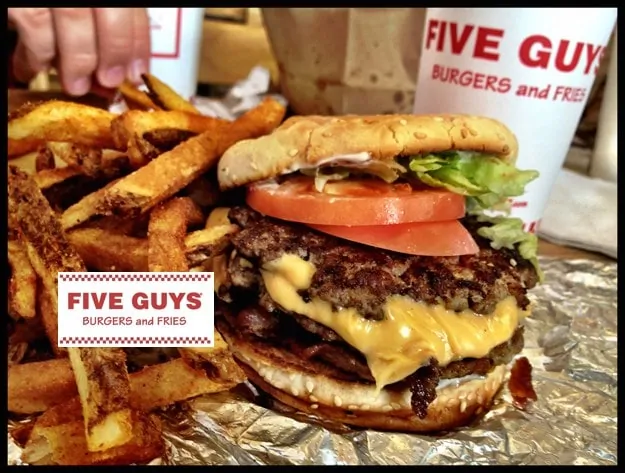 Five Guys Burgers and Fries
Named after the number of men in the founding family, Five Guys has become one of the most prominent burger joints in the country.
This burger joint started with a quaint restaurant in Arlington, VA, in 1986.
Owned by the Murrells, the business expanded and opened five new restaurants in 2001. In the next ten years, the restaurant grew exponentially and opened over 400 branches. Every day, its restaurants are filled with people munching on Five Guys' grease-stained brown paper bags.
Five Guys was able to win over customers again and again with its 250,000 different toppings combinations to decorate its burgers like it's art, which is beautiful. Their toppings include mayo, mustard, ketchup, lettuce, pickle, tomato, onion, pepper, grilled jalapenos, and grilled mushrooms, to name a few.
Every burger is 80% lean beef cooked well done. This restaurant offers not only burgers but also hot dogs and grilled cheese sandwiches.
Franchise details:
Franchise fee: $25,000
Royalty fee: 6%–8% of gross monthly income
Marketing fee and advertising fee: 3% of gross monthly income
Website: 
www.fiveguys.com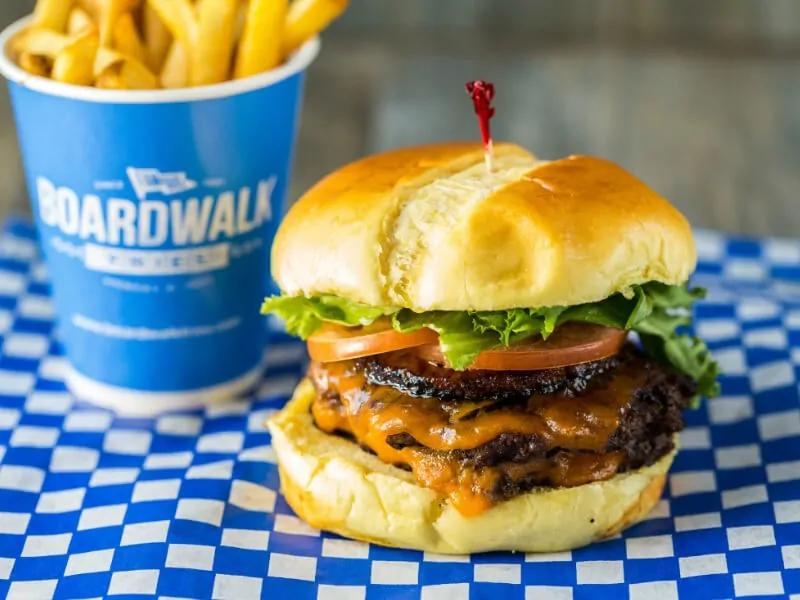 Boardwalk Fresh Burgers & Fries
In 1981, Boardwalk Fresh Burgers & Fries was born along Maryland's Ocean City Boardwalk, creating the famous pairing of juicy burgers and crispy fries. Right now, it has over 16 branches all over the United States. They continue to impress customers with Boardwalk-style fries and burgers coupled with American, cheddar, blue, or Swiss cheese in addition to vegetables and wheat bread.
Their fries are usually covered in vinegar and Old Bay seasoning and cut fresh each morning. Along with fries, the joint also offers chicken, veggie burgers, funnel cake fries, salads, and premium shakes. It also does its part for the community by providing 20% discount to all members of military families and raising money for programs that build freshwater boreholes in African villages.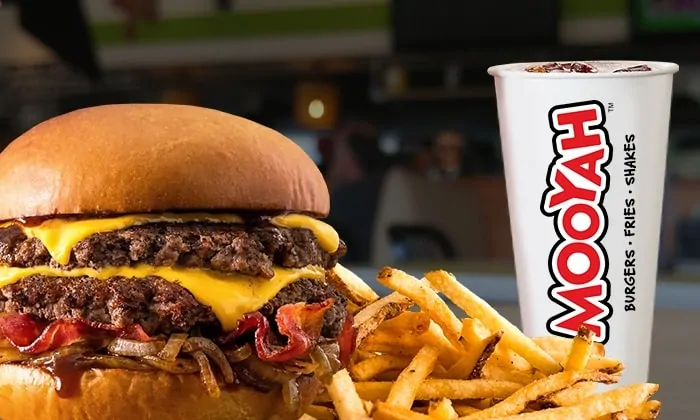 Mooyah
Unlike other burger joints, Mooyah offers a unique burst of flavor and taste to the palate. Its menu includes turkey burgers, hot dogs, grilled cheese, veggie burgers, and shakes made from just ice cream. Mooyah takes pride in exuding a youthful and fun atmosphere – living up to its name Mooyah, which came from "booyah," an expression coined by Stuart Scott. Now, Mooyah has over 85 branches.
Being on top of the no-carbs trend, Mooyah has an option to wrap its burgers in iceberg lettuce instead of sitting between two bun halves. White whole-wheat buns are also available for those who prefer a different bread. For toppings, the choices are bacon, avocado, American cheese, cheddar cheese, and Swiss cheese. To avoid lines, Mooyah provides options to preorder online, by phone, and even by fax.
Franchise details:
Franchise fee:
$30,000
Required restaurant size:
1,800–2,400 square feet
Website:
www.mooyahfranchise.com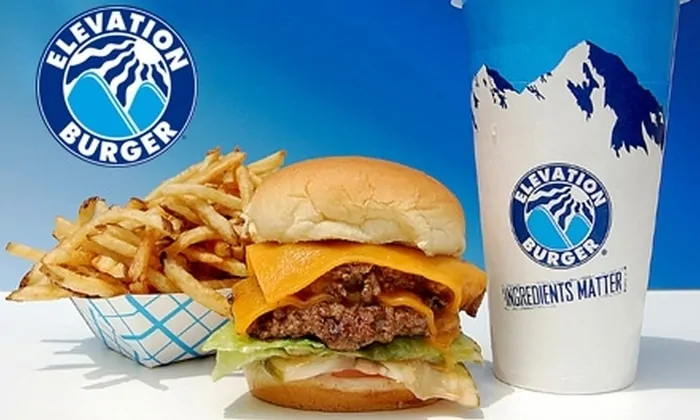 Elevation Burger
Fresh off the boat and out of the ordinary, Elevation Burger leaves a breath of cleaner air for an industry dominated by grease by serving free-range, certified organic lean beef. Elevation Burger only gets beef from grass-fed cows.
So that you know, the meat usually used in restaurants came from cows fed with grains. However, the cow's digestive system isn't fully equipped to process grains, which results in a weakened immune system. Grain-fed cows are dosed with antibiotics to reduce the chances of getting sick.
For grass-fed cows, there is zero intake of antibiotics. Moreover, grass-fed beef has a significantly lower saturated fat with higher omega 3 fatty acids than its grain-fed counterpart.
This burger joint's menu also includes veggie burgers, malts, freshly baked cookies, and hand-scooped ice cream shakes.
Driven by its mission to offer good, organic food, Elevation Burger started its franchise venture in 2008. Currently, there are over 35 Elevation Burger branches. These branches can be found in Florida, New York, Maryland, New Jersey, Virginia, and Pennsylvania.
Franchise details:
Franchise fee: $35,000
Royalty fee: 6% of gross sales
Marketing and advertising fee: 2% of gross sales
Website:
elevationburger.com/franchise
Conclusion
Knowing the most affordable burger franchise offerings below $50,000 is just your starting point to establishing a business. Keep in mind that franchises also come with their own risks.
So, before jumping into any business venture, do your research about franchise business at franchiseknowhow.com to learn more. Don't forget to review each and every legal document, consult with law offices, and talk with an accountant.
Choose stable franchise companies that have been in the business for years and can help you with training, branding, and marketing, giving you your best chance of success.