Hey, shopping lovers! To celebrate 2020's BlackFriday and CyberMonday, we are offering a whopping 35% discount on reviews and sponsored posts here on Monetize.info.
The offer is valid from 27th November to 3rd December inclusive.
The great news is that you can purchase them now and use them when you want.
..:: 1 Get a Review of your Business on Monetize.info – $239 instead of $299
Having a review of your Business here on Monetize.info comes with awesome benefits:
I write and publish a 2000 words professional review of your business.
The review will rank well in Google and bring new traffic to you.
You will get traffic and sales from our audience (140K every year)
You will get a strong backlink from us for years to come.
If you have a coupon, we will add it for free in our Deals section.
We will mention the review in a weekly newsletter (20K subscribers)


Examples of reviews we published:
I review businesses and products in like affiliate marketing, e-Commerce, Financial, etc. With 12 years of experience in these niches you could be assured the review is going to be compressive and put your product in good lightening.
..:: 2 Get a lifetime native article on Monetize.info – $169 instead of $249
If you understand the power of content marketing and want to spread the word about your company and your products or services, then buy a native article on Monetize.info. In a nutshell, these are powerful articles that showcase your company and your services to our 140K yearly audience for the lifetime. It will match our content plan, will be published on Monetize.info, SEOized and promoted to our audience.  Here are the details.
This Black Friday and Cyber Monday you can get 1500 words article published for $169 instead of $249.


Please keep in mind that these deals are secured only if are paid till December 3, 2020 at midnight. After that this discount is gone, till next BlackFriday and Cyber Monday (ie. for a year).
..:: 3 Companies we helped already
In a little over 3 years, we helped more than 50 companies to amplify their reach through content marketing, SEO and online advertising. Here are several of them:







Our reviews:

Below you can see several reviews our customers wrote for us. Check the entire list on Trustpilot (97% out of 100 from 32 reviews).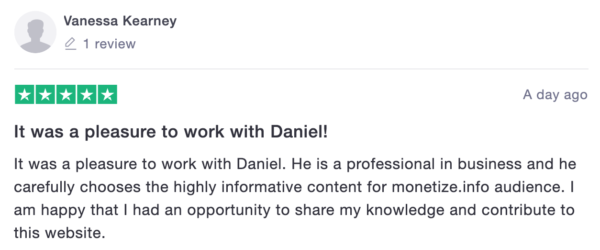 ..:: 4 Let's talk about your project
If you need help please contact us using the contact form or simply email us at contact(@)monetize.info (remove the brackets).
We'll be glad to guide you on every step making sure everything works for you as expected.
Tell us more about how we can help and will get back to you in max 48h.
Happy BlackFriday and Cyber Monday Folks!