Bulk text messaging brings impressive results to businesses that use the marketing tool properly. When you boost your business' communication and marketing with bulk text messaging, you get processes that are automated and simplified.
With their consent, customers are added to your subscribers' list. For sure, they'll be looking forward to being updated with all your latest business offers and promotions.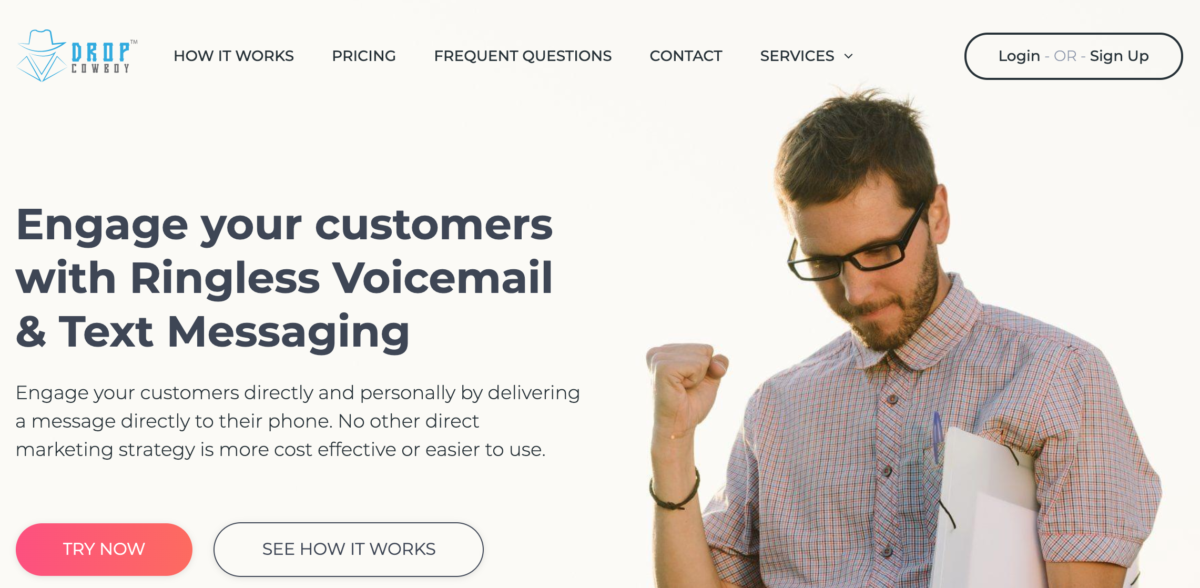 Moreover, by using bulk texting services like Drop Cowboy, your customers will be well-informed about any privileges they may be entitled to. This service may also be of use in collecting customers' feedbacks and reviews about your products and services.
Bulk texting offers a more personalized and conversational way of communicating with customers. It's akin to giving a direct message to customers through mobile phones. Besides, bulk text messages can save you money.
Read on if you want to learn how to bulk text messaging can help your business to save money.
#1. What Is Bulk Text Messaging?
Even if you're not familiar with bulk text messaging platforms, you may have heard of terms like bulk texting, mass SMS (short messaging services), or business SMS solutions.
All these terms basically refer to bulk text messaging. Texting many recipients with one click or tap is such a relief for those who are not so fond of typing repeatedly.
Bulk text messaging service is an application or tool that sends a large number of text messages to multiple recipients at the same time.
Businesses and other institutions can send mass messages through various platforms. These platforms can be mobile phone applications, web software, and integrated API SMS within websites.
#2. Where Is Bulk Text Messaging Used?
Bulk text messaging can be used for multiple purposes, motives, or goals. Read on to get a better idea about how bulk text messaging can help in business marketing.
2.1 Updates About Urgent Orders Or Events
Having several clients interested in your products or services adds to the challenge of communicating efficiently and effectively. By using bulk text messaging, you may instantly announce any urgent changes, last-minute cancellations, important information, or announcements.
Bulk text messaging is like having real-time conversations with your clients as compared to email or other slower communication methods.
2.2 Short-term Promos And Special Offers For Retail Or E-Commerce Businesses
Discount coupons and special offers are excellent baits to keep more people visiting your store or online pages. If you're promoting limited-time sales and discounts, you may need many people to know and hear about your promotions quickly.
Bulk text messaging is a good tool to present these offers, especially when you want your customers to learn about it while they're away or travelling. That way, you can ensure they'll not miss out on the sale because of delayed communication.
2.3 Internal Communication
Sometimes it can be very hard to pass urgent information to your employees on time. This problem is particularly relevant if you have numerous employees who are located in different places.
You can send emails to them but they may take time more to reach, especially in remote locations. Moreover, employees don't check their emails after office hours. Bulk text messaging is the best way to be sure that everyone receives your instructions and information on time.
2.4 Appointment Setting And Reminders
Business meetings are mostly scheduled by appointments. Business owners often feel frustrated when clients forget the scheduled appointment or show up late.
This leads to wastage of time and resources. You may have turned down other appointments because of that failed appointment. Reminding clients by texting is a personal and thoughtful way of making sure that people don't take the scheduled meetings lightly or forget about them.
#3. Can Bulk Text Messaging Help Save Money?
As mentioned earlier, using bulk text messaging can cut costs for your business. Some of the ways in which bulk texting can save you money are discussed below.
3.1 No Need To Seek Services From Marketing Agencies
Communicating effectively via text messages can be in the form of service-related texts, promotions, special offers, latest news-related texts, reminders texts, etc.
Text messages are digital information. They can be analyzed in detail based on various metrics. All text messages sent to clients can be tracked, measured, stored, and analyzed. The insights obtained can help you tailor your marketing strategy to improve its effectiveness.
To top all that, such insights are available in an instant. This helps your marketing strategists to know what to work with and modify the strategies that don't work. It also allows the polishing of the messages to get more sales and generate greater returns.
Relative to other marketing presentations and visuals, like banners, TV paid ads, or leaflets, bulk text messaging is an easy to use tool that is handy and saves time and money.
3.2 Easy To Create And Instant Delivery
Creating and delivering a hundred characters to multiple receivers is a fairly fast and easy operation. It saves companies time and resources. Also, the applications used to send bulk messages are incredibly easy to use, allowing you to create contact lists and send texts in seconds.
If you want to learn more about how to create bulk text messaging campaigns, you can check on the step by step guide:
3.3 Delivers A Specific And Targeted Message
Many forms of advertising lead to wastage of both time and money. Such advertising is not well-targeted on the right people or markets. Bulk text messaging doesn't waste resources because texts can be sent specifically to the desired audience. In fact, because of its targeted nature, SMS marketing strategies are in demand. Proper targeting of marketing messages helps you save precious time and resources.
3.4 Works Better Compared To Emails
Text messages get opened more often than electronic mails. Plus, you may be sending emails to customers who have already marked your email address as junk or spam. In the case of text messages, if the messages aren't sent, you'll get a notification accordingly.
However, one must not underestimate the power of emails. They have an important place in marketing and are highly useful when it comes to dealing with customer complaints and increasing sales.
3.5 Fewer Barriers
Unlike email and social media, bulk texting can't be lost by filters. It ensures that practically everyone with a phone number can be reached. This makes the method time and cost-efficient.
However, some rules need to be followed. Senders must be acquainted with the key aspects of the SPAM Act when undertaking a bulk SMS campaign. Indiscriminate text messaging may damage your business reputation and get you in legal trouble.
#4. Cutting Costs By Reducing Repeated Processes
Text messages help you avoid wasting time in contacting customers to update schedules. The clients may miss the message if they're not at home or office. Your employees may have to make numerous calls before being able to contact the customer.
Using a business bulk text messaging service will save you a lot of time as customer responses show up much quicker after delivery. It's because the clients are more familiar with SMS and they can respond quickly anytime and anywhere. This service removes the bottleneck that exists if your customers aren't digitally skilled. It also lowers the number of failed appointments.
4.1 Accurate
Bulk text messaging saves money for your business because you can accurately target prospects, thereby minimizing wasted resources and time. You can communicate what you want and schedule reminders based on your requirements. You can also time your messages perfectly by using bulk texting applications.
4.2 Adds Some Personal Touch
SMS is a unique message since it's delivered directly to each client's phone. Cell phones are personal devices, which means that people may see and reply to the messages quickly. You can send personalized messages to each client based on what you want to communicate or sell. Tailored messages can be more eye-catching and result in the desired response.
4.3 Promotion Through Networks
Most business owners are primarily concerned about attracting clients to their businesses. You can use various marketing strategies for getting more customers. So, if you want your business to be well-known, you can't stick at just one promotional style. But how can you make the customers aware of your existence using different media platforms? Apart from emails and social media, text messages can help you increase your business outreach.
Potential clients today can be persuaded to use your products or services by sending text messages. If you having the mobile number of a client, they can be more open to your requests because they may have given their numbers to you voluntarily.
4.4 Trackable And Provide Useful Analytics
Text messages are easy to track. Most service providers offer distribution updates that can be a valuable source for checking the efficiency and effectiveness of your SMS delivery system.
Moreover, such information can be analyzed to modify or create marketing strategies.
4.5 Cheaper
In comparison to TV ads and printing costs, bulk text messaging is much cheaper. Text messages are charged in cents. Therefore, not only is this approach more cost-effective but it provides a greater return on investment. This implies that a company may meet millions of potential clients easily, even with a limited budget.
4.6 Easy Opt-in
Unlike many forms of communication, customers need not provide a lot of information to register for the latest updates via text messages. They just need to provide their mobile number to begin receiving your company's text messages.
Such clients may choose to be members of your SMS subscription network.
4.7 Doesn't Need The Internet
Another way how to bulk text messaging helps save money is that it doesn't require internet access. So, sending thousands of text messages doesn't increase internet connection bills.
The tool is also the best way to reduce the costs borne by consumers while keeping them updated or engaging with the brand.
#5. How To Take Advantage Of Bulk Text Messaging Systems?
No matter what sort of company you have, text messaging can provide a boost to your digital promotion efforts.
Moreover, there are marketing strategies for certain businesses that can't operate well without using bulk text messaging. Some examples are given below.
5.1 Large Companies With Over Hundreds Of Workers
Internal communication is important for all companies. However, it's more difficult to connect with a large number of employees. Emails are too slow for sharing urgent updates. The easiest way to ensure everyone receives the important details is to use SMS. Text messages are particularly important for companies with employees located in numerous locations.
5.2 Travel Agencies
Travel-related businesses need bulk text messaging because they have clients that need data in real-time. Their clients need to know about flight timings, delayed flights, sudden cancellations, weather updates, and many other issues. With bulk text messaging, you can inform clients about important changes without worrying about whether they'll be informed on time or not.
5.3 E-commerce Stores
Bulk text messaging is important for e-commerce stores because they can communicate with the entire supply chain in real-time. Thus, if you own an online store, you must use bulk text messaging to streamline your business processes.
5.4 Service Companies Which Demand Appointment Schedules
Make sure your customers don't skip out on scheduled meetings by giving them SMS reminders. Customers can respond to confirm whether or not they'll be able to attend the meeting. That'll save you lots of time and resources.
A Business-friendly Note
An effective bulk text messaging system can help your business marketing efforts. Automated text messages are good but you must support your bulk text messaging campaigns with quick feedback mechanisms.
It'll please your clients when you respond to their replies promptly. Just show them that there are actual representatives available to take care of their concerns.
While others are spending thousands of dollars paying high-end marketing firms, you can get similar results by spending a fraction of that amount.
So, bulk text messaging will help you achieve your marketing goals and save money. Remember the points discussed above to appreciate how bulk text messaging can help your business to save money.