ClickCease is offering software that stops fake clicks on websites PPC ads.
What If you knew that 15% of your Google Ads budget was being wasted due to competitor clicks, or that an additional 5% was going to waste by bot farms on the other side of the world, wouldn't you want more control?
What is there to do if 1 in 4 clicks on your campaign are fraudulent? ClickCease provides you with the possibility to finally take back this control. It's time you start protecting your Ad campaign to maximize your marketing dollars.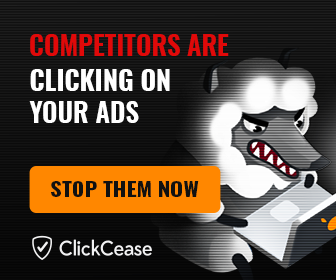 ClickCease will give you the power to control your PPC budget by preventing click fraud and in turn, optimize your campaigns in order to increase your ROI.
Take back the control and:
Decide how many times a person can click on your Ad
Detect bots and block them instantly
Make strategic decisions based off accurate and informative data
Set customized security settings
Use our industry recommendations to stay fully protected
Start a free ClickCease trial today to get the full experience and understand what it means to be in control of your Google Ads account.