Save Yourself 20% When Purchasing Links Through LinksThatRank.
What is LinksThatRank?
Let's face it working with link building services is frustrating. That was the main reason why Matthew Woodward started a quality-focused link-building service – LinksThatRank. Instead of focusing on quantity and cheap links, he offers a premium service at an affordable price.
Links That Rank is also reviewed by ass in our top Link building services for 2022 and beyond.
You will get backlinks from sites that have an audience, get traffic, do not have a "write for us page," and most importantly, these sites are not guest post farms. Besides that, the content is top-notch, 1000+ words.
The bottom line is having this kind of link will help you rank, and you will not have to stay with your fingers crossed at every Google algorithm update.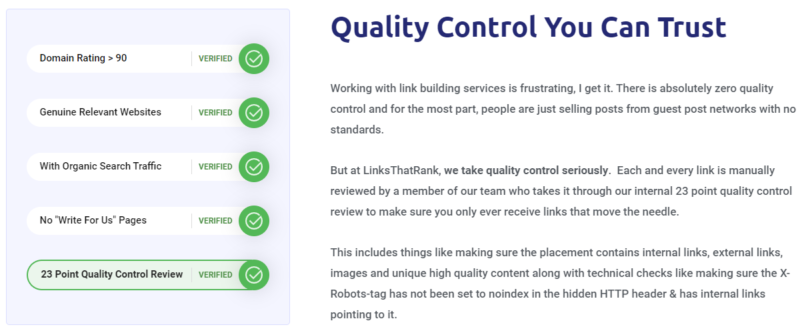 LinksThatRank Prices
A quality DR 20-34 link placement will cost you $142. If you want placement on a DR 35 – 49, it costs $198, while a DR 50 – 80 is $262. I don't know if these prices are high or low for you. I find them very good, considering the quality of backlinks.
Instead of getting five cheap links on public, spammed, or PBN sites, you should invest in a quality backlink that will bring you SERP improvements and traffic.
LinksThatRank BlackFriday 2021 Offer
This BlackFriday, you automatically get a 20% discount on every order from LinksThatRank.
Get 20% off all links ordered through LinksThatRank, including complete quality control.
Free anchor text analysis with any links ordered to ensure maximum link power
Bonus: Receive a free link-building swag box after purchasing links during the Black Friday sale.
The deal expires on November 30th, 2021.