Who else wants to get SEMrush 14 day PRO account for free? In a hurry? Then activate the Semrush exclusive deal by following this link.
What is Semrush?
Most probably, you already know what Semrush is, but just in case, you make now your first steps in the digital world. Here you go:
Semrush started in 2008 as a set of SEO tools with only a couple of users, but now it's even more than that. Twelve years later, it evolved into a powerful platform that helps marketers worldwide grow their online visibility.
Today, Semrush has over 50 SEO, content marketing, advertising, social media, digital PR, and competitor research tools. There are tools for Traffic estimation for competitors (more on this later), Website Audit, Outreach Tool, Backlinks Monitor, Keyword discovery, PPC keywords tool, Advertising Research (what ads your competitors are running), Brand Monitoring, Product Listing Ads, SEO Writing Assistant, Social Media Tracker, Social Media Poster, etc.

Want to know more about Semrush? Check our Semrush review.
#2. SEMrush Plans and Pricing
Semrush offers multiple plans for the different use cases, and you could pick the one you would like to get started with.
Pro plan – $99,95/mo
Guru plan – $199,95/mo
Business plan – $$399,95/mo
Enterprise plan – Custom pricing
On top of that, if you need Traffic Analytics (the tool I described at point 1.2 of this review), you should add $200 as this is now a part of a separate Competitive Insights add-on purchased separately.
Check here a full feature comparison done by Semrush. I suggest you look closely at the features and decide what you need and what you don't. Also, keep in mind that you can upgrade or downgrade anytime you want.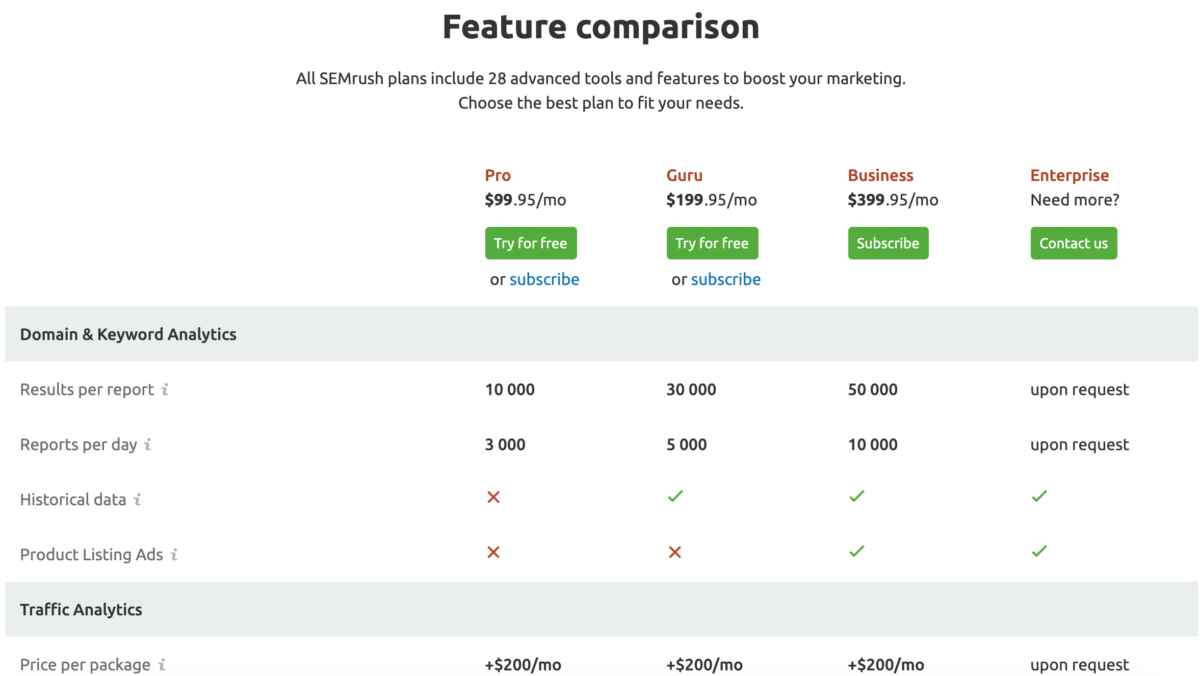 Their GURU plan is the most popular one, according to Semrush, is used by 64% of their paid users. I go with the GURU plan, but If I were on a tight budget or just started, I would go with the PRO plan.
Let's continue our Semrush review with the PROs and CONs of this digital marketing suite.
#3. Semrush PROs and CONs
I'm using SEMrush for over 7 years already, and I have to tell you it's one of my favourite tools.
Semrush PROs:
It offers over 50 tools to help you track and optimize various your business and website.
It's a complete suite, so you can do the tasks you need in a unique dashboard without moving data.
It has an academy with courses and exams that come with certifications.
Semrush releases almost daily blog posts, webinars, or ebooks.
Semrush CONs:
Sometimes the data isn't really accurate as it differs from comparable tools and even from Google and Bing keyword planners.
It takes a learning curve to use it at its maximum capacity.
Some customers complain that it's too complex and the interface is not so easy to use.
Considering all these, I find Semrush is a powerful SEO suite worth the money you pay for if you're using it regularly.
Semrush Free Account Deal
In general, SEMrush offers 7 days free trial to their users, but on this page, you'll find a special promo that gives you 14 days free SEMrush PRO plan.
The SEMrush PRO plan is priced at $99/mo. Check our SEMrush review and tutorials.

This is exclusively for Monetize.info readers, so use it before the limited period offer expires.