ROI is the finest and most reliable yardstick to measure the growth of any company. Surely none will disagree with me on this fact!
If you are one of the ROI focused business owners then surely you are looking for the most effective marketing strategy to expand your business, improve branding, make more sales and grow your business in terms of revenue.
According to many online research and studies conducted by top-notch organizations found that Email marketing gives return of $40+ for the investment of every single dollar and that's hopping 4,000% ROI.
On top of that, According to a recent market research. Email marketing became the most effective digital marketing channel overtaking all the major channels like Google Ads PPC, Social media marketing, SEO etc.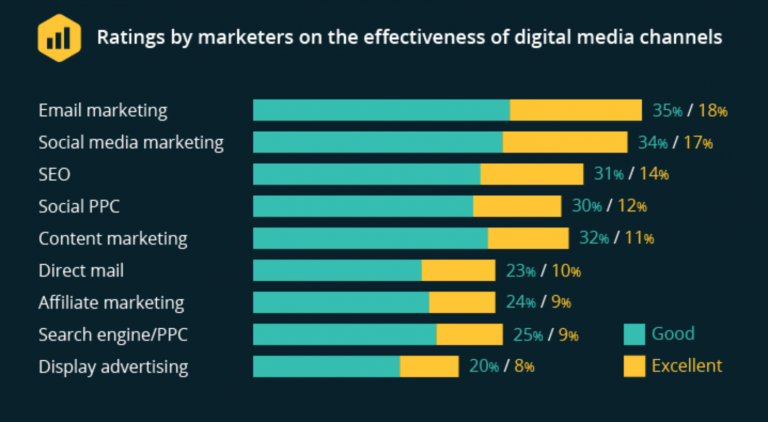 Hence, there shouldn't be any doubt that Email marketing is what you should be focusing on and spending more money for the maximum return and growth of your business.
In this post, I will be sharing some brilliant strategies to make your email marketing more effective and get your ROI faster than ever.
Let's dive into the core strategies rather than reinventing the wheel again.
1. Perfect Timing Is A MUST
No matter from which country your most of the subscribers are or in what niche you are, timing is the most valuable factor when it comes to email marketing.
You can get 40% open rate or 5% open rate for the same Email subject just because of timing. Usually, morning (7:00 AM-10:00 AM) is the best time to shoot your Emails, but make sure it's the local time of your subscribers, not yours.
Again in some cases, the afternoon can be the sweet spot to send your Emails because most of the offer employees check their Email right after having their lunch.
Apart from time, you need to choose the perfect day and according to the majority of the research, Monday and Tuesday are two perfect days to blast your subscribers' inbox for maximum response.
2. Email Subjects Are Game-Changers
What we usually look for while opening an Email?
Surely it's Email subject line or header. If it says "Congrats you got 3 sales" we become excited and open the Email. On the other hand, if it says "Warning: Someone tried to login into your account" we become worried and still open the Email.
You see, how our emotion is connected to the Subject line of Email and how it forces us to open the Email?
That's why Subject line is the biggest game-changer in the Email marketing world. There are thousands of Email subject variations for each industry, I am just giving you some most popular and effective subject line writing techniques that works in all the industries under the sun.
Keep you subject line short to get the best result with less work.
Include action or Emotional words to make your subscriber open the Email instantly.
Be friendly and personal on the subject line.
Use emoji for certain period of time and topic based on the event.
Create urgency by setting time or mentioning recent event
3. Start Automation
Surely it's almost impossible to run any kind of online campaign without automation. Email marketing automation can be considered the best invention for which some people can enjoy a constant profit stream on Auto-pilot.
If you already heard the term Auto-pilot and was confused about it then listen automation of Email marketing is widely known as Auto-pilot because one can design and set up the whole funnel and Email marketing tool will handle the rest for the ultimate growth of the business. Check out this video of SendPulse automation to get a clear perception of how Email automation works.
Automation can turn an unknown person into a buyer and a buyer into a brand lover.
4. Tell A Story
A story is what people would love to see and hear. A good story can make a movie award winner, a heart touching story can make a blog post go viral over the web, a meaning full story can make a video game earn Billions of dollar.
You see, the story is what people are obsessed with and that's what you need to focus on to get maximum response from your Email list.
Share the story of your company that how you guys are working hard to make the perfect product, share the story of your satisfied customers, share the story of changed life due to your product or service and so on. Instead of just sending a bunch of offers, sometimes an Email with a great story can bring in 100K+ USD revenue in sales.
5. Send Sequential Emails
Have you heard of Game of Thrones, Friends, Big Bang Theory, Silicon Valley, Sherlock holmes etc.? Hope you did, at least heard of "Game of Thrones" which is world's most successful TV series right now.
Millions of people do wait for years after years for the next season of these TV series and that's what give the producer a golden opportunity to make money constantly.
You can also do the same with Email marketing. Create sequential Email of tutorials, daily problems that your consumers may face, tips and tricks etc. that will make your subscribers crave to open the next mail from you.
Creating sequential Email may not be as easy as some people think because in such case your one Email needs to create burning interest of your subscribers for the next one.
6. Don't Burn Them Out
Yesterday I unsubscribed from 5 Email lists of the companies that I like. Not joking, it's true! I did that just because I am sick of getting 2-3 mails (at least one per day) every single day from each of them.
How frequently you send Emails to your subscribers has big impact on how your ROI will be and your brand's image will stand before them. In some cases sending Email every day is fine but in some cases it must be one per week.
So, depending on your industry make sure you are not sending excess mails to your subscribers and pissing them off. However, 2-3 mails per week can be a sweet spot from my point of view or you can also maintain separate list for daily, weekly and monthly mail because people do have different taste and mindset.
7. Play By The Rules
As you can see Email marketing is one of the major marketing trends of all time and people are bomber-ed with mails from thousands of companies, blogs and organizations every single day.
Due to such an increase in Email marketing activities Google, Yahoo, Hotmail and other email clients are becoming very strict about incoming Emails. Thus, sending your Email to user's inbox (instead of spam box) became a big challenge.
You can simply avoid such issues by playing the game by the right rules such as avoiding spam triggered words like "make money", "you won", "free money", "trail product" etc.
On the top of that, make sure you have your or your companies information at the end of every Email and the "unsubscribe" button MUST be there to help the user to get rid of your list anytime they want.
Conclusion
Business is like a car, the more you care about it the more it will sustain. In terms of business, your clients or consumers are the fuel that's helping your company to move forward.
So, make your Email marketing more efficient but make sure you are not annoying your clients or consumers.
Always do A/B split test for each of the elements that are connected with your Email campaigns. from headline to Call to Action (CTA) button everything can be optimized for better conversion and business growth.
Did I miss anything that must be on this list?
If so, please share your valuable thought via comment section with me and worldwide thousands of readers like you.