During this pandemic and in the following financial crisis, every business needs all the help to see exponential growth. Marketing automation is one of the tools available to business owners that deliver growth.
TLDR: This article will explain what marketing automation is, its benefits, how you can implement marketing automation into your business, and what marketing automation tools you should use.
Let's dive in.
1. What is Marketing Automation?
But before anything else, let's take a minute to discuss what is marketing automation.
According to SalesForce, marketing automation automatically manages marketing processes and multifunctional campaigns across multiple channels.
This is a process by which the tasks of marketing are set to run automatically. It is not something that happens without interaction. Yet, once it is set, the process can control itself without the need for additional input.
Marketing Automation Quick Stats
Here are some stats that speak for themselves regarding marketing automation: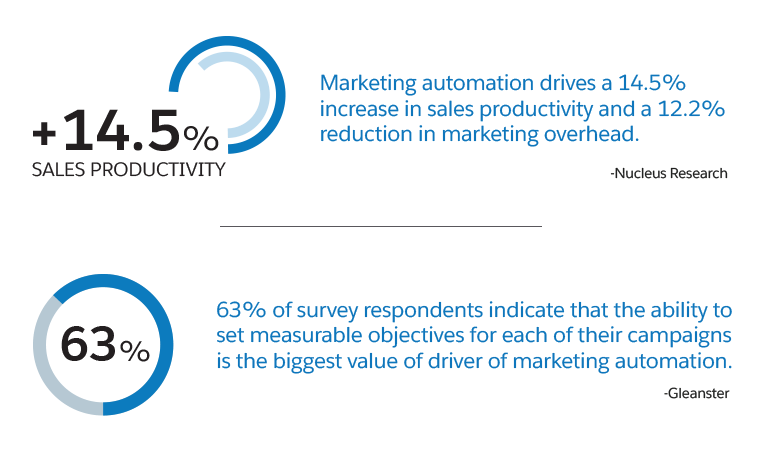 Marketing automation is enormous. In fact, according to Statista, marketing automation will bring in $25.1 billion by 2023. This is because currently, as Social Media Today states, more than 75% of marketers utilise at least one tool for marketing automation. 
When done correctly, according to Jones PR, companies can increase revenue by 77%. This is the great equaliser since it is not exclusive to large businesses.
Small businesses can enjoy a higher ROI when utilising marketing automation correctly. This is due in large part to companies seeing a higher conversion rate.
2. What Needs to Be Done in Advance
Getting started with marketing automation requires some serious consideration on the part of the business. It would help if you decided where you're marketing will do the most good. This can be in a lot of different fields.
Here are several departments of your company where you can add marketing automation:
Web hosting and Management

Automatic Analysis

Email Marketing

Social Media Automation

Customer Support
While it is recommended to incorporate all of these systems and integrate them, you can prioritise one over another depending on the objectives and KPIs you set.
Think about where your customers spend the most time.
How do new customers find you?

What keeps a regular customer engaged?

What information do your customers rely on when making a purchase decision?

All of the answers to these questions help you define your message and decide where to start investing your energy.
Marketing Automation during COVID-19
Among the most significant challenges to marketing teams in 2020 has been to navigate the COVID-19 pandemic. It has created considerable disruptions in sales and marketing schedules. None of these could have been foreseen. However, with creative marketing software, the marketing automation process has helped these marketers to overcome. 
The most significant trend in 2020 has been to personalise the marketing strategy even further. This is likely to continue through 2021, even as we emerge from this pandemic.
People will be looking towards a brighter future with a sense of caution. Optimism will be the order of the day to instil trust not only in a product and company but in the hope of a better tomorrow. This all comes back to understanding the customers' individual wants and needs.
3. Using different automation systems
Knowing what you want to say and who you want to say it to is only part of marketing automation. It would help if you started taking some action.
As mentioned above, there are five systems you can utilise for creating effective marketing automation. Taking a closer look at these allows us to evaluate how they can work for you.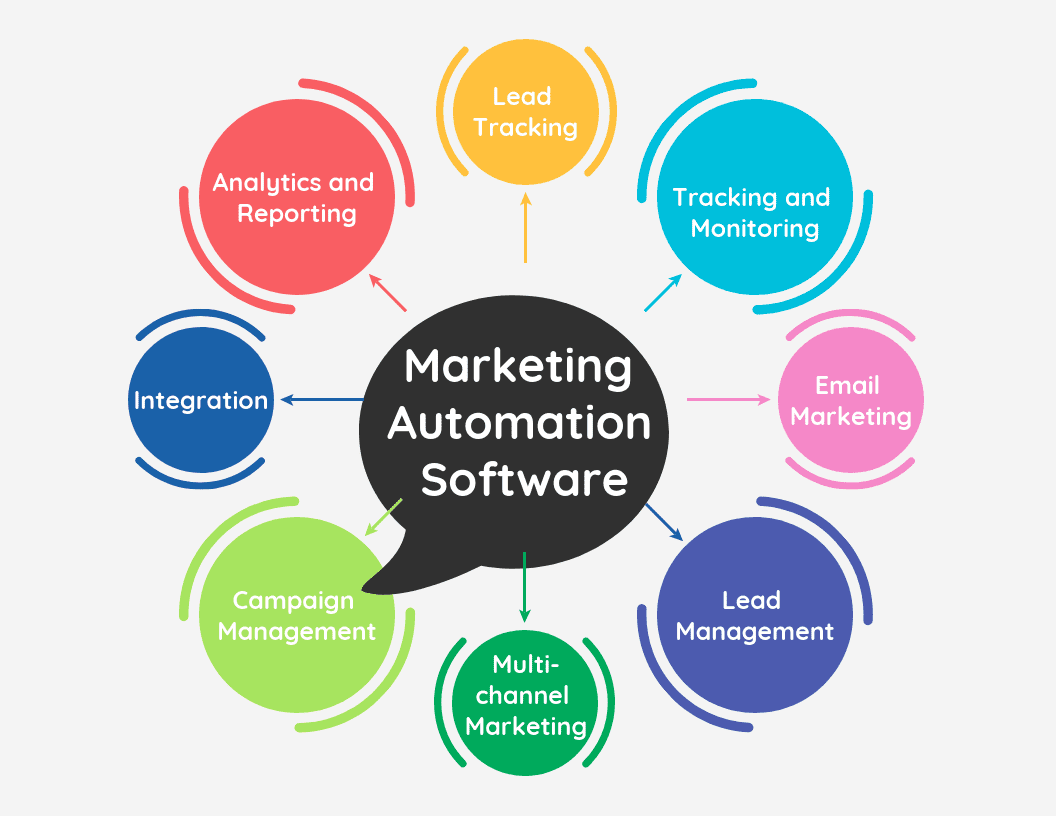 3.1 Automated Web Hosting and Management
The website is the front door of any modern business. Whether you have brick and mortar locations or not, a website is always available. It does not close or has employee shortages. You only need to make sure the website is set up in such a way to keep engaging with people. 
3.1.1 Hosting Resource Scalability
One of the biggest problems you can face is an increase in traffic, causing hosting pains. Sites are known to crash when there is a massive influx of new traffic. Make sure this never happens to you by including automated web hosting solutions. Managing your website this way makes sure that the website will not crash.
The new cloud hosting platforms like Amazon AWS, Vultr or DigitalOcean allows you to quickly scale your hosting needs so you will never end up without processing power of bandwidth.
This helps to convert more sales by making sure your website is working and loading fast. By editing in real-time, the website will not be down for service when your customers access it the most. This also helps to increase the speed of the website and its security. 
3.1.2 Automatic backups
Make sure your management system will back up the website daily. If corruption of any kind should occur, it will not cause that big of an interruption. The system will upload the latest version of the website, and it will be back to business as usual. In many cases, this may happen without people visiting the website, even knowing something went amiss. 
If you are on WordPress, solutions like JetPack and Updraft help you automate backups at a glance.
This will give you way more time to focus on results and marketing instead of spending time and money on hosting, servers and all other troubles.
3.2 Automatic Analysis
Data is valuable to marketing automation. Data analytics in digital marketing is available through several different platforms. If you pay attention to the numbers, you know how difficult it can be to go between Google Analytics and all the other platforms to gather the numbers.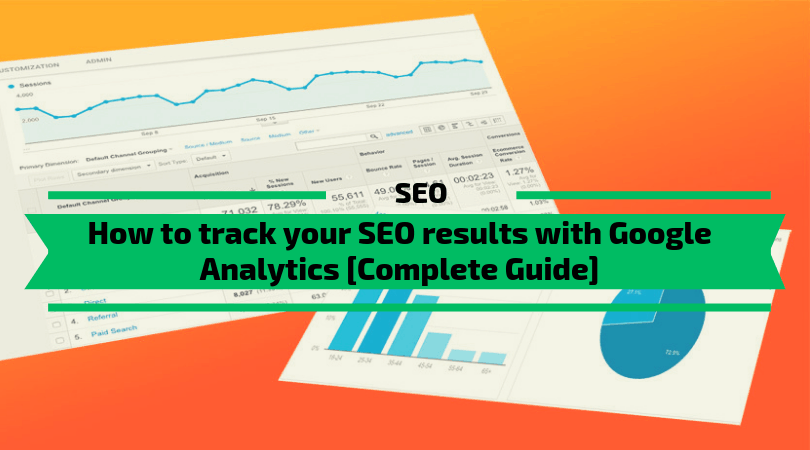 Rather than clicking through several different sites to get the valuable information needed, you can set up an automated dashboard. This brings together all the data you need to drive your marketing in one place. At a glance, you can see the analytics across several platforms. 
This is an excellent snapshot for you to see:
Keyword effectiveness

Website bounce rates

Social media engagement
You can start to see just where your efforts are generating the effects you are searching for and which need to be tweaked. By putting all of the information in one place, you will spend less time trying to sort it all out.
You can even set up your dashboard to include different widgets that will give you alerts. You will receive real-time information reports about the necessary information. For instance, if your new social media post has received a considerable reaction, you will want to receive a notification to tell you about it.

Here is a snapshot of the SEO dashboard of Semrush. You can configure all kind of notification like keywords ups and downs, traffic increase or decrease, social media posts, etc.
Email marketing is at the forefront of any good marketing campaign because it works! Automated email marketing is something that gets mixed reviews. Part of the reason for this is the low manner in which some people handle it. 
Let's take a look at an example of how email marketing can go wrong: you set your automated email to send out a message to everyone who has ever dealt with your business. You send out the email on a constant rotation on the hour every hour for five days. What you end up with is every single person on your email list hitting the unsubscribe button.
Thanks to the information you gather about your customers, you do not have to suffer this fate. Instead, you can create highly personalised messages. You will create different messages for different segments of your customer base. Then the automation platform will send these emails periodically to engage without bothering the recipient.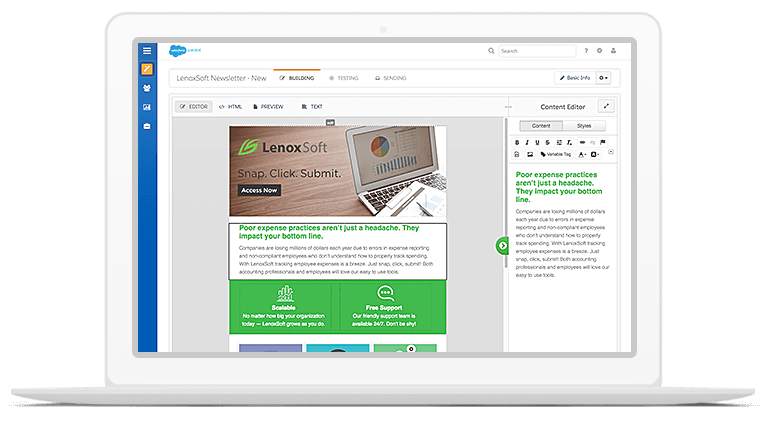 An excellent example of a completely automatic email response is when a purchase is made. The website should immediately send out an email to let the customer know the purchase has been processed. Additional emails can be sent out when the product is being shipped and when it has been received.
After a while, another email should be sent to ask for feedback about the experience. You can program the sequence automatically without the need to segment.
Take some time to craft your message. Utilise the information you have gathered about your customers to make sure they are taken into consideration. Make sure these are set in your email marketing tool to be sent out as per your instructions. The result will be incredible results that take so much less effort.
3.4 Social Media Automation
With the sheer numbers of people who engage through social media, it is essential to market through. This automation process is among the more comfortable to follow through with.
Certain things like setting your account to instantly follow back those who follow you will immediately engage you with your followers. The software can then begin to engage automatically by learning about your followers. 
The posts you create can be automated, as well. This can be done through full automation or through processes by which you control the posting schedule.
Tools as Hootsuite and MissingLettr help you manage your business social media posts. Through Hootsuite, you can set up all your posts across multiple social media accounts. You can schedule the posts for the day and time you would like for them to post.
Below you can see our social media campaigns. These are ready in Missingletter, to be posted automatically on our social media channels.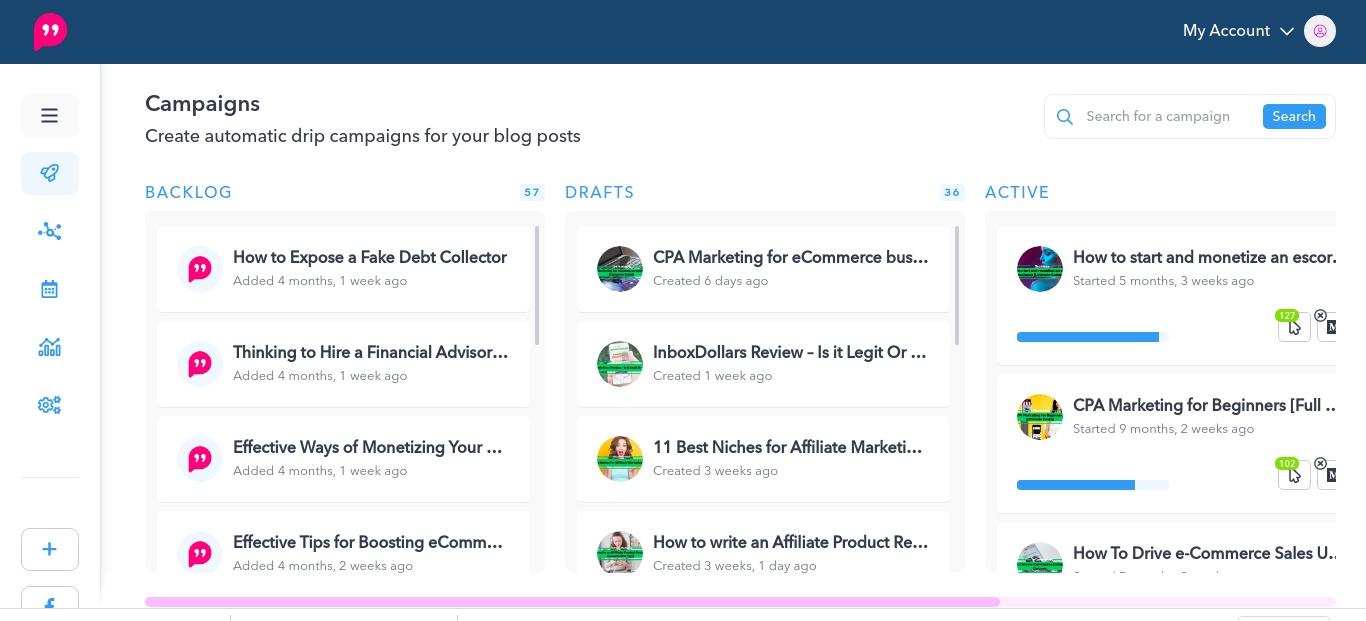 Direct and straightforward automation is necessary on social media if you don't want to spend your entire day on Facebook or Instagram. The good news is the social media automation tools are easy to use and make your job a lot easier to get out the posts you want when you want them.
Full automation is also possible through tools when it comes to social media. Reposting specific posts and responding immediately to posts allows you to be engaged without investing additional time. Just be careful about what you choose to put in full automation as opposed to semi-automation.
3.5 Automatic Customer Support
When there is a problem, it should be confronted immediately. Keep in mind; many issues are easy to diagnose because they are so common.
It is possible to set up automatic customer support to ask questions and provide responses to tackle common problems. This goes a little beyond the boilerplate FAQ found on every website. It is more interactive and quantitatively identifies issues. 
Check below a SpinupWP support automation pic to quickly search your problem in the knowledge base before actually reaching a real support person.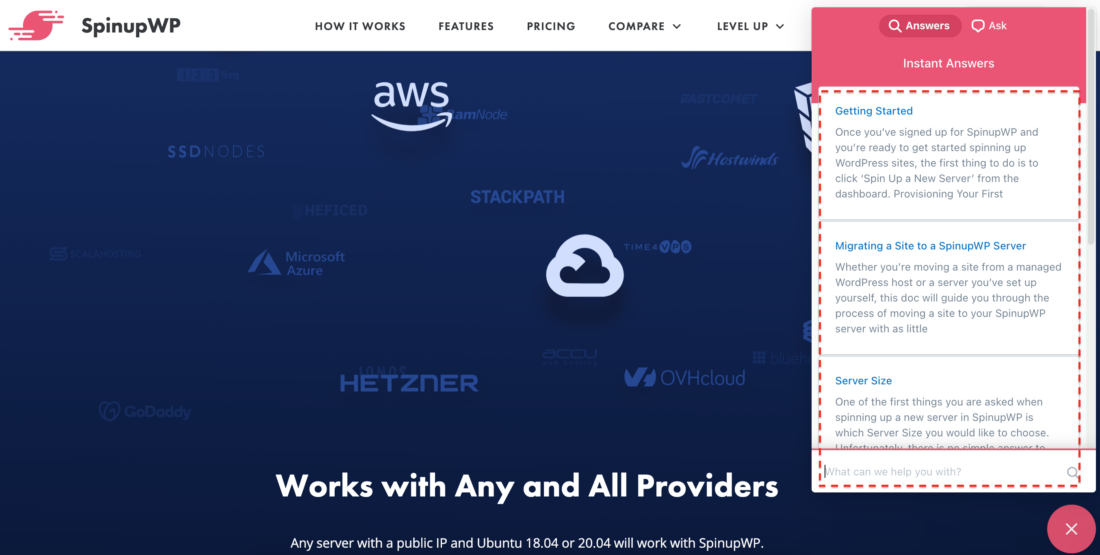 When a problem requires more personal attention, the system should reach out to the people who can provide the most comprehensive response. This automatic engagement allows you to realise there is a severe problem that demands immediate attention. This way, you are not sifting through the doldrums of repetitive common issues. Instead, you can focus accurately on problems that require an individual approach.
You should make sure there is an order to the automatic customer support. Do not give the option to initiate contact with a live representative immediately. Make every effort to offer support 24/7, regardless of day or night. Only once this has been exhausted should there be an option to speak to someone directly.
3.6 Automatic Lead Generation
For me, I use a marketing automation system to generate leads here on Monetize.info. Through excellent content and using popups and landing pages, I generate leads for my businesses.
Inbound marketing is vast, and with the help of marketing automation, you can have a 100% automatic selling machine. Check our inbound marketing guide to determine the conversion stages and create content that transforms visitors into buyers.
Below is a screenshot with one of our content upgrade where users that want to find out more enter their name and email address and automatically receive the guide in a PDF format to their email address. Also, I send them advice and tips automatically to their email address.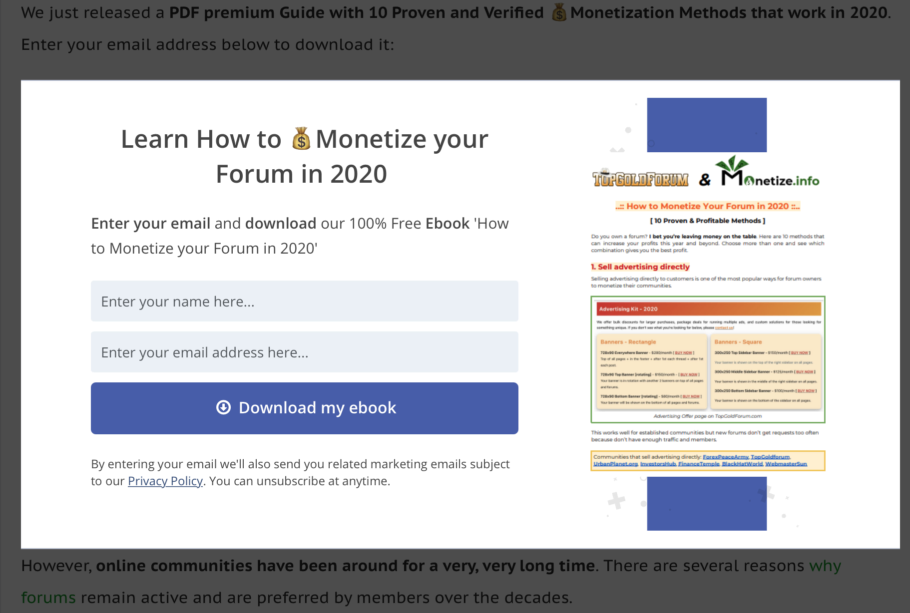 Using inbound marketing and marketing automation, you can automatically grow your email list and have plenty of contacts interested in the content you post and the services you offer.
Keep in mind that besides inbound marketing, you can generate leads through other methods like CPA marketing, PPC ads or SEO. The important thing is what you do with those leads and how you cultivate a relationship with the people to purchase from you and then talk about your products to their peers.
Check below the stats of how this content locker powered by marketing automation converts: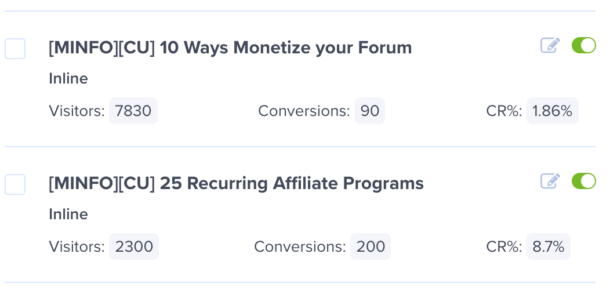 4. Benefits to Marketing Teams
When utilising marketing automation, the marketing team has more time to focus on the creative side than tedious, repetitive tasks. After you do the initial work to set up the automation tools, you can concentrate on the following steps.
With a consistent look towards the future, the ROI will be higher. No longer bogged down with a constant need to keep their heads above water, the marketing team will get ahead. 
According to Entrepreneur, most marketing teams, 75%, see an ROI within 12 months of the time they started. It is even possible to use automation for lead nurturing. The possibilities are endless when it comes to automation. All you need to do is get started.
5. Marketing Automation Platforms
The marketing automation industry is becoming saturated with platforms and vendors. That's why we've decided to focus on and compare four of the most popular vendors out there to help you find the best platform which suits you and your company's needs.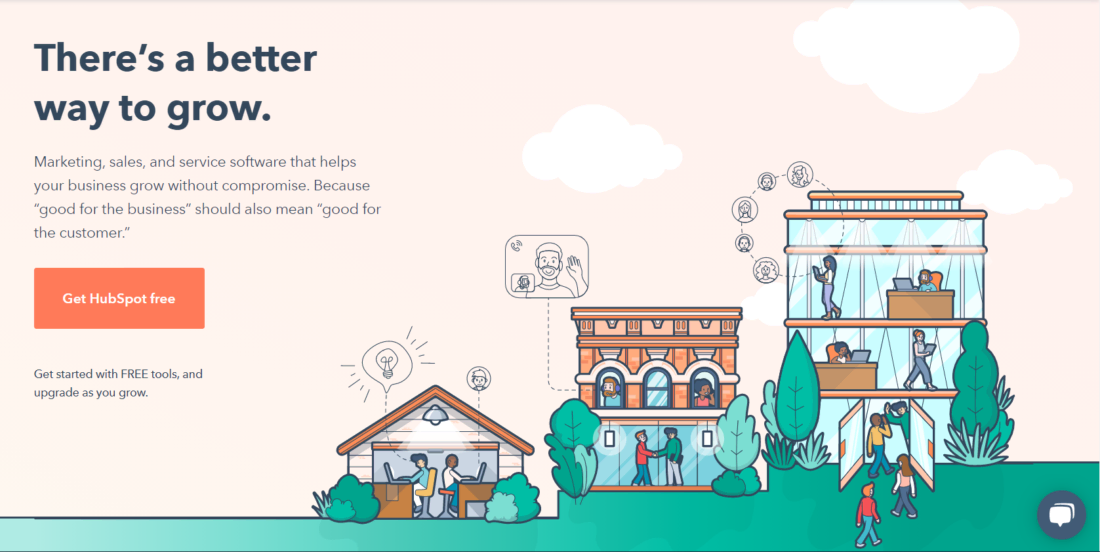 HubSpot is an all-in-one inbound marketing platform. This means that you can create web pages, blogs, emails, check analytics, upload your customer database, and much more.
Unlike other platforms, HubSpot offers a specialised approach to writing content (blogs, landing pages, forms, emails etc.) and analytics.
Hubspot Pricing
HubSpot's Basic package for solo marketers or small teams: pricing starts from £165 a month. The next tier, Professional, for experienced marketers and growing teams, starts from £655 a month.
Hubspot Verdict
HubSpot, although aimed at small businesses, is an excellent platform for businesses of all sizes. It has all the tools you need in one central location to succeed in your marketing efforts. The con to this platform, though, is the price tag. As your requirements and contacts grow, so does the cost.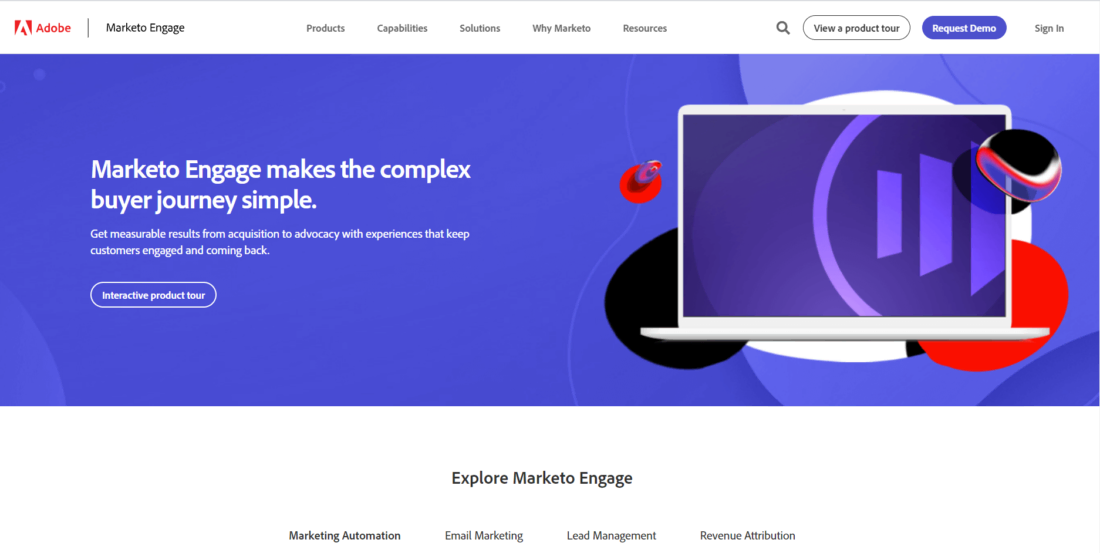 Marketo is a marketing automation platform that focuses on account-based marketing. It provides personalised solutions for specific industries. Here are a few examples of industries that implement marketing automation: healthcare, technology, financial services, manufacturing, media and higher education.
Marketo Pricing
Marketo uses bundle pricing. However, their pricing isn't accessible on their website. If you'd like to know more about their pricing, you will need to contact their sales team directly.
Marketo Verdict
Marketo is great for Enterprise level businesses who have outgrown their marketing automation platform. Our main con to Marketo is that you need a team of developers to build any integration to third-party applications.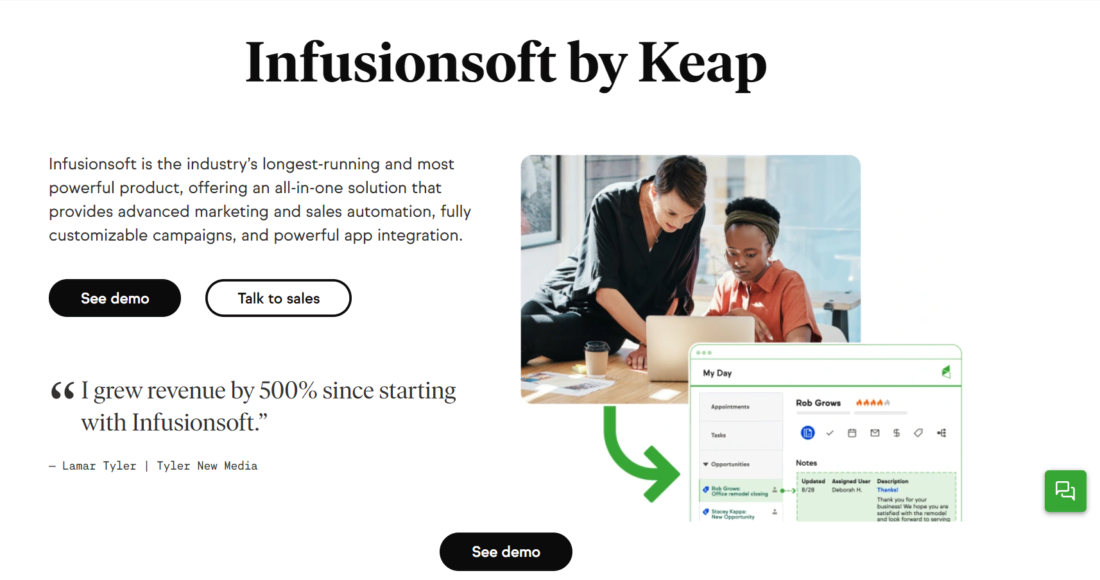 InfusionSoft is a cloud-based sales and marketing platform that focuses on helping small businesses succeed with Lifecycle Marketing. It links contacts to the right sales funnel, automatically giving the correct information to the right clients at the right time.
InfusionSoft Pricing
Infusionsoft's pricing goes by the number of contacts you have for your database. For their primary platform (Contact Management and Marketing Automation) and 10,000 contacts, pricing starts from £198 a month.
InfusionSoft Verdict
Infusionsoft is best suited for start-ups. It's affordable and provides the necessities to create the right marketing strategies. Unfortunately, we feel that it's out of date with modern marketing and is clunky to use.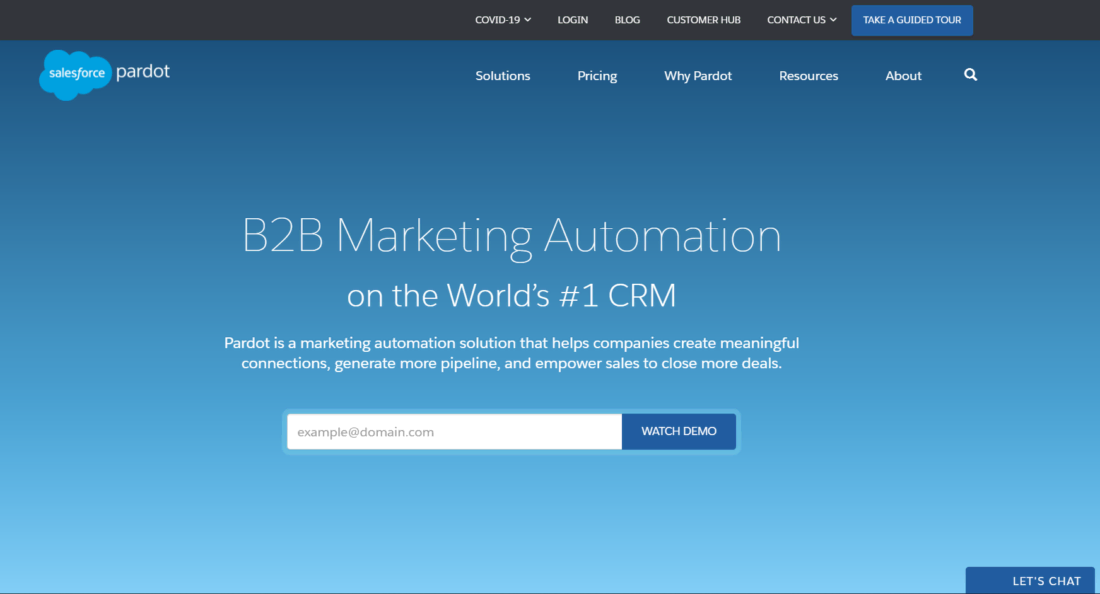 Pardot is a B2B marketing automation platform created by Salesforce. It offers an automation solution that aims to improve the quality of leads for sales and assists marketing by improving ROI.
Pardot Pricing
Pricing Pardot's median package, Pro, is £1,600 a month. Their Standard package costs £800 a month and includes the very basics of a marketing automation platform.
Pardot Verdict
Being a creation of Salesforce, the integration between the two is excellent. However, Salesforce is native integration with HubSpot, so the pro isn't healthy!
Final Thoughts on Marketing Automation
Keep in mind that growing your business through marketing automation is not happening overnight. You will have to put in some effort. But the good news is that all the tools and training are available online.
Once you have done the initial work, the rest will take care of itself. You will enjoy a good ROI in a relatively short time. Best of all, as you become accustomed to marketing automation, it will become even more useful.
So you should use the information within this article to get you started on your marketing automation journey. Your business will thank you, as will your customers. You will see better conversion rates as well as happier customers. Your staff will also be more pleased, thanks to the influx of money and a better prospect for the future.
It's your turn now. Tell us if you are using marketing automation in your business? If you don't, tell us why but if you don tell us how you can use it and the benefits.
Further readings on Marketing Automation
Note: This article was edited with case studies, examples and pictures by Daniel from Monetize.info