I've been freelancing for close to six months now, and I've met a ton of freelancers.
One question I receive quite often is "Mark, why do you have a freelance website?"
The answer is because that's how I get my clients!
Looking back, the first client I ever landed was because of my website! And even today, a majority of my clients have hired me only after checking out my freelance site.
Don't believe me?
Here's a snippet from a conversation I had with a client just last week —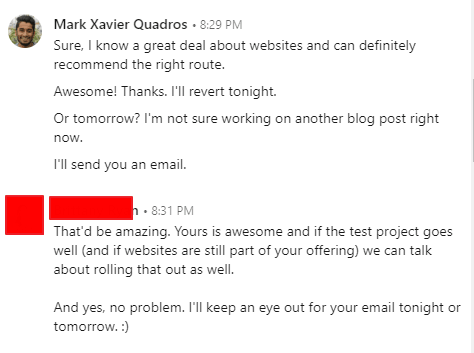 This client actually hired me to write content. However, they checked out my freelance website (and loved it!) so asked me to build them one — Ka-ching!
So, do you have a website? 🤔
If not, you should definitely get one!
The number of freelancers is increasing day by day which means one thing; competition is getting extreme! It is now necessary for a seasoned freelancer (i.e., you) to stand out from the rest and reach your most ideal customer. So give your freelance business a whole new perspective by setting up a site.
In this article, I talk about freelance websites, why you should get one and how to set up one without any coding knowledge!
#1. Why should you get a freelance website?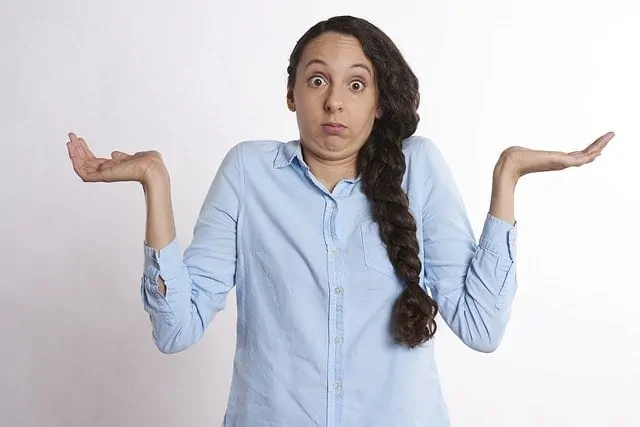 Before we dive into the nitty-gritty, let's take a look at why a freelancer should get a website:
1.1. You brand yourself as a legitimate business
A personal webpage reinforces your capabilities. It shows your clients what you can do and what you've done. Especially if you're a beginner without much experience.
A website positions yourself as a legitimate business as opposed to some wannabe freelancer. Having a business brand enables you to have more leverage over client negotiations.
1.2. You create trust and credibility
Working remotely is excellent for the freelancer. However, for the client, it's pretty much the opposite! In fact, to them, you're just some random person over the internet that they have to trust you with their money and more importantly with their business!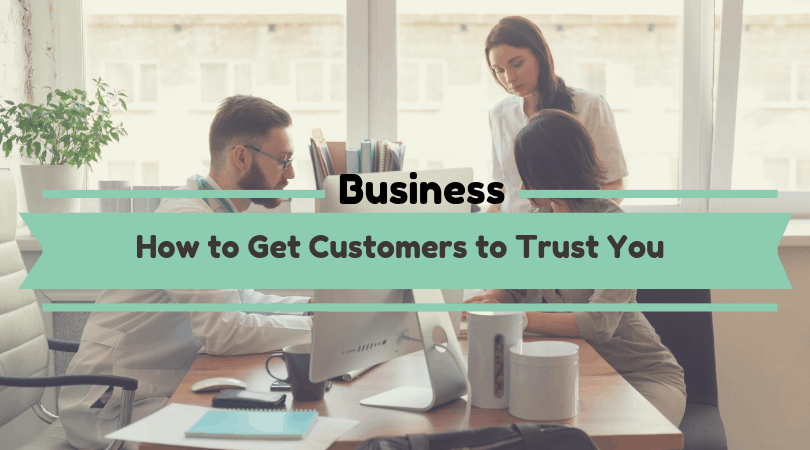 For this reason, a client would prefer to hire a freelancer with a website (that they can find over google) over someone without! A site establishes that credibility over the internet and helps the client know that you actually exist!
1.3. You position yourself as an expert
Remember, clients, don't pay well for generalists. So, getting a website and building it around your area of expertise will really make a massive difference to land yourself a high paying client.
Now, the positioning part is a little tricky. First, you have to pick the right niche and then optimize your website around this niche. However, if you've nailed this part you will be an expert in the eyes of your client.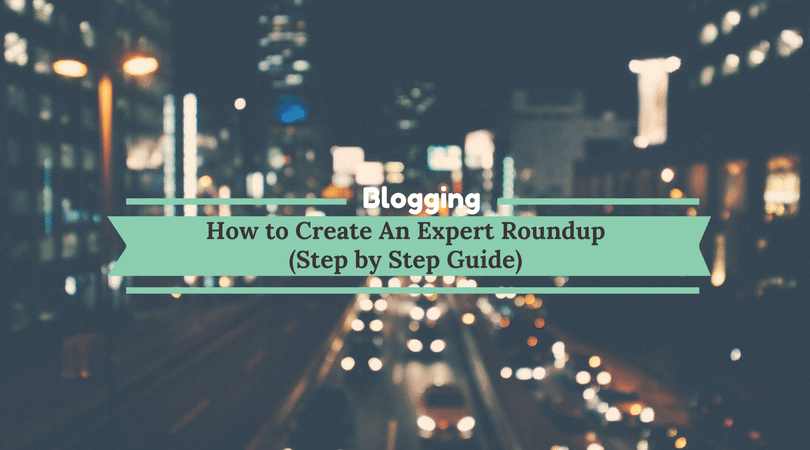 The best part? A website lets you can change the website's title, services, work samples, testimonials and pretty much anything you want!
1.4. You can add testimonials and social proof
Referrals are quite crucial in the freelancing world. In fact, some clients will outright ask you about your previous projects. Having a website lets you add testimonials an establish that social proof and help mitigate scepticism.
Unlike platforms like Upwork, you have complete control over your testimonials. You have the option to tweak around and really customize how you want your testimonials to show up.
1.5. Stand out from the crowd
As mentioned before, the competition is fierce. There are millions of freelancers out there so to stand out you have to do something above and beyond!
A freelance website makes you look much more professional. It tells a client you're serious about your work and have authority in the same. So, create a site and stand out from the competition!
2. How to create a freelance website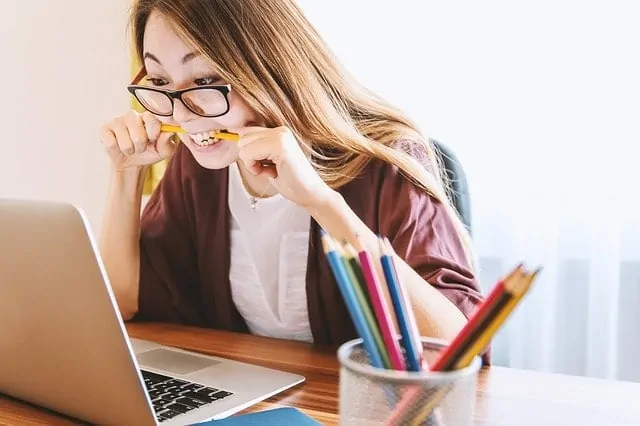 Step 1. Pick a Domain Name
A domain name is merely the name of your freelance site. It performs the same function as an address but for the internet. For example, when you type the domain name 'www.dherealmark.com into your browser, you'll go straight to my freelance website.
There are many domain companies. However, I personally use and recommend getting a domain from NameCheap as they have the most economical pricing and offer the best support!
Pro Tip: Don't fuss over choosing a whacky domain name. Your full name is professional and should work just fine!
Step 2. Select a Host:
Now, that you have a name for your freelance website, you need a place for it to live — a website host! This is nothing but a place (servers) to store (host) your website (data).
Remember, a host keeps your website live 24*7 so that your clients always have access to you. So, it's evident you'll need a pretty good host! I recommend using SiteGround as they offer economical pricing, best support and more importantly, excellent servers. (I personally use them!)
Note: If you go with SiteGround you can skip step 3 as it has an automatic WordPress installation feature.
Step 3. Download and Install WordPress to the Server
The only reason you can build your freelance website without code is WordPress! It's honestly one of the easiest ways to set up a professional site in 2019.
Just, go to https://wordpress.org/ and click on the icon "Get WordPress." Hit download and save it on your desktop. Then Upload this file into your hosting server using an FTP software like Filezilla.
Step 4. Install a Theme
WordPress has excellent third-party support with thousands of themes to choose from. This can make it quite overwhelming to decide on one specific theme.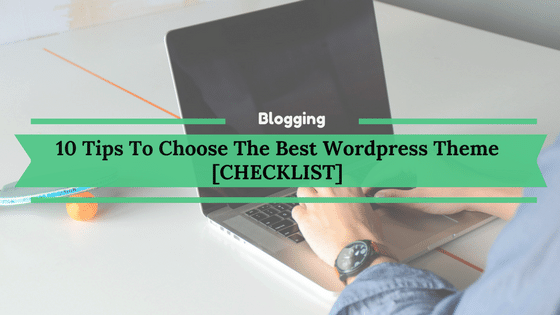 To help you decide faster, here are my recommendations:
GeneratePress (good for quick set up)
This is the theme I personally use on my website. It isn't as fancy as other themes but is super light and has a really nice minimalist look. I recommend it to anyone looking to set up their freelancer website without much fuss as quickly as possible.
Divi Elegant themes (good for custom designs)
Divi is excellent if you're looking for beautiful visual websites for companies with a unique custom design here. It features a drag-and-drop builder that lets you make professional websites without writing a single line of code! Moreover, they have an awesome support team so feel free to blast them with questions.
Pro Tip: Divi is quite extensive. So, don't develop 'shiny object syndrome' and keep (re)designing your website. Remember, execution trumps perfection!
Step 5. Create Essential Pages
This website is going to be the source of your bread and butter so you need to set it upright. In fact, this part will either make or break your freelance website. I recommend spending some time to think about your positioning and branding before you start to develop your website.
Pro tip: Don't be a generalist freelancer. Instead, niche down and position your website (and yourself) around this expertise.
To help you get started on the right foot, I've shared some of the most essential pages a freelance website needs to have:
Home Page:
Your home page is without a doubt the most important page on your freelance website. Why? Because It's the first page your client will see and first impressions are everything!
As you can see my home page clearly portrays what my services are and what I do: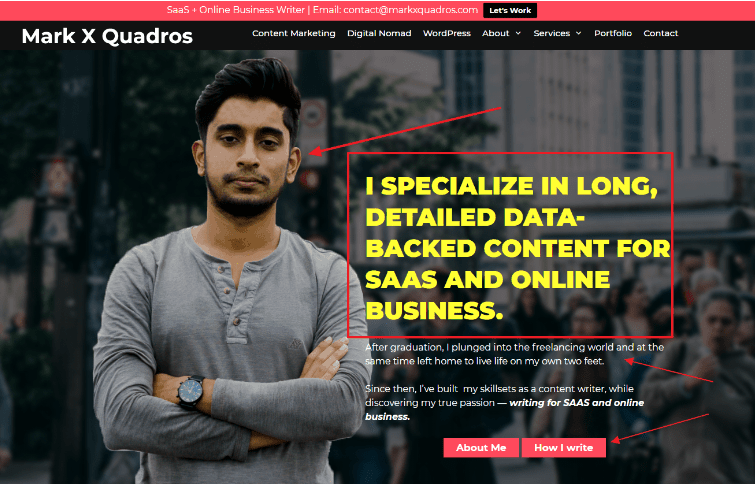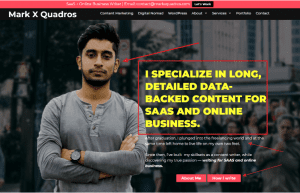 About Page
As mentioned before, clients find it difficult to work with strangers over the internet. People like to know what's going on behind the scenes, so make sure you set up a good about page (and use your an image of your face!)
My about page is simple but clearly depicts my credentials: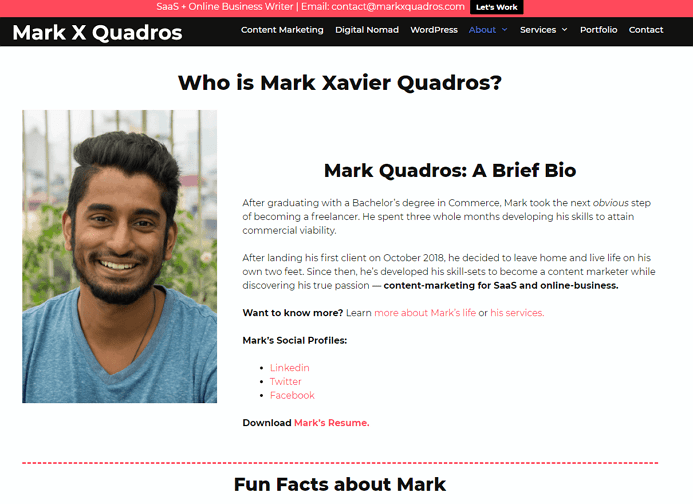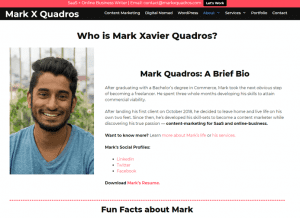 Pro Tip: You can additionally use a 'whats my story' page to share further insight into your life.
Portfolio Page
A freelance site is incomplete without the right portfolio page. After all, it's one of the first things your clients will look for before hiring you!
So, set-up a simple portfolio page that clearly describes your contribution and skill in past projects. I am a B2B content marketer so just have a bunch of links to my published articles.
For my portfolio page, I use Contently to convenient displays all my work in one place.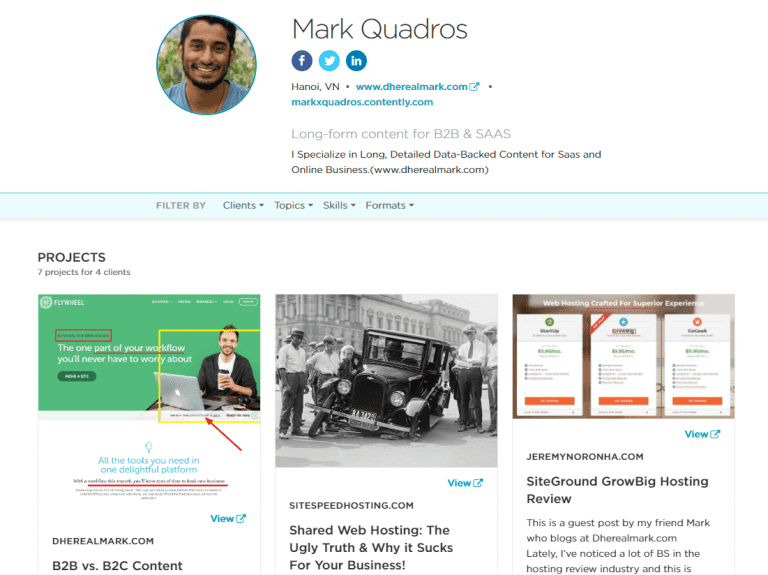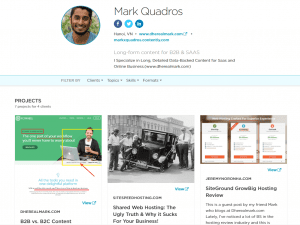 Services Page
This is a detailed page that clearly describes the whats, whys, and hows of your service. You need to spend some time on the writing a good landing page copy. After all, this page is what your client is most interested in.
Being a copywriter I just had to spend some time writing a good copy. I use a simple but thoughtful landing page copy that reels my client into reaching out to me: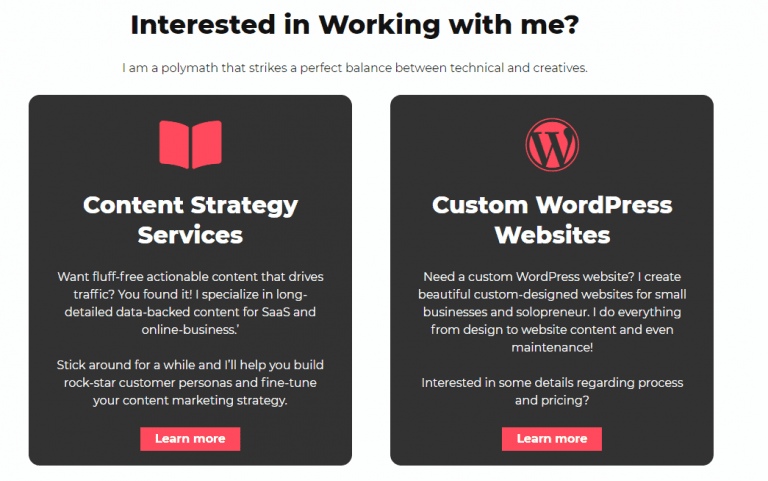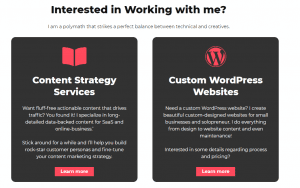 Contact Page
You freelance website will open doors to many potential opportunities. Over time people will be interested in working with you, and others may even want to interview you. Having a contact page bridges that gap and helps people reach out to you. A simple contact page with a form and social profile should do just fine.
For example, I use a two-column layout with a ninja forms integration: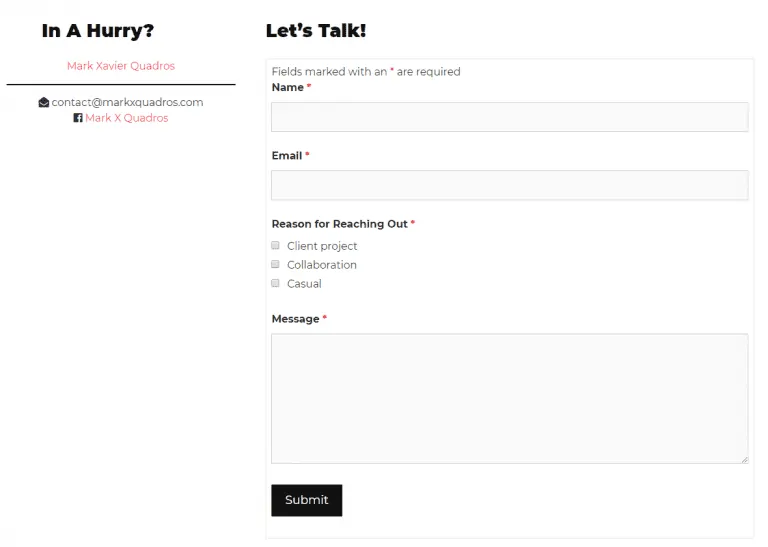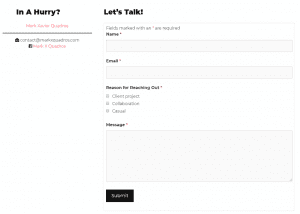 Step 6. Essential plugins for freelancers
With your freelance website launched with all the essential pages in pace, you're almost ready to start pitching. The only thing remaining is adding a few plugins.
Plugins are great for non-technical folks as they allow you to add that extra functionality to your site without any coding knowledge. However, adding too many plugins will end up slowing down your site.
To get you started on the right foot, I've listed the best plugins for a freelancer:
This is a simple form builder that helps you create simple contact forms. Additionally, you can use this plugin to create opt-in forms anywhere on your website and generate more leads.
Alternatives: WP Forms, Gravity Forms
An intuitive plugin that lets you add your client's testimonials to your website. It also has multiple options to customize and present the testimonials without writing a single line of code.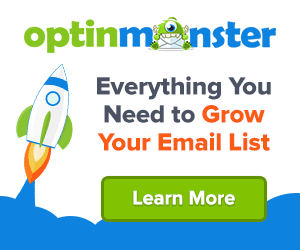 This is a great plugin that helps you capture lead forms, focused on high conversions. It lets you create powerful landing pages and helps you.
Alternatives: Layered Popups (We use it here on Monetize.info)
This is a plugin that helps with SEO and user experience of your site. You get it mainly for SEO and to help reduce the load time of your website.
Alternatives: WP-Rocket, WP Fastest Cache
3. Launch your freelance website!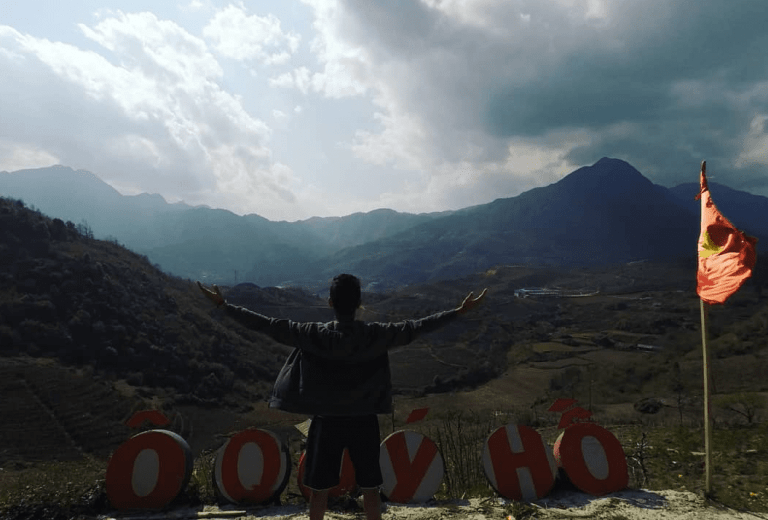 That's me in Sapa (for inspiration!)
Now, you're all set up to launch your site and start landing awesome clients. Remember don't fall into the perfection trap and waste too much time tinkering around your site. Instead, pick your niche, optimize your site around it and launch!
Succeeding at freelancing is executing the most important things as efficiently as possible. So, don't waste time and get your name out there. Or you'll lose to people like me! 😉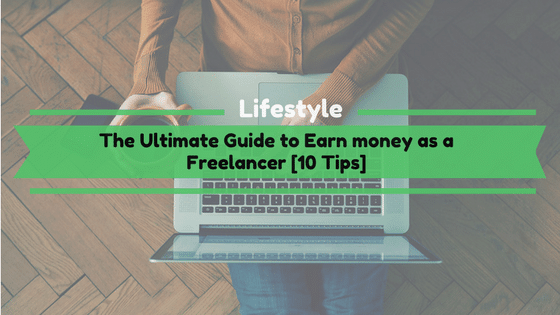 Do you have a freelance website?
Has it helped you get more clients?
Share your thoughts below!