The following article will show seven legit ways to get free Robux for your Roblox games. You will find a couple of websites and companies that offer you Robux for completing simple tasks like searching the web, filling out surveys, or simply being an active member. Also, there are ways to make Robux in the ROBLOX game.
What is ROBLOX?
Roblox is an online game platform and game creation system developed by Roblox Corporation that allows users to program and play games created by other users.
In a nutshell, Roblox is similar to Minecraft – players build and develop worlds and objects in the game.
David Baszucki and Erik Cassel created Roblox in 2004 and released it in 2006 as a platform to host user-created games of multiple genres coded in a programming language called Lua. Roblox began to snowball in the second half of the 2010s, and the COVID-19 pandemic has accelerated this growth.
The creators of Roblox decided to create an immersive experience through analytical thinking, creativity, and mathematics. The other primary function of the platform is socializing. Users are encouraged to make friends with other online players. The site allows users to "Imagine, socialize, chat, play, create, interact and relate with others in many ways."
You can access Roblox on any device – PC, Mac, iOS, Android, Amazon Devices, Xbox One, Oculus Rift, and HTC Vive.
The game is intended for everyone over 8, but that does not mean adults can not play it. Even more, interestingly, Roblox can generate real money for you. All these are thanks to the digital currency Robux, which has an exchange ratio with the USD.
According to Roblox, the developers have earned more than $1 billion for creating games on the platform. Also, the best players in the world have won millions of dollars.
Now that you know what Roblox is, let's dive into Robux, the currency of the Roblox game.
What is Robux?
Robux is the virtual currency that can be won in the ROBLOX game or bought in the game with real money.
With the help of Robux, you can do a bunch of exciting stuff in this multiplayer game. You can customize your avatar or buy special abilities in experiences. Robux helps you improve and be above your friends in this online game.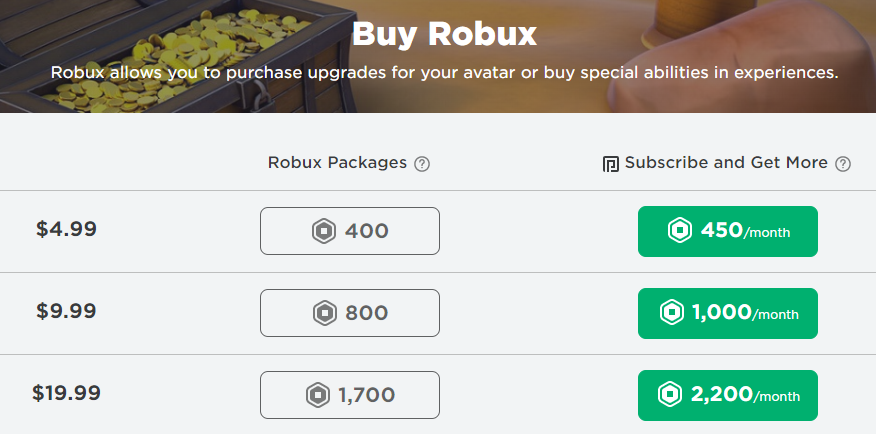 Without Robux, it is more complicated to configure your chosen character according to your wishes. And, as you know, there are many things you can't wait to buy with Robux.
But besides purchasing Robux in the game, you can also get free Robux. Let me show you a couple of methods:
How to get free Robux?
You can win Free Robux both in and out of the game. You can obtain Robux for creating worlds and objects from clothes, weapons, pets, etc.
Outside the game, you can get Free Robux with different apps based on surveys or competitions. You can also participate in contests, where, with some luck, you can win a little more Robux.
1. Join paid survey websites
There are various paid survey websites and apps where you can fill in multiple surveys, and for this task, you can receive Robux for free. We've put together a list of the best paying survey websites online.
Here are the best survey websites that pay you in Robux, usually through a Robux gift card: PrizeRebel, FreeCash, SwagBucks, PointClub, TellWut, and Branded Surveys.
Available: Worldwide
$ to get a Roblox card: $5
Reward options: PP, Crypto, Skins, Gift cards
Signup on FreeCash
Available: Worldwide
Min. $ to get Roblox gift cards: $10
Reward options: PayPal, Visa, Amazon, Gift cards
Signup on PrizeRebel
Available in: US, CA, UK, AU, Europe
Min. $ to get Roblox gift cards: $5
Reward options: PayPal, GiftCards
Signup on SwagBucks
Available in: US
Min. $ to get Roblox gift cards: $30
Reward options: PayPal, Gift cards
Signup on InboxDollars
Available: Worldwide
Min. $ to get Roblox gift cards: $25
Reward options: PayPal, GiftCards
Signup on PointClub
Available in: US, CA
Min. $ to get Roblox gift cards: $25
Reward options: PayPal, Gift cards
Signup on TellWut
2. Complete various tasks online
Similar to websites and apps offering you cash and gift cards for filling out online paid surveys, some websites reward you for completing tasks online. Such tasks can verify by completing different offers, playing games and reaching a certain level, installing other apps, watching videos, etc.
As you will see, some of the recommended paying survey sites that pay with Robux extended and now offers you the possibility to do tasks and earn Robux gift cards.
Available: Worldwide
$ to get a Roblox card: $5
Reward options: PP, Crypto, Skins, Gift cards
Signup on FreeCash
AppKarma
Available: Worldwide
Min. $ to get Roblox gift cards: $10
Reward options: PayPal, GiftCards
Signup on AppKarma
Available: Worldwide
Min. $ to get Roblox gift cards: $10
Reward options: PP, Crypto, Gift cards
Signup on Idle-Empire
3. Join Microsoft Rewards points [US Only]
All US users can earn free Robux through Microsoft Rewards:
You must sign up for Microsoft Rewards if you have a Microsoft account. If you don't have a Microsoft account, click the "Sign up for free" button and follow the prompts. Once you have successfully created your account, you can earn your free Robux.
After you signup, you can earn reward points with Microsoft Rewards.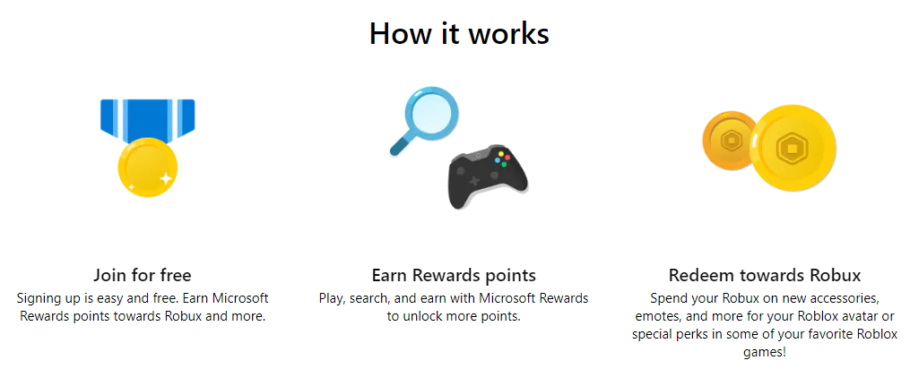 There are multiple options available for you to choose from when earning Robux. But first, you need to set a Robux goal. You can choose from 100 Robux, 200 Robux, 400 Robux, 800 Robux, and 1000 Robux.
For example, you can set a goal of 1,500 Microsoft Points to receive 100 Roblox Robux for free. There are various ways to begin earning Microsoft points. If you click the "Earn" tab, the site will direct you to how to get more Microsoft points. Perhaps the easiest way to earn more points is by using the Bing search engine.
You can then redeem your reward and get your Roblox Digital Code once your goal has been reached.
There are two ways you can redeem your codes:
Once you have confirmed the Robux reward, the Roblox Digital Code will be sent to your email. Then, you can redeem the code in-game.
Alternatively, you can reveal your Robux code on the pop-up screen. Once you've clicked "Get Code," you will receive your pin, which you can redeem for your Roblox account in the game.
4. Gift cards with Robux
On some purchases, you can get gift cards with Robux for free. Although they are not widespread with us, you can also try this method.
Amazon is one of the official websites to shop for Roblox Gift Cards; getting a free Amazon gift card can get a free Roblox gift card to earn free Robux.
The most reliable and easy way to get free Amazon gift cards is from Amazon. Sell the old stuff to the Amazon Trade-in program, and you'll be rewarded with a free Amazon gift card. The free trade-in program means you don't need to pay for the shipping.
Visit the Amazon Trade-In store to see what items are available for receiving an Amazon gift card.
5. Sell tools and clothes in Roblox.
You can get ROBUX easily and quickly when you sell the tools and items you are bored with and no longer need. Once you play certain levels, you collect many things that are no longer useful to you at some point. The easiest way is to sell them, even if not at full price, and you will recover a few ROBUX.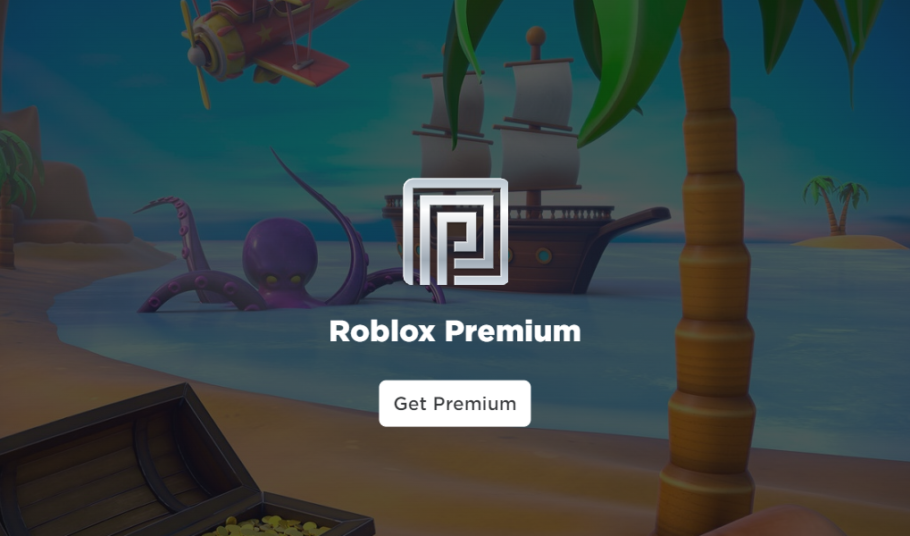 Once you've got Roblox Premium, you can start earning– spend money to make money, as they say! If you want to earn, selling clothes in Roblox is one of the best ways. Before you find your fashion empire, here are some essential things to consider: You can create unique clothing designs for shirts, pants, or t-shirts and then sell them on the marketplace. You'll get a 70% share of what they earn when you sell them.
6. Selling Game Passes
First, you must create a game and get some players. Then, you can add a Game Pass for sale and choose how much you want to sell it for.
Game Passes are essentially unique items that give players an advantage in your game– access to a restricted area, an avatar item, or a permanent power-up. It's important to remember that any Robux you earn from Game Passes is pending for three days before being paid into your account.
7. Complete quests in the game
If you are good at Roblox, complete as many daily levels and quests as possible. For each finished level, you will receive in return free ROBUX. As you advance, quests become more complex, but you become better.
How do I redeem a Roblox gift card?
Redeeming a Roblox gift card is simple. You can redeem it online by visiting Roblox's Gift Cards page, selecting the Redeem Card option, entering the code from the gift, and hitting Enter on the keyboard or pressing the Redeem button.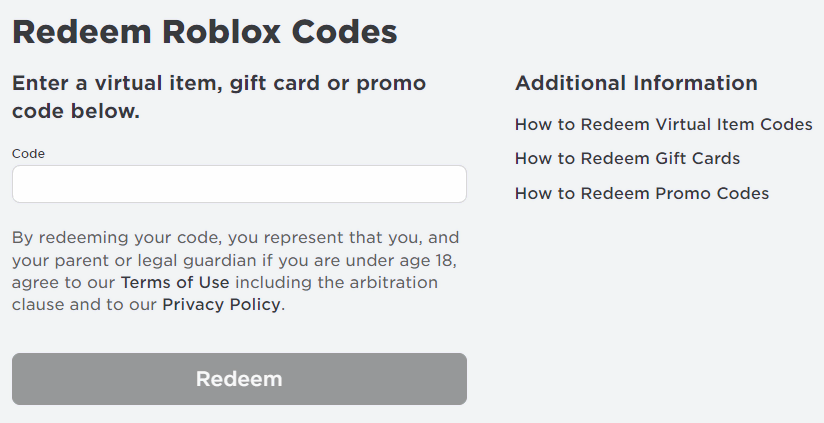 As you can see in the picture above, the process takes no more than one or two minutes and is not time-consuming at all.
More Get Free Robux FAQs
How do I redeem a Roblox gift card?
The best and only way to redeem a Roblox gift card is to use your browser to visit the redemption page on Roblox.com. Enter the PIN from the gift card and select "Redeem" to add credit to your account!
Where can you buy Roblox gift card?
Physical cards are available worldwide at major retailers, but you can also get online cards through Amazon, GameStop, Walmart, Target, and the Roblox site.
What can I use my gift Roblox card on?
Gift cards can go towards the purchase of Robux that you can use to pay for in-app purchases and upgrades to your favorite games. You can also use the gift card to upgrade to a Premium subscription, which gives you more privileges, goodies, and access to the millions of games available through Roblox!
How do I get this gift card for free?
You can get a Roblox gift card for free by sharing by filling out online surveys, completing online tasks, participating in reward programs like Microsft Rewards, or get them as a gift when you purchase something.
What's the best way to get free Robux?
In my opinion, the best way to get free Robux is to join a website like
FreeCash
or
FeaturePoints
or the Microsoft Rewards program, do the tasks and be rewarded with a free Robux gift card.
Pay attention to SCAMS
Unfortunately, some bad people want to make money on the nativity of Roblox players. They create dodgy websites that promise to offer players free Robux or methods to get Robux easily.
These so-called free Robux generators or Robux unused codes are SCAMS. They lure you into entering your details and then ask you to complete offers, download apps, or call different numbers. Once again, these are scams; please do not fall for them. They will not send you any Robux; you can get in trouble by getting charges on your phone bill or credit card.
Report Abuse links and buttons exist in the Roblox apps and every game menu. Click the links or buttons to report messages, links, and games immediately. Roblox moderators will act against people trying to scam you. Your reports will help to make Roblox a better and safer place.
Conclusion
And there, you have seven proven and tested methods to get free Robux. While some of them are easy methods to get free robux, others are more complex and involve being creative.