In the following guide, I want to show you how to make money as a webcam model and earn $2500+ or more monthly from home. 
I understand that for many, this 4000-word complete guide may look overwhelming. We cover everything from how much you would earn, the PROs and CONs of webcam business, the best webcam websites, how to set up everything, and a couple of proven tips to increase revenue.
So you can scroll through the sections to read what interests you now and when you are ready to start, come back and read it from top to bottom.
Before going further, I would like to explain how webcam modeling works.
What is webcam modeling?
It means you go online and earn money by performing in front of a webcam for people on the internet.
You can do pretty much anything, but there are popular acts such as dancing, playing video games, or even mukbangs, where you eat in front of a webcam.
At first, it might sound awkward, but with time you'll get used to it and may have a lot of fun and good money on the side!
How to make money as a webcam model
How much will a web model earn?
I think that's one of the first questions everyone is considering about becoming a webcam model wonders. Webcam models make the amount for each minute they perform online multiplied by the number of minutes. On this amount, you add all the bonuses for special shows and requests and deduct the commissions taken by the platform. The price of one minute of chat may vary on different sites, but typically webcam chat costs a customer $ 2-3 per minute.
Most webcam models earn between $2,000 to $8,000 per month. The most significant factor in how much a webcam model makes is the hours worked per week.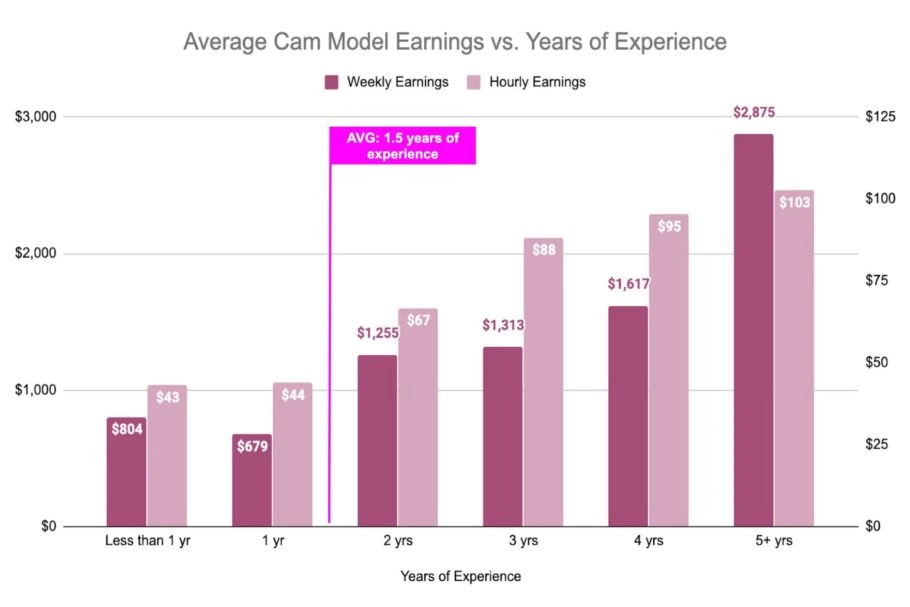 Many cam models on the lower earnings end tend to work only 10 – 15 hours weekly. The top-earning models typically work 30 – 40 hours per week. To learn more, see this Cam Girl Salary Guide.
PROs & CONs of working as a web model
Now that you know how much you can make as a webcam model, let's look at the PROs and CONS of working as a web model.
PROs of working as a web model
High-profit payment – With a serious attitude to business, a beginner model earns an average of $ 1000-1500 per month. After a month of work, the average earning is $ 2500. Our top models quickly make $ 4000-5000 per month. And world stars earn hundreds of thousands of dollars in webcams.
Free schedule – Work when it is convenient for you and as much as you want. Of course, the earnings will depend on this. The more time you spend, the more money you will make.
Lack of appearance requirements – The practice has shown that a model of any age (but strictly over 18) and appearance can make a successful career in this business. For every appearance and age, there is a connoisseur.
Easy start – You need only a computer or laptop no older than 2010, a webcam, and standard unlimited internet to start making money. Initially, you can even work from a phone or tablet.
Anonymity – The main fear of all novice webcam models is "what if someone from your friends finds out." Do not worry. No one will know! On those sites where you will work, you can flexibly configure the ban for users from Russia, Ukraine, Belarus, or any other country. In addition, some models prefer to work in max or do not show their faces.
Work at home – You can work as a web model in your room. Forget the rises at 6 in the morning, long trips in stuffy public transport, autumn slush, or winter frosts.
CONs of working as a web model
Webcam modeling is still seen as a taboo way to make money, so sharing what you do with family and friends can be challenging.
There is much competition, so constantly reinvent yourself and what you create to entertain your audience.
It takes, in the beginning, a lot of work and time to get full-time income from this work.
Requirements to work as a webcam model
Becoming an independent webcam model is straightforward. Whether you want to be a cam girl, cam boy, or cam transgender, the registration process is similar on all sites. Today, in addition to the digital copy of your ID, you are usually required to take a photo of yourself holding your ID next to your face. Some cam sites require additional proof to confirm your residence, such as a copy of your last electricity or credit card bill.
1. You should be at least 18 years old
You must be 18 years old to work as a Cam Girl or Cam Boy. There are no exceptions to this. At least not down. Very well upwards, because different (= higher) limits apply in some countries. Decisive for the minimum age is the country's legislation from which you are broadcasting.
2. Photo ID
You need an official document to verify your age. Passport, ID card, or driver's license – usually doesn't matter which of thosit e. You don't have to worry about your privacy. The providers treat the data confidentially but it must always be obtained for legal reasons. Your real name will not be published in your profile. So you don't have to worry.
3. Technical requirements
You naturally need the appropriate technical equipment to work as a live cam model.
Webcam

computer (PC or laptop) and

a fast and reliable internet connection.
Most laptops have a built-in webcam. We do not recommend this for broadcasting. Due to the integration in the edge of the screen, you cannot adjust the angle independently. You might have to do acrobatic masterpieces to catch yourself on the cam and see yourself on the screen. Check this guide: The best cams for cam models to see some good webcams you can use.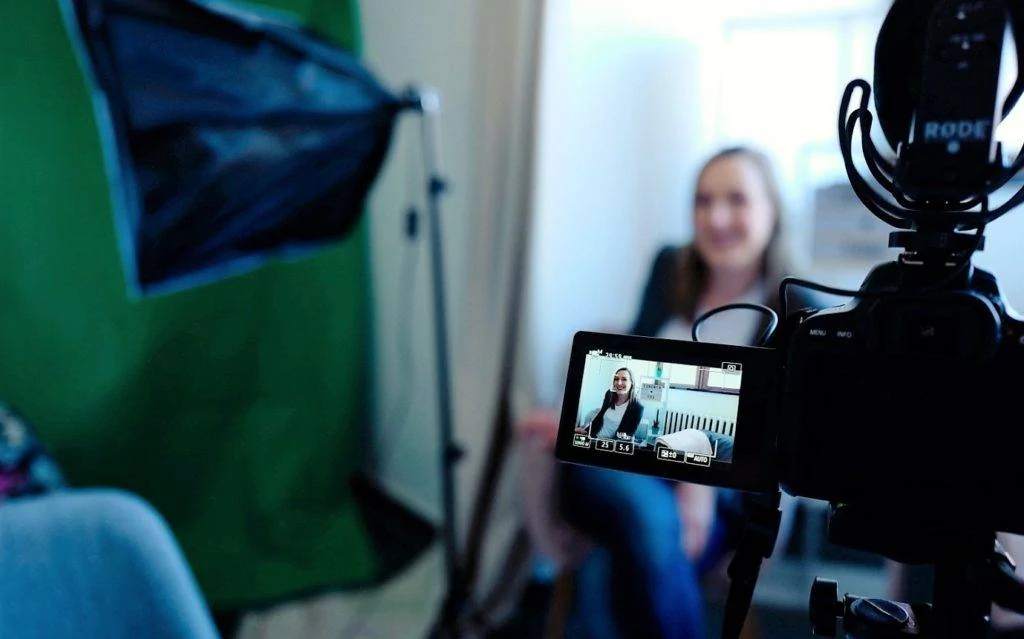 If you already have a PC or laptop that is not too old, it should be powerful enough for this purpose. Ensure you have a good internet connection.
4. A suitable broadcasting place
Of course, you need a suitable place to broadcast your shows. Make sure that the backdrop is appealing and well-lit. Also, ensure you have enough privacy and are not surprised by uninvited visitors.
Toys for adults will also prove to be very useful and increase sales. Interactive Toys are natural sales boosters and motivate your viewers to participate in the action actively.
Ainslee Divine, 42, quit her job in property management and became a webcam model, earning $1,000 daily. She is streaming from her guest room with the help of a laptop, a 4K webcam for the best picture quality, a big screen, two big-box lights, a rack of clothing, and a box of toys she uses on the camera.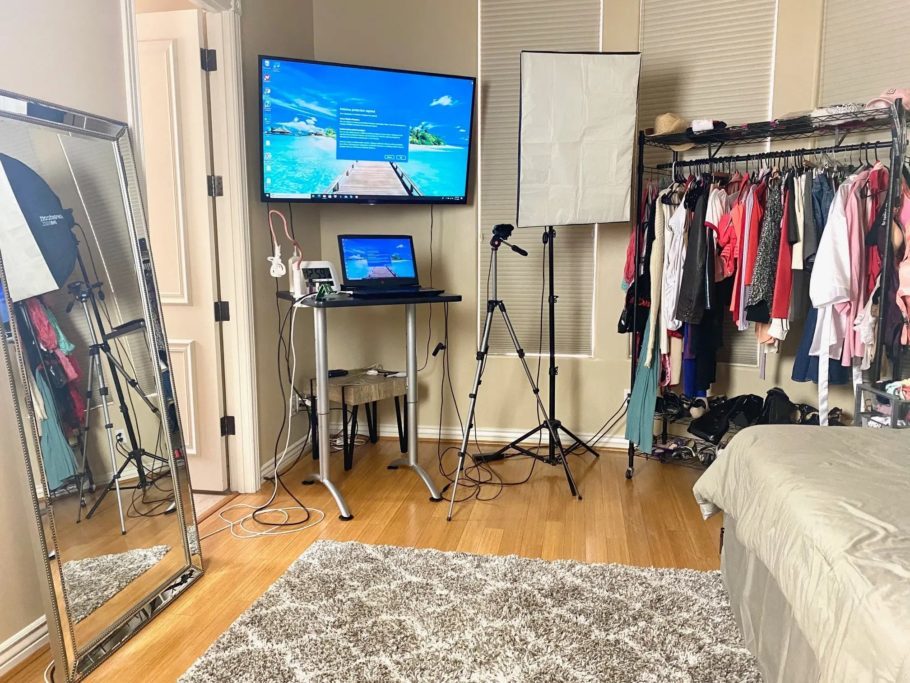 5. Business Incorporation and Taxes
If you make money working as a Webcam Girl or Webcam Boy and generate income, that is taxable. Please inform yourself about the registration of businesses and the payment of taxes for income with official authorities and a tax advisor. The regulations in the countries in this regard vary.
You should register a small business. It sounds more complicated than it is. Don't let that put you off! The bureaucratic effort and the registration process are pretty straightforward.
In the field "registered activity," you can choose with a clear conscience something more neutral than "Cam Girl" or "Cam Boy."
Some people do not want to get connected with the job title Cam Girl or Cam Boy in a public office. On top of that, you would also restrict your entrepreneurial freedom. Since you could also expand your field of activity under certain circumstances, you should choose a forward-looking term that leaves the doors open to your expansion. For instance, at some point, you may want to make money as a webcam affiliate, become a model agent or start an escorts website.
Best Tips to Stay Safe
We've researched for you and are bringing you the best tips to ensure you enjoy the growth of your camgirl career without having to deal with fear and insecurity. After all, you deserve to have fun on your journey; nobody should take that away!
Always choose anonymity over publicity.
The most crucial aspect of your security is, of course, your identity. It's up to you to choose how much information you reveal about yourself on these camming sites. However, it's always wise to consider protecting your personal information.
Your job is to be seductive, entertaining, and offer a fantasy, so people wanting to get close to you in "real life" is nothing unusual. If you're considering working in a public institution after your camgirl career, be extra careful when giving away personal details. Although this job is becoming increasingly accepted worldwide, it is still considered taboo to a certain extent.
Deal with unsatisfied clients
Not being able to get close to you might be why some of your clients will not be satisfied with your service. However, that's not something you should ever sacrifice. You want to build an audience while feeling comfortable being yourself without crossing the line.
Besides your privacy and security, your clients might be unsatisfied for reasons such as not doing or showithg certain things they want you to or not being online when they want you to.
How to respond to aggressive to harmful messages
Turn it into light humor. If you know this person is only trying to get your attention, making a light-hearted joke about what they have said and moving on might do the trick.
Listen to them. They might say something valuable you can take as advice to improve your show.
Report/Block them. You don't have to explain yourself to anyone rude to you or others in your room.
Share your experience. Responding calmly and sharing your opinion with them or your audience might help others understand your point of view.
Camming is just like any other job for dealing with clients. There will be ones who adore you and those who aren't precisely fans of you. Don't take it personally!
How do I get started becoming a webcam model?
Now that you know what is required, it's time for some tips on becoming a cam model.
It can be difficult for some people to overcome the embarrassment of being on camera. But once you get comfortable and make money from your viewers, it will soon become something you love.
Join a live cam platform.
The first thing you need to do is join a platform where webcam models can perform. There are a lot of websites out there that you can join. We've shown you ten platforms we consider good earners year to protect your privacy and security.
Set your Payment Methods
The whole idea of becoming a webcam model is to make money. That means you have to have some method to collect the money. Several electronic payment options like cryptocurrencies, gift cards, and wire deposits will allow you to get paid safely and securely.
Build your cam site profile.
Once you've chosen the right platfo.rm, create an account and start! Selecting the correct username and making an eye-catching profile for yourself is also essential.
Then make sure to add some photos and describe what you're going to do on camera, so people know whether they want to follow you or not!
Add content
Finally, you need to add content; here is where the fun part begins! Viewers love when their favorite webcam model is doing something fun, so being as creative as possible is essential.
For example, give your viewers more than just explicit shows and get intimate with them by reading fan mail or doing a quick Q&A video!
Remember, there is a ton of competition, so you must find unique ways to stand out from the crowd!
Set yourself goals and limits
To give yourself boundaries, you should set some ground rules on what content you want to perform. This can be as simple as only wearing certain clothes or saying certain words.
This helps you to be able to handle any situation that may come up and still be able to perform your best without feeling too embarrassed or shy.
Don't give up!
Getting used to being on camera can take some time, so don't give up if you're not getting results immediately.
You must want this and be willing to work towards it, as webcam modeling can be a long journey before you start seeing results! Also, set realistic goals but be patient because everyone is different and will progress differently.
Create a streaming schedule
To keep yourself on track, create a schedule and stick to it! This way, you will know what days & times you're going to perform.
Having a set schedule can help motivate you while having fun at the same time since you get to pick your favorite days! It would be best if you streamed when your viewers are online, so ensure this is a good time for you and your viewers.
Top 10 WebCam Sites & Platforms
Now that you know how much you can make as a webcam model and the requirements, let's look at the most popular webcam platforms and sites where you can register and start performing.
Based on a survey conducted by ReadySetCam, among webcam performers, Chaturbate accounts for nearly half of the respondents, and Streamate and MyFreeCams are the most popular choices for webcam models.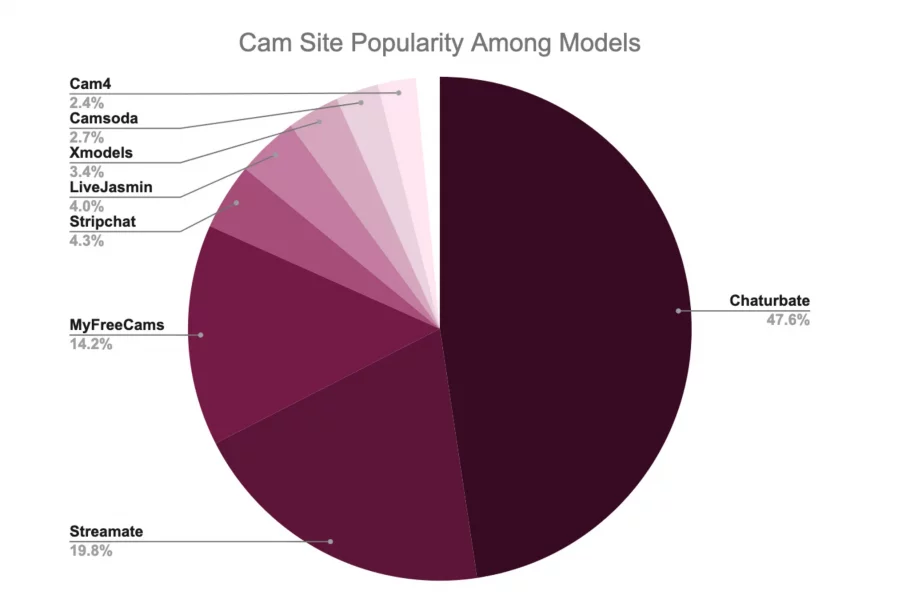 Chaturbate
Type: Tokens and pay per minute
Monthly traffic: 300 million
Average model pay: $6,430 monthly
Model pay range: $3,000 – $20,000/m
Model revenue %: 50-60%
Payout frequency: Weekly
Chaturbate is the largest cam site in the world by traffic, with over 300 million monthly visitors. It is a great cam site to work for, but it is highly competitive, meaning you must be a top performer to do well.
The best models on Chaturbate make vast amounts of money, with some models raking in over $1 million per year and many models earning at least $20,000 per month.
To maximize your earnings on Chaturbate, you must be able to entertain a large audience all at once.
Streamate
Type: Pay-per-minute & exclusive chats
Monthly traffic: 23 million
Average model pay: $3,350 / mo
Model pay range: $2,000 – $7,000 / mo
Model revenue %: 30%
Payout frequency: Weekly
This is one of the best cam sites and an excellent choice for any model who wants to do camming as a side thing and keep it super private.
Streamate has built up a fantastic community of high-paying viewers. Almost every viewer expects to do everything in private or exclusive chats, so you never have to show yourself publicly if you don't want to. Streamate has some of the best privacy settings, allowing you to control who can see what precisely.
MyFreeCams
Type: Token and sell videos, photos
Monthly traffic: 142 million
Average model pay: $4,000 monthly
Model pay range: $3,000 – $12,000
Model revenue &: 60% or more
Payout frequency: Twice a month
MyFreeCams is a great cam site for starting, as it is viral and has a reputation of more than 18 years in the camming game.
Instead of the one-to-one free chat, MyFreeCams works best on a tip system. So if you can attract a considerable chunk of tips, it will work great for you. And, yes, you get to keep at least 60% of your revenue.
Unlike those "free" webcam sites, MyFreeCams offers free members several possibilities – search, watch free shows, add favorites, and more.
Onlyfans
Type: Subscription & Premium Content
Monthly traffic: 170 million +
Average model pay: $5,000
Model pay range: $3,000 – $9,000
Model revenue %: 80%
Payout frequency: Weekly
OnlyFans is not a cam site; it's a paid, subscriber-only social media platform. It's like an Instagram or Twitter account, except your followers must pay a monthly subscription fee to view your posts and feed. You set the subscription price (typically $5 – $30 / month per follower).
It's a fantastic way for most webcam models to earn extra money, paying you monthly subscription revenue, which can significantly supplement your income.
On Onlyfans, you can make money by creating exclusive content for people who subscribe to your profile. You set your prices and decide on the content of what you will send them!
This is perfect if you're an experienced cam model or someone just starting, as it's very relaxed on what type of content you can create and share.
StripChat
Type: Subscription & Premium content
Monthly traffic: 170 million +
Average model pay: $5,000
Model pay range: $3,000 – $9,000
Model revenue %: 80%
Payout frequency: Weekly
This is one of the most visited video chats, specializing in free streaming, where you can register as a solo or a couple. Statistics show that this is one of the most popular cam websites. It was created in 2011 in the USA and began gaining popularity. And now it can broadcast 1800 models here every minute!
Stripchat works smoothly for webcam models that know how to play towards tips. And the streams are broadcast on Stripchat and xHamster, boosting your viewers and tips.
However, you can also entice viewers into private rooms for some exclusive arousing entertainment and earn on the price you set. To cap it off, you can use the virtual reality feature for the most immersive experience.
Cams.com
Type: Tokens and pay per minute
Monthly traffic: 9 million
Average model pay: $3000
Model pay range: $1,600 – $8,000
Model revenue %: 30-70%
Payout frequency: Twice monthly
This longstanding cam modeling site has over 14,000 stunning professional cam models. Like other excellent adult webcam sites, Cams.com builds its base from public live videos where viewers can dish tips and try to take them to the private chat room for a personalized experience.
Cams.com is not only ahead of the game in terms of its diversity but also very technologically advanced. If you watch VR porn, you are familiar with teledildonics. In VR, teledildonics are Bluetooth sex toys that synch up to what you are watching.
Cam girls can sync their sex toys with their account tips, and over time, the more you make, the more you get to keep.
LiveJasmin
Type: Credits and pay per minute
Monthly traffic: Over 200 million
Average model pay: $4000 monthly
Model pay range: $2,000 – $7,600
Model revenue %: 40-80%
Payout frequency: Twice a month
Livejasmin is a market veteran who has been working for a long time. Most veteran models started working on this website. The minimum payment from the site is $ 100. The site is famous for its good technical support, but high competition exists.
In contrast to Chaturbate, which is primarily American-centered, LiveJasmin is a hub for European models. However, you can still join the site if you're an Australian cam model. The good thing about its primarily European audience is webcam models get plenty of rich people willing to spend for a good time.
Xmodels
Type: pay-per-minute private chats
Monthly traffic: 636,000 viewers
Average model pay: $7,040 / mo
Model pay range: $4,500 – $12,000 / mo
Model revenue %:45 – 75%
Payout frequency: Twice a month
This is another excellent site where you can offer your viewers custom content and make full-time income! It's perfect for cam models trying to build their fan base, as you'll get much exposure on this platform.
Xmodels gets viewers from rich countries like Switzerland and Norway willing to pay a lot for a private show with you. Unlike other cam sites that keep as much as 70% of your earnings, Xmodels only takes 25-50%.
You must cam on the site for 100 hours before setting your price for private and exclusive chats. We recommend trying Xmodels, especially if you want to invest in becoming a webcam model as a long-term profession.
BongaModels
Type: Token and pay per minute
Monthly traffic: 340 million
Average model pay: $4,260 monthly
Model pay range: $3,000 – $8,000
Model revenue %: 50-90%
Payout frequency: Twice a month
It is one of the most popular webcam sites, with 300 million monthly visitors. Its advantage is that the site rules practically do not restrict the models. Girls, guys, and couples of different ages and sexual orientations can work on BongaModels.
BongaCams is a good choice if you want to work for tips in a free show with very high traffic. It pays out the highest % of revenue to the model of any cam site online today. It generally has excellent reviews from the models who use it.
The one place BongaCams falls is if you want to do pay-per-minute private or exclusive chats primarily. BongaCams is very public, and its features for supporting private and exclusive chat are not as good as other cam sites.
Camsoda
Type: tokens + sell photo & videos
Monthly traffic: 66 million
Average model pay: $6000 / mo
Model range pay: $3,500 – $11,000 / mo
Model revenue %: 55%
Payout frequency: Weekly
If you're a kinky model who wants to satisfy their kinky fetishes and make some money doing something you enjoy, this could be the site that does it.
The cam platform is based on free chat rooms and private shows. Models can sell their gallery for an extra avenue of income too. During the broadcasts, models get to set their prices and can pool resources to achieve some goals.
Camsoda shines for models who want to use their cam site to drive photos and video sales. The top Camsoda models make more money selling photos and videos to viewers than directly receiving tips from actual camming.
If you want to sell photos and videos in addition to camming, Camsoda could be a good choice for you.
How to Increase my webcam modeling earnings?
The first time you get paid for webcam modeling is often a combination of excitement and disappointment. You are excited you made money but disappointed you didn't earn more. The good news is that there are ways to increase your earnings as a webcam model.
Tips to increase your earnings as a webcam model
Use more than one website – The more cam sites used by models that you broadcast your modeling shows to, the more money you can make.
Be careful who you block – It is crucial to sometimes stop certain places from getting your shows to keep yourself safe. However, try to limit the block as much as possible. Block cities, not countries.
Add videos of old shows – People will look at old shows they missed if you post them.
Add on the sides – Some adult webcamming sites allow you to post pictures and videos that people will purchase. You may also sell Worn panties, hand-written letters, and other things connected to the model that can all be turned into money. Sites like Snapchat and Kik allow people to create a show for others to subscribe to.
While webcam models make money on the shows they broadcast, there are other opportunities for earning money. Learning these methods is also essential.
FAQs for webcam modeling.
If you're still not sure if this is for you, here are the top questions that people have been asking online:
How long does it take for a webcam model to start making money?
It can take some time before you start making money, depending on your niche and how popular you are. However, patience is important because it can take a few weeks, even a couple of months before you will see any results.
How much can I make as a webcam model?
To give you an idea, the average rate is around $2500 a month for around 60 hours.
How many hours a cam model records daily?
That's completely up to you. You're responsible entirely for your schedule and choose the working hours. The more you dedicate to this, the more you'll probably earn. Consider this as a full-time job to profit.
Is webcam modeling legal?
Yes, it is completely legal in most countries. Some countries have strict rules about what you can and cannot do, but that's the case for every job.
What kind of content should I post online?
It's important to show who you are in your videos. People like to see your personality, and it's also a great way for viewers to feel connected with you.
Webcam model job is only for girls?
Not! Webcam modeling is no longer just a female industry; there are many male models, so don't hesitate! This can be a great opportunity to make money!
Who can be a webcam model?
Anyone. Gender, skin color, complexion, age, race ― nothing matters in webcam modeling. You'll have your viewers as tastes differ.
"Can
Yes, you can. Most sites provide this feature so you can stay hidden from users from your country/state. Check if a platform offers such a service before registering.
What are the best cam girl sites?
The top 3 most popular webcam modeling sites by traffic are Chaturbate, BongaCams, and LiveJasmin. However, with such high traffic, they also have high competition, with many models aiming at these viewers. This competition can make it harder for beginner cam models to do well on those larger sites, so we recommend starting more significantly on a smaller site like Xmodels or Streamate.
Key Takeaways on How to Make Money as a Webcam Model
Now that you know how to start making money online as a webcam model, it is time to decide whether this online job is for you.
A few things to remember is that being a webcam model is not for everyone. This is not good work if you are too shy to be on camera or love your privacy.
Many online jobs still suit your personality and needs and allow you to make money from anywhere.
But if you are willing to do the work and want to try something out of the box, go ahead and try it out!
Go out there, check the best webcam modeling platforms, and see if it's the proper remote gig for you!