NFT tokens have been one of the biggest trends in the cryptocurrency market lately. This is a new, non-standard, and original way to make money. Social networking habits, programmers, show business representatives, designers, and creators sell artworks, music compositions, and ordinary "scribbles" for incredible amounts of cryptocurrency. The trend slowed down slightly, but it should grow again. The following article will teach you how to make money with NFTs.
But before this, let's answer some basic questions:
What's behind NFT? Is it possible to make a fortune with NFT tokens? And is it possible to make money with NFT games?
What are NFT tokens?
Unlike NTF, banknotes or regular cryptocurrency tokens are exchangeable: for example, they can be exchanged for euros or bitcoin for dollars. At the same time, one dollar is always equal to one dollar and two bitcoins – two bitcoins.
NFT tokens allow you to sell and buy real games, videos, and artwork. Of course, the other possibility to make money with them is to create tokens on your own.
There are several thematic websites where you can "digitize" your work and then sell it. In this case, you will only have to pay a transaction fee on Ethereum for the development of the blockchain. It depends on the load of the e-wallet network and can range from a few to a few hundred euros.
The other option is to wait for the best time and receive a token as a gift from some NFT developers. Token creators sometimes host free giveaways (called airdrops) or giveaways. So, if you are lucky, you will become the owner of a unique token.
You can also try your luck with cryptocurrency aggregators. Here, points and bonuses are awarded daily for online activities. When the platform's organizers offer free tokens to users, they can only be redeemed for the points they collect (although they usually provide different types of discounts there).
Hunting for NFT tokens is like a lottery. However, remember to stay safe while working online if you get carried away by the tokenization game. You can protect your network if you know what a VPN is.
This way, the information you manage and all your transactions are protected by end-to-end encryption. Thus, your token won't be easy to steal, even if a cybercriminal uses sophisticated equipment.
Make money by creating your own NFT
The following way to make money is to create your own NFT. This method is hardly suitable for beginners. Every person in this field has thought of creating their product based on blockchain. However, there are millions of works lying around on platforms that haven't resonated with investors.
How to make money with NFT games
And what about the NFT games? At the heart of the online gaming revolution as non-fungible tokens. Collectibles like baseball cards are the most common non-fungible asset in the physical world.
The problem with translating this to the digital realm is that collectibles could easily be copied and sent to someone else, diminishing their rarity and value. By representing collectibles as tokens on the Ethereum blockchain, you eliminate the possibility of double-spending and ensure security, ownership, and visibility into your collectibles.
Online blockchain-based games launched a variety of games with active users and transactions. Since all of these tokens are built to the same standard, we are seeing the emergence of liquid markets across the digital gaming ecosystem, with people able to exchange assets between games.
There are normal games, such as casino games you can enjoy online play casino online, but there are based on blockchain.
There are many live blockchain-based games that you can use to earn money while playing. Blockchain technology allows gamers worldwide to do what they love and make a lot of money simultaneously.
Each blockchain-based game has its ecosystem and economy. Players can earn various NFT items for their achievements in the game, which can later be sold on secondary markets. In addition, traders buy and sell in-game items on secondary markets, locking in profits.
Perhaps the most successful project in this area is Axie Infinity. And a million gamers today have steady earnings thanks to this game. Axi also has its AXS tokens, which the developers gave to users.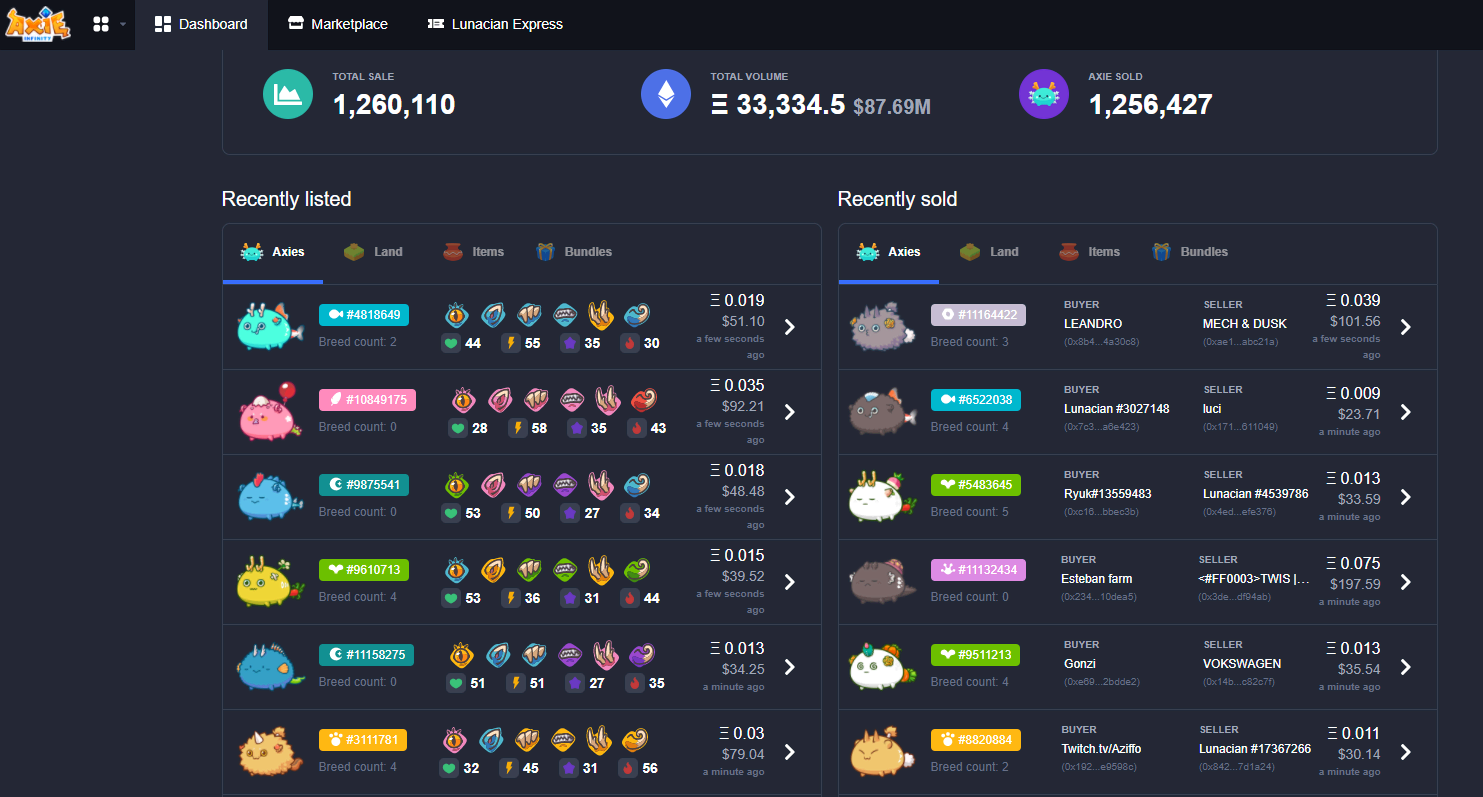 Such games could also be categorized as 'collectible games.' Collecting and trading games belong to the most 'basic' type of NFT-based games. So, you can buy, sell and trade unique tokens on Ethereum. By the way, one of the first blockchain-based games, Cryptokitties, is also a collectible game. You can buy, breed, and trade digital cats in this game.
In the game PlasmaBears, you can build, sell, and trade digital bears. You can also send them on adventures to discover valuable, portable (and tradable) assets.
The other NFT games, such as Hyperdragons and Chibi Fighters, are based on the basic principles of collecting and bartering as the games above. However, you can fight against other players in these games.
The game Sandbox uses NFTs to create games that can be shared with other players. If you play in Sandbox, you can use NFTs to develop and share a game. When another player plays an NFT, you can buy it from you if their experience was enjoyable enough or add new features of their own. Players can play other people's games and contribute to the virtual world as collectors, artists, or become virtual landowners.
The game, which is called Moboxer, uses NFTs to create a turn-based combat game. Players can join one of three factions and fight other players in real-time or buy NFTs on the market, allowing them to improve their creatures, participate in quests, and win battles more easily. Playing this game is an easy way to make money, as you can either sell NFTs you don't need or win battles and earn rewards in cryptocurrency.
The next game we want to look at is My Neighbor Alice, a blockchain-based game that allows players to buy and own virtual plots from Alice or a trading floor. There are few plots in the universe, and each plot of land is represented as NFT tokens.
In addition to land, players can also buy houses, animals, vegetables, jewelry, or cosmetic items for the player avatar. Alice's token is the game's main currency and allows players to exchange NFTs, buy land, and use certain products such as bail, redemption, and stealing.
As a player, you can also make a significant investment in NFTs in the game, which may be worth selling later on secondary markets or getting rewards by completing quests for NFTs.
These NFT games are just the tip of the iceberg of how blockchain can be used in games. As more and more developers start creating NFT-based games, this list will grow, and soon everyone will likely find something for themselves!
Conclusion
Thus, there are a lot of ways to make money on NFT. You can create your own NFT, trade with them, or earn money with NFT while playing games… This sphere is actively developing. Therefore, you should not lose the opportunity to make a lot of money and improve your life.