Are you looking for ways to earn money online with paid survey websites and apps? Then InboxDollars could be a way to do just that. In this InboxDollars review, you will find out what InboxDollars is, if it's a legit money-making opportunity or not, how you can earn money, and how much you can make.
However, you need to make sure that you set your expectations right before setting up an Inbox Dollars account.
InboxDollars might be a legit way to earn money online, but if you search long enough, you will find that InboxDollars is just one way to do it.
There are several ways to earn money online, and some ways are better than others.
But let's continue our InboxDollars review and tell you what exactly InboxDollars is.
1. What is InboxDollars?
InboxDollars is a cash rewards website that pays its members to complete online tasks and fill out surveys. Internet entrepreneur Darren Cotter founded this online business in 2000, and they have been featured in the Inc. 5000 list.
They have been in business for almost 20 years now, and it was even featured on Good Morning America as one of its work-from-home options.
InboxDollars has given out almost $58 million to its users since launching in 2000.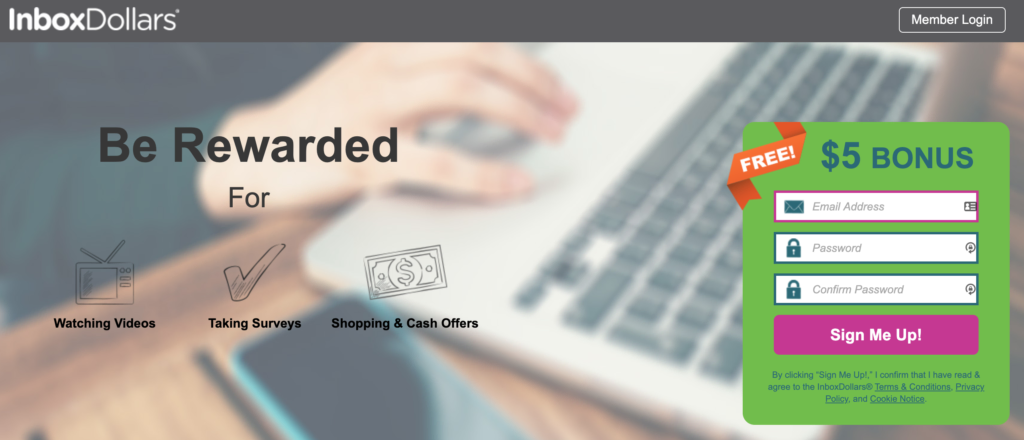 InboxDollars acquired SendEarnings in 2005 and launched two sister companies: InboxPounds in the U.K. and DailyRewards in Canada. In 2019, InboxDollars was acquired by Prodege, a much larger online company that owns Swagbucks, ShopAtHome, and MyPoints.
InboxDollars is one of the top recommendations for making quick money online and is also listed in our huge list of websites and apps that pay you to refer a friend.
Inbox Dollars Website Details:
Payment range: $0.50 to $10 per survey
Where it's available: United States
Age requirements: 16 or 17 years old with parental permission, or 18+ years old
Payment method: PayPal: Check, PayPal, Gift card
Minimum to cash out: $30 ($5 signup bonus)
Time Invested: 5-10 minutes per survey.
Although they do commonly get lumped together with paid online "survey" sites, InboxDollars has many more earning options like watching videos, using discount codes upon checkout, reading emails, signing up for memberships, the list goes on!
InboxDollars has a payout threshold of $30 and would usually take a minimum of 10-16 working days to cash out. Once you've withdrawn for the first time, though – you get to enjoy the perks of being a "Gold Member" and reduce your waiting time to just nine days!
InboxDollars PROs
Easy way to make extra money online.
$5 Bonus just for creating an account.
They have been in business since 2000.
Plenty of options to earn (surveys included).
Not much time or effort is required to earn.
Multiple cash-out options.
High legitimacy (BBB accredited with an A+ rating).
InboxDollars CONs
You're not going to make a lot of money.
It's available only in the United States.
The payment threshold ($30) is high.
Waiting payment time to get your 1st payment is also high.
2. What is the InboxDollars $5 signup bonus?
One of the biggest attractions to signing up with InboxDollars is that they give you a $5 sign-up bonus credited to your InboxDollars account.
However, to redeem the $5 signup fee, you need to have a minimum amount of money in your account. This is called a minimum threshold amount, which in this case is $30.
You can pause reading our InboxDollars review and signup right away to secure your $5 signup bonus by clicking on the banner below.

Now that you have your first $5 in your InboxDollars balance, you will need to earn at least $25 yourself. You achieve this by completing a series of online tasks Inbox Dollars has available for you. Some of these tasks are easy, like, completing your account profile, you will earn $0.50.
Okay, so that's not a lot, but the idea is to complete a whole series of small tasks to cash out at the end.
3. How to make money with InboxDollars
There are several ways to earn money with Inbox Dollars. Below I will explain in detail which are the most lucrative ways to improve your earnings.
3.1 Take Online Surveys
Taking surveys is a good way for you to start racking up cash into your Inboxdollars account.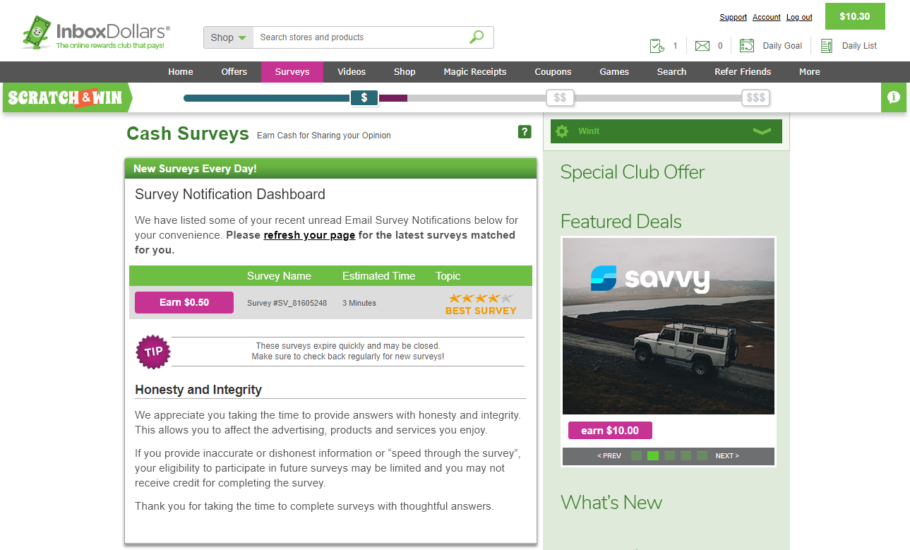 Some are easy to get started with but don't tend to pay out much money. However, some can take 10 minutes and payout $1. If you add this up, then potentially, you could get paid 6 dollars an hour. Not so great, I know, but I guess you have to look at Inboxdollars as a way to earn extra money instead of it being a full-time job replacement.
3.2 Watching videos
Inboxdollars has several big brands that pay them to send viewers to their videos. Members of these brands pay to show their videos or ads to inbox dollars viewers and then pay for the privilege of doing so.
Inboxdollars then share some of the ad revenue with the members who participated in the program.
As you can imagine, there's not much money to be made for viewing videos, so you won't see a lot of income completing this task.
To complete the task, you may need to watch the video for at least 60 seconds. For completing this task, you might earn anywhere from $0.002 to $0.005, so quite lame. If you were to calculate this out of how much you would make an hour, it could be anywhere from $0.12 to $0.30 per hour.
Doable, but not worth it, in my opinion.
3.3 Play Games
Imagine getting paid to play games online. Inboxdollars has a variety of games that you can earn cash playing. These games are easy to play and don't need many computer resources to run them, which is a bonus. More popular games are Monkey Bubble Shooter, Mahjong, Solitaire, Outspell, and Candy Jam. You also get access to hundreds of GSN games.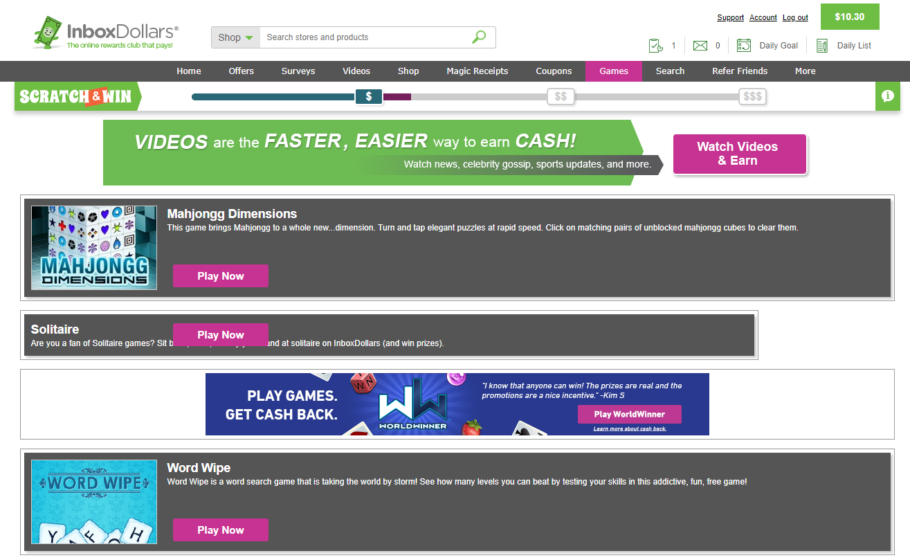 You might have to install some potentially invasive third-party apps or other software to play these games in some cases. Be careful with anything you download to make sure it's legit!
3.4 Cashback for Online Shopping
You can get cash back from some top brands that you shop with at Inboxdollars. Some of the discounts aren't significant, but I always say anything saved, especially if you're going to buy it anyway, is worthwhile. Inboxdollars also share some savings tips with you.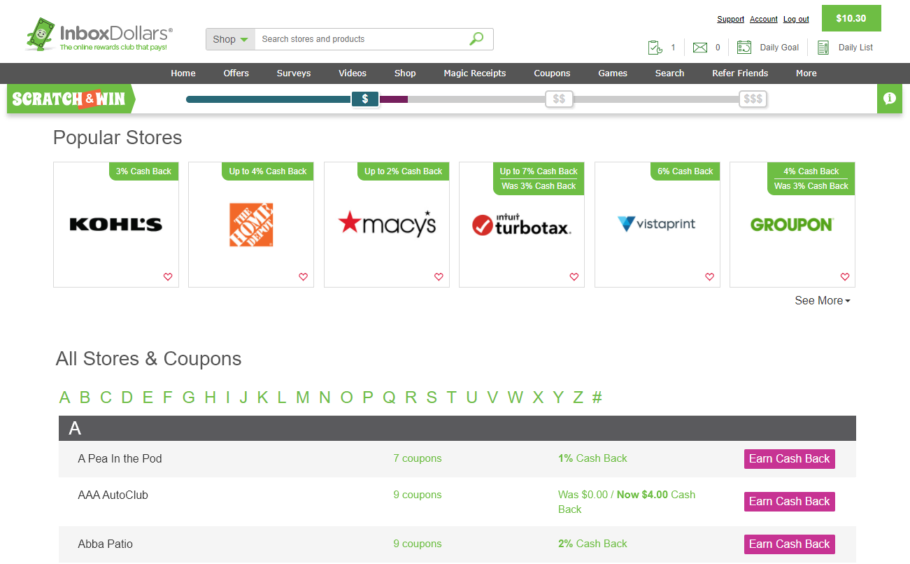 3.5 Get Paid To Read Emails
You can get paid to receive emails. Yep, it is a thing, and you will get paid. However, it is not a helluva lot—some just something to keep in mind.
Members need to opt-in to the service and receive PaidEmails from InboxDollars right to their email inboxes to take advantage of this program.
3.6 Coupon Cash Rewards
Here's a good way for you to earn some extra money in your InboxDollars account. Gain access to free coupons for groceries, home, beauty, and more.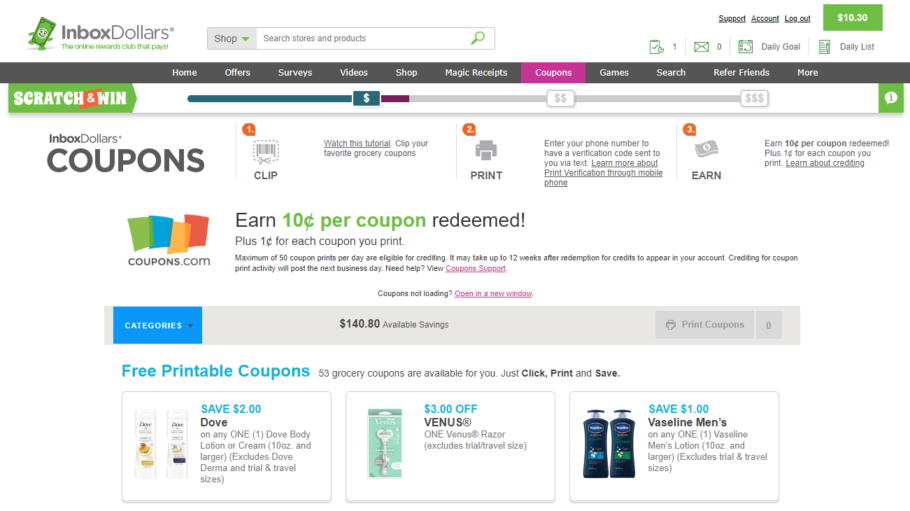 Apart from saving money using these free coupons, you will earn $0.10 in your InboxDollars account every time you redeem a coupon.
3.7 Referral Program
Inboxdollars lets you earn $1 for every person you refer to their program who signs up and activates their InboxDollars account.
If you're good at finding new people to participate in programs like Inboxdollars, then this is by far the best way to earn cash with this program.

3.8 InboxDollars Trial Offers
Trial offers tend to be programs that you sign up for. Some of these offers don't require credit card details but personal details, while others, especially the higher paying offers, do.
The idea with trial offers is that you sign up and are only charged after the trial period ends. So you can cancel at any time so long as it is in between the trial period, and you won't be charged. Companies want you to try their product and hope you like it enough to pay for it.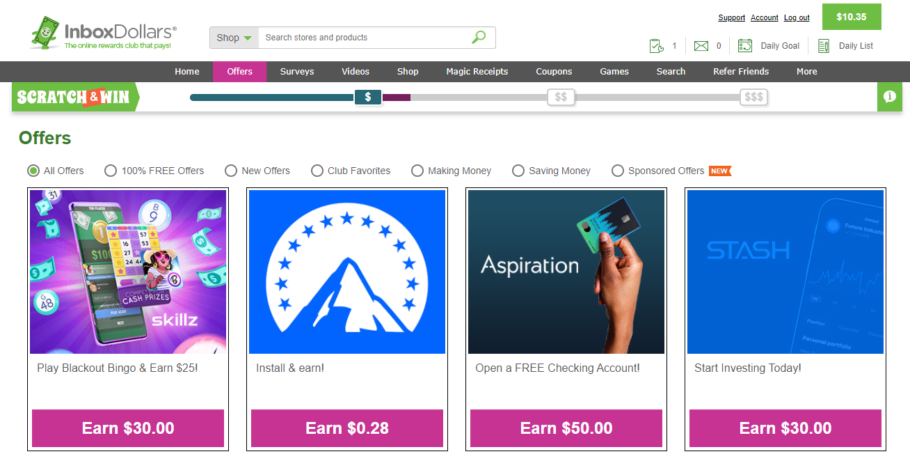 An excellent example of this would be the free trial offer with Netflix. They give you free membership for three days, and if you like it, they start charging you after the three days.
Once you complete these kinds of offers, InboxDollars with credit your account money. The amount is dependent on what offer you complete.
3.8.1 A word of caution
Now, you didn't signup to InboxDollars to spend money, right? You signed up to make money.
So, how do you do this in this scenario? Well … some people sign up to get the InboxDollars credit and then cancel the offer, so their credit cards don't get charged.
The companies offering free trials understand that many people will cancel their trials before getting charged. In some cases (not all), they make it very difficult for people to cancel their accounts, thereby incurring charges after the agreed trial period ends.
Furthermore, some of these offer programs have a recurring monthly fee, so your credit card will continue to be charged for as long as you're account remains activated or until you can cancel your account, or as a last resort, cancel your credit card.
I'm not saying that this happens to everyone or that all companies employ this kind of dodgy behavior, but more that it does and has occurred in the past and is something for you to be aware of.
4. InboxDollars Review – Doing Surveys
Completing online surveys is probably one of the more lucrative ways to make money with InboxDollars.
Surveys will typically fall under one of the following subjects: Cars, Fashion, Home Renovation, Travel, Groceries and Shopping, Sports and Leisure, Politics and Current Events, Healthcare, Insurance.
However, you're not going to qualify for a survey consistently.
And to qualify for a survey, you will have to complete a pre-qualifying questionnaire to determine if you're the kind of candidate the company needs for their survey.
Often these pre-qualifying questionnaires can take up to 10 – 15 minutes to complete, which on its own is not such a big deal. However, think about having to complete six of these questionnaires and not qualifying for any of them.
That's a waste of an hour. Moreover, some of the surveys that you finally complete can yield a whopping $0.25 for your efforts.
5. Is InboxDollars a Scam?
Nope, InboxDollars is a legit way to earn money online. However, it is not the best way to make money. And I would also say that it is one of my least favorite ways to make money online.
You should know that customers also seem to complain that InboxDollars charges a $3 processing fee for outgoing payments. So, if you're finally reaching $30, InboxDollars slices 10% off the top.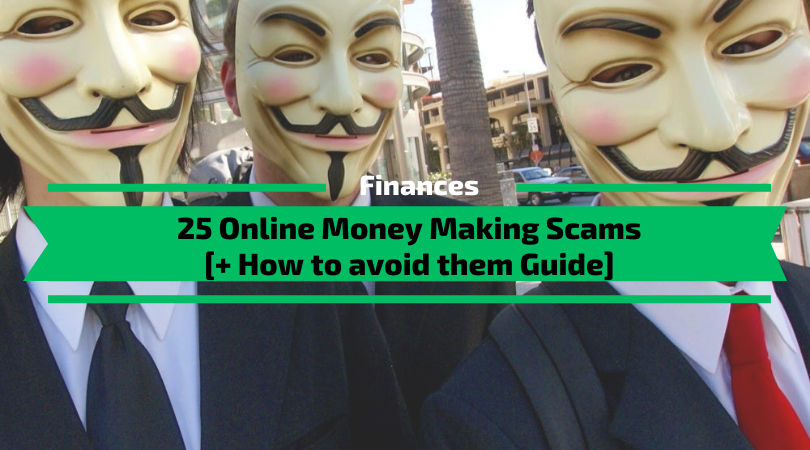 Now that I've explained in this InboxDollars review what InboxDollars is, how you can make money, and proven that's not a
SCAM
, let's continue with some questions and answers.
6. InboxDollars Review FAQ's
How much money can you make with InboxDollars?
Take Surveys – Earn between $0.50 – $10.00 for sharing your opinion when taking surveys, which are emailed to you and posted on the website every day. If you complete 5-10 surveys, read emails, and do web searches regularly and watch a few videos each week, you should be able to earn $30 within 4-5 weeks.
How Long Does It Take To Get Paid From InboxDollars?
InboxDollars will process your payments (ePayment or Check) 3-9 days after your request rather than 16 days for non-Gold Members. After being processed, you should receive it within a few business days. Please allow up to two weeks for your payment to be delivered, depending on the U.S. Postal Service.
How do I reactivate my InboxDollars account?
First, sign in to your inactive account. Then click the "Send New Activation Email" link. Check your email and click the link you receive to confirm the reactivation of your account.
Is Inbox Dollars legitimate?
Yes, we are confident that the offers are legitimate and the company is reputable.
How long does it take to receive a check from Inbox Dollars?
Non-gold members' payout requests are honored 10-16 days after a request is submitted. Gold members typically receive payouts in under a week.
7. InboxDollars Alternatives
Are you looking for an InboxDollars alternative? Well, here are several InboxDollars alternatives we recommend, and you can try: SwagBucks, PrizeRebel, ySense.  Also, here are the best 21 best paying survey websites in 2021, reviewed for you.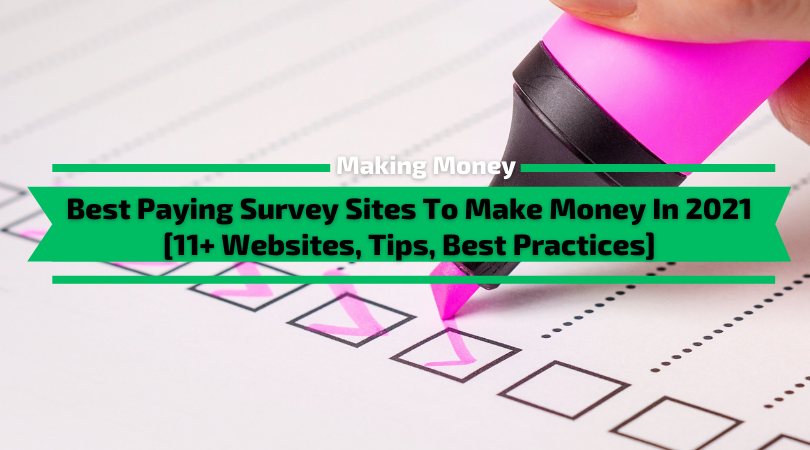 8. InboxDollars Reviews
Here are several reviews on InboxDollars I've watched on Youtube and decided to share them with you. That's because I want you to find out multiple experiences from different people and decide if InboxDollars is right for you.
9. InboxDollars Review Conclusion
You can make money using Inbox Dollars to complete offers, take surveys, and do other small tasks. However, the amount of money you earn is small compared to the time and effort to get the money.
Inbox Dollars is a legit way to make money but is not the only online survey company that offers this kind of service.
Several other companies offer similar ways to earn money with a much higher payout rate and a lower threshold.
In conclusion, you can legitimately make money with Inbox Dollars. You will not get reach, but if you're consistent in your efforts, you will make some extra bucks that will help you get a new PS game, some groceries, or a meal or two in town. Look for more money? Check our list of 50 side gigs recommended for 2022 and beyond.

Affiliate disclosure
Some of the links in the post above are "affiliate links." This means if you click on the link and purchase the item, I will receive an affiliate commission. You will still pay the same amount, so there is no extra cost. I am disclosing this under the Federal Trade Commission's 16 CFR, Part 255: "Guides Concerning the Use of Endorsements and Testimonials in Advertising."