Are you pissed off with the strict rules of Google Adsense or tired of trying hundreds of other ad networks that pay only pennies?
Then you should give a try to Infolinks; known as one of the top Google Adsense alternates in the world of ad networks.
However, make sure you go through this article before signing up for Infolinks.
Overview Of Infolinks
Infolinks is a global advertising platform for publishers and advertisers.
It has named its advertising platform In³ which stands for Infolinks, Intent, and Intelligence. In³ technology powers the third-largest publisher marketplace in the world, supporting 100,000+ websites in 128 countries.
The basic difference between Infolinks and other ad networks is that Infolinks do not have any banner and you no need to put any banner code to show ads.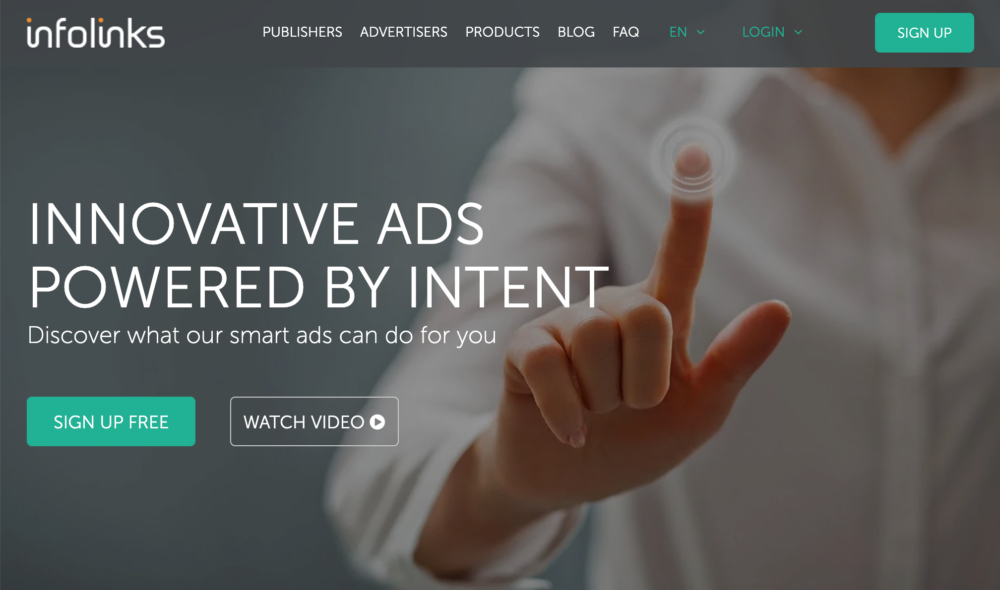 A single piece of code or plugin is enough to show Infolinks ads. Infolinks has over 125,000 worldwide publishers along with thousands of advertisers and partners including renowned advertising agencies such as Digitas, MediaCom, MEC and so on.
InfoLinks Company Stats
Website: https://www.infolinks.com
Network founded: 2007
Employee count: 11-50
Payment method: PayPal, eCheck, ACH, Payoneer, and Bank Wire Transfer
Payment terms: NET-45
Minimum payment threshold: $50 ($100 in case of Bank Wire Transfer)
Supported language: English and Spanish
Why you should choose Infolinks?
If you have a content-rich website then there is a good chance to make a decent amount of money with Infolinks.
If you have good traffic from tier 1 countries (US, UK, Canada, Australia and New Zealand) then go for Infolinks.
If you have low traffic then it's good to monetize with Infolinks rather than other ad networks.
Publisher Approval Process
Almost all top ad networks have quite hard applying and approval policy which destroys the potential of raising small and medium publishers.
Ad network like Adsense maintain very hard approval and ad running policy; on the other hand, Tribal Fusion ad network requires minimum 500,000 unique monthly visitors to get approved. Infolinks is very kind to publishers of all size.
It neither requires any minimum monthly visitors nor has very hard approval policy. However, to maintain the standard quality your website or blog must not be spammy or contain very less content.
Therefore, if your site has a good amount of valuable contents you can easily get approved by Infolinks and show your ads instantly right after the approval.
Type Of Ad Networks
If you are familiar with ad network types you might know that there are several types of ad networks such as CPC, CPM, CPV, CPA etc. Infolinks is CPC and CPM based ad network.
CPC type: CPC represents the term Cost Per Click which means you will get paid every time when your visitor will click on the ad link.
CPM type: CPM means Cost Per Mile (Thousand) where you will get paid for every thousand impressions. You no need to count ad clicks in this case.
Types Of Ads That Infolinks Provides
Here comes the major difference between Infolinks and other ad networks. Most of the ad networks provide ad banners of various size but Infolinks provides a simple code or plugin for CMS based website which is used to customize ads. Basically Infolinks has 5 types of ads to show on the publisher's website.
Here is the detail of those 5 types of ads: 
InText ad
InText ad will appear in the content of your site and it will look like natural links. People can hardly understand that it is one type of ad. InText ad has a very high click-through rate which helps the publisher to earn handsome amount of money from advertising.
InFold ad
InFold ad is quite similar to the pop-under ad. This type of ad will appear at the bottom part of the browser just above the fold. To be honest most people don't like this type of ad as it hides a lower part of the content. Thus it seems disturbing to most of the people including me. Don't worry, you can easily disable this ad if you want.
InTag ad
These are also high converting ad just like InText ad. InTag ad looks like tag or sub-menu and gets many clicks as it looks natural to the visitors. You can place in tag ad both at the top and bottom of each page.
InFrame ad
InFrame ad gives big exposure to the advertiser as it consists of large side banners. Basically, in this case, two side banners slide in from both right and left sides of the browser when anyone visits the site. These are sticky and thus move up-down when visitor scroll the page.
InScreen ad
InScreen ad is similar to pop up ad which appears over the page and gives a must exposure to the ad of the advertiser. Infolinks recently has introduced this type of ad which is good for making money fast as it has high paying rate.
Payment details Of Infolinks
Infolinks pays money on NET30 system-based which means the publisher will get the money after 30 days of fulfilling the minimum payout threshold.
You can set a minimum threshold as low as $50 to get quick payment. It has several payment methods which are Paypal, Payoneer, E-check, ACH, Western Union and Wire transfer.
Will Infolinks ad suit to your blog or website?
As Infolinks is a text-based display advertising network, your website or blog must be rich with contents for a better experience. Therefore, it depends on the type of website that you own.
If you have any video or image-based website then InfoLinks is not going to work well for you. Besides, it will also not suit with one-page websites. However, if you have a good amount of contents with several pages then Infolinks is like a blessing for you.
Infolinks PROs and CONs
Pros of Infolinks:
Works best for content-rich websites and blogs.
High CPC and CPM rate for tier 1 countries.
Easy to get approved and integrate ad.
Accept websites with low traffic.
Good support system.
Provides plugins for CMS based sites.
Provides spam-free ads.
Shows Geo-targeted ads.
Cons of Infolinks:
Not supported banners.
Some ad formats can be intrusive
Low CPM rate for 3rd world countries.
How to increase Infolinks earning? [Tips]
There are some special strategies to increase your InfoLinks earnings and to make handsome amount of money every month. Simply follow the below steps to boost up your Infolinks earning:
Match the link colour that suits your site and looks natural.
Use maximum links per page.
Use single dotted underlined text ads for a high click-through rate.
Choose the category wisely that is closely related to your site.
Use in tag ads both at the top and bottom.
Get organic traffic from search engines for the high pay rate.
Get more visitors from tier 1 countries (US, UK, Canada, Australia and New Zealand).
Publish high paying keyword-rich content.
Final words:
Choosing the best ad network from hundreds of them is not an easy task. In my earlier life I tried more than 20 ad networks just to check which one suits best to my site.
Therefore, I know the pain of choosing an ad network that will pay me much than others. I have provided all ins and outs about Infolinks in this article, it's now your job to decide whether you will go with this best Adsense alternate or not.
I highly recommend you to try this ad network if you have any content-rich website or blog to monetize.