Amazon has become the leading eCommerce platform in the world. It is for online shopping and many other opportunities like movies, ebooks, or cloud services offered by the platform. With Amazon Prime's introduction and the incredible one-day delivery, Amazon users' number has only increased.
Selling through Amazon is one sure way to earn a passive income, but coming up with product ideas can be tricky without the right research tool.
Due to the increasing competition level on the platform, merchants are now seeking ways to edge over the competitors. This often involves monitoring other Amazon sellers' latest trends and features while carrying out other optimization practices on your products.
But enough about the bad news.

In this IO Scout review, I'm going to walk you through everything you need to know on how to use IO Scout to your advantage by finding the best products to sell to monitor your competitors and increase your profits.
1. What is IO Scout
IO Scout is a powerful tool that startups can use, new sellers, existing sellers, private labels, and drop shippers. IO Scout has the same functions that you can find in Jungle Scout and Helium10 with much fewer limitations and lower prices.
This online tool also helps you increase your search data accuracy and maximize the seller's potential and profit. IO Scout is very accurate when determining the volume of products sold.
It has a database of over two hundred million products to search from and make sure you get the most accurate data and information to analyze market trends and gaps.
IO Scout uses data-backed algorithms to provide you with the best Amazon products for your specific niche. It also offers an efficient and straightforward way of discovering products with the highest demand and the lowest Amazon Marketplace competition.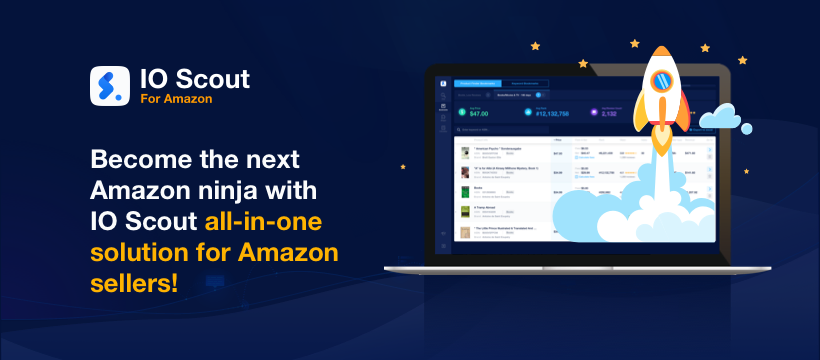 You don't have to spend dozens of hours to conduct research. Let IO Scout do the work. It's product finder scan through over 200 million items, while its keyword tracker updates hourly to keep you informed.
If I didn't convince you yet, it's one powerful software read on.
2. IO Scout Features
Here are several features offered by IO Scout that really help Amazon sellers doing research on the marketplace and getting a competitive edge. I'm going to list them here and briefly explain how you can benefit from using them;
2.1 FBA Calculator

(Free)
If you are using Fulfilment by Amazon, you will want to know what the FBA fees are for your products before selling them.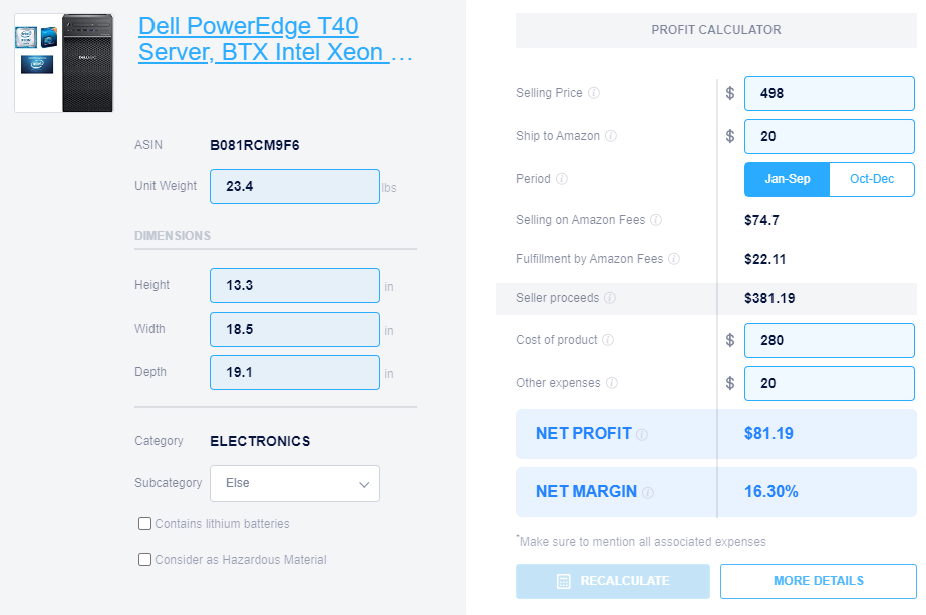 FBA Calculator is a free tool that IO Scout website visitors and users of the IO Scout app can access. The tool allows FBA sellers to instantly calculate the product's Amazon FBA fees, Net Margin based on ASIN and Net Profit, without hassling between the Amazon website and Excel sheets.
You can use FBA Calculator on IO Scout for free here.
2.2 Amazon Sales Estimator
(Free)
Using this feature, you can get a free sales estimate. IO Scout considers various data to provide you with a rough prediction of how a product's sales may vary evolute. This is especially helpful for getting ahead of the competition, as their estimations include the product's BSR.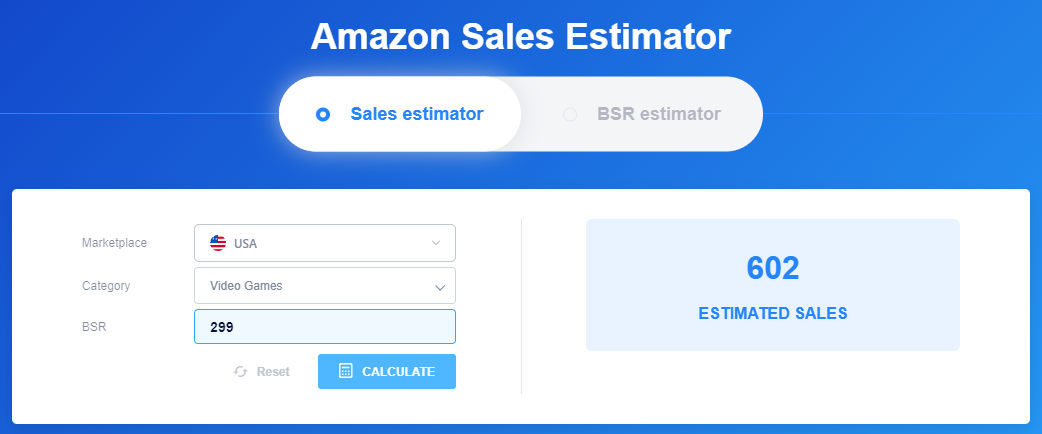 BSR stands for Best Sellers Rank. It is a unique way Amazon monitors which products are showing the most significant growth and maintaining high sales. The information is updated on an hourly basis.
The IO Scout sales estimator provides you with information on product reviews, which significantly affects sales. Naturally, positive reviews boost sales.
You can use Amazon Sales Estimator on IO Scout for free here.
2.3 Product Finder
If you are an Amazon seller or an Amazon associate affiliate, your main task is to find products. The IO Scout's Product finder updates its list daily with over 200 million Amazon products to choose from.
It isn't just the product listings themselves that IO Scout updates, either.; it's the entire product profile. From estimated net margins to the popularity of listings, the product database offered by IO Scout is extensive.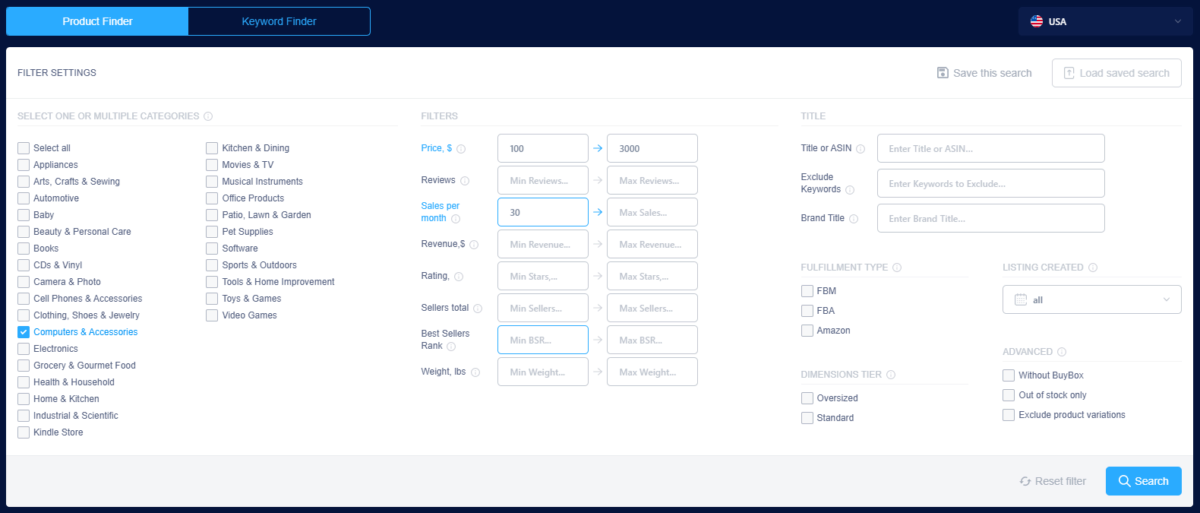 Here are some of the filters but not all filters you can use in your research:
Price
Rating
Rank
Reviews
Category 
Revenue
Total number of sellers currently active
Previous Sales
On the other way, if you're looking to investigate a particular product you already know, all you need to do is type in the unique ASIN code associated. You can also opt-in for hourly updates on any particular product. This is especially helpful for those who want to cash in on a popular product but want to wait for the perfect moment.
The supported Amazon marketplaces are the USA, Canada, Mexico, Germany, United Kingdom, Spain, France, Italy, and India.
2.4 Product Tracker
When starting as a seller on Amazon, one of the first things you would have to do is to choose the right product to sell. Considering the competition level on Amazon, sellers need to keep tabs on the products performing very well in sales before choosing a specific product to sell.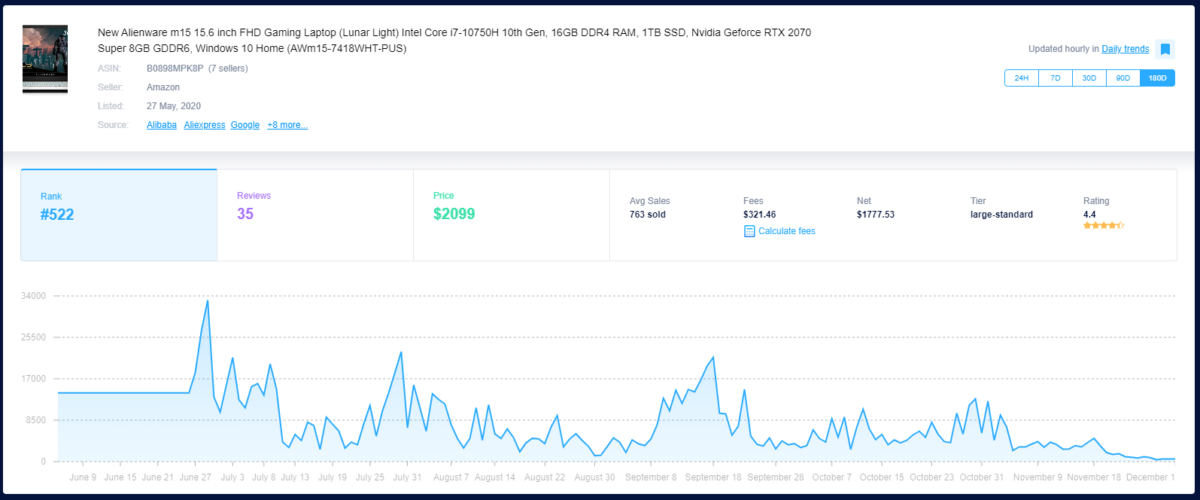 The Product tracker from IO Scout actively monitors fluctuations in sales, prices, and reviews. By keeping an eye on this information over an extended period of time, you can accurately monitor the behavior patterns of any product you want to sell. Is its popularity consistent, or is it burnout? You can find out by analyzing the data and trends from the Product Tracker.
Also,  you will receive instant access to top-notch suppliers from 10+ resources. Choose where you would like to start your search, and we will be there to help.
2.5 Listing Builder 
The listing of your product has a significant effect on the product's sales performance. So one good way to keep yourself ahead of your competitors is to make your listings really stand out. If you're unsure of where to start, IO Scout provides you with yet another tool to ease things along.
The IO Scout listing builder provides you with an easy way to achieve search engine optimization (SEO) by including specific keywords in your listings.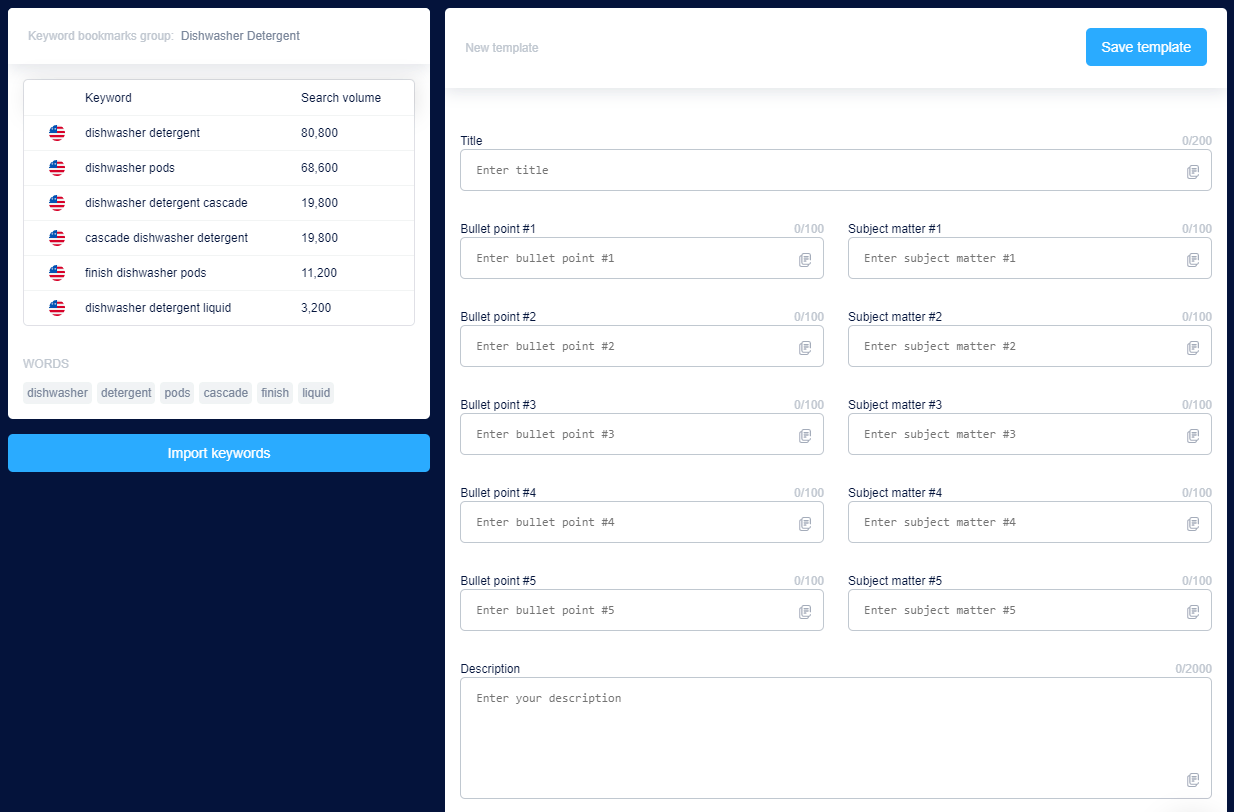 As you can see, it's straightforward to use and allows you to naturally weave the most popular keywords into your listings with little effort. IO Scout also hints at optimizing your listing best, so even an absolute beginner feels undaunted by the process.
2.6 Amazon Keyword tool
Not sure how to find the best keywords you should use in your listing? Well, IO Scout has you covered there too. The keyword scout presents the keywords that have attracted the most attention over an extended period. You can then use these terms throughout your listings.
Alternatively, researching keyword popularity on keyword scout is a great way for sellers to start their process. Instead of looking at which items are selling the fastest, look to the popularity of terms on keyword scout. You can then invest in products that meet these keywords, putting you in the strongest possible position for high exposure to the buyers.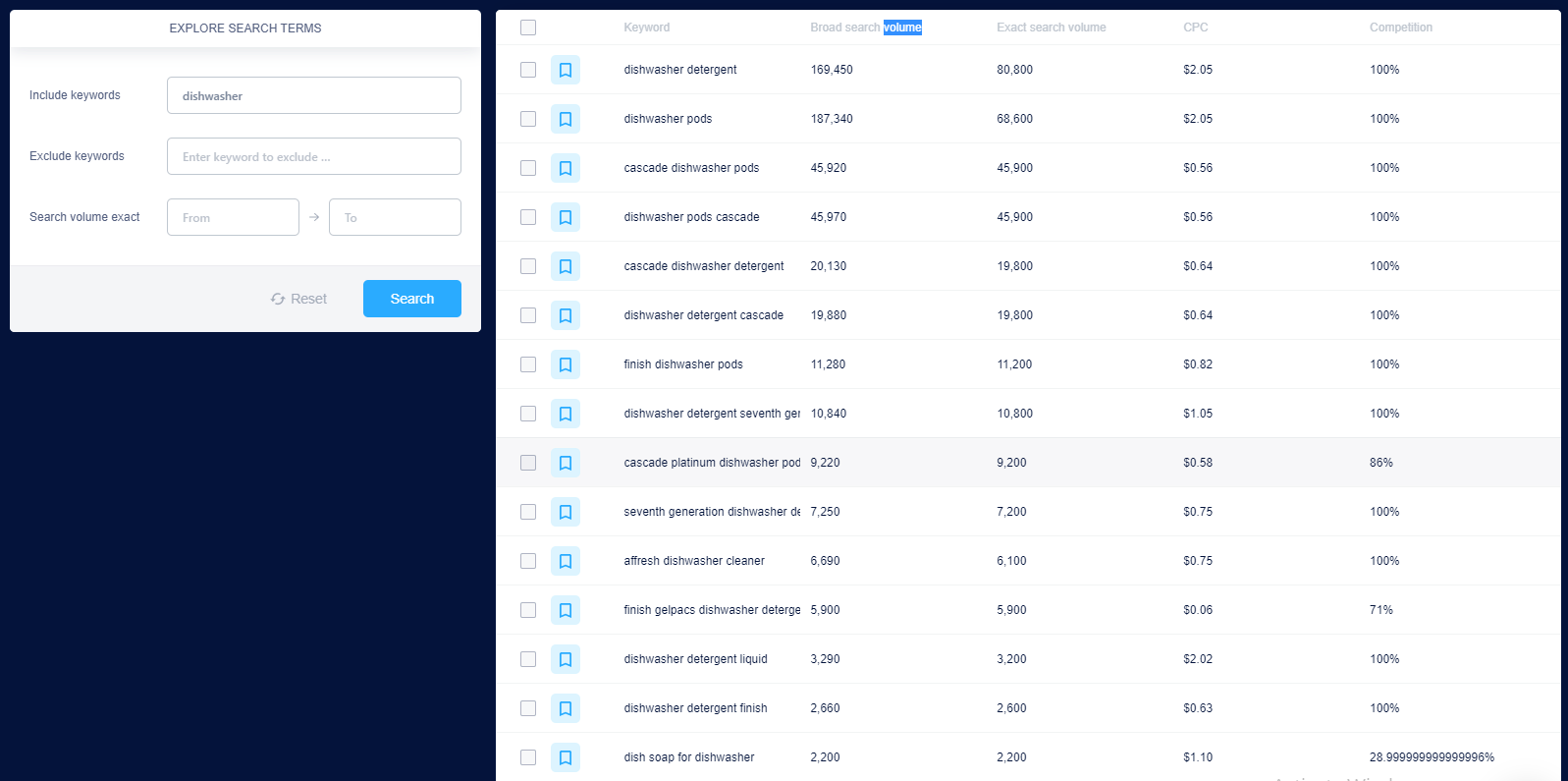 If you are an Amazon Associates affiliate, you should look for a product or niche's popularity before actually writing the review. Keyword Tool lets you get instant access to the keyword's search volume within the last 12 months.
Check out the keyword's monthly trend data. Use this data to build a full picture of the niche's and product's seasonality and popularity over time, adjust PPC campaigns, and optimize listings accordingly.
2.7 Google Chrome Extension
Amazon Chrome Extension offered on IO Scout allows you to access the essential product data needed for analysis and scouting directly on Amazon pages. You have to install it and launch it on Amazon.com to use it.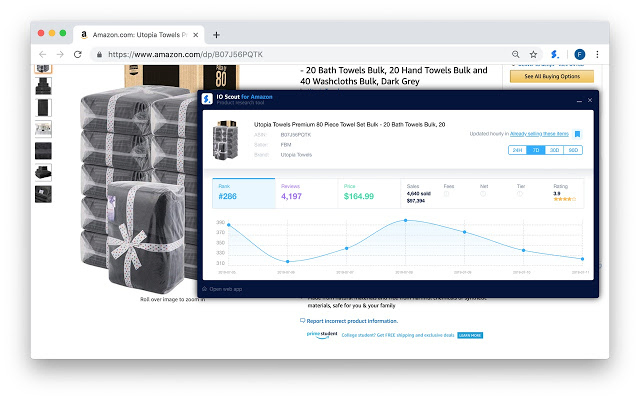 2.8. Sales Analytics
The sales analytics tool is designed to give sellers a detailed, timely assessment of their sales performance. This tool is essential to make some critical business decisions.  To use this feature, you will have to connect your Amazon marketplace account with IO Scout.
2.9. Inventory Management
This IO Scout feature allows sellers on Amazon Marketplace to view their inventory. This allows the sellers to know when a product is out of stock and when and how much to restock. Once again, to use this feature, you will have to connect your Amazon marketplace account with IO Scout.
2.10 Supplier Database 
IO Scout also offers suppliers access to an inventory of suppliers worldwide to source their products. This way, you can easily compare acquisition prices and do your own math using the FBA calculator to see if it's profitable for you to sell it in the Amazon marketplace, or you should look more for a different product.
3. How IO Scout compares with other tools
Now that we've done a roundup of IO Scout tools and features, it's wise to compare them to other industry tools. You can see that IO Scout ranks better than competitors to the vast majority in the comparison table below.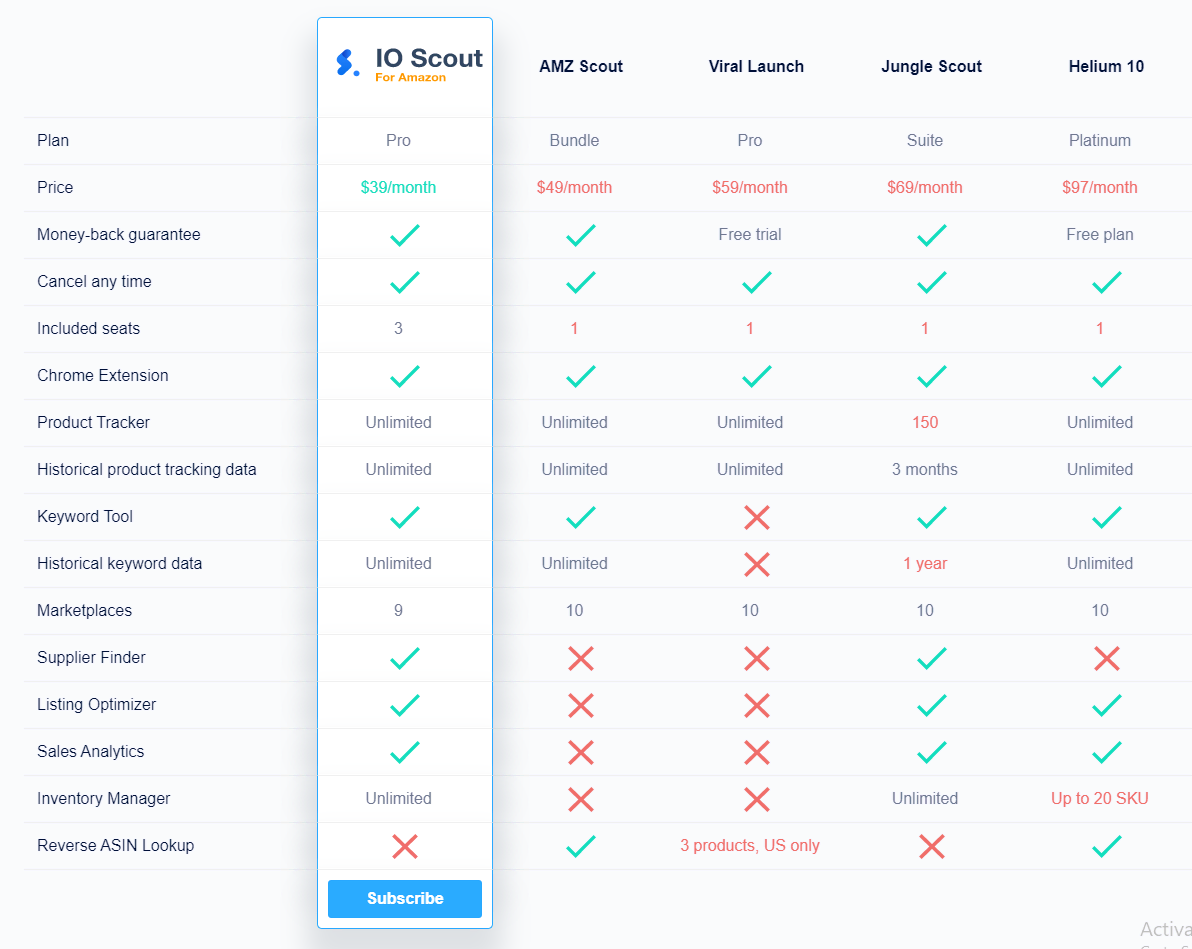 4. PROs and CONs of IO Scout
Now that you have a pretty good picture of what IO Scout can do, it's time to analyze the PROs and CONs.
IO Scout PROs
Ease of use – You'll quickly scan the market and figure out which products bring real money.
Access to millions of items – IO Scout monitors over 200 million products.
Dozens of filters – This software allows you to set search filters, including price, stock information, sales, testimonials, sellers, and even more.
Opportunities for product tracking – IO Scout allows you to know everything about the competitors. Analyze their strategy and reports to make the right decisions for your brand.
Affordable pricing
IO Scout CONs
The user interface could be more user friendly.
5. IO Scout Pricing
IO Scout pricing is very straightforward. There is only one plan that gives you access to all features, but it costs differently depending on the subscription you acquire. The monthly billed one costs $39 each month.
If you purchase a three-month membership in advance, you pay $99, which drops the price to only $33 per month. Buying a 12 monthly subscription offers you the highest saving. You will pay $299 billed yearly, making the price only $25/mo.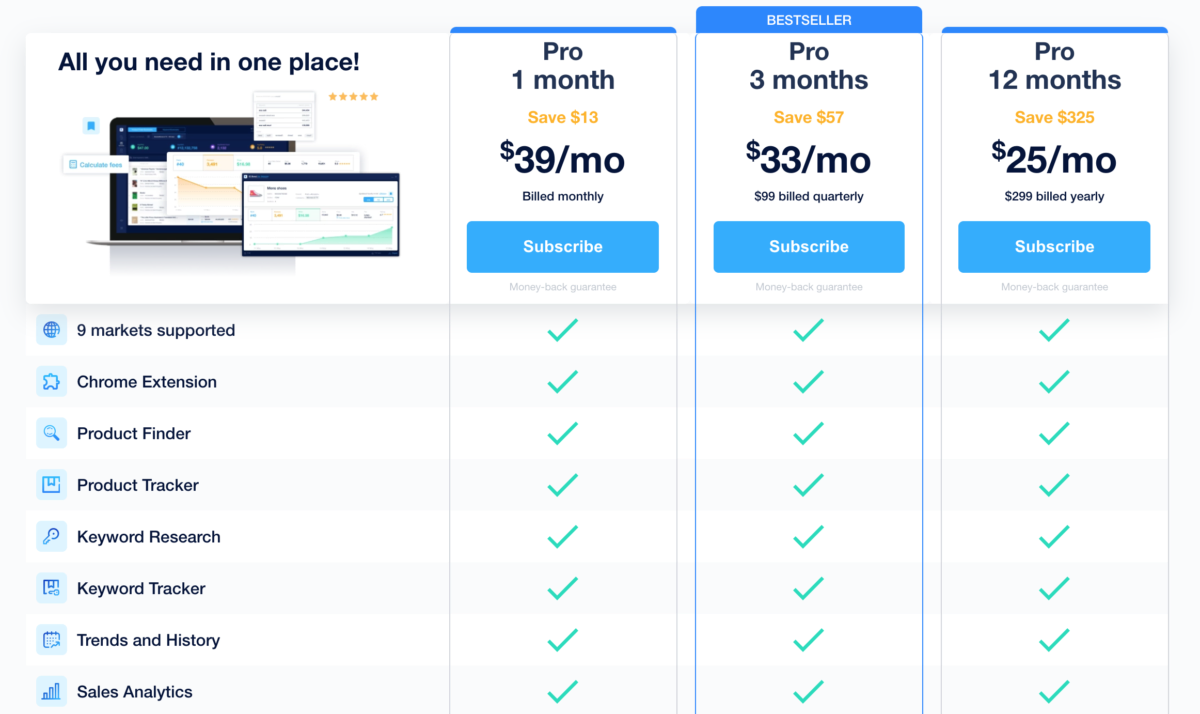 IO Scout is the most affordable all-in-one solution on the market, and it's not a good idea to spend a lot of money on other tools. It is much better to invest more in the products you sell and in marketing.
It's essential to add that all the purchases come with a five days money-back guarantee. So you can try IO Scout for free, and if you decide it is not for you, you receive your payment back. Also, you can cancel the subscription anytime you want.
6. IO Scout Lifetime Deal
Recently I was informed by the IO Scout team they have a limited deal on lifetime accounts. So if you want to pay once and use forever, read on:
What's included in the IO Scout Lifetime Deal:
IO Scout PRO package $0/month
searches, products, and keywords tracking are unlimited
product database with millions of items in all Amazon categories
a Suppliers database of 900 companies
online support
money-back guarantee
This limited-time offer is only $499 now. So you can choose this plan and forget about our bills forever.

7. IO Scout Discounts
On top of affordable prices, at the moment, IO Scout is offering a 10% discount for celebrating Women's day. Use the coupon code SPRING-2021 on the checkout page. From time to time, they are running several other discount campaigns that prove they are close to the community and want to make the tool available for as many sellers as possible.
We've also negotiated an exclusive IO Scout discount, available for all Monetize.info members that read the IO Scout review. Using the coupon code MONETIZEINFO, you will be able to activate the IOscout discount that takes off $5 from each month's cost. Check it in our deal section.
8. IO Scout Support
It doesn't matter if you are an Amazon seller expert or a newbie at some point in time. You will need some help and guidance here and there.
Fortunately, IO Scout have you well covered.
Besides the knowledge base available here, a blog with tons of information accessible here, you can get in touch with the support team through email, live chat, and Facebook.
You could ask them any questions about the Amazon business, not only about the product.
9. What others are saying about IO Scout
At the moment, over forty-five thousand Amazon sellers use IO Scout's services.  Its high data accuracy has earned it praises more than other product research tools.
Here is a video review of IO Scout created by Andrew Matthews, who is using it for over 4 months:
10. IO Scout Review Conclusion
Selling on Amazon may seem easy at first, but it takes time, commitment, and some cash.
IO Scout is a must-have for any Amazon sellers that are serious about what they do. It provides a whole new level of efficiency to your process, allowing you to make informed decisions on some of the most high-yield investments available.
IO Scout helps you stand out from the crowd of sellers. It provides users with various intuitive features, including a product tracker and sales estimator, that update in real-time to keep you ahead.
We hope this IO Scout review told you what you need to know about how Amazon research tools change how Amazon sales are being made.