When deciding on a content management system, many people will instantly think of the very popular WordPress or the scalable platform Drupal. However, there are more options that may be better for your specific needs.
Joomla is one of these options.
Joomla is an open-source CMS that links your site to a database. It works with MySQL and PostgreSQL databases, among many others. You can also utilize Joomla when publishing or displaying web content.
As such, Joomla is one of the most flexible CMS solutions around.
Joomla vs WordPress
It is important to know the difference between Joomla CMS (the one we are talking about in this article) and Joomla Framework that allows developers to create PHP-based applications without all the extra features that come with the CMS.
After a quick glance, WordPress and Joomla look very similar. In one way, that's true, but they are also different enough to make it easy to choose one for your site.
| | | |
| --- | --- | --- |
| | WordPress | Joomla |
| Simplicity: | Beginner-friendly with a small learning curve | More complex, takes time to learn |
| Appearance and extensions: | Tens of thousands of extensions | A good number of extensions, still fewer than WordPress' |
| Blogging: | Perfect for blogging | Not as good for blogging |
| Support: | Community, pay for support | Community, forums, official documentation |
| Security: | Frequently updated, security plugins | Frequently updated, security plugins |
| Multilingual options: | Should use 3rd party services | Great multilingual support by default |
Joomla is definitely more complex and comes with more built-in features. It can help professionals to build more complicated websites because it offers more technical options from the very start.
Why Use Joomla?
The CMS that you use depends entirely on what your needs are. WordPress is good for simple blogs, small online businesses, or corporate websites. It tends to be more user-friendly and is a good platform for beginners. There are many templates that can be chosen, resulting in less required customization of your website.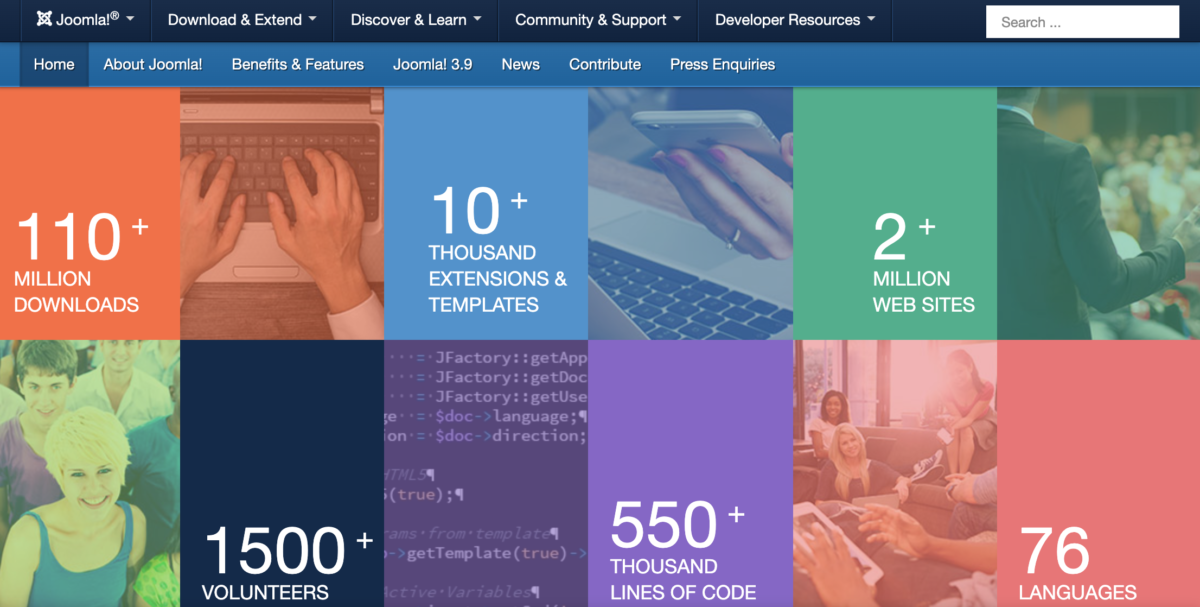 Pin
Drupal, on the other hand, has many customization options available. It is considered the most difficult to use out of the three options, but it is also the best platform in terms of technical advancement options.
Users of Drupal should be well-educated with technology and coding. An example of companies that use Drupal would be universities, Nasa.gov, and The Economist.
Joomla should be used over WordPress or Drupal when the needs of the user are in-between WordPress and Drupal. Joomla is a powerful application, and there is a basic level of technical education required in order to use it to its full capacity.
Joomla also allows multiple users to handle the website, and you can also create a multilingual function. Joomla can handle large volumes of online traffic, and should, therefore, be used by large corporations, government websites, media sites, tourism sites, and celebrities for their personal sites.
Understanding Joomla
In order to utilize the platform, a quick Joomla tutorial should be all that you need to understand the basics.
Some of the main features of Joomla include:
The media manager feature can help you handle media files. These files can be displayed on a site.
The banner manager helps you set up web banners and link them to campaigns.
You can adjust the RSS feeds that you will utilize. You can also incorporate newsfeeds and other bits of syndicated content.
Joomla provides integrated plugin support and does not require extensive coding.
Page caching enhances the site's speed. It reviews the most commonly accessed data and prioritizes it on a server so that those features will load the fastest.
Price
The most popular part of Joomla is that it is free to use, as it is an open-source program. Joomla is run by a volunteer team that consistently updates the platform and its functionality.
Multiple Users
Joomla allows for multiple users to run the websites. You can provide permission to various users who will be able to control things such as:
The ability to access certain parts of the CMS
Publishing work
Editing content
Administrative functions
A Secure Setup
Joomla utilizes a two-factor authentication system that confirms when people log in to your site. The 2FA setup produces a temporary code that goes to a mobile phone when someone attempts to log in. The feature confirms someone's identity and reduces the risk of someone hacking your site.
The B-Crypt Algorithm feature also keeps your Joomla website safe. The hashing algorithm will scramble passwords in your database, preventing hackers from trying to access your content.
Multiple Extensions
You can work with many extensions for your Joomla page. The Joomla community regularly produces new extensions that you can download through extensions.joomla.org.
There are more than seven thousand choices for your site, including ones for:
Social web functions
News displays
Online commerce, including a shopping cart and payment gateway systems
Content management data
Landing page production systems
The Joomla interface provides a simple approach to installing these extensions. You can get these parts ready in moments without having to code things yourself. The Joomla system automatically reviews the data and incorporates the new extension on your website right away.
The Joomla Extensions Directory will also ensure all extensions are safe for use. The directory includes a listing of vulnerable extensions that are unavailable due to there being no known patches for them.
Multilingual
Joomla supports more than seventy languages, and the number is still growing. People looking to target international audiences will appreciate this part of Joomla.
Simple Instructions and Manuals
Joomla provides every user with free manuals and instruction guides surrounding everything the CMS offers. The details are simple and clear, allowing even the newest CMS developer to follow along.
You can find many online manuals through the Joomla community, including ones for:
How the control panel works
The unique toolbars you can utilize, including the module and media layouts
How to handle components
Managing extensions for plugins, templates, and languages
You can visit docs.joomla.org or training.joomla.org to see what's open.
You can also use the Joomla forum if you have any specific questions surrounding what you wish to utilize. The Joomla forum is active and covers every aspect of the CMS.
Make Joomla Work Today
Keep in mind that Joomla is an ideal CMS that can make a difference for your website.
You should not be overly worried about how well Joomla can work for you, as it is simple and provides all the solutions you require. Take note of this CMS if you're looking for a quality option today.