Keyword Research is the foundation of any marketing strategy. It doesn't matter if we are talking about organic traffic like SEO or paid like Social Media ads or Google Ads (PPC). In this keyword research guide, you will find out why keyword research is critical to your SEO, how to do it, what keyword research tools you should use, and how to become an expert.
Studies show that only about 10% of searchers stray beyond page one of Google, and close to 30% do not pay heed to anything past the top three search results.
Your organic search ranking is vital to increase consumer traffic and overall digital exposure.
Before anything else, let's make sure you understand what keyword research is and why is critical for your SEO success.
1. Why is keyword research necessary?
The first step to building an SEO strategy is keyword research: compiling a list of words, terms, and phrases relevant to your brand or business that consumers are using when searching online.
There are two reasons why I consider keyword research to be the fundamental step for every SEO project having a significant impact on the success or failure of the business.
Here there are:
1. If you rank your site for the wrong keywords, you can end up spending lots of time and effort, only to discover the keyword you have targeted barely receive any traffic or drive any conversion (doesn't have commercial intent).
When it comes to choosing keywords — commercial intent is MORE important than search volume.
Short example: If you target "WordPress hosting features," it may sound pretty good, but actually, the people looking for that may not even purchase hosting. They may look around for the features offered by hosting companies. If you target "best WordPress hosting offer," you target users who want to know the best hosting offer so that they will purchase it right now.
2. Suppose you haven't investigated the competitiveness of your keywords. In that case, you can end up investing lots of time and effort into a particular keyword, only to find it is far too competitive to rank, even on the second or third page.
These two pitfalls are often the ultimate decider on how successful any SEO project is.
This keyword research guide will cover how to avoid these pitfalls and how to find the best keywords.
First, we must define what a keyword is.
2. WWYG: What Would You Google?
When conducting keyword research, put yourself in the mind of the consumer. We all shop and search online in some way, shape, or form. When you're looking for something online—say a trendy new bar for a hot date or a tasty recipe for next week's potluck—think about how you search.
When people browse the internet for a product or service without a particular brand or company already in mind, their search behavior can spell patterns that can help businesses show up as the top (or close to the top) result.
Pinpointing these patterns in consumer search methods (as they relate to your business or industry) is the key to targeting the most effective keywords amongst an entire lexicon of terms and phrases.
2.1 Types of Keywords
Keywords can be divided into two categories:
head terms – which are shorter, more generic search terms no more than three words in length
long-tail keywords – which are more specific phrases longer than three words.
It may be easy to assume that you should focus on the most heavily-searched terms. Still, the key to truly useful, well-balanced search optimization is targeting the right mix between universal terms and specific queries.
Head terms, as they are searched most commonly and frequently, lend significantly to your overall impressions (when your website is shown—not necessarily clicked into—within the search results).
However, these more general terms can be more competitive to rank for as contending businesses will likely target and invest in the same relevant head terms. Also, being much broader in context, head terms may yield a higher pool of searchers, but not all of that traffic translates into clicks and conversions.
Long-tail keywords, while more specific and niched, are just as important to consider in your keyword research. Long-tail keywords will produce traffic more closely related to your business' specific services and specialties and yield a more targeted consumer with a higher propensity to view and engage with your website.
Think of it this way: a head term like "apple pie" will undoubtedly capture a massive volume of search traffic, but a long-tail keyword such as "quick and easy apple pie recipes" will prove more useful for online food blogger trying to drive traffic to their site.
The consumers most companies are trying to target are usually the people searching more specifically with long-tail keywords. More generic searchers using head terms could be browsing for many purposes and just looking for general information unrelated to your business.
3. What about user intent?
Now that we explained what head terms and long-tail keywords are, we need to speak about user intent keywords.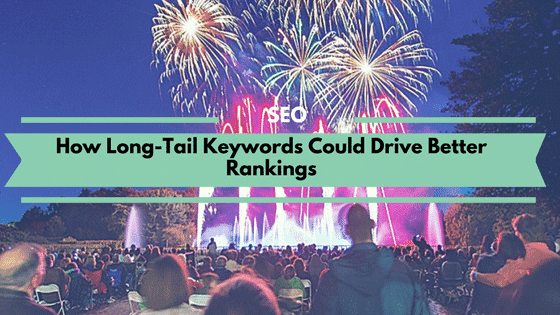 These keywords can be separated into three categories considering the user intent and what a user wants to look for when searching.
Navigational keyword: keywords used to locate a particular brand or website. Examples would be Facebook, WordPress
Informational keyword: keywords used to discover a particular topic. This includes keywords beginning with 'how to…' or 'what are the best..'
Commercial intent keyword: keywords entered into Google by customers wanting to complete a commercial activity, i.e., 'buy WordPress book.'
In most cases, targeting head term or navigational keywords for other brands is competitive and not worth the time or effort.
Despite their high traffic numbers, they will generally not lead to any sales. You should target these keywords only if you are in affiliate marketing and the product you are promoting is new, and there isn't much competition.
On the other hand, long-tail, informational, and commercial intent keywords are the right keywords for most SEO projects. They will lead to more traffic and sales.
4. A word about Latent Semantic Indexing
What matters for SEO these days is in-depth and comprehensive coverage of a topic. To rank well for a search query, you need to answer all aspects of a question, covering all sorts of related queries.
In short, you need to be the best resource to answer that query.
Google uses a technique called latent semantic indexing to discover what a page is about from its contents. Google can then display results, even if the search query doesn't match precisely the keywords used, because Google knows what the page is about, not just the keywords used.
Latent semantic indexing keywords (LSI keywords) are keywords that Google believes are related to the same topic. The more of these you can weave into your content, the more likely you will rank for keywords you haven't even thought of yet.
As well as the ones you've carefully chosen. So once you've found and researched your main keywords, find some juicy LSI keywords, and make sure your content addresses these as well.
An excellent SEO tool for finding latent semantic indexing keywords (LSI keywords) that I've just discovered is LSI Graph. You enter your main keywords, and it comes up with a boatload of semantically related keywords for you to use.
Another tool you can use is the LSI Graph from Twinword Ideas.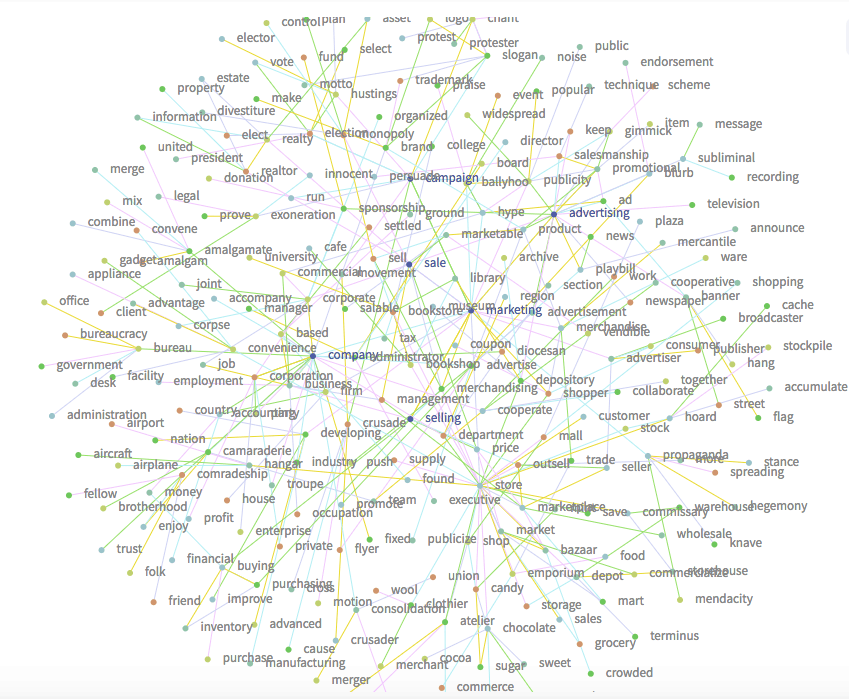 Click here to find an excellent tutorial that shows you how to use premium tools to do keyword research for free.
5. Keyword Research Tools
Powerful keyword research tools can help save hours, days, or even weeks of your time. The following keyword research tools can help find content ideas, link building opportunities, create easy-to-understand SEO reports, make Google crawl your site faster, and much more.
More often than not, the below tools will provide information you need to achieve high rankings and reveal link building opportunities so you can go out and get those high rankings.
1. UberSuggest from Neil Patel (FREE)
Neil Patel acquired a few years went UberSuggest keyword tool and transformed it into an SEO tools suite. Besides, the keyword research tools now have a site audit and backlinks audit, organic traffic estimator, content ideas, and keyword ideas.
With the Keyword Ideas from NeilPatel.com, you can automatically download the auto-suggested keywords from Google's search results for a nice, juicy collection of long-tail keywords.
You may also use it to quickly find new keywords not available in the Google Keyword Planner. Take your keyword research to the next level with tons of keyword ideas for SEO, PPC, and your next content marketing campaign.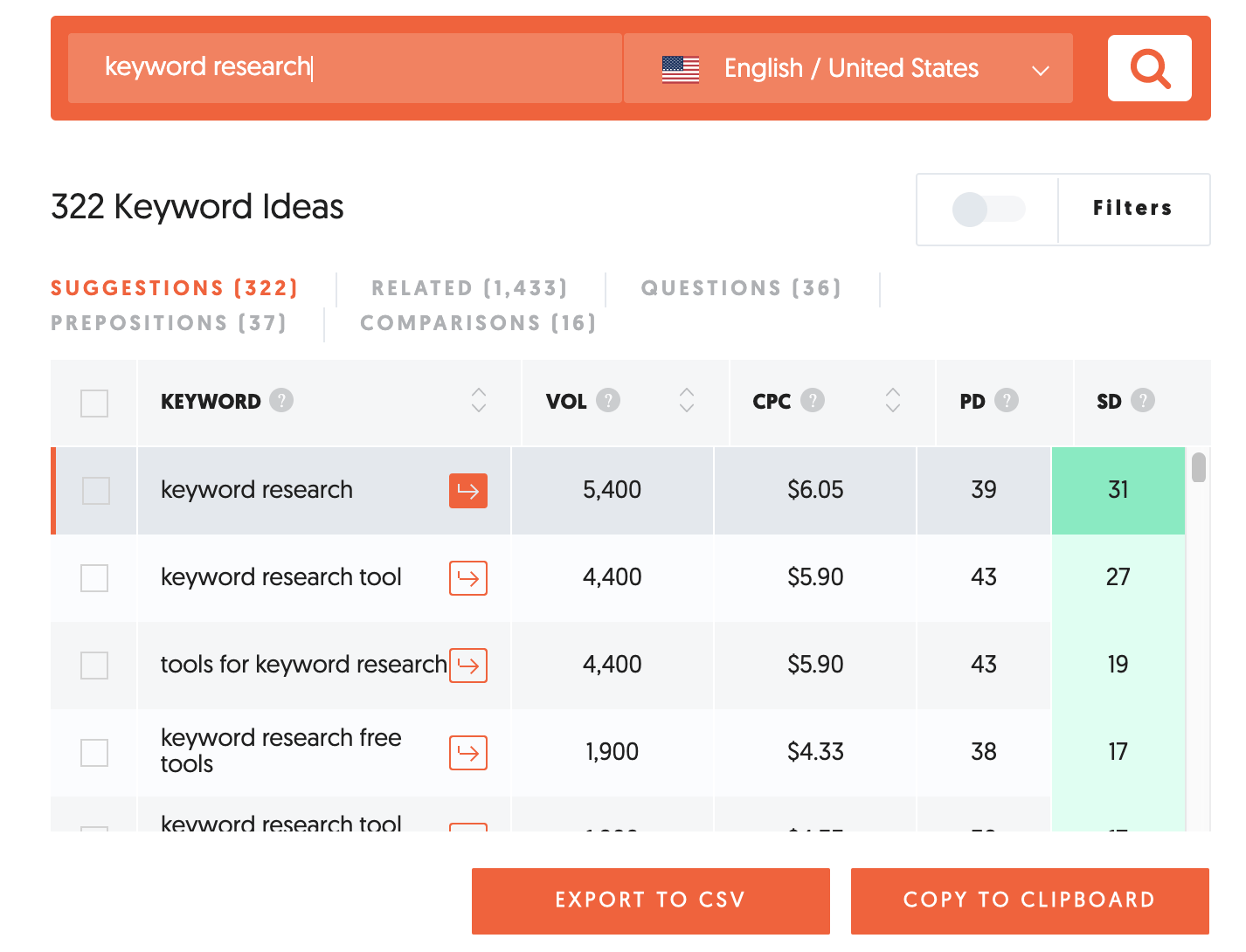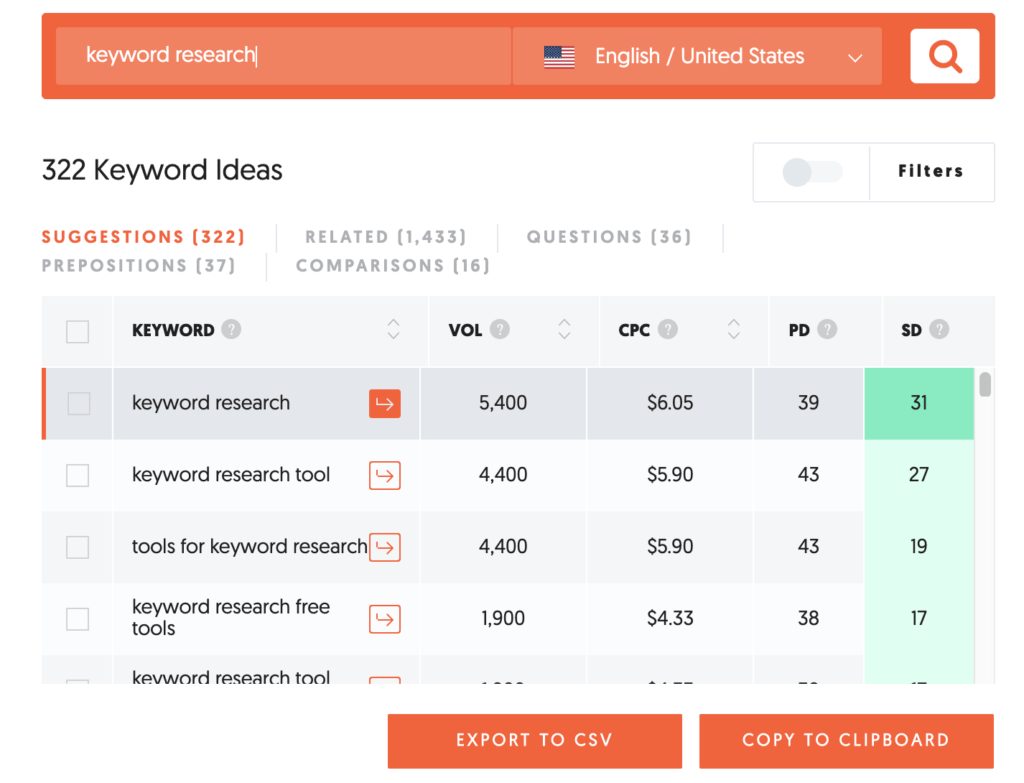 2. Google Keyword Planner (FREE)
The Google Ads Keyword Planner has been mentioned several times here on Monetize.info, and for a good reason. It's essential for every SEO project.
With Google Keyword Planner, you can see how many times a keyword has been searched in Google and narrow this down by Country and even device type, such as mobile phones and so on.
This is an essential tool for every SEO project for knowing how many times your keyword is being searched in Google.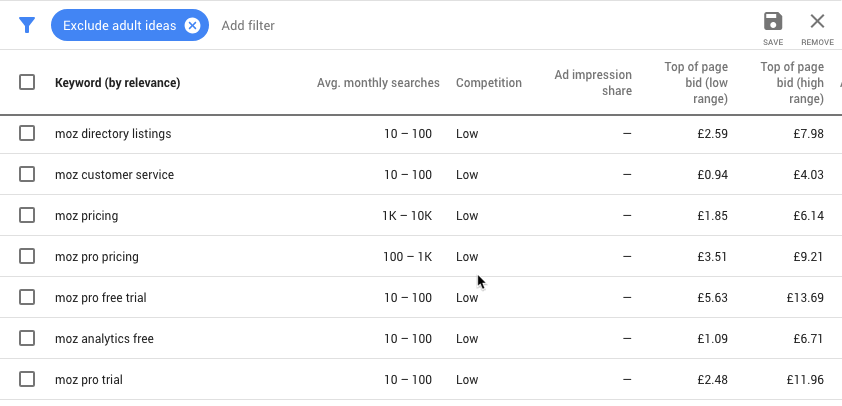 With Keyword Planner, you can:
Search for new keyword and ad group ideas
Get search volume for a list of keywords or group them into ad groups.
Get traffic forecasts for a list of keywords.
Multiply keyword lists to get new keyword ideas
You should pay attention to keyword ideas and ad group ideas, as both can help with SEO. Ad group ideas contain a set of related keywords that might not show up in general keyword ideas.
Pay attention to average monthly searches, competition, and other available metrics to determine relevant keywords to target.
Here is a guide created by the Ahrefs team on using Google Keyword Planner for maximum benefits.
3. Google Trends (FREE)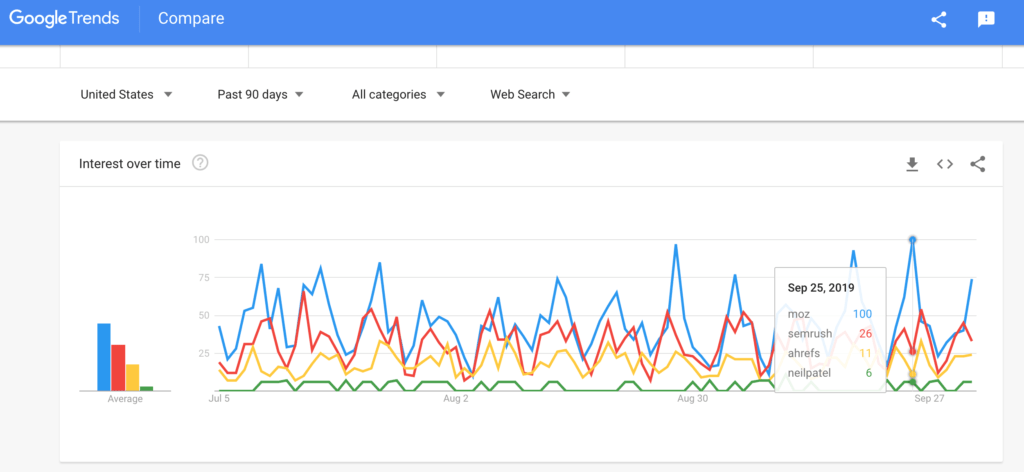 Google Trends provides powerful stats of search trends over time. Great for seeing how your market performs overall and how demand changes over time for your keywords.
Using Google Trends, you can also see the relative popularity of a keyword in a given country or region. The tool allows you to compare the relative popularity of up to 5 different keywords at the time.
The downside of Google Trends is that it only shows the keywords' popularity on a scale from 0 to 100. Unfortunately, it does not show the actual number of searches that the keyword receives.
4. Google Autocomplete (FREE)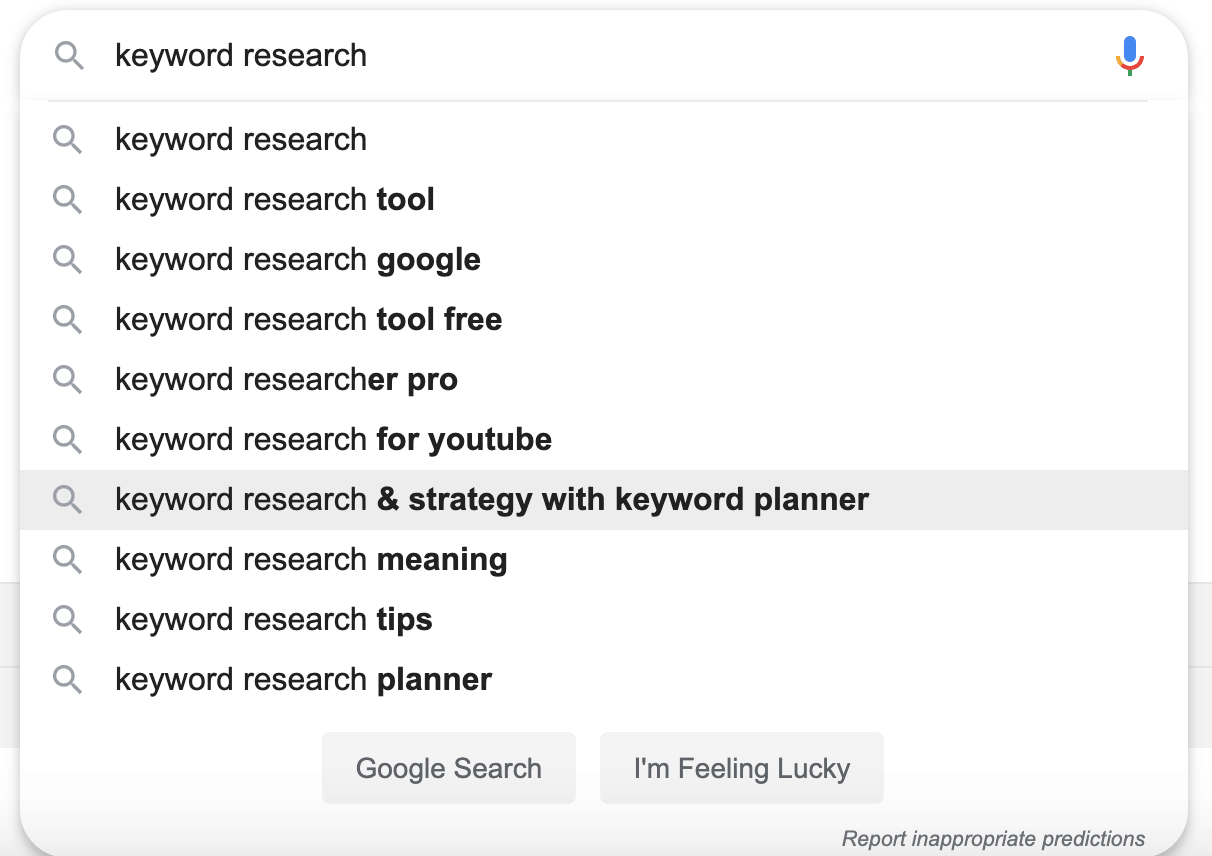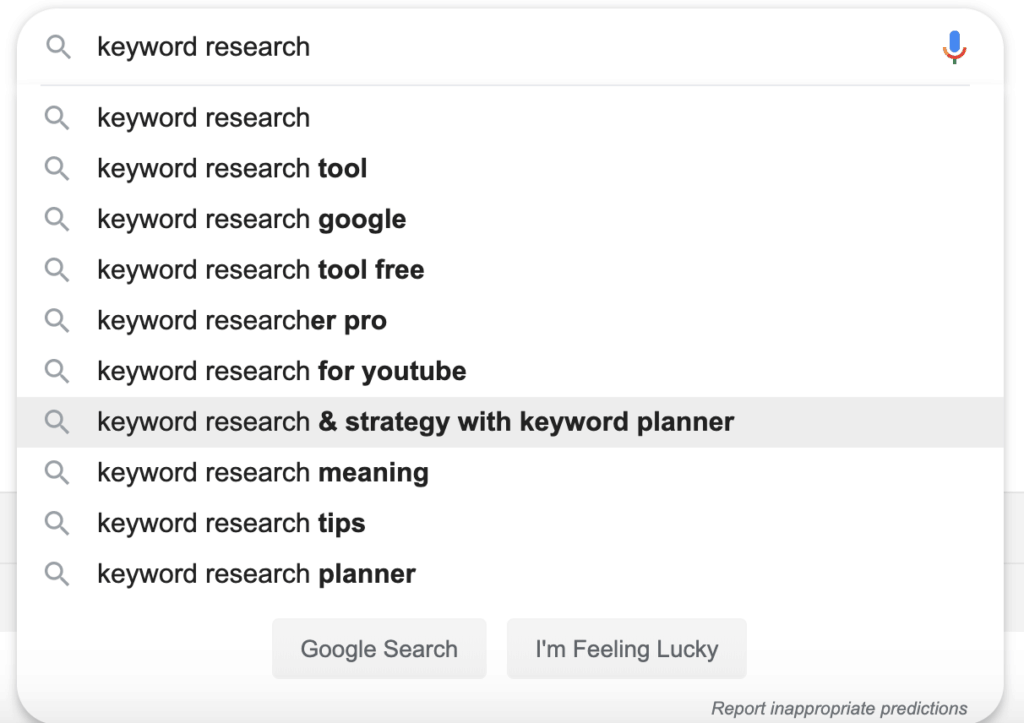 Searching Google.com in an incognito window will bring up that all-familiar list of autofill options, many of which can help guide your keyword research. The incognito ensures that any customized search data Google stores when you're signed in get left out. If you want to export these keywords, you should use a tool like InfiniteSuggest.com that queries Google Autocomplete for you automatically.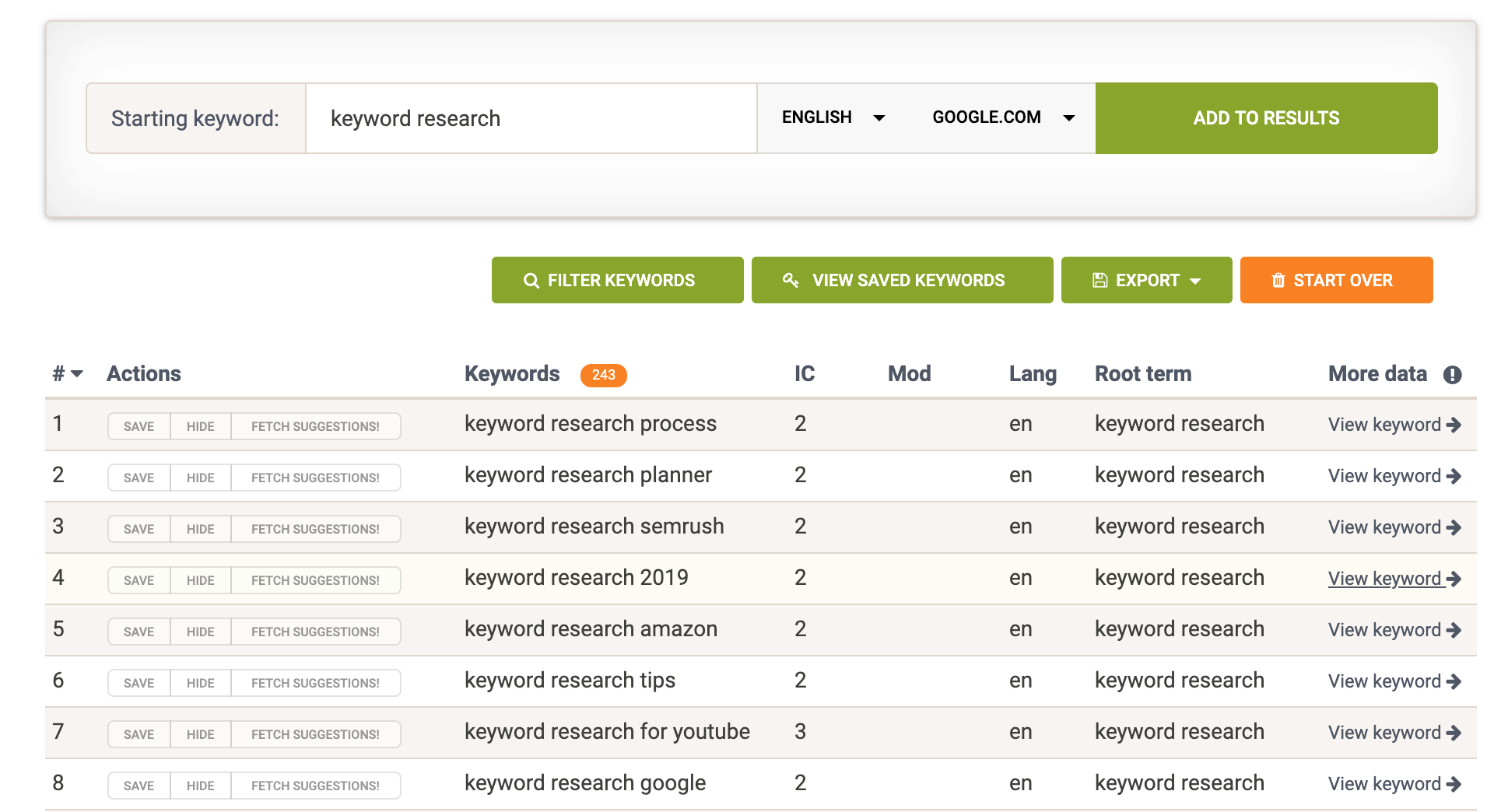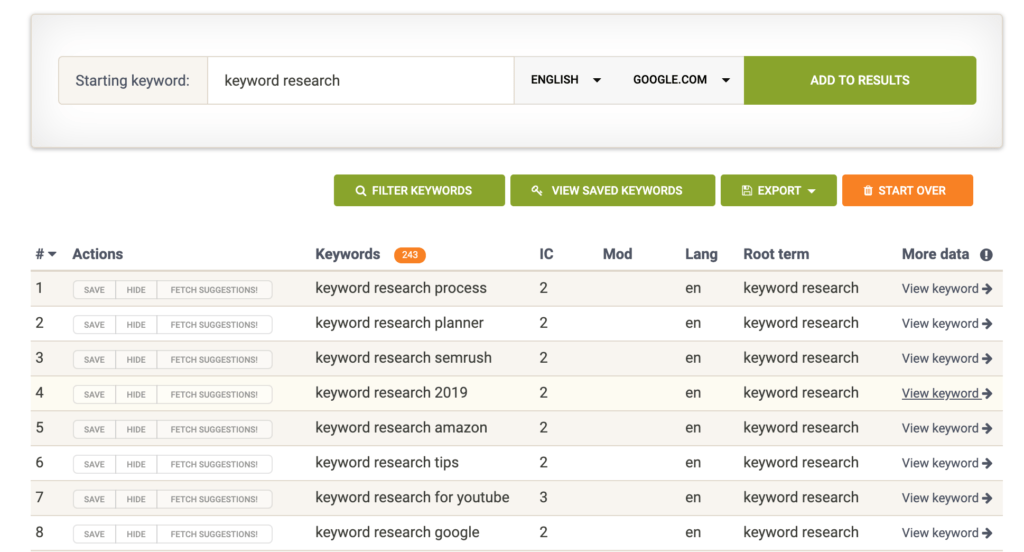 5. Semrush (FREE 7 days, $99/m)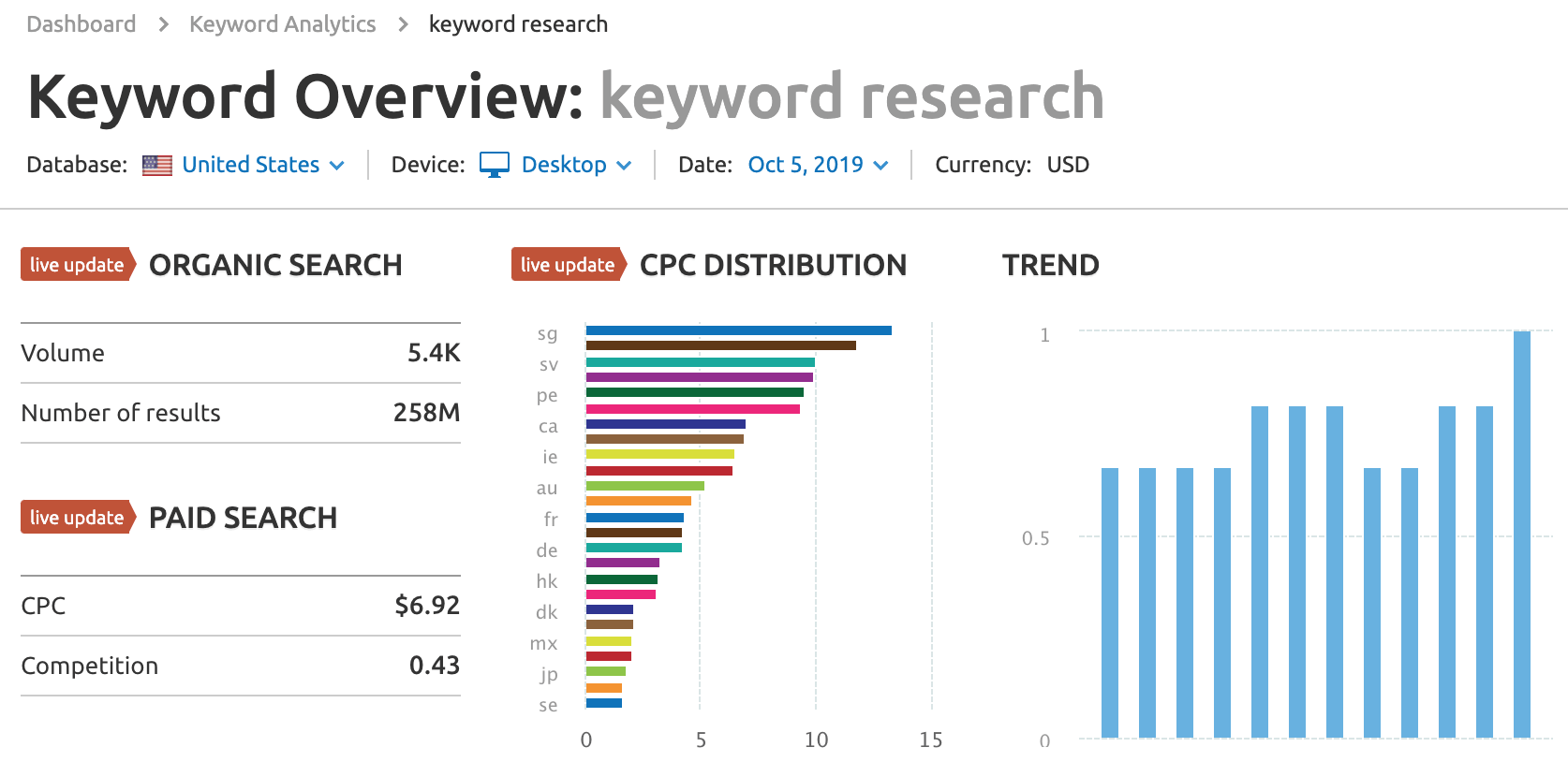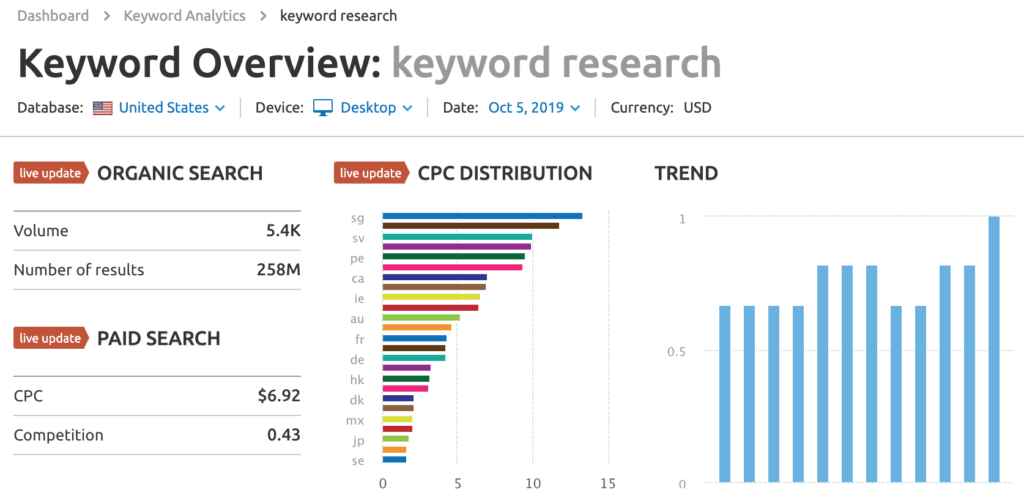 Semrush is a software research suite designed to provide digital marketers and online businesses with competitive data to inform marketing and business decisions. Learn how to benefit from your competitors by developing perfect content and advertising strategies to identify and follow what they are doing.
Check here our Semrush review and tutorials.
You may use Semrush to dig into your competitor's landing pages to brainstorm your own content optimization strategies. Use their Competitive Positioning Map and Organic Competitors Report to understand your direct competitors' SEO strategies' strengths and weaknesses.
SEMrush helps you adapt keywords to different international regions by offering 30 regional keyword databases.
6. Ahrefs Keyword Explorer ($1 for 7d, $99/m)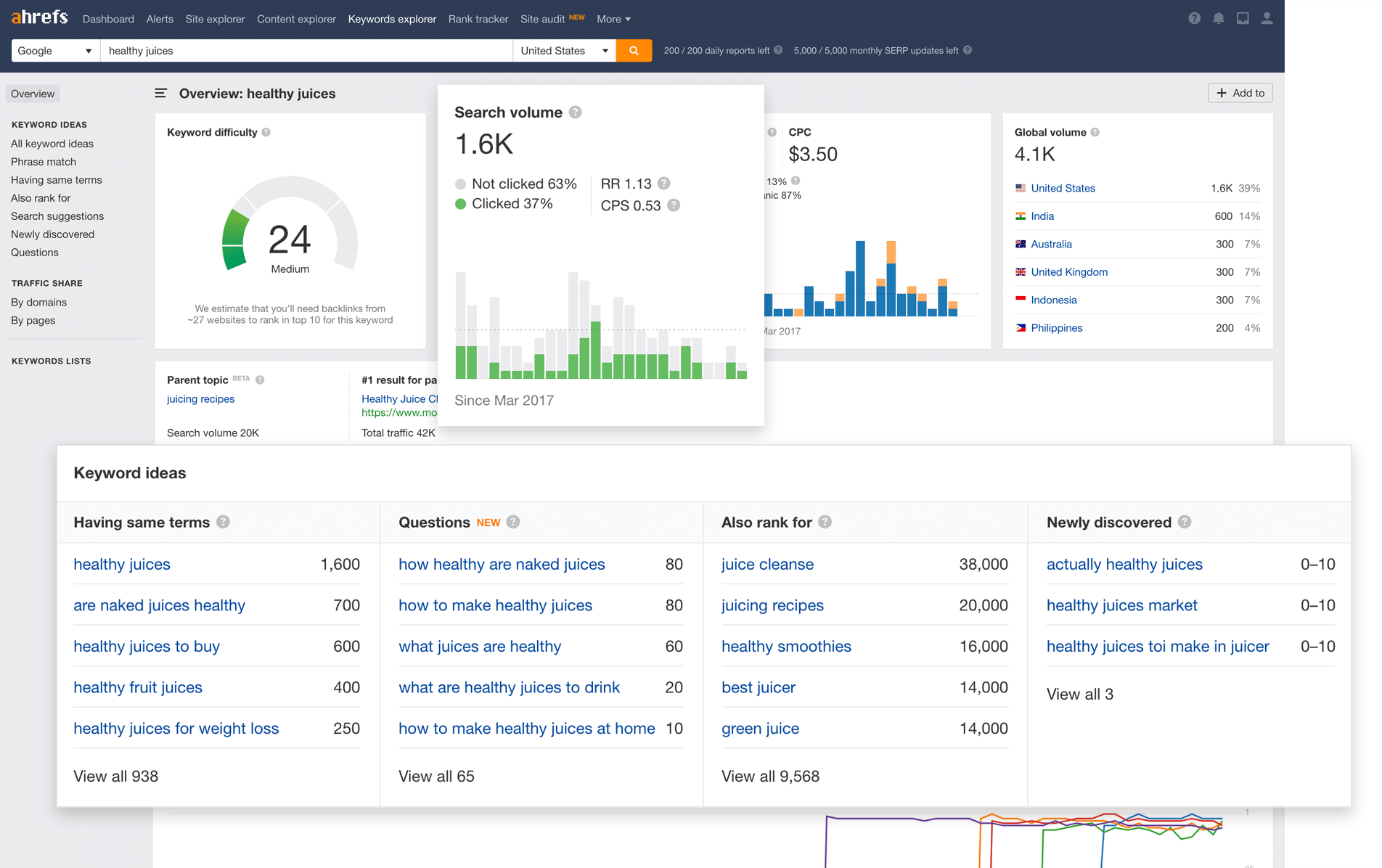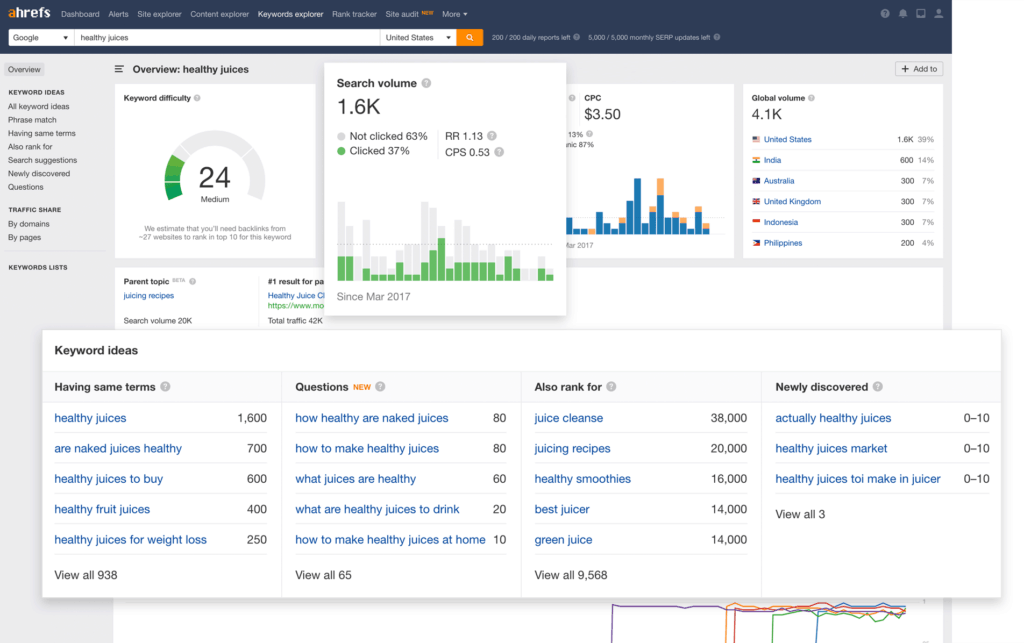 With Ahrefs Keyword Explorer, you get keyword ideas from 10 different search engines, including Google, YouTube, Amazon, Bing, Yandex, Baidu.
The "SERP overview" report in Keywords Explorer lets you see the top-ranking results, along with all their SEO metrics, at a glance. This report brings important SEO metrics like backlinks, organic traffic, and organic keywords together.
7. Rank Tracker [SEOPower Suite] (FREE, $125)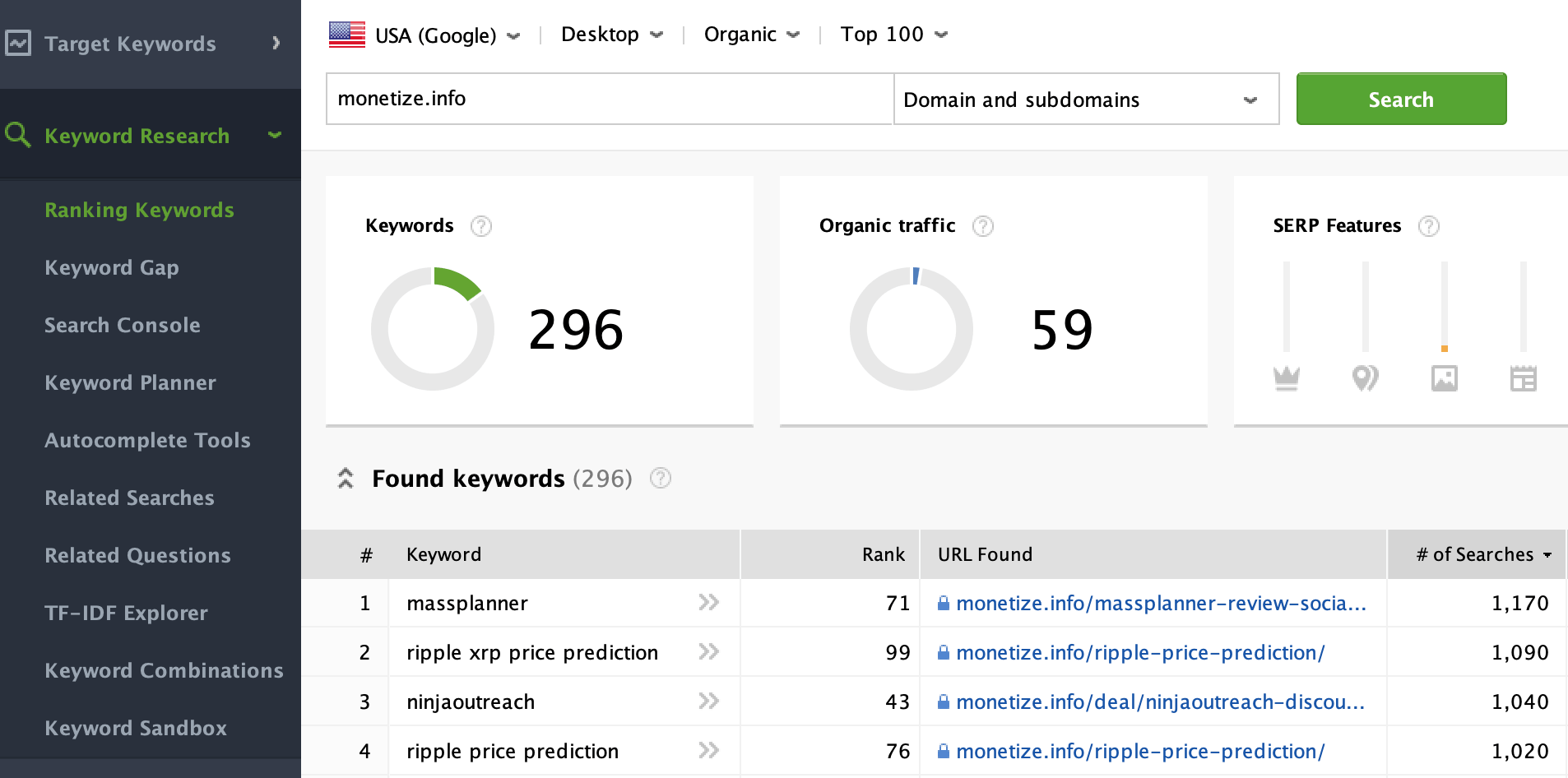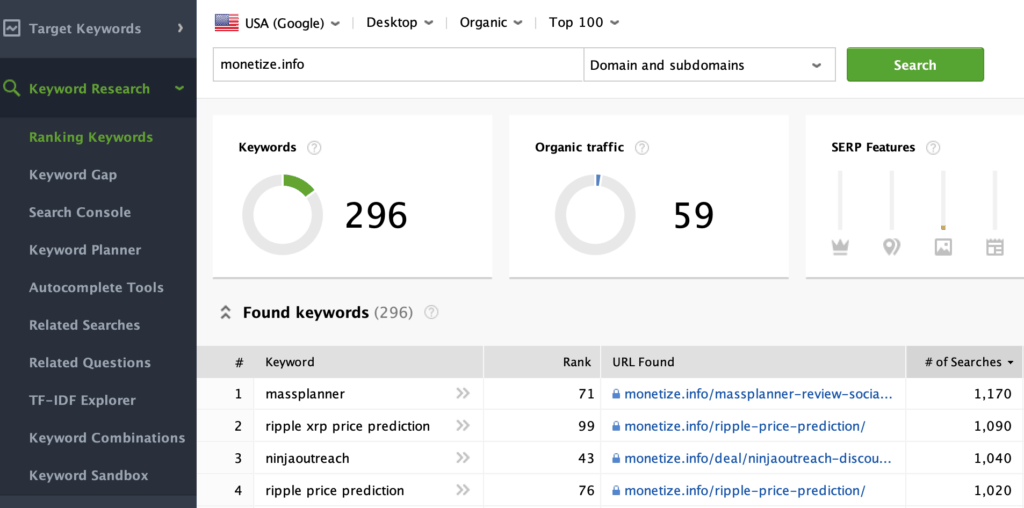 Rank Tracker [read our review here] is included in SEO Power Suite. It includes a powerful "Suggest Keywords" feature. With this feature, you'll be able to grab traffic-generating keywords using Google Ads Keyword Tool, Google Search Console, Google Autocomplete, Google Related Searches & Questions, and many other methods!
Rank Tracker can show you how many times a keyword has been actually searched by real people over the last month, plus how stiff the competition for this keyword is. This "number-of-searches-to-competition" ratio is known as Keyword Efficiency Index or KEI.
8. Moz Keyword Explorer (FREE 30D, $179/m )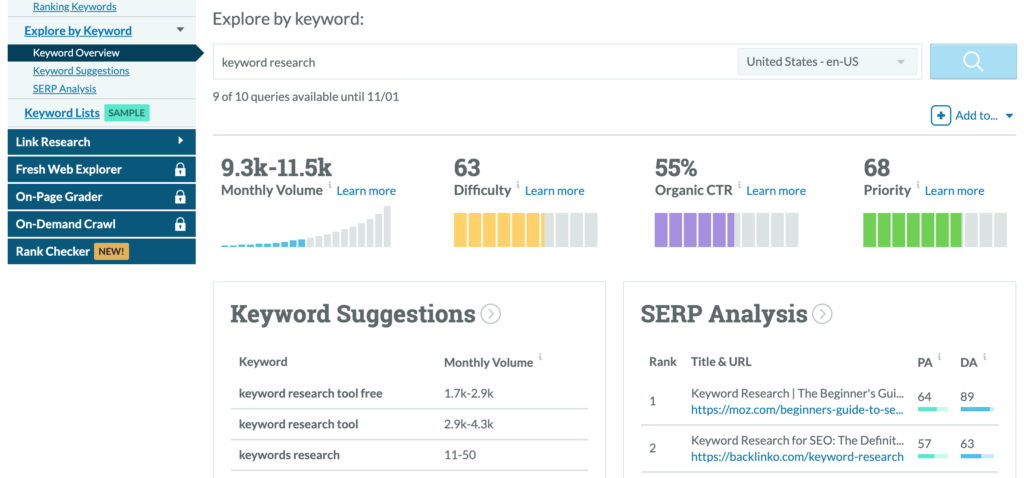 No keyword research tools list would ever be complete without a mention of Moz Keyword Explorer. Moz offers keyword analysis, brand monitoring, rankings tracking, on-page SEO suggestions, search engine crawl tests, and much more. An essential toolbox for every SEO practitioner, from beginner to advanced.
9. MangoTools KW Finder (FREE 10d, $30/m )
KWFinder comes as part of a comprehensive suite of SEO tools. The Mangools suite includes SerpChecker (SERP Analysis), SERP Watcher – Rank tracker, Link Miner – Backlinks analyzer, Site Profiler – Audit). To make everything clear. For $29 monthly at the lowest price, you have access to the entire suite.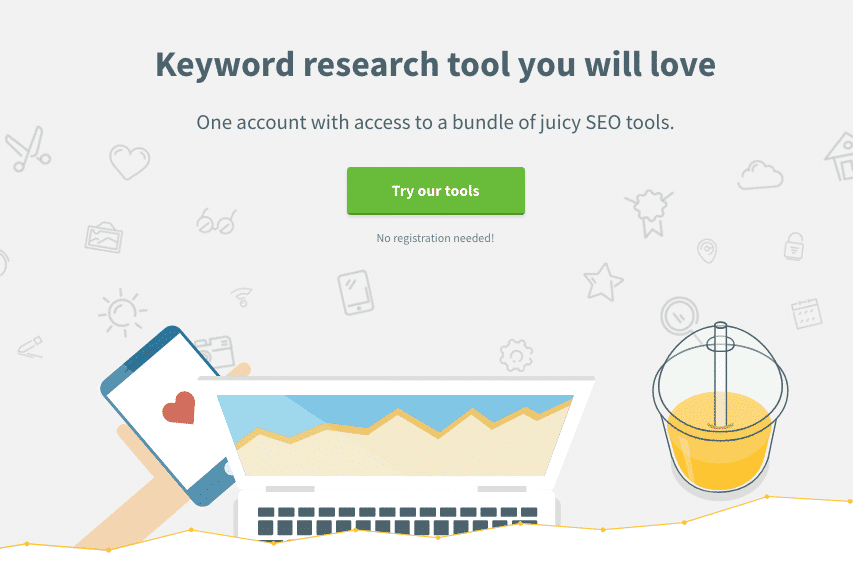 The best thing about using KWFinder is that you don't need to be an SEO expert to understand what's going on.  In the "Suggestions" area, you type in a keyword you are interested in and immediately see keyword suggestions. Mangools recently added a feature to KWFinder – the ability to search by domain and see what keywords a site is already ranking for.
10. Keyword Researcher Pro ($97)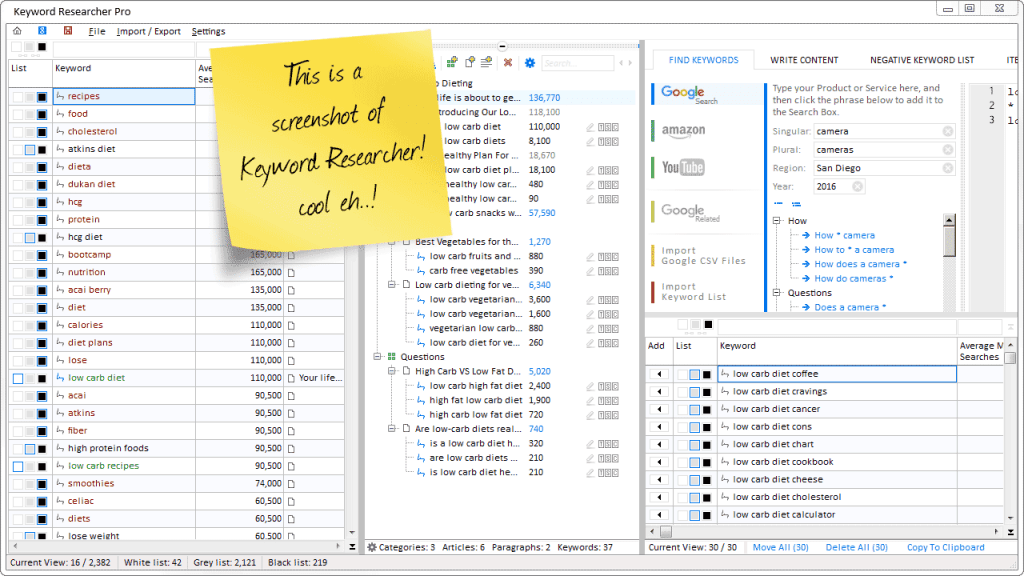 Keyword Researcher is an easy-to-use Keyword Discover Tool. Once activated, it emulates a human using Google Autocomplete and repeatedly types thousands of queries into Google.
This tool's available for a couple of years already but is not getting the attention it deserves yet. However, for a one-time payment, you will get a great SEO tool that helps you with the following: Gets keywords from Google Keyword Planner, Removes the Junk keywords, and search for quality keywords that mean business for you. Then you can organize the good keywords into article groups so you can plan your content promotion strategy.
Keyword Researcher comes with a 30 days money-back guarantee, so if you feel this is not what you expect, well, you have 30 days to ask for your money back, no question asked. However, I still use it today, after 5 years I purchased it.
11. Long Tail Pro (FREE 7 days, $27/m)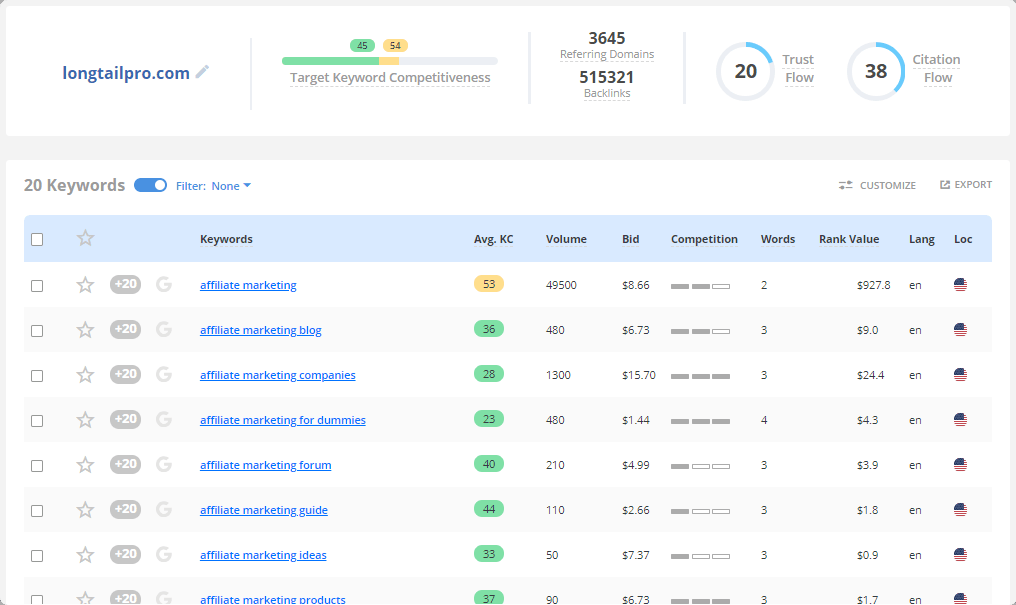 LongTailPro is a well-known name in the keyword research industry. They have also added a Rank Tracker feature to track your target keywords' ranking in all popular search engines. Currently, they support Bing, Yahoo!, and Google.
Start uncovering "hidden" profit-generating keywords in seconds with competitor & buyer intelligence in literally any niche.
12. Market Samurai (FREE Trial, $149)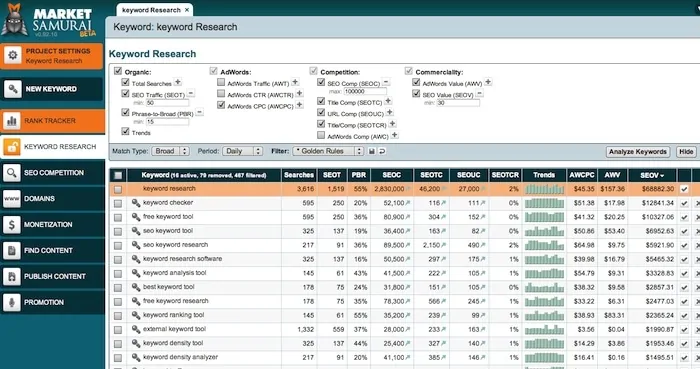 Market Samurai is one of those reliable tools that have been around in the SEO industry for many years. The favorite keyword research tool of many SEO gurus, Market Samurai, is powerful for generating keywords and analyzing keywords for competitiveness. So you can uncover keywords you can target for easy rankings.
Unlike most other tools, this is a one time purchase, so you pay once and use it forever. And MarketSamurai is on the market for more than 9 years, already doing perfectly the job it was built for.
13.KeywordTool.io ($89/m)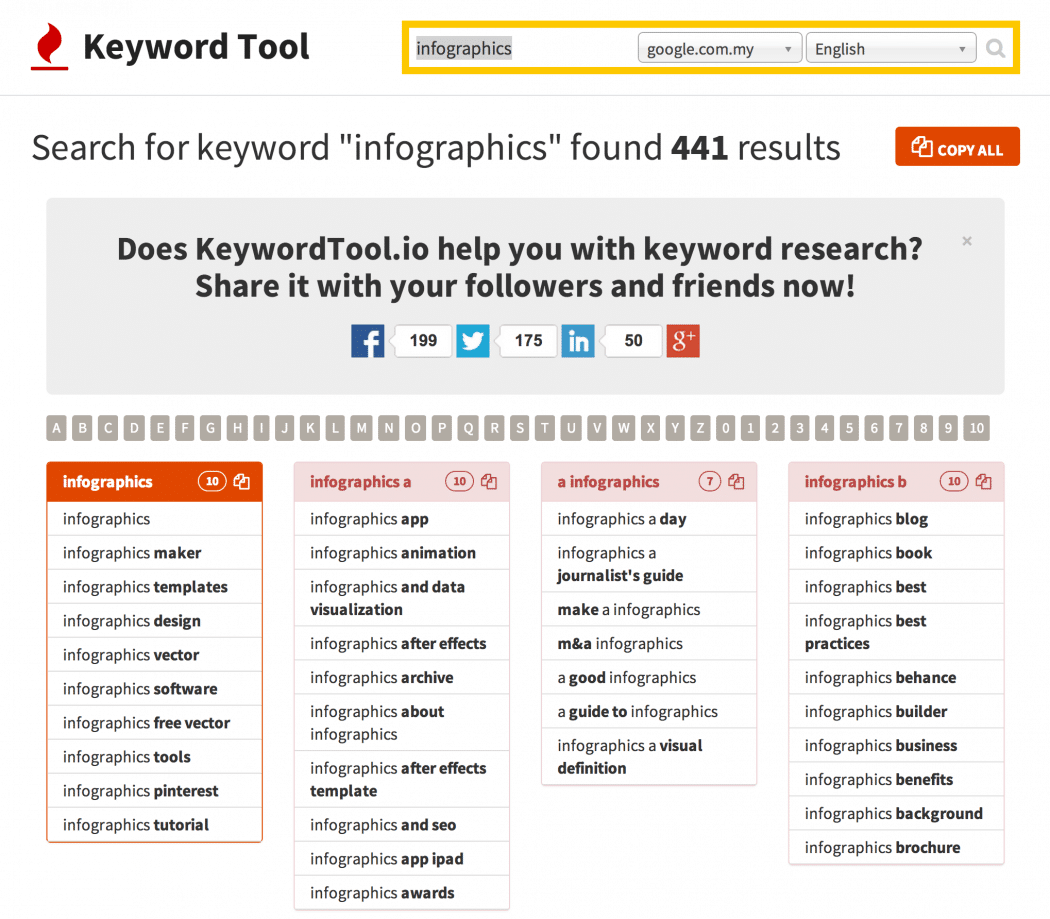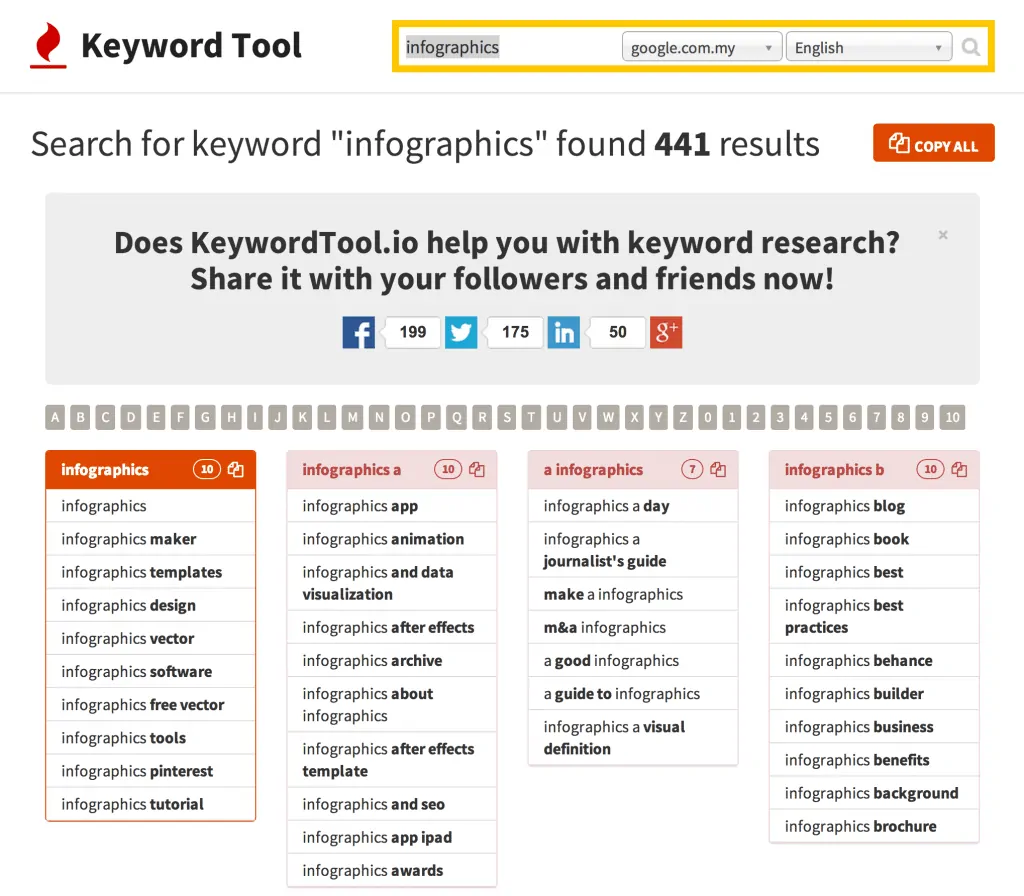 With KeywordTool, you will discover Thousands Of Keywords Hidden By Google Keyword Planner And Evaluate Them Using Search Volume, Competition Level, Or Cost-Per-Click Data. So if your competitors target keywords from Google Keyword Planner already (and as you may saw from this guide, most of the tools rely on KeywordPlanner), using this tool may be the right approach.
Also, Keyword Tool Pro fully supports all countries and languages supported by Google. They provide keyword suggestions for 192 countries and 83 languages and supply the search volume data for 86,460 individual locations worldwide. It comes with a 30 days money-back guarantee, so you have nothing to lose by trying this SEO tool.
14. SpyFu ($39/m)
SpyFu is taking a different approach to keyword research as its focusing mainly on your competition. Rather than entering your own domain, here you'll be entering a competitor's site, and you'll be able to analyze it in terms of its keyword focus and relative strength.
You will be able to download profitable keywords (both organic keywords and PPC) of your competitors. So if you know your competition well and you are behind them, with SpyFu, you can create yourself a blueprint for success and catch them without making their tests and mistakes.
15. iSpionage ($59/m)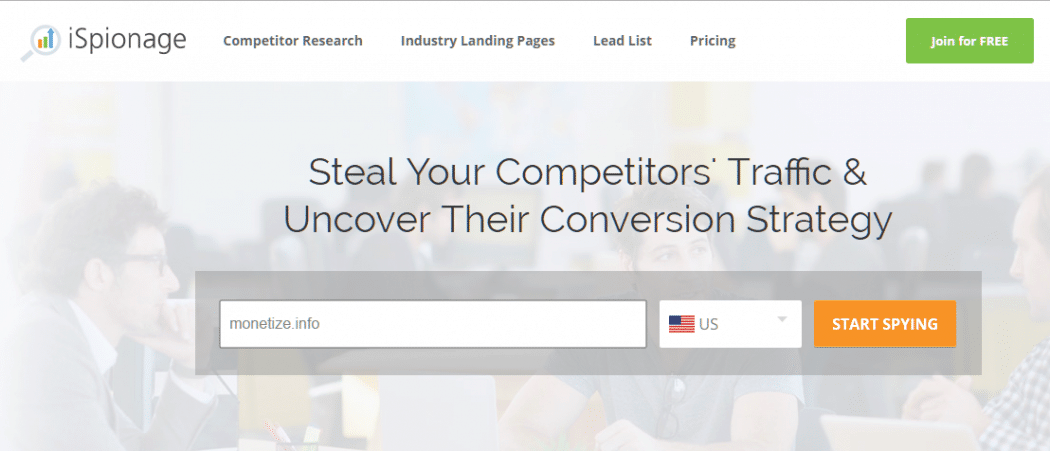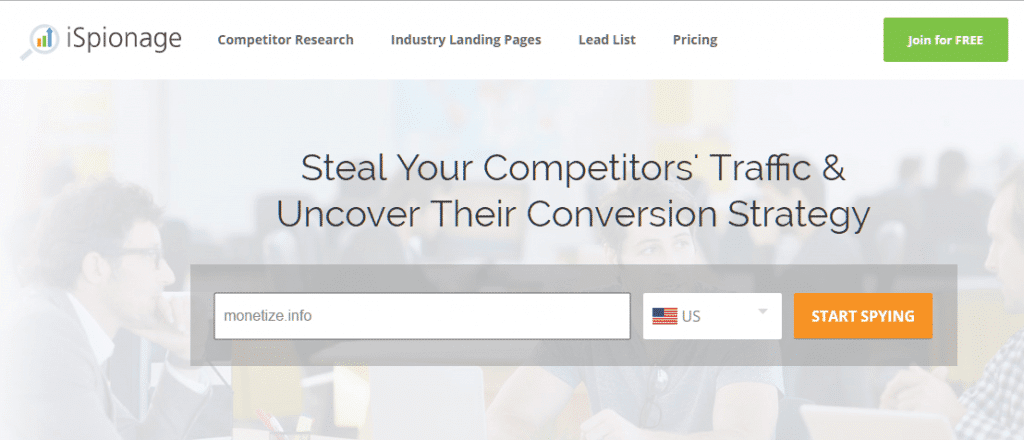 Just like SpyFu, ISpionage is focusing on your competitors' organic and PPC keywords. You enter a competitor URL in the search bar, and boom: you have a complete list of their ranking organic keywords and a list of all their landing pages and PPC ads. Their tool comes with a 30 days money-back guarantee as well.
Honorable mentions: Keyword.io, LSIGraph.com, AnswerThePublic.com
What's the best keyword research tool?
There you have it. A list of 15 great keyword research tools. Obviously, that depends on your needs and the budget you have. To make it easier for you, here are our suggestions on the best keyword research tool for you in 2021:
You just started your business, and you don't have many funds? Go with free tools: NeilPatel.com, Google Keyword Planner, Google Trends and InfiniteSuggest.com
You make a couple of hundreds of $$ monthly from your business. You're doing keyword research regularly, then use one-time payment keyword research tools like RankTracker from SEO Power Suite or affordable monthly plan suites like MangoTools or Long Tail Pro.
If you're offering SEO services to customers and need reports or you have a network of blogs, then you should go with SemRush, Ahrefs, Rank Tracker from SEO Power Suite, or KWFinder from MangoTools.
6. How to build your keyword list
Ok, now that we've talked about keywords and search phrases and the user intent behind them, let's start creating our keyword list.
6.1 Starting From the Top
The best strategy to spearheading your keyword research is to start from a very high level. Before you worry about the most particular, highest-trending search terms, think more broadly.
Come up with 5-10 topics or categories related to your business. If you have a sales or business development team, consult them on the key "buzz words" they use when selling your products or services to potential clients, or consider customer reviews/testimonials and the terms they use to describe their objectives and experience.
For (a very relative) example, a digital marketing agency may consider categories along the lines of "digital marketing," "search engine optimization," "blogging," and "social media."
Also, consider synonymous but commonly interchangeable terms like "digital/online/web marketing" to cover all your bases. Starting broadly captures the main terms and allows you to branch off into more specific search queries or long-tail keywords.
6.2 Expanding Your List
Once you've come up with your broader search topics, start thinking of more specific questions or search queries related to each one. To use the same example, a marketing agency may take their head terms and expand into keyword phrases that point more specifically toward their website: "local SEO experts," "effective digital marketing services/software/consultation," or "how to advertise on Facebook."
Let your imagination run a little wild, as the goal in this step is to build out all the terms you think may be relevant to your business. This isn't your final list of keywords, but rather a catch-all of ideas you think your target consumer may be searching online. You'll narrow things down later.
If you find yourself stumped on expanding your search terms, take a look at what Google suggests. When you search a particular query, scroll down to the bottom of the search results to find "Searches related to," where Google will list other keyword phrases similar to your search: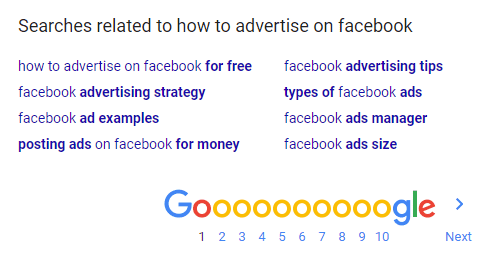 There may also be a "People also ask" section inserted somewhere in the middle of the Google search results as well: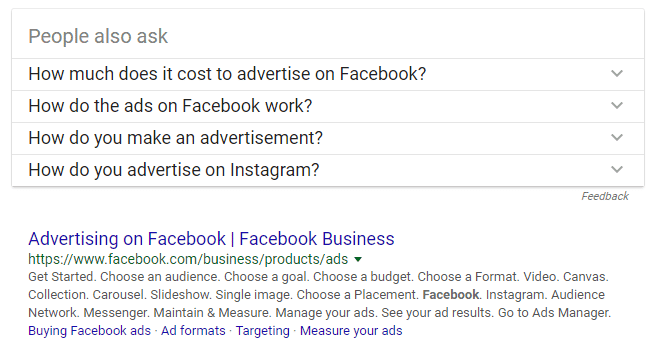 6.3 Steal keywords from competitors
Another tactic to building out your keyword list is to consider search terms your website and your competitors' websites are already ranking for. If your site has been live for at least a few years, it may already rank for a few keywords (you may not be #1, but the goal is to get there!).
Google themselves offers tools like the Ads Keyword Planner, which provides insight into your ranking keywords. Also, try scoping out the competition by searching your keywords to see what websites are ranking highest.
If you're feeling sneaky, you can let your competitors do the heavy lifting for you and snatch up keywords from their sites. There are many tools out there created for this sole purpose.
Another powerful tool is SEMrush's Domain Analytics Organic Research Tool.
SEMrush (review and tutorial here) estimates the keywords that send the largest amount of traffic to your competitors' websites.  The estimates are reasonably accurate and can be a valuable resource for bulking out your keywords list.
While SEMrush's insights are powerful, they do come at a cost. You can preview the first 10-keywords for free, but its plans start at $99.95 per month for pro users if you want more data.
6.4 Why don't you ask the public ?!
Answer The Public is a cool keyword tool as it takes your keyword and prefaces it with prepositions such as 'for,' 'like,' 'near,' 'with,' 'without' etc. to come up with some more keyword ideas which it presents in a neat 'wheel,' although you can also download the suggestions as a list.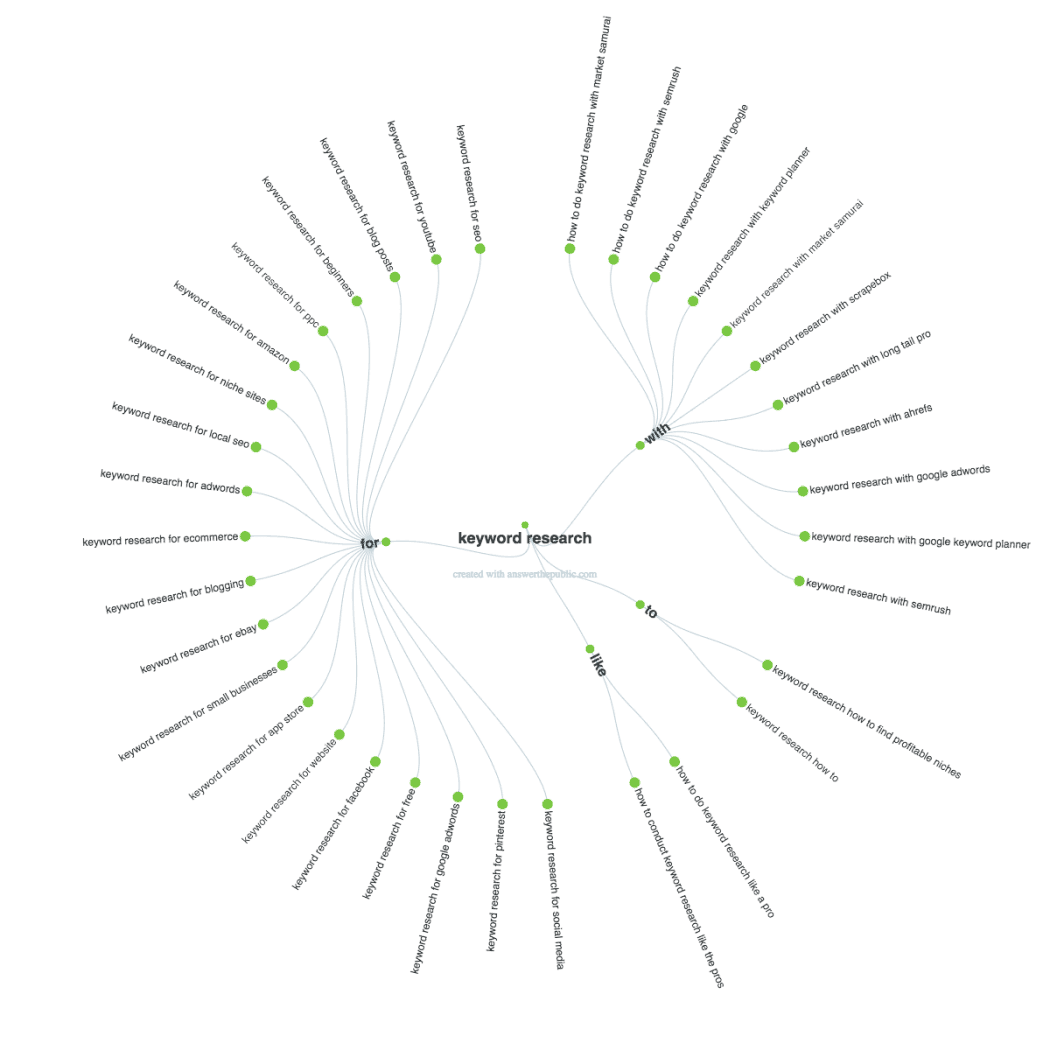 So Anser The Public will find a whole heap of long-tail keywords for you, based on prepositions that people will commonly use in their search queries.
But what's cool is it also comes up with suggestions based on 'what,' 'which,' 'where,' 'how,' 'are,' etc.
Since the Hummingbird update, Google has placed increasing emphasis on content that answers people's questions.
If you can include answers to popular questions in your content, you stand a better ranking.
And even better, if you provide a concise, authoritative answer, you may even achieve a coveted Featured Snippet listing (position zero in the search results, above number one!)
6.5 Narrowing Down
When you've come up with what you consider your most relevant search terms and phrases, there are online resources to help you refine your list based on internet trends and consumer behavior.
AdWords Key Planner can show you keywords' potential search volume and prospective impressions and clicks (you'll need an AdWords account to use the Keyword Planner, but you don't have to invest in any Google ads).
Google Trends provides data on trending search terms and related queries. It breaks trends down chronologically and even geographically, so you can see how usage of specific terms has been progressing or regressing regionally and over time.
Other services can provide more detailed data and projections, suggesting potential keywords, gauging search competition, and giving you a real-time look at how you rank for particular keywords.
Refining your keyword list helps you better allocate your time, resources, and investment (if you choose to invest in some paid search efforts) and gives you a better idea of the most effective keywords to focus on, as well as lower-volume keywords that may be trending positively.
7. How to do Keyword Research With Ahrefs [Tutorial]
I will show you how to do keyword research with ahrefs using a real project I am working on now. We find the keywords for a counseling Psychology office website in Bucharest, Romania.
As you could guess, we have here several particularities for this project:
Counseling psychology is a competitive niche.
The office is in Bucharest, Romania, so we target local keywords.
Many websites target the niche with informational resources. We are interested in keywords with buying intent only.
After opening Keywords Explorer in ahrefs, we selected Romania and Google as the primary keywords source. You could choose other sources like Youtube, Amazon, or Bing to find more keywords, but this is our best source for our project.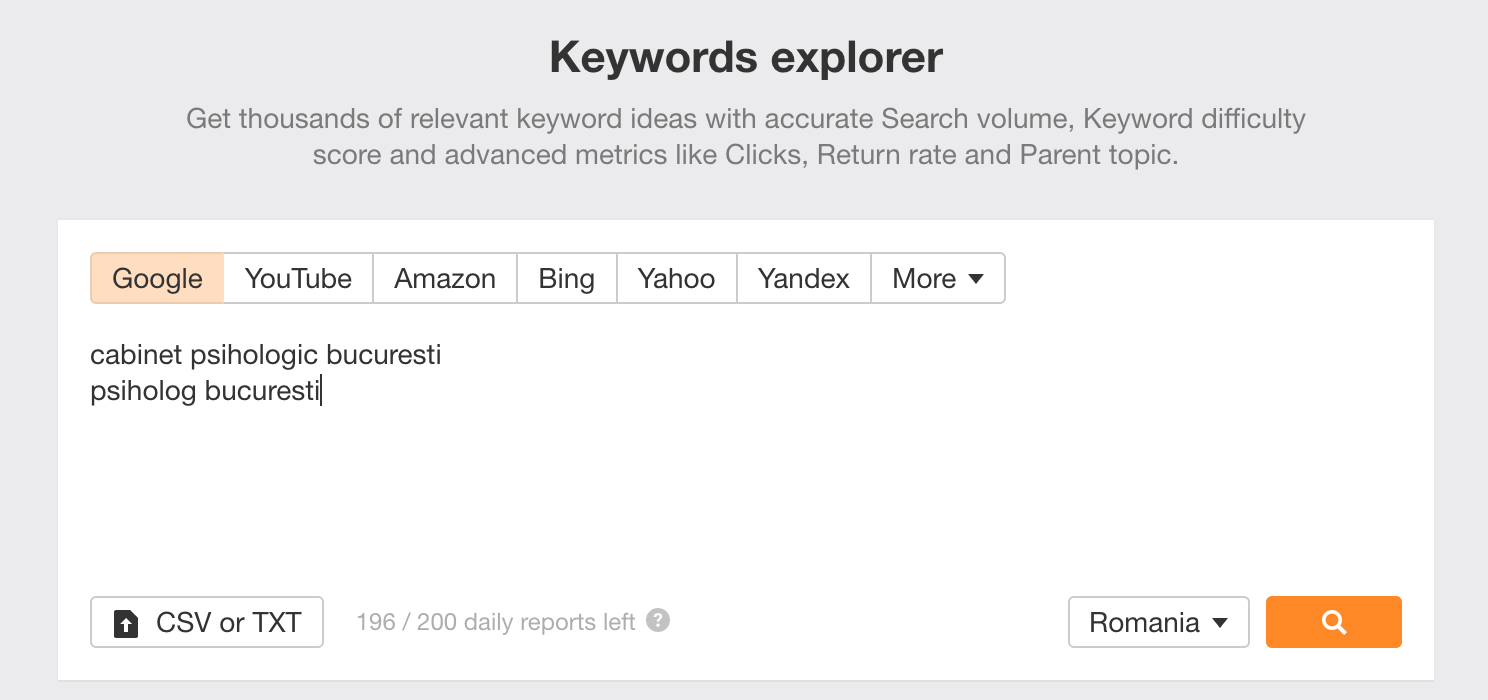 I've entered my main keywords (seed keywords) manually, but if you already have a list of keywords in the text or CSV format, you can easily import it.
For those two keywords, we have brief information: Keyword difficulty (KD), Search volume, Clicks, Cost per click (CPC), Clicks per search (CPS), Return rate (RR), SERP Feature (SF), and Parent topic.

We go further and select the 1st keyword to find more about it and see if it's a good fit for our keywords list. "Psiholog Bucuresti" -has a keyword difficulty of 9/100, which is excellent, and a search volume of 1400 is also good.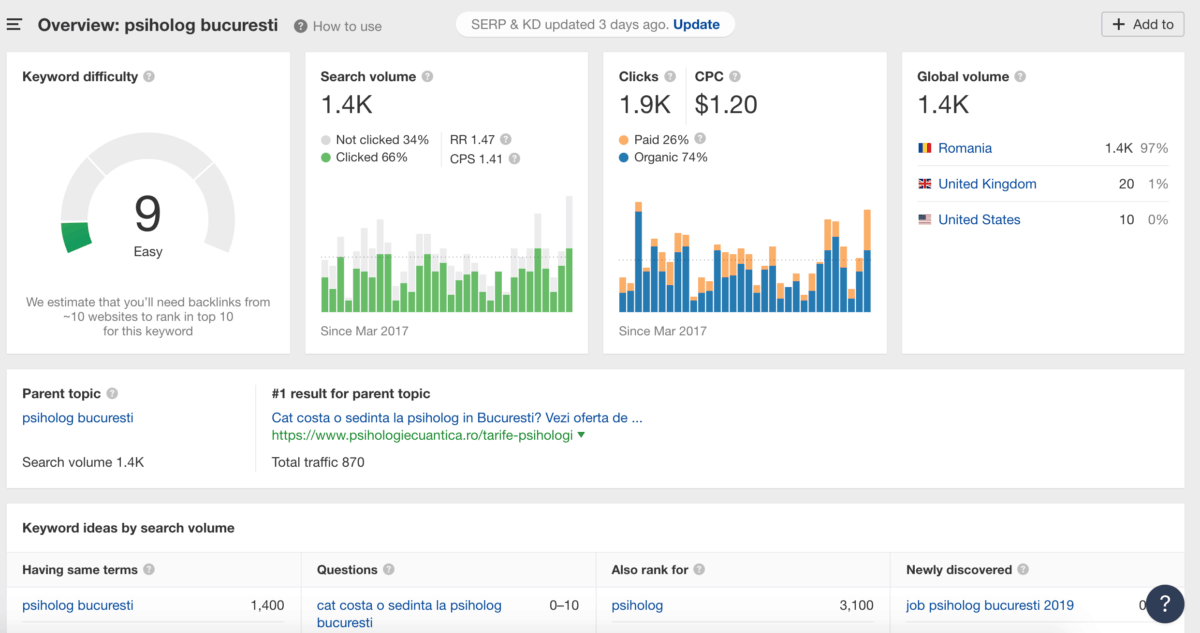 Having the same terms tab, it's an important one as it gives us more keyword ideas we could use for our research.
Below you could find all the terms containing the keyword along with metrics that will help us decide if the keyword is a good fit for us or not. KD – Keyword difficulty, Search volume, Clicks on searches, Cost per Click, Return Rate, SERP Feature, and Parent Topic.

The parent topic tab is also essential. A single page can rank for hundreds of closely-related keywords. Parent Topic determines if you can rank for your target keyword while targeting a more general topic on your page instead.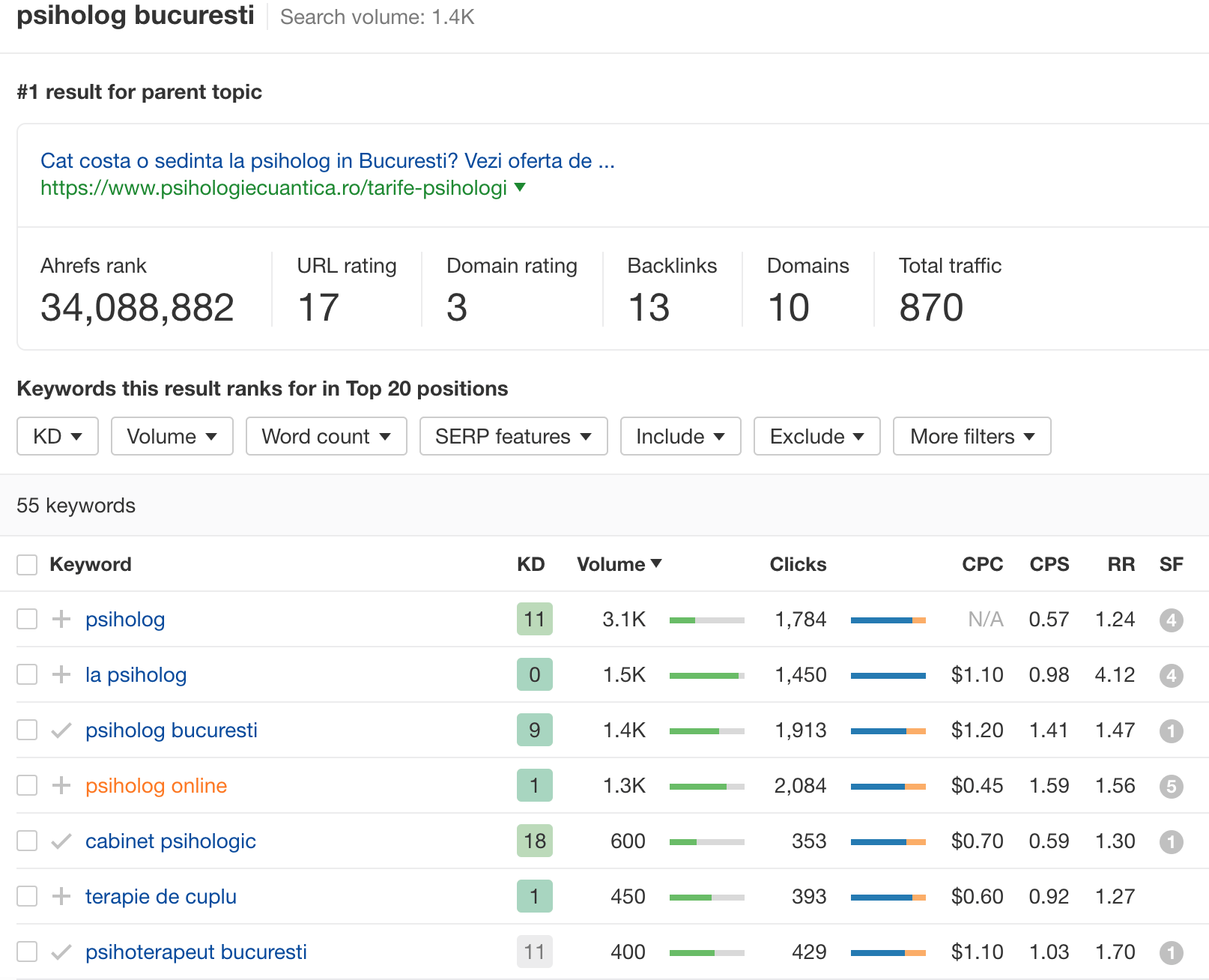 All the keywords with a tick we've added to our keyword research list. Another tab that will help us is the SERP overview because we see the websites that already rank for these keywords. They are our competition. We will study these websites more in-depth when we create an SEO strategy. But at this point, we are interested in what other keywords these websites rank for so we can add them to our list.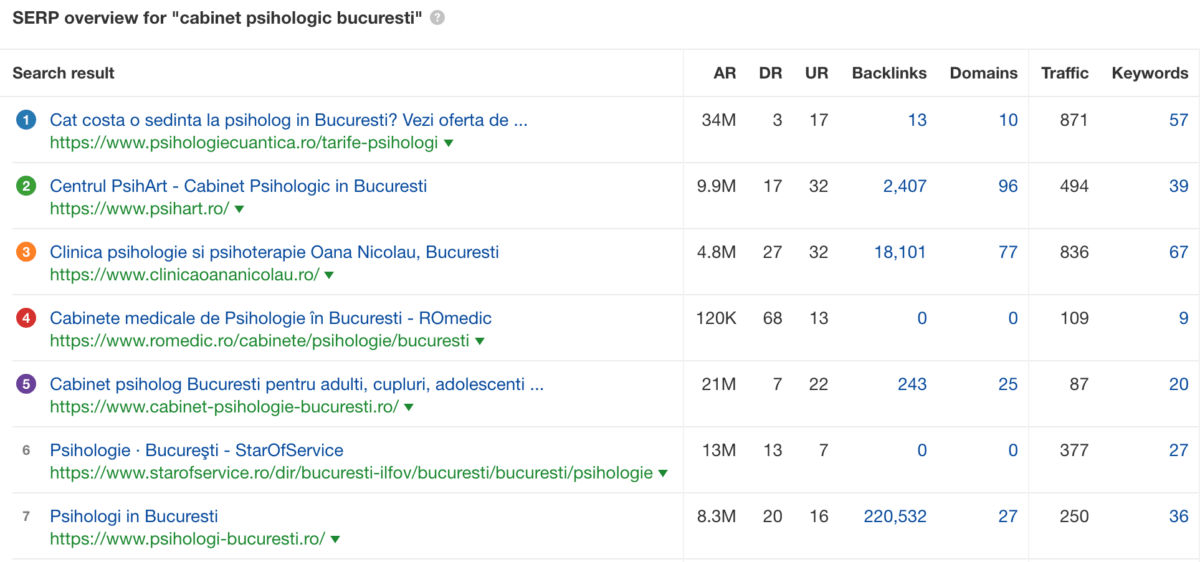 We will select only websites that sell services and ignore informational resources. The second website is a good fit as it ranks for 39 keywords and it selling psychology consulting services. So we click on Keywords to see all the organic keywords they are ranking for and research what keywords are right for us.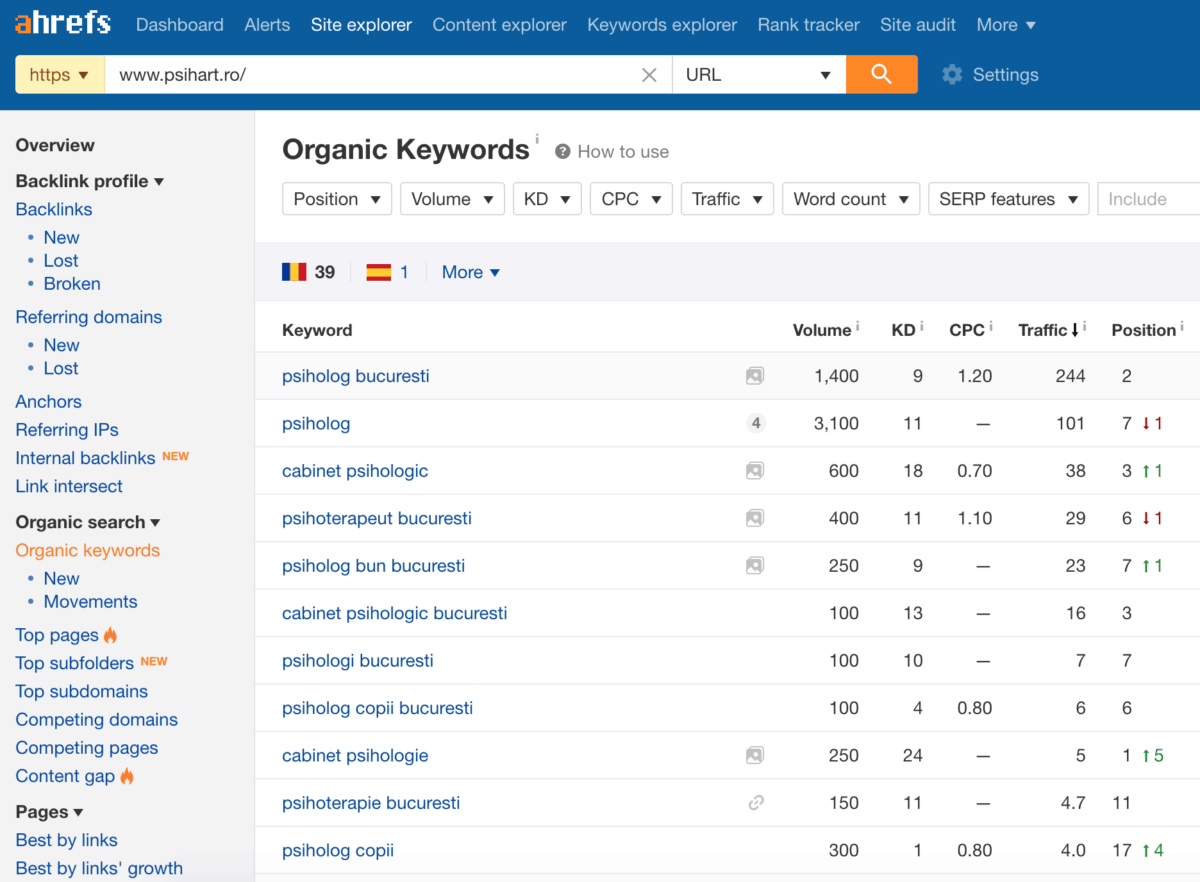 Now you have a pretty good idea of doing keyword research with ahrefs and creating a keyword list. We ended up with 13 keywords that we will create content and start optimizing our website.
Before doing any SEO, I recommend starting a PPC campaign on these keywords and see how these keywords perform for you if they bring your sales to keep them. If not, you will lose your time and resources ranking for keywords that do not bring you any business.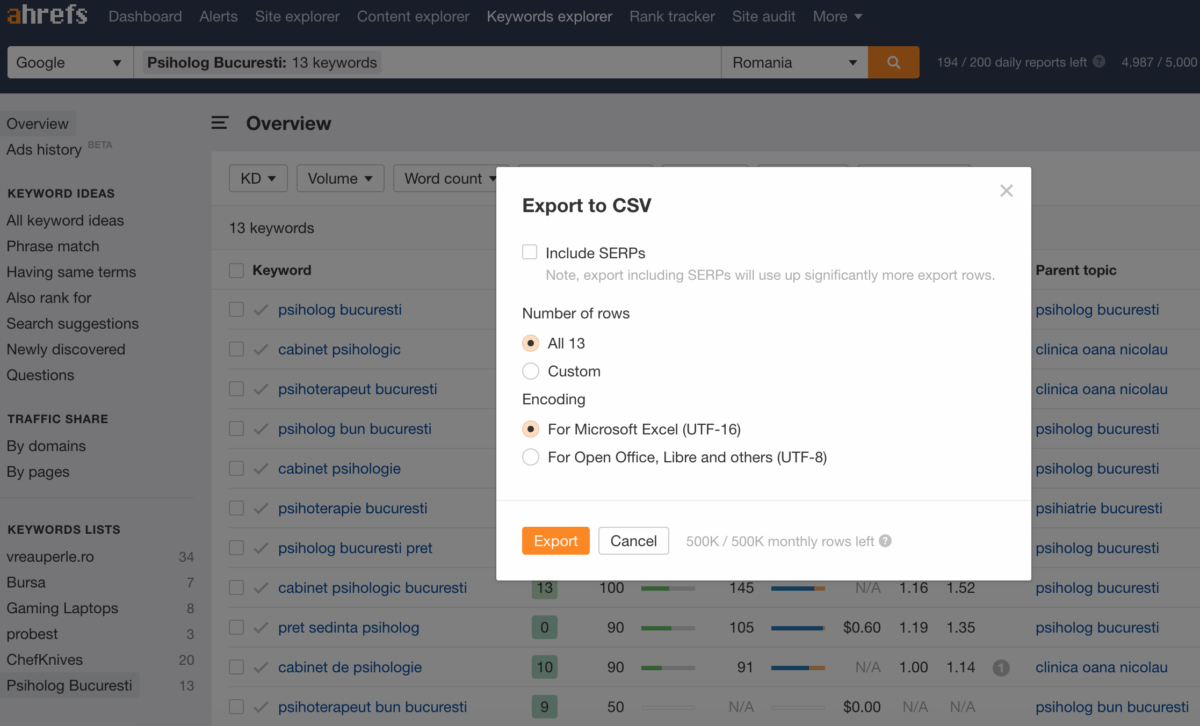 8. Put the strategy in action
While keyword research can seem a bit daunting, these keyword research guidelines can hopefully help make it a valuable part of your overall marketing strategy. However, search engine optimization doesn't end at identifying keywords.
I invite you to check the 10 SEO Guides list you can read for free to get an overview picture of SEO and how you can do it.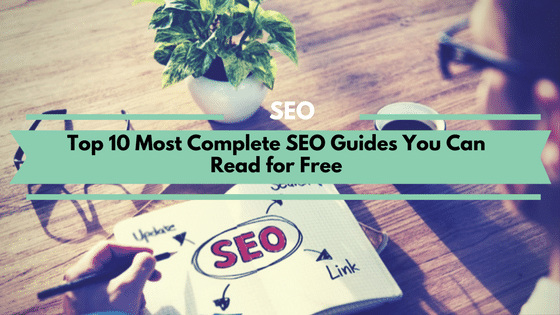 If you want to get aggressive, you may also consider AdWord and Facebook ads campaigns to invest in particular keywords to increase your rankings monetarily.
The key to scaling your SEO  is to maintain and refine your keywords and tactics continually. You may find yourself reevaluating and updating your keywords and related content every few months.
If you are serious about optimizing your search presence, a digital marketing service, especially an SEO agency specializing in search, is a worthwhile investment to get the most out of your SEO efforts.