There are many powerful keyword research tools that can help save hours, days, or even weeks of your time.
The following tools can help find content ideas, link building opportunities, create easy-to-understand SEO reports, make Google crawl your site faster and much more.
More often than not, the below tools will provide information you need to achieve high rankings, and reveal link building opportunities so you can go out and get those high rankings.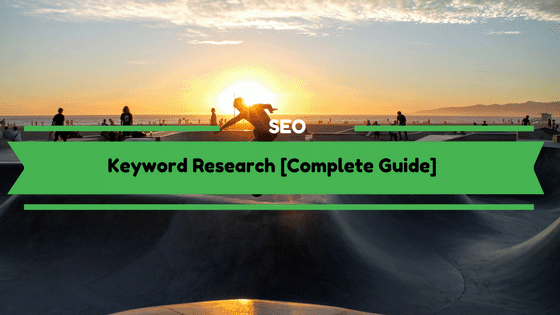 Are there more SEO tools out there than on this list? Sure. SEO tools are a dime a dozen.
The following is a selection of the keyword research tools I have found useful over the years.
In a hurry? Scroll down to Takeaways to see our recommended keyword research tools.
Some of them are free, others are paid, but most offer a free trial long enough to start optimizing your site. I have no affiliation with any of these sites, I've just listed tools that I find useful. So jump in and have fun.
Keyword Research tools
In my opinion, Keyword research is the foundation of any online business. These are not only useful for search engine optimization as some may think. You have to do proper keyword research to create your business plan, your marketing strategy, and your content strategy.
That's because with keyword research you basically set up what are you targeting as a business: who are your customers, what are they looking for, what keywords your competition is targeting.
1. NeilPatel.com (FREE)
Neil Patel acquired a few years go UberSuggest keyword tool and transformed it into an SEO tools suite. Besides the keyword research tools now has a site audit and backlinks audit, organic traffic estimator, content ideas and keyword ideas.
With the Keyword Ideas from NeilPatel.com you can automatically download the auto-suggested keywords from Google's search results for a nice, juicy collection of long-tail keywords.
You may also use it to quickly find new keywords not available in the Google Keyword Planner. Take your keyword research to the next level with tons of keyword ideas for SEO, PPC, and your next content marketing campaign.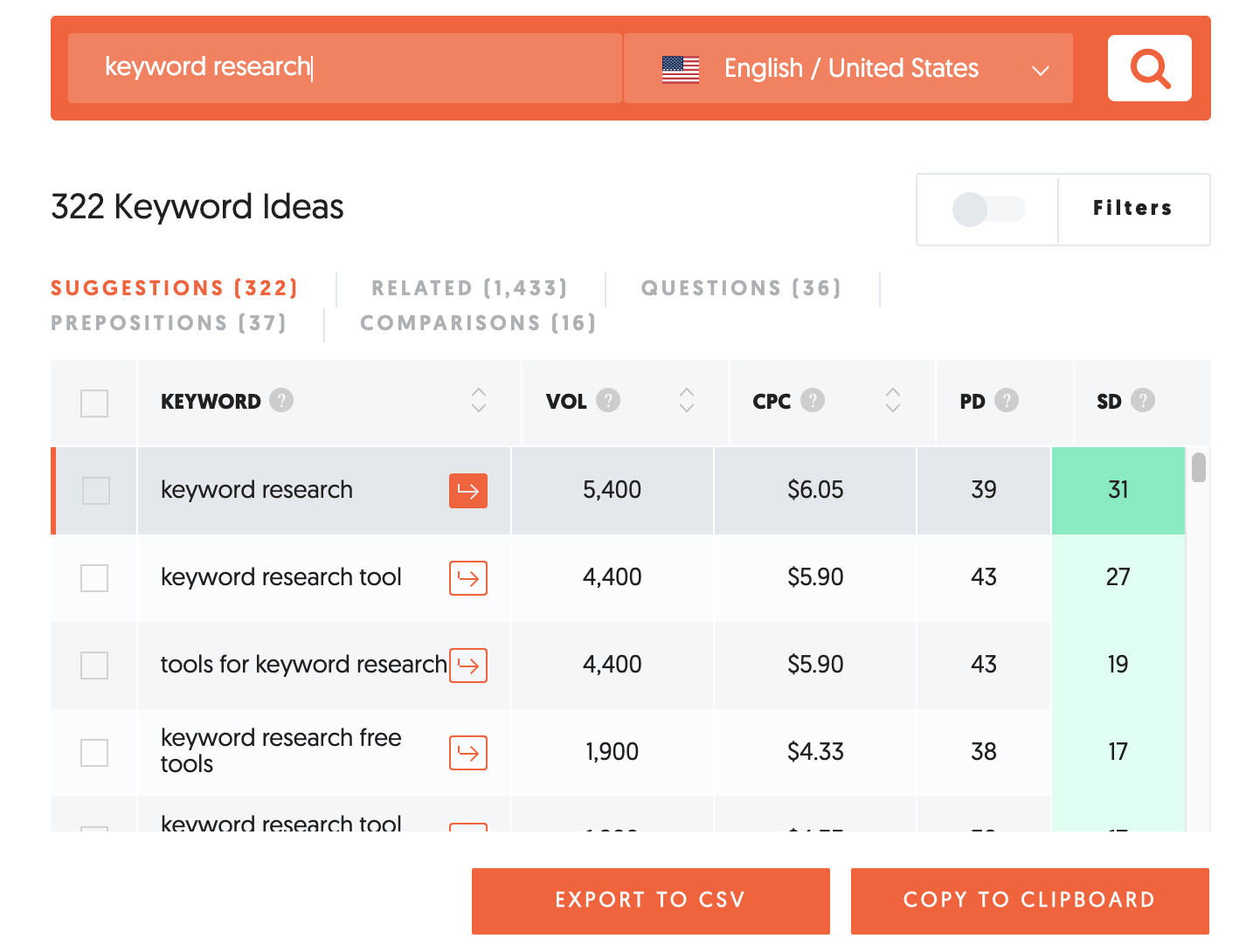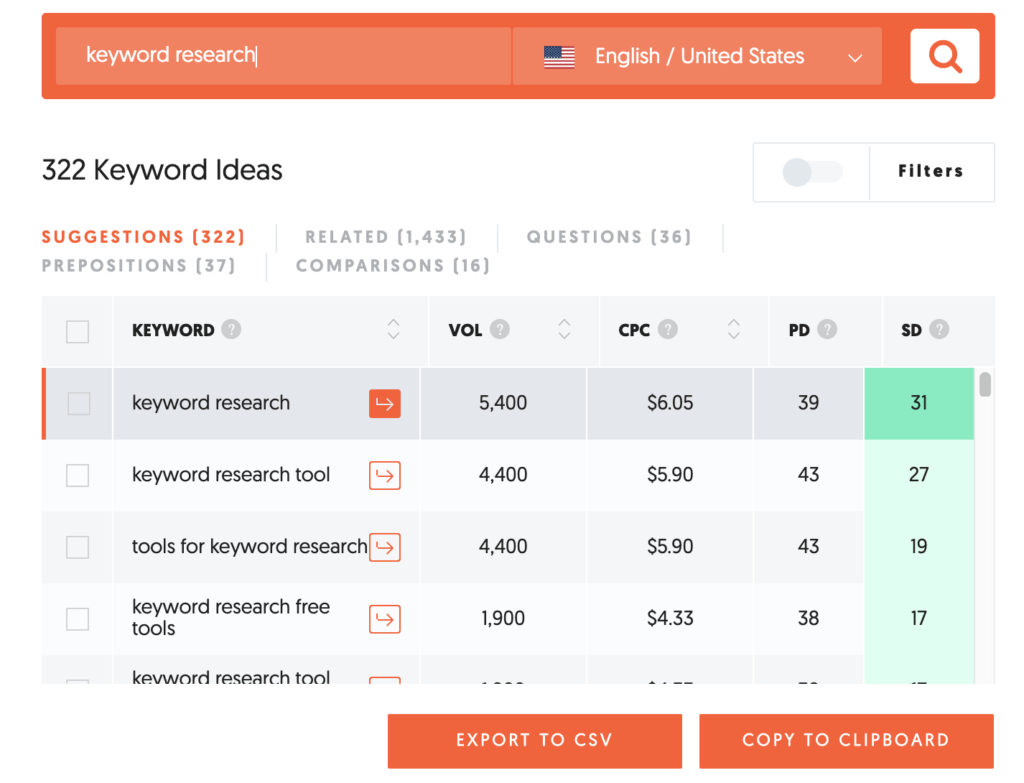 2. Google Keyword Planner (FREE)
The Google Ads Keyword Planner has been mentioned several times here on Monetize.info and for good reason. It's essential for every SEO project.
With Google Keyword Planner, you can see how many times a keyword has been searched in Google and narrow this down by Country and even device type, such as mobile phones and so on.
This is an essential tool for every SEO project for knowing how many times your keyword is being searched in Google.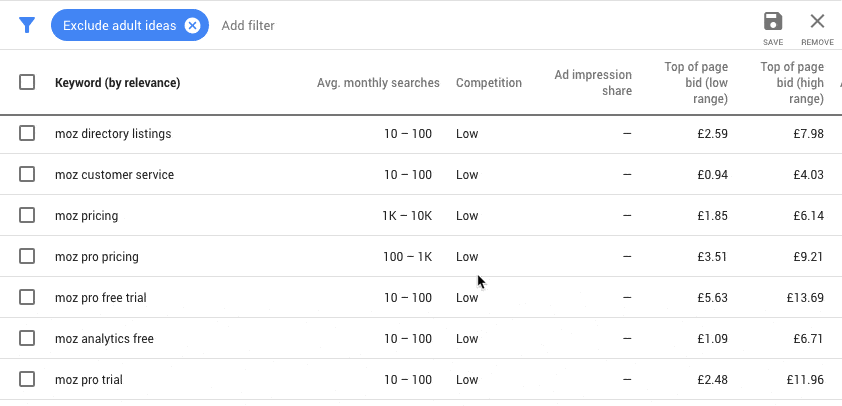 With Keyword Planner, you can:
Search for new keyword and ad group ideas
Get search volume for a list of keywords or group them into ad groups
Get traffic forecasts for a list of keywords
Multiply keyword lists to get new keyword ideas
You should pay attention to keyword ideas and ad group ideas, as both can help with SEO. Ad group ideas contain a set of related keywords that might not show up in general keyword ideas.
Pay attention to average monthly searches, competition, and other available metrics to determine relevant keywords to target.
Here is a guide created by Ahrefs team on how to use Google Keyword Planner for maximum benefits.
3. Google Trends (FREE)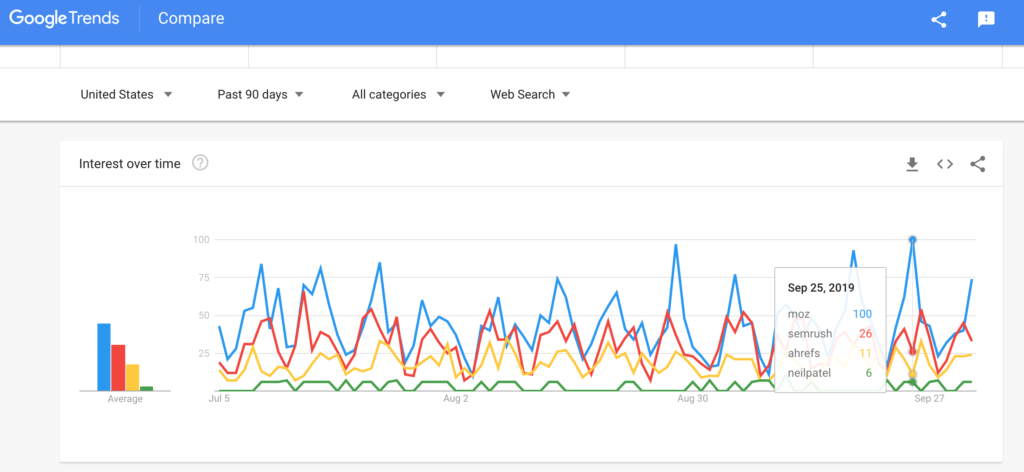 Google Trends provides powerful stats of search trends over time. Great for seeing how your market performs overall, and how demand changes over time for your keywords.
Using Google Trends, you can also see the relative popularity of a keyword in a given country or region. The tool allows you to compare the relative popularity of up to 5 different keywords at the time.
The downside of Google Trends is that it only shows the popularity of the keywords on a scale from 0 to 100. Unfortunately, it does not show the actual number of searches that the keyword receives.
4. Google Autocomplete (FREE)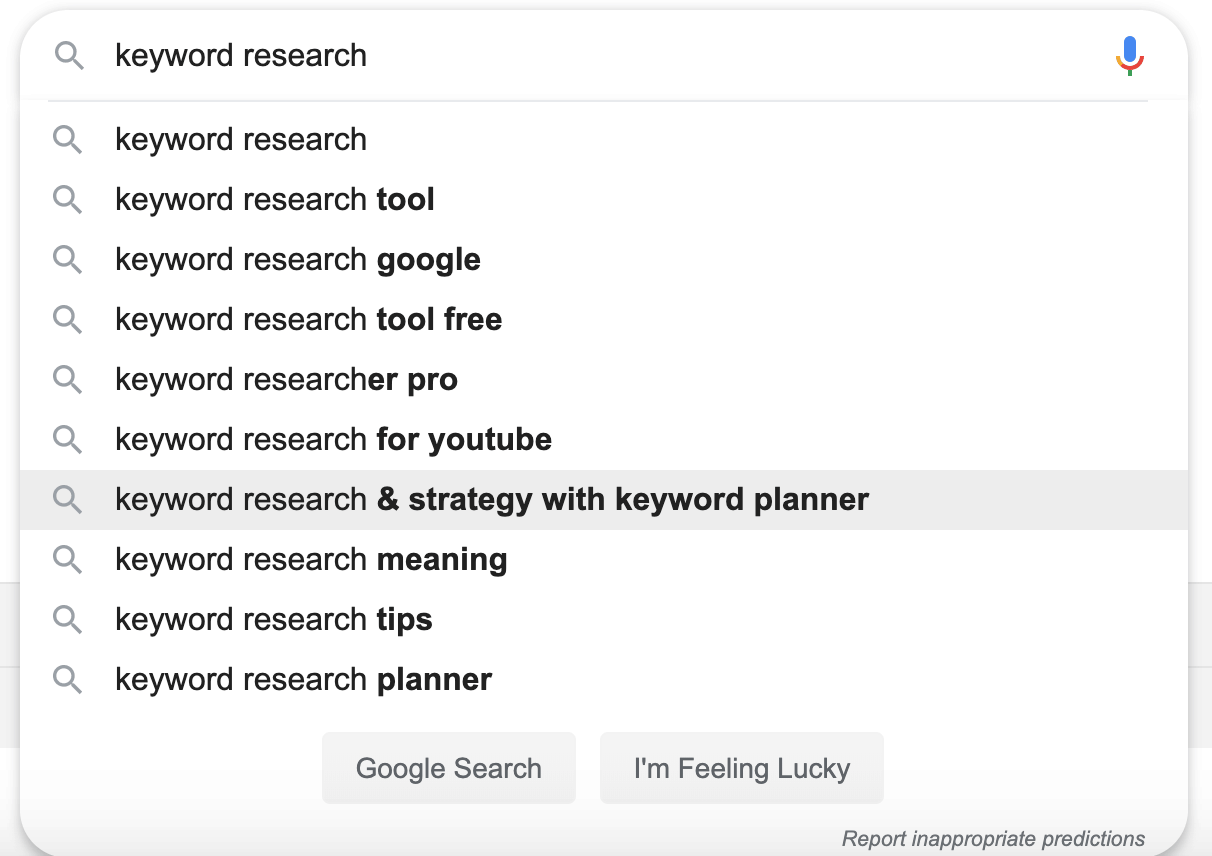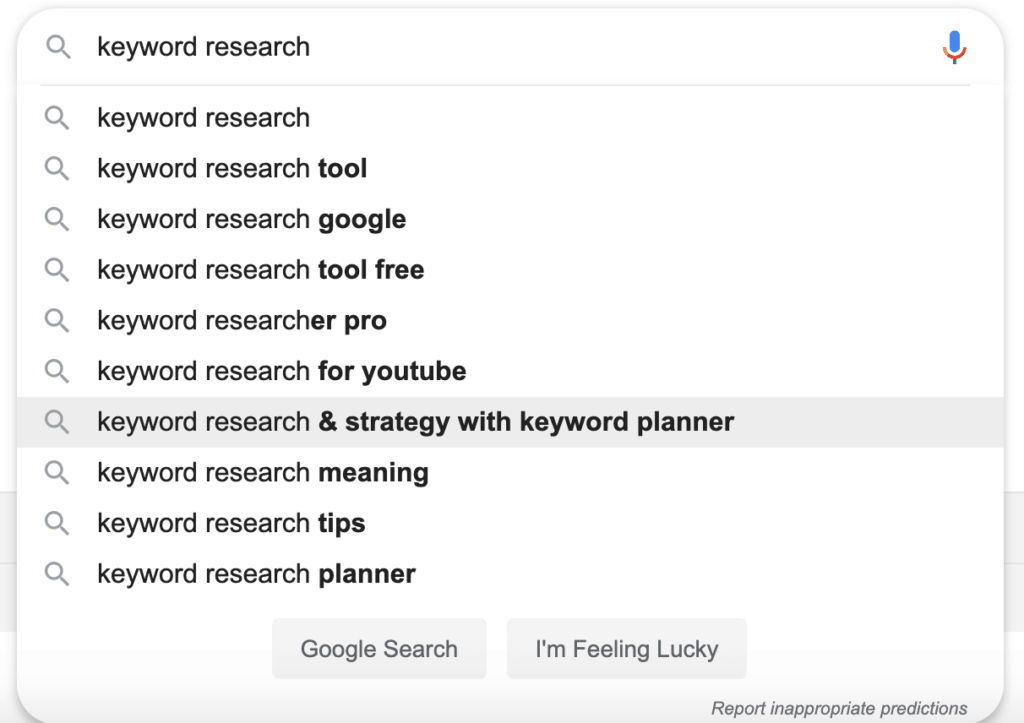 Searching Google.com in an incognito window will bring up that all-familiar list of autofill options, many of which can help guide your keyword research. The incognito ensures that any customized search data Google stores when you're signed in gets left out. If you want to export these keywords you should better use a tool like InfiniteSuggest.com, that query Google Autocomplete for you, automatically.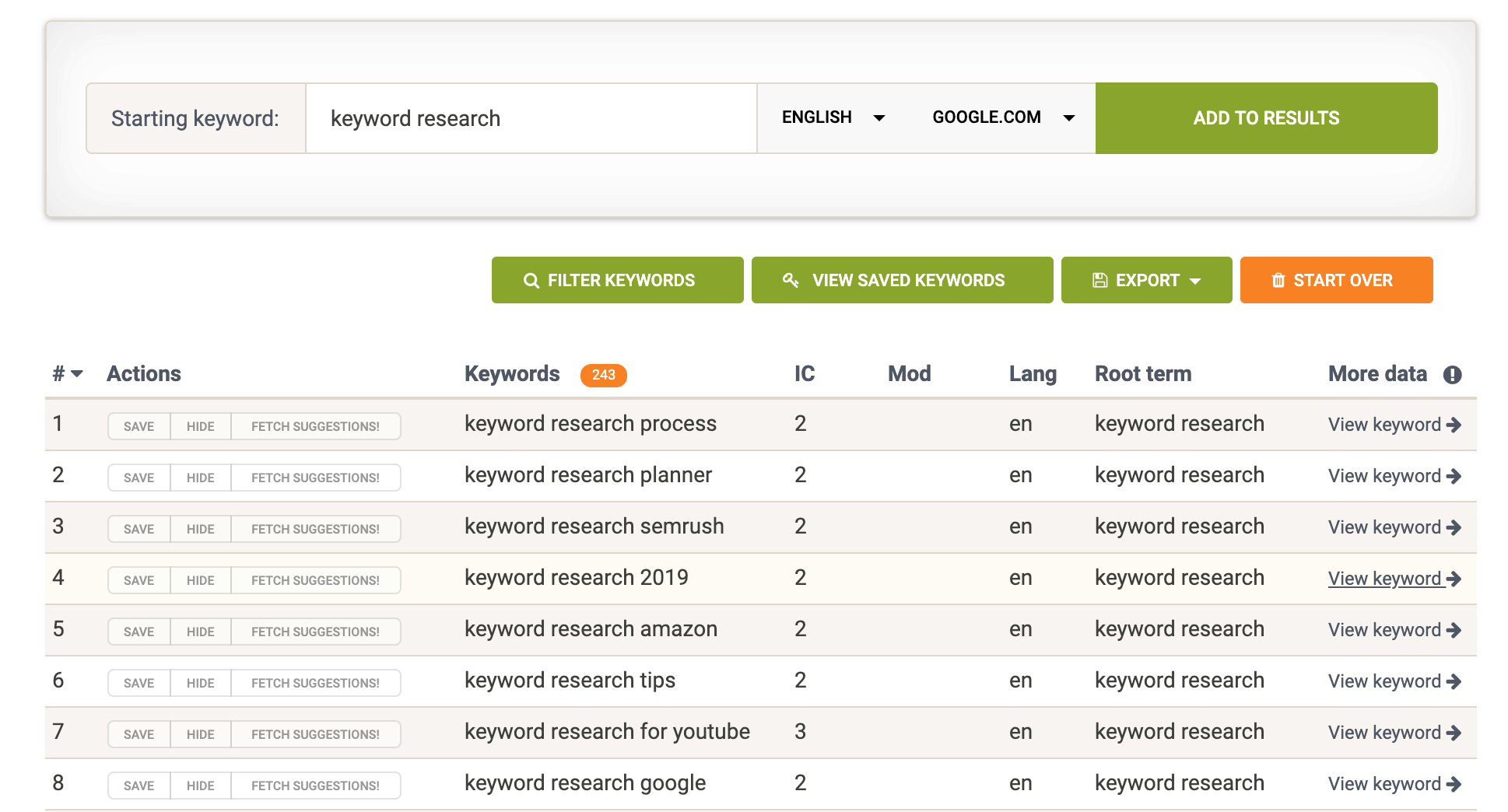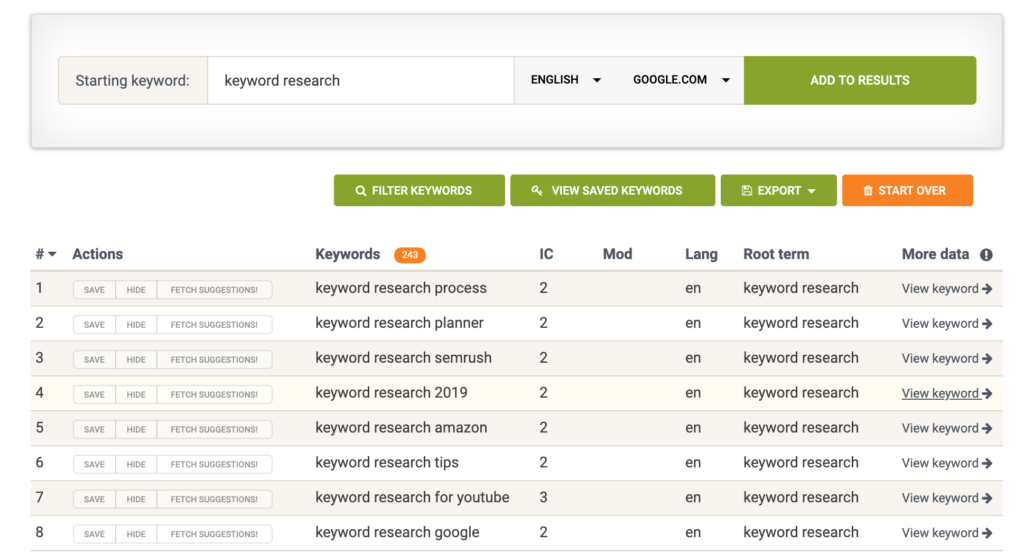 5. SEMrush (FREE 7 days, $99/m)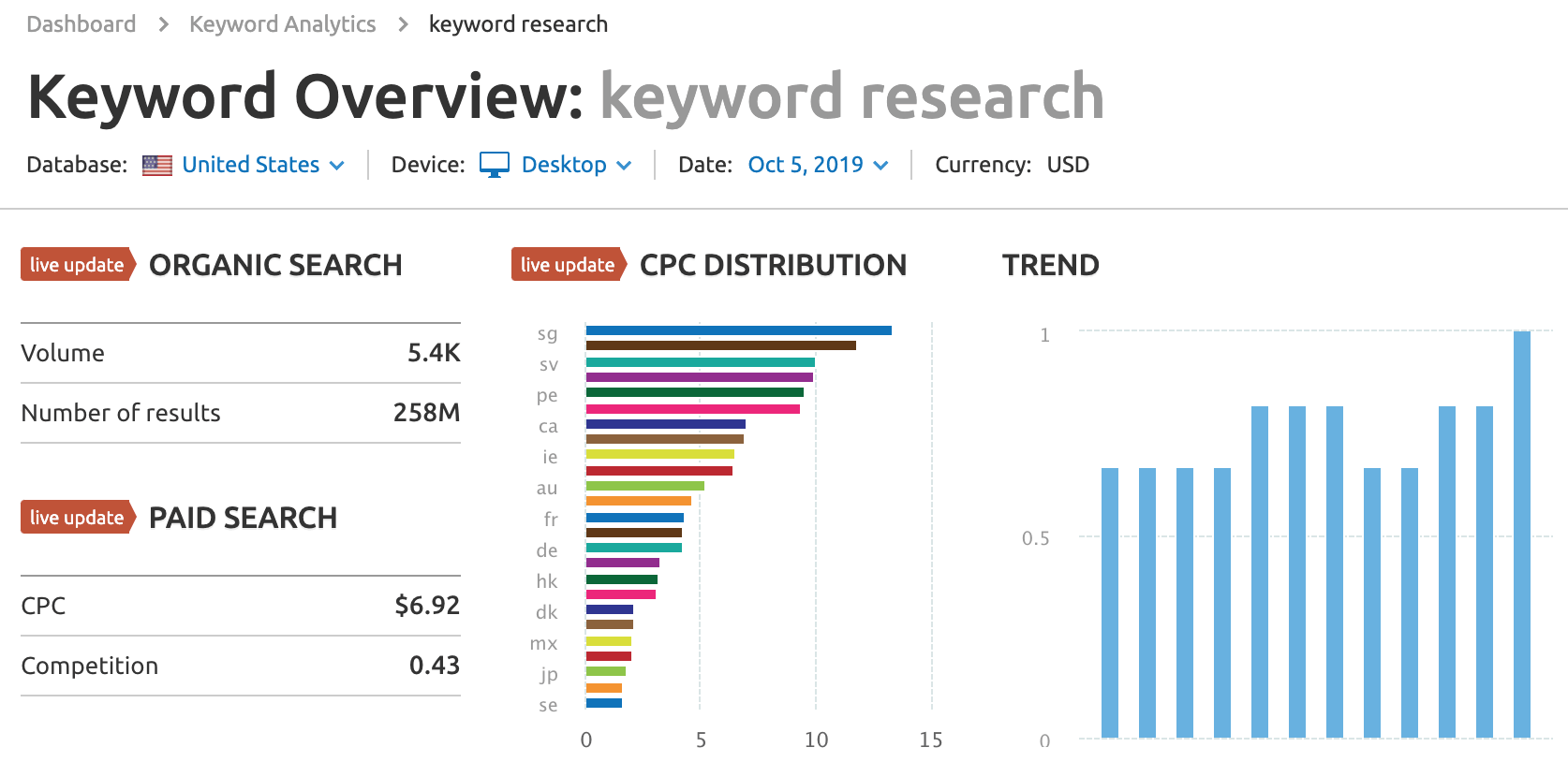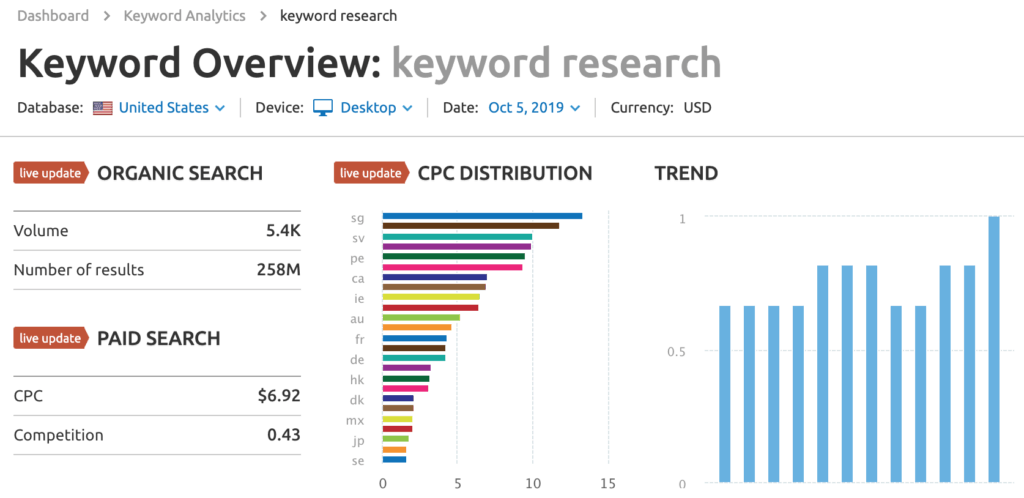 SEMrush is a software research suite designed to provide digital marketers and online businesses with competitive data to inform marketing and business decisions. Learn how to benefit from your competitors by developing perfect content and advertising strategies identifying and following what they are doing.
Check here our SEMrush review and tutorials.
You may use SemRush to dig into your competitor's landing pages to brainstorm your own content optimization strategies. Use their Competitive Positioning Map and Organic Competitors Report to understand the strengths and weaknesses of your direct competitors' SEO strategies.
SEMrush helps you adapt keywords to different international regions by offering 30 regional keyword databases.
6. Ahrefs Keyword Explorer ($1 for 7d, $99/m)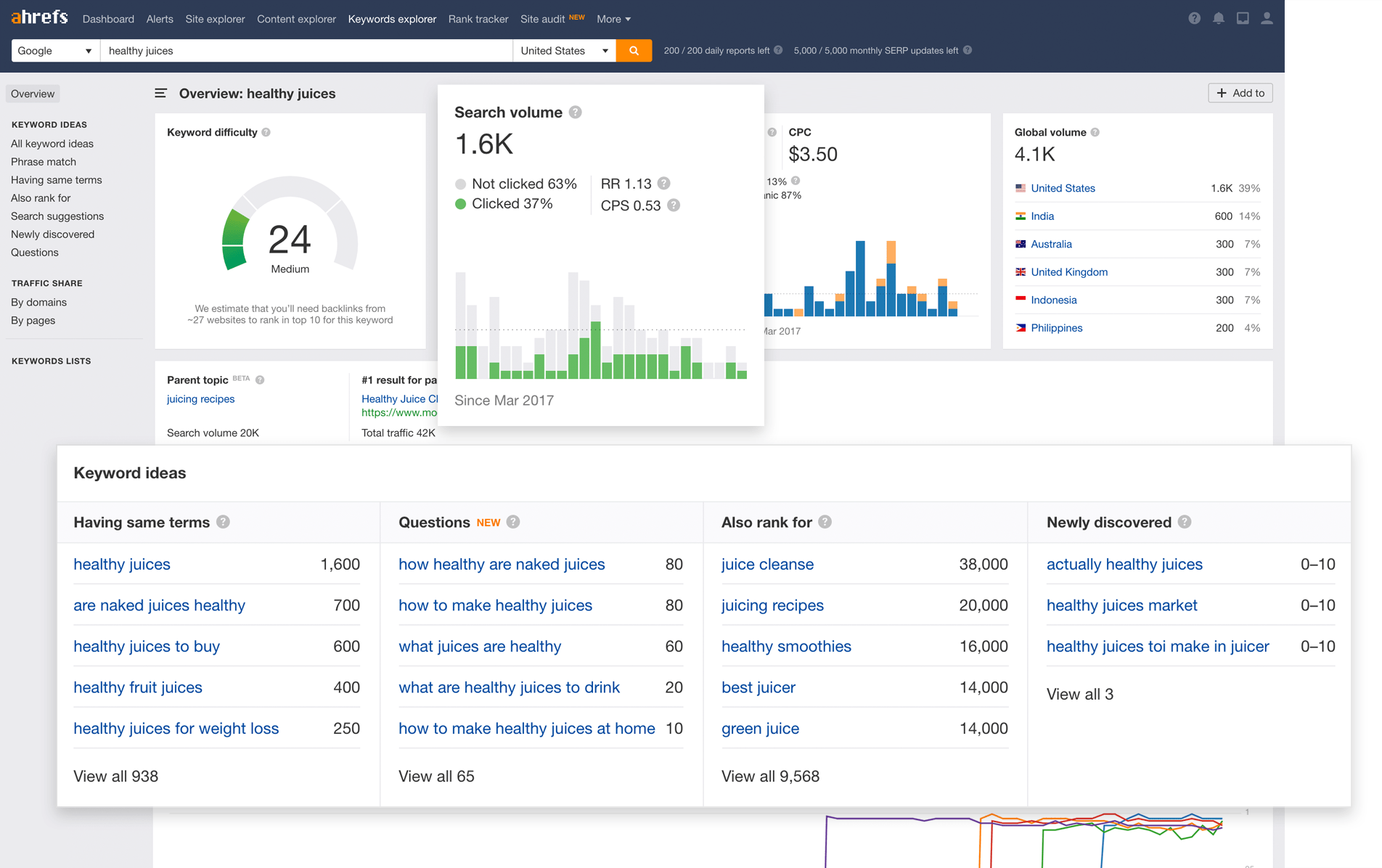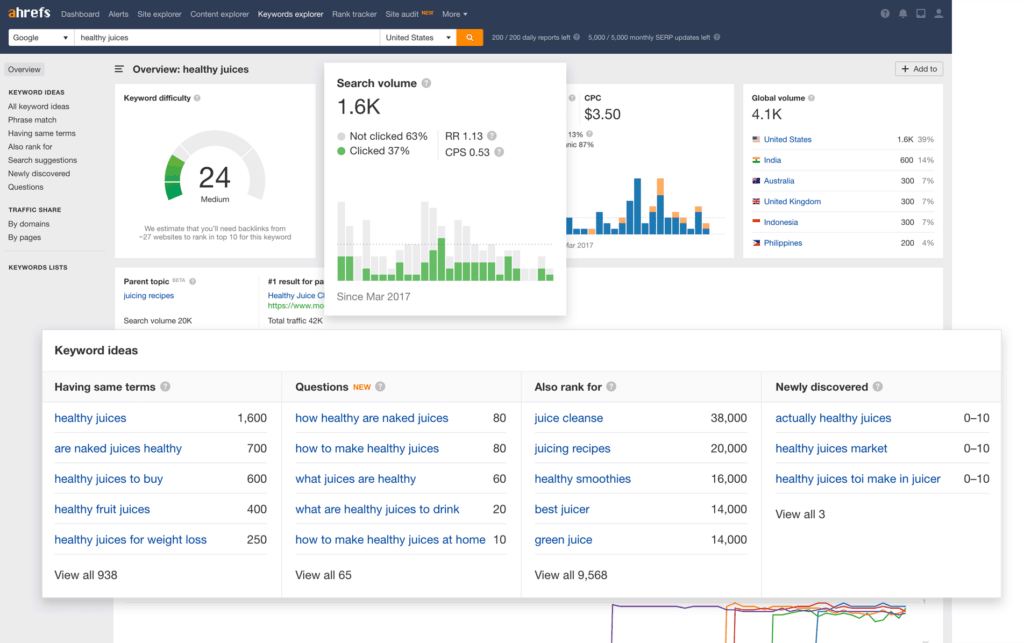 With Ahrefs Keyword Explorer you get keyword ideas from 10 different search engines, including Google, YouTube, Amazon, Bing, Yandex, Baidu.
The "SERP overview" report in Keywords Explorer lets you see the top-ranking results, along with all their SEO metrics, at a glance. This report brings important SEO metrics like backlinks, organic traffic, and organic keywords together.
7. Rank Tracker [SEOPower Suite] (FREE, $125)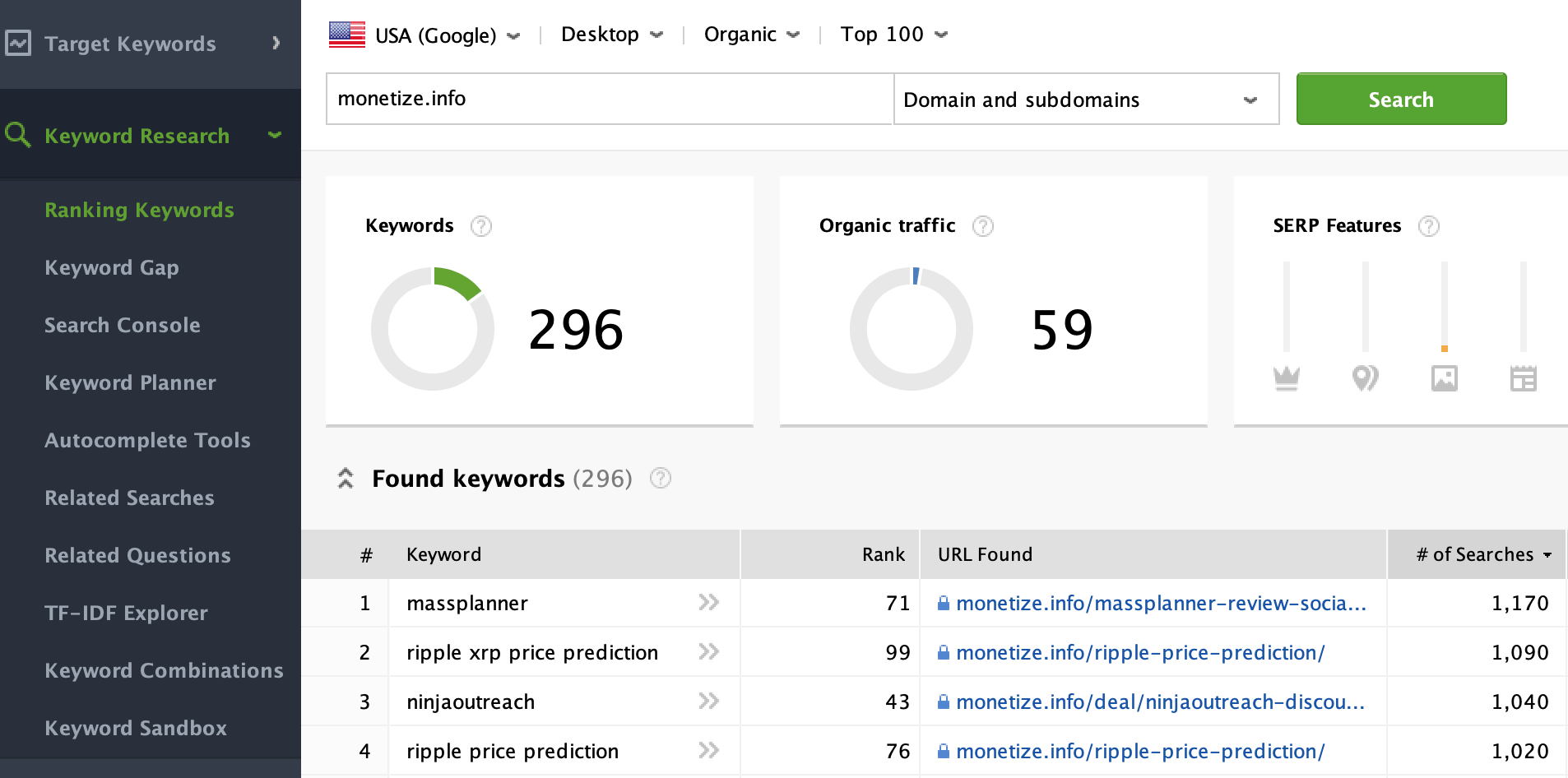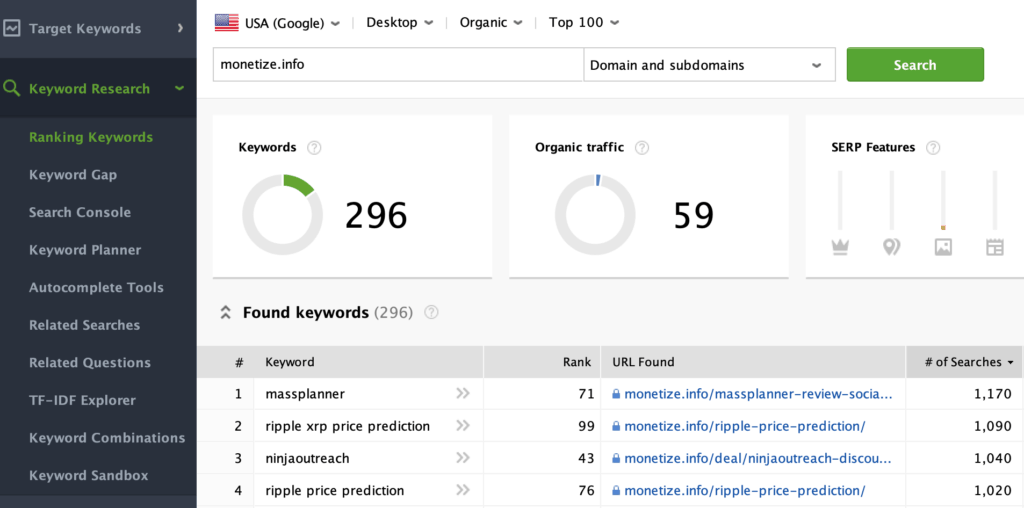 Rank Tracker [read our review here] is included in SEO Power Suite. It includes a powerful "Suggest Keywords" feature. With this feature, you'll be able to grab traffic-generating keywords using Google Ads Keyword Tool, Google Search Console, Google Autocomplete, Google Related Searches & Questions, and many other methods!
Rank Tracker can show you how many times a keyword has been actually searched by real people over the last month, plus how stiff the competition for this keyword is. This "number-of-searches-to-competition" ratio is known as Keyword Efficiency Index or KEI.
8. Moz Keyword Explorer (FREE 30D, $179/m )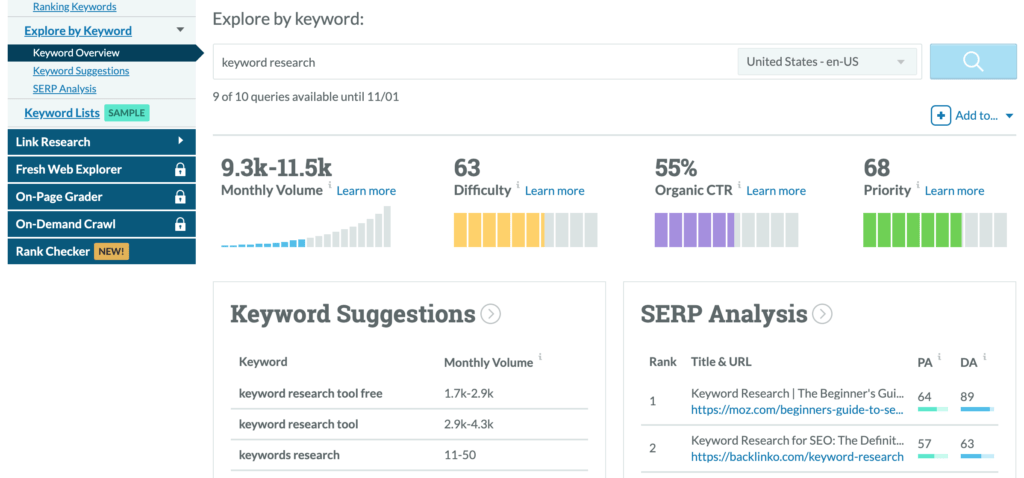 No keyword research tools list would ever be complete without a mention of Moz Keyword Explorer. Moz offers keyword analysis, brand monitoring, rankings tracking, on-page SEO suggestions, search engine crawl tests, and much more. An essential toolbox for every SEO practitioner, from beginner to advanced.
9. MangoTools KW Finder (FREE 10D, $30/m )
KWFinder comes as part of a comprehensive suite of SEO tools. The Mangools suite includes the following: SerpChecker (SERP Analysis), SERP Watcher – Rank tracker, Link Miner – Backlinks analyzer, Site Profiler – Audit). To make everything clear. For $29 monthly on the cheapest price, you have access to the entire suite.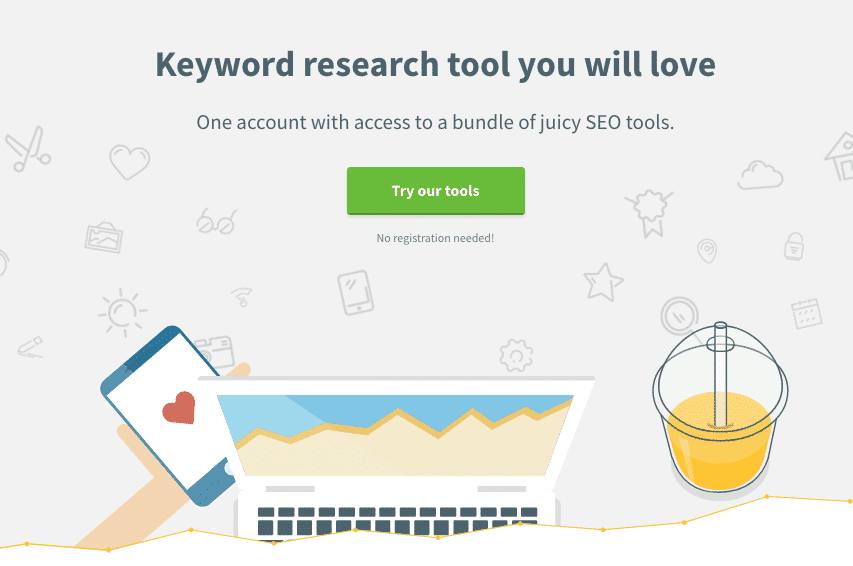 The best thing about using KWFinder is that you don't need to be an SEO expert to understand what's going on.  In the "Suggestions" area you type in a keyword you are interested in and immediately see keyword suggestions. Mangools recently added an additional feature to KWFinder – the ability to search by domain, and see what keywords a site is already ranking for.
10. Keyword Researcher Pro ($97)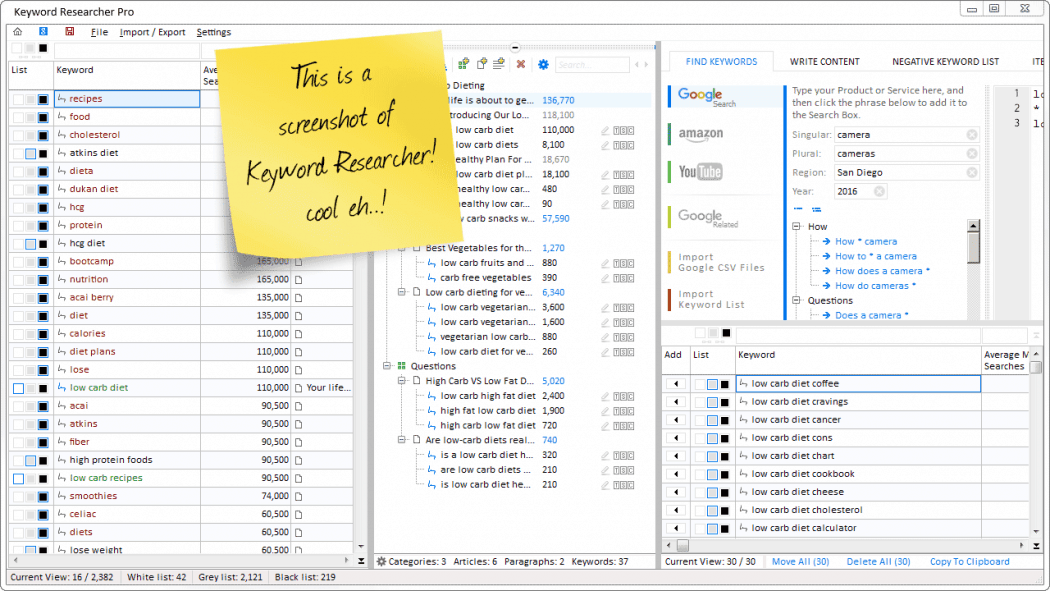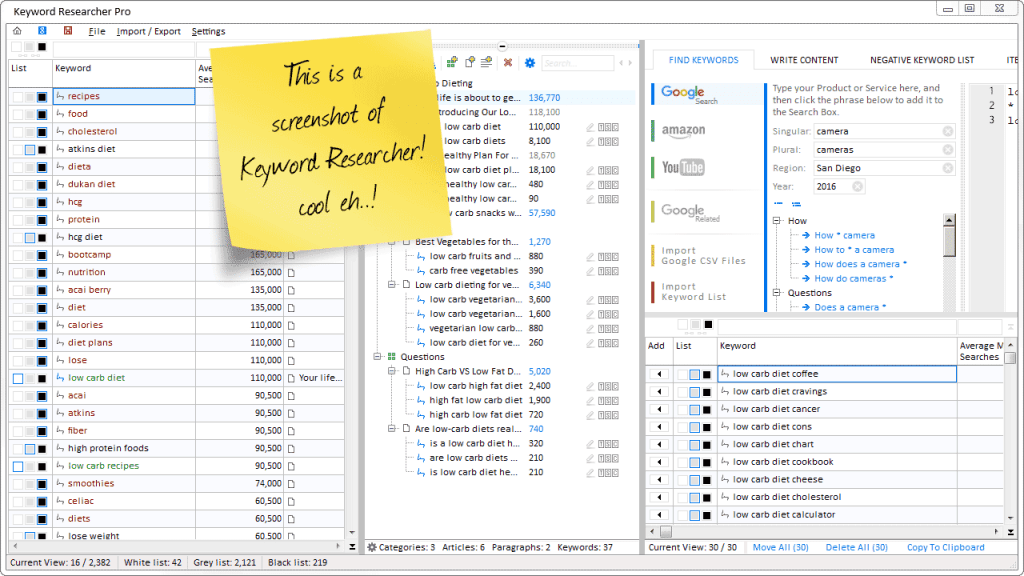 Keyword Researcher is an easy-to-use Keyword Discover Tool. Once activated, it emulates a human using Google Autocomplete and repeatedly types thousands of queries into Google.
This tool's available for a couple of years already but is not getting the attention it deserves, yet. However for a one-time payment, you will get a great SEO tool that helps you with the following: Gets keywords from Google Keyword Planner, Removes the Junk keywords and search for quality keywords that means business for you. Then you can organize the good keywords into article groups so you can plan your content promotion strategy.
Keyword Researcher comes with a 30 days money-back guarantee so if you feel this is not what you expect, well you have 30 days to ask your money back, no question asked. However, I still use it today, after 5 years I purchased it.
11. Long Tail Pro (FREE 7 days, $27/m)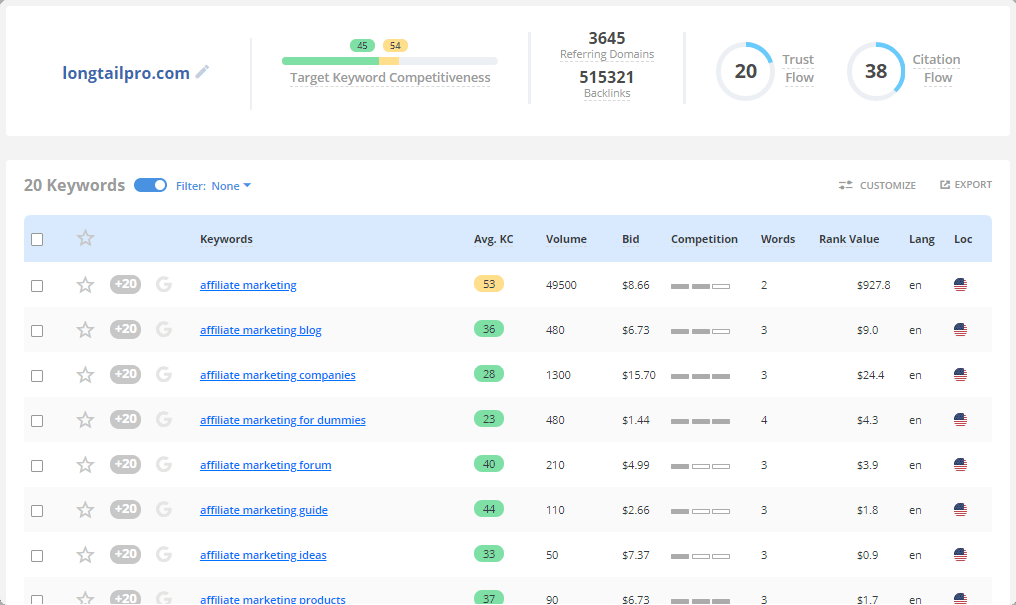 LongTailPro is a well-known name in the keyword research industry. They have also added a Rank Tracker feature that will help you track the ranking of your target keywords in all popular search engines. Currently, they support Bing, Yahoo!, and Google.
Start uncovering "hidden" profit-generating keywords in seconds with competitor & buyer intelligence in literally any niche.
12. Market Samurai (FREE Trial, $149)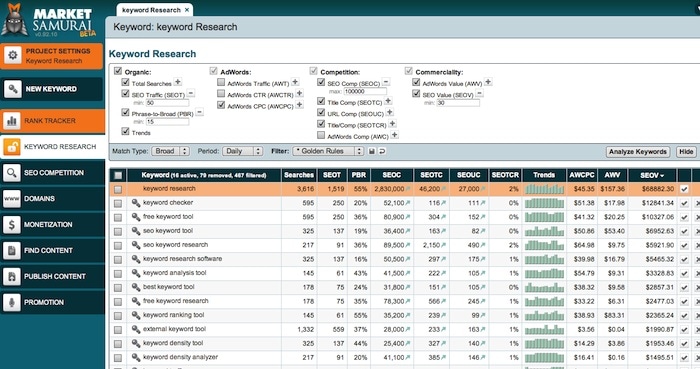 Market Samurai is one of those reliable tools that have been around in the SEO industry for many years. The favorite keyword research tool of many SEO gurus, Market Samurai is powerful for generating ideas for keywords and analyzing keywords for competitiveness—so you can uncover keywords you can target for easy rankings.
Unlike most other tools this is a one time purchase so you pay once and use it forever. And MarketSamurai is on the market for more than 9 years already doing perfectly the job it was built for.
13.KeywordTool.io ($89/m)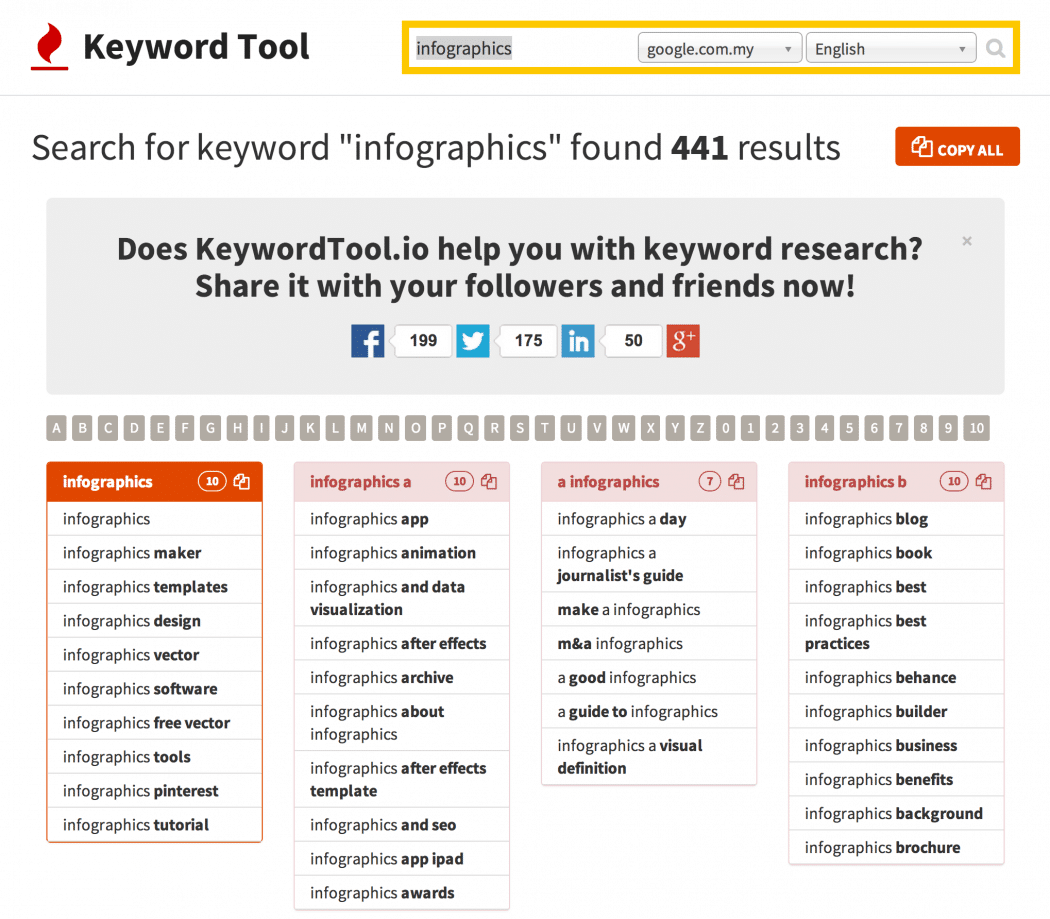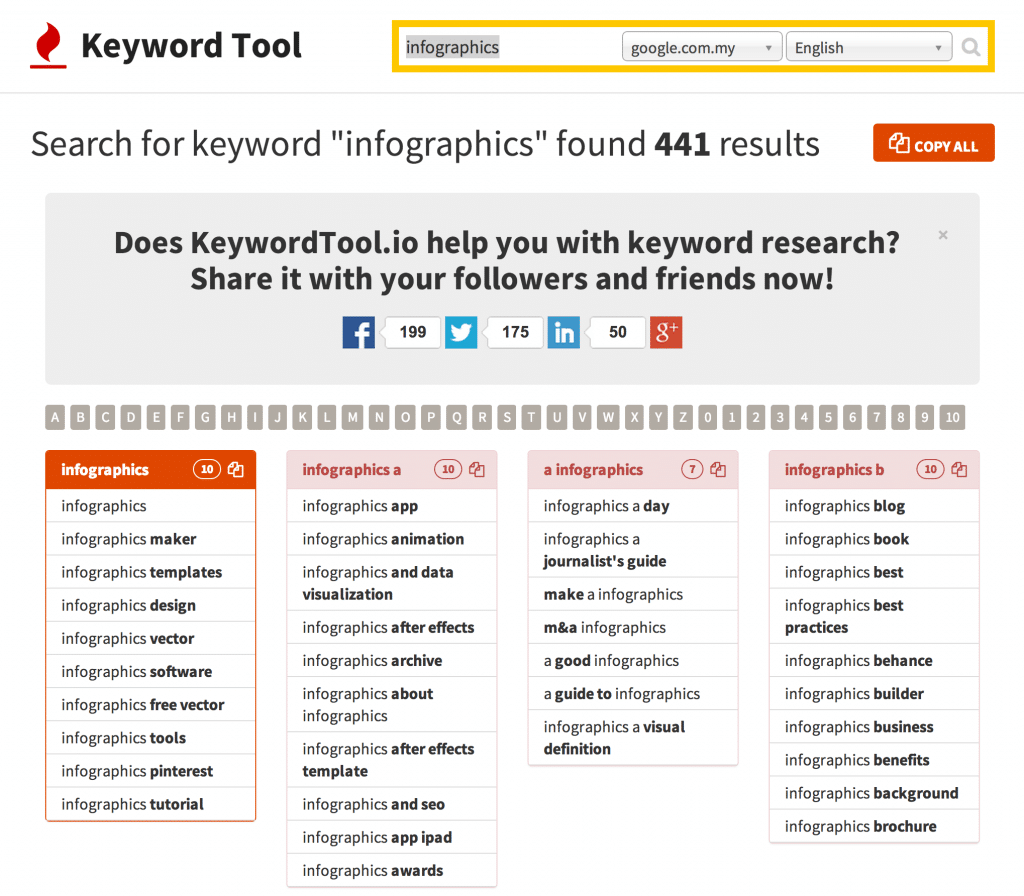 With KeywordTool you will discover Thousands Of Keywords Hidden By Google Keyword Planner And Evaluate Them Using Search Volume, Competition Level Or Cost-Per-Click Data. So if your competitors are targeting keywords from Google Keyword Planner already (and as you may saw from this guide most of the tools rely on KeywordPlanner), using this tool may be the right approach.
Also Keyword Tool Pro fully supports all countries and languages supported by Google. They provide keyword suggestions for 192 countries and 83 languages and supply the search volume data for 86,460 individual locations around the world. It comes with a 30 days money-back guarantee so you have nothing to lose by trying this SEO tool.
14. SpyFu ($39/m)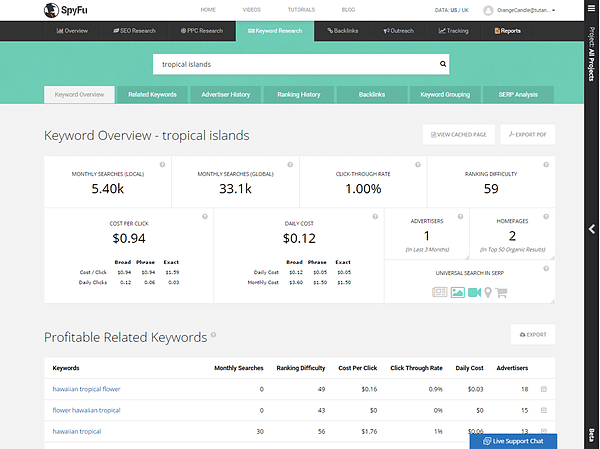 SpyFu is taking a different approach on keyword research as its focusing mainly on your competition. Rather than entering your own domain, here you'll be entering a competitor's site, and you'll be able to analyze it in terms of its keyword focus and relative strength.
You will be able to download profitable keywords (both organic keywords and PPC) of your competitors. So if you know well your competition and you are behind them, with SpyFu you can create yourself a blueprint for success and catch them, without making their tests and mistakes.
15. ISpionage ($59/m)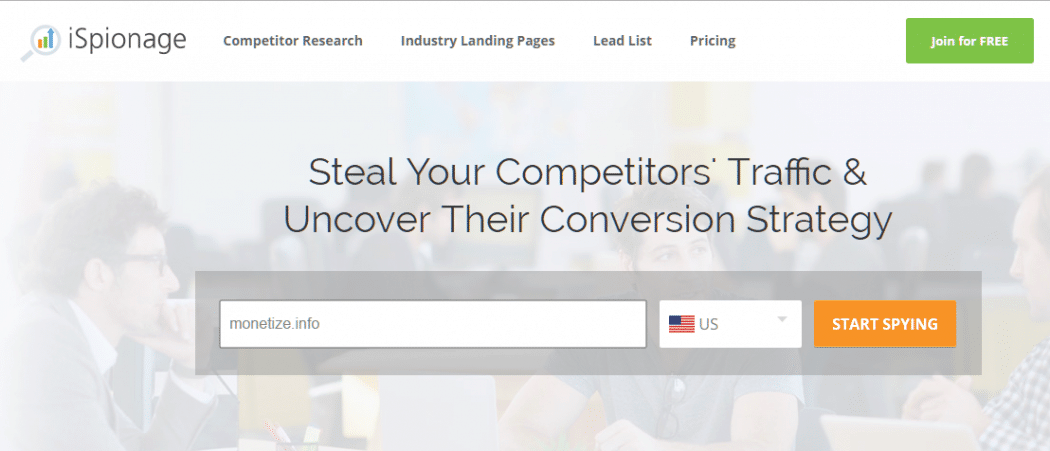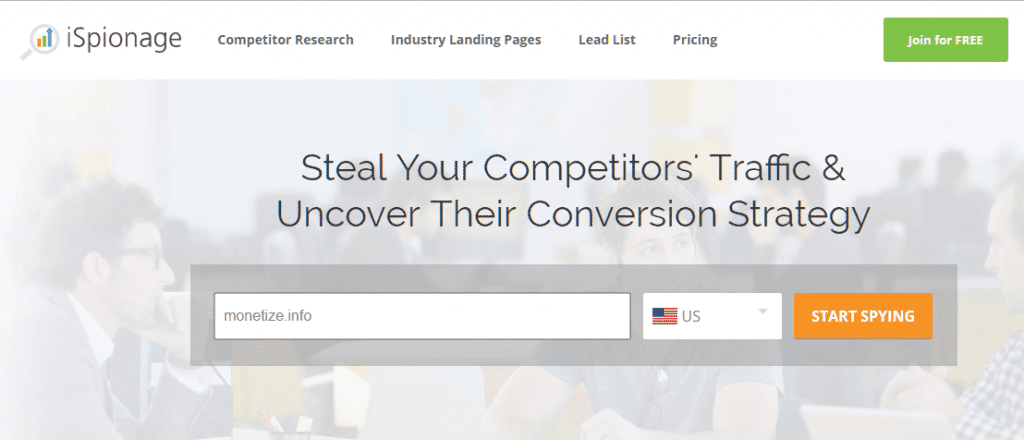 Just like SpyFu, ISpionage is focusing on your competitors' organic and PPC keywords. You just enter a competitor URL in the search bar and boom: you have a complete list of their ranking organic keywords and a list of all their landing pages and PPC ads. Their tool comes with a 30 days money-back guarantee as well.
Honourable mentions: Keyword.io, LSIGraph.com, AnswerThePublic.com
Takeaways
There you have it. A list of 15 great keyword research tools. As I said at the beginning of this post, researching the right keywords for your business is mandatory so make sure you spend enough time until you understand how to do it properly.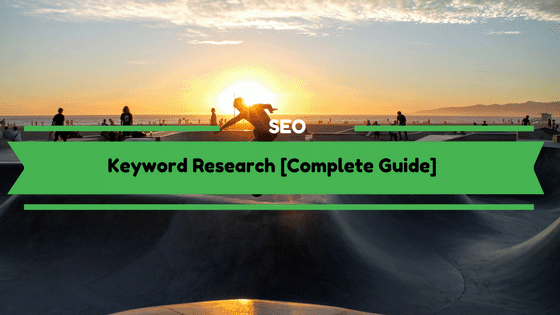 You just started your business and you don't have many funds? Go with free tools: NeilPatel.com, Google Keyword Planner, Google Trends and InfiniteSuggest.com
You make a couple of hundreds of $$ monthly from your business and you're doing keyword research regularly then use one-time payment keyword research tools like RankTracker from SEO Power Suite or affordable monthly plan suites like MangoTools or Long Tail Pro.
If you're offering SEO services to customers and need reports or you have a network of blogs then you should go with SemRush, Ahrefs, Rank Tracker from SEO Power Suite or KWFinder from MangoTools.
If you are looking for more tools that will help to make your website awesome, check our resources page.
These are just tools that can help you but you need to have your knowledge right if you want to get great results.