LinkedIn offers a lot for professionals. Even if you have a free account, the platform can help your career. They have several account types to choose from and even an app that can help increase website traffic.
However, LinkedIn offers two accounts that offer so much more:
LinkedIn Premium
LinkedIn Sales Navigator.
The question then becomes, is one better than the other?
How do you know which account type the right fit for you and your business is?
This article will show you the features of both Linkedin Premium and Linkedin Sales Navigator and help you decide between the two.
LinkedIn Premium is geared toward individuals looking to start a job search, grow their network and manage their reputation, find leads effectively or find and hire talents faster. I'll cover how you can use it, the main features, and what it costs.
1.1 How to use Linkedin Premium?
The most effective way to use LinkedIn Premium is for professional networking. This account makes it easy to reach out to potential long-term partners.
This, in turn, helps you build your business. The more high-quality partnerships you have, the more your company can grow and strike new deals. And these partnerships usually start with personal connections on LinkedIn.
On top of that, Premium makes it easy to communicate with possible clients regardless of where they're located. You can have meaningful conversations, not just sales pitches. And that helps you learn more about them and solve their problems more effectively.
This is called rapport, and Premium is built for you to build it.
For example, the "Who's Viewed Your Profile" feature is a good way to start with warm leads instead of totally cold ones. People who find you on LinkedIn are more likely to connect and engage with you.
1.2 Linkedin Premium Features
How can you network with LinkedIn Premium? It depends on which Premium account you get.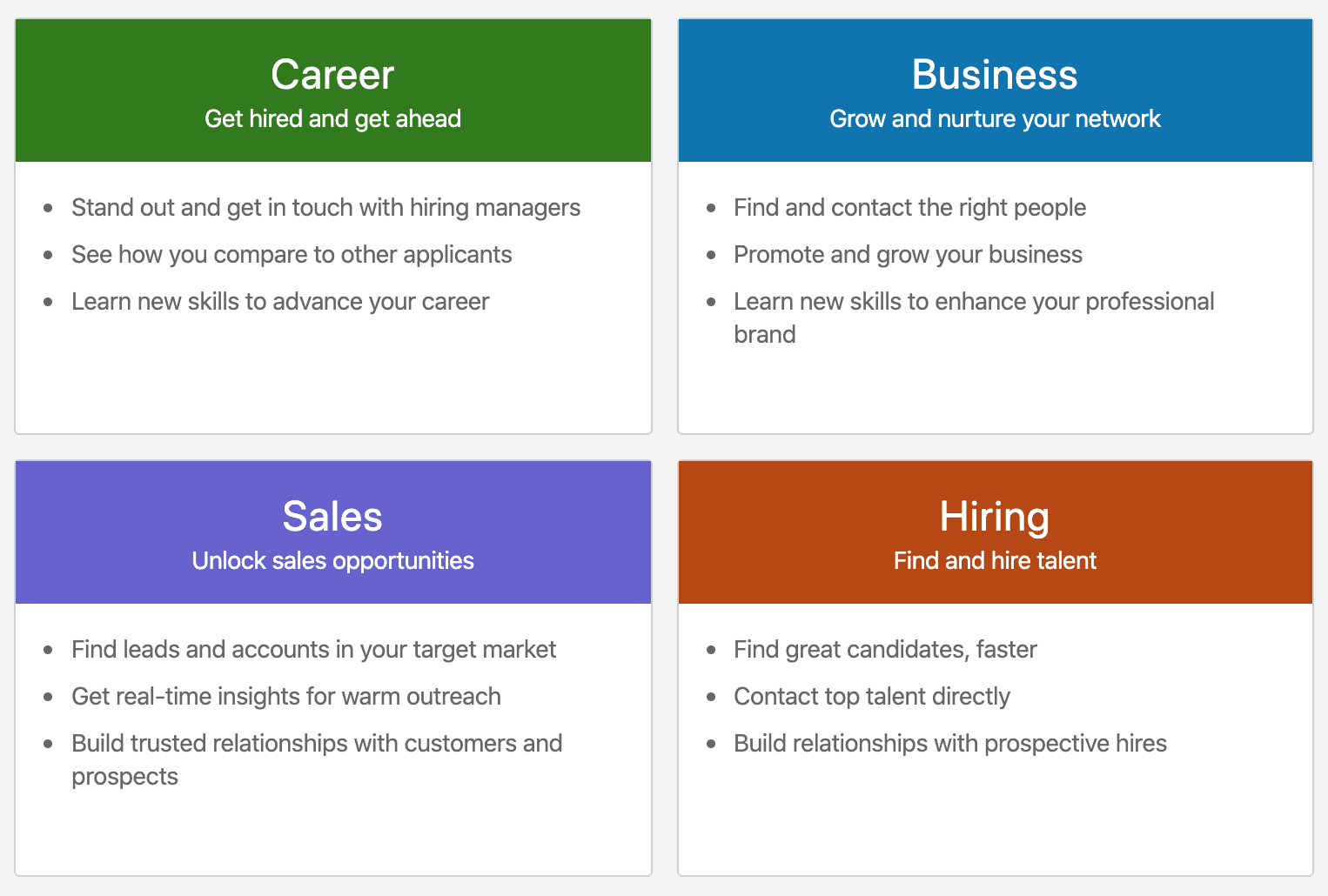 With Premium Career, you get:
5 LinkedIn InMail messages a month
See who's viewed your profile within the past 90 days
Your profile will show at the top of applicant lists of recruiters
Know how you compare to other candidates for a job
Get salary insights as you look for jobs
Access LinkedIn's online video courses
1000 results for your advanced searches
The Premium Career account is probably best for the individual looking to get hired or succeed as a professional. Users of this account usually find this account helpful for personal networking.
With Premium Business, you get everything in the Career account plus:
15 InMail messages a month (instead of just three)
Browse up to 3rd-degree connections
See business insights, like notable alumni and employee distribution and growth by function.
The Premium Business account is best for, you guessed it, businesses. Typically, small businesses benefit more from it, but larger companies can find it useful as well.
1.3 Budget and cost
The cost of a Premium account can vary depending on the level you choose and what your business needs.
Premium Career is $29.99 plus sales tax per month when you pay annually. Premium Business costs $47.99 plus sales tax per month billed annually.
On top of this, there are two tiers above these that you can choose, each at additional costs. Unfortunately, LinkedIn doesn't tell you anything about these upper tiers until you have a paid account.
LinkedIn Sales Navigator is meant for people or companies who are looking to implement cold outreach strategies. But you'll need to know how to use it properly, what features you can access, and how much it costs.
2.1 How to use Sales Navigator
If you know how to use Sales Navigator, it can become one of the best lead generation tools in your toolbox. It lets you quickly and easily target audiences, people, and entire industries. Then you can export those people's email addresses for outreach.
Good lead generation and outreach with Sales Navigator involves 4 things:
Good searches
Saving your leads
Exporting email addresses
Contacting your leads
2.1.1 Good searches
Success with Sales Nav starts with getting good searches. By "good," I mean targeted, specific, and niche. With the Advanced Search feature, you can get access to millions of people who fit your parameters.
You can search for people and companies based on:
Seniority level
Location
Company size
Industry
Job titles
Keywords
And much more…
Using these filters, you can narrow your search to just the people you want to connect with.
2.1.2 Saving your leads
You can also save your specific searches (up to 15 at a time) and then bookmark profiles to your lead list. You can then use your filtered searches in other industries.
Plus, you can get alerts whenever someone is added to your saved search. And you can set up notifications for when someone on your lead list makes a change to their profile.
2.1.3 Exporting email addresses
The key factor in lead generation with Linkedin Sales Nav is the ability to export emails. LinkedIn limits you to 20 InMail messages per month, so using email can be much more effective.
In just a matter of minutes, you can have thousands of emails for your target audience members. All you need is a LinkedIn email finder. Plus, you get each person's full name, job title, company, location, and domain.
2.1.4 Contacting your leads – Start conversations
There's no point to lead generation if you don't connect with your leads and the best way to do that is with cold email.
Jon Youshaei of EveryVowel and Shane Snow of Contently proved this with a cold email test. They sent 1,000 cold emails to professionals. And out of the 707 emails that arrived in people's inboxes, 45.5% were opened.
For the record, the average open rate for a mass email in the business industry is roughly half that, according to stats from ConstantContact and MailChimp.
How to write an effective cold email?
And how does Sales Nav help?
The first thing to keep in mind is the subject line. It should be short and intriguing. It's your chance to make a good first impression.
Because Sales Nav lets you find specific people, you should customize the subject according to your target audience.
Youshaei and Snow's test gives us some helpful info.
They did an A/B test for subject lines:
"Quick Question" = 51.2% opens
"15 Second Question for Research on Annoying Emails" = 48.8% opens
Both had excellent open rates. But what about response rates?
The shorter the subject line, the more response it got:
"Quick Question" = 66.7% of openers replied
"15 Second Question for Research on Annoying Emails" = 33.3% of openers replied
And not only should you keep the subject line simple, but you should also keep the email content simple.
The email itself needs to be concise as professionals don't have a ton of time to read and reply to emails. It needs just one font and one color. And try to avoid including links, or else spam filters may flag your email.
Also, Youshaei and Snow found that personalization works wonders with cold emails. If you use Sales Navigator to find and research the right people, personalizing each email won't be difficult.
So make the opening line specific to each person. Use their name, but then mention something specific about them and their career in the first 1-2 sentences. This shows them you did your research and you're interested in them.
You may also want to consider what your opening line says because of the preview. Before someone opens an email, they can see the very beginning of the email below the subject line.
That's why this opening line — the preview — matters.
So instead of making it about you and what you offer, make it about them.
You can try these for starters:
"I noticed you were interested in…."
"Congrats on the new position!"
"I heard you were looking for…."
And because Sales Nav helps you find the right people, you'll be able to start each email with something relevant to your leads.
2.2 Linkedin Sales Navigator Features
We already covered some of the features of Sales Navigator, but here's an overview of what you get:
Find specific people and companies with Advanced Search
Save notes on profiles with on-platform prospecting
See when people change jobs, are in the news, or follow your company with Sales Spotlights
Get lead recommendations from LinkedIn
Earn extra InMail credits if you let them rollover (limited to 60 per quarter)
Save profiles and company pages on your customizable lead lists
2.3 Budget and cost
The price for a single-member Sales Navigator account is $79.99 per month, but if you pay annually, you can save money, paying $64.99 a month.
If you get the Team Sales Navigator account, you get extra features that are more team-focused, like 50 InMail messages and 5,000 saved leads. And you'd have the ability to give multiple people access. Billed annually, it costs $103.33 a month.
Both LinkedIn Premium and LinkedIn Sales Navigator are solid options, but the out pick is Sales Navigator.
When it comes to lead generation, email capture, and professional networking, Linkedin Sales Navigator easily takes the W., And it's great for both individuals and teams.
So if you want to up your cold outreach campaign, I highly recommend LinkedIn Sales Navigator.