Are you a video creator who produces content for online distribution via multiple channels or a business involved in live streaming?
If so, you know how important it is to get your content in front of your audience without ruining the viewing experience. What is the best way to get your video content to your viewers?
In this article, we will look into one of the best solutions for this – A CDN for live streaming.
1. What is a CDN?
A content delivery network or CDN is a technology framework of well-distributed servers across locations used to transfer different forms of content quickly and in a cost-effective way.
CDNs are primarily designed to solve the problem of latency.
Latency is the lag that happens when you give a load command to a web page and when the page actually loads. CDN helps to remove the congestion of traffic that results from delivering live streams with a single server.
For example, consider Amazon's fast delivery. A CDN also works the same manner. When you live stream from a CDN, the closest server attempts to deliver it. The nearest server will have the media files cached or will transfer the request to the next server.
Live streaming CDN leverages a big network of strategically placed servers located in different parts of the world to distribute content more quickly. When the stream is broadcasted, it is populated across the globe.

Source: blogs.quovantis
When a viewer wants to watch the stream, the CDN chooses the closest server and delivers it to the user. Once it is cached on a local server, the media files stay ready for the next viewer in the same location.
If you have a small audience base and your geographic scale is limited, you don't really need a CDN.
You can stream to your audience from a single server. However, if you have a vast user base with more viewers tuning in to your live streams from different parts of the world, a CDN is essential for you to deliver a top-quality viewing experience to your users.
2. What are the Benefits of Live Streaming CDN?
By connecting multiple servers, a CDN creates a powerful network that shortens the time taken to deliver live streams to viewers. Sharing the load across a server network also improves scalability.
In short, CDN removes the potential latency within a server and the viewer and maximizes the quality of live video streaming.
Some of the benefits of CDN include:
2.1 Speed

Source: Imperva
CDN delivers live streams without any lag. While your local network might slow down the delivery initially, the CDN will avoid any traffic in between, improving the overall speed.
2.2 Scalability
CDN is the quickest and safest way to deliver your content to your wide audience base located anywhere in the world. It can cater to viral viewership spikes and a larger live audience.
2.3 Quality
The best CDN for streaming helps you to attain the best possible video resolution and audio quality by reducing delays and buffering.
2.4 Security
Streaming through a CDN allows you to prevent DDoS attacks that arise when a website is flooded by several attempts of breaching. A redundant CDN with numerous access points offer an extra layer of security.
3. How to access a live streaming CDN?
There are different ways to get access to a live streaming CDN. The easiest way is to get an integrated service from your Internet service providers.
Most ISPs bill for bandwidth, but the best way is to choose reputed live streaming CDN providers to access the CDN via your live streaming platform.
Choose the best platform that suits your requirements and integrate a CDN. This will give more reliability and scalability for your live streaming services.
Do some research and pick the right providers who offer a single service solution. A single live streaming software that offers video hosting, online distribution, CDN access, API access, video players, monetization channels, adaptive bitrate streaming, and more.
Adaptive bitrate technology dynamically adapts to fit the Internet speed and screen size. It provides the best video quality possible regardless of the connection, devices, or software.

Source: Wikipedia
Consider asking the following questions to CDN providers to choose the best one.
Does the service support VOD host and live streaming?
Pricing plans
How vast is the network?
Does it offer Point-of-Presence (PoP) locations in areas where you have a huge audience base?
Any easy way to gain access to a CDN without complex technical configuration.
Assess the above-discussed elements when comparing CDNs to find the one that fulfills all your requirements.
4. What to look for in a live streaming CDN?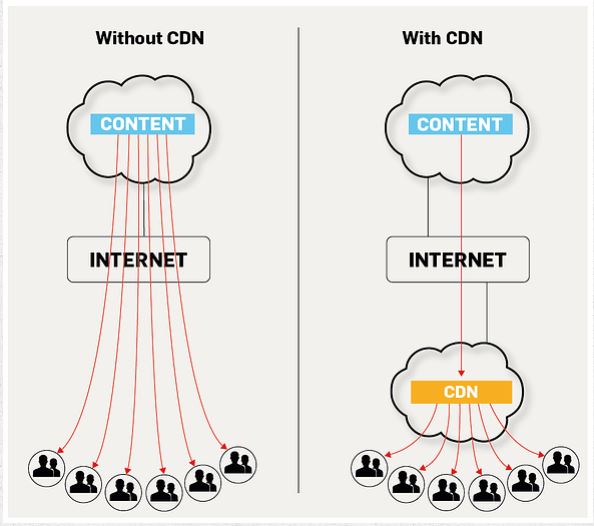 Source: Globaldots.com
Now you know what a CDN is and why you need one. However, what to look for in a CDN when choosing one.
It's great to consider the following factors when choosing a CDN.
4.1 The total number of servers in the network
A good live streaming CDN will have a large number of servers in the network. The size of the server network is directly linked to the speed and scalability. The more servers, the more bandwidth the network can handle.
4.2 Geographical distribution of servers
Distribution of servers is another significant element to look for. CDN's work via PoP. It simply refers to edge servers in the network that delivers content to the users.
If the distance between a user and the nearest PoP server is less, it helps in offering the best streaming experience. Not all CDN's have a huge distribution of servers. Ensure that you choose a CDN that has a wide global distribution of servers and it covers the geographic regions that have your major viewers.
4.3 Live streaming features
The next important element to consider is the live streaming features of a CDN. Some CDNs offer a broad range of live streaming features compared to others. For example, with some CDNs, it will be easy and fast to launch as many live streams you want simultaneously.
4.4 Performance
Another important feature of a CDN is its performance. The speed of a CDN is related to size and various other factors. Hence, it is difficult to assess the speed of a CDN directly since it varies with circumstances.
However, you analyze the average performance to get an idea about its speed. Having a fast CDN is particularly important for live streaming, as you want to avoid buffering issues as much as possible.
4.5 Analytics
The Best CDN for streaming offers you detailed analytics of your live stream. For example, it gives data like the number of views, location with the most participation, and other related info. These analytics serves as a great marketing tool to understand the effectiveness of your live streaming efforts.
4.6 Pricing
When it comes to pricing, several factors influence the price plans of CDNs. For example, the geographical location of your audience, volume, etc. also plays a significant role in determining how much you must pay for your CDN.
If you get a large number of views and your content goes viral often, chances are that CDN providers might charge you higher. However, there are peer-peer CDNs also that come with standard pricing regardless of your traffic volumes.
4.7 Security
If you broadcast sensitive content, you must consider choosing a CDN that offers powerful security systems. Choose a CDN that offers industry-leading security features and expertise to meet your needs. Secure CDN systems ensure online interactions leverage the top levels of trust and security.
5. What Are the Top 5 Live Streaming CDNs?
With your main considerations listed, browse through the five best CDN providers to take your pick.
5.1. Akamai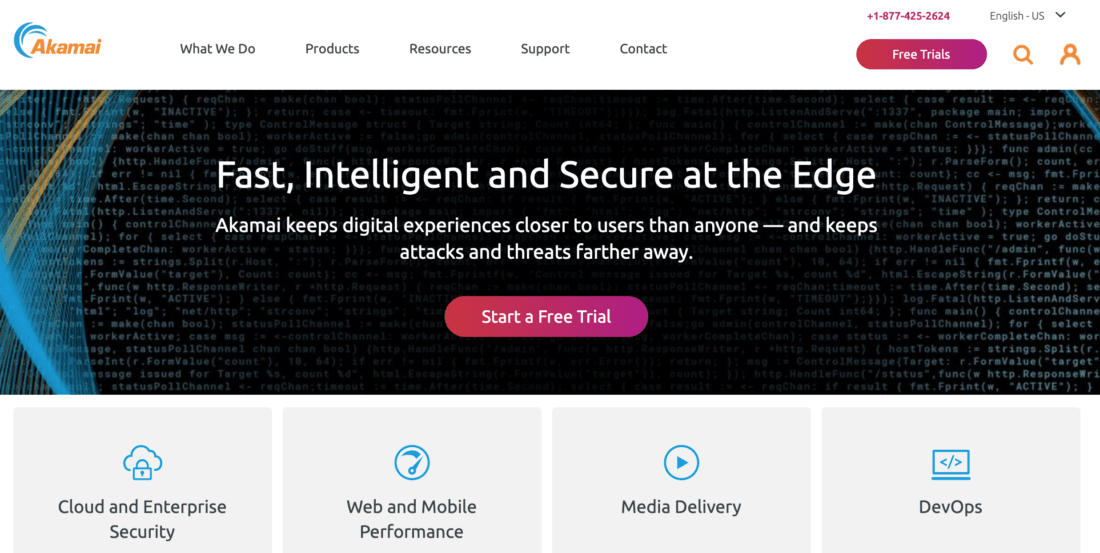 The first of the CDN providers we'll examine here is Akamai. Akamai is one of the oldest CDNs in the world. It's also the largest network, with more than 240,000 servers located in more than 130 countries.
The Akamai platform supports live streaming and on-demand video hosting. Akamai pricing is customized for each user based on the features they need, the size of their business, bandwidth requirements, and other factors.
5.2. Cloudflare

Cloudflare is a veritable haven for broadcasters. It serves as a protective shield for your content and improves the speed of your website by keeping bots, crawlers, and threats at bay.  Their video hosting offering incorporates some good features, including cloud encoding and customizable HTML5 video players. They also support API access.
Monthly plans range from $20/month to $200/month (per domain).
5.3 Cachefly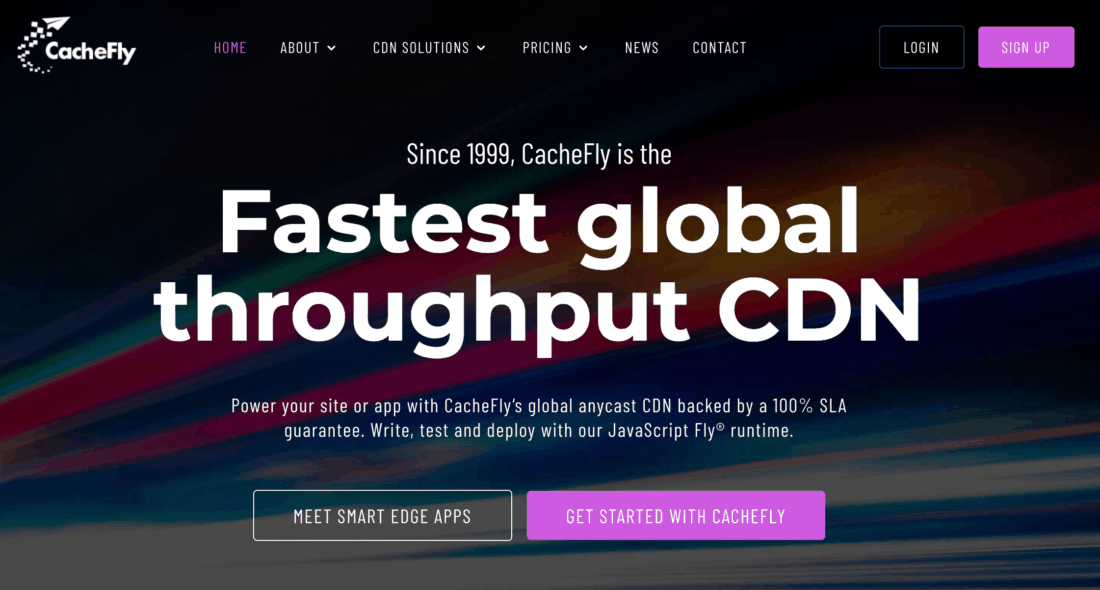 If your sole focus is speed, Cachefly's a great bet. Cachefly's CDN service routes static content from your website to users up to ten times faster courtesy its network of 30 global points of presence (PoP).
The locations of these PoPs lets content creators share rich content from one end of the world to the other at breakneck speeds. Specifically created as an on-demand CDN service, Cachefly upholds website performance and works to reduce timeouts and dips in performance quality.
5.4 Amazon CloudFront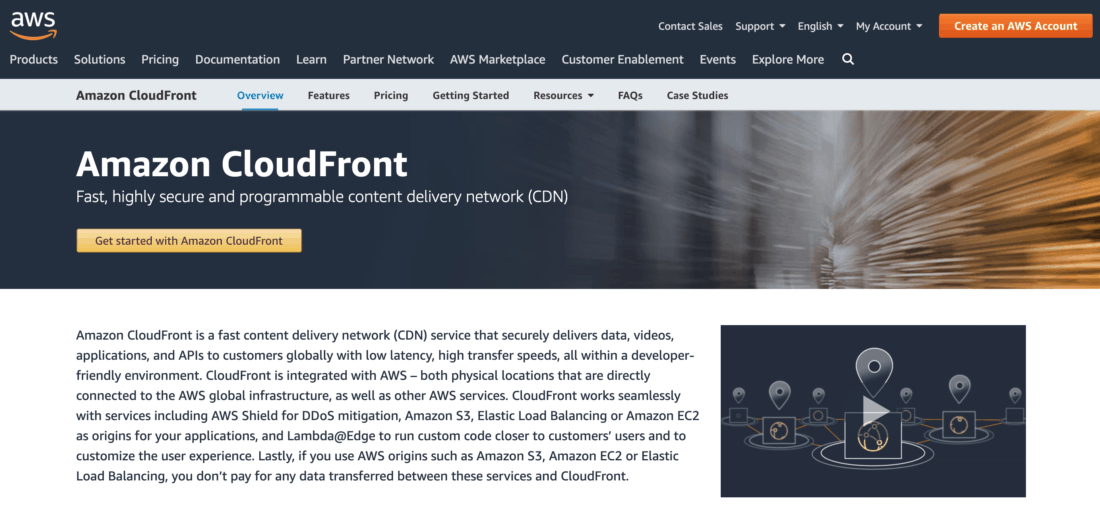 CloudFront is the CDN offering from Amazon's Web Services division. The platform also has a relatively large server network. The United States and Canada, Europe, Asia, and South America all have good coverage.
Their service also supports video streaming, both live and on-demand. CloudFront doesn't do much for you. The system is pretty basic, but you can build on your own features using external tools and using the API.
CloudFront pricing is on-demand and based on geographic region, bandwidth usage, and the features you need. CloudFront offers a free trial plan for 12 months, which allows 50 GB of transfer-out data and 2,000,000 http(s) requests per month.
5.5 IBM Cloud Video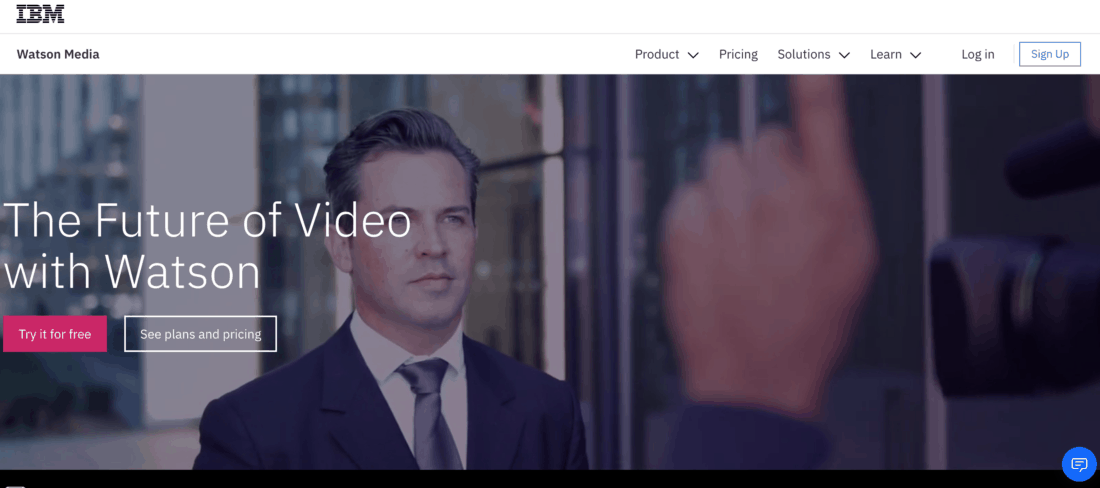 The IBM Cloud Video platform was created several years ago after IBM acquired the live streaming service UStream (2017). IBM Cloud Video is an online video platform and uses an internal CDN network for content delivery.
They offer plans suitable for small and medium-scale live streaming. These plans cap resolution to 720p and costs $99 to $999 per month.
The basic Silver plan ($99 per month) includes 100 ad-free viewer hours, 50 GB of storage, and one live streaming channel. This is an IBM-branded plan. The Gold plan ($499 per month) bumps streaming to 2,000 viewer hours, 250 GB storage, 2 channels, and includes analytics. The Platinum plan ($999/month) includes 5,000 viewer hours, 3 channels, and 500 GB storage, plus white label custom branding.
6. To wrap it up
Online distribution of video content and live streaming can become complex and challenging. Using a CDN for live stream assures that your videos never encounter serious service disruptions or speed bumps due to overload.
Balancing the server load is a significant part of the success of your live streaming. A powerful CDN ensures that load balancing is done right.
I hope this article has helped you to understand CDN's, how they work, and what the benefits of using CDNs are.
Are you using a CDN for your live streaming or considering using one?
Share your experience; we would love to hear it from you.