Mass Planner is now sold privately. Contact us if you want to order and I will send you the details. Monetize.info Contact us page.
Today I'm going to review a really great tool called Mass Planner. I use it already for 3 months and I'm really happy with the results. If you don't have much time I will tell you in a nutshell what this social media tool does and how you can benefit:
MassPlanner automates almost all (really) your social media promotion. Facebook, Google+, Twitter, Tumblr, Pinterest, Linked and Instagram social networks are covered. It can find and follow new people, message them, find new groups and post for you automatically, schedule posts and skyrocket your brand.
See below a video presentation of Mass Planner:
As I am a big fan of Social Media world I was always looking for ways to promote my websites on these platforms. If you're not yet convinced that you should promote your content and your business on Twitter, Facebook, Google+ or Linked all I can say to you is that more than half of my traffic and sales are coming from these networks. Also, I've developed some great relationships with people met on Twitter or LinkedIn.
However, everyone that is struggling with social media knows there are three step backs:
It is very time consuming if you do things manually and not use the right tools and
If you don't have large groups of people (followers, page fans etc) the results are very slow and disappointing.
Most of the social media tools are limited working only with 2 or 3 social media networks and are pretty expensive starting at very least at $50 monthly.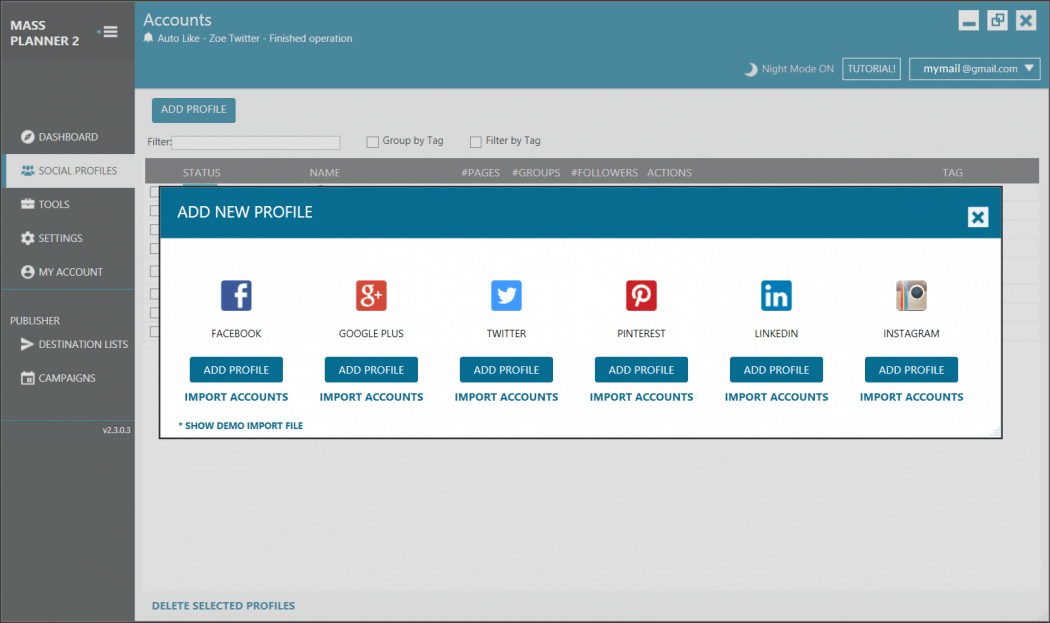 Pin
Get the 5 days free Mass Planner Trial
Mass Planner Features (5/5)
As I said in the introduction, Mass Planner works with Facebook, Twitter (my favorite), Linkedin, Pinterest, Tumblr, Instagram, and Google+.  That's what you can do with Mass Planner:
Schedule posts on all social platforms
Use Mass Planner to schedule all your social media updates on Facebook, Google+, Twitter, Pinterest, Tumblr, LinkedIn and Instagram from one single dashboard. You can schedule your posts on your Social Profiles, Groups you belong to or Pages you manage.
Facebook Complete Automation
Group Finder, Joiner and Unjoiner
Invite and AutoAccept members in groups
Clickable Image and Video Posts
Auto Share Posts in Groups or Pages
Find Groups and Pages in your niche
Schedule posts in bulk
See all MassPlanner Facebook features.

Twitter Complete Automation
Auto Follow, FollowBack, Unfollow, Auto Favorite
Re-Tweet, Mention
Tweets from RSS feeds
Schedule tweets in bulk
Contact requests and auto direct messages
See all Mass Planner Twitter features
Google+ Complete Automation
Group Finder, Joiner and Unjoiner
Auto Follow and Unfollow
Schedule posts in bulk
RSS feeds import
Spinning syntax editor
See all Mass Planner Google+ features
Instagram Complete Automation
Auto Follow, FollowBack and Unfollow
Auto Like and Comment Photos
Spinning syntax editor
Delete Posts
See all MassPlanner Instagram features
LinkedIn Complete Automation
Group Finder, Joiner and Unjoiner
Group Joiner and UnJoiner
Schedule posts in bulk
RSS feeds import
Spinning syntax editor
See more
Pinterest Complete Automation
Auto Follow, FollowBack and Unfollow
Auto Repin
Auto Like and Comment
Schedule posts in bulk
Spinning syntax editor
See more
Tumblr Complete Automation
Auto Follow and Unfollow
Auto Like
Reblog
Posting on sub-blogs
Spinning syntax editor
See more
Extra Modules with One-Time Payments
Flickr and Pinterest Integration
Instagram Poster and Reposter
Facebook Friends Backup
Facebook Like&Comment
Contact Members
LinkedIn Profile Viewer
Proxy Support
You can run each Social account on its own unique proxy so you don't leave an IP footprint. Mass Planner supports HTTP proxies. You may use public proxies but I highly not recommend it. Invest in some good social marketing proxies from buyproxies.org
Bottom line regarding features. I've listed here only the main features of each social network. I invite you to check their website to have a complete overview of what this program can do. It's really impressive.
Get the 5 days free Mass Planner Trial
Mass Planner User Experience (3/5)
In this chapter, I will talk about the overall experience of Mass Planner. You need to know that MP is a Windows software and not a SaaS (Software as a Service) tool. There are some good things about it and some not so good.
Let's start with the not so good ones. You have to run Mass Planner on your own computer or better a VPS that has a better internet connection.
You need a decent computer with at least 2-3GB of RAM as Mass Planner is quite a RAM heavy. If you intend to run more than 5 accounts per each network (5 Twitter accounts, 5 Facebook accounts etc) you need to purchase dedicated proxies otherwise you risk to have your social media accounts suspended and in the end banned.
As I use other tools like GSA Search Engine Ranker, SEO Power Suite and Scrapebox I already have a good VPS and proxies. Btw, If you need help with that let me know.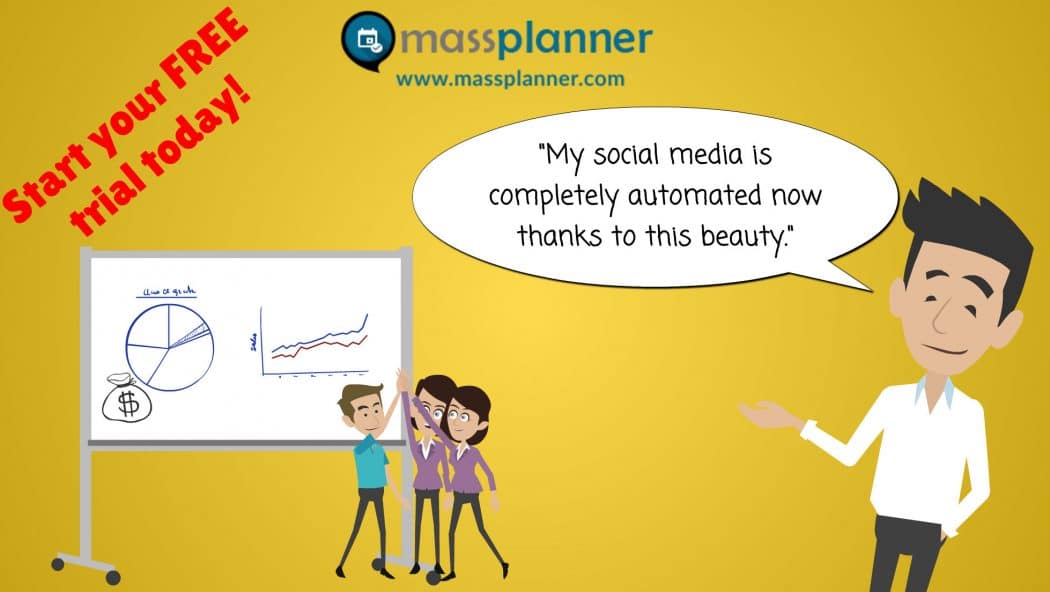 Pin
Saas tools like Outreach.buzz, SemRush or Ahrefs, for instance, run everything on their servers and you simply log in through your browser to their interface.
It would be better if Mass Planner was a SaaS but the price would have increased a lot as they would have to pay for thousands of proxies, powerful servers, and huge internet bandwidth.
Mass Planner Price (5/5)
Mass Planner's price made me very happy when I found it. MP does a lot of things and its price starts at $9.95 monthly while the premium plan is only $19.95 and you can have unlimited accounts. I was simply sold when I saw this as I manage more than 20 sites and it cost me around $400 all the social media tools every month.
Each plan comes with a 5 days trial so if you cancel in this 5 days period you will not be charged.
Looking for a Mass Planner discount?
One more thing regarding the price, if you purchase a 6 months license you get a 37% discount making it $44,95 for the standard plan and $84.95 for the premium/unlimited plan.
Mass Planner Support (5/5)
As you may know, social media networks make a lot of changes, adding new features, changing design or elements so is quite difficult for any software developer to keep up with all the changes and release updates. However, the creators of MassPlanner fix any errors pretty quickly. You don't have to take my word, just check the Mass Planner software changelog. It gets updated weekly and there are 20 or more fixes or new functions added every week.
But that's not all about the support. They have a collection of over 40 video tutorials – MassPlanner Video Tutorials, a knowledge base section, an FAQ section, a Facebook group with over 6000 members and a support forum for customers. Their forum is very active and your questions are answered pretty fast by admins or other Mass Planner users. Also, the blog is updated with social media tips and tutorials. 
Below is a video of the Mass Planner Interface
That's what I call top-notch support and I hope more companies will learn from them and will implement these features. And I'm talking here about big names from the industry that don't really care about their customers, which is not the case at Mass Planner.
Mass Planner Affiliate Program
If you're into digital marketing (and you are if you're reading our magazine, right ? 🙂 ) I have good news for you. Not even you will skyrocket your social media marketing but you can also make money with Mass Planner through their affiliate program.
In fact, you can use Mass Planner to promote their affiliate program and making the program paying for itself and also make you some more money along the line.
You get 50% of what your referrals purchase for the first 6 months and you get 10% of what the referrals of your referrals (level 2) purchase. You will get paid as soon as your balance reaches $100, through PayPal.
Another good thing is they have over 30 designed banners that you can place on your website right away. Here is one :

Mass Planner Affiliate Program is using cookies so as long as your visitors click your link and do not change browser or delete cookies you will still get credit for the sale, even if made after five days or more.
What others are saying
I've collected several opinions of other users and people that reviewed Mass Planner. Here we go:
"Mass Planner Review – I can't fault Mass Planner as a software, it's one of the best around and you just can't go wrong with it. It handles social media management better than any other software and I've seen a massive rise in followers on m Pinterest, Twitter and likes on my Facebook. If you've got any questions then please leave a comment. Have an awesome day. Oli :)." http://101geek.com/mass-planner-review/
"Mass Planner is one of the best social media planners with a range of features while being incredibly easy to use even for beginners. If you want to increase your social media followers and influence, then using tools like Mass Planner is a must as it helps you to schedule all your social media posts to optimal times. " http://thetechhacker.com/2015/06/24/mass-planner-review/
"If you are a 'heavy hitter' in the social media game, do yourself a big favour and spend a lousy 10 bucks a month on a great software package, which will not only save you a lot of time, but also will produce great results, and gives you and your products more and timely exposure." http://downhillmoney.com/mass-planner-review-top-social-media-automation-tool/
Conclusion (4,5 /5)
Mass Planner gets 4,5 from a maximum of 5 points which shows how great it is. As I said in the beginning, I use it for over 3 months already and it helps me grow my social media presence.
So if you are struggling with social media marketing, feeling quite hopeless trying to find out how others have 50000 or more followers on Twitter, as I did before discovering this tool I recommend you to try Mass Planner today and start getting messages like this: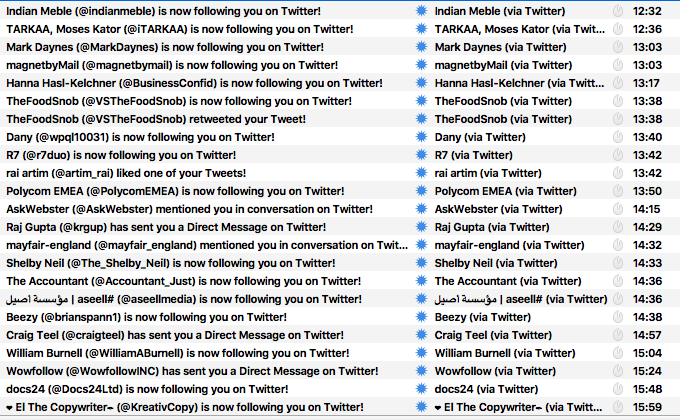 Pin
Using Mass Planner Twitter Module I've gained 20 targeted twitter followers in less than 4 hours. This results in more than 1200 new twitter followers per month on every of your Twitter accounts.
Download now the premium resources of this posts: PDF booklet, 100 New Facebook Likes in 2 Days Case Study, Mass Planner Secret Strategies to get highly Targeted Twitter Followers.
[ulplocker id="cTk3GUPd6rA9XlpL"]
[/ulplocker]
Btw, with Mass Planner I freed up about 40 hours a month. You escape the pressure of social media and can focus on creating quality content, connecting with other business owners,  and creating new products or services to grow your business online.  The learning curve IS going to be a bit longer, but the benefits far outweigh the time.
Mass Planner is now sold privately. Contact us if you want to order and I will send you the details. Monetize.info Contact us page.