SemRush just published a very comprehensive study on the most important SEO factors that matters in 2017. This study based on the largest scope of 600,000+ keywords*.
If you don't know what SemRush is, but i highly doubt it, SEMrush is a SaaS product used by over 1,500,000 marketers worldwide. For the past nine years, SEMrush has grown into an all-in-one marketing suite consisting of more than 30 tools and reports that help companies market better online.
The 12 most prominent and controversial factors were chosen to shed light on what impacts search results and helps marketers grasp opportunities before others do.
The main goal of the study was to identify any consistent patterns in the ranking mechanism within those 12 factors. Together with key takeaways and practical advice, these insights will help you to make better data-driven decisions in your SEO.
Methodology
They started with a set of big data consisting of 600,000 keywords from the worldwide base, the pages' positions in search results and a list of alleged ranking factors.
To track down any consistent patterns in the resulting data, they applied a machine learning algorithm called Random forest. As a result, they received a list of factors that influence page position in order of importance: from the most influential to the least.
Then they limited the scope of the analysed data to the first 10 SERPS for each keyword.

Pin
For every resulting page they analyzed the following factors:
On-page factors
Backlink profiles
Traffic data
Results of the research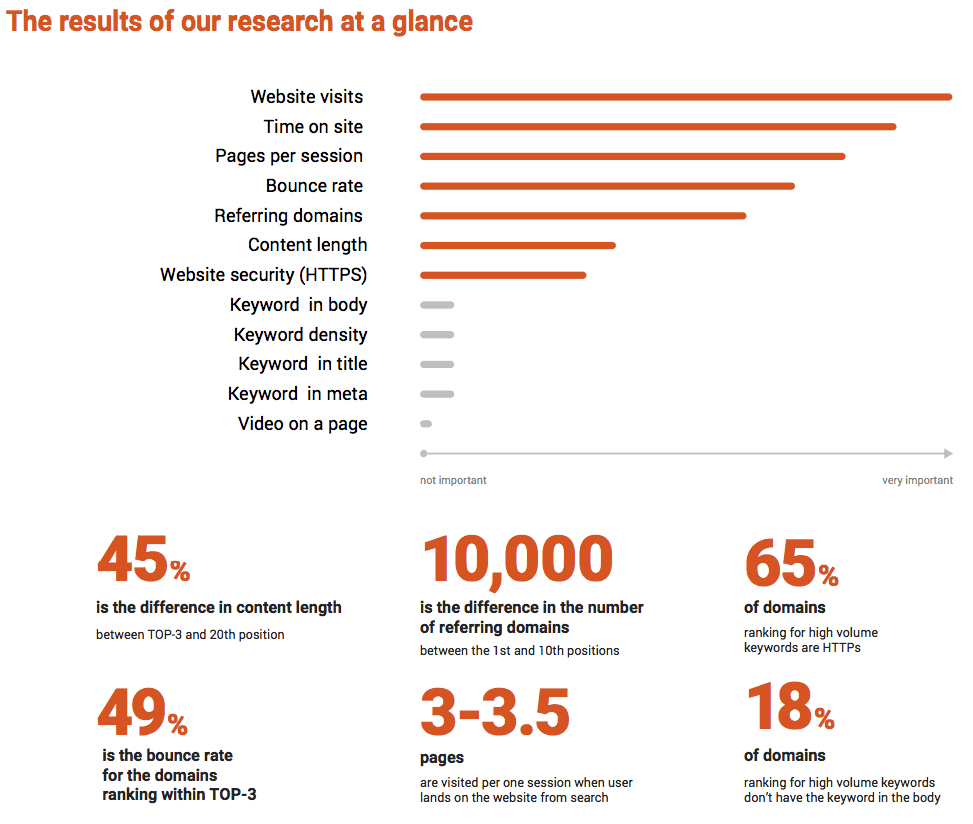 Pin
According to this study these are the key ranking factors, in the order of importance.
#1 – Website visits
One of the main indicators of a website's popularity is its number of visits. There are a lot of ways for visitors to find your website: direct traffic, organic search, paid ads, social networks, referring domains, emails, etc. In our research, we checked how the traffic influences the page rankings and whether the organic search traffic has the major influence on that.
Even after excluding organic search traffic data, the difference between the first ten positions and the following ones in the high-volume group is significantly more noticeable than in the low-volume keyword group. This could indicate that Google prioritizes domains with more authority when ranking the high-volume keyword group.
This also means that organic search is not the only thing you should be concentrating on. Direct and social visits are fueled by your brand awareness, so building a strong brand image should be an essential part of your promotion strategy.
#2 – Time on site, Bounce rate, Pages per session
It is clear that high-ranking pages have lower bounce rates. This could be the result of the level of trust that users have for top-ranking pages, or it could mean that the lower-ranking pages are less relevant.
And though Google reps declare that all user behaviour signals are too noisy to be considered during the page qualification, a high bounce rate could indicate that the page content is irrelevant, which is bad for both users and search engine bots.
These results indicate that users tend to spend more time on websites that rank higher in SERPs. This could be explained by the same fact: users trust top-ranking pages more than lower-ranking ones.
Just like the bounce rate and time on site trends, these results confirm that users tend to visit more pages on websites that are in the top of organic search results.
#3 – Referring domains(Backlinks)
This metric represents the number of unique domains from your backlink profile. That is, if you have 20,000 backlinks from 500 websites, your referring domain number will be 500. Previously, before Google became as smart as it is today, black hat SEO techniques were quite popular.
A website could have a few thousand backlinks from a suspicious domain and this would count as a solid backlink profile. Now the search robots are smart, and Google penalizes particular pages for using toxic backlinks for promotion. Your site's backlink profile should be diverse and consist of trustful domains.
According to Google, a strong backlink profile is very important for SEO optimization. It indicates that the highly competitive niche where websites target popular keywords is occupied by monsters with giant backlink profiles.
10,000 unique referring domains is the value where the websites are invincible. But for low-volume keywords the competition is not so tough, so some link building could bring tremendous results.
#4 – Content length
Article's length, or the article's word count, is one of the first things that forms the user's opinion about the page. The exact numbers for how long your content should be are debatable, as the main advantages of a text are its quality and relevance.
The quality and relevance of your content play a crucial role in the page rankings. Creating content of a certain length is not a silver bullet for SEO optimization, and if the content is irrelevant to the user's query it doesn't matter how long it is — it will still be irrelevant. However, the results of our research indicate that pages that rank higher have longer content on average.
So, content length is important for your page's success as long as it is valuable, well-written, and optimized, especially if you target high volume keywords. They also found out that long-tail search queries have more content on average than short-tail ones — almost 20 percent more.
For instance, an average top-100 article on 'graphic design' will be shorter than an average top-100 article on 'graphic design trends in 2017.' That is, if you are writing on a broader topic, your users do not expect a long read. If your article's topic is narrowed down to a precise statement, then it should provide a more in-depth view.
#5 – Website security
In past years, Google promoted the idea of a more secure web. By applying new policies and imposing new rules, Google sent a clear message — make the Internet safer for users. By migrating to HTTPS, you are being proactive in protecting your users' security, which strengthens the authority of your website.
The HTTPS adoption rate is very high in the high-volume keyword group. That is, the more popular the keywords are, the more possible it is that the top positions will be occupied by HTTPS domains.
So if you want to compete for high-volume keywords, having an HTTPS version of your site is extremely important. In the low-volume keyword segment, the HTTPS adoption rate is not so high, so having a secure version will significantly distinguish you among the competition.
Conclusion
All the information in this article have been taken from the SEMRush SEO Ranking Factors study available here. I suggest to download it, check their analysis and study the ranking screenshots.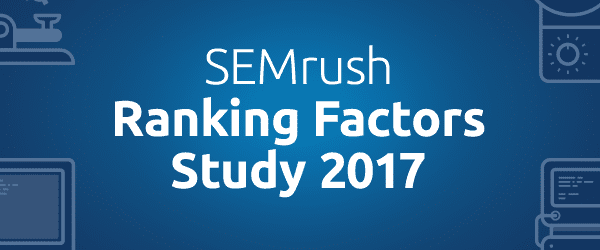 Pin
Below you will find the takeaways in the study.
Key Takeaways
The number of website visits seems to be the most important page-ranking factor. Websites with higher authority consequently gain more traffic, and as a result, have a better chance of getting into the top.
User behavior signals such as time on site, pages per session and bounce rate indicate the authority of a website and influence its rankings as well. A website's number of referring domains can also indicate its authority, which together with the previously mentioned factors influences a website's rankings.
Google states that website security, which is indicated by HTTPS implementation, is important, but has little influence as a ranking factor. Though it is important for various reasons, having an HTTPS version of your website doesn't drastically change its ranking position.
The influence of the on-page SEO factors proved to be insignificant, so their status as major ranking factors can be dismissed.
If you still want to rank in 2019 you should definitely implement these 10 key seo trends.
Get a SemRush account right now and improve your SEO Rankings. If you need help let us know, SemRush is one of our favorite SEO tools.