Organic Traffic is vital in order to run a successful website. And there are a bunch of factors which are responsible for organic traffic to your website such as informative content, authenticity, Search engine optimization, link building, and marketing etc.
But Service Area pages can also give rise to a hefty number of users to your website. That's given. Here, we are going to reveal how service area pages can bring a higher number of visitors to your site.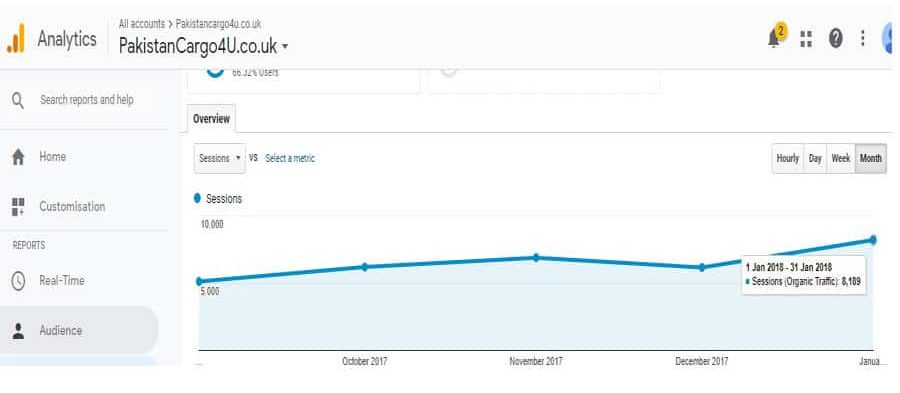 Pin
Alright, the cat came out of the bag!
How we Got Huge Traffic to Our Website by Just Adding Area Pages [ CASE STUDY]
Recently, we did an experiment with one of our website comprising cargo services from the UK to Pakistan by just adding area pages.
Who would have thought that it could be a very successful move and attract a massive number of visitors to our website?
That's interesting, isn't it? Before we get into our case study, let us have a look at the terms linked with our case studies.
Search Engine Optimisation (SEO)
Gone are the days when you had much to do in order to run a successful website. These days, it takes a considerable amount of polish and elbow grease before a brand new website appears on the search engines.
Whenever people make use of the search engines, they'd most probably pick out the results that appear within the first 5 suggestions on Google, Bing, or whichever search engine they decide on to use.
That being the case, things have become much trickier. For a new website to get a high number of visitors, Search Engine Optimization is something you can't miss out on.
Well, before getting into the most used approaches of Search Engine Optimization, let's spend a moment just defining SEO.
SEO is a term that covers all the techniques and approaches to ensure that the website you are working on presents itself on the search engine results pages.
On-page SEO and Off-page SEO are two most used approaches of Search Engine Optimization. On-page SEO involves optimizing your website in order to maximize the level of traffic.
It's fundamentally about making the site as search-engine-friendly as possible but requires constant revision of the site in order to maintain its ranking. There are several different methods within on-page SEO such as optimization of Keywords, title and links etc.
For the case of off-page SEO, it's all about fostering the website via other channels. It depends upon other web pages to gain traffic to your site. Off-page SEO uses a fusion of strategies used to improve the website's rank in the search engine results page (SERPs).
So, what exactly the term Organic Traffic refers to?
If we spend a moment just talking about Organic Traffic, it refers to the visitors who discover your website by entering specific words into the search engines. These words are called Keywords and you can make the argument that keywords play a role that no one can shake a stick at in attracting visitors towards the websites of particular niches.
Google Analytics allow you to see how good your website is performing when it comes to attracting visitors. You would be able to increase the organic traffic by just probing into the errors and then correct the flaws and removing the unnecessary delays. That's how things work.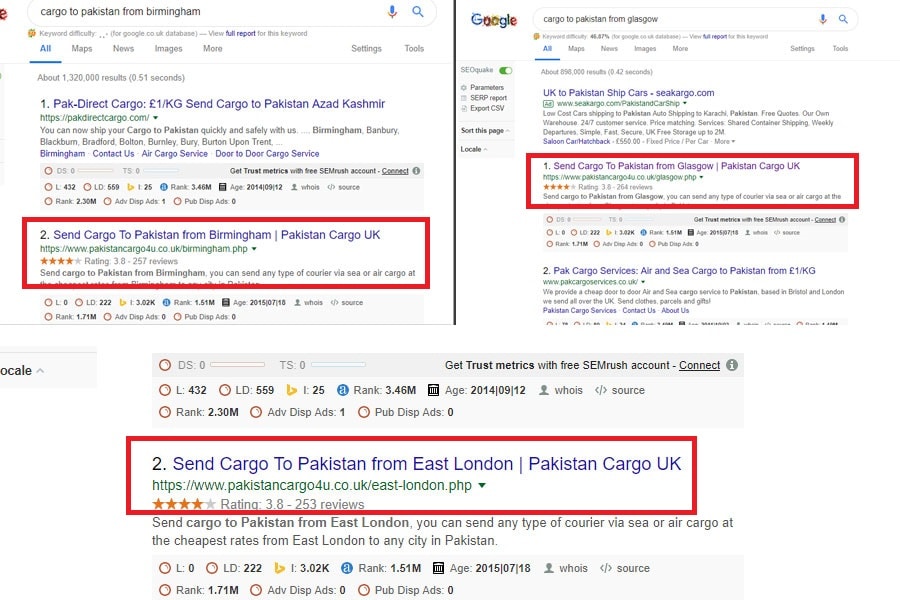 Pin
Here's the Case Study
We started running a website a couple of years ago, with a focus to offer cargo services from the UK to Pakistan. After a short while, we just decided to stretch out the services and make them available to all over the UK. Be that as it may, we did not add specific areas to the site in the first instance.
The importance of Adding Area Pages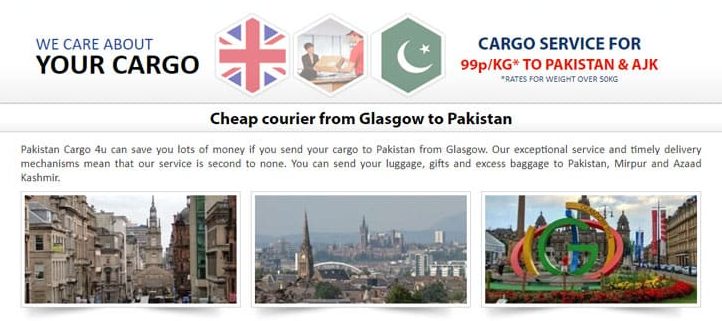 Pin
Soon after that, we thought of adding locations and area pages to our website where we provided our services. Our team looked through the latest keywords that people used to fill the search boxes with the intentions of sending cargo from particular areas of UK.
As a result, we have drawn up a list of most entered keywords for the particular areas and constructed pages with add on areas.
To give an example, Cargo to Pakistan from London, East Ham, Birmingham, Glasgow, East Riding of Yorkshire and Leicestershire and so on. The aforementioned move did a really good job in attracting organic traffic towards our website.
Benefits of Area Pages
Insertion of area pages to the website can:
• Direct visitors to your site
• Increase organic traffic manifolds
• Draw more local customers to your brand
• Target perfect customer base
• Alter impulses into sales
• Improve the search engine ranking
• Help you measure the output
Increased Organic Traffic
It turned out to be a very fine move. With traffic of 1000 visitors initially, the number just crossed 6500 visitors within a short period of time.
That's mind-boggling, isn't it? Right after that, the website we worked on, started ranking at the top position for all the main keywords.
Our team soon analyzed that there was an immense upsurge in our service acquisition and ultimately in the revenue generation. Whoa!
Increased Conversion Rate
A quantum leap was also observed in the conversion rate. That means a considerable percentage of visitors signed up for the website after the area pages were added.
Our analytical team soon revealed that the conversion rate increased from 16% to  25% just due to the addition of area pages. So we managed to get more and more customers in a short period of time.
How to create Area Pages
Service area pages, depending on how a prospect searches, can serve as an alternative to your homepage. In other words, with good local SEO practices, someone searching for your services in their area may find your corresponding SAP before they find your homepage.
You can create SAPs for each city or town you work in as well as for neighborhoods, districts (The Avenues, South Temple, Daybreak) or even prominent landmarks. The more of these pages you add to your site, the bigger the SEO boost you're likely to get.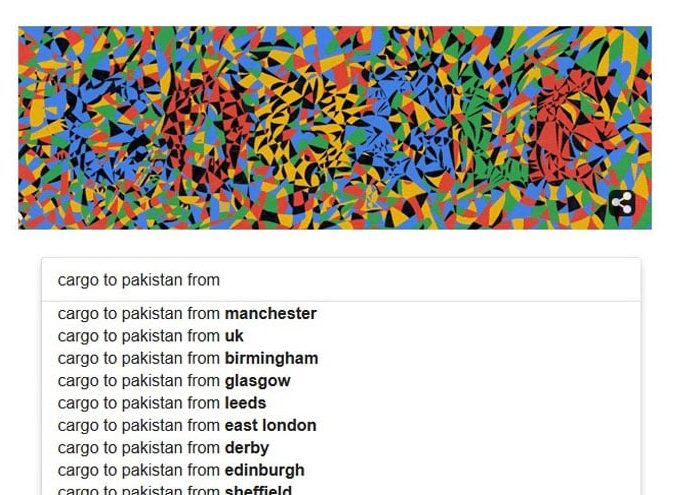 Pin
Keeping close eye on the significance of Area Pages, there are some essential thing which should be kept in mind to make them more vigilant and useful.
Keywords
Keywords are the most essential ingredient of content in your area pages. Try to maintain appropriateness in their use. Try to use the keywords in the title of area pages to engage more and more traffic to your website.
The unsuitability of the keywords usage can badly affect the traffic due to which the ranking instead of being higher starts to decrease. Therefore, it is recommended to use weighty and renowned keywords in the content of the area pages.
Maps
Remember, you are adding Area pages to your website. Then how can somebody know the exact location of the area? Definitely, Maps that will help your customers in a great deal to approach you and acquire your services in their area and boast even improved importance of your area pages.
This not only assists your customers to locate your point but it is also beneficial for your website resulting in an improved search engine result ranking.
Social Media
The outreach of your business can only be increased due to the presence of your services on social media. When all the services you offer can be founded on the social media pages as well, it can help people who most probably use social media sites to acquire your offers by visiting your website.
So, this presence, in one way can enhance your website ranking, therefore, make sure to grab maximum advantages of social media.
Images
Another thing that we tried was the insertion of the images of landmarks belonging to that specific area on the area pages. It was, although, a novel idea, yet it garnered great results and gave our website a massive boost.
These images offered the visitors to select the area without reading all the stuff, thus made our website more user-friendly and helped to boost the conversion rate.
Analytics
Are your services being acquired by the targeted audience? Are you addressing suitable customers? These two queries require huge attention.
To cope up with these, make sure to keep analyzing traffic on the area pages of your website by using Google Analytics. It is must to do the job in order to make it sure that your site is being reached by required customers and you are addressing the most fitting clients. Keeping a close eye on the analytics, you can run your area pages and website in a better way.
Word of caution
When you build your area pages you need to make sure these pages are a quite different one from another. It's not enough to simply change title and keywords (ie Uk to Pakistan, Uk to South Africa).
You need to create enough unique content on each page or you will trigger a Google Algorithm penalty on thin content and keywords permutation. So create area pages for visitors not only for search engines.
What did we say?
When you run your website in the right way, then it appears to be as easy as falling off a log. There are certain things which matter when it comes to fine-tuning the position of your website in the search engines but the area pages occupy their own unique weight in addressing the right customers in a right way and in right time.
And if you want to enhance your business and improve the ranking and reach of your website, ensure to develop the area pages with having appropriateness of content and keywords in your website- no two ways about it.