Hi! So, you're here, ready to get down and dirty with Slack.
So what is Slack exactly?
Well in simple terms, it's a team messaging app on steroids. You can centralize all your team conversations, including document attachments, calendars, and other information through what Slack calls integrations. All this is accessible and fully searchable through any web browser, the Slack desktop app, or Slack mobile phone app.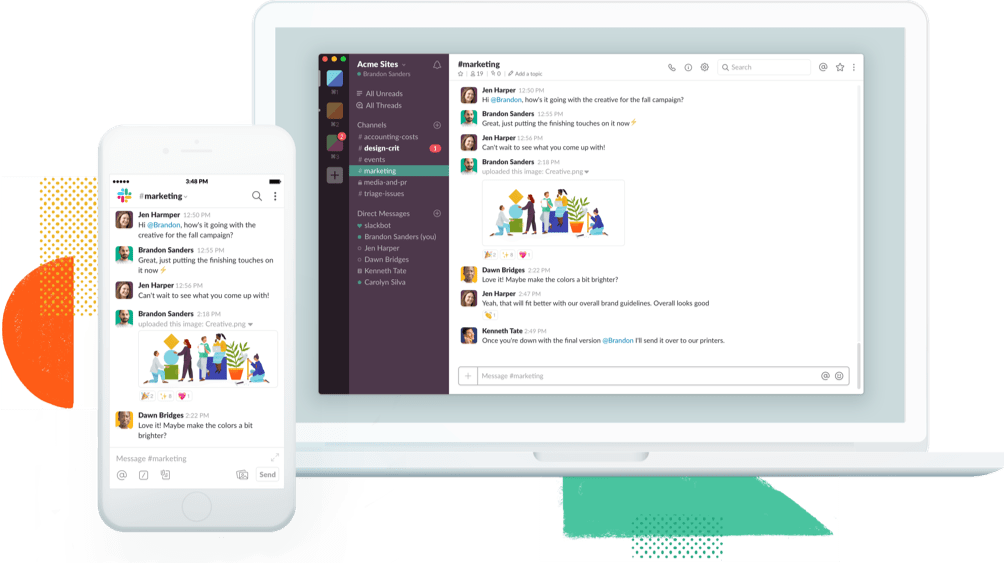 Most teams use email and bunch of other services to communicate like Skype for instance, share data and stay organized. As you've probably experienced, it's anything but organized. It can quickly become a confusing mess of mail threads, continually updated attachments, and external links to other information.
Slack is self-described as "Team Communication for the 21st century". Although Slack is fairly new, it's already been adopted by tens of thousands of small and large companies alike. Why? Because quite simply, it's AWESOME! How awesome? Slack helped NASA's Jet Propulsion Laboratory put robots on Mars. That's how awesome!
The team at Slack is working hard to continuously improve and update this tool that many are calling the corporate email killer. Before we jump in and create a team account for Slack, here's what you can expect to learn from this article:
Create a Slack team and invite your team members to join the conversation
Overview the main features included in the free and paid versions
Dig into the messaging options
Integrate 3rd party apps into the Slack environment
Search, search, search!
Explore Slack's desktop and mobile apps
Examine the settings to personalize Slack
Slack is a lot of fun and will quickly change the way you work. If you're nervous about switching your workflow, don't be. The free version of Slack has all the main features, and you can export your content if decide Slack's not right for you. No stress, all fun!
1. Creating A Team And Account Basics
Let's jump in and start by creating a Slack team. Slack offers it's basic service for free.
There are a few limitations, but all the great features are include to "try" forever. That means that most small teams may never need to pay for Slack.
The free version includes:
Search and browse the 10000 most recent messages
10 integrations (like Twitter, Google calendar, Dropbox, and many more)
Free native apps for iOS, Android, Mac Desktop & Windows Desktop
Multi-team Support
5GB of storage with Slack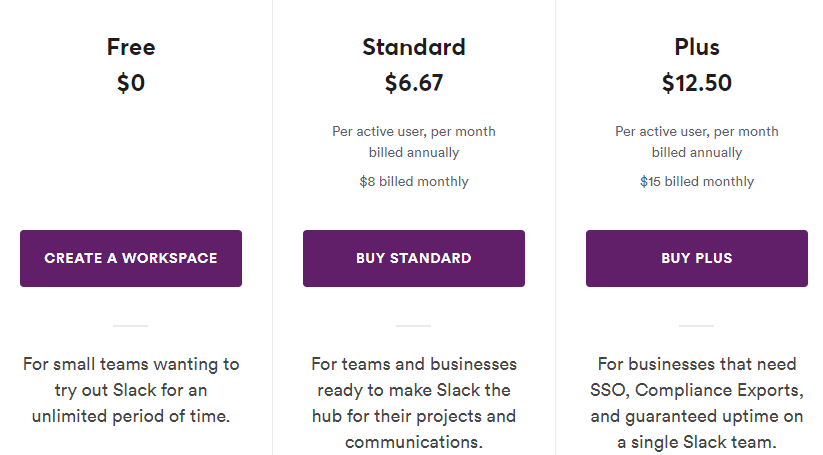 The Standard and Plus plans remove these limitations and include features geared towards larger teams and companies. You can upgrade as necessary, or keep using the free version for as long as you like. Don't worry if you don't understand what's included in each version, we'll dig into that later on.
Head over to Slack.com and use the Create a new team button at the top right or middle of the page. You can use any email address you like, and don't worry, you can change this later.
Use the next button to choose a team name. It can be the company name or your division or group, like Acme or Acme Marketing. Not to worry, you can change this later.
Use the Next button to move to the next step and select a Slack URL. This will be the web address where your coworkers will sign into Slack, like monetizeinfo.slack.com for example. (Yes, you can change this later as well.)
Ok, almost done. Next you'll choose your personal username. This should be something your coworkers can identify like "daniel_s" or "daniel_setter" or "sdaniel".
Lastly, we'll invite others to join your new Slack team. Pop in their email addresses, or skip this step and come back to it later. Slack also has an option to allow others to join your team without an invite. You can share the team URL and set parameters about who can join. For example, it can be open to anyone with an @monetize.info email address.
1.1 Setting a Password and Logging In
Um.. What about the password for the account? Ok, now go ahead and check your email inbox. Slack sends an email to set a password for your personal login that is linked the email address you used. Do it as soon as you can. Use the password strength indicator to make sure you have a strong password. It has to be at least 6 characters, but you should have more than that.
To sign in to an existing team, simply go to Slack.com and click Sign In at the top of the page. From there you can enter the team URL with your email and password.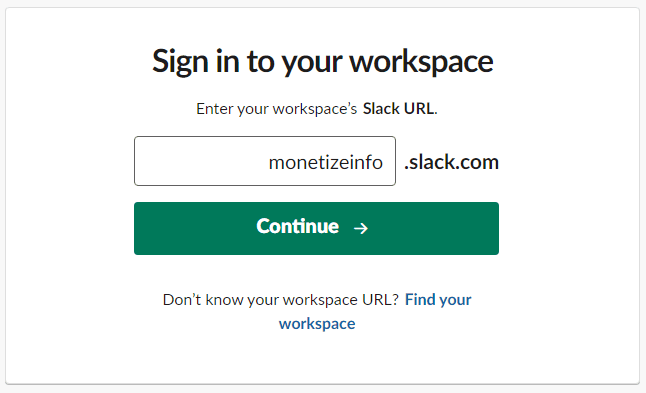 If you don't remember the team URL or any of the teams that you are associated with, visit slack.com/signin and click the Find your team link below. Enter your email and Slack will email you a list of your teams associated with that email. ​
Once you're logged in, you'll notice the team name at the top of the Slack menu (zone 1 in the photo below). Clicking the team name will display a pop up menu where you'll find options to log out of your team and log in to another team. We'll be exploring this Slack menu throughout the book.
1.2 Editing your Profile
You can personalize your account by adding in your name, phone number and even a photo. Let's click the team name again, and there you'll find the View profile & account. This will bring up your profile info on the right side of the window. Your profile is visible to the members of your team. Go ahead and click edit and add in a photo, your name, what you do (Team lead, project manager, etc), your phone number and Skype name. Don't forget to save once you're done.
Setting your time zone is also important, especially when working with a team that is spread out across the country. To set your time zone, we'll return to the Profile pane on the right, and click on Account. This will open a new tab (or window depending on your browser settings) for your account settings. We'll explore these options further in the Preferences chapter. For now, scroll down to Time Zone, click expand on the right, and select and save your time zone.
1.3 Inviting full members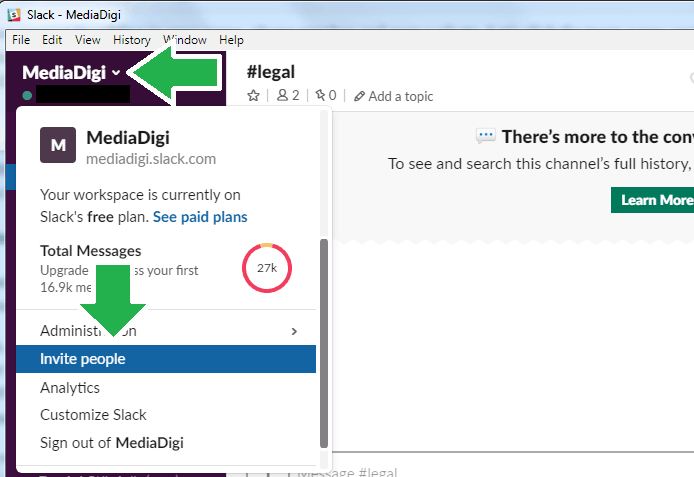 When you're the team administrator or owner, you have the ability to invite members to your team. With the basic free account, you can only add full members. With a paid account, you can also invite others to be "restricted accounts" and "single channel guests".
To invite new members, go to the Slack menu and choose Invite People. From here you can invite as many individuals as you like by adding in their email and using the +Add another button just below. You can start personalizing their profile by including their name in the adjacent name boxes. You can even add a custom message like "What is the airspeed velocity of an unladen swallow?" This will be included in the invitation email they'll receive. Simply click the Custom message button below and type in the box that appears.
Now, if you're working with a much larger team, you can use the Invite many people at once button adjacent to the +Add another button, and type in the email addresses separated by a comma. The easiest way to do this is to copy them from your email client and paste them in.
Lastly, as an administrator, you may want to see the status of the invites you've sent. From the Slack menu (zone 1), select Team Settings, and then Invitations from the left of the new tab. From here you can see the status, as well as reset an invitation or even revoke an invitation.
Advanced Tip 
If you're setting up Slack for a very large department or even your company, you can go a step further with Team sign up mode. From the Slack menu, select Team Settings and then Team sign up mode. From there you can change the default sign up option to "Any email address from these domains:" and then add your company domain. For example, I can add monetize.info, and anyone with an email ending in @monetize.info can join by going to monetize.slack.com. This can also work great for teams that work with subcontractors or with other companies.​
2.Messaging Basics
One of Slack's biggest strengths is how it organizes all your team conversations. There are three different ways to communicate: Channels, Private Channels, and Direct messages.
Channels are available, open and searchable by all members of your team, and you can create as many Channels as you like. Channels are identified with a # symbol and by default there are 2 Channels: #General and #Random. #General can be used for non specific team related conversations, like communicating a meeting or that someone is on vacation. #Random can be used for other non work related communication, like if someone wants to go for lunch, or can recommend a great movie.
Advanced Tip
The team administrator can customize the default groups in the Slack menu under Team Settings > Default Channels​
A Private Channel is used to communicate to specific people who are invited to the channel within the larger team. The information is confidential and can only be seen and searched by the people invited to the Private Channel. A Private Channel is identified with a lock symbol.
A Direct Message is exactly that, a message from one person to one or several other people. Like an email with one or more recipients. Only the sender and the recipient(s) can see and search these messages. Direct Messages are great for quick private conversations
Channels and Direct messages are listed in the left column of the Slack menu (zone 1).
We'll learn how to create and manage your channels in the next chapter.
2.1 Writing a Message
Writing a message is just like texting or instant massaging. Select the Channel from the Slack menu and type your message in the box at the bottom (zone 3). That's it! Pretty straight forward, but don't worry, there's a lot more than basic text.
Advanced Tip 
You can type in Bold or Italic using by a simple addition to your message. For bold, type an asterisk (*) before and after the word you want to bold. For italic, use the underscore ( _ ). For example, if you type *hello* , you'll see hello. If you type _goodbye_ you'll see goodbye.​ 
2.2 Reacting to a Message
There are several ways you can interact with the messages. Responding and highlighting messages really sets Slack apart from how we traditionally use email.
First off, we can star a message using the little star icon that appears when you move your
cursor over the message. This will add the message to your Star section at the top right (zone 4). These starred messages are visible to you only and you can use them to go straight to the message using the adjacent jump button.
Pin will allow you to highlight a message to everyone in the channel. When you move your cursor over the message, an icon will appear to the right. Clicking the … button will allow you to Pin the message so that it is available to everyone in the info section, just click the at the top (zone 4). Of course you can edit and remove a pin later on from here as well.
You can also react to the the conversations using your favorite emojis available to the right of each message in the channel. Don't be shy, go crazy!
Advanced Tip
Every emoji has a corresponding name, so instead of always searching, you can remember your favorites. Just type colon : and start typing the name. Slack will suggest as you type. Try it our for :po​
Quoting a message from one channel into a other channel is pretty easy too! Just right click on the time of the message and choose Copy Link on a Mac (Copy Shortcut on Windows), and then paste into a new message in which ever channel you link.
Advanced Tip
You can do a quick edit on a message you just added by pressing the UP arrow on your keyboard. ​
2.3 Setting your Status
You can quickly change your status like in other chatting apps. Just click on your name in the Slack menu and set yourself away or active. Slack will also automatically set you away after 30 minutes, and back to active once you start using it again. There are a couple of colors and symbols for your team members, here's a quick round up:
Active
Away
Connecting
Offline.
2.4 Mentioning a colleague in a message
Similar to social media services, you can mention team members in your message. To mention someone, use the @ symbol (look familiar ;D) before their name. You can also just type their first name and Slack will auto detect it. (Note that this feature may be turned off by your admin.)
To see all your mentions as well as reactions to your messages, click the @ at the top right (zone 4). You can even jump straight to those messages with the jump button.
2.5 Sharing links
Ya, this one's pretty obvious. Just copy the website link and paste it into your message. You'll notice that Slack is pretty smart and can sometimes attach a small description of the link or an image. You can remove it using the small x to the left. You can also ask it to never give a preview, from this pop up. Try this link to test it out https://monetize.info
Advanced Tip
Slack has some great keyboard shortcuts built in, as we saw with the emojis. ​
Bigger browser text: ⌘ + (mac) or ctrl + (windows) ​
Smaller browser text: ⌘ – (mac) or ctrl – (windows)​
Switch between channels: alt and arrows​
All shortcuts: cmd / (mac) or ctrl / (windows)​
3. Using Channels And Direct Messages
3.1 Joining a channel
Channels in Slack allow us to have focused conversations. These might be about a project, specific task, or a more general team or department conversation. By default, you are a member of the #general and #random channels. To join a channel, click CHANNELS in the Slack menu and you'll see the channels you belong to, as well as channels you can join. You can even search for channels and browse them before joining.
Once you're in a channel, you can use the info button at the top (zone 4) to get more info about the channel as well as it members, including their online status.
Did you know
Once in a channel, you can hover over the channel name at the top  a star will appear. Clicking the star will add the channel to the Starred section in the Slack menu so you can get to it and your other most important channels quickly.​
3.2 Creating a new channel
As we learned earlier, Channels are group chats that are open to anyone on your team. A Private Channel is used to communicate to specific people who are invited to the channel within the larger team. To create a channel, public or private, click the + next to Channels in the Slack menu.
The new window will allow you to toggle between public or private channel. Aside from that, you only have to choose a name for the channel. (side blurb about naming conventions?) Optionally, you can invite members to the channel and give a brief description.
Advanced Tip 
You can convert a public channel into a private channel easily, but be warned, you can never undo this action. Choose the channel from the Slack menu, then click on the channel name at the top (zone 3). Then click Advanced options and then convert this channel to a private channel. That's it, no take backs!​
3.3 Making an announcement
Sing it from the mountain tops! There are a couple of ways that you can make an announcement in a channel.
Type @channel at the beginning of your message and everyone in that channel will be notified of your announcement. Type @everyone to notify everyone on the team. This is usually in the #general channel.
You can also use @here for only the people who are online and active in a channel. Before the announcement is sent, Slack will tell you how many people you're about to notify, just in case you get a little ahead of yourself.
3.4 Inviting members to a private channel
When adding a new member to a private channel, there is a simple question that needs to be answered. Does this person have access to all the previous content (messages, files, etc) in the channel? If yes, then the are simply added. If no, then Slack has a solution. It will automatically archive the channel with a new name, create a new channel with the current name, and add the existing and new members to this channel.
The exiting members can still access the previous content through the archive, so nothing is lost, and the previous content is not visible by the new member.
3.5 Managing a public channel
So long, farewell, auf Wiedersehen, goodbye.
There are three main things you can do to a channel: leave, archive, or delete. You can leave a channel simply by clicking the channel name in the message windows and choosing leave channel. You can always use https://my.slack.com/archives to see the current archive for the entire slack team.
Archiving a channel will close the channel and remove all the members, but they can still access the messages in the search results as well as through this link: https://my.slack.com/archives/archived . Also, any of the former members can unarchive and reactivate the channel. To archive a channel, click the channel name in the messages window, then Advanced options and then archive this channel.
Deleting a channel is another story. Say sayonara because all the messages are gone forever. That's why only team admin and owner can delete a channel. The only thing left are the files which you can access athttps://my.slack.com/files. To delete a channel, go to https://my.slack.com/archives , click the channel, and you'll have the point of no return options: delete messages and delete channel.
I can't look, do it if you must, but remember you were fore warned. arghhhhhh!!!!
3.6 Managing a private channel
Private channels are similar yet different. For starters, you can't delete a private channel only archive it. (sorry to all the digital OCD neat freaks, no can do). You can leave if you like, BUT (it's a big but), you can longer search the messages and you'll have to be re-invited to get back in.
3.7 Sending a direct message
There are a couple of ways to send a private message in Slack. To message one person, you can click the person's name in Direct Messages in the Slack menu, or you can use the Quick Switcher at the bottom left (zone 4), and send your message.
To create a group direct message, simply click Direct Messages in the Slack menu. This will open a new window to list the people for the message. Type your message and send. Remember, these messages are private and searchable only by the members who are part of the conversation.
3.8 Messaging yourself using Slackbot
Slackbot is like a personal assistant. It allows you to keep messages and files private within Slack. You can use it as a personal notepad for you info and then search for whatever you need when you need it. Simply click on Slackbot in Direct Messages and send a message or upload a file. To top it all off, it's programmable! To try it out, click the Slackbot in the direct message list and say hello!
4. Preferences
4.1 Getting notifications from Slack
Slack has a few ways to notify you when you miss something because you are away in another slack team, another app or you're offline. These notifications will pop up on your desktop or mobile device, or you may receive an email as well.
To see the notifications preferences, click the team name (zone 1) and choose Preferences. Use the arrow to the right of Notifications Settings to expand the options.
Here you can personalize which notifications you receive, the sound they make, and how they're displayed. Press the send test notification button to see what it looks like for you.
4.2 Setting notifications and message display preferences
There are tons of preferences you can personalize with Slack. The defaults are great, but you can take it to 11 with a few clicks!
Start by clicking the team name at the top left and then preferences. These are your personal preferences within this team only. You'll have to do it separately if you're part of other slack teams. Let's start at the top with Notification Settings. You can choose which notifications you want to receive, as well as the sound they make. You can even hide the message content by unchecking Show message test in notifications. Note that notifications are not supported in Internet Explorer.
The next great option is Highlight words. You can choose to be notified when specific words are mentioned in the channels. These can be specific to your team tor project like "TPS report" or more general like "free pizza".
Next up we have the Do Not Disturb option. Just like when you fall asleep under your desk, and don't want to be woken up, Do Not disturb will not send you notifications between the times you specify.
Let's move on to Media & Messages in the left column. Here you can personalize display options for messages and files. Message Theme allows you to choose between the a person's profile picture or just their name when the post a message. Display options allow you to see a person's name instead of their username, as well as use a 24hour clock and the ability to use accented characters.
This is important in many languages like French and Spanish. You can even personalize how your emoji's look. You can choose between Apple, Google and other emoji styles. Or you can kick it old school with text emojis ;P
Lastly with Inline Media & Links, you can specify if Slack will display a preview of files that were uploaded to Slack or from an external source like Dropbox. You can even choose to show a preview of a website when a link is shared.
4.3 Setting a theme
Here's where you can get creative. Sidebar theme allows you to change the look of your Slack window. Aubergine is the default, but you can choose anyone you like and even design your own. The theme will change on your desktop, web and mobile Slack windows.
There are even themes for people with vision disabilities. Under Accessible theme, you'll see Protanopia & Deuteranopia (Red-Green Color Blindness), and Tritanopia (Blue-Yellow Color Blindness)​
Mark as Read allows you to customize how messages will be marked as read. By default, it will go to where you left off in the channel and mark everything as read. You can also have it not go to the newest message, but still mark everything as read or go to the newest message and not mark anything as read.
Advanced Tip
You can set your own unread marker by choosing Mark Unread in the message menu or by holding Option and clicking the message.​ 
You can mark an entire channel or Direct Message as Read just by hitting (gently) the ESC key​
In an extreme case, you can hold Shift and then hit ESC to mark everything as Read. Yes everything, all channels and Direct messages.​
Lastly in Advanced Options, you can personalize you're experience with common things like spell check and shortcuts like Cmd+f to search. One interesting options to note is Channel List . With Channel List, you can control what is visible in your Channel List on the left side of your window.
The default is to list all your channels, but you can also choose to hide channels that have no unread messages or hide channels that have no unread messages unless they are starred. You can even separate the list between public and private channels.
4.4 Setting channel notifications
You can set notification preferences for each channel individually. Back on the main window, choose the channel you want to personalize from the Slack menu (zone 1). To the right of the channel name at the top (zone 2), click the gear icon and the drop down menu will allow you to set Notification preferences or simply Mute the channel.
Notification preferences will allow you to specify which notification you'll receive on the desktop or mobile Slack apps. This will stop all notifications and will not show any unread messages unless you are mentioned in the channel.
5. Slack Shortcuts
Slack has tons of keyboard shortcuts built right in. You can access the cheat sheet quickly by hitting cmd / (mac) or ctrl / (windows).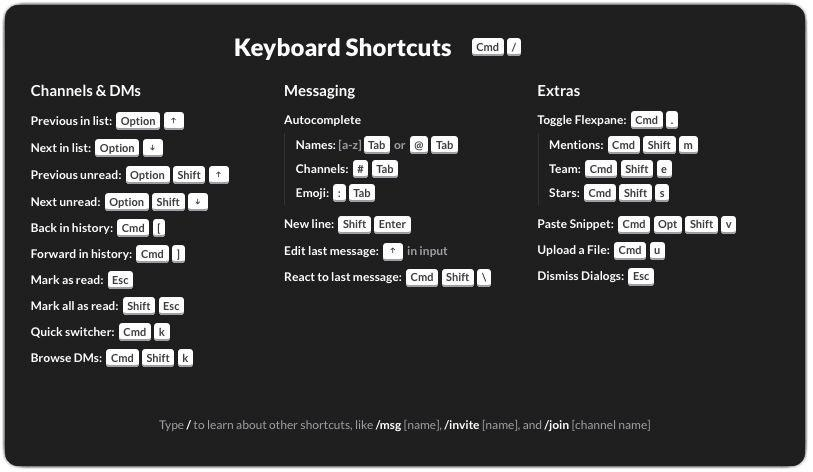 Additionally, you can type / into the message box and quickly access a bunch of actions like mute the channel, set your away status , or even just add a shrug to the conversation ¯ \_(ツ)_/¯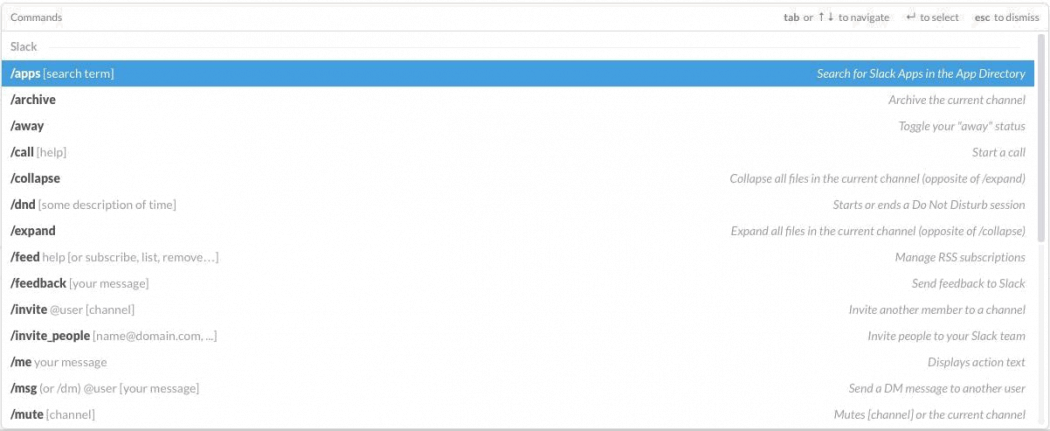 Separately, there's a whole bunch of formatting shortcuts for when you are creating a post. Once you're ready to write the post, use the … button at the top right to show the complete list.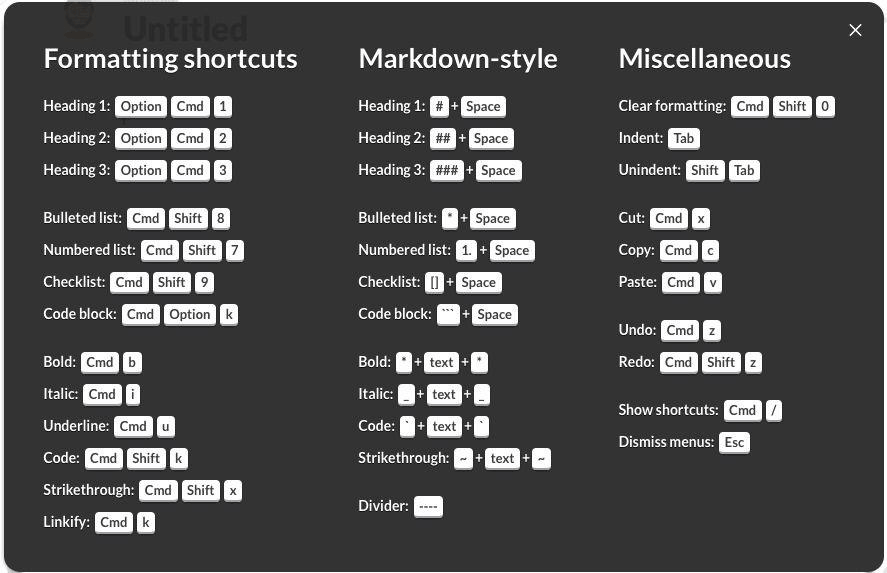 6. Conclusion
Creating a complete archive of all of your conversations, ideas and work communications can seem like a daunting task. What I love about Slack is that it's so simple to use from the moment you log in, yet it has easily accessible features and layers that make it incredibly versatile and powerful. It quickly becomes an indispensable tool.
In my time using Slack, it's become one of my most valued tools for work. I truly hope that this guide has helped you get started with Slack and shown you some of the more advanced features that let you regain time in your work day.
Thanks for reading!