For those businesses that are doing it right, blogging can be hugely beneficial. The company will often see an increase of over 50% of website visitors and leads.
However, many blogs also fail to make any positive difference to a business, so it is essential that before you waste time and resources you understand what you need to do to create a successful business blog.
Why do I need a blog for my business?
"How a blog can help my business?!" is one of the questions I hear frequently from my customers, especially those that they are happy with their sales.
That's what I tell them: A blog on your business can help you in many ways:
#1 Educate your customers
One of the most important things on a business blog is that you can educate your customers about your products.
For instance, if you have a shoe store you can write on your blog on how customers can choose their perfect shoes, how to maintain them in good conditions and keep them informed about the latest products you got in the shop.
#2 It gives you brand awareness
Blog posting allows you to show a personal side of your business that future and current customers won't see through other marketing techniques. Blogging gives others a sense of the corporate standards, vision, and personality of your company.
If you're unsure about the blog name check our tutorial on how to come up with a blog name that builds brand awareness.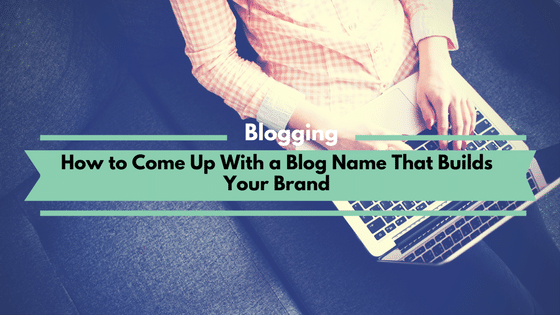 #3 Helps you with SEO
Websites that have fresh and long, high-quality content tend to rank better. Also, website owners are more willing to link to a tutorial or a guide instead of a product page. Having a well maintained and updated blog will help you getting more backlinks and better rankings.
#4 Helps you with Social Media Marketing
It is quite difficult to promote products on Social Media sites like Facebook, Twitter or Instagram. That's because the social media users are mostly about visual, short information and they don't like to be sold things.
However, you can write a blog post about 10 Perfect Mother's Day gifts or 10 Trending Haircuts For this Summer where you mention and briefly describe your products. Your audience will be more likely to distribute to their friends and connections a post like this.
#5 Establish Your Business as an Industry Leader
No matter how small your business is, you can build trust and clout within your industry by providing valuable, expert information in your blog posts. Over time, you become a "go to" resource for helpful, informative content, which can ultimately lead to higher customer conversion rates.
This is especially important for small businesses looking to gain credibility to compete with larger companies. Check our Expert Roundup Creation service if you are looking for ways to establish yourself as an industry leader or you want to increase your brand awareness.
#6 Develop Relationships with Potential and Existing Customers
Blogging allows you to connect with your site visitors. This can be accomplished by asking your readers questions at the end of your posts to get the conversation going or by simply allowing comments and feedback.
By reviewing and responding to readers' comments, you can create a rapport with your audience, build trust, and gain valuable insight into what your customers are looking for.
#7 You can collect leads
People that visit your blog regularly will most likely become your customers. That's because they will start to trust you. First, they may just read your blog, then share the posts with their friends, they will subscribe to email newsletters and finally will start purchasing from you. I've wrote about this.
It may sound like a difficult path but keep in mind that those are your most loyal customers that will purchase regularly from you so you should invest in collecting leads.
On different occasions like Black Friday, new year etc you may email them with a discount code or a free book and the sales will skyrocket.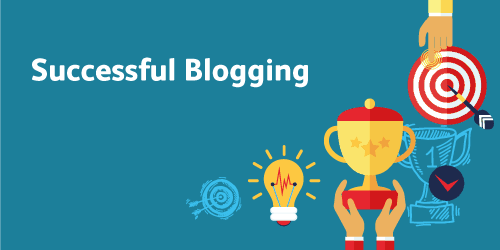 10 Ingredients of a successful blog for your business
Bellow I will reveal the top ten ingredients your business blog should have. I've developed over 30 blogs over the time and I tweaked the list over the time. So here it is:
#1. Set Clear goals and objectives 
First of all, you will need to be clear about what your marketing goals are and set clear objectives for what you want to achieve from your blog.
Example Goal 1 : Increase Traffic to website from blog.
Objective:  To achieve an increase of X traffic from blog.
Example Goal 2: Increase the number of leads for product A.
Objective:  To gain X number of new opt-ins per week.
Example Goal 3: To create interaction and engagement.
Objective: To have at least X number of comments on each blog post.
Example Goal 4: To become a thought leader in the industry.
Objective:  To write X number of guest posts per month/year.
Example Goal 5: To increase the ranking of  your blog in Google and other search engines.
Objective:  To achieve X number of backlinks from other websites in 6 months.
#2. Create top content for your audience
Again it's all about your audience and what they want, what they are interested in, what makes them tick, and what problems they need solved. If you can identify these things then you are halfway to finding the valuable content that is going to keep your audience interested and engaged.
When you create your content it needs to be either inspiring, educational, informative, or entertaining. If you can create content that people really value, they are more likely to share your content, sign up for your updates, and come back looking for more.
Creating content around your product or services is not going to provide enough interest to your readers and it is unlikely to get shared. Of course the occasional post is okay, but try and keep away from this unless you can tie it into something which is of real value to your audience.
#3. Create a content publishing plan
Your content publishing plan is the backbone to your blog. You will need to decide what topics you are going to build your blog around so that you can stay consistent.
There may be certain keywords you want to target and need to incorporate into your content. Once you know your topics or subjects, you can decide which types of posts you are going to create.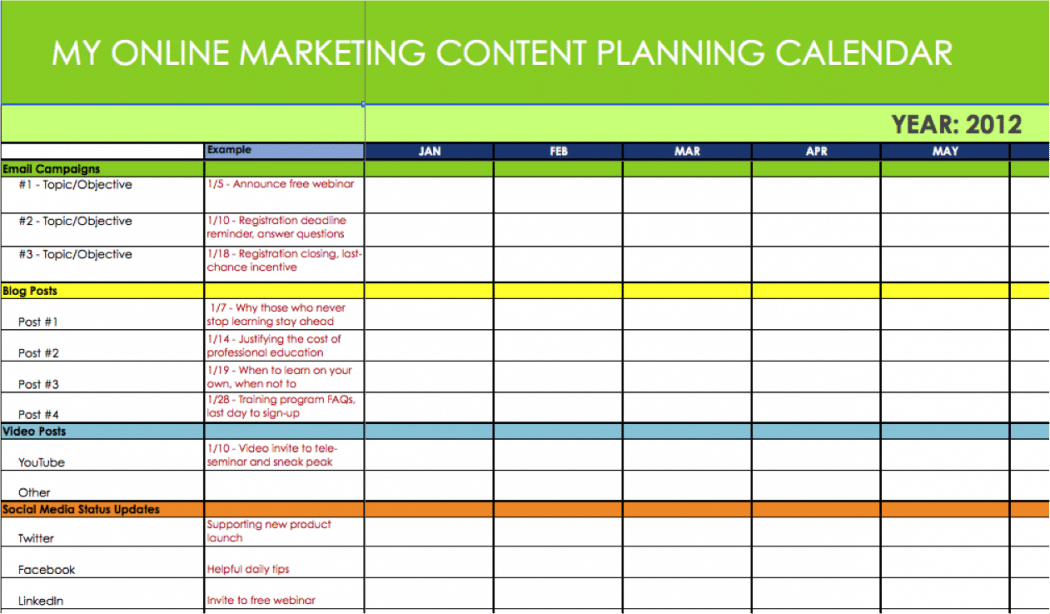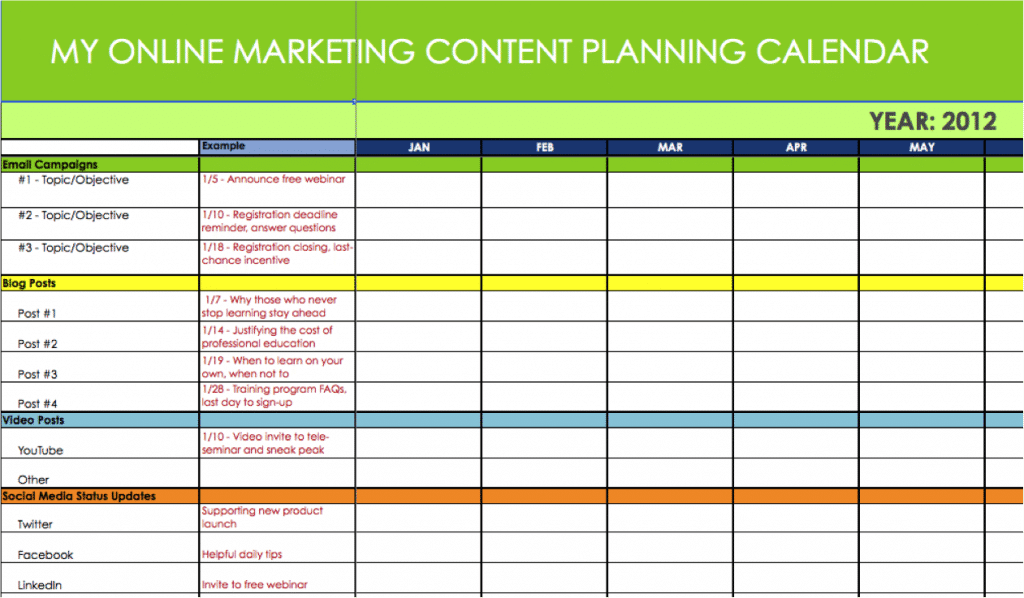 There are numerous types of blog posts you can use, such as:
tutorials
how to's
interviews
reviews
book reviews
advice
Q and A's
case studies
trend reports
latest news in your industry.
If you're in a hurry and you don't have the time to write your own content check this methods to get free, quality content for your blog.
Once you have decided on all this, you then write the schedule. If you have certain events that happen every year in your industry, make sure you include these in your plan.
#4. Newsworthy, frequent posts
Make sure you are blogging about what's new in your industry. Keep an eye on trending topics related to your industry so you can create blog posts that are really up-to-date. You can do this by checking out what is trending on the social sites and also signing up for Google alerts, which will keep you up-to-date on new info related to your interests and queries.
It is proven that the more high-quality content you produce, the more views your blog will get. You will need to post at least once a week, if not more. Google loves fresh content so the more posts you have, the more opportunities you have to be found.
#5. Optimize your blog for search engines (SEO)
Look for keywords and phrases that people are looking for. There are tools available to do this, like SemRush, Google trends, and Google keyword planner. You can find out the amount of competition by typing a phrase into Google search and seeing how many results it brings up.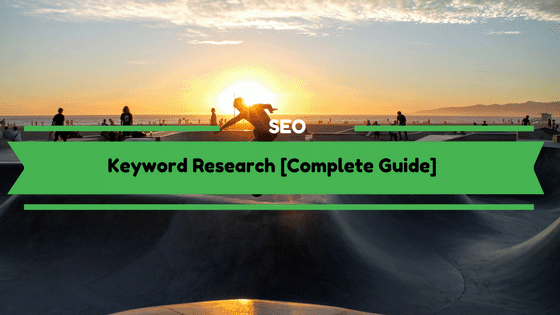 In order to get found, you will need to concentrate your efforts on low competition keywords and phrases, and the more specific your words and phrases are, the better. You can then create your content around your chosen keyword or phrase, as long as the content is highly relevant.
When creating your blog post, make sure you put the word/phrase in the page title, the header, and the body.  If you put the phrase in your meta tag, it will be displayed in bold font in the search results, which will make it stand out even more.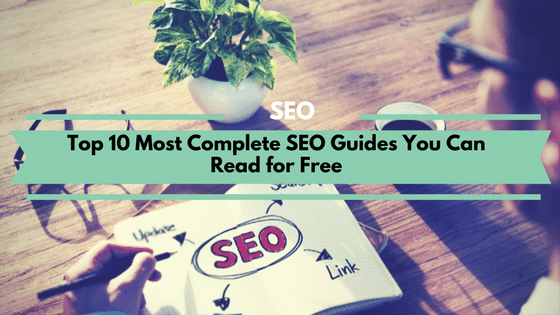 If you're using Wordpress then make sure you install the SEO plugin by Yoast. This is a great free seo plugin that will help you optimize your content and blog for search engines. When you create a post check to have both readability and SEO tests on green light.
Readability: Good
SEO: Good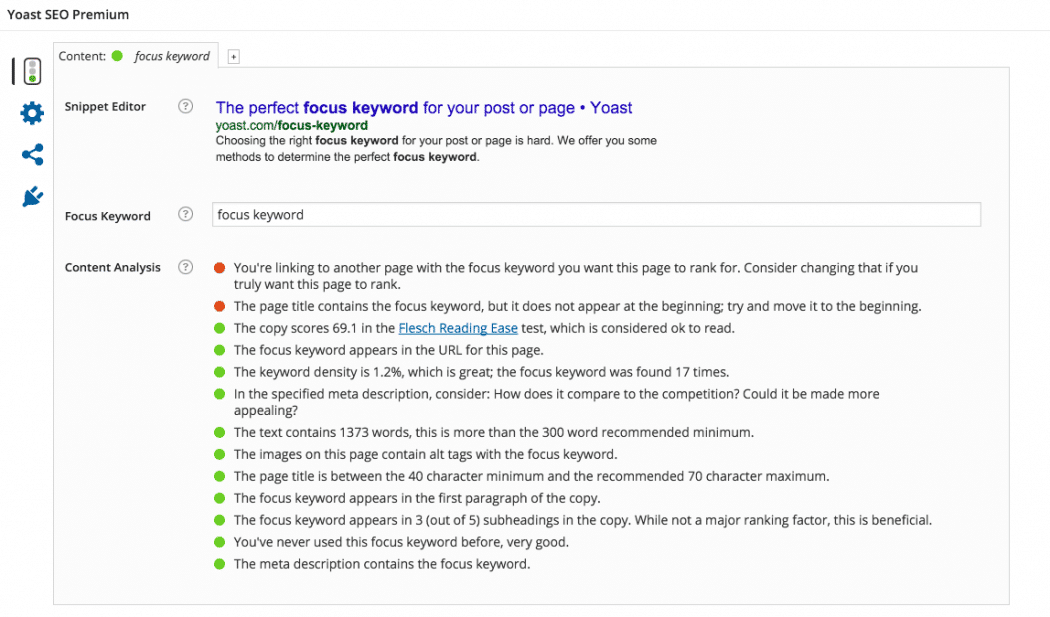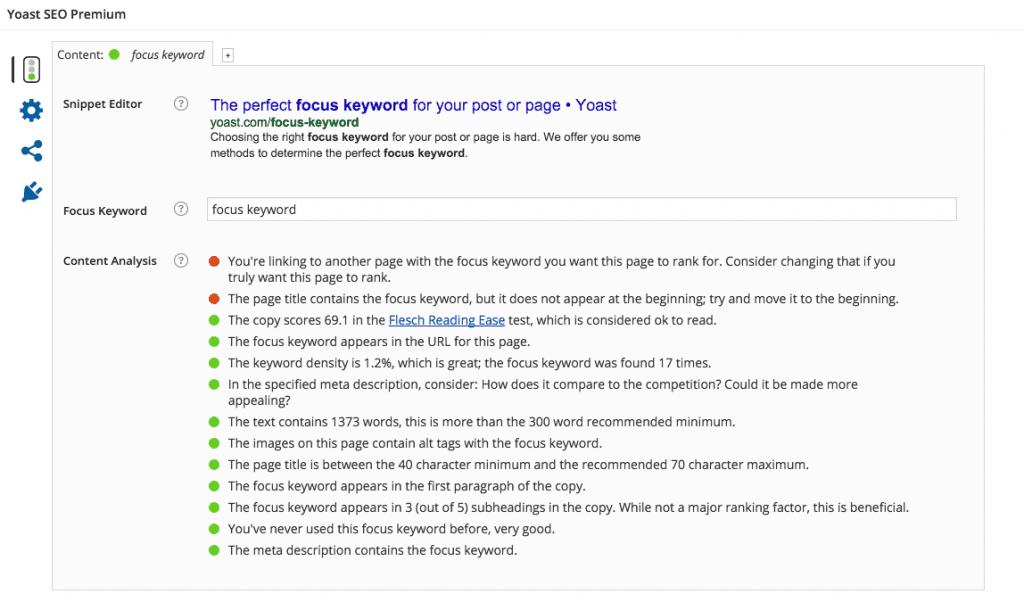 The Yoast SEO plugin also does a great job of formulating engaging meta descriptions. On top of that, it can check if the main keyword you chose had previously been used in other articles published by you. This way, you can make sure that you don't compete with yourself.
Check this great video below created by Darrel Wilson. It guides you through absolutely all steps you need to install, configure Yoast SEO plugin and optimize your website for Google, Bing and other smaller search engines.
More SEO resources you should look into to improve your Google Rankings:
SEO Expert Roundup: Where should we focus our SEO Efforts in 2017
Complete SEO Checklist [35 Tips]
#6. A great design
Your blog needs to be inviting, and although the content is what people are looking for, the blog still needs to be visually appealing and reflect your brand. If your blog is just text based, it's going to look cold and uninviting and lack interest, so you need to include compelling images to engage your audience.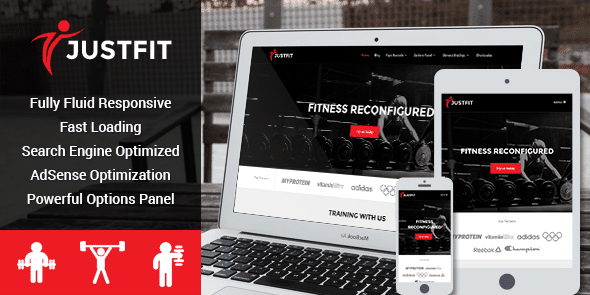 It is definitely a good idea to spend time researching different WordPress themes. Another thing to watch with your design is your sidebar. Make sure you have only what is absolutely necessary so you do not pull your readers' attention away from the action you want them to take.
Check our article on how to choose the perfect wordpress theme for your blog.
#7. Attention-grabbing headline
To catch your reader's' attention, you need a good headline. It should be a headline that will intrigue your audience enough to make them feel that they absolutely have to read this post. It needs to be simple and to the point, as well as contain valuable keywords. Here are some example headlines that really work:
How to …….
7 ways to successfully ………
Why you should do ….. to …….
Secrets that every …… should know
The secret formula for success in ……
5 quick and easy ways to ………
What every serious …… should know about……
7 things every ….. should avoid to ……
#8. Post Formatting
You need to make it as easy as possible for your reader to read and digest your blog. If you format your blog with headings, bold subtitles, and bullet points, it will be much more enjoyable to read than one long paragraph.
Asking a question at the end of your post is likely to provoke discussion. People like to think their opinions matter, and it's a great way for your readers to interact and network with each other, too.  Make sure you answer any questions your readers ask.
There is nothing worse than seeing bloggers ignoring their readers.
#9.Tags
Tags help people find your content on your blog and search engines. They also help group related posts together.
#10. Social Media Share links and email opt-in box
People love to share with their friends and coworkers interesting things they found online. Find what are the social media sites that the folks in your niche are using and add share links on your blog posts.
If you are into music you may add SoundCloud, Youtube along with the most used ones: FaceBook and Twitter. If you are into design, photography you should add Instagram and Pinterest.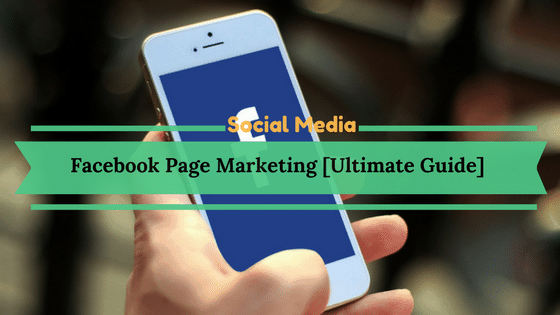 On Monetize.info at the top and bottom of each article, we have added 5 social media share links: Facebook, Twitter, Google+, Pinterest and Linkedin.
Also you should add social media boxes for Facebook, Twitter, Google+ and others. This way you give your readers the option to subscribe and stay up to date with your latest blog posts.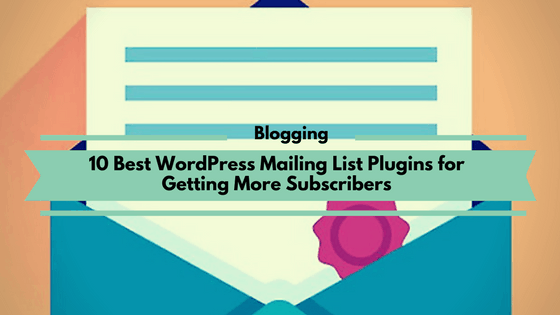 Email marketing is still a powerful tool in 2017 so don't ignore it. Add an optin form on your site and invite your readers to sign up for updates.
If you offer them an incentive like a free downloadable gift, a discount coupon or something else they may be interested in you will have a much better signup for newsletter rate.
Conclusion
A blog for your business will help you increase your exposure and will promote your brand while it will also increase your sales. Starting a blog is not easy but we can help you. You should also check our tutorial on how to start a blog.
We created over 30 business blogs in last years and we know what works and what doesn't. If you want us to create your business blog why don't you hire us?!
This are, in my opinion, the ten most important ingredients a successful blog should have. Have you implemented most of them? Let me know in the comments box.