In this post, I'll be reviewing the Wealthy Affiliate platform. If you are interested in learning more about affiliate marketing then keep reading because this might be exactly what you are looking for.
#1. What is Wealthy Affiliate?
Wealthy Affiliate is a training platform that educates people on how to make money blogging. They don't use the word blogging on their website, but that's really what they teach. It's a technique to make money online that's been around for a long time, and here's how it works.
First, you choose a topic that your blog will be about. This is called a niche. This could be anything really, but the more specific your niche is, the easier it'll be to make money because there's less competition.
Then you set up your blog and start writing posts about questions and topics that people are searching for online. You'll try to optimize your articles for certain keywords so that search engines will rank your articles high in search. That's how people find your blog, and how your website will actually get traffic.
In order to make money with your website, you'll have to include affiliate links in your posts. What you do is you start looking for products that relate to your posts. Then you sign up for the affiliate program of these products, and you'll get an affiliate link, that you can integrate into your posts.
Then when somebody clicks your affiliate link and buys the product, you will get a commission. And that's actually what Wealthy Affiliate teaches, and it's the first way you can make money with Wealthy Affiliate, by actually going through their program, and executing what they teach.
#2. Who is Wealthy Affiliate for?
Wealthy Affiliate is a platform for affiliate marketers of all levels and for anyone who wants to make money online by building an online lite business from scratch.
No matter if you are just getting started, or you are already a successful affiliate marketer, on Wealthy Affiliate you'll feel there is something you can learn and test with your monetization strategy.
#3. Benefits of being a Wealthy Affiliate member
I'll mention a couple of the most important benefits and the rest you can explore by yourself if you decide to try it.
3.1 Learn affiliate marketing, with the best educational courses in the industry.
The basic training contains five courses, and each course has 10 lessons. These lessons contain explanations, videos, and step-by-step instructions. There are also assignments given in each lesson, so you can implement what you learned right away.
After you complete a task, you can mark it as complete, and move on to the next one. Under each lesson, there is a discussion section that you can use to ask questions and get help from the Wealthy Affiliate community.
When you join Wealthy Affiliate by signing up with your email address, you're automatically a free member. And you have access to the first 10 lessons of the main course. You can also start building your first website with this free membership.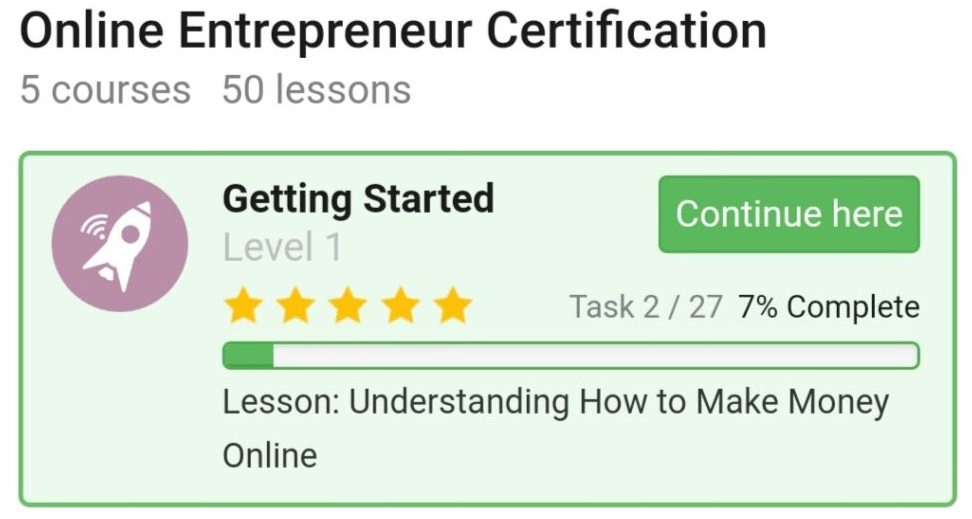 3.2 Build beautiful WordPress websites without any design skills
Building your website is SIMPLE on the Wealthy Affiliate platform. It takes less than a minute to build a beautiful money-making website.
3.3 Get expert help and advice whenever you need it.
It's a huge community of other people like you that are aspiring to become online entrepreneurs and affiliate marketers that are ready to help you with any obstacle you can confront. Lots of them are already successful so it's definitely a big thing for you.
3.4 Easily find keywords, niches, and spy on your competition
The Wealthy Affiliate has one of the most advanced keyword tools called the Jaaxy. As a Starter Member, you'll have free access to the Starter plan with 30 free monthly searches, and premium members have access to the Lite plan and a 50% discount on the Pro and Enterprise plans, but the Lite version is more than enough.
3.5 Directly network with 1.4 million successful affiliate marketers
The whole platform is designed so that people can help each other out easily. And this is what I like the most. A community filled with people who are doing the same as I do that are ready to help you solve any problem you can have.
3.6 Get a consistent flow of passive income
The first method you can make money with Wealthy Affiliate is by actually going through the training, building your blog, ranking your blog in search engines, and monetizing it by promoting affiliate products in your articles. If you like to write articles, and you're in it for the long term, this is a great way to make money online, and Wealthy Affiliate is a great place to start learning how to make money online, step by step
The second way you can make money with Wealthy Affiliate is by promoting the platform to other people. Wealthy Affiliate has one of the best affiliate programs that pays you almost 50% commission recurring revenue each month.
3.7 Learn how to promote Wealthy Affiliate
You can join a training program that includes 70 lessons that will teach you step-by-step on how to start promoting Wealthy Affiliate and start earning commissions.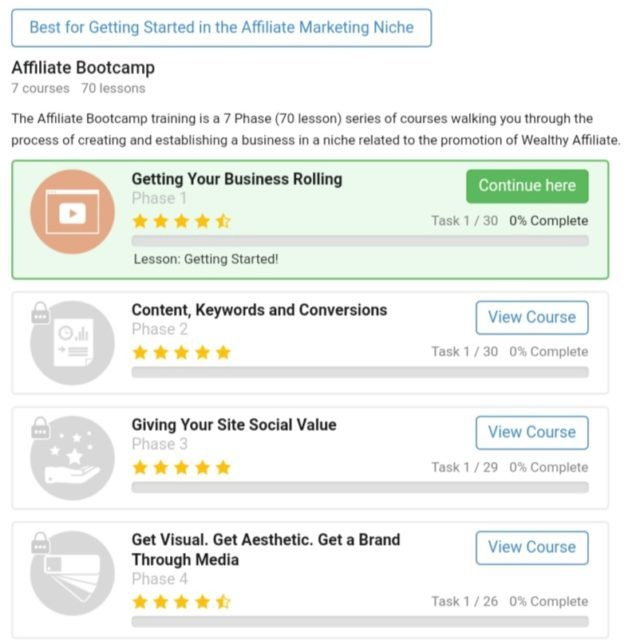 3.8 Win an invitation to a four-day super affiliate conference in Las Vegas
When you reach 300 premium referrals within one calendar year, Kyle and Carson, the founders of Wealthy Affiliate, will invite you to a four-day super affiliate conference in Las Vegas, all expenses paid.
3.9 Don't spend a dime before you decide is it the right thing for you
With your free account, you're actually going to get the training, you can build two websites so you'll actually get good training before you even publish a website on your own domain. They're also gonna walk you through how to set up your first website. So you get to actually build out the websites and everything before you decide to go with Wealthy Affiliate.
3.10 Save lots of money by becoming a premium member
With their premium plan which is $49 per month, you get to host up to 10 websites total. Most hosting providers are charging 30$ or 40$ to host 10 sites.
If you look from that angle you're just paying for the hosting and get all the free training, thousands, and thousands of hours of personal training. I believe it is definitely worth it. Premium membership will cost you just 1.63$ per day so it's really cheap, and you'll get the first month of premium for only 19$.
#4. Wealthy Affiliate Pricing Plans
Now that I've shown you the Wealthy Affiliate features is time to talk about pricing. In the table below you can have an overview of their pricing plans. Of course you can start with a free membership (Starter plan) but as soon as you progress your training you may get a paid plan.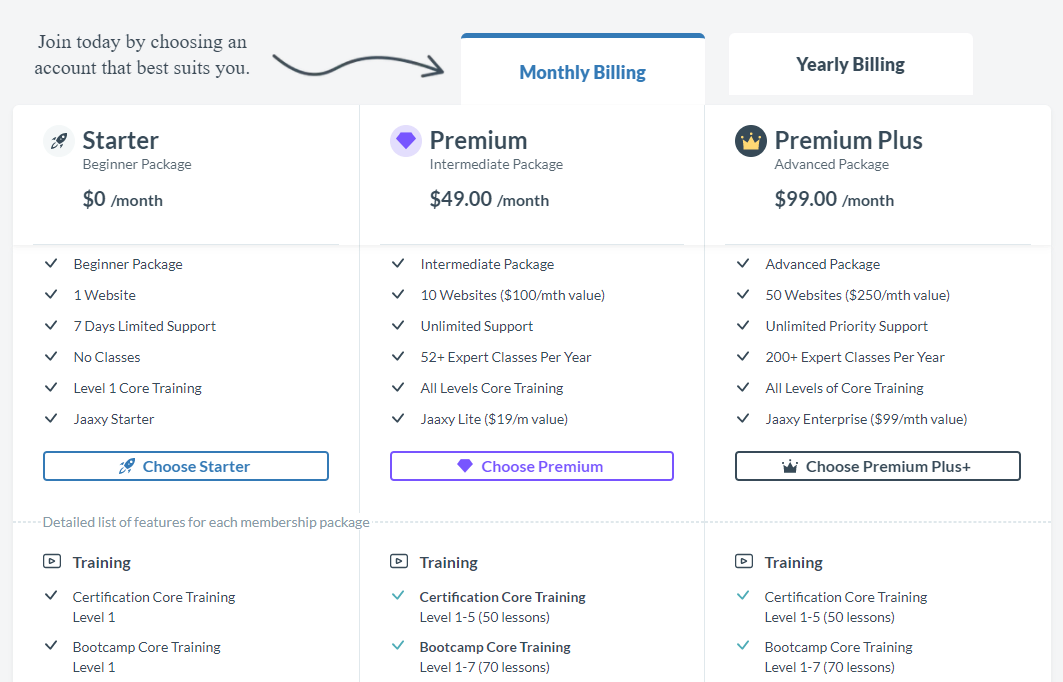 The prices listed in this table are for the monthly memberships. If you decide to get yearly membership you get a discount of $93 for the Premium plan ($495 instead of $588) and a $193 discount for the Premium Plus plan ($995 instead of $1188).

#5. Wealthy Affiliate PROs and CONs
Wealthy Affiliate PROs
Free forever plan without payment information.
Best easy to follow courses for beginners in the industry.
Lots of new video courses made by experienced members for all stages of your online business.
The platform that's been around since 2004 and the training inside of this platform is really good and up-to-date.
They provide you with pretty much every tool you need to build your blog
You don't have to be a premium member to start earning commissions by promoting Wealthy Affiliate.
24/7 support.
Wealthy Affiliate CONs
If you sign-up with the expectation of earning from day one, you will be disappointed.
If you don't enjoy being social and interacting with strangers, the WA community can appear to be hyperactive
Wealthy Affiliate's training lacks the sophistication of advanced digital marketing courses.
You can run a free website on their servers for 6 months and then it gets deleted if you don't become a premium member.
#6. Wealthy Affiliate Features
6.1 Online entrepreneurship certification
The learning process is very "gamified", as in, everything is made to give you a sense of accomplishment you would get from beating a video game level. By doing certain "tasks", you progress through each course and then move on to the next. An important thing to note here is that you cannot fail these courses.
They are designed to give you some basic knowledge and encourage you to stay a member of Wealthy Affiliate, not beat you over the head with a compendium of knowledge that you need to absorb within a time limit.
6.2 Affiliates Community
Wealthy Affiliate has a very activate and vibrant community. There are many people posting questions and some helpful people that try to answer those questions.
However, since there are so many people that are just beginners you sometimes run into a case of the blind leading the blind. So if you are asking questions in the community make sure that you take advice from people that know what they are talking
6.3 Site Rubix – Wealthy Affiliate's Hosting Solution
Wealthy Affiliate Site Rubix is a good option for beginners looking to get their feet wet. So the Rubix ecosystem gives you the confidence to launch a website and guides you step by step. However, if you are more technically inclined or if having more control over your property is important to you. I would recommend starting a website outside of the Wealthy Affiliate ecosystem.
However, for most beginners, Rubix is a great option as part of your membership includes website hosting. That's right, you don't have to worry about signing up with another hosting company as website hosting is free with Wealthy Affiliate.
6.4 Market Research Tools
Research plays a crucial role in every stage of a business. Jaaxy, a keyword research tool developed by WA founders Kyle and Carson, is integrated with the platform.
While Jaaxy Pro costs $49 per month, a limited version called Jaaxy Lite is included for free in your WA membership; a helpful bonus for any affiliate marketing venture. It works pretty much like any keyword tool where you have to enter your primary/seed keywords. Jaaxy returns a list of the most relevant and popular keywords in your niche, along with metrics like search volume, competition, etc.
#7. Wealthy Affiliate FAQ
Is Wealthy Affiliate legit? Or is it a SCAM?
Wealthy Affiliate simply promises to give you a base of tools and training to help get you started with your affiliate marketing business. Keep in mind that's up to you to put in the time and effort to be successful. However much of the core training affiliate marketing training material hasn't been updated since 2015. Also, they are offering no refunds on premium plans.
This being said I would not call Wealthy Affiliate a SCAM as they are offering a FREE plan with enough information to see if the program is right for you. But is neither a get rich without work miraculous program.
Is Wealthy Affiliate a pyramid scheme? Is it MLM?
Wealthy Affiliate has a generous affiliate scheme that pays even double the number of commissions if you have a premium plan subscription. But you're not forced to recruit in order to get the training or to make money. Wealthy Affiliate is a program that offers training, hosting, research materials and access to a community which are real products. So Wealthy Affiliate is neither a pyramid scheme nor an MLM.
Is Wealthy Affiliate worth it?
In my opinion, if you're new to the affiliate marketing the Wealthy Affiliate training is worthy. Also, the community and the help you are getting are helpful. But for other tools like web hosting, keyword research, you should go with more advanced options as things evolved since WA started.
Conclusion
In my opinion, it's one of the very few legit programs out there that actually teach you how to build a sustainable online business. And compared to almost every other course out there, it's completely free to start and see for yourself if this is the right thing for you.
I did go to the website, and I did sign up for a free membership to see for myself what this website is really about. And I was actually surprised to see that their website looks quite legit compared to other websites I saw.
There's no video playing with some guy talking about how they can make you rich in 30 days. They say that Wealthy Affiliate is a platform for affiliate marketers of all levels. And when you browse a bit further, you get a good idea about what Wealthy Affiliate really is.
What you get with Wealthy Affiliate is a step-by-step training and a community that will keep you focused on one business that has longterm potential to make you a full-time income online. It doesn't matter if you want to make money by creating a blog, by promoting Wealthy Affiliate, or by doing both.
What I say is just sign up for the free account, take the free training you have nothing to lose. If you think it's crap then like I said no harm and no foul. So go ahead and get your free membership right now.