Did you know there are many paid survey websites online, but not all are as trustworthy as you think? We have picked 21 of the best paying survey sites where you can start to make money from home or even on the go.
In this complete guide on paying survey sites, we show you the top survey websites that pay in 2022 and beyond, how you can make the most, best practices for making money with survey websites, and the signs of a scam survey website.
Plenty of work to do, so let's a better start.
Top 23 Best Paying Survey Sites
This guide breaks down which platforms you can get paid for online surveys, which ones pay cash, give freebies, or payout in vouchers.
We examine which platforms genuinely allow you to generate a good income and help you make over $1,000 per month with minimal effort.
Paid Survey sites differ in the frequency of surveys, so make sure you sign-up to every survey site listed to maximize your potential profits.
1. FreeCash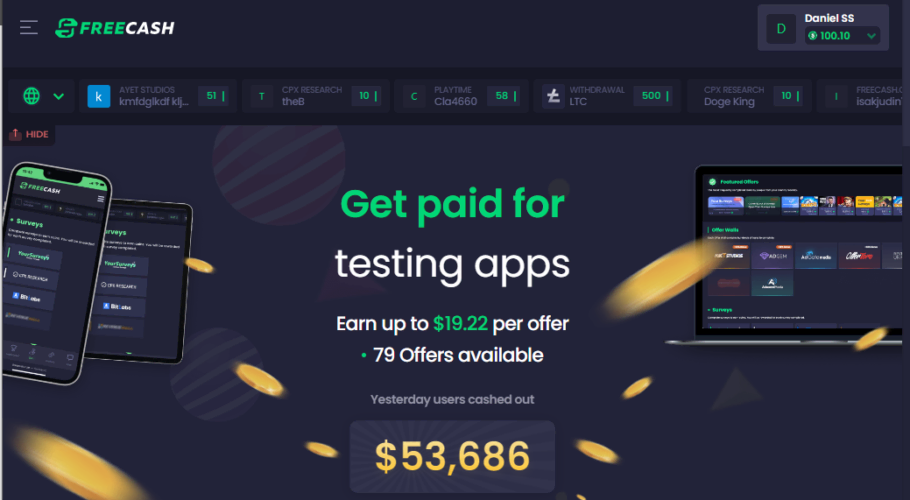 Signup on FreeCash
Freecash is a great GPT site to join if you want to earn points for Roblox gift cards. It offers many different ways to earn, such as paid surveys, paid offers, watching videos, and more.
You can quickly reach the payout threshold for Roblox codes as it is only $5, and once you request a payout, you get it very fast (usually within a maximum of a few hours).
You can also take your earnings as PayPal cash, CS:GO skins, cryptocurrencies, or gift cards. And if you join through the link below, you will immediately get a 100 points bonus into your account.
I like FreeCash because they offer many earning opportunities, and you can multiply your earnings with offers, bonuses, and competitions. Also, they accept members from around the world, which is awesome as everyone has a chance to earn.
We like Prize Rebel because it allows you to make money doing surveys and its convenience of withdrawing the rewards through multiple options.

Signup on FreeCash
2. PrizeRebel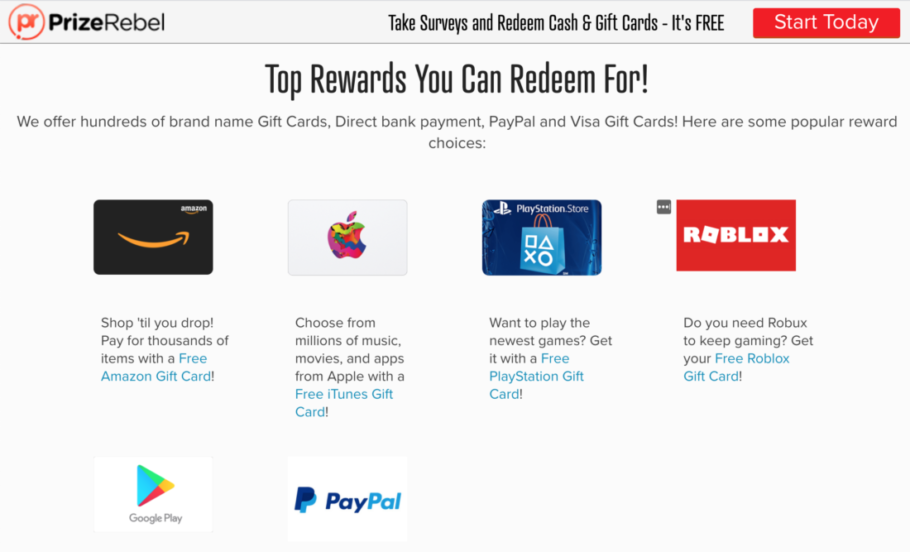 PrizeRebel is THE second-best survey site, in my opinion. Since its debut in 2007, PrizeRebel has paid more than $19 million to its 9 million members. I have had many positive experiences with them over the years, made over $2000, and paid within 24 hours.
Signup on PrizeRebel
You can earn up to 100 points for each particular task you perform, after which you exchange these points for cash rewards. Here, every 100 points are equivalent to $1, and you need a minimum of 500 points ($5) to redeem cash and 200 points ($2) for gift cards. They can pay you via PayPal, Amazon, gift cards, BitCoin, or direct to your bank account.
I like PrizeRebel because they offer many quick-hit surveys so that you can quickly earn a fair chunk of change. PrizeRebel has a unique program that awards members based on the level of earnings.
We like Prize Rebel because it allows you to make money doing surveys and its convenience of withdrawing the rewards through multiple options.

Signup on PrizeRebel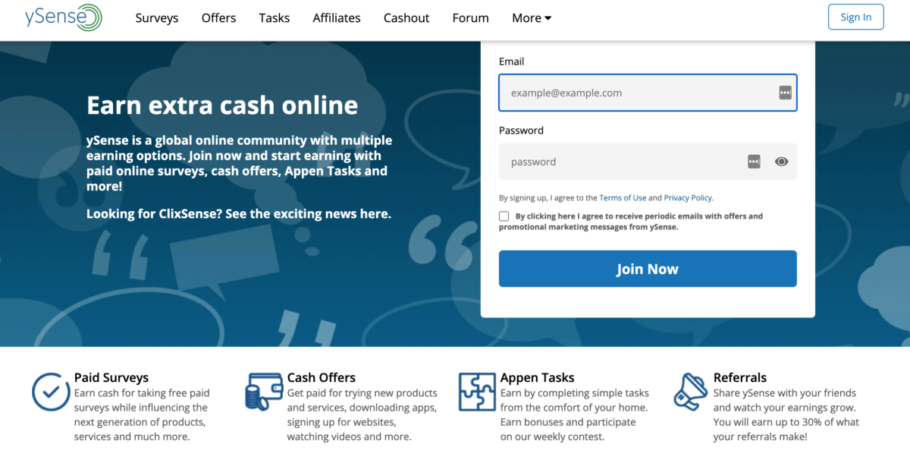 ySense is a rewards panel that went by the name of ClixSense from 2007 through 2019. One awesome thing is that ySense and its parent company Prodege, LLC, are accredited with Better Business Bureau and hold a ritzy-glitzy A+ rating as of this writing.
They also have an active forum where members can share their experiences and discuss various topics.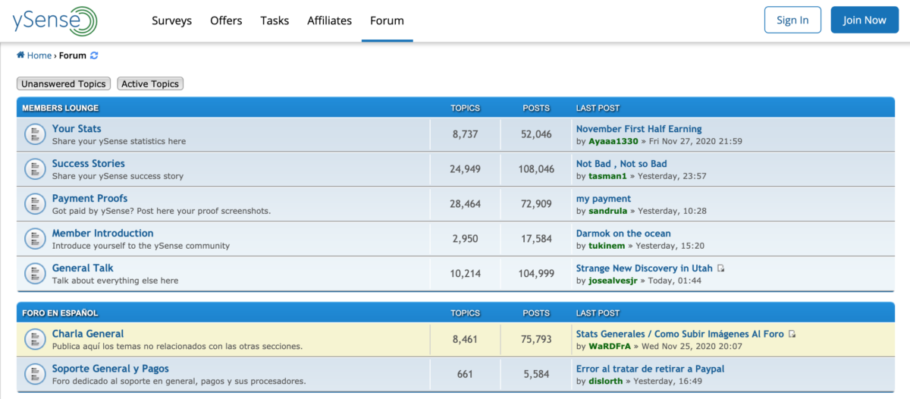 If you decide to give ySense a try, make sure to install their Chrome extension. It will save you tons of time sending alerts whenever a new survey, offer or task is available.
The ySense paying survey website is better than most others because it isn't too challenging to earn a couple of dozen bucks or more monthly. However, if you're outside the US, you may have fewer surveys and tasks available – even none at all!

Signup on ySense
4. Inbox Dollars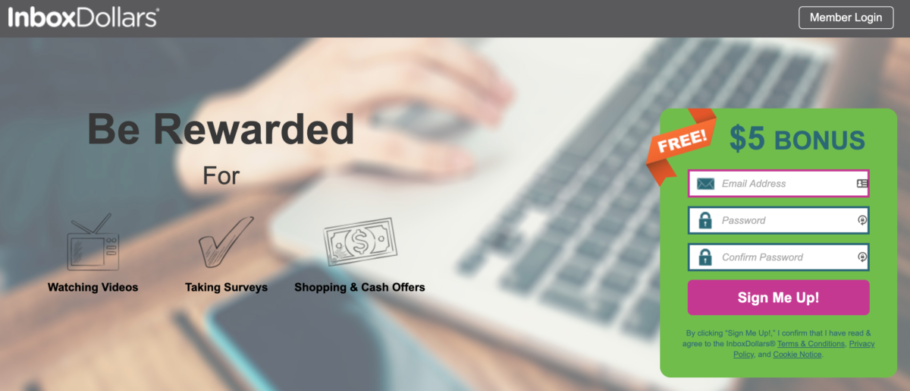 Inbox Dollars has been running its service for almost 20 years now, and it was even featured on Good Morning America as one of the best work-from-home opportunities. InboxDollars has given out nearly $58 million to its users since launching in 2000.
Signup on Inbox Dollars
Although they commonly get lumped together with paid online "survey" sites, InboxDollars has many more earning options like watching videos, using discount codes upon checkout, reading emails, signing up for memberships, and the list goes on!
InboxDollars has a payout threshold of $30 and usually takes a minimum of 10-16 working days to cash out. Once you've withdrawn for the first time, you get to enjoy the perks of being a "Gold Member" and reduce your waiting time to just nine days!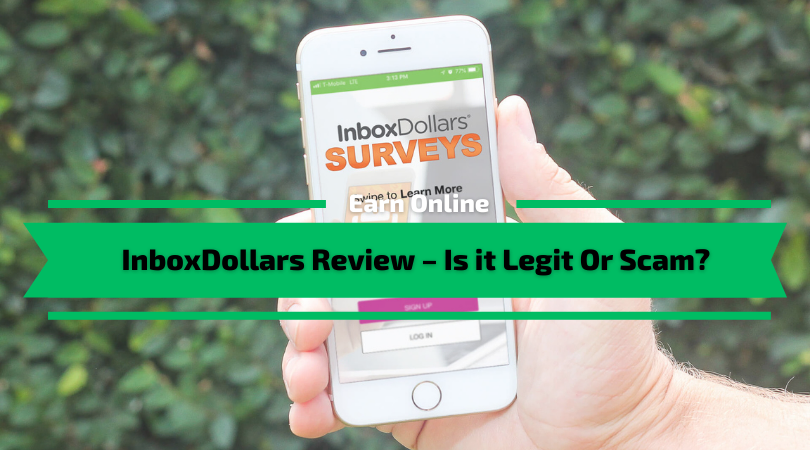 Here is our detailed InboxDollars review. Also, I've listed InboxDollars as one of the best ways to make money with survey websites in our huge list of websites and apps that pay to refer your friends. Did I mention that InboxDollars gives you $5 straight away upon signup? Register now to secure it.

Signup on Inbox Dollars
5. Paidview Point
PaidViewPoint is a long-established website that pays you for answering surveys. It is not one of the best paying survey websites, yet I liked that PaidViewpoint is so upfront that you will not earn much money using their site.
One thing that makes PaidViewpoint stand apart is that you can use it without confirming your name or mailing address.
Their parent company – Umongous, LLC. – has received a respectable B- rating from the Better Business Bureau. PaidViewpoint is also part of Ask Your Target Market (AYTM), which appears to be one of the most respected market research platforms online, having worked with Samsung, Nike, and NBC.
Two types of surveys earn money: traits and market research surveys.
Traits surveys generally pay between $0.03 and $0.10, but more importantly, they help build your TraitScore.
Market research surveys are surveys ordered by clients of PaidViewpoint who are trying to understand more about your demographic, your buying habits, etc. Each market research survey is different, but most take less than 5 minutes to complete and pay between $0.25 and $1.50.
The PaidViewPoint referral program is a great way to earn some extra money. You earn cash making 20% of everything your referrals earn, up to $25 per referral.
Signup on PaidViewPoint
6. SurveyTime.io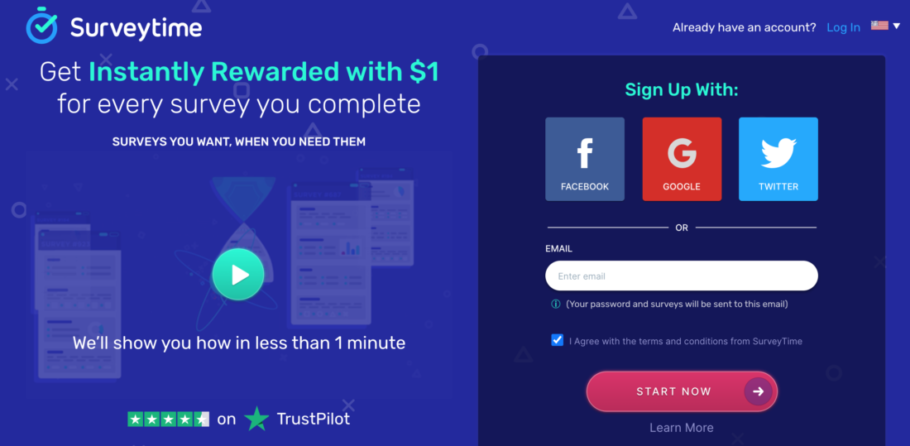 Persona.ly, a global mobile ad-tech company that works with the largest market research companies globally, launched SurveyTime.io. It is the only survey panel that offers users instant paid surveys with truly instant rewards.
Every time you complete a survey, you will receive an instant $1 reward (from the available rewards options), sent immediately to your PayPal account or another payment method you choose. That's one of the best features. You don't have to raise points, wait to meet the withdrawal limit, convert the points to cash, and then wait patiently for the payment to reach your account.

SurveyTime.io Payment Proof:
We recently got a new payment from Persona.ly, the company that administrates SurveyTime.io. Here is the payment proof:

Watch below a SurveyTime review and a tutorial on how to signup and get paid by this survey website:
SurveyTime is a legitimate survey site and is not a scam. Although some users experience varying levels of success, depending on their location and profile.
Signup on SurveyTime.io
7. Swagbucks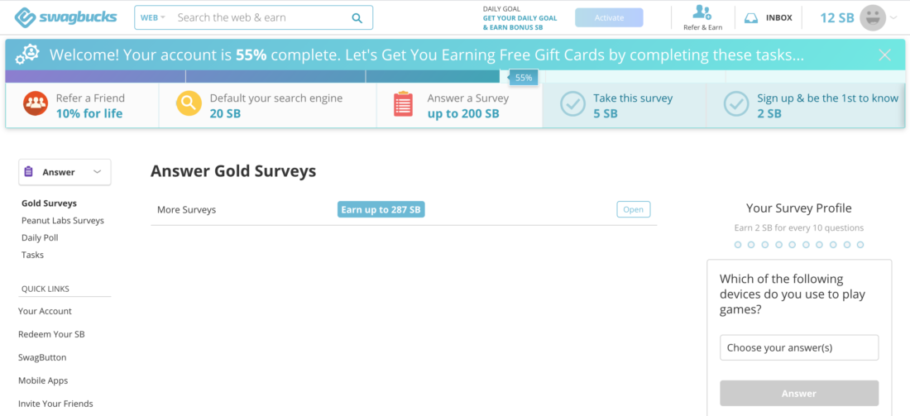 Swagbucks
is owned and operated by Prodege, LLC. It has an A rating with the Better Business Bureau (BBB) and has been in business for almost 15 years. Swagbucks gives you the 
most
 opportunities to earn money. Surveys and Polls are the backbones of this site.
Signup on Swagbucks
With over one hundred million dollars paid out and counting, Swagbucks dwarfs most of the competition. You can earn rewards by completing a plethora of tasks, including but not limited to watching movies, completing surveys, or shopping online. They also offer exclusive discounts for other online vendors simply by signing up.
The best thing about Swagbucks is that you will earn rewards for doing things you already did online. Consistently marked as one of the best survey sites by multiple outlets, Swag bucks is a must for any serious online survey taker.

Signup on Swagbucks
8. Survey Junkie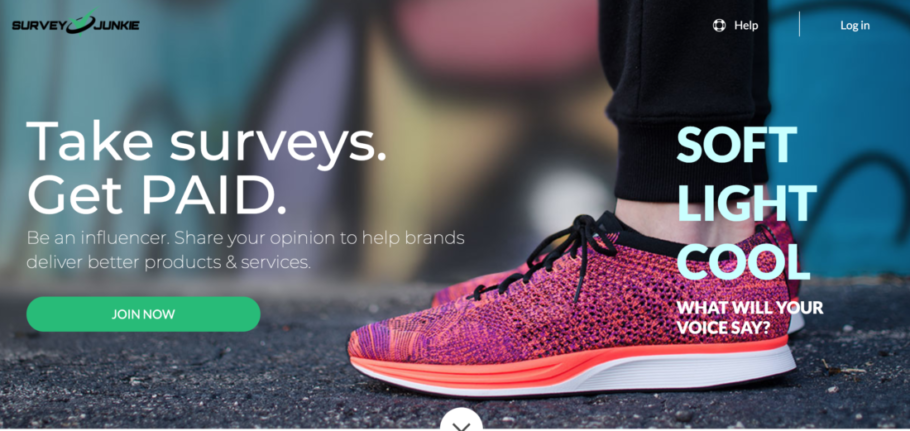 Survey Junkie is another leader in the survey industry, with a BBB rating of B. The company has been in business since 2011 and serves more than 10 million members. Survey Junkiepay their earnings in the form of points. Every 100 points equal $1 earned, and it takes a minimum of 1,000 points (or $10) to cash out via PayPal or with e-gift cards.
With over one hundred million dollars paid out and counting, Swagbucks dwarfs most of the competition. You can earn rewards by completing a plethora of tasks, including but not limited to watching movies, completing surveys, or doing shopping online. Survey Junkie offers exclusive discounts for other online vendors simply by signing up.
Signup on Survey Junkie
9. Branded Surveys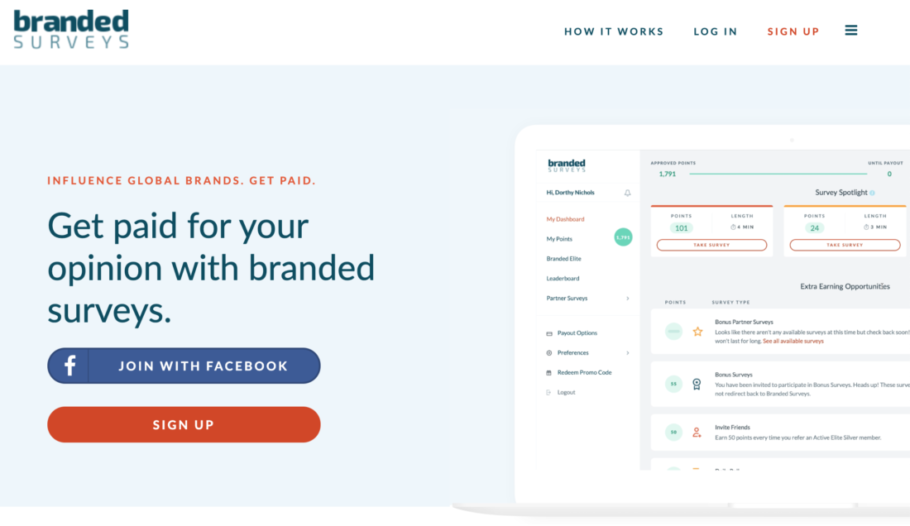 Branded Research owns branded Surveys, has been conducting market research since 2012. When you register as a new member, you'll earn 50 points, and another 50 points will be credited to your account after filling out your profile (a $1 sign-up bonus total).
Branded Surveys is based in California, USA, and several professional market research organizations, including the MRA. Branded Surveys require patience, as you're likely only to earn up to $4 a day. It could contribute to a decent side gig when paired with other survey platforms.
Signup on Branded Surveys
10. Survey Savvy [Join Survey Savvy]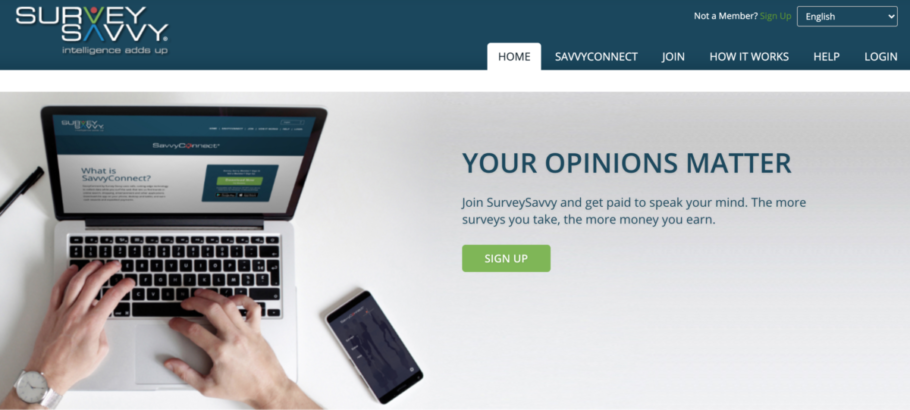 SurveySavvy is part of Luth Research and is a large market research company, so you know they're not going anywhere anytime soon! The site has been around for over 20 years, with millions of members worldwide.
SurveySavvy does not offer PayPal as a payment option, and they don't offer gift cards either. They only offer payment through checks that will mail them to you.
You'll never have to worry about your stream of surveys drying out. SurveySavvy is extremely frequent with their stuff – and compensation isn't half as bad either. Expect $2 surveys on the regular here. They will also pay you for every friend you refer to the site and an additional $1 or $2 every time your referrals complete a survey, as well as the $0.5 to $1 you earn for referrals.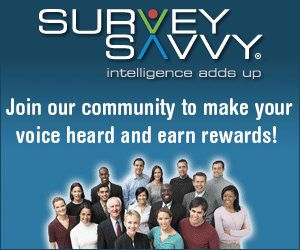 Signup on Survey Savvy
11. Univox Community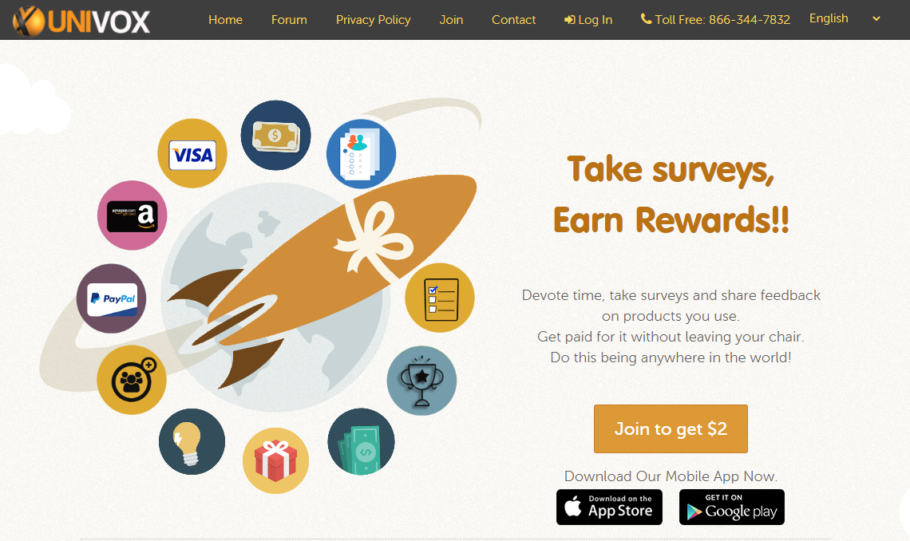 Univox is the most yellow of the survey sites. But it's also one of the most fun to use. Everything feels a little more game-like.
This community site is owned by a market research company called Market Cube. This company was established in 2009, and Market Cube has a lot going for it! They also do online panel development and technology research to help companies.
The surveys on Univox Surveys range from just one short minute to over an hour. Beyond surveys, you can also earn rewards by joining discussions, polls, and other activities on the site. Be aware that not every action on the site will award you, as some are just for fun.
Univox Community is a legitimate website that has paid millions of members for doing surveys on their site for years. If you decide to use Univox, be sure to keep your profile as accurate as possible to limit these issues from affecting how much you can make while doing surveys.
Signup on Univox Community
12. Toluna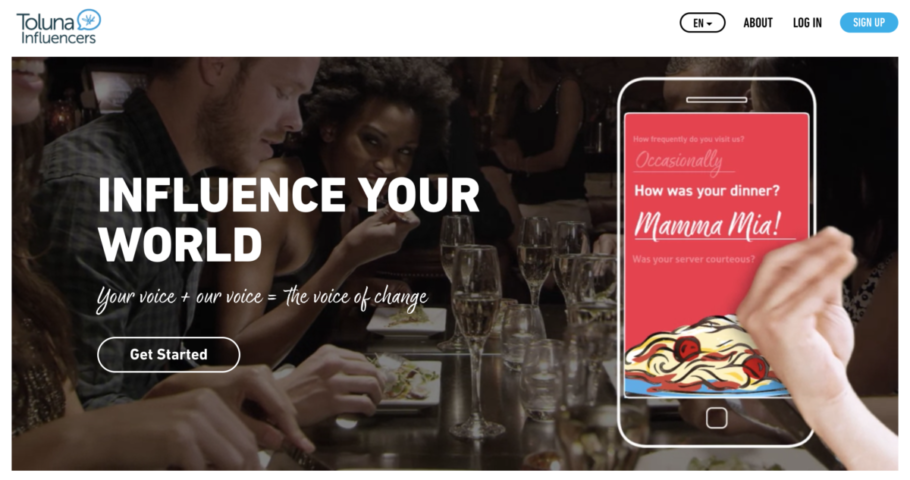 Toluna is a leading market research company that provides real-time digital consumer insights. Toluna aims to provide deep insights and help businesses worldwide solve problems and make informed decisions. Share opinions by answering surveys, and inspire change in real-time.
Many people can be skeptical about websites paying for completing surveys; however, Toluna is 100% free of charge. Not paying a dime allows people to sate their curiosity and explore the platform in complete safety and without any outlay.
Toluna Influencers won't make you rich, and this goes for all surveys, but you can give it a try to make some money.
Signup on Toluna
13. LifePoints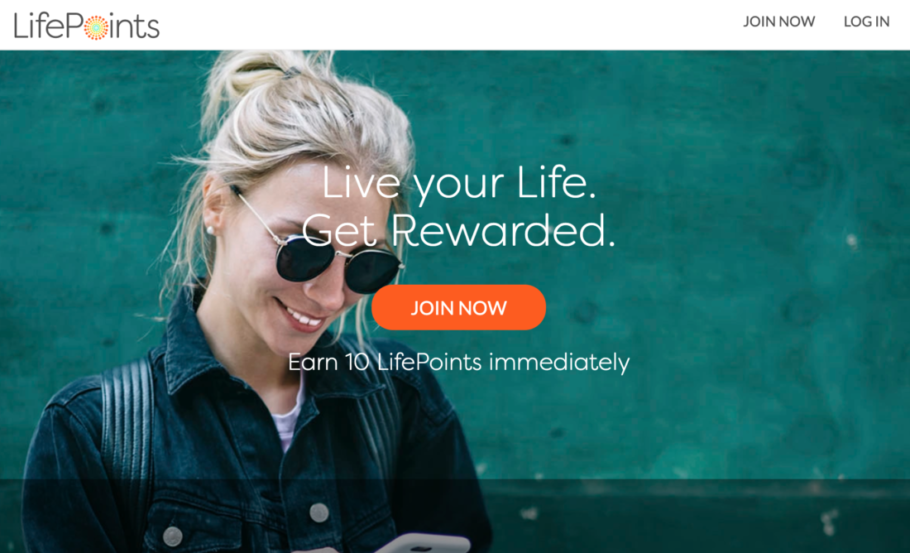 LifePoints is an online survey site and community of like-minded people who want to share their views and opinions to earn rewards and influence future decisions made by the big brands we know and see daily.
LifePoints is run by Lightspeed, ranked as the world's largest custom research and analysis provider, operating across 70 countries. The company conducted its very first research study in…1946!
Beginning in early 2019, Lightspeed shut down MySurvey and GlobalTestMarket in most countries and merged those members into LifePoints. LifePoints rewards its members monthly on social media with prizes such as PlayStation 4, Apple Watch, Xbox, Amazon voucher, Amazon Echo & Alexa devices, Smart TVs, and more.
LifePoints is a legitimate and trustworthy panel. Regarding profitability, there isn't a single survey panel that would make you rich. Some of them still try to make it worth your while. Judging by all the information I could get, LifePoints is not one of them. Or at least, not yet.
Signup on Life Points
14. MyPoints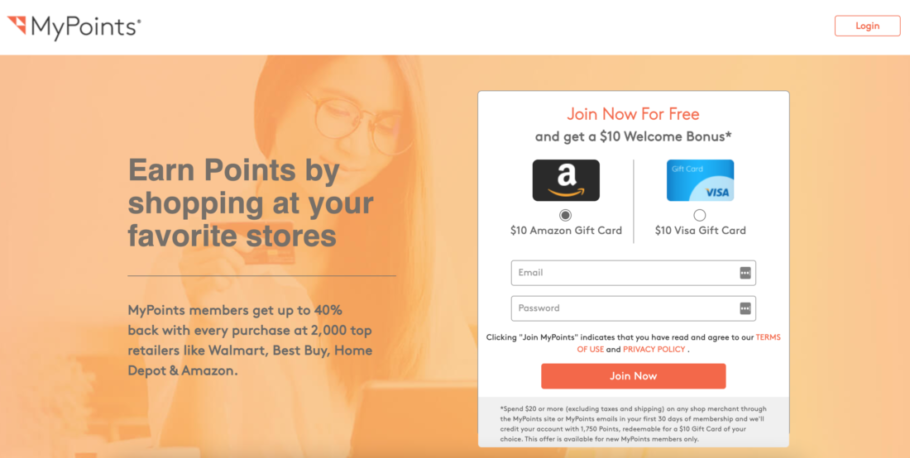 MyPoints is primarily an online shopping and rewards service. But it also allows users to increase their earnings by taking paid surveys. You can sign up for an account to access all the promotional options, including shopping rewards, surveys, watching videos, or redeeming coupons.
Founded in 1996, MyPoints has helped over 9 million members earn points and rewards at 2,000 top retailers.
The site works on a points system, and you can earn points on surveys you don't qualify for. There's also a $10 signup bonus.
MyPoints.com is a good website for making money by paying surveys. Granted, there are a few issues like not being eligible for all surveys and caps on the number of points you can earn per day in specific categories.
But even with these drawbacks, MyPoints still came out looking good. There are several ways to earn points, the redemption policy is flexible and customer-centric, and you can redeem your rewards points in various ways.
Signup on MyPoints.com
15. Vindale Research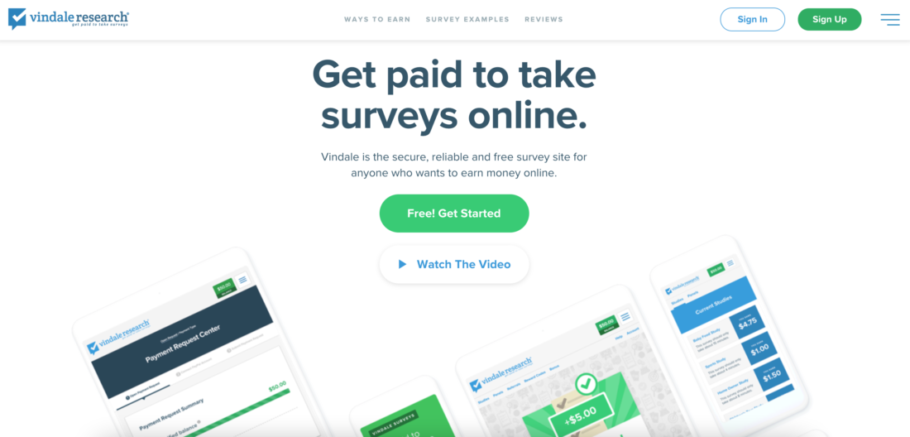 Vindale Research is a legitimate company with a 4 out of 5 rating on Trustpilot and thousands of positive user reviews. Since it began in 2005, they've paid their members close to $8 million and have partnered with global brands like Disney and Netflix.
You can take a paid survey on any device and get paid for other activities like watching videos and making referrals. The site also sets itself apart by offering quick payments via PayPal and hundreds of daily survey opportunities.
Here is a summary of the pros and cons I found when using Vindale Research.
Vindale Research will pay you money for referring your friends and family. It'll pay you $5 for every friend you get to sign up for as long as they earn at least $1 in completing surveys.
Signup on Vindale Research
16. Pinecone Research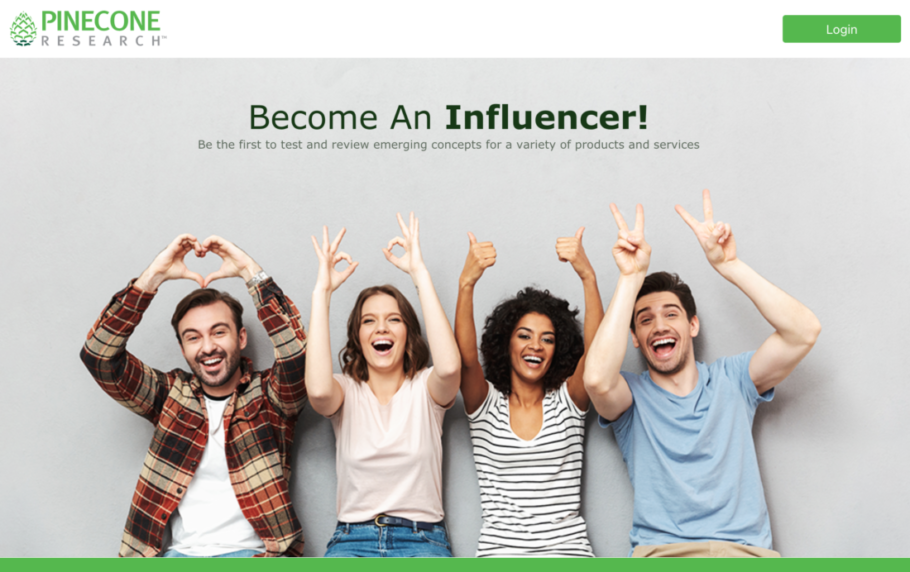 The Pinecone Research website is one of the older players in the survey game and has been a long-time leader. Pinecone Research Review should be at the top of your list if you're looking for an easy way to earn some extra cash by reviewing products.
Pinecone Research is backed by Nielsen, a leading market research company with an A+ rating on the Better Business Bureau (BBB).
Overall, Pinecone Research is a great way to earn extra money online. The surveys and product tests are simple to complete. Most can be done for several minutes, making them ideal if you have a busy schedule.
Here is a video review of Pinecone Research if you're more into videos rather than reading:
17. Tellwut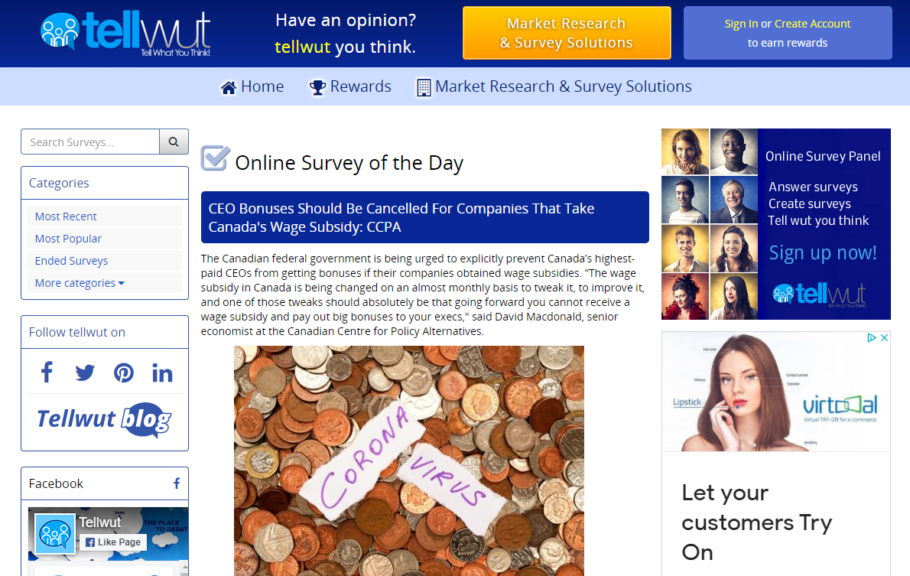 Tellwut is a paying survey website open to residents of Canada and the USA only. It has been operating since 2010, and the panel grows every day and boasts 750,000+ members. The members participate in surveys and social media activities, earning rewards.
You can get gift cards in denominations of $10, $15, $25 for retailers including Amazon, Home Depot, Subway, Sephora, Walmart, Bed Bath and Beyond, Target, CVS, Starbucks, Dunkin' Donuts, Domino's, Game Stop, Amazon gift certificates are available in different denominations of $50, $100, and $250.
A bonus of being a registered member also consists of its fantastic daily rewards giveaway of 10,000 points a day. That's like earning a clean $10/day if you qualify! Tellwut lets you decide pretty early on the types of rewards you'd prefer to receive and tailors all of their surveys to help you achieve your goal in the shortest amount of time.
You will receive 100 points just for signing up and another 200 points when you provide your profile information. Interestingly, Tellwut has a referral program, and you will receive 25 points for each friend you refer.
Tellwut is a safe and legit paying survey website. Signup to earn gift cards and connect with other survey takers. If the community aspect of the website appeals to you, you will enjoy being a member.
Signup on Tellwut
18. i-Say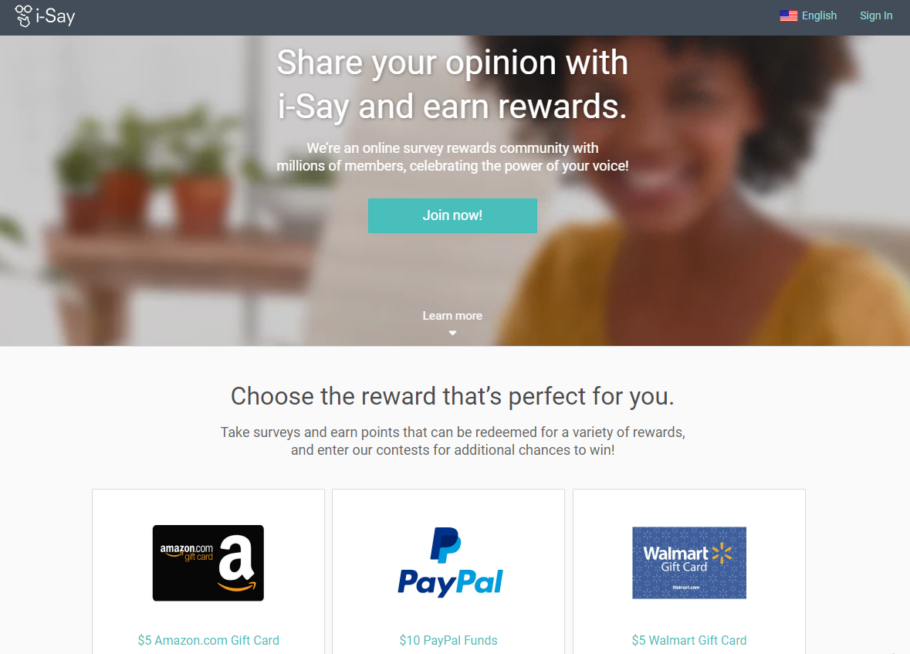 Ipsos i-Say is a survey site run by Ipsos, one of the world's largest market research firms online. This company has its headquarters in Paris, France, and they are present in 88 countries where they employ more than 16,000 people. The i-Say website is pretty straightforward; you take surveys and get paid in points, which you can redeem for various gift cards and prizes.
You can earn money or rewards in the following ways using Ipsos I-say: surveys, the loyalty program, polls, draws (which are held every four months, and ten lucky members receive 5000 points) and through their referral program.
Once you have accumulated 500 points or more, you can redeem them for various rewards, including PayPal cash, Amazon gift cards, Starbucks eGift Cards, Tim Horton's cards, iTunes, Virtual Visa Prepaid cards, and other popular gifts cards. One hundred i-Say points are generally equivalent to $1, except for PayPal funds.
There is a mobile app for Ipsos i-Say, but you must be invited to a specific mobile app survey. This makes no sense, but the good thing is that the regular website is mobile-ready and displays well on mobile browsers.
Here is a recent in-depth review of i-Say done by a Youtuber:
Signup on i-Say
19. Opinion Outpost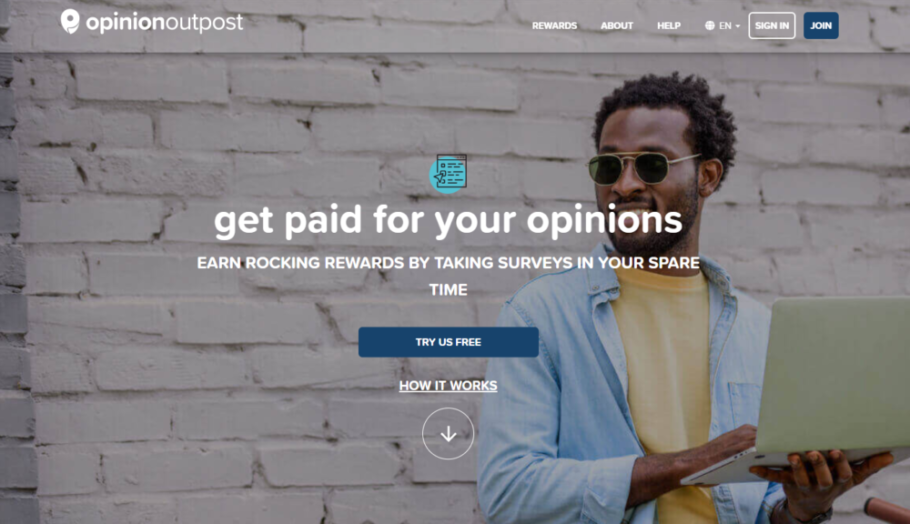 Opinion Outpost is an online survey panel owned and operated by the global sampling and survey company Dynata (formerly Survey Sampling International). Opinion Outpost's and Dynanta's headquarters are based in Connecticut, United States.
Users can choose to take up as many surveys as they like (subject to qualifications criteria of specific surveys) and move at their own pace (flexible hours dictated by the users themselves). The emphasis is on working from home – at the convenience of its users.
At OpinionOutpost.com (US site version), you'll need a US ZIP code and address to verify your account. I expect the same if you're using another country-specific Opinion Outpost site. So make sure you sign up via the right site for your country.
Opinion Outpost's referral program will award you $1.00 every time you refer a friend using your custom link, and they complete at least one survey. Earn up to $5.00 in total. Find the "refer a friend" tab when you log into your account to grab your custom referral link to share with friends or extended family members.
Signup on Opinion Outpost (US)
20. Reward Survey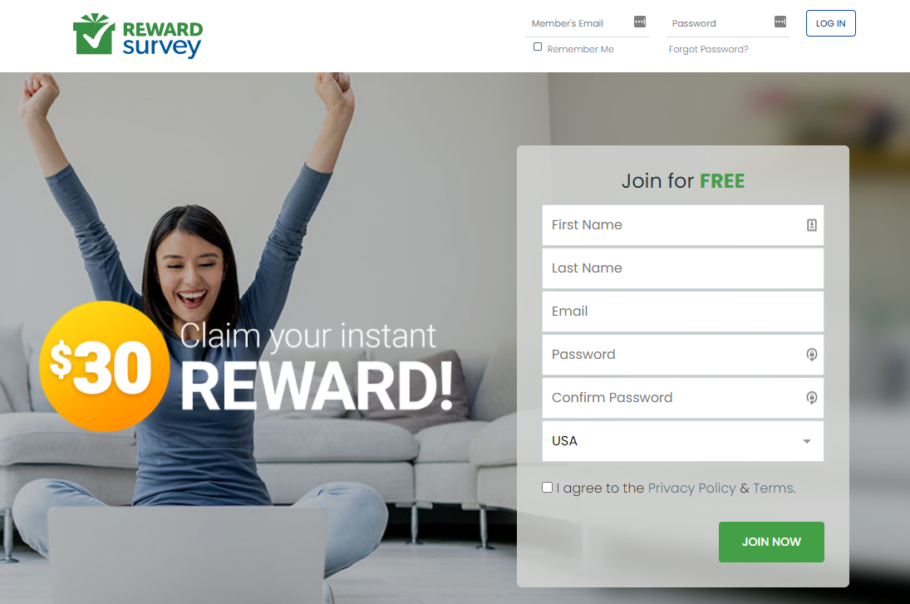 RewardSurvey has been around since 2012 and has a B rating with the BBB. According to their website, RewardSurvey sent members more than 100 million dollars in rewards to the members.
You can receive more than 45 magazine subscriptions as a reward for filling surveys at the moment of writing. To name some of them: Cosmopolita (digital edition, Elle, Parents, People, Food & Wine, Time, Bloomberg Businessweek, etc. Magazines can take 4-6 weeks to arrive, depending on the publication dates.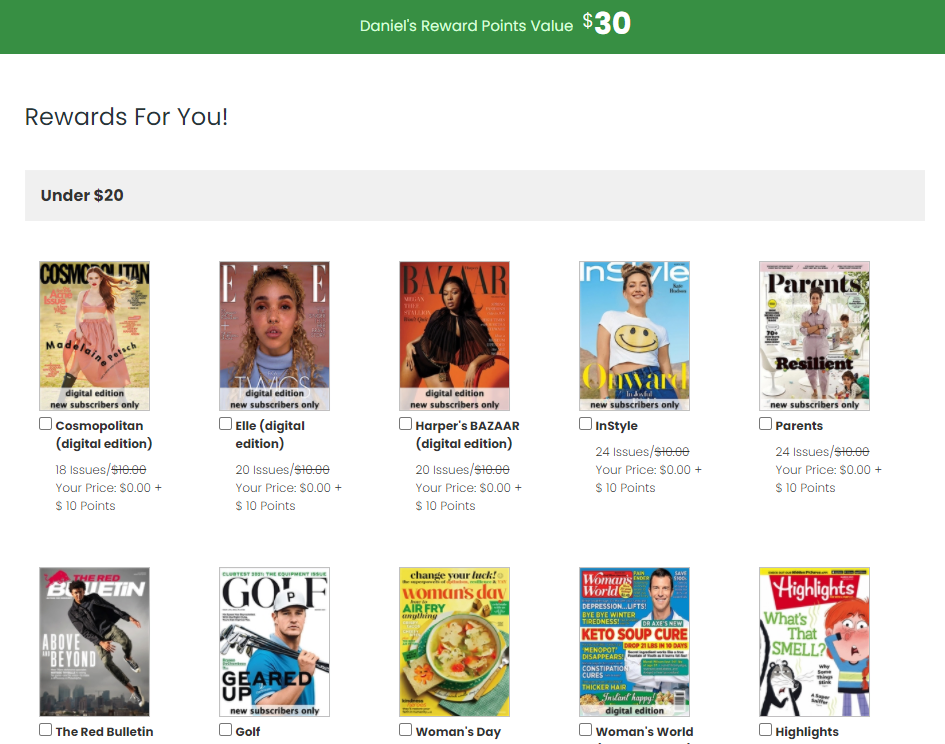 If you enjoy reading magazines, this could be an excellent way to access subscriptions with a little of your time and a 99-cent processing fee.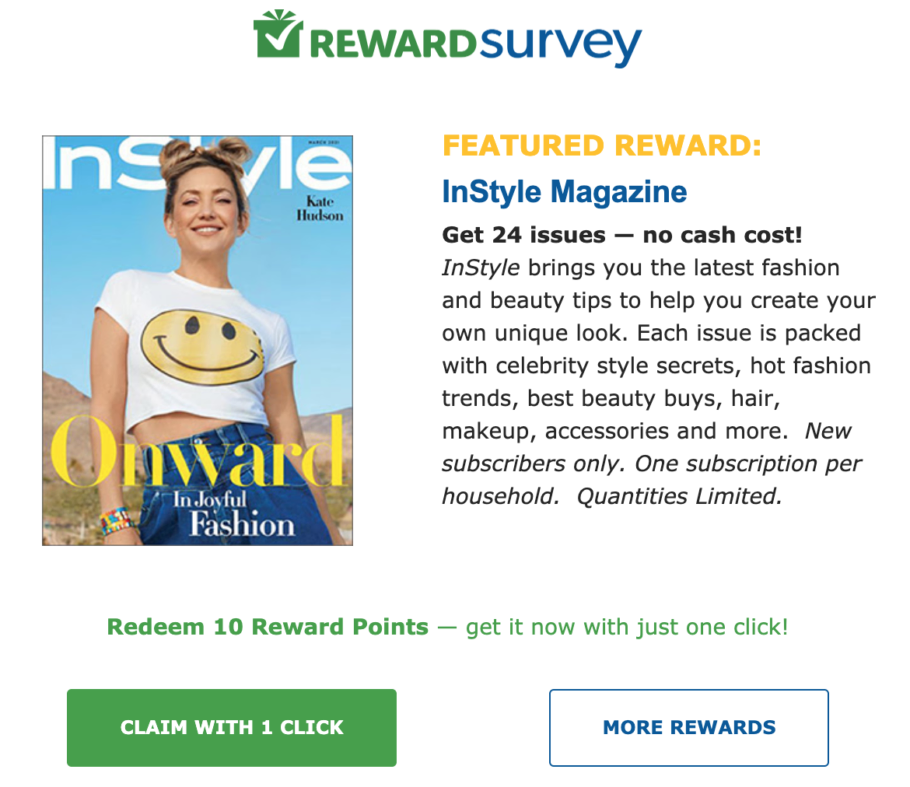 Signup on Reward Survey
21. Panda Research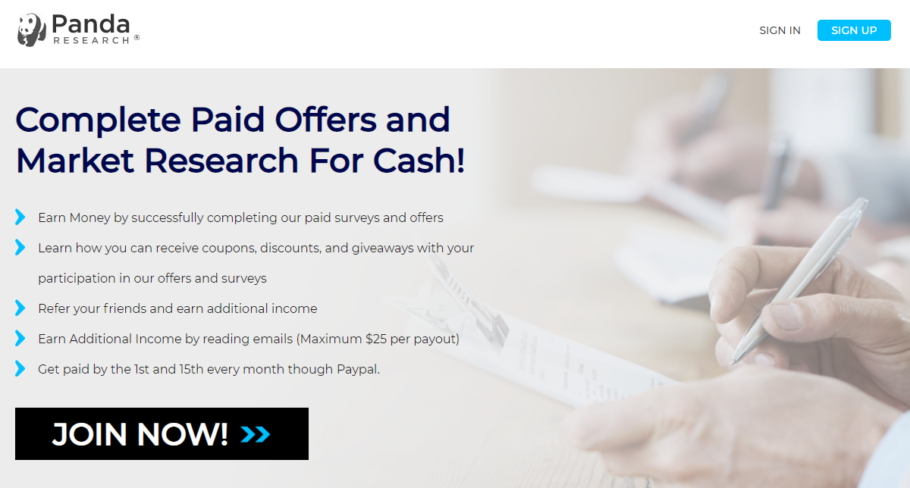 Since 2005, when Panda Research's market research service started, this survey website has paid its members swiftly. Signup and get relevant surveys and other promotional opportunities sent right to you via email. The platform is available only for United States residents and lets you earn additional money by completing tasks like reading emails and referring friends. In addition to the actual payments, members can also access coupons, discounts, and giveaways.
They are offering $3 just for filling the welcome survey. One particular thing about Panda Research is that you will have to call their support department before receiving your first payment and speak with their verification department to verify your information and payment request.
The Panda Research referral program is a great way to earn some extra money. You earn cash making 10% of everything your referrals earn, excluding earnings from paid emails. If your friend gets $25 from offers, $15 from surveys, and $10 from paid emails and then cashes out his first $50, you'll earn $4 when he cashes out (10% of his $40 earnings from surveys and offers).
Signup on Panda Research (US)
22. Prolific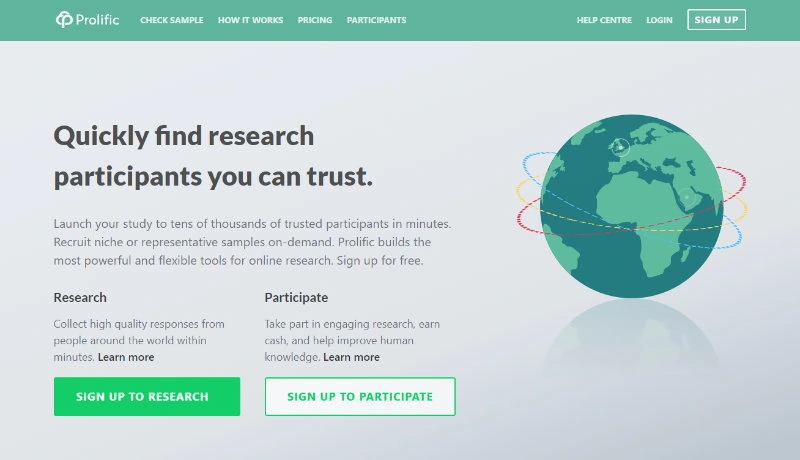 Prolific is a legit paying survey site with some of the highest paying surveys. What makes it unique for the participants is the wide range of studies available, a minimum payment of $6.50/hour, and no annoying screeners! Also, you need to be 18 years old to participate and from one of the 34 countries, they approved till now.
The business is registered as the company Prolific Academic Ltd and it was founded by Ekaterina Damer (CEO) and Phelim Bradley (CTO). The company now has 20+ employees. Currently Prolific has over 70,000 participants and more than 3,000 researchers.
Prolific works similarly to other survey sites in that you sign up, fill out your demographics in the About you section and then receive and complete studies and surveys.
After completing a study, the researcher who created it needs to approve your answers before you receive payment. This typically takes a few days but, in some cases, can take up to 22 days.
Once you have $5 of approved earnings in your account, you can cash out via PayPal.
This user on the Prolific Reddit earned over £100 in a couple of months, and this user earned £1,000 in 16 months (that's around £62.50/month or £15.62 a week).
Prolific has had a referral program that rewarded members to bring new people to take surveys but they cancel it in 2019. So you will be paid only if you can bring people that order surveys.
Signup on Prolific
23. PointClub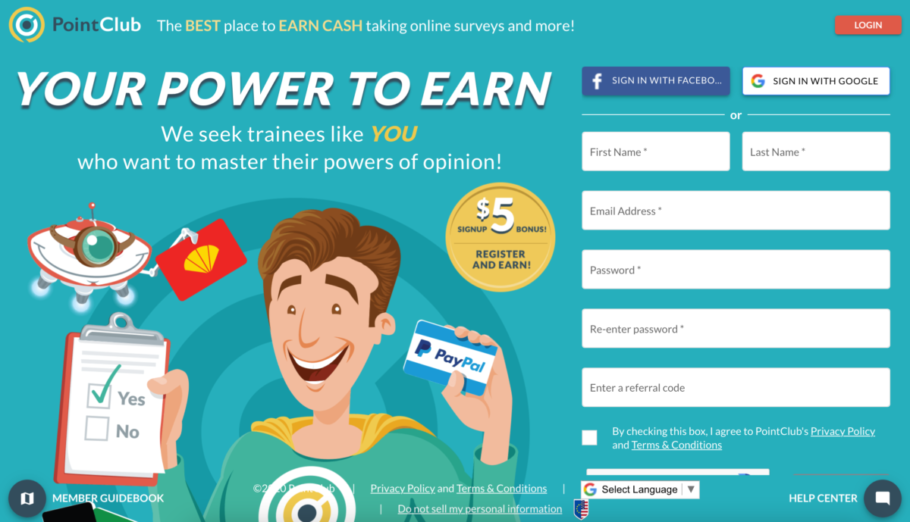 Last but certainly not least, PointClub is the latest addition to our list of best-paying survey websites – and they're already one of our favorites.
PointClub launched in 2012 and is run by Innovate MR, an independently-owned market research firm with more than 3,500,000 panelists and over 10,000,000 survey completions to date. Founded by research industry pioneers, Innovate has a solid commitment to quality and transparency.
PointClub lets you decide pretty early on the types of rewards you'd prefer receiving and tailors all of their surveys to help you achieve your goal in the shortest amount of time. A bonus of being a registered member also consists of its fantastic daily rewards giveaway of 10,000 points a day. That's like earning a clean $10/day if you qualify!
PointClub offers a Referral Zone where members can earn additional points by inviting friends to join the community. Limited to members and referrals in the USA, earn 10% of your referral's points. Refer 20 or more members to achieve Brand Ambassador status and receive a 20% of your referral's earnings credited to your account.
All PointClub rewards are received 72 hours from withdrawal. You can take a look at all of their customer testimonials right here.
Here is a recent in-depth review of PointClub done by a Youtuber:
Signup on Point Club
Honorable mentions: [24] American Consumer Opinion, [25] One Opinion, Surveys on the Go, iPoll.
Best Practice for Making Money With Surveys Websites
Even if a survey site is trustworthy, there are still precautions you should take.
Paid Surveys Websites – Scam and Legit Websites
Like most online money-making opportunities, paid survey website world is not free of scams. For these 23 best-paying survey websites, we did all the research for you.
Sure Signs of a Scam Paid Survey Website
Although the sites on our list are trustworthy, you can't trust every site that claims to pay you to take surveys. Avoid survey sites if they:
Paying Survey Websites DOS and DON'Ts
In summary, if you're really serious about making money taking surveys, here are some dos and don'ts:
Best Paying Survey Sites FAQ
Conclusion
So you reach the end of our complete guide on the best survey sites that pay well in 2022. Now you know how a survey website works, how much you can make, the best practices to make money with survey websites, and how to stay away from survey scams.
The bottom line is that paying survey websites wouldn't make you rich, but it can take you anywhere between a couple of bucks to two hundred dollars each month. On top of that, you can make more if you refer your friends. Can make even more if you get into paying survey affiliate programs and drive in more people.
Suppose you want more money and have the will to invest hard work and time. I recommend starting a business. We have 42+ business ideas you can begin in 2022 with almost no money.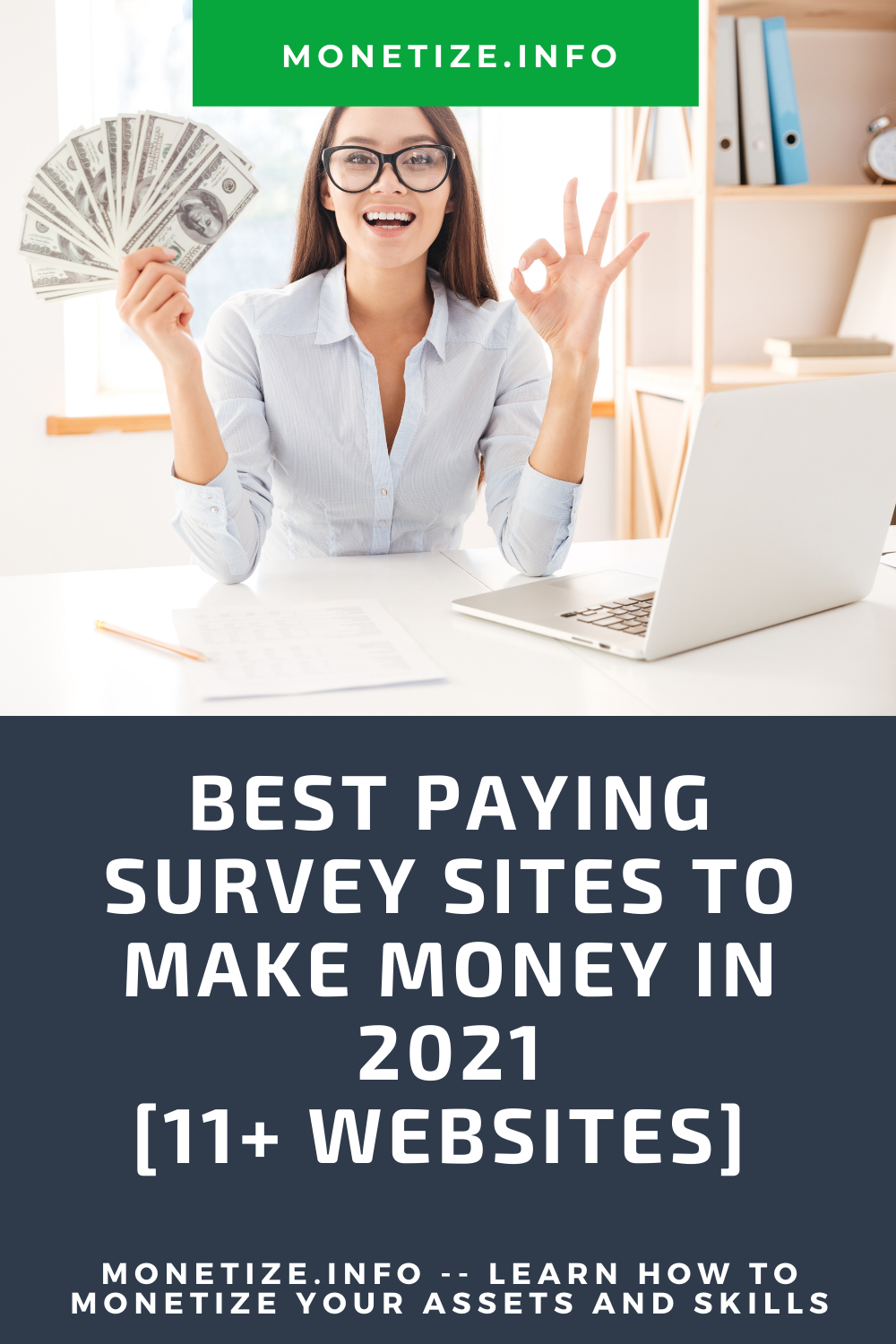 What about you?
What experience do you have with survey sites? Are you making enough money? Do you think we should add more paying survey sites to the top?
Let us know in the comments form.