In the following BestChange review I'm going to show you a service that has the potential to save you from losing hundreds, even thousands of dollars in exchange fees. Besides that, you will learn how to protect yourself from being scammed when you deal with cryptocurrency exchanges.
Read on to find out what BestChange is, its features, the PROs, and CONs, how an exchangers monitor can help you, and how to use it for maximum benefits.
On top of that, I will show you the BestChange affiliate program and how you can make money by promoting it to your audience.
There is a lot of work, so we better start.
1. What is BestChange.com
BestChange.com is a trusty cryptocurrency and digital currency exchange fee monitor that started in 2007 and has evolved since then. In short, using BestChange.com, you will be able to get the best rate on an exchange from a cryptocurrency or digital currency to fiat money or vice versa.
Think, for instance, that you want to exchange some funds from Bitcoin to cash or buy Bitcoin with a credit card. This is done by monitoring 24/7 almost 250 exchangers and 180K exchange rates.
On top of that, you will be able to read reviews, see the balance of all the exchangers or the one that speaks your language or is in a geographical location closer to you.
Besides that, you will be able to rate exchangers, set notifications for available balances, or view statistics about any particular exchanger.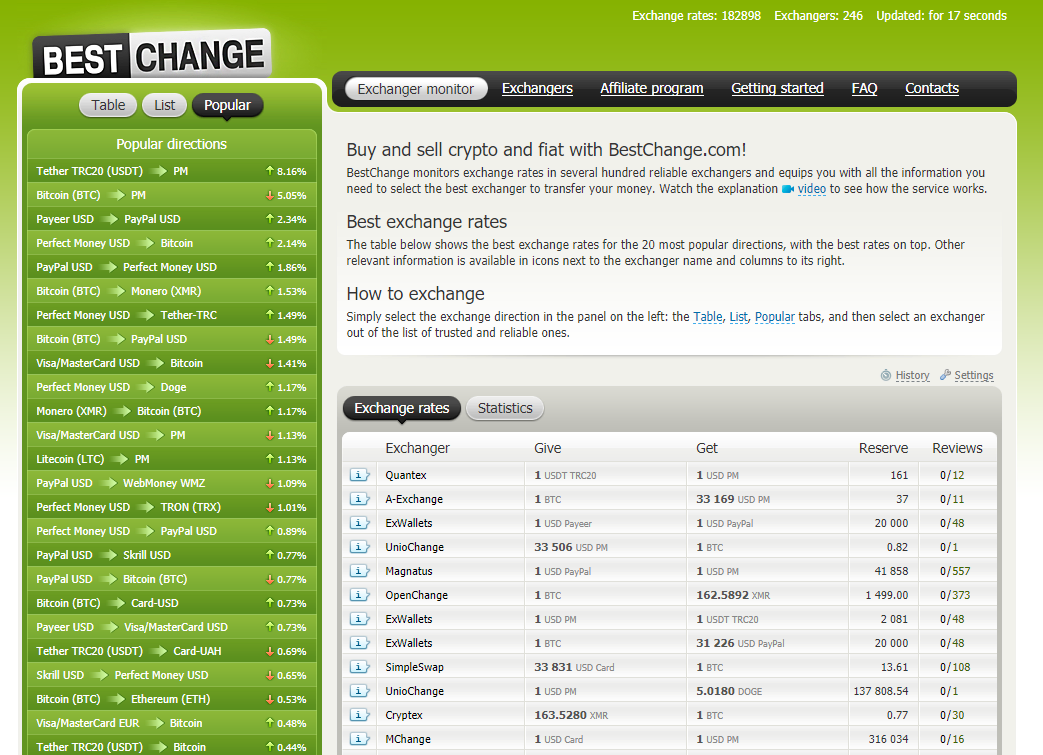 Don't look to make any exchange at the moment? You can make money by joining their affiliate program and sending traffic to BestChange or visit the faucet page to earn some free satoshi.
Check BestChange.com
2. How can BestChange help me?
Just as I said at the begging of this review, using an exchange monitor like BestChange.com can help you find the best rate for all your digital money exchanges. On top of that, you can locate the best exchangers for you regarding fees, speed, and security.
You will not check manually 100+ exchangers to find the one that supports the cryptocurrency or currency you are working with and has the best fee.  To give you a practical example, let's say that you would like to purchase Bitcoin with a Visa credit card.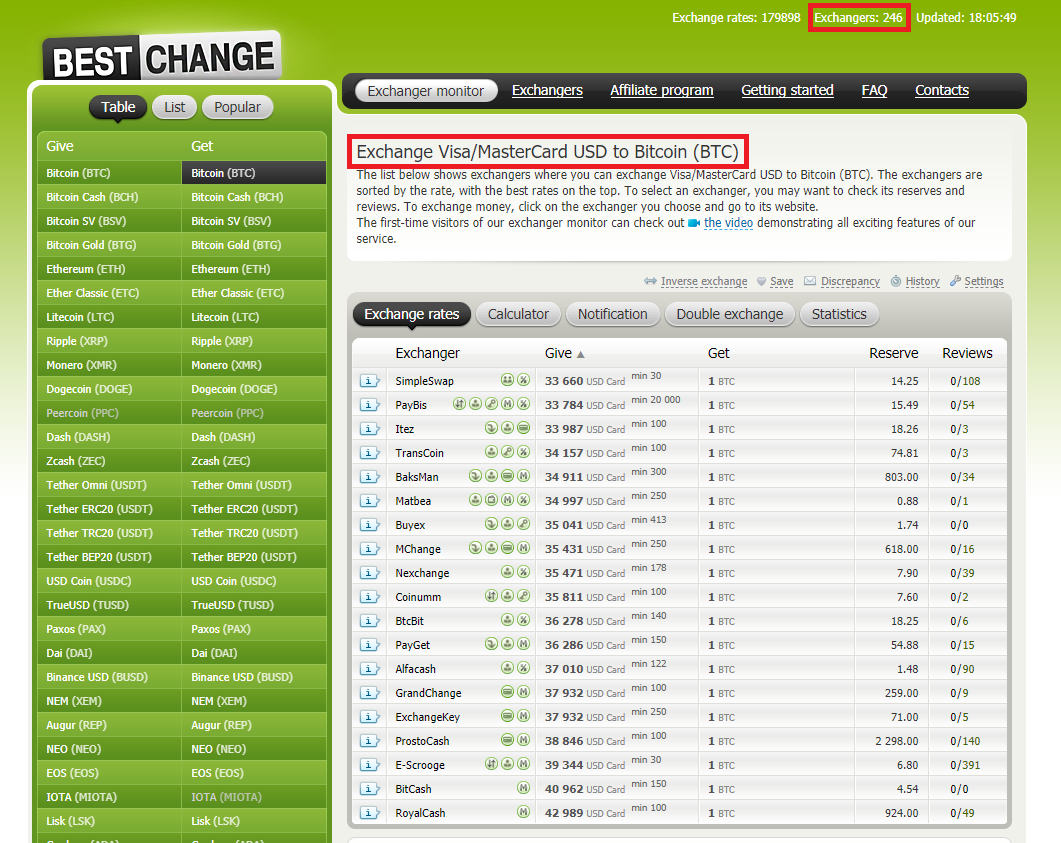 As you could see in the picture above, the rates for one bitcoin are very different, so you may end up paying anywhere from $33660 up to $42989. Besides that, you will read reviews about each exchanger, check the features, the min purchase amount.
3. BestChange Features
Now that you got a bit of the flavor of BestChange, it is time to go more into detail with the functionality of this service because there is way more you can do.
3.1 Find the best exchange rates
The main feature of BestChange is to find the best exchange rates for your desired exchange directions. You can select from 51 cryptocurrencies, 56 currencies, 73 fiat services like credit cards, bank cards, wire transfer, etc., 13 money transfer services like Western Union, Money Gram, and  8 cash currencies. All these can be selected as sources and destinations for your exchanges.
3.2. Exchange calculator
Using the exchange calculator functionality, you will see exactly how much money you will get for your funds on each exchanger. Or how much money you have to send to get a fixed amount of funds in the desired destination currency.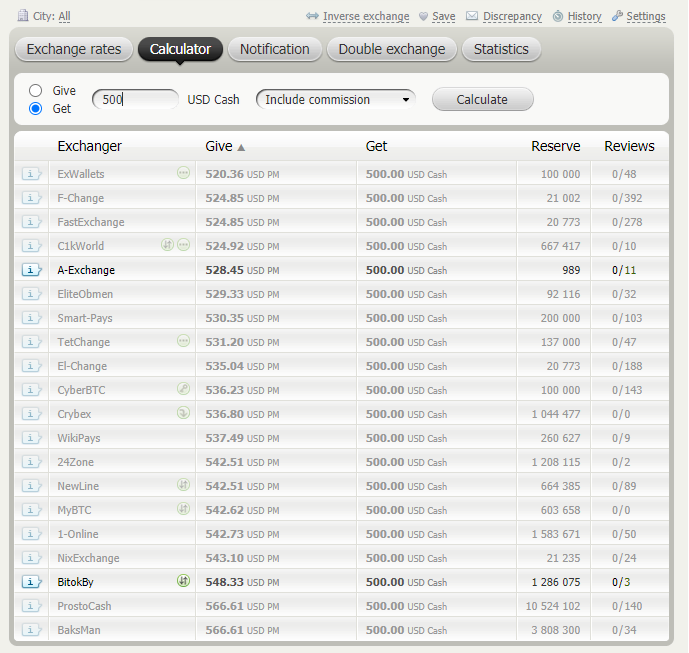 For instance, if you check the picture above, you'll see that to get $500 cash, you will have to spend $520 on the 1st exchange on the list, while on the latest, you will have to spend $542, which translates in almost a 9% exchange fee.
3.3 Notification on the desired rate
Want to exchange only when you get your desired course? You can do it using the Notification functionality.  Set up to receive notifications on Email or Telegram when an exchange at the desired rate is available. This is very useful, especially on cryptocurrencies with high fluctuations, so you can set up notifications to buy at low prices and sell on high.

3.4 Double exchange
Sometimes you will get better rates if you are doing double exchanges. This means you will exchange from a source currency to an intermediary currency and then to your desired destination currency.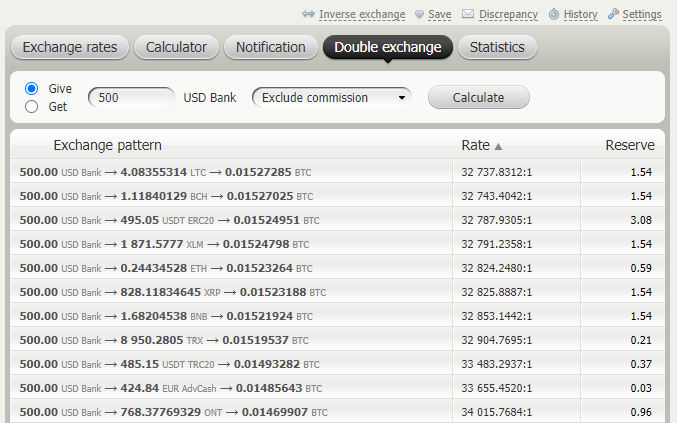 Also, this may work on not-so-popular exchanges that don't work with both the source and destination currencies.
3.5 Rates Statistics
Curious to know how the exchange rate evolved over a period of time for a pair? Now you can see it by going to the Statistics tab for the desired exchange direction.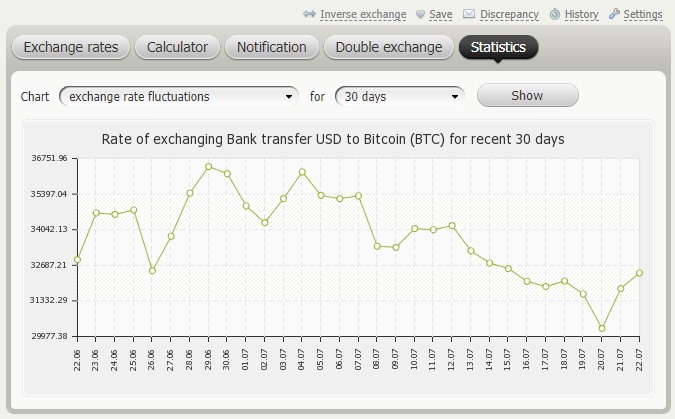 3.6 Exchange monitor
At the moment of writing, BestChange list 246 exchanges along with exchange directions, funds reserves, trust scores from Perfect Money, WebMoney, and Advanced Cash + the number of reviews for each exchange.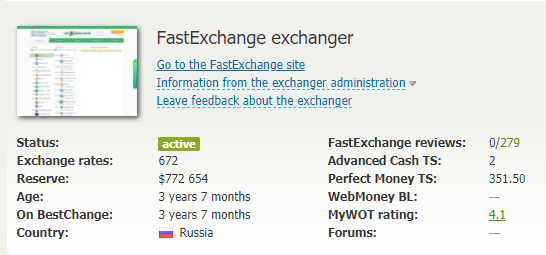 This way, you can find out how reliable and secure the exchange is before doing any transaction with them.
Curios which exchanges people make and which exchange is the most popular one? Go to the statistics tab.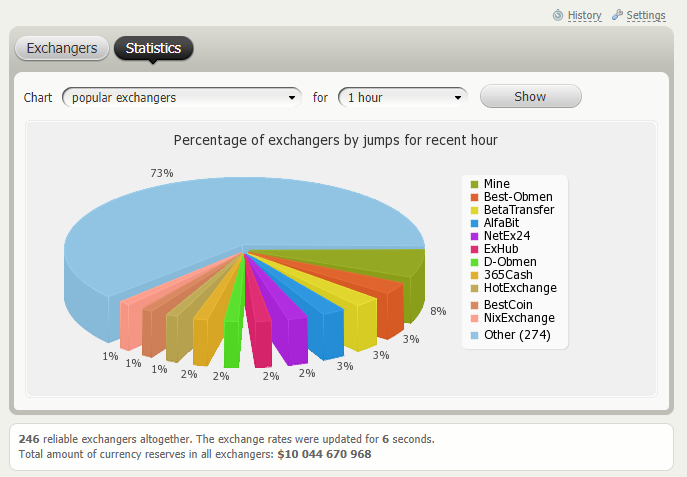 4. PROs and CONs of BestChange
Now that you know the most important functionalities of BestChange look into the PROs and CONs of BestChange.
BestChange PROs
It helps you find the best exchange rates.
Can see the reliability of an exchanger.
You can easily calculate how much money you will get.
You can earn money with the affiliate program and the faucet.
They are adding new currencies and features often.
BestChange CONs
A responsive/mobile design would be nice.
A member area to save notifications and other functionality would be nice.
5. Affiliate program
The BestChange.com exchanger monitor has an affiliate program. After you register as an affiliate, you will get up to $0.65 for each customer you attract to the BestChange.com website.
After the registration, you will get to choose among many promotional materials (texts, banners, scripts, and others), which will make your work as easy as possible. All you will have to do is invite visitors to the BestChange website by publishing promotional materials on your website, blog, forums, question and answer services, and other resources.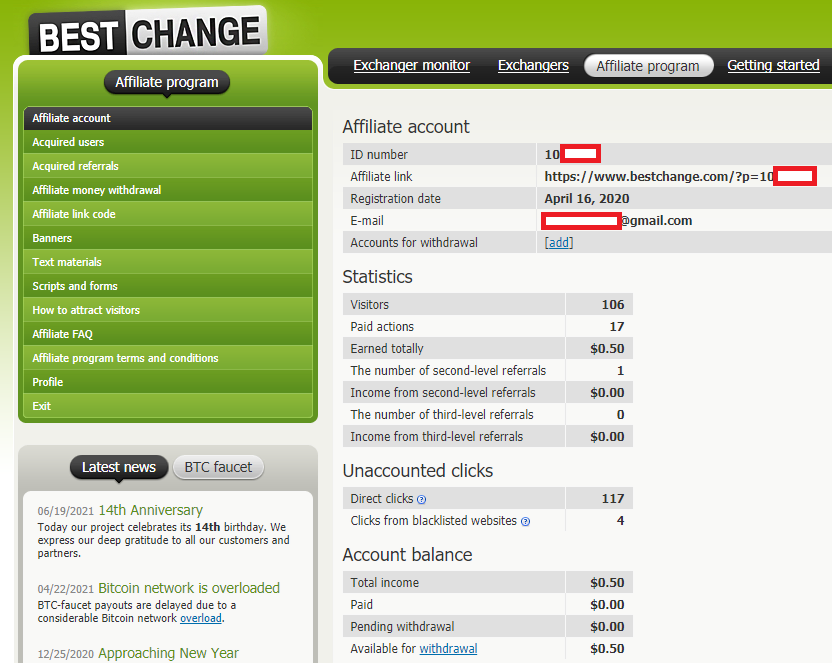 In your affiliate member panel, you will be able to see all the stats regarding the traffic you sent and the money you earned. When your balance reaches $1, you will be able to withdraw the funds to PerfectMoney, WebMoney, Payeer, Bitcoin, or AdvCash.
Check the BestChange affiliate program
One particularity of the BestChange affiliate program is its banner sections. They have designed over 100 awesome banners, both animated and static, which will increase your conversions.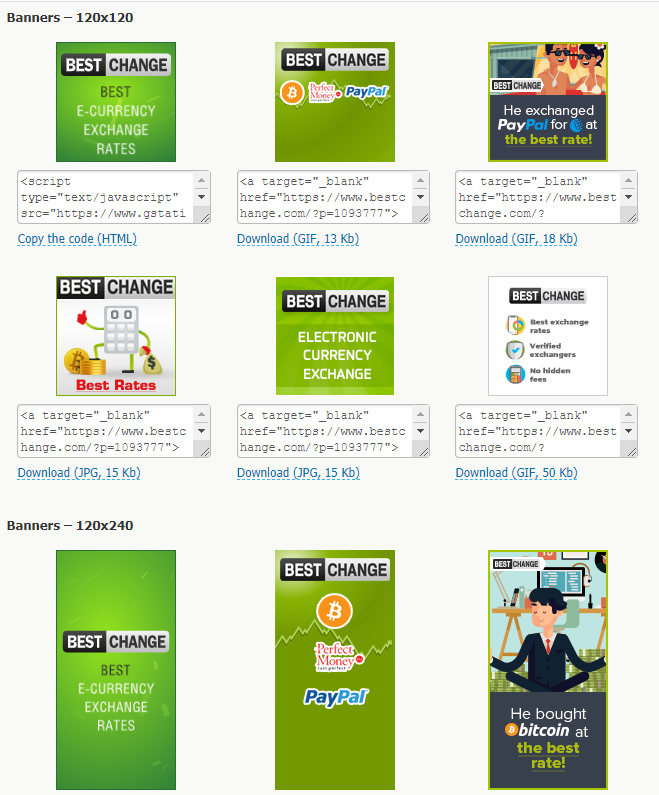 If you are a regular reader of Monetize.info you know that we help people making money with the help of affiliate programs. Are you a novice? Read the following articles that will guide you in your affiliate marketing profitable journey:
6. What others are saying about BestChange
There are many reviews of BestChange.com online on blogs and Youtube. Below you can see one review done by a member on Youtube regarding BestChange and its features:
"Great site, very professional and attentive, I had a problem with my card and had no communication with the exchanger, and support took care of everything, mediated between the exchanger and me. They solved the problem, thank you for your support, for your patience and willingness to solve the problems, blessings for you and your family"
7. BestChange FAQ
What exactly is BestChange.com?
BestChange.com is a free online service for finding electronic money (cryptocurrencies, currencies) exchangers, online banking, and money transfers. There are around 250 exchangers registered at BestChange, and the service receives information about currency exchange rates and commission fees from each of them in real-time. You can compare rates from various exchangers and choose the best among them and select exchangers for a double exchange if the direct exchange between the currencies is unavailable.
BestChange monitors the status of the exchangers, and users can leave feedback about their work, which practically eliminates the risk of fraud. Besides that, the BestChange system has a calculator for calculating the final sum, detailed statistics on changes in the rates for various periods.
Are all exchange services listed on BestChange trustworthy?
Every exchanger present on our website has been thoroughly checked before listing, and the BestChange team constantly monitors the performance of exchangers. This minimizes risks when making financial transactions in exchangers listed in the monitor. Shall an exchanger fail to fulfill its obligations properly, several measures can be taken against it, stimulating an exchanger to solve the issue? The highest level of reliability has those exchangers, next to the names of icons about passing an additional check and having an official legal registration.
How to exchange electronic currency with the best rates using BestChange?
To perform an exchange, you should take the following simple steps:
Choose a currency pair for exchange;
Click the name of the required currencies on the left panel (for example, in the "Give" column, select PayPal, and in the "Get" column select Perfect Money;
After that, you will be transferred to the exchange offer page of the service and can start selecting the most optimal exchanger with the best exchange rate and reserve.
By default, the exchange service table is sorted by the exchange rate profitability, but you can sort it the other way too (for example, by the amount of available reserve, by testimonials, and so on);
Choose an exchange service you feel the most appropriate and make sure this service possesses sufficient currency reserve to carry out this operation.
Take a look at the latest reviews of this exchanger to make sure it has no problems at this time;
Click the line with the name of the interesting exchange service. After that, the home page of this exchange service will be opened in a new window;
Perform the exchange on that website;
Optionally: leave a review of the work of this exchange service on our monitoring.
8. BestChange.com Review Conclusion
Congratulations on making it to the end of our BestChange review. Now you know what BestChange is, how it can help you, its PROs and CONs and how you can save and even make money with it.
Check BestChange.com
What about you? Have you used BestChange before or any other exchange rates monitor? Let us know in the comments form below.