Becoming an affiliate marketer is one of the most lucrative ways to bring extra money online. Unfortunately, many affiliate marketers struggle to create an effective strategy for their business. All these 30 affiliate marketing books will put you in the right direction. And I bet there are some in here you've never heard of before!
You will learn how to choose the right affiliate program, drive traffic to your affiliate site, craft unique business ideas, and take your affiliate marketing website to the next level. 
Before getting started, here are my top seven affiliate marketing books you should read if you want to scale your business and revenue.
I've split the best 30 affiliate marketing books into five distinct categories. The first 12 books in our list give you specific affiliate marketing guidance. In contrast, the other four categories are specific yet essential for your success: SEO & Digital Marketing, Analytics and Measuring, Conversion Rate Optimization, and Working & Inspiration.
You don't have to read them all to succeed (unless you want to be an affiliate marketing guru 🙂 ). Instead, check their presentations, see where you need help, and purchase the one that helps you.
As an affiliate marketer, you should always be learning new ways to generate affiliate marketing commissions, so bookmark this post.
So let's dive in.
Here the top 30 affiliate marketing books are presented to know the perfect books to buy and read for remarkable growth.
Btw, if you happen to know one book that you like that's missing from here, let me know in the comments, and I'll gladly check it and add it here!
Best 30 Affiliate Marketing Books
1. "Affiliate Marketing 2021 Edition" by Robert Kasey
This affiliate marketing book is the ultimate guide to having a good amount of money while working within your home.
It is beneficial for newbies as it helps them learn everything about affiliate marketing how they can use the business to secure a better life for themselves.
Kasey uncovers different concepts such as what affiliate marketing is all about, how it works, how to start it, how you can maximize profits, how you can level up business as affiliate marketers learn more, and so on.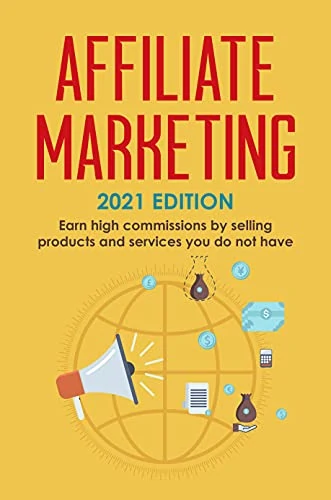 This beginners guide aims to teach you everything from A to Z about affiliate marketing and how you can use this lucrative business venture to fund your dreams and earn financial freedom with little or no grunt work to get there.
Read the Affiliate Marketing book – 2021 edition and you'll learn:
What is Affiliate Marketing, and how does this Business Model works
How to get started with affiliate marketing
Several proven ways to maximize profits
How to level up your business as you learn more
2. "From Nothing – Everything you need to profit from affiliate marketing" by Ian Pribyl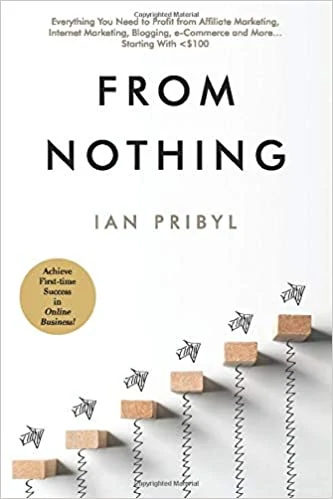 This affiliate marketing book serves as an ultimate guide for potential affiliate marketers to succeed in the field. This book is birthed from the vast experience and pragmatic guidance. Ian Pribyl writes this book to be a life-saver for affiliate marketers whose websites are not working effectively. In addition, he explains: "If you want to build ANY of those businesses, you need to learn how to market on the internet." However, the book does not entirely concentrate on affiliate marketing.
This book aims at the newbie and works as a step-by-step guide, so individuals who have already started but struggled to get to where they want to go will benefit from this.
3. "Affiliate Marketing 2020: Launching a 6-Figure Business" by Noah Gray and Michael Fox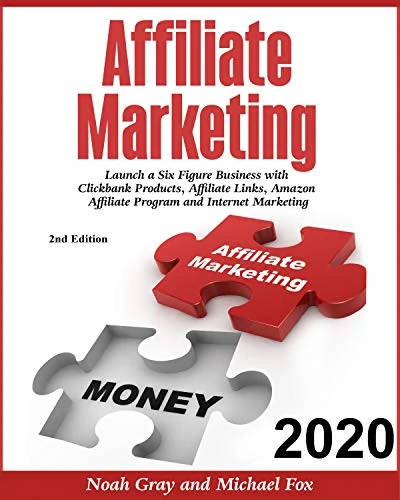 This affiliate marketing book explores essential principles on how a successful virtual business that can offer a good amount of money via affiliate marketing is established. With this book, those with a keen interest in becoming strong affiliate marketers can know how to achieve the essence of starting a lucrative business.
Noah Gray offers the strategy that is worth following in the pages of this book. The book helps develop readers' theoretical knowledge and practical tips. In addition, Gray emphasizes relevant questions about personal brand and how it is connected to actual business.
This 300+ pages book focuses on making money with ClickBank, giving very high commissions and payouts. One thing that makes his book stand out is that it gets constantly updated, making the content relevant every year.
4. "Performance Partnerships: The Checkered Past, Changing Present and Exciting Future of Affiliate Marketing" by Robert Glazer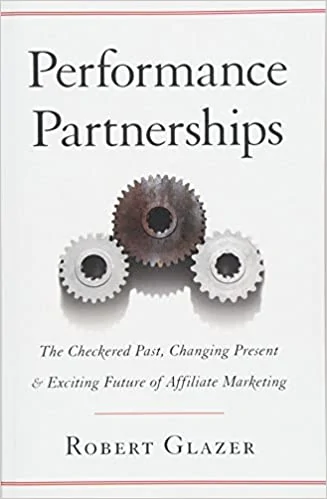 This affiliate marketing book unveils deep scrutiny of the affiliate marketing industry, starting from its foundation to the unborn future. Performing Partnerships offers a significant perspective on what has occurred and provides an optimal understanding of how it can influence the future of digital marketing.
When used correctly, affiliate marketing and Performance Partnerships can be powerful tools to grow your business—and Robert can show you how to tap into that boundless potential.
The Performance Partnerships book by Robert Glazer focuses on offering a high-level understanding of how affiliate marketing works, how it should work, and why even with affiliate sites, you need to look at growing relationships with the visitors to your site.
5. "The Complete Guide to Affiliate Marketing on the Web" by Bruce C. Brown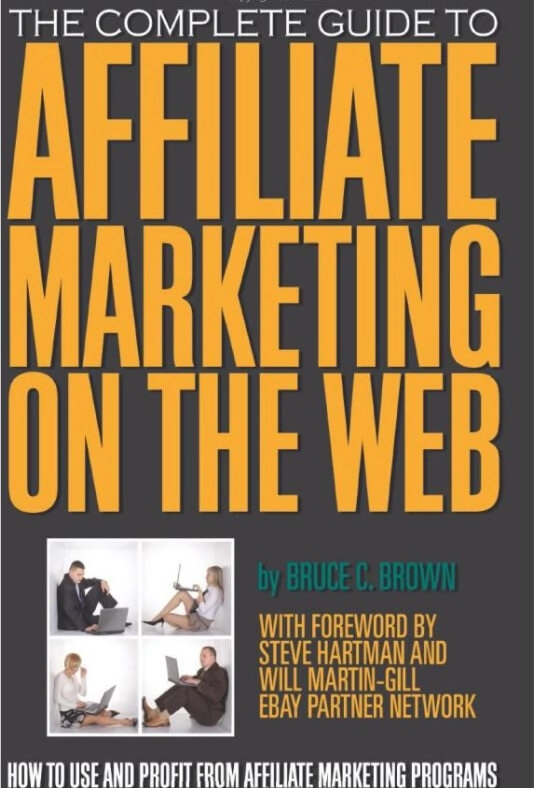 This book is one of the best affiliate marketing books, handy for those with a sincere interest in the field, particularly online retailers and those that intend to become an affiliate. If you're already a manager or an experienced affiliate marketer, you may not need it.
With this book, you are guaranteed intensive knowledge to prepare and take you through your affiliate marketing journey. You need to check out this book because it will assist you to have the expertise required to build your foundation and take it to desirable levels.
6. "Affiliate Marketing For Dummies" by Ted Sudol and Paul Mladjenovic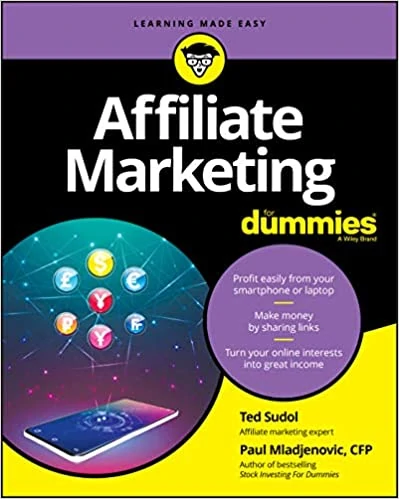 The Affiliate Marketing for Dummies book reveals the best way to monetize your business with the help of affiliate marketing. It helps find the most suitable affiliate programs & strategies and why you need to choose the appropriate affiliate service or product. One affiliate marketing book provides a simple step-by-step guide on successfully traveling through the affiliate marketing journey.
7. "Affiliate Marketing: Learn how to make $10,000+ each month on autopilot" by Michael Ezeanaka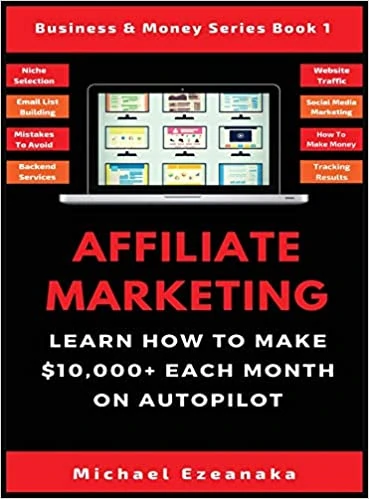 This is one of the best affiliate marketing books that can help people learn every necessary thing about affiliate marketing. In addition, it contains the emergence of the industry and its evolution. With the book, you can have everything you need to be successful in the field of affiliate marketing— it helps by showing how you can launch the business and build your asset from the foundation to the top.
Moreover, the book will also help you develop content and drive traffic to them via free and paid methods. Thus, this book serves as great assistance and places readers on the right path towards earning a six-figure monthly income.
8. "Affiliate Marketing Made Easy In 2020: Simple, Effective And Beginner Friendly Strategies" by Michael Ezeanaka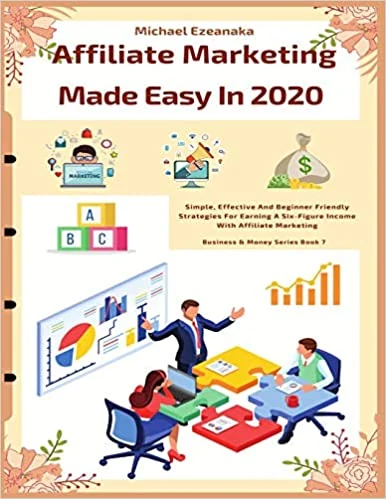 In this book, Amazon's bestselling author, Michael Ezeanaka, provides a step-by-step analysis of the Affiliate Marketing business model, how to get started, the players involved, what to do and what to avoid, and most importantly, how to scale up your business to $10,000 per month.
You'll learn something about this business opportunity. But, best of all, you'll discover how to build a profitable, reliable, and sustainable Affiliate Marketing business that will stand the test of time.
9. "Affiliate Marketing Secrets – How to Start a Profitable Affiliate Marketing Business" by Chandler Wright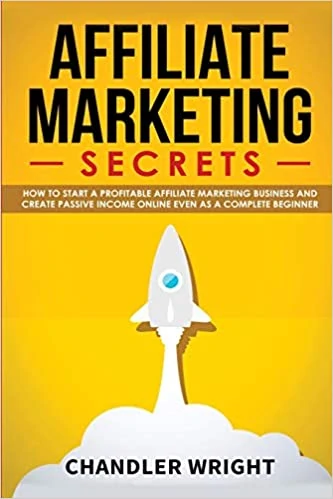 This affiliate marketing book contains secrets that can help affiliate marketers, particularly newbies, to create a stable income stream that enables them to work at any point in time anywhere with less effort but still with the ability to maximize their profits.
The book covers different areas starting from the definition of the subject matter to the tips and trends. With it, every affiliate marketer will fully understand what they are into and perform effectively. You don't need to know what affiliate marketing is all about before reading this book. Reading it will expose you to a strong affiliate marketing foundation and have a complete picture of the affiliate marketing industry.
10. "Affiliate Marketing – The ultimate guide to a profitable online business" by Nik Neutron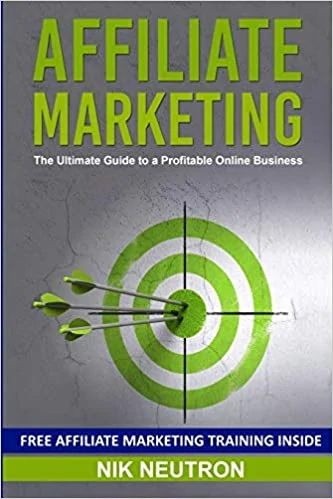 Neutron writes this affiliate book to guide affiliates to do profitable online business. The book contains critical information needed to launch affiliate marketing. Some things to learn from the book include what affiliate marketing is, starting it, earning passive income, choosing your niche, content creation, growing an email list, and lots more. In addition, the pages of the book reveal the secrets to financial freedom!
11. "Amazon Affiliate Marketing – The Secret E-Commerce Passive Income that no one is talking about" by Chris J. Brodie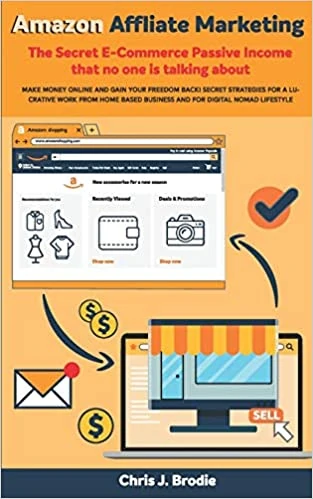 This short and light 50 pages book will find out how to make money with Amazon's affiliate program called Amazon associates. The author outlines why Amazon is a terrific affiliate marketing program, how you should identify a profitable niche, build a website, create an amazon affiliates account, and promote the products to cash in commissions.
In closing, you will read 26 "untold" secrets to maximize your amazon affiliate earnings and 11 best practices to prevent getting your account banned by Amazon.
12. "Affiliate Program Management: An Hour a Day" by Evgenii Prussakov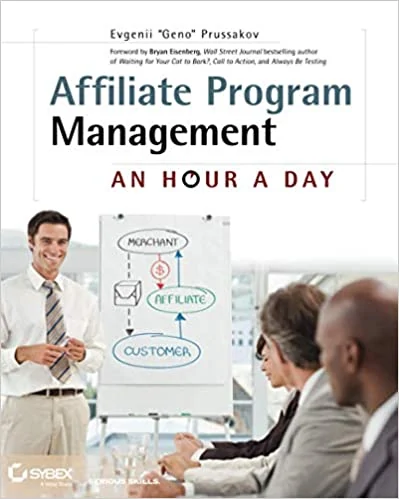 The previous affiliate marketing books are for affiliate marketers who want to profit by signing up and promoting affiliate marketing programs. However, the "Affiliate Program Management an hour a day" is intended to affiliate marketing program managers and business owners.
Evgenii Prussakov details exactly how you can start your affiliate marketing program in this book. The author takes the reader through a step-by-step setup and manages an affiliate marketing program.
The book walks you through a "task-based approach" so that you can quickly develop a custom affiliate program specifically for your company.
This book is best for online business owners who are new to affiliate marketing and wish to start an affiliate program. The book takes a simple approach that is suitable for any skill level.
The big problem for Affiliate marketing websites, or any business, is getting traffic to the site. So how do you get the word out about yourself? How do you tell people you have a fantastic, new brand that they should check out? That's what marketing is all about.
13. "The 1-Page Marketing Plan: Get New Customers, Make More Money, And Stand out From The Crowd" by Allan Dib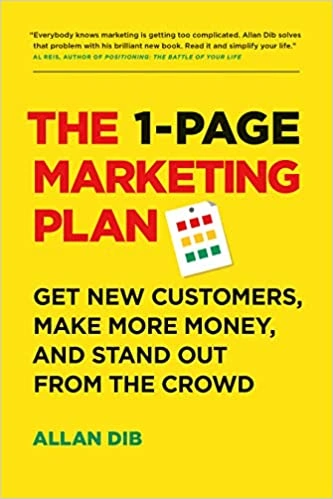 To build a successful affiliate marketing business, you need to follow a reliable plan for rapid business growth. In The 1-Page Marketing Plan, serial entrepreneur and rebellious marketer Allan Dib reveals a marketing implementation breakthrough that makes creating a marketing plan simple and fast. It's a single page, divided up into nine squares. With it, you'll be able to map out your sophisticated marketing plan and go from zero to marketing hero.
Whether you're just starting or are an experienced entrepreneur, The 1-Page Marketing Plan is the easiest and fastest way to create a marketing plan that will propel your business growth.
14. "Traffic Secrets: The Underground Playbook for Filling Your Websites and Funnels with Your Dream Customers" by Russell Brunson
Russell Brunson is an entrepreneur behind ClickFunnels who has written books about direct marketing techniques and traffic strategies. One thing he advocates is sales funnels.
Understanding exactly WHO your dream customer is, discovering where they're assembling, and throwing out the hooks that will grab their attention to pull them into your funnels (where you can tell them a story and make them an offer) is the strategy.
Traffic is just people. This book will help you find YOUR people to focus on changing their world with the products and services that you sell and promote.
In the video below, you can see the book presentation done by Russell Brunson itself:
15. "Learn SEO with smart internet marketing strategies" – Adam Clarke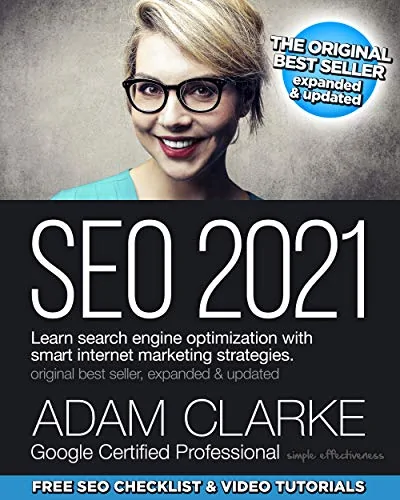 This book is an excellent primer to the world of SEO and covers the fundamentals well. If you're interested in making money blogging with your affiliate website, there's good information and lessons you can take away from this book. See our resource section below if you want to learn more about keyword research and affiliate marketing courses.
16. "How To Get To The Top Of Google in 2021: The Plain English Guide to SEO" by Tim Cameron-Kitchen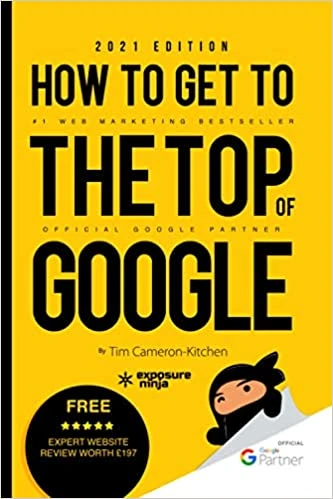 Whether you've dabbled in SEO and been disappointed with the results, are a complete SEO newbie looking for a large slice of the ranking pie, or you're a seasoned professional looking to stay up to date with the best SEO practices, this book is for you.
This book by Tim Cameron-Kitchen from Exposure Ninja explains the foundations of Google rankings, how to transform your website to rank, promote your content to get leans, and create and apply a complete SEO strategy. Besides that, everyone who orders the book received a free video review done by Exposure Ninja worth 400 pounds.
Verified review: "Tim doesn't just help those who can afford to pay. He even answers questions from entrepreneurs starting up on a shoestring budget. I learned more from this book than ever before. The puzzle does come together sooner or later when you do it right. Thanks, Tim" — Brad B Blosser
Published: 2021
Price: $10.99
Reviews: 501
17. "The One Hour Content Plan: The Solopreneur's Guide to a Year's Worth of Blog Post Ideas in 60 Minutes and Creating Content That Hooks and Sells" by Meera Kothand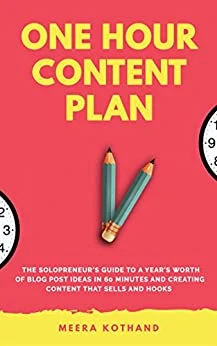 Copywriting is one of the best skills that affiliate marketers can master – the best ones will tell you this. Maria's book provides the best ways to write copy for content, email marketing, sales pages, and blog posts.

As an affiliate marketer, I'm sure you know all too well the struggle of coming up with new content ideas. And as we know, great content is one of the best ways to make money as an affiliate marketer.

Meera Kothand's book is here to save the day with the one-hour content plan. This book can get you started on a solid content strategy. You can forget about wasting your time trying to develop new article topics every day. Instead, this book will help you create an entire year's worth of topics for your blog in about an hour.

Through this book, you'll get a simple content formula that you can use to make sure your blog posts are always up to par. This is certainly one of the most useful books on this list for the affiliate marketer.

Verified review: "In The One Hour Content Plan, author Meera Kothand describes things like "Ten Types of Posts" and "8 Components of a Blog Post." The author talks about setting goals and planning your blog content to achieve those goals. I, for one, took that point to heart as something I need to do better at regularly. I disliked the book's constant references to download various forms and documents. The author didn't merely do this as a convenience to help you print forms you have already seen in the text. No, the forms were not shown or explained in the text, so the content was mostly unusable unless you got various forms. It came across not as helpful, but as a ploy to get readers to a signup page (which I did not)." — Christy Bower
18. "Web Copy That Sells: The Revolutionary Formula for Creating Killer Copy That Grabs Their Attention and Compels Them to Buy"
 by Maria Veloso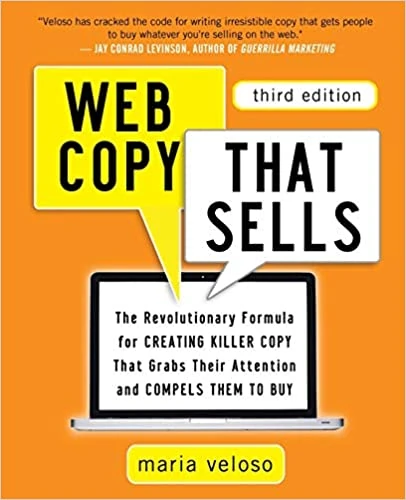 This book of affiliate marketing perfectly suits the present century as it offers timeless and cutting-edge techniques that can assist content advertisers in making impressive growth and unrivaled success. Veloso puts together every vital detail that relates to discovering and learning tips for creating interactive, eye-catching, and noteworthy content; knowing how to simplify important messages to compelling digital bites for intuitive web banners and Facebook advertisements ( highly-targeted ones); and seeing updated psychological tactics or strategies that compel customers to purchase.
Besides, it will help discover how to compose video content that can sell. You can always rely on these tips and tactics for packing sales-generating and powerful punch.
19. "Copywriting Secrets: How Everyone Can Use The Power Of Words To Get More Clicks, Sales and Profits" by Jim Edwards
Jim Edwards is one of the highest-paid copywriters on the planet and now makes public some of his copywriting secrets. To quote the author, "Putting The Right Words On Paper And Online Is The Single Most Profitable Skill Everyone Can Learn." And you need this skill in affiliate marketing if you are looking to make decent sales.
In my opinion, the "Copywriting Secrets" book is a must-have for anyone who is doing affiliate marketing. Regardless of skill level, this book will help you fine-tune your copy and generate conversions.
20. "300 Email Marketing Tips: Critical Advice And Strategy To Turn Subscribers Into Buyers & Grow A Six-Figure Business With Email" by Meera Kothand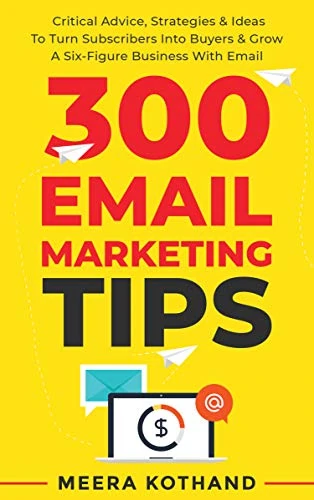 If you're not yet incorporating email marketing into your affiliate marketing efforts, then you're leaving a ton of money on the table. Some don't do it because they think it is hard to implement, while others don' consider it important.
In her book, Meera Kothand demystifies email marketing and gives practical advice on implementing email marketing and enjoying the benefits.
300 Email Marketing Tips will give you more than a bare-bones framework to place an email marketing strategy for your business. The premise of this book isn't about growing an extensive fat email list. Email marketing does NOT list building alone. You need a coherent, holistic strategy to be successful at it.
In this book, you will get 300 email marketing tips regarding branding, creating a welcome and follow-up emails, leag magnets, and planning your email editorial calendar.
21. "The 15 Steps To Profitable YouTube Marketing: The Proven Method For Building Money-Making YouTube Ad Campaigns" by Daniel Rose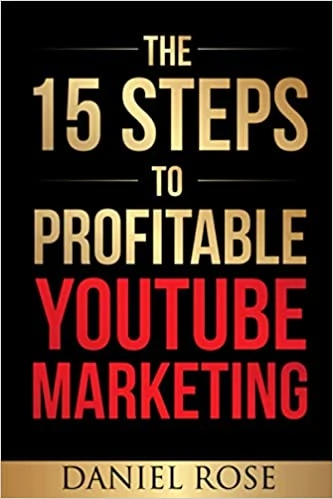 If done right, Youtube advertising can be a powerful and affordable source of traffic and quality leads for your affiliate marketing campaigns. The 15 Steps teaches you how Daniel Rose built a multi-million dollar YouTube-based business and how you can do it too.
Dan gives powerful insights into what kind of videos get people's attention and keep them engaged. Then, he tells you the formula he uses for outlines of videos. Finally, he gives you efficient advice about filming and getting started with your Youtube ad campaigns.
By reading the 15 steps to profitable youtube marketing, you'll learn how to create great ads, how to manage them in Google Ads, how to build a great YouTube sales website, and generate sales on the products you are promoting.
22. "Growth Hacker Marketing – A Primer on the future of PR, marketing and advertising" by Ryan Holiday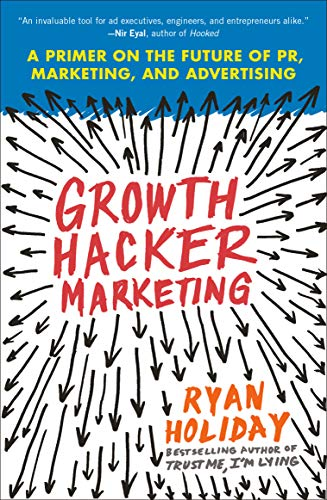 Ryan Holiday was the director of marketing for American Apparel, so when he says marketing is changing, and you need to adapt, you'd better listen. Growth hacker marketing is your primer in the new world of affiliate marketing. Even though it's primarily meant for software businesses, the concepts still apply to affiliate marketing.
23. "WordPress for Beginners 2021 – A Visual Step-by-Step Guide to Mastering WordPress" by Dr. Andy Williams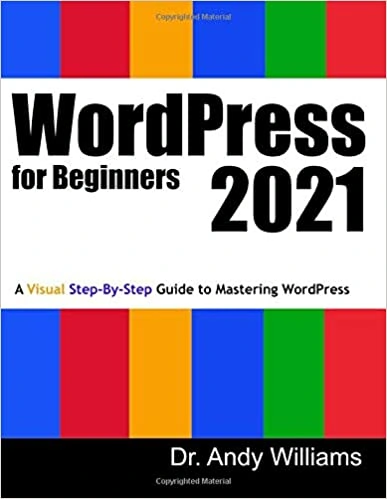 If you are serious about affiliate marketing, you should consider owning a website. And WordPress is one of the best content management systems you can use for your website. However, even if you're an established affiliate marketer or you are doing the first steps, this book will teach you WordPress in and out so you can quickly master it and focus on content, promotions, and conversion rather than managing your website.
Analytics Books
What gets measured gets managed. Ultimately your store boils down to profits and losses. To make a profit, you need a certain number of sales. To make those sales, you need a certain amount of traffic. And to get that traffic, you need to spend money marketing. Unless you measure it all, you can't determine what's working and what isn't in your affiliate marketing campaigns.
24. Measure what matters – John Doerr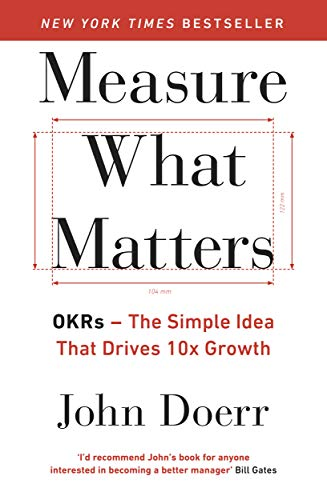 Measure What Matters is about using Objectives and Key Results (OKRs), a revolutionary approach to goal-setting, to make tough business choices. John Doerr shares a broad range of first-person, behind-the-scenes case studies, with narrators including Bono and Bill Gates, to demonstrate the focus, agility, and explosive growth that OKRs have spurred at so many great organizations.
This book will show you how to collect timely, relevant data to track progress – to measure what matters. It will help any organization or team aim high, move fast, and excel.
Optimization Books
The easiest way to impact your sales is to optimize your website conversions. For example, if your eCommerce store makes one sale for every 100 customers, then optimizing it to create two sales is far more cost-effective than throwing twice as much traffic at it.
25. Expert Secrets: The Underground Playbook for Creating a Mass Movement of People Who Will Pay for Your Advice" by Russell Brunson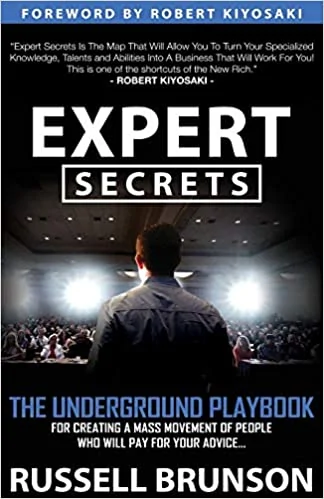 This is the second book of Russell Bruson that makes it to our top of best affiliate marketing books. The Expert secrets book may be the most in-depth in creating a strategy for your affiliate marketing business.
Russel Brunson hones in on the skills needed to become an expert in your niche. And if you've been to my site before, you know just how important this factor is. Whether it's social media, blogs, or Youtube, you need to be perceived as an industry leader if you want to bring in money. 
With this book, you can learn how to portray your brand voice accurately, generate more leads, webinar basics, and other industry secrets. 
You're

 getting access to game-changing information all for less than $15. I highly recommend this book to anyone trying to improve their business, including affiliate marketers.
26. You Should Test That – Chris Goward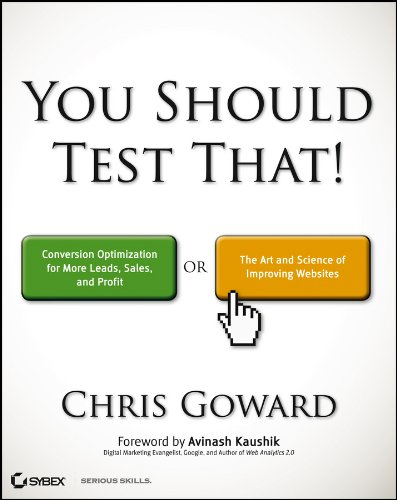 Chris Goward is the founder of WiderFunnel and the brains behind the LIFT Model and Kaizen Method for conversion rate optimization. In this book, he gives you a step-by-step guide to help you optimize your website conversions. He also talks about analyzing data, prioritizing experiments, and making business decisions through tested insights.
27. "Trustworthy Online Controlled Experiments: A Practical Guide to A/B Testing" by Ron Kohavi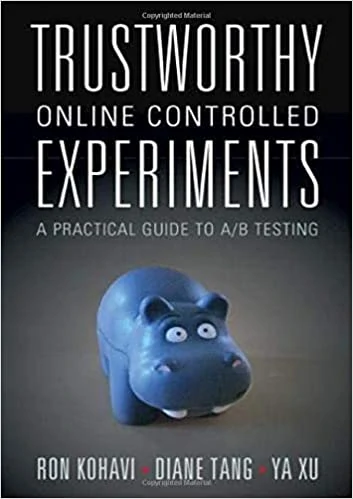 Getting numbers is easy; getting numbers you can trust is hard. This practical guide by experimentation leaders at Google, LinkedIn, and Microsoft will teach you to accelerate innovation using trustworthy online controlled experiments or A/B tests.
This book is an excellent resource for executives, leaders, researchers, or engineers using online controlled experiments.
Working Inspiration
Starting a business is not just about making some money. It's about creating something that outlives you, a long-lasting legacy for people to remember you by. But the journey begins today.
28. "Deep Work – Rules for focused success in a distracted world" by Cal Newport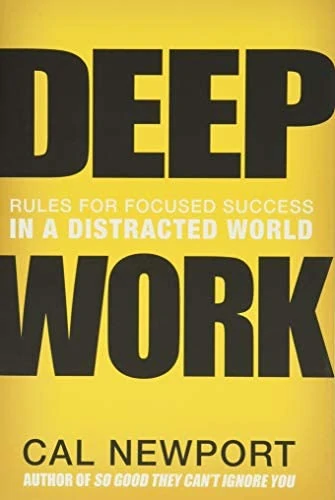 This affiliate marketing book is helpful for affiliate marketers to grow their real business in the present productive and competitive economy.
Deep Work by Cal Newport can concentrate without interruption on psychologically demanding tasks. It is a skill that permits you to rapidly ace complex data and produce better outcomes in a short time. This book will help you improve what you do and give genuine satisfaction from craftsmanship.
Newport delves into the significant training routine ( a progression of four rules) to transform your mind and habits to promote your skill as a marketer. The other section brings together social analysis and significant guidance. This book will guide you through achieving highly focused success.
Verified review: "I'm a self-improvement junkie who hates self-help books. Most self-help books (if not all) masquerade poor advice and wishful thinking as a path to self-progress. Now and then, I torture myself reading self-help books to reinforce my above thoughts about self-help books. Luckily, I came across this book as a strong recommendation from a Twitter account that I value greatly. And I'm glad that I took the recommendation."
Published: 2016
Price: $14.01
Reviews: 9167
29. Principles: Life and Work – Ray Dalio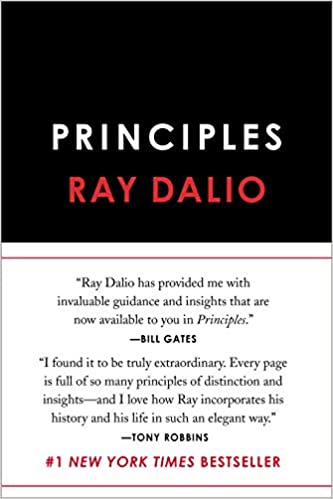 Ray Dalio is the founder and co-chairman of Bridgewater Associates, the largest and best-performing hedge fund globally over the last forty years. Dalio created a set of principles for his personal and professional life that serves as an operating system for living based on radical honesty and radical transparency, thriving within an idea of meritocracy.
Ray Dalio has appeared on the Time 100 list of the most influential people globally and the Bloomberg Markets list of the 50 most influential people.
You may check in the following 30-minutes video a summary of Dalio's principles, but I recommend you to get the book to understand them, see how he created them based on his life experiences, and most importantly, how you can apply them in your personal and professional life.
30. Built To Last – Jim Collins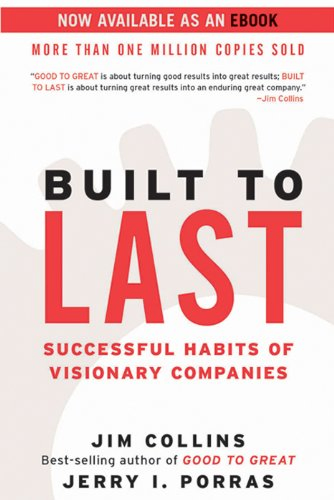 When Jim Collins and Jerry Porras were doing a research project at Stanford, they asked themselves what makes the truly exceptional companies different from others.
They studied companies that have lasted longer than others, like GE, Disney, and Walmart, and distilled what made them exceptional. This book is the culmination of all that work.
31. "Your Next Five Moves: Master the Art of Business Strategy" by Patrick Bet-David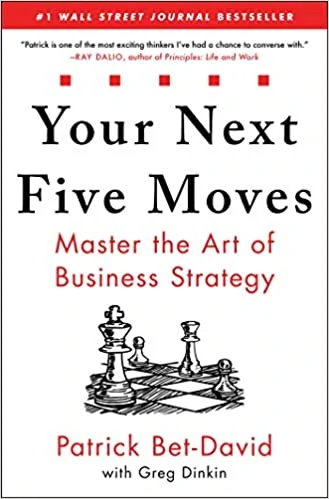 Both successful entrepreneurs and chess grandmasters have the vision to look at the pieces in front of them and anticipate their next five moves. In this book, Patrick Bet-David translates this skill into a worthy methodology that applies to high performers at all levels of business.
Whether you feel like you've hit a wall, lost your fire, or are looking for innovative strategies to take your business to the next level, Your Next Five Moves has the answers.
Conclusion on affiliate marketing books
If you read this post until the end, I know you must be a good reader, so read these affiliate marketing books. If you like math, then you probably counted them and found out there are 31 books listed here instead of 30 – and you'd be correct.
That's my gift to you, a numbered post that has the wrong number of books listed to see who read to the bottom, counted them, noticed, and commented to tell me that my math is terrible.
Success doesn't come to the ignorant. Instead, success is often dependent on your ability to learn from your own mistakes, and perhaps more importantly, from the success and failures of those that have gone on before you.
The mic is yours now. What is your favorite book about affiliate marketing? Tell us which one inspired you the most.