Plain and simple, by having the best sales funnel builders for affiliate marketing makes your life so much easier.
Whether you're using the funnel to drive traffic to an external offer or you're simply trying to promote the product itself, you need a high-quality sales funnel that converts traffic into buyers.
In this guide, we're looking at the best sales funnel builders for affiliate marketing and the different ways you can use them to convert traffic and make more money.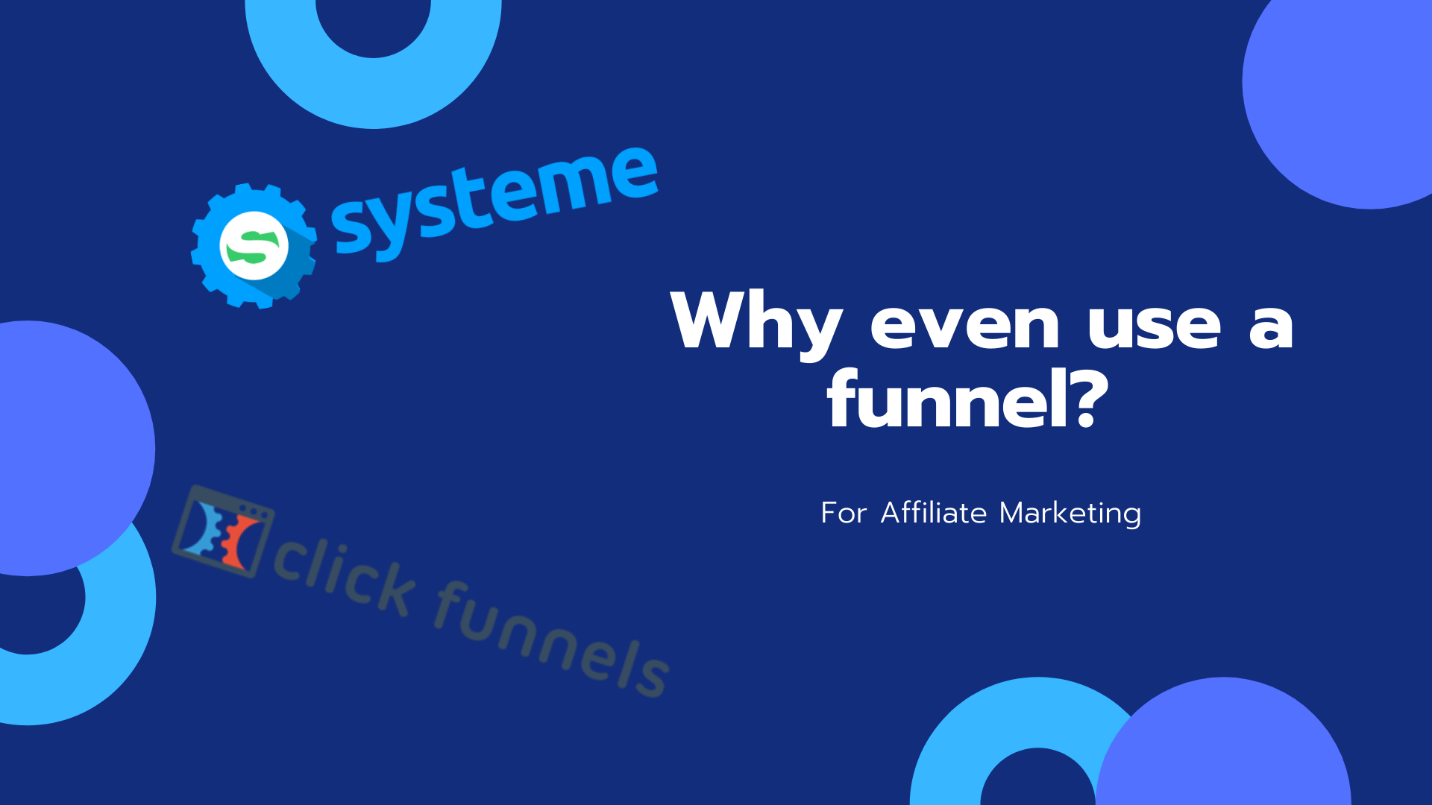 Why use a sales funnel for affiliate marketing?
This marketing technique enables you to direct your leads from one step to the next, so you can ultimately make the sale.
With a well-thought-out sales funnel in place, your business will likely see an increase in income and customer satisfaction.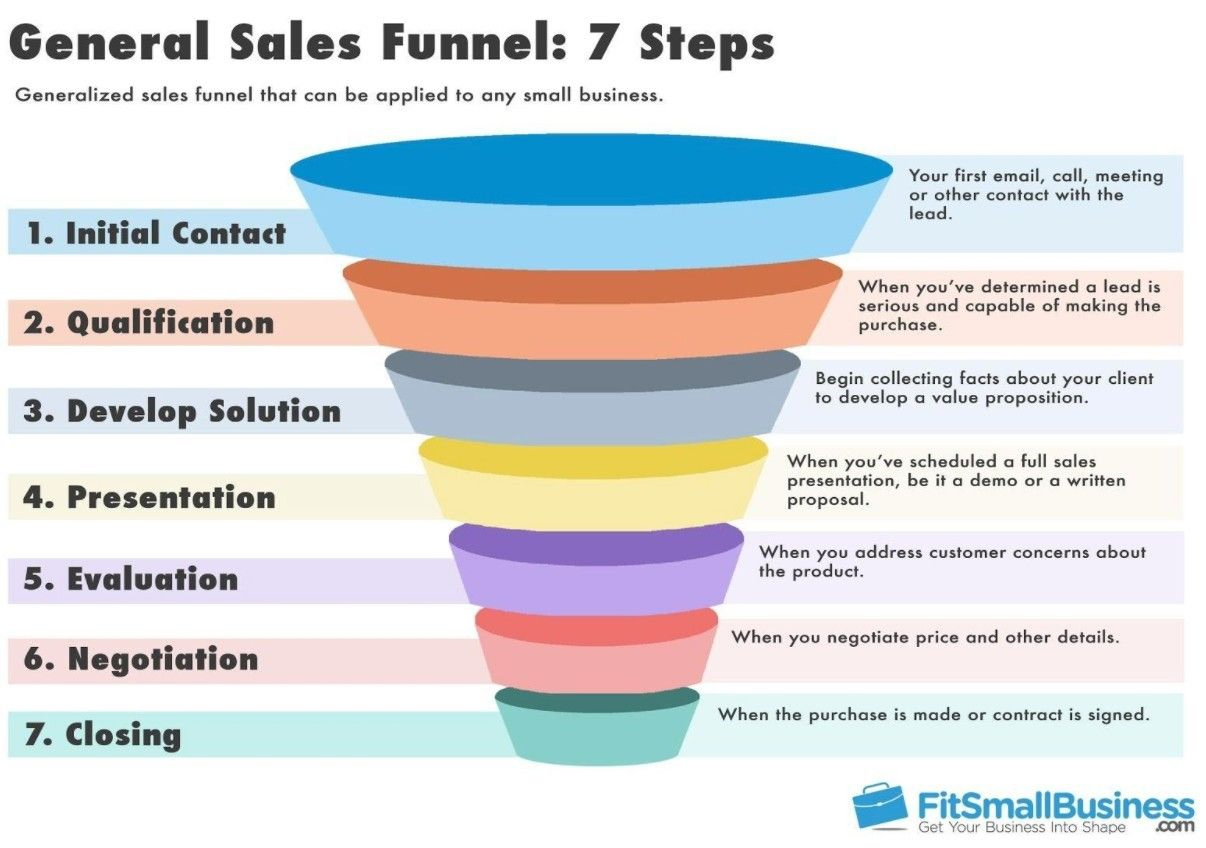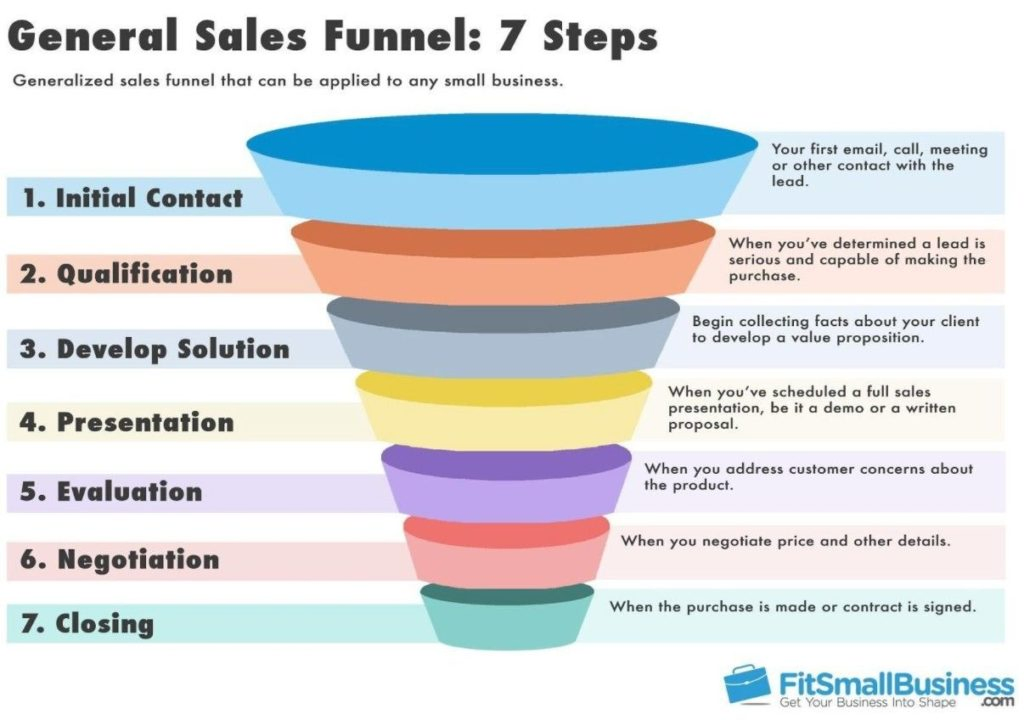 An affiliate marketing sales funnel is a defined path that a consumer takes before purchasing a product or service. It includes different steps for potential customers to easily move towards purchasing the core product, thus generating your sales.
A sales funnel aims to sell a product or service or to entice leads for a marketing campaign.
Before we dive into the three platforms, let's understand why we use sales funnels for affiliate marketing.
Growing your brand
The most obvious reason is visibility. You're trying to get more attention to your company, and having a funnel makes this process easy. You don't have to get involved in every step manually. As you're driving leads to your funnel, they're systematically moving through the sales process without even having to hear from you firsthand.
Retention
Remember that ad algorithms on Facebook and Google use retention as a ranking and cost factor. If users are clicking through to your website and bouncing immediately, that might hurt your cost per click on the ad platforms.
On the flip side, if people click through to your ad, hang around for a while, and move through the funnel steps, Google and Facebook will think they served that person a relevant ad, and your cost per click will go down.
Following up with leads
Sales funnels make it much easier to follow up with potential customers or clients. Since you're driving a large amount of traffic through the funnel, you're collecting many emails and growing your list.
While doing this, you should have email drip campaigns working with these people to get them to buy from you. The process all happens automatically, so it takes a lot of the work out of your hands.
Converting more leads
The best sales funnel builders for affiliate marketing will have proof that their templates convert because that is the number one goal of the funnel.
The main thing that separates a funnel from a website is that funnels convert leads because they push them through a set of steps that takes thinking out of the equation.
Best sales funnel builders for affiliate marketing
Now that we understand how affiliate marketing sales funnels work let's look at some of the most popular and successful ones.
If you want to spend less time on manual tasks, you should automate most of your business online, build converting funnels, host courses, manage affiliates, and create webinars...
These three options provide everything you'll need to create a powerful sales funnel that converts leads and earns you more affiliate commissions.
1. Systeme.io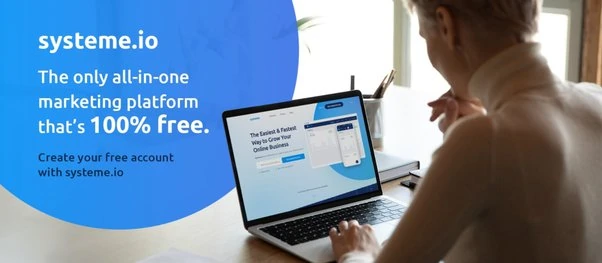 Systeme.io is extremely popular in France and recently launched in the US market. Since they hopped over the ocean, they have taken the country by storm.
Many believe that Systeme.io will soon take out the other popular platforms like Clickfunnels, Leadpages, and Builderall.
Systeme.io is so powerful that it provides you with an all-in-one solution to your online marketing needs. You can run almost any online business using this platform.
The advantage here is that you don't need to go out and invest in five different tools to do what you can with one. It keeps your costs down, which is especially important when you're first starting, and it makes it easier to learn because you only need to understand one way of doing it, and that's the Systeme.io way.
Check our dedicated Systeme.io review.
So, what can you do with Systeme.io?
You can build sales funnels that lead traffic to your affiliate offers. Let's say you're promoting a wrinkle cream that promises to "banish wrinkles in 30 days!"
That's great, but if you don't have a converting funnel, you will not sell any wrinkle cream. Systeme.io makes it easy to design a high-converting funnel using the drag and drop builder. With this, you can choose which step of the funnel you want to work on and complete it within minutes.
You can also include upsells throughout the funnel.
Maybe once someone opts in to buy the wrinkle cream, you'll also want to sell them a stretch mark formula that helps reduce the appearance of stubborn stretch marks. You can also throw that into the funnel and create a step.
Now, the thing that is so powerful about Systeme.io is the all-in-one marketing aspect. There are many different types of affiliate marketing, and some people prefer to use a different strategy.
What if you're not interested in using pay-per-click (PPC) ads and you prefer to take a more organic approach. That's also fine because, with Systeme.io, you can launch your blog to promote offers using SEO.
Maybe you want to start a review site where you talk about products to have in your RV or camper when travelling across the country?
If that sounds more like you, you can do this with Systeme.io.
The platform allows you to choose how you want to promote your offers.
How much does it cost?
Here's a breakdown of the Systeme.io payment options:
Startup Plan
$27 per month
5000 email subscribers
Unlimited emails sent
Unlimited funnels
3 membership sites
0 custom domains
Unlimited file storage space
Unlimited members
Marketing automation
Run your affiliate program
Support answer under 24h
Webinar plan
$47 per month
10000 email subscribers
Unlimited emails sent
5 membership sites
Unlimited funnels
2 custom domains
Unlimited file storage space
Unlimited members
Marketing automation
Run your affiliate program
Support answer under 24h
3 webinars Coupon codes
A/B tests
Unlimited plan
$97 per month
Unlimited email subscribers
Unlimited emails sent
Unlimited funnels
Unlimited custom domains
Unlimited file storage space
Unlimited members
Marketing automation
Unlimited membership sites
Run your affiliate program
Support answer under 24h
Unlimited webinars
Coupon codes
A/B tests
1 hour 1-on-1 coaching session
As you can see, Systeme.io is much more affordable than the competition. So you're getting a cheaper platform that provides a better experience and more features. The only thing you're not paying for is an expensive brand name.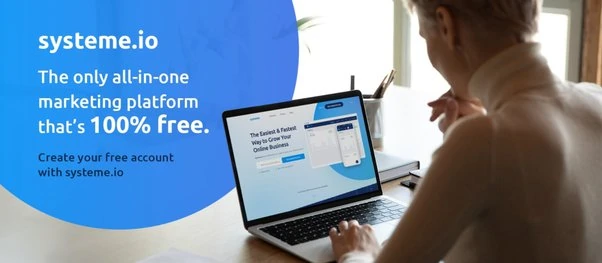 2. Clickfunnels

Currently, Clickfunnels is the number one ranking sales funnel software. The elite entrepreneurs of the planet use this platform, offering enough awards to their high-income earners to show it.
Clickfunnels make generating leads, running webinars, selling products, and sending emails easy. As for affiliate marketing, the only strategy they provide is funnel building.
The tool offers a lot of templates to choose from, and when you make the selection, you'll be able to pin a goal onto that funnel.
For example, if you're creating a funnel for affiliate marketing, you would want to bring as many leads into the funnel as possible. So, you would choose leads in this situation.
Just like with Systeme.io can capture their information and follow up through email to convert them on the back end. The funnel-building process is a bit more complicated than Systeme.io, and I didn't find the overall user experience as great.
Clickfunnels is more challenging to use, and it's geared more towards the experienced entrepreneur who has built a funnel before. That said, they offer plenty of training that breaks it down for you.
The main downside of Clickfunnels for affiliate marketing is that you're limited to creating funnels. This means you need to use pay-per-click advertising if you use Clickfunnels. I wouldn't suggest trying to rank a Clickfunnel URL because you'll probably spend the rest of your life trying to do it.
They don't offer any free domains either, so you'll have to use the yourname.clickfunnels.com domain unless you want to purchase a premium one.
How much does it cost?
Here is the price breakdown of Clickfunnels at the time of writing this:
Clickfunnels Basic Package
Price: $97 per month
Share funnels
20 funnels
100 pages
1 user
3 payment gateways
3 Clickfunnels domains
Chat support
Funnel Hacker forum
Training courses
Clickfunnels Platinum
Price: $297 per month
Share funnels
Unlimited funnels
Unlimited pages
3 users
9 payment gateways
9 Clickfunnels domains
Unlimited follow-up funnels
Priority support
Weekly peer review hackathons
Funnel Hacker forum
Hours of additional training
Let's be real about this, Clickfunnels is the premium funnel-building tool online, and they have all this branding that allows them to charge what they want. You don't need this review if you can afford $297 a month to build funnels.
You're here because you're likely a beginner and need a springboard for success. I recommend going as cheap as possible when you're starting and getting the most for your money. You're not getting that with Clickfunnels.
3. Unbounce

Believe it or not, Unbounce is one of the oldest funnel-building tools on the market. They offer an extensive landing page builder that drags and drops just like the previous two options. Unbounce is easy for beginners, but it has a somewhat complicated interface.
I like Systeme.io because they didn't complicate their dashboard with a million different buttons when you only use three or four. Unbounce offers many customization options, which can become overwhelming if you're new to the affiliate marketing game.
Something I like about Unbounce is its use of video widgets in the funnel. So, the video can play and explain more information about your offer while they're also reading about it and scrolling through your sales page.
Unbounce is also highly mobile-optimized, so it looks great on the phone, one of the most important factors to consider in 2020 and beyond. I don't see this as a standout feature, but it's more of a standard requirement. I wasn't too hopeful, being that it's an older platform, but I am impressed.
The primary downside of Unbounce is that it doesn't provide you with all the tools you need in one place. It isn't an all-in-one marketing platform like Systeme.io, and it doesn't provide you with the ability to create a blog. You're limited to basic landing pages that you can mash together to make a funnel.
While your funnel might look amazing, match all your branding, and even convert.
You'll have to venture off the dashboard and integrate with WordPress, Zoho, or AWeber if you're looking to sell anything or create email campaigns.
That's the glory of an all-in-one marketing tool.
How much does it cost?
Unbounce offers a 14-day free trial of the platform.
Here is how they breakdown their pricing:
Premium plan
$159 per month
150 landing pages
16 popup and sticky bars
Enterprise plan
from $139 per month
375 landing pages
40+ popup and sticky bars
Unbounce doesn't offer many unique features, and it's not overpriced, but you're not getting the most bang for your buck. Overall, the landing pages convert, and you have a lot of creative freedom because Unbounce offers many ways to design the pages to match your branding.
Wrapping it up
If we had to pick one option from this list of three, it would have to be Systeme.io. The platform provides you with the most features and benefits, plus you're getting it for a fraction of the cost of the other two.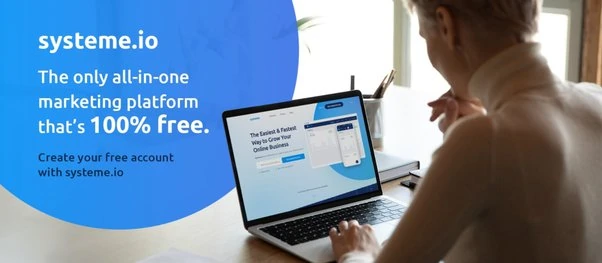 Clickfunnels is great if you're interested in some of the perks that come along with it.
For affiliates looking to promote Clickfunnels, they offer a "dream car bonus" where they'll give you a lump sum towards your dream car if you bring on enough customers.
Unbounce is for those of you with the design bug who want creative control over your funnel's design and look.
Regardless of what choice you make. These are the three best sales funnel builders for affiliate marketing.
Further readings on affiliate marketing: