Today I'm going to share one of my best-kept secrets with you. In this Systeme.io review, I will reveal one of the best sales funnels and online business platforms that can help you to launch your online business quickly and at a fraction of its original cost.
So you will find out what Systeme.io is, why I consider them among the best, their PROs and CONs, and the alternatives.
Systeme.io review TLDR
Systeme.io is an all-in-one platform that offers you everything you need to run an online business. It includes functionalities like sales funnels, contact management, membership sites, selling digital or physical products, and running evergreen webinars. On top of that, you can set up and manage an affiliate program, creating blogs and automating business processes.
The costs are affordable, and the free forever plan is enough to set up a basic online business and collect leads and payments through PayPal and Stripe for your products, membership sites or online courses.
Everything is easy to set up and connect. If you need help, there are enough resources to make you go further: a knowledgebase, support department, Youtube tutorials and a Facebook community.
It's a live saver for many digital entrepreneurs as it is designed with ease of use and simplicity.
The two downsides I could identify are the lack of an API so you can code advanced integration, but I've read it's on their list and will be released soon, and there are a few minor bugs that I'm sure will be resolved.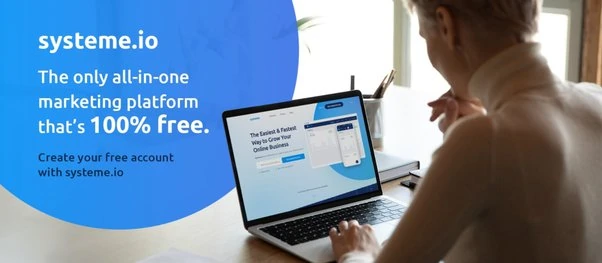 So now that you found the goodies, let's continue the systeme.io review and see what Systeme.io has to offer and how it performs for you:
What exactly is Systeme.io?
In a nutshell, Systeme.io is an all-in-one platform that offers you everything you need to run an online business. You have a blog system, a course management system, funnel creators, an email sending platform and an affiliate management program—all under the same roof.
Aurelien Amacker, a reputable entrepreneur and digital marketer, was frustrated with having to jump from one tool to another while working on clients' websites. So he started working on Systeme.io to create a platform that offers everything a digital entrepreneur needs. Systeme.io quickly became popular among entrepreneurs looking for simplicity when managing multiple aspects of their businesses.
Systeme.io Features
The System.io features include a sales funnel builder, an email campaign manager, the ability to create an affiliate program and marketing strategies, set marketing automation rules across your digital marketing channels, sell products and memberships and run evergreen webinars.
Let's continue the Systeme.io review by going into detail about the main features you can use:
Sales Funnels
With the Sales Funnels builder, you can create high-quality funnels with just a few clicks. There are 69 eye catchy pre-built pages in different niches and industries. You can easily edit and create all the pages of your sales funnels. These pre-built pages are created and optimized for conversions so that you can get more email addresses and sales.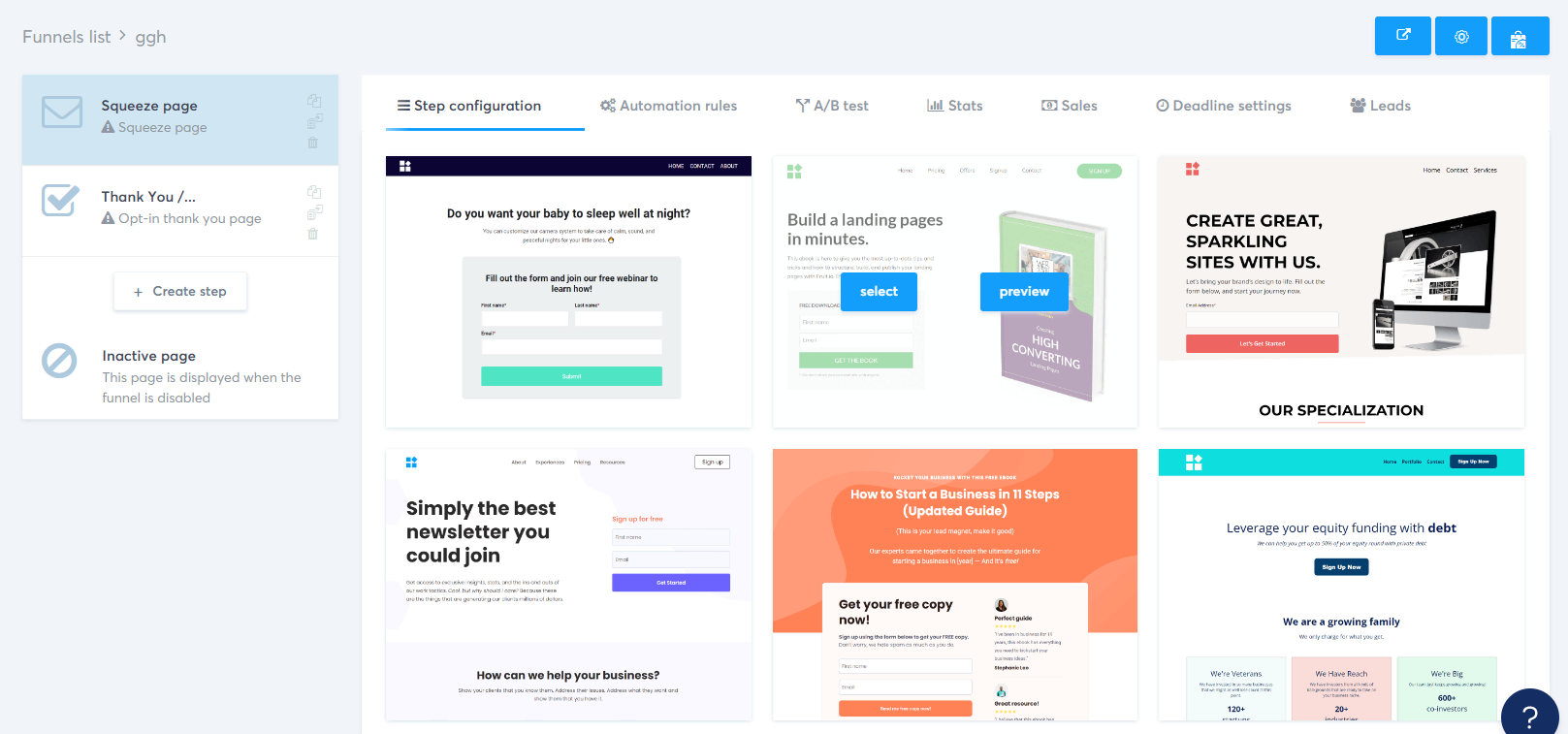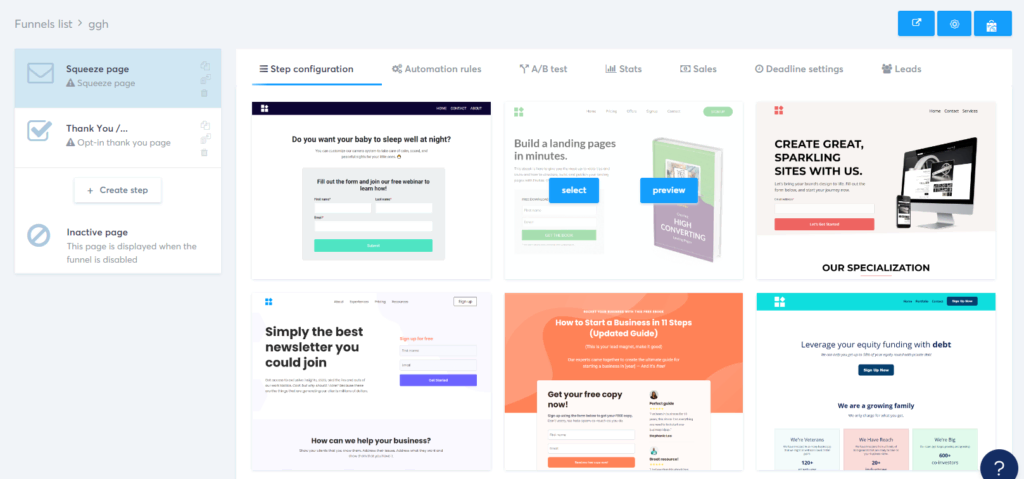 You can easily edit these pages and add your content. Also, you can add multiple steps in your sales funnel, including payment pages, thank you pages, opt-in-ins, upsells, etc. Then you can connect all these pages, set up automation and flows and integrate your email list, payment system, and membership sites.
Also, through automation, you can trigger email sequences and give instant access to courses, products or memberships.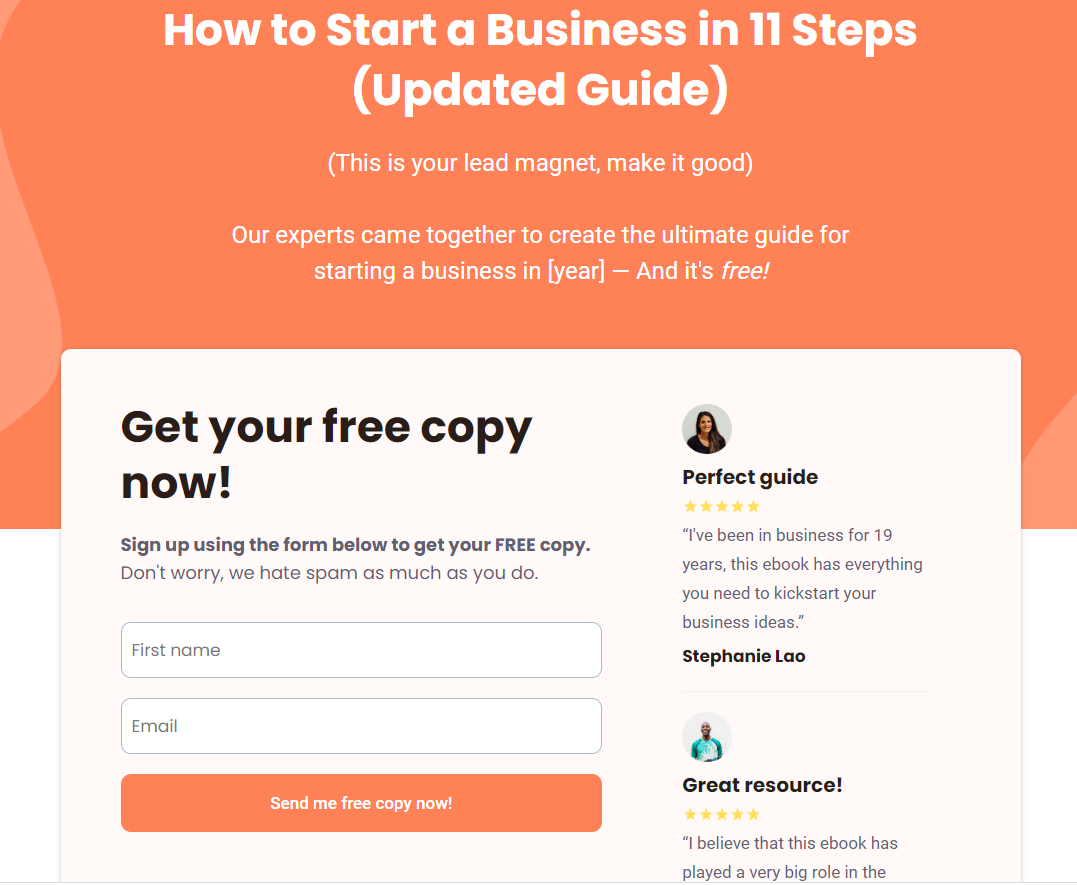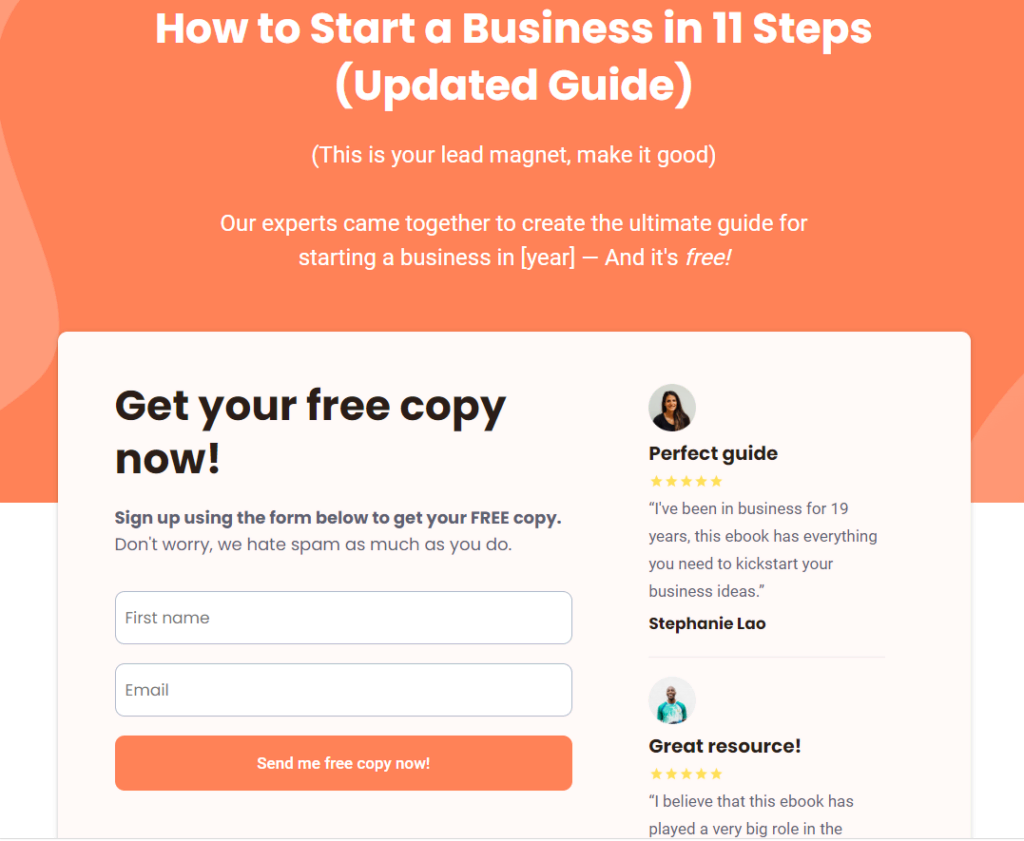 Thanks to the intuitive user interface and drag-and-drop editor, all of this can be completed in only a couple of minutes. You can add Facebook pixel, Google tag manager and other scripts to help track and optimize the audience.
Blogging Platform
As I'm a huge fan of blogging because you can bring organic traffic quite quickly and at lower costs, I appreciate the blogging platform of the Systeme.io platform.
You can quickly launch a blog and get your content visible online with just a few clicks. You'll be able to create eye-catching blogs to help you boost your brand reputation and attract more potential customers to your content.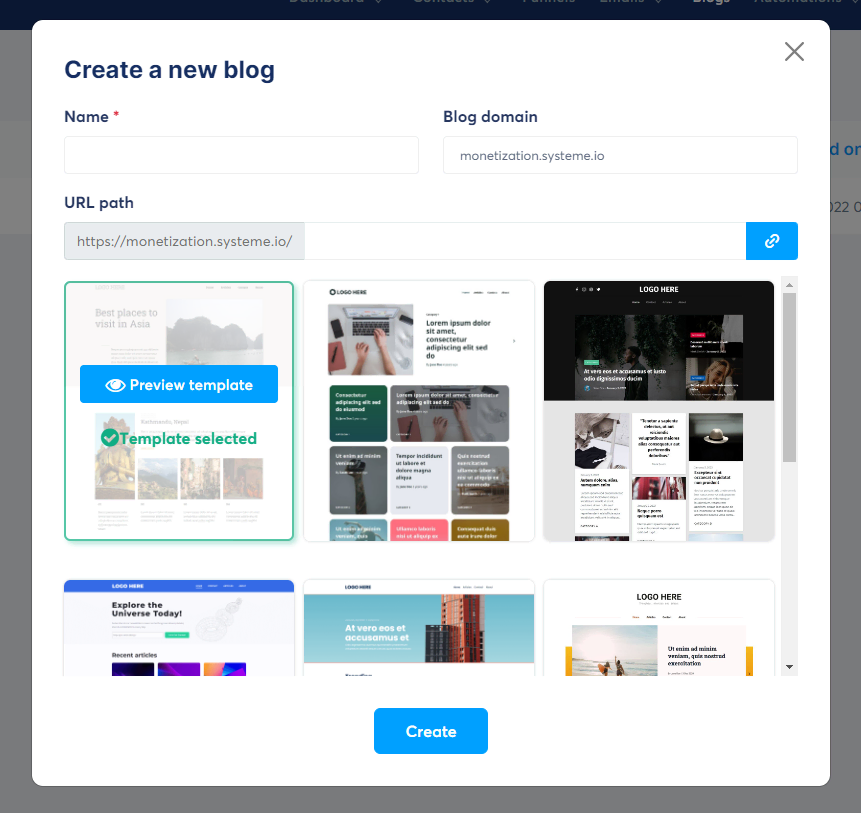 Here is an article that I've created and posted in just a couple of minutes. Of course, there is still some work to add a logo, more articles and a sidebar, but as a proof of concept, it shows that with Systeme.io, you can create a fully functional blog optimized for conversions in under one hour.
Updating your content is a breeze, thanks to the platform's intuitive content management tools. In addition, you can simplify your content creation and publishing processes by using the many expertly designed templates available to you.
Email Marketing Platform
Email marketing is a big part of any online business's success. You need to have a reliable platform that will allow you to send messages into your subscribers' inboxes in the most efficient way. We will also explore in this Systeme.io review how it can help you with email marketing.
It offers multifunctional marketing software designed and built-in on the platform. You can use it to send personalized emails, increase email subscribers to your newsletters, and even scale and automate the entire process easily with autoresponders and follow-up emails.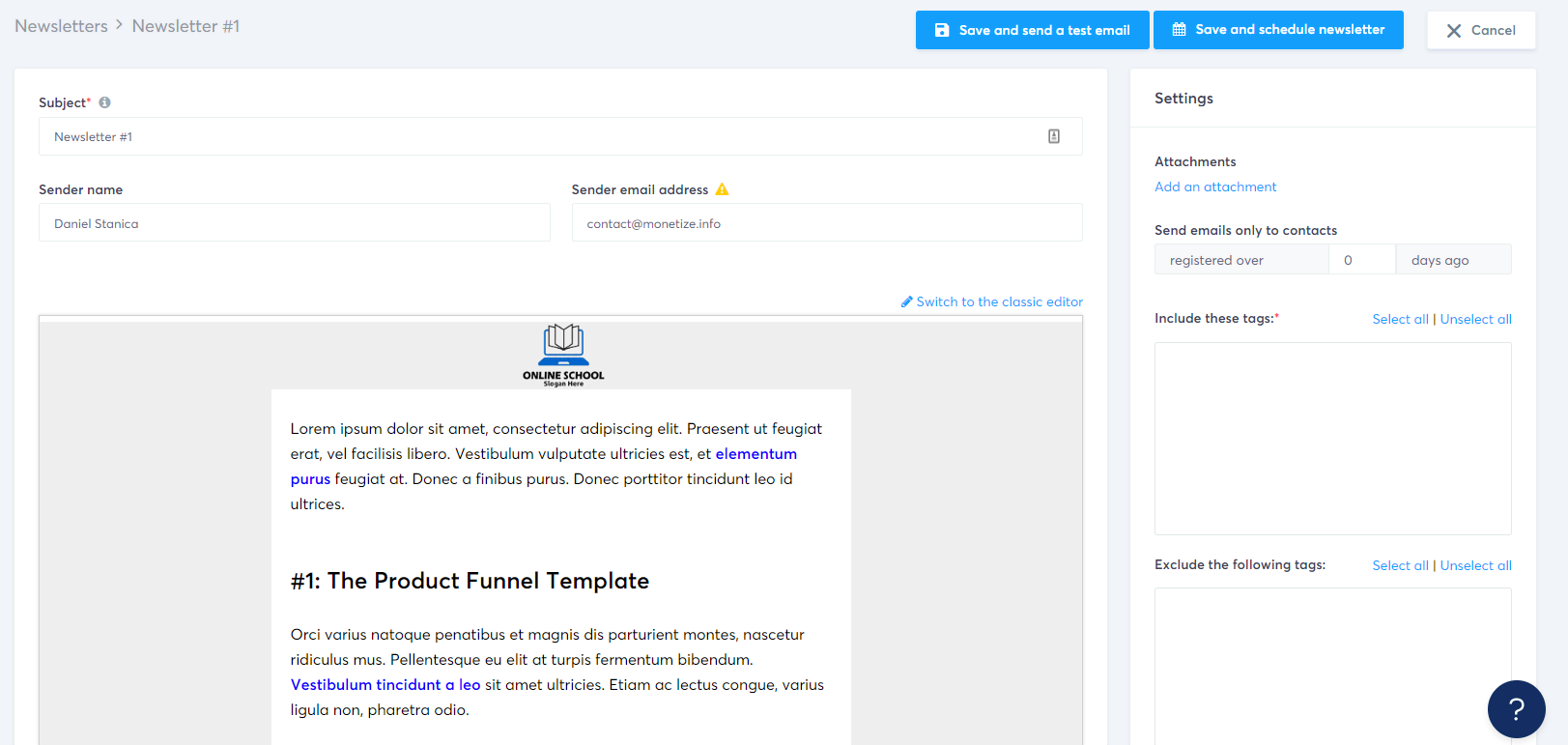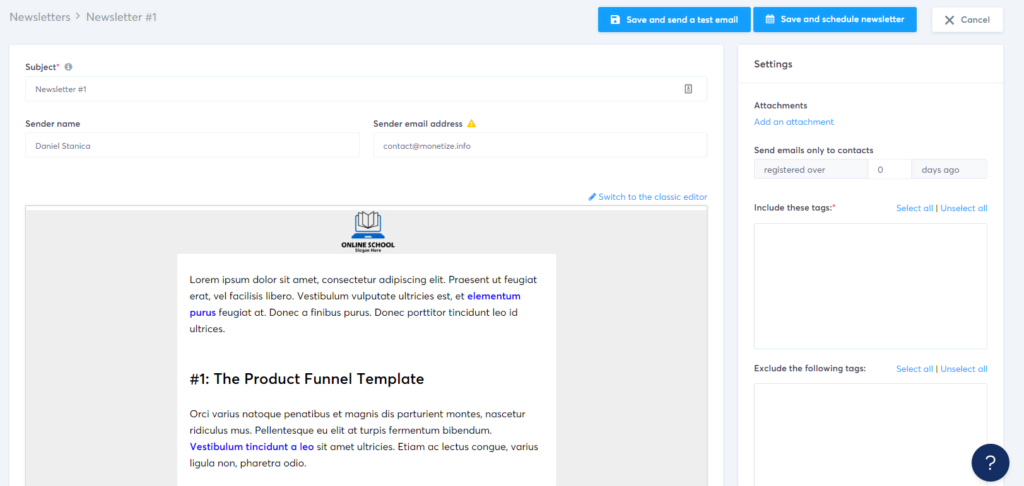 Creating squeeze pages with a wide selection of squeeze page templates is also straightforward. Squeeze pages are an incredibly influential part of email marketing for those who don't know. They are pages on a website designed to solicit prospective subscribers to sign up for the email marketing list.
Online Courses
You can build, launch and sell an online course quickly and easily without searching for additional third-party tools and apps. That's because Systeme.io has all the tools you need to market and sell your course so that you will conduct all your management from one convenient dashboard.


With Sales Funnels, you can create the pages you need to sell the course. With the blogging platform, you can create articles, and with the help of Email marketing, you will be able to interact with your email subscribers and lure them to purchase and take your course.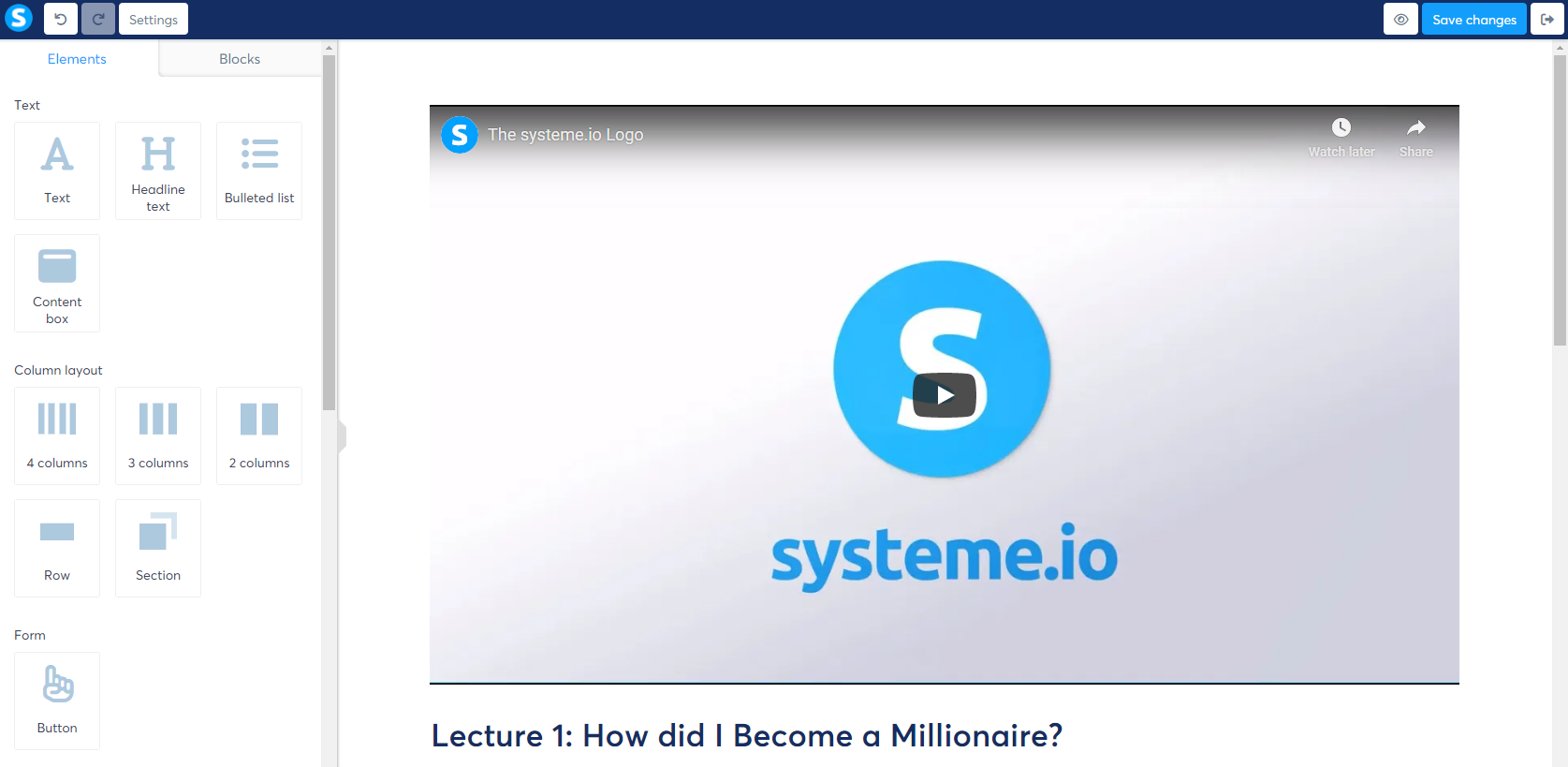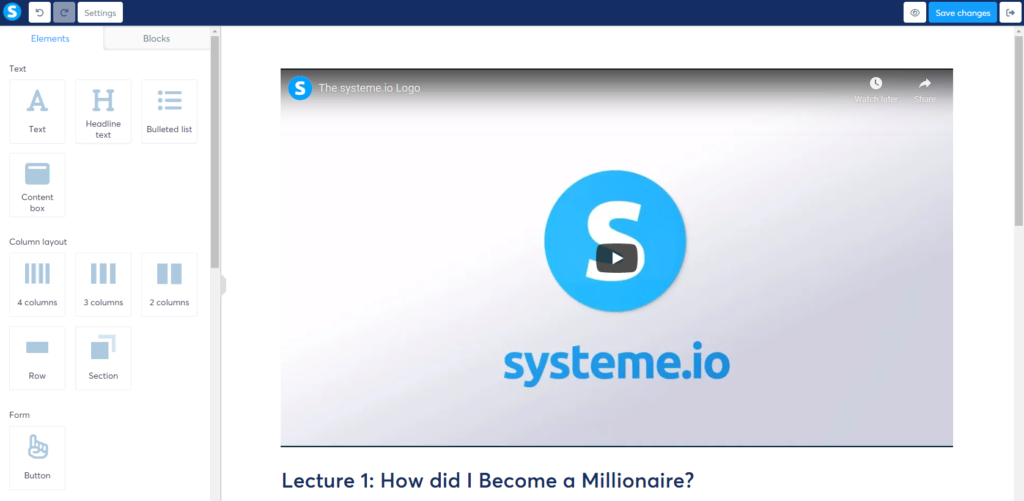 You can easily accept payment via PayPal, Stripe, and all the most popular debit and credit cards.
You can even manage affiliates for your courses from the same place, allowing you to supercharge your marketing and sales results with no additional effort.
Selling physical & digital products.
Selling services and products is easy with Systeme.io. Whether you're selling digital products or physical products, you can quickly sell products, convert leads, and increase upsells with this platform.
There is no need to worry about integrating third-party tools or payment processors; everything is available in one dashboard and can be activated with just a few clicks.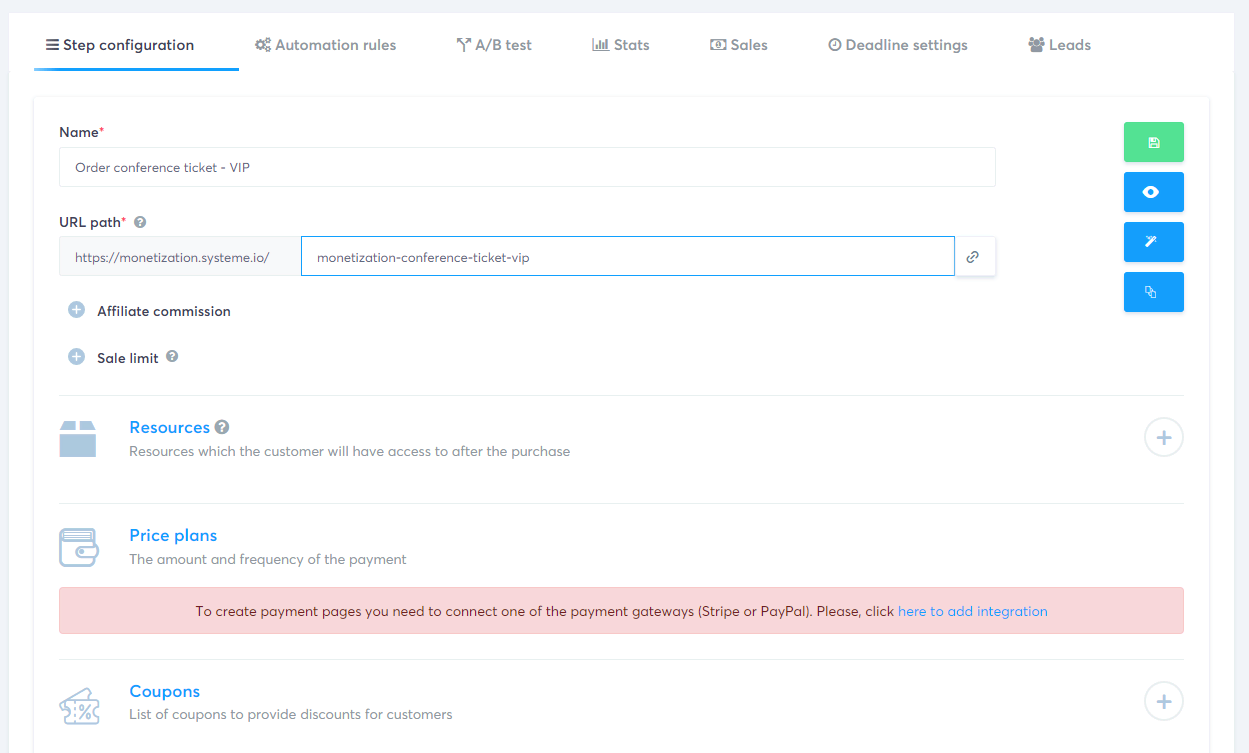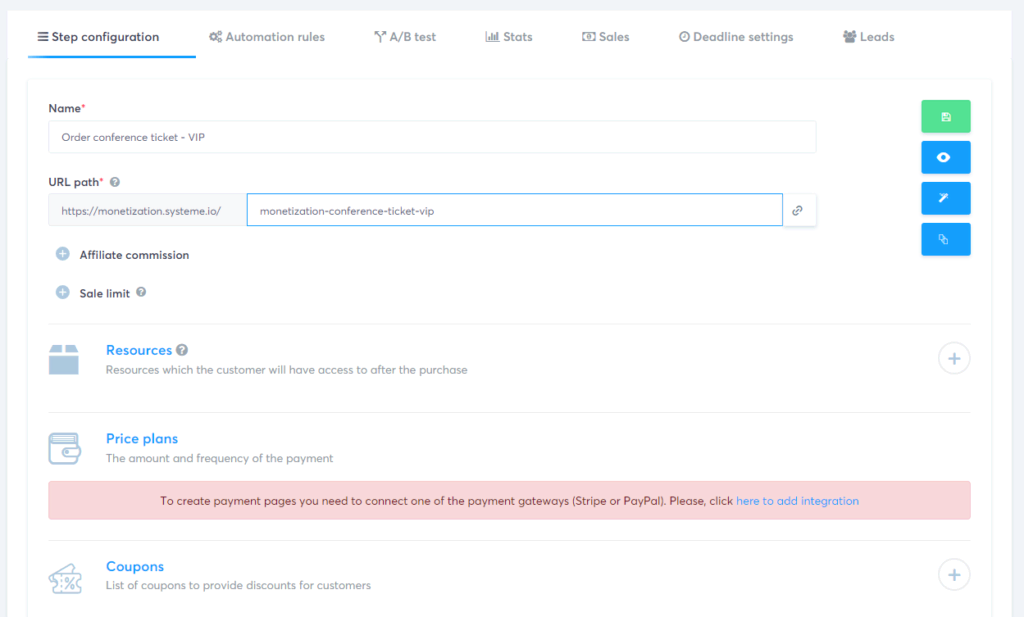 You can easily accept payment via PayPal, Stripe, and all the most popular debit and credit cards, offer coupons and discounts and connect to an affiliate program. Everything is done in your Systeme.io platform.
Membership Sites
Membership sites work as selling digital and physical products but with a couple of differences. Most notably, you take recurring payments from members rather than one-time payments for products.
Even if you've never built a website before, let's explore how it helps you build a fully functional membership site in minutes that many online business owners proved helpful.
With the platform's integrated features, you can create a fully functional membership website by simply drag-and-dropping the elements you want on your pages, and you can even choose from pre-built templates, so you don't have to start from scratch.
Evergreen Webinars
Webinars are a great way to drive leads to your sales funnels in almost any industry. These are effective for building email lists and making sales while you sleep.
Having the right webinar software can be a game-changer in your space, and Systeme.io has the exact tools you need.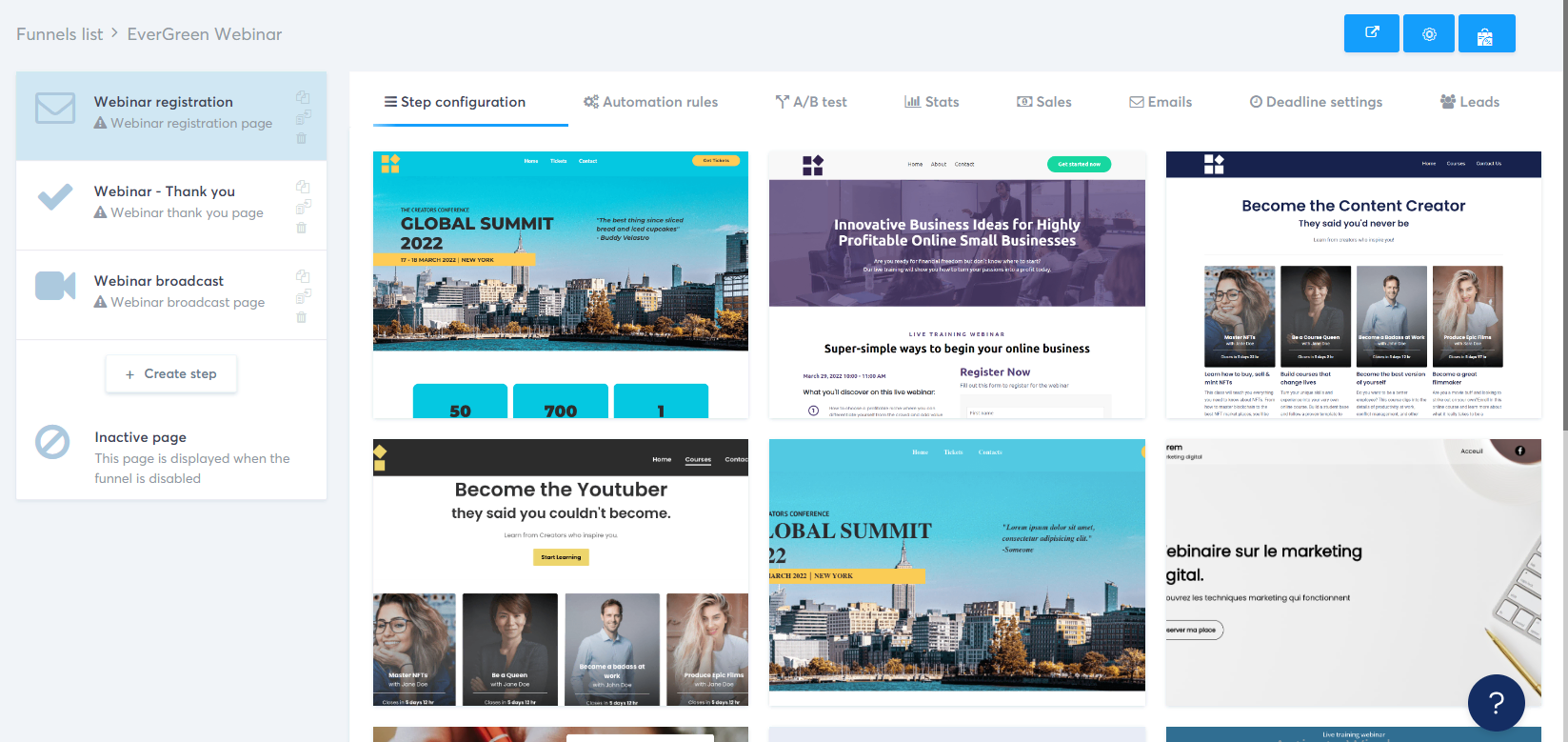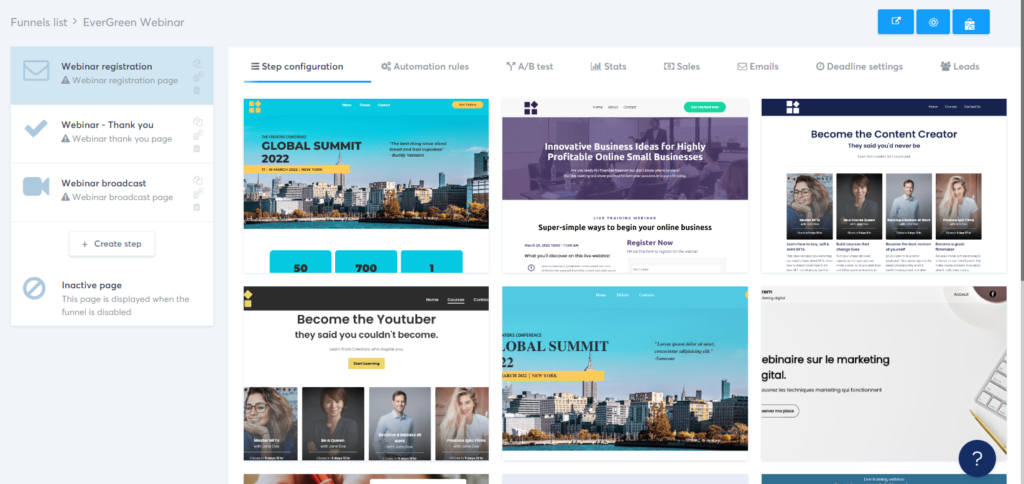 The platform makes it extremely easy to run evergreen webinars to generate leads and sales continuously. You can build your email list and sell your products or services on autopilot.
Affiliate Programs
It's not a secret that affiliate marketing is a lucrative marketing method for affiliates and product owners. In exchange for offering a sale commission, the affiliates will promote your product to their audiences and generate sales while you take care of it.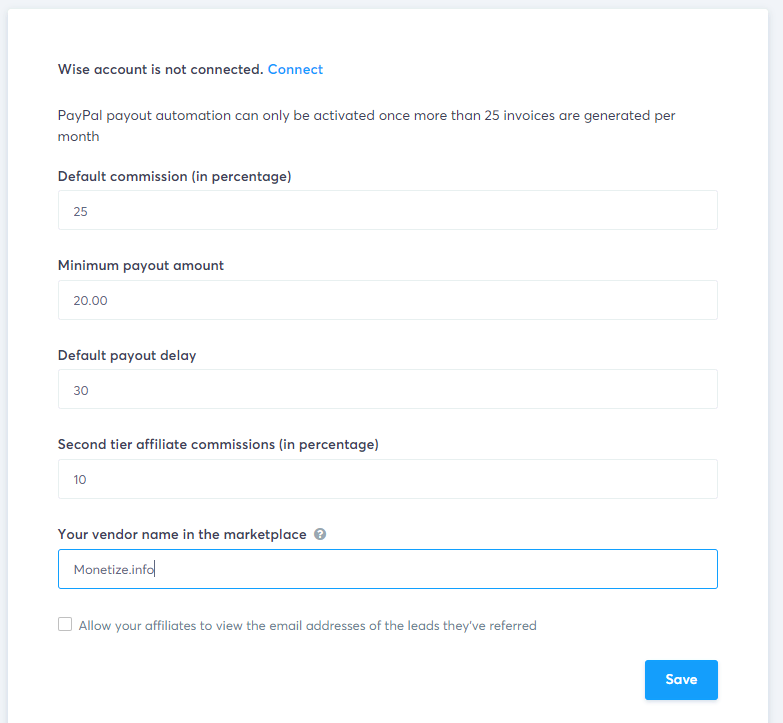 With Systeme.io, you can easily add an affiliate program to your online course or product sales. The tool will take care of onboarding the affiliates, reporting, and showing you the revenue and how much you have to pay to the affiliates. You can pay your affiliates using PayPal or Wire transfers.
Here are a couple of guides that will help you set up, promote and grow your affiliate program:
Automation Tools
One of the primary keys to successfully scaling your online business is to automate as many of its operations as possible. Systeme.io makes it easy to dynamically automate a wide range of processes so you can have more time freedom while growing your entire online business.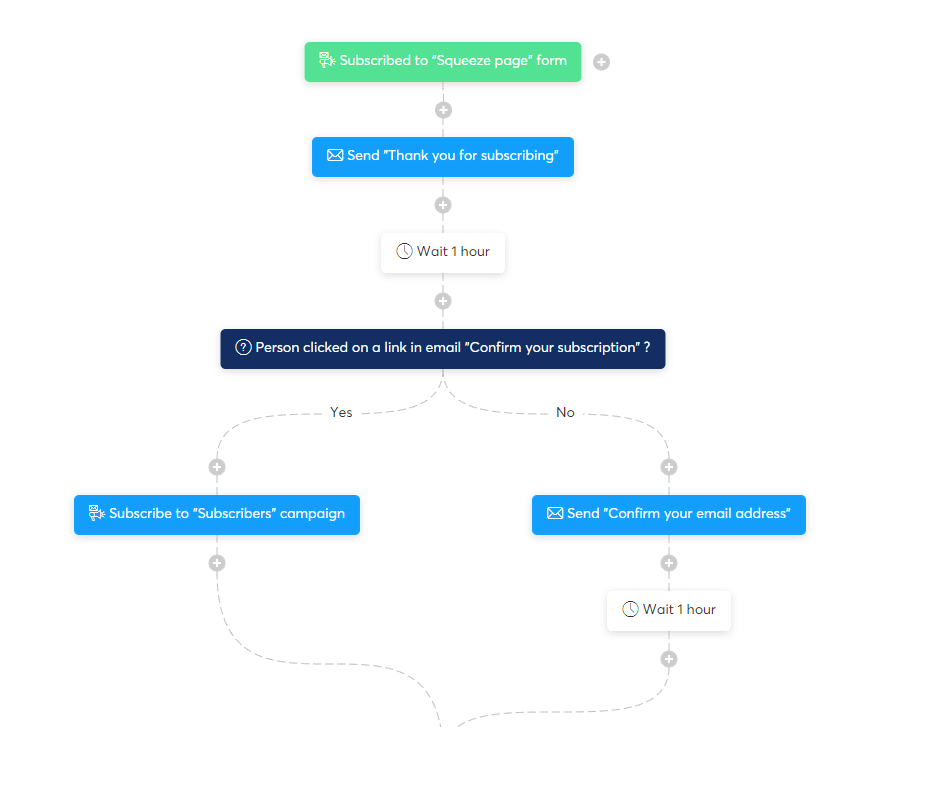 You can automate everything from communication and project management to launching your online business, selling your products and services, collecting leads, and much more.
Further reading: How to Grow Your Business With Marketing Automation
Other functions
Besides those functionalities that are the core of Systeme.io and will help you launch your online business, there are a couple of other features that come neatly:
Coupons
Contacts management
Transactions & Invoices
Course bundles, etc
Business automation
–> Signup for a free Systeme.io account and explore the benefits
Now that you know the main features let's continue this Systeme.io review with the PROs and CONs.
PROs and CONs of Systeme.io
There is no denying that Systeme.io has an impressive number of features and holds its own against competitors.
In this section, I'm going to briefly tell you the PROs and CONs of Systeme.io so you can judge for yourself if the product is a good fit for you or not.
PROs of
Systeme.io
All-in-One Solution. Instead of integrating 4-5 different platforms and paying for them, you get what you need in one place at a fraction of the cost.
It's beginners friendly. The platform is designed to make it as easy as possible for anyone to use all of its tools, regardless of whether it has any prior technical or marketing knowledge.
Actionable Guides. The interface of the platform is very intuitive and comes, and on top of that, there are many video tutorials and written guides in the knowledge base. On top of that, there is a Facebook group where you can ask the community.
Seamless Processes Since everything is built into one platform, everything works seamlessly together, making your job much easier.
Friendly prices. Most of the features are also included in the Free plan. For more advanced staff you can get a paid plan which is affordable.
CONs of

Systeme.io
No API yet. The platform is integrated with Active Campaign, PayPal, Stripe, Wise and Zapier to set up automation. However, if you need advanced integration with your custom tools, you may have to wait for their API, which is on the to-do list and may be released soon.
No advanced customization. The platform offers limited design flexibility, which may be off-putting to advanced users who want to customize different aspects of their pages, but for beginners, it is perfect.
Some settings are not intuitive. When I had to set up an URL for my blog post, I had to try it three times to make it work (it seems it doesn't accept capital letters)
As you can see from the PROs and CONs put side by side, I think the PROs outrank the CONs. But what will truly amaze you in this Systeme.io review will be the pricing plans.
Systeme.io Pricing Plans
There are four pricing plans of Systeme.io tailored to the needs of each stage of your online business.
Fortunately, Systeme.io has a very transparent pricing model with plans that are as follows:
The free plan ($0/month)
I was amazed that the Free plan covers everything you need to start. Till you have more than 2000 email contacts in your list, you can use it without paying anything.
On top of that, you will get three sales funnels and unlimited emails, one membership site, and marketing automation, among other features. However, it doesn't include custom domains or evergreen webinars.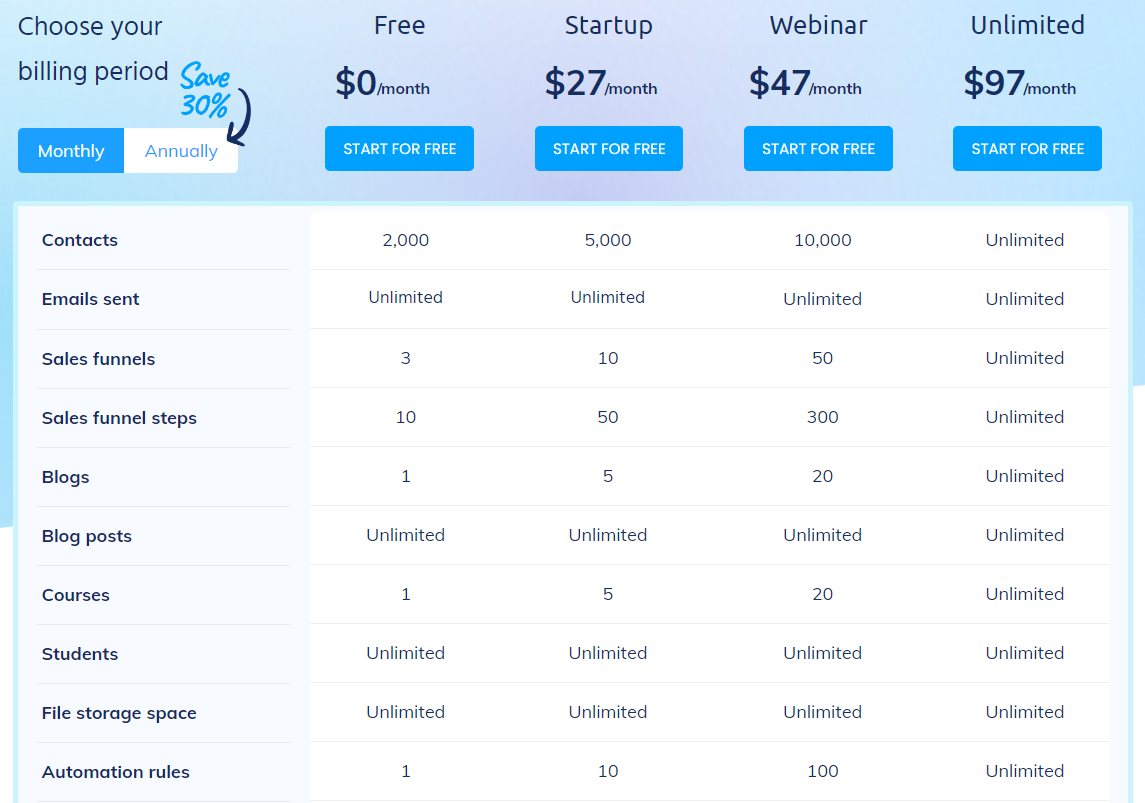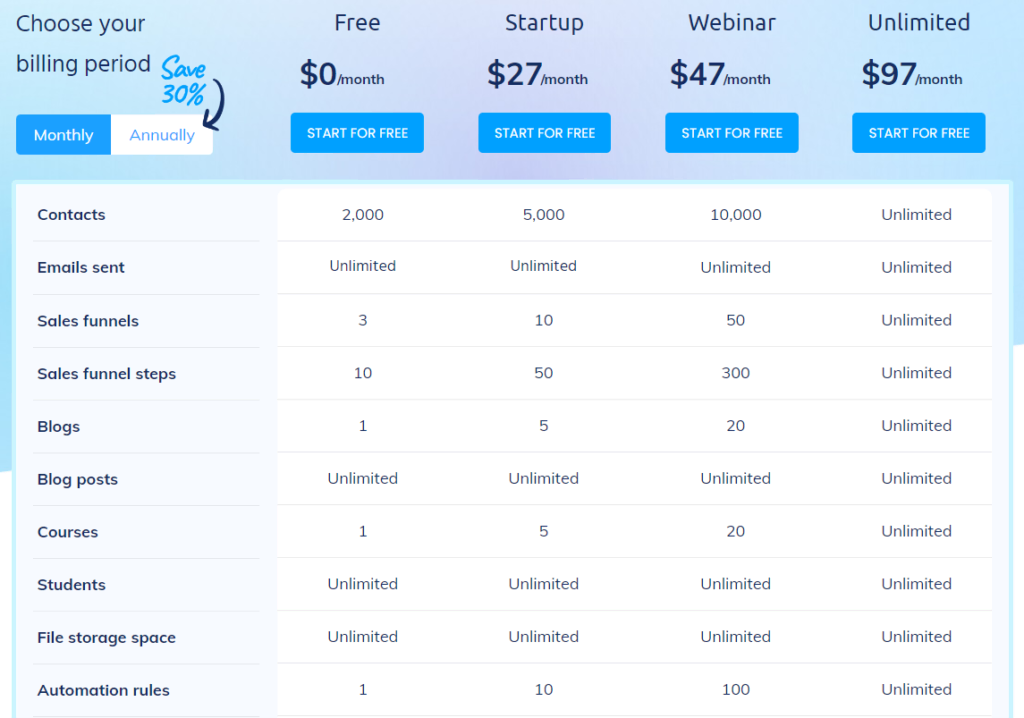 Startup ($27/month or $228/year)
The Startup plan comes with 5,000 contacts, ten sales funnels, unlimited emails, five membership sites, and marketing automation, among other features. It includes one custom domain.
Webinar ($47/month or $396/year)
The Webinar plan allows you to run evergreen webinars to grow your audience and make more sales. You can also store up to 10,000 contacts, create 50 sales funnels and send unlimited emails. It has 20 membership sites, ten webinars, 50 coupon codes, and ten custom domains.
Unlimited ($97/month or $828/year)
This plan gives you unlimited everything: contacts, emails, funnels, membership sites, webinars, members, file storage space, and unlimited custom domains.
The main differences besides unlimited everything between the Webinar and Unlimited plans are that you get free migration and 1-on-1 kickstart coaching sessions on the last one. Be advised that if you get annual plans, you will get free migration on all the paid plans: Startup, Webinar and Unlimited.
You will save 30% of your costs if you get an annual subscription. If you just started your online business or didn't need free migration from other tools, I recommend starting with the Free plan and upgrading to a paid one. Later, when you start getting traction and sales, you can upgrade to an annual plan.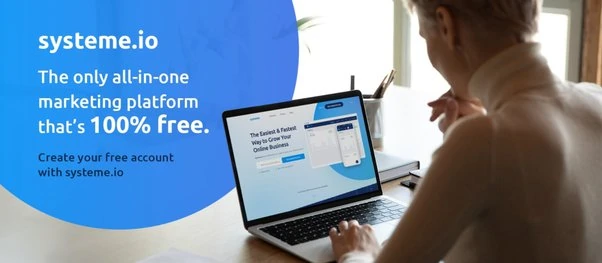 Systeme.io Support
For a tool that does so many things, and especially if you're a beginner, most probably at some point, you will need help to do a thing or two. Fortunately, Systeme.io have you covered with a couple of support options tailored to your needs.
Knowledge Base
A quick search on the website's knowledge base will answer virtually any question about using the platform.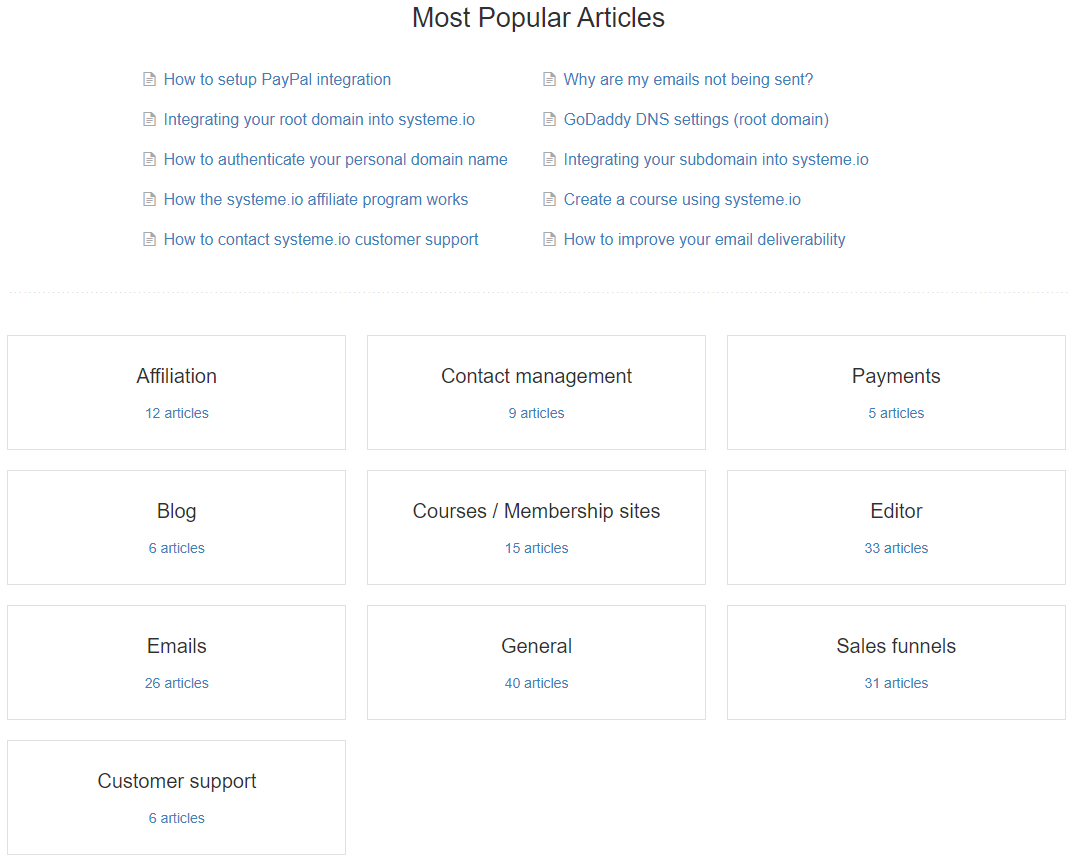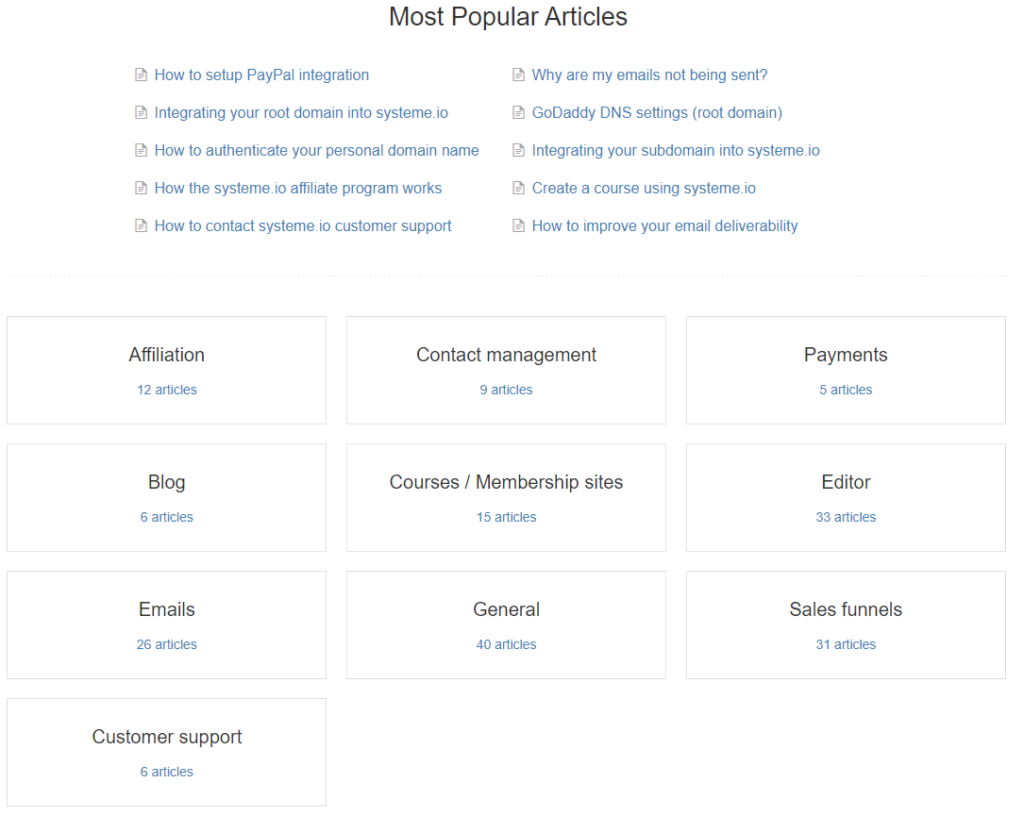 At the moment of writing this review, there are 12 articles on Affiliate marketing, nine on contact management, five on Payments, six on blogging, 15 on Courses and Membership sites, 33 on the visual editor, 40 General articles, and 31 on building and managing your sales funnels.
Customer Support Team
If you can't find your answer in the knowledgebase or your issue requires more attention, you can contact a customer service agent who will assist you. You can send a support ticket here.
Video Tutorials
In addition to the articles and guides on the website, you'll also find many video tutorials on Systeme.io's official YouTube channel about how you can use the different features on the platform to build and scale your business quickly and easily.
Online Coaching
If you sign up for the Enterprise plan, you'll get one-on-one coaching from the platform's experts, who will work with you to ensure you get started on the right foot.
Facebook Community
Aurelien, Systeme.io's creator, opened a Facebook group where you can get community-based support for any queries you may have. At the moment, there are over 17K members that use the platform. Also, some experts can answer your questions or even design funnels and set up email or payments for you.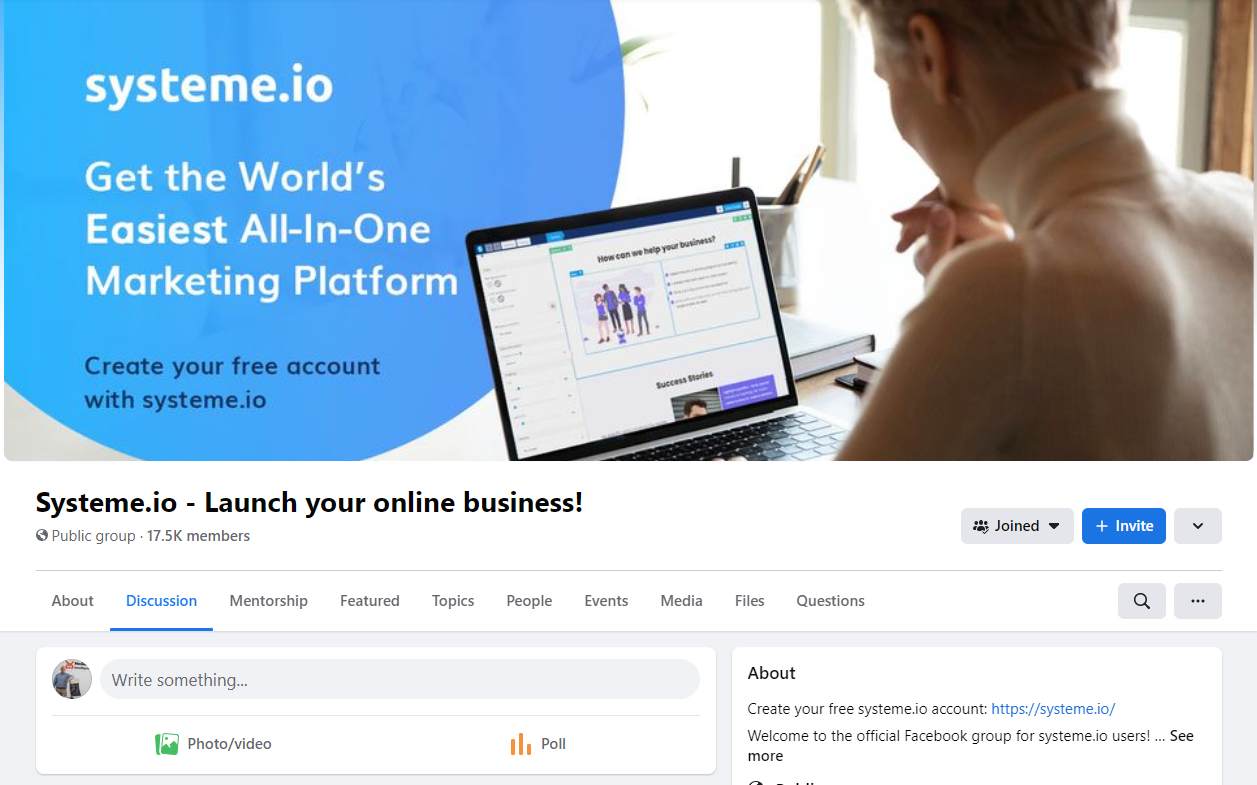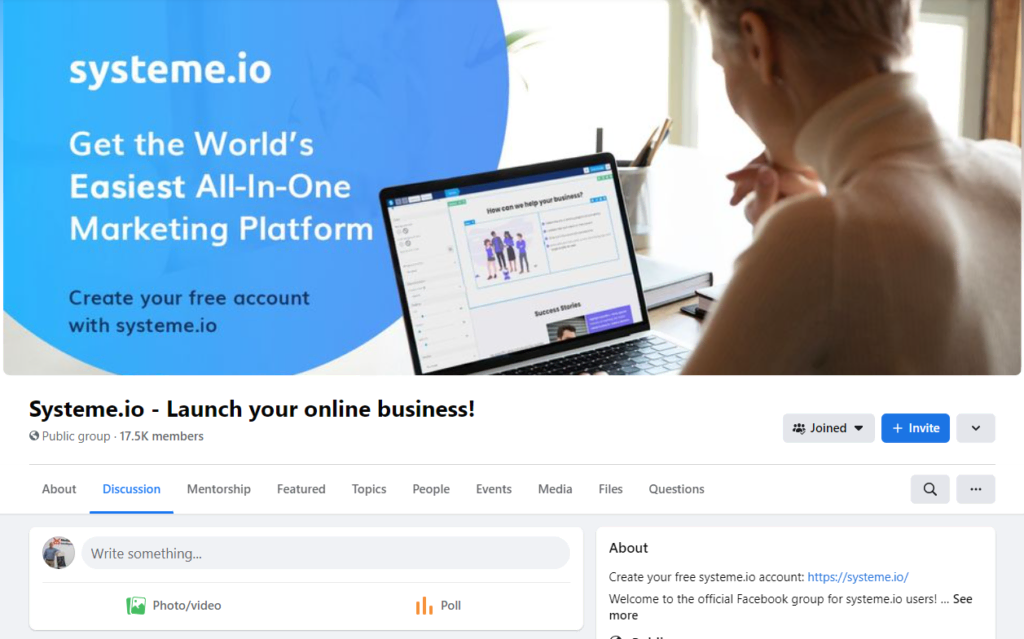 As you can see, there are several ways you can get help from the community or support representatives, so you are covered in any movement. If you want to learn more about affiliate marketing and get help in your journey, I recommend checking our list of Best Affiliate Marketing Facebook Groups.
Systeme.io Alternatives
Now that you know what Systeme.io can do for you let's continue this systeme.io review by exploring some of the alternatives you have. As you know, online businesses have no one-size-fits-all solution, especially companies that rely on digital marketing.
Systeme.io is a complete all-in-one platform for businesses of all sizes and goals. You're sure to find something that will work for you!
But let's explore a couple of alternatives:
System.io vs WordPress
If you are a regular Monetize blog reader, you know I'm a huge fan of WordPress and consider it every time I want to build a digital business. To replicate most of the functions that System.io offers, you must install and configure at least 6-7 premium plug ns and integrate them with a couple of SaaS tools. Wich will come with a cost in time, website speed and money.
That's not an easy job for a beginner, so that you may need help from a WordPress development company and a WordPress maintenance company. On top of that, that will take out of your pocket a couple of thousands upfront and a couple of hundreds yearly.
The only advantage of using WordPress is that you will have everything on your server and not in the cloud.
Systeme.io vs HubSpot Marketing Hub
HubSpot Marketing Hub is a reputable name in the digital marketing industry, especially inbound marketing software. Their tools include blog creation, SEO content production (CMS),  leads management form builder, and social media posting – you name it! This tool's smooth integration with all other HubSpot services and products makes it unique.
The free plan includes up to 2,000 emails monthly, a drag-and-drop email builder,  ready-made templates, and contact lists management. Hubspot's paid plans start at $50/month but for just 1000 contacts and are pretty limited. Automation and custom reporting are only available from the Professional plan, which costs $890/month. Systeme.io have better pricing, course management, payment integration and affiliate program management, which are more suitable for entrepreneurs that launch online businesses.
Systeme.io vs ClickFunnels
ClickFunnels is the closest alternative to Systeme.io as it contains form builders, page management, membership sec ions, upsells, affiliate program integration, etc. Though the cost of entry may be too high, they offer only a 14 days trial, unlike Systeme.io, which has a lifetime free plan if you stay under 2000 contacts.
If you're looking for a better return for your money, then Systeme.io will most probably serve you better.
Further reading: Best Sales Funnel Builders For Affiliate Marketing
Is Systeme.io Worth it?
For most people just getting started online, the biggest obstacle to success in purchasing, using and connecting many online tools that solve different problems.
That's what Systeme.io resolve. It removes the need for you to figure out (and pay for) many different platforms and gives you all the functionality you need in one place. That's what makes a tool like Systeme.io worth it.
Systeme.io FAQ
What is Systeme.io?
Systeme.io is an all-in-one platform that offers you everything you need to run an online business: sales funnels, contact management, membership sites, selling digital or physical products, running evergreen webinars, setting up and managing an affiliate program, creating blogs and automating business processes.
Is Systeme.io legit?
Yes, Systeme.io is legit. It is perfect for beginners but can also provide a lot of value for more experienced marketers and businesses of all types and sizes. You can order the Free plan, which gives you access to all the functionalities but with limited resources. So before upgrading to a paid plan, you can test everything the platform offers without spending or entering your credit card.
Is Systeme.io worth it?
Yes. Systeme.io removes the need for you to figure out (and pay for) many different platforms and gives you all the functionality you need in one place. The pricing plans are affordable, and you can start an online business and collect leads and payments even on the free plan. That's what makes a tool like Systeme.io worth it.
Conclusion of the Systeme.io Review
The bottom line is that Aurelien kept his promise when he created Systeme.io, making it an easy-to-use and intuitive system that helps entrepreneurs launch, manage and promote online businesses. On top of that, having a free forever plan makes it accessible for people who just started and didn't have too much funding initially, but they can quickly scale later.
Systeme.io is not perfect, as there are minor bugs here and there, but these can be easily fixed and do not impact the platform's functionality.
I hope you have enjoyed reading my Systeme.io review as much as I enjoyed writing it. That's because I know the readers will be thrilled when I test and recommend something handy for the community, which also comes with great prices.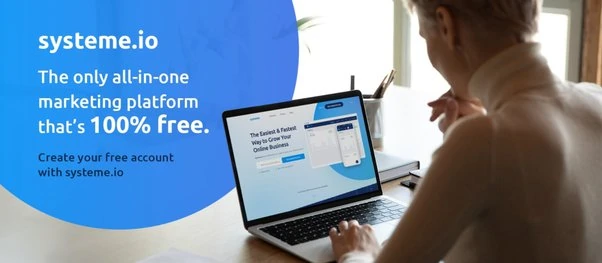 Now the floor is yours 🙂 What do you think about Systeme.io? Have you tried it? Are you using an alternative and considering switching? Let me know in the comments form below.