This guide will teach you how to start an affiliate marketing program from scratch. Our guide is designed especially for business owners and will answer most of your questions about growing your business by starting an affiliate program. If you already own an affiliate program, you can jump to the next part of this tutorial: How to promote your affiliate program.

By reading our complete guide on how to start an affiliate marketing program, you will find out:
What is affiliate marketing (in case you don't know yet),
Why you should use affiliate marketing for your business,
What the  affiliate marketing for businesses PROs and CONs,
What commissions type can you choose from,
How to choose an affiliate marketing platform and
A step-by-step guide on how to create your affiliate program.
A lot of things to do, so we better start.
1. What is Affiliate Marketing?
Affiliate Marketing refers to a type of marketing in which a business entity or a merchant rewards the affiliate for bringing sales by paying a commission of those sales.
The affiliate only receives specific promotional resources from the merchant like creatives and carries out the marketing campaign on its own but following the affiliate agreement terms (no SPAM, no deceiving, etc.).
The commissions might be based on the affiliate's sales or just getting visitors to the merchant's product.
Here are the three characters we will be referring to throughout the article: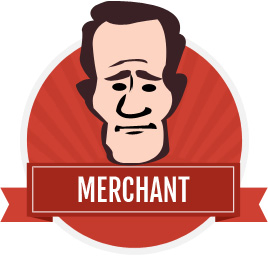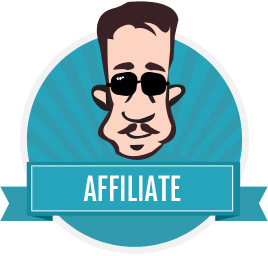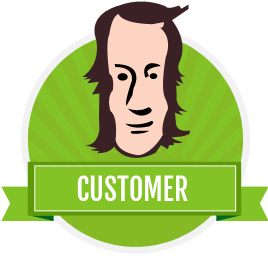 2. Why should businesses use Affiliate Marketing?
In part due to its performance-based nature, affiliate marketing continues to increase in popularity among advertisers. According to a survey published by Rakuten Advertising, more than four out of five brands use affiliate marketing to generate revenue. Data has shown publishers use the strategy even more.
According to one study that tracked U.S. affiliate marketing expenditures (from 2010 through the present), the U.S. affiliate marketing spending will likely reach $8.2 billion by 2022 — up from $5.4 billion 2017.
On average, the digital products industry experiences a 40-50% share of sales made by affiliates. Take Amazon.com as an example; Amazon gets 40% of its sales from affiliate marketing under "Amazon Associates" and other third-party entities selling their products.
A 40-50% share in sales refers to an increase of almost 100% to the merchant's current sales. Also, this number increases to around 300%-400% for smaller businesses. And the merchant receives all these "extra sales" by shelling out just a tiny percentage of the affiliate sales revenue.
Let's see a case study for a merchant with a $100 product and 1000 monthly sales:
The additional profits made, as shown above, are from sales made by the affiliates with almost ZERO EFFORT from the merchant's side.
Affiliate marketing is a Win-Win Opportunity.
Thus affiliate marketing is more of – "People doing the things they know best." It's a win-win situation for both the merchant and the affiliate. The affiliate earns the $20,000 monthly for a product he hasn't made, and the merchant receives an extra $100,000 sales without putting in any direct sales effort.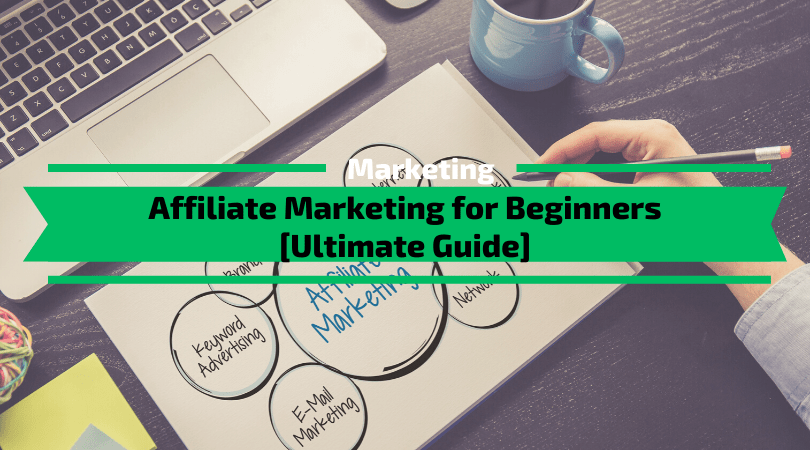 This is just a small example to show you the importance of Affiliate Marketing. This guide will tell you how to get the best out of an affiliate program and how affiliates can earn more through their affiliate sales.
3. Who benefits from Affiliate Marketing?
As stated above, affiliate marketing is an excellent method for merchants to increase their revenue and for the affiliates to increase their earnings without investing in product development and customer support.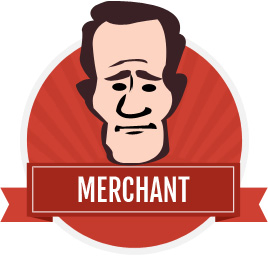 Most of the products and services can be promoted using affiliate marketing. Price, kind of product, etc., do not influence whether or not to have an affiliate program for a product.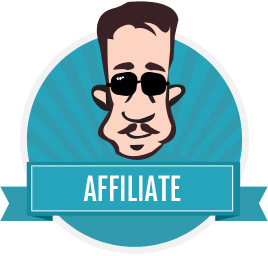 Affiliate marketing provides excellent opportunities to earn a lot of money online. Selecting a product to market is a crucial step for an affiliate. Check our guide for affiliate marketers and how to start an affiliate marketing blog that could make $100K in revenue.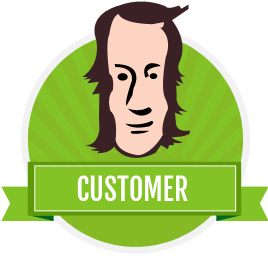 In the discussion above, we have covered the "financial" beneficiaries of an affiliate marketing setup.
Another beneficiary of such a setup is the customer itself. If a merchant had not used affiliate marketing, there would have been a massive set of prospective customers that would not have come to know about the product.  Hence, the customers are also benefiting from the reach of the affiliate marketers.
The affiliates also enrich the selling experience by writing product reviews and tutorials that explain the product or service better by answering the client's questions.
4. Types of Affiliate Marketing Programs
There are various kinds of Affiliate Marketing Programs a merchant can run, or an affiliate can join. These are based on the type of compensation or commission model followed by the merchant. The most commonly used programs are pay per sale (PPS) and pay per action (PPA).
4.1 Pay per Sale (PPS) / Cost per Sale (CPS)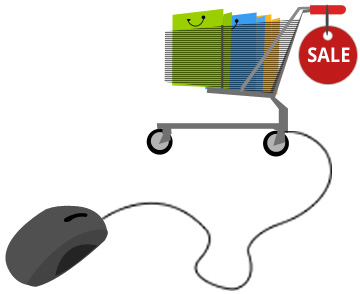 This is the most popular kind of affiliate marketing program. Around 70-80% of the merchants follow PPS as their affiliate payout system. Here the merchant pays a percentage of the price or a fixed amount to the affiliate for making a sale of its product.
The merchant is guaranteed a sale before it goes out to make any affiliate commissions. This system makes it very simple for the merchant to make calculations on profit margins.
Following the previous example, for a 40% profit margin product, keeping a 20% affiliate commission makes it very attractive for the affiliates and gives the merchant a considerable increase in business.
The merchant also needs to factor in all the up-sells it has planned with the products. For a merchant driving 20% of its customers into buying the upsell, the PPS percentage can undoubtedly go up.
From an affiliate's perspective, the affiliate needs to ensure the sale before expecting any payout. Getting a customer to visit the merchant's site is not enough! If the affiliate manages to pull off the sale, it receives considerably high commissions. Tracking such a system is easier for both the affiliates and the merchants.
4.2 Pay per Action (PPA) / Cost per Action (CPA)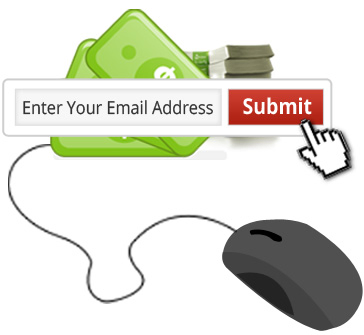 The Pay per Action (PPA) or the Cost per Action (CPA) model of payment for the affiliates refers to a method where the merchant decides an action mostly about the prospective customer. The affiliate mainly gathers this information by getting some form filled by the customer.
An action may also refer to a free trial (or a very minimal amount) given to a prospective user. Once the user tests the product, the merchant may go ahead with the main sale and then go along with the upsells.
This method is generally used by merchants who prefer using their own sales effort (sales pages, website, etc.) to complete or close the sale with a prospective customer.
In this case, the merchant needs information about its product's conversion rates. For example, if one out of every 25 people visiting the site buys the product, the price of making a sale comes out to be 25 x (amount paid per action).
If a merchant pays $0.10 per action, 25 x 0.10 = $2.5 is the cost of acquiring that customer. Thus, a merchant can quickly improve the conversion rates to utilize the affiliate's visitors more efficiently.
From the affiliate's point of view, getting somebody (prospective customer) to fill in the form (the action) ensures the merchant's payment. Getting a sale out of the customer is then up to the merchant.
An affiliate who can drive that kind of traffic through its already existing sites, blogs, etc., or otherwise would be advised to enter into a CPA affiliate program.
The CPA payment amount may vary from product to product, depending on its value for a merchant.
4.3 Choosing the type of Affiliate Program – Critical!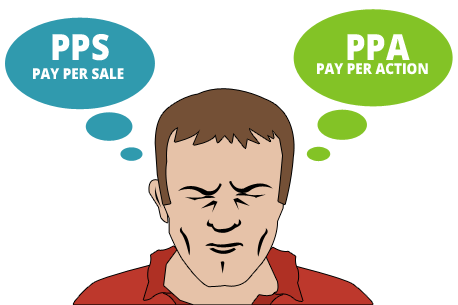 The affiliate program type you will start is critical for your success. However you can make changes later on, but it's important to track results and update accordingly.
Some affiliate marketing niches like gambling, financial services, dating, magazine subscriptions, and game downloads work best with the CPA affiliate marketing model. In contrast, informational products work best with pay-per-sale in other niches like eCommerce.
As a merchant, you should choose an Affiliate Program type that best suits your capabilities and the product you sell.
If you are confident that you will obtain reasonable conversion rates, you should go in for a Cost Per Action Affiliate Program.
If you don't know what works best for you, you should go with the Pay Per Sale Affiliate marketing model, as you will pay the affiliate only when he generates a sale. This way, you will not need to pay for leads that do not convert.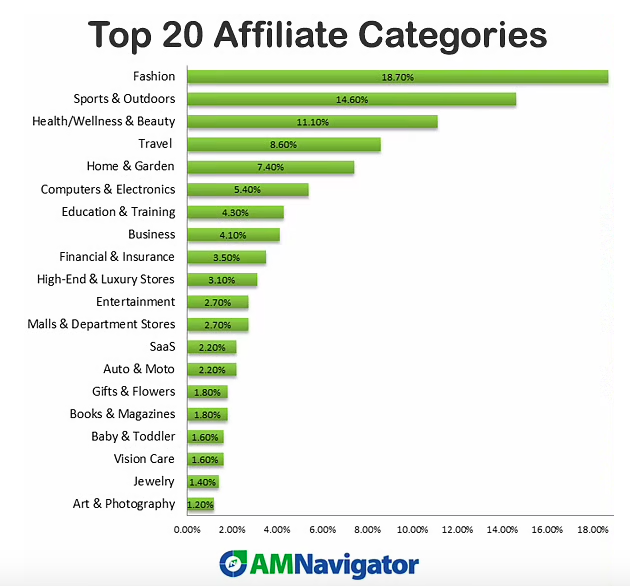 If you need help, you can hire us, and we will analyze which option is the best for you.
5. PROs and CONs of running an affiliate program
Now that you know what affiliate marketing programs are, their benefits, and how to choose the best one for your business, let's talk about the PROs and CONs.
PROs of Affiliate Marketing Programs:
Paying only for performance.
Getting more sales.
Capturing the Untapped Market.
More free Branding! Links and rankings.
CONs of Affiliate Marketing Programs:
Fraud.
Brand and reputation issues.
Unfair competition from affiliates.
Let's get more into details about the PROs and CONs of affiliate marketing programs because I want you you have a complete picture before considering starting one.
5.1 PROs of Affiliate Marketing Programs
Here are the details of the affiliate marketing programs PROs:
5.1.1 Getting more sales
Amazon is driving 40% of its sales through affiliates. Industry standards of around 30-40% of sales being driven through affiliates are good enough for merchants to understand the importance of affiliates.
A $100,000 firm can quickly grow into a $175,000 firm or even more with an affiliate marketing program. Also, you will see the effect of affiliates on sales (percentage-wise) more prominent in the small and medium entities where the merchants experience an increase in sales of around 200-400%.
You should be aware that these numbers mentioned above need good affiliate marketing program promotion, affiliate commissions, fast affiliate payouts, and a good affiliate manager.
5.1.2 Capturing Untapped Markets
As a merchant, you should understand that you can not capture the complete market of your product. That's because there are multiple languages, business cultures, geographical areas, etc. Each affiliate sells the product as an internet marketer and a sub-merchant with unique lists of potential customers and marketing techniques.
A merchant may be good with SEO or hire a PPC agency. Some affiliates focus on other kinds of marketing media like social media, content marketing, sales videos, etc… Tapping all these marketers and having a 360-degree approach to the marketing campaign is always useful.
Integrated Marketing Effort or IME encapsulates all marketing tools to build the perfect marketing campaign. By starting an affiliate marketing program, you will use IME with the help of affiliates that excel in a particular marketing form.
What better can a merchant ask for??
5.1.3 Pay only for sales!
Affiliate Marketing is a great tool for merchants to advertise their products as they only pay a commission to the affiliates after they make a sale. Thus the fixed costs for an affiliate program are ZERO. The merchant pays a commission that he has already calculated to be profitable. This makes affiliate marketing an almost 0 risky investment.
5.1.4 More free Branding! Links and rankings
Affiliates make websites, write articles, reviews, and testimonials, and share about the merchant's product on social media.  All this, directly and indirectly, helps to build a stronger brand for the merchant. Therefore, the merchant's website drives more traffic through backlinks on affiliate sites and increases the targeted audience's reach, thus enhancing the brand.
5.1.5 Increase your digital presence
More affiliates mean more advertising, websites, blogs, and digital presence for the merchant. All this transcends into more sales and a better brand for the merchant.
We have seen the rosy picture an affiliate program can paint and will paint for the merchant. The merchant must be aware that he is handing over his product to unknown people (people who do not know the product and the merchant) to market.
Ok, so here are the benefits of affiliate programs. But let's consider the risks as well:
5.2 Risks of running an affiliate program
5.2.1 Fraud
In my opinion, the highest risk of running an affiliate program is fraud. If you are running a CPA affiliate marketing program, the risk is even higher. That's because there will always be people that will want to cheat the system.
Just to name here the most frequent fraud cases:
Self-referring – Some customers will signup as an affiliate and then order the product to their own link to save 25%-30% or commissions for affiliates. You can prevent this by checking the 1st couple of sales for new affiliates for purchasing details. Also, you can set a minimum amount of at least 2 or 3 sales for the first payment.
Purchases using stolen cards – Some affiliates may try to cheat the system by generating purchasing with stolen credit cards through their own link and hoping to cash in the commissions. You can prevent this from happening by scrutinizing the affiliates very well, having good antifraud systems, and pay the affiliates in payment methods that require verification. You may absolutely avoid accepting credit cards and paying affiliate commissions in Bitcoin or other cryptocurrencies.
Low-quality leads – If you have a CPA affiliate program, you should check the leads sent by the affiliates very well. They may try to increase their commissions by sending incentivized leads (offering money to people to signup) or fake leads (generated emails, etc.)
Ensure you have clear affiliate terms, use anti-fraud systems, scrutinize the affiliates well before making their 1st couple of payments, and the fraud will be insignificant over the benefits.
5.2.2 Brand and reputation Issues
Unfortunately, a small percentage of affiliates only care about the money, and they will do almost anything to maximize their earnings. This includes sending spam, making false claims, etc. which may have brand image consequences for you. That's why you have to scrutinize the affiliates well, offer clear branding usage instructions, and don't hesitate to ban them from the program if they fail to comply.
5.2.3 Unfair competition from affiliates
With all the competitive intelligence tools like Semrush, SEO Power Suite, or SpyFu, affiliates can easily analyze your marketing campaigns and reverse them. So you should prohibit PPC bidding on your brand. Otherwise, they will capitalize on your brand without bringing any useful to the client.
All these risks can be easily diminished by having clear terms and a good affiliate manager that scrutinizes the affiliates and their activities to comply with the rules.
6. How to start your affiliate marketing program
Let us discuss a few ways in which a merchant should start the affiliate program.
6.1 Affiliate software or Affiliate network
Before anything else, you should decide if you will host your own affiliate program or run it through an affiliate network. Of course, you can do both, but I suggest you do this when you have already established one of them.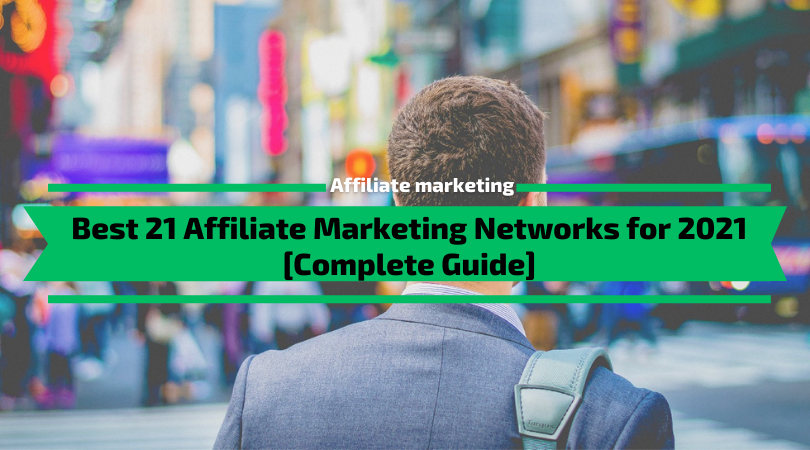 There isn't a common answer as both affiliate software, and affiliate networks have their own PROs and CONs. In a nutshell, if you want to have more control of the payments, the affiliate program, and the affiliate, you should run your own program.
On the other hand, if you start your affiliate program through a network, you will immediately have a couple of hundreds or thousands of affiliates ready to promote your product.
As I said earlier, at some point, you can make a transition from your affiliate to an affiliate network or more. For instance, in the email below, IPVanish announces its affiliates decided to migrate from Post Affiliate Pro to Commission Junction.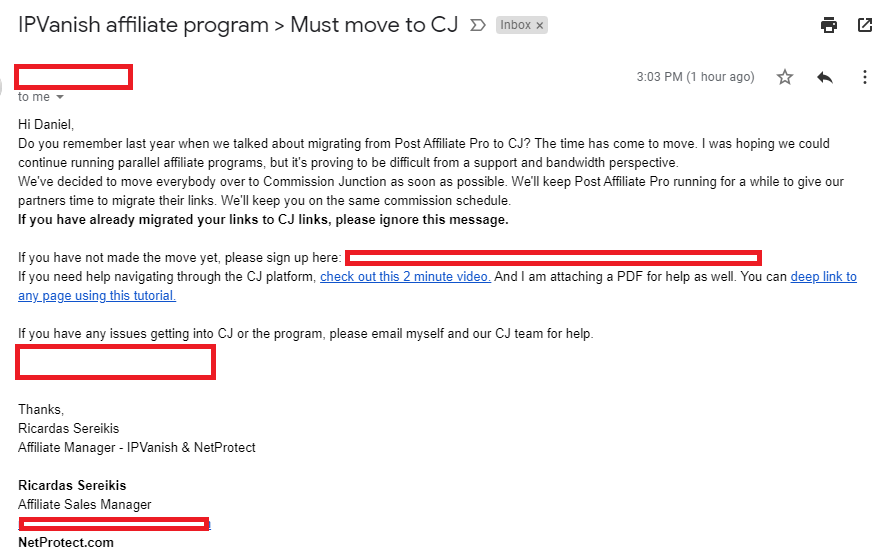 If you are on WordPress, we suggest checking our top 10 recommended affiliate solutions for WordPress and WooCommerce. If you need help with that, contact one of the recommended Top WordPress Maintenance services. For advanced customization or new features added then, you should discuss with a WordPress development company.
6.2 Setting Commissions and payment terms
The best way to attract an affiliate or, for that matter, any person is MONEY. Show affiliates the money, and they would do anything to sell the product.
You should do the calculations here carefully. Calculate the expected sales and product profitability increase, taking out affiliate commissions.
Keep in mind to keep the second variable comfortably positive.
The payment date of the commissions should include the refund period you offer for your product, if any. Doing this will ensure you will not send the commissions to the affiliate, and the buyer will refund the purchase.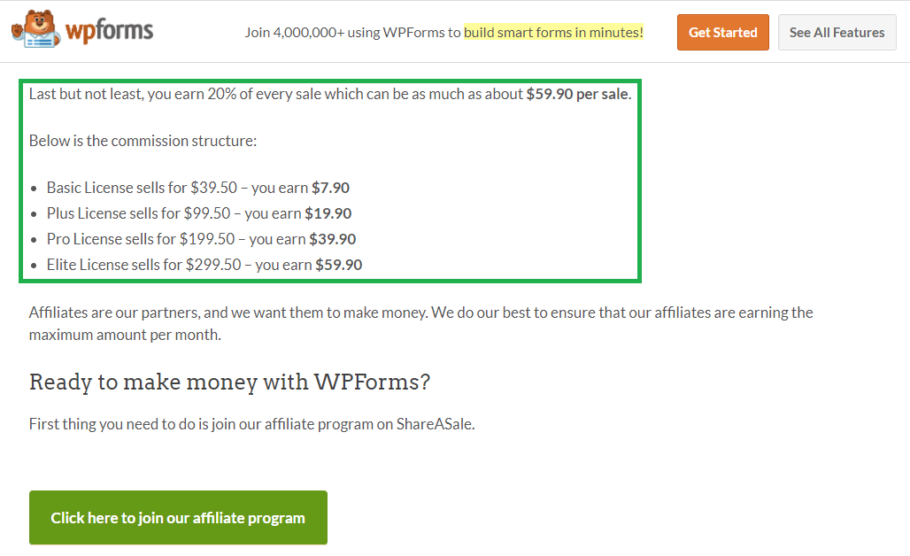 If you didn't decide yet what kind of affiliate program you want to run: Pay Per Action (PPA) or a pay-per-sale (PPS) program, it's time to do it.
You are looking to drive traffic to the site, and you are confident that your sales conversion rates would be better? Then go in for a pay-per-action affiliate program. If you want to pay the affiliates only once the sale is complete and confident with the profitability, it should go in for a pay-per-sale affiliate program.
6.3 Affiliate contract details
Affiliate contract details are essential for several reasons. The most prominent one is that it will make your program compliant with the law in your country. The affiliate agreement between you and users will also set the expectations right and avoid you getting sued. Not last, it will help you terminate the agreement with some affiliates if things don't go well.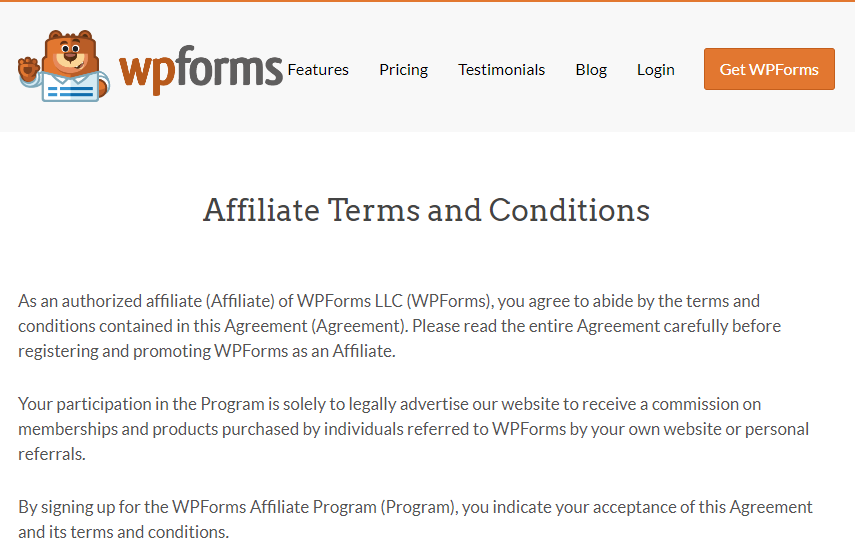 I strongly suggest consulting a lawyer in your country with affiliate marketing experience. Besides the affiliate program terms and conditions [Example here], you should write the Affiliate program details [example here], Affiliate program FAQ [example here], and GDPR document [example here] if you address affiliates in the European Union.
Another tip is to create a complete guide for your affiliates to have all the information they need at a glance.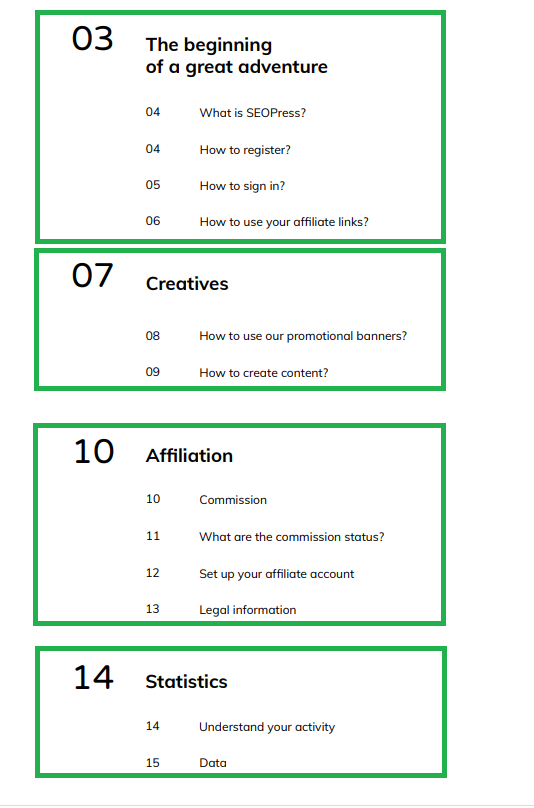 6.4 Promotional creatives
It's essential to set up the promotional creatives that the affiliates will use to promote your product. These must be carefully picked and shared for the program's success and to keep the affiliate's convenience and requirements in mind.
You shouldn't wait for the affiliates to request them. Because that would never happen, and the affiliate would go on and promote another product. Merchants need to know they are marketing themselves to the affiliate and competing with other merchants in a market!
For instance, here are several creatives from Semrush available for their affiliates to promote the product: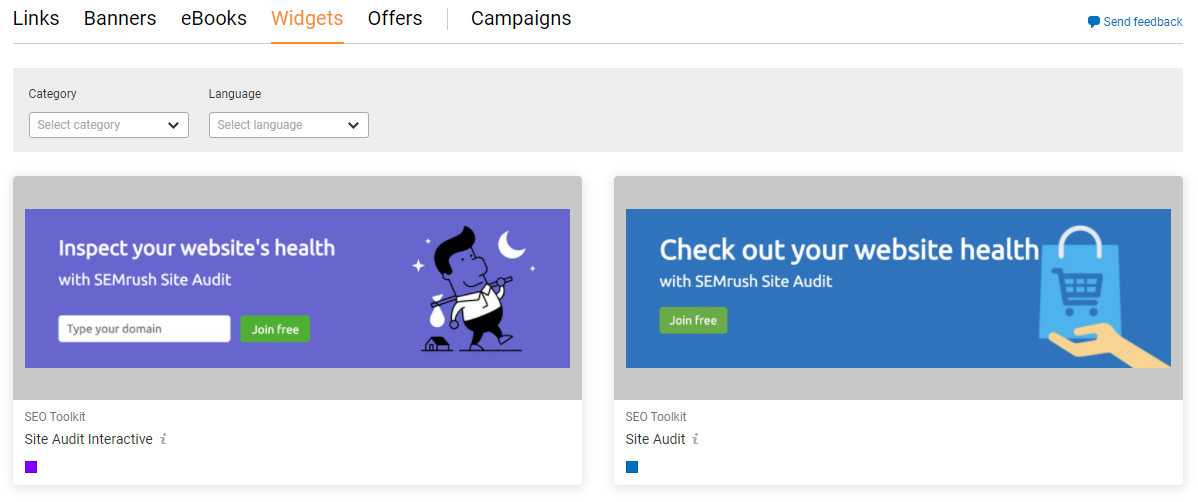 Merchant resources are mostly limited to affiliate links to the website and banners. Affiliate links are provided to the affiliates once they log into the system. Banners must be provided by the merchant in all possible sizes and colors, keeping in mind the brand colors (if any).
The generally used banner sizes are: 120×90, 234×60,  468×60, 728×90, 120×600, 300×250, 160×600.
If your product is available in multiple languages, you should upload creatives in all the languages you want to generate sales. This is because the affiliates might have different pages on the website where these plans are presented. Thus they would want separate banners for each of these pages.
Also, don't limit yourself to banners. You can add free ebooks, email sequences, widgets, etc. Make the life of affiliates easier, and they will bring more sales.
6.5 Payment methods
Before launching the affiliate program, you need to configure one last step: the payment methods you will use to pay the affiliates' commissions. If you start the affiliate program through an affiliate marketing network, you will send the funds to the affiliate network, and they will pay the affiliates by their methods.
However, if you start your affiliate program, you must choose payment methods carefully.
Each industry has its standard payment methods. For instance, casino industry affiliates expect to be paid in one or several of the following casino payment methods: PayPal, Skrill, Neteller, or cryptocurrencies like Bitcoin.
If you are in the niche of digital products like video courses, WP plugins, and digital marketing services, you should go with PayPal and bank wire for larger payments.
6.6 Get inspiration from the competition
I recommend spending enough time studying your competition well. How do they design their affiliate program, the terms, and payment methods, what promotional creatives they use, and what are the affiliates complaining about so you can improve?
Here is a list of over 65 successful affiliate programs to check and get some ideas for your new affiliate program.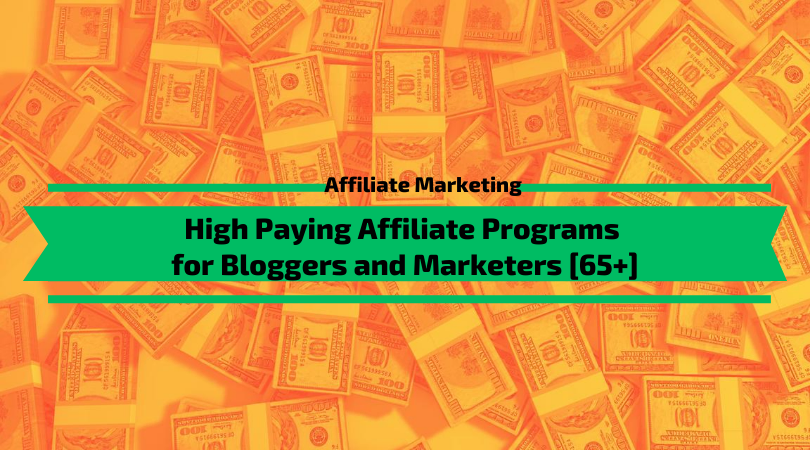 7. How to attract affiliates
Now that you have configured the affiliate program and launched it, it's time to attract affiliates to generate sales for you. This seems to be the toughest part for a merchant once everything is set.
Setting a high commission does not ensure the complete success of the affiliate program. That's because the affiliates these days check many things about the product and the merchant.
The "saleability" of a product, the merchant's reputation, previous products and affiliate programs run by the merchant, current sales of the product, the merchant's individual EPI and EPC, and reactions of other affiliates to the product. All these factors need to be taken care of by the merchant to ensure that the affiliate is interested in selling the product.
7.1 Saleability
The product niche and the actual product quality matter for the affiliate. Affiliates generally work in one or two niches. The product chosen should also be sellable, i.e., the current sales figures are important for the affiliate.
A large number of regular sales would attract a lot of affiliates. You should advertise yourself and your product or service to the affiliate. Displaying sales numbers, product testimonials, product features, etc., is also essential to attract affiliates.
Also, once the affiliate program starts, you should display conversion statistics and tips from successful affiliates.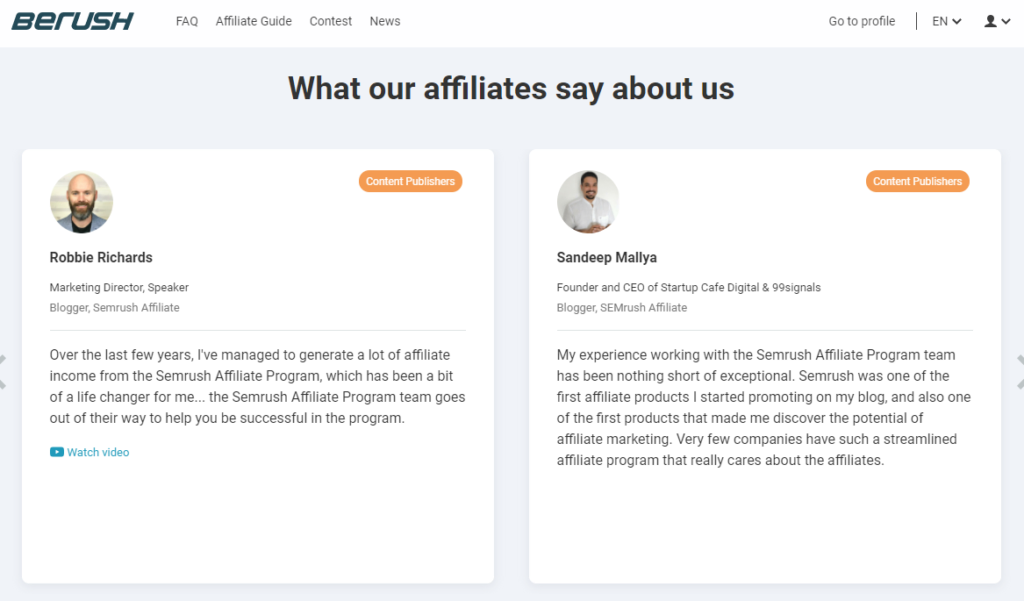 7.2 Merchant Reputation
The affiliates always research the merchant before getting started with the program. Generally, they check the product history, the payment cycle, and the merchant's reliability on various blogs and search engine results. So is crucial to maintain a good reputation and be active in social media.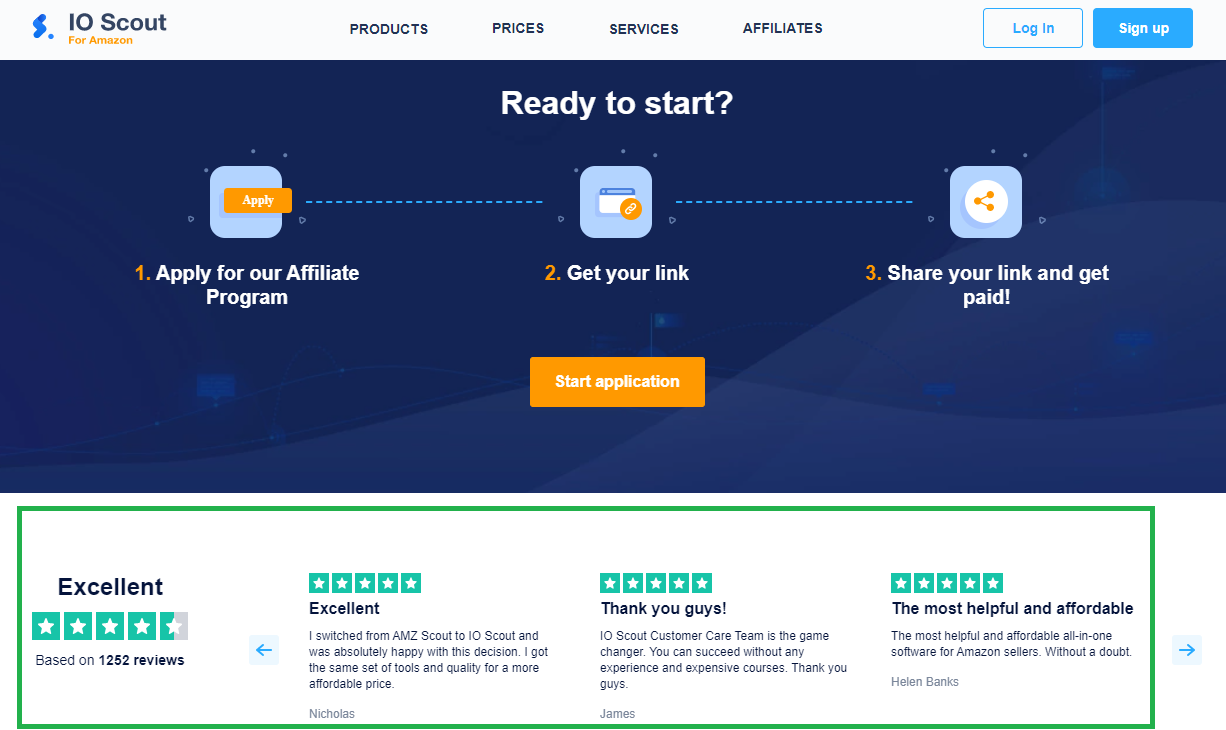 7.3 Current Sales Figures
Displaying sales figures (of the sales carried out by the merchant itself) is another factor that attracts an affiliate. The affiliate program page should clearly show the sales figures for the merchant. Also, merchants should be participating in blogs where affiliates are active and need to highlight sales figures.
7.4 Commission Payouts
The commission is the biggest motivation factor for an affiliate to work with a merchant. So you should ensure the correct and timely payment of all commissions.
Also, you should mention the payment period to the affiliate before it joins the program, and the merchant should follow these timelines meticulously. This is very important for the success of the affiliate program. All terms about customer refunds and credit card failures should be mentioned and adhered to.
7.5 Keeping the Affiliates Motivated
Ground Rule – The affiliates should always remain interested in selling the merchant's product.
As a merchant, you should keep thousands of products from which the affiliate can choose a particular one to market.
6 steps to maintain your affiliates motivated:
Regular Emails
Promotions (Black Friday, Christmas, New Year Promotions, etc.)
Offers (Discounts, coupons, etc.)
Keeping affiliates informed about their sales data (Last month's commissions, commissions to date)
Special offers for loyal affiliates
New creatives and promotional methods
Such things always keep an affiliate motivated, active, and constantly reminded of the merchant's product.
Read more: 20+ Sure Ways To Promote Your Affiliate Program & Get More Affiliates
8. Starting An Affiliate Program FAQ
Here are the most frequent questions we got from our readers about starting an affiliate program:
What is an affiliate program?
An affiliate program is an arrangement in which an online merchant pays the affiliate a commission for each sale (PPS) or action (PPA) they generate. These affiliate Web sites post links to the merchant site and are paid according to a particular agreement. The management of sales and payments is done using affiliate software or through an affiliate network like ShareASale, CJ, or Clickbank, which takes a commission.
.
How to create an affiliate program?
In our complete guide on how to start an affiliate program, we outlined all the steps to take:
Decide if you will pay the affiliates for leads (actions) or sales.
Install affiliate management software or join an affiliate network.
Create the affiliate agreement along with other paperwork.
Setup the commissions (rewards) you will offer to affiliates.
Create the creatives (banners, email sequences,  the affiliates will use to promote your products.
Setup the payment methods you will use to pay the affiliates.
Start attracting affiliates.
How much money an affiliate program can make?
Amazon gets 40% of its sales from affiliate marketing under "Amazon Associates" and other third-party entities selling their products. A 40-50% share in sales refers to an increase of almost 100% to the merchant's current sales. Also, this number increases to around 300%-400% for smaller businesses.
What's the best WordPress affiliate plugin?
There are several affiliate plugins for WordPress, all with good functionalities. I recommend AffiliateWP as it's the most used one and affiliates are familiar with it. Besides, it has many modules and integrations that will help you connect everything and start fast.
Conclusion
So there you have it. The complete guide on how to start an affiliate program. This is the first part of our trilogy that will continue with two new guides mandatory for your affiliate program's success. How to promote your affiliate program to attract affiliates and How to manage your affiliate program effectively. Subscribe to our notification to know first when we release them.
Further affiliate marketing readings:
Now about you. Did you enjoy reading the guide? What's your takeaway?
Have questions? Let us know in the comments form below. I regularly check them and reply with details.
Monetize.info promises to solve all the problems experienced by merchants and affiliates thus far and provide an affiliated community to stay and grow.