This guide will cover the 21 best WordPress plugins for affiliate marketers to help you run a successful affiliate marketing blog.
When starting a blog, you need to install plugins because they enable you to add new features to your website.
These affiliate marketing plugins help you with the following:
adding affiliate links
optimizing your content
empowering it with reviews and comparison tables
optimize your site for search engines
protect it against spammers
and improve the user experience.
It wasn't easy to choose the top 21 best WordPress plugins for affiliate marketers amongst thousands of useful plugins available. But these plugins will give you a better-performing website for your affiliate business.
1. Thirsty Affiliates
Are you an affiliate marketer or a blogger supplementing the income using affiliate marketing?
If you are reading this article, you are or plan to be most probably.
Then ThirstyAffiliates is a must-use WordPress affiliate plugin for marketers that lets you organize your affiliate links in a single place.
With ThirstyAffiliates, finding and replacing affiliate links won't be a hassle.
For example, you don't need to dig deeper into your site and manually alter those URLs whenever you want to change an affiliate link.
Instead, you do that in your ThirstyAffiliates panel, which will automatically change all the published URLs.
It also allows you to cloak your ugly-looking long URLs into shorter pretty-looking links. The other neat thing about ThirstyAffiliates is that it can automatically replace any keyword with an affiliate link, allowing you to earn more from your site.

Thirsty Affiliates WP Plugin Features:
Easy to Use — Simply the most beginner-friendly WordPress referral plugin out there.
Flexible — It's compatible with the best responsive WordPress themes.
Analytics — Includes built-in performance metrics so you can track what's happening with your links.
Automation — Speed up your marketing automation with an auto-linking feature that automatically adds specific affiliate links to certain keywords.
Supports Redirects — This lets you manage server-side redirects and 404s
Thirsty Affiliates Alternatives: Pretty Links, URL Shortner Pro
Cost: $49/year
Get started with Thirsty Affiliates plugin!
2. URL Shortener Pro
The URL Shortener Pro WordPress plugin for affiliates works similarly to Thirsty Affiliates and Pretty Links. It allows easy link shortening for your affiliate links.
You can create short links that are easier for site visitors to memorize, and they'll fit perfectly into tweets and other social media posts.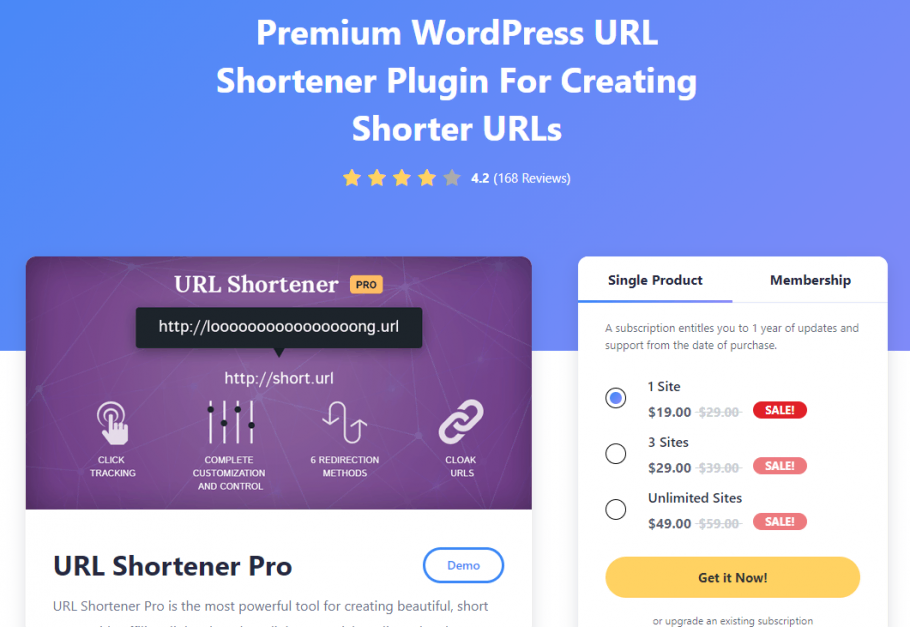 Your links can be sorted by category, which means all your affiliate links are organized in one place, making it easy to find the one you need.
URL Shortener Pro includes redirecting headers, with an option to open links in a new tab or window. And bulk link replacing is an option editors will enjoy as it saves time having to edit links in posts one at a time.
These features and more are bundled in with the free option, which is great if you're on a budget. But more functionality is unlocked with the pro version.
Alternatives: Thirsty Affiliates, Pretty Links
Cost: $19/year
Get started with URL Shortner Pugin today!
3. Affiliate Booster Blocks
Affiliate Booster is an affiliate marketing WordPress plugin that super-powers your affiliate blogs. It mainly contains conversion-optimized elements to boost your sales.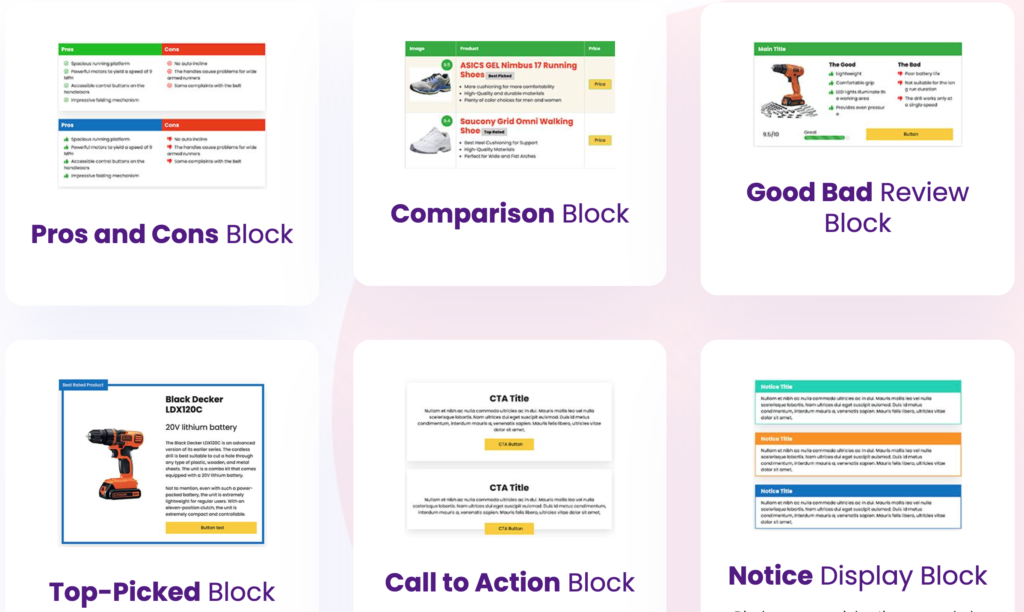 Using this plugin designed primarily for affiliate marketing blogs, you can create affiliate websites that will load faster, look better, and convert more.
The famous blogger,  Kulwant Nagi, created the Affiliate Booster plugin and theme, especially for affiliate marketing websites. Also, Affiliate Booster made it out in our list of 50+ recommended affiliate marketing WordPress themes.
The Affiliate Booster Bocks plugin comes with many visual elements like:
PROs & CONs boxes
Table of Contents
Product Features List
Product Comparison table
Notice boxes
Review blocks
Buy now nice buttons optimized for conversions, etc.
Get yourself the AffiliateBooster theme by clicking the banner below. 

Affiliate Booster Alternatives: Elementor
Cost: $29/year
Get started with Affiliate Booster today!
4. AAWP
AAWP is one of the popular affiliate plugins used by experts. This plugin is made specifically for the Amazon affiliate program. And it includes features optimized for placing text links and product box ads.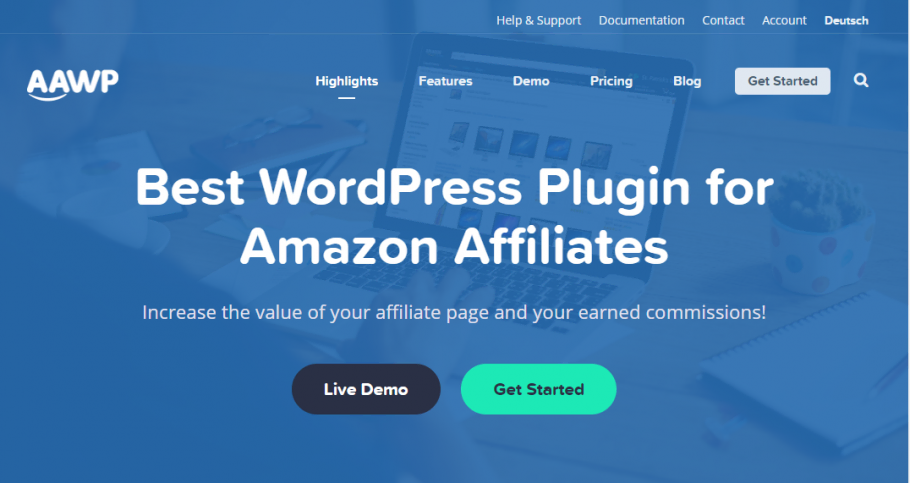 The AAWP plugin allows you to choose several methods to place your ads. You can use text-based ads, place product boxes inside posts using shortcodes, show ads using sidebar widgets, create curated best-seller product lists, and much more.
AAWP features:
Easily customize ad design and use colours and styles that match your website.
Automatically adds tracking ID to create affiliate links
Create best-seller lists, new releases lists, and more ways to promote ads
Easily configure settings to your preference
It supports geotargeting and Google AMP
Ease of use and flexibility make AAWP an excellent plugin for both beginners and experienced affiliate marketers. Since it gives you many ways to place ads, you'll also be able to experiment with different ads.
AAWP Alternatives: AzonPress, EasyAzon, Amazon Auto Links
Cost: $19/year

Get started with AAWP Pugin today!
5. Amazon Auto Links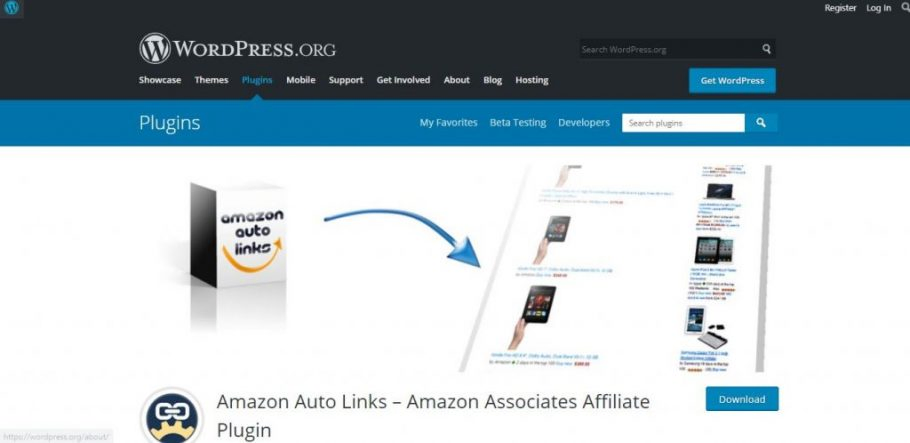 Just as the name suggests, Amazon Auto Links is a free WordPress plugin that allows you to generate product links from WordPress automatically.
Using this plugin, you can easily find products and generate affiliate links with your tracking ID without manually generating links.
Amazon Auto Links Features:
Easily generate affiliate links
Compatible with all 14 Amazon regions
Includes a sidebar widget
Works without JavaScript
Check how easy it is to install and configure Amazon Auto Links:
Amazon Auto Links Alternatives: AAWP, EasyAzon
Cost: Free
Get started with Amazon AutoLinks today!
6. AdSanity
The AdSanity advertising management WordPress plugin provides an easy way to insert affiliate banners inside posts or sidebar widgets. You can manage your affiliate campaigns and ads within your WordPress admin panel.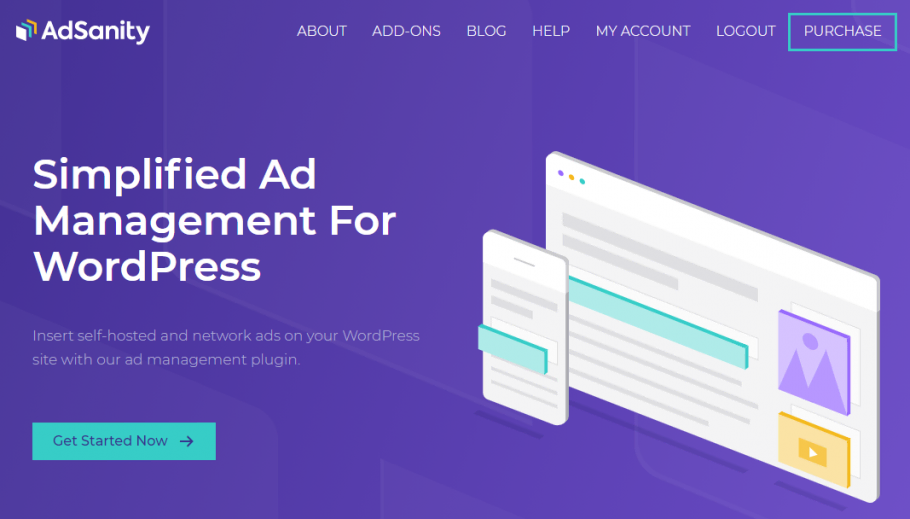 The main benefit of using AdSanity is displaying affiliate banners only during a specified timeframe on your website. With its performance report, you can easily track the performance of each banner you publish on your site.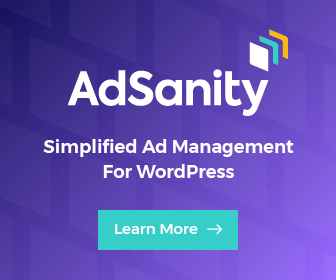 AdSanity Alternatives: WP In Post Ads
Cost: $47/year
Get started with AdSanity plugin!
7. WP In Post Ads
The WP In Post Ads plugin handles that, allowing you to display different ads in every blog post you choose. Ads can be inserted via a handy shortcode or into WordPress Hook areas like above or below the content or after a few paragraphs.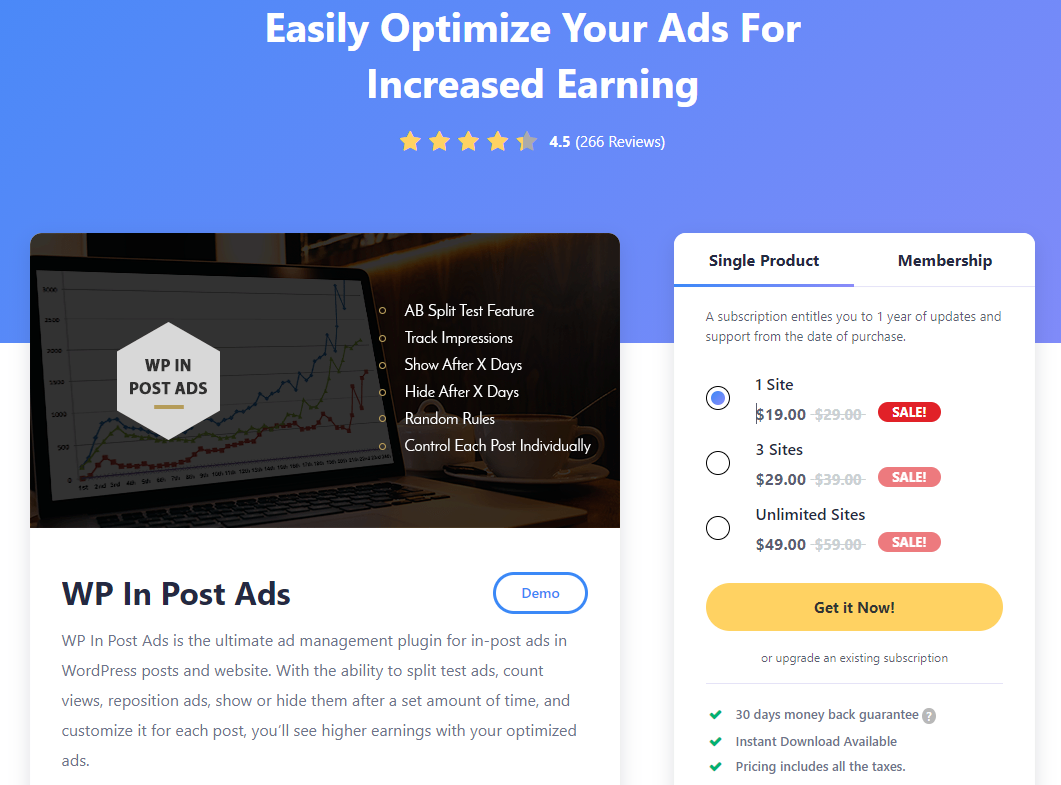 Split testing is a helpful feature of this plugin, letting you split test individual ads or randomly rotate ones. Moreover, You can hide ads from logged-in users and show or hide them after a set number of days.
WP In Post Ads Alternatives: AdSanity
Cost: $19/year
Get started with WP in Post Plugin!
8. WP Notification Bars
WP Notification Bars offer a discreet way to display a message bar across your website.
For affiliate marketers, this can mean displaying a notification to an affiliate offer you're currently promoting. Alongside this, You can use the plugin to grow your email list by asking visitors to opt-in or building social proof through social follows.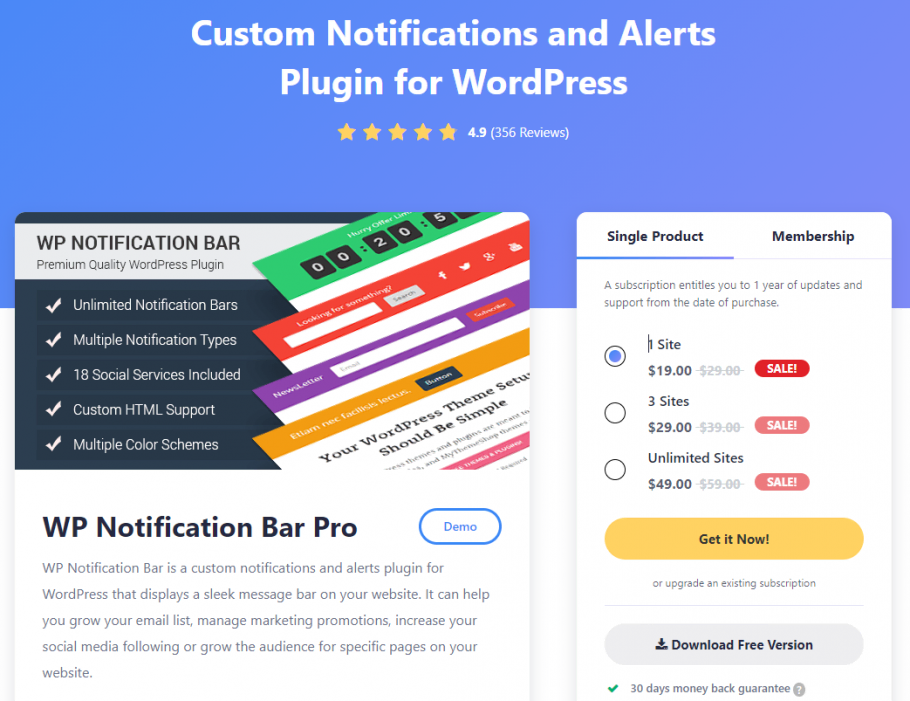 Customizing the plugin is straightforward, with the ability to change colours and bar positioning. There's also the choice to show your bar to only Facebook or Google visitors as basic targeting options.
Things get more interesting with the premium features included in the pro version of WP Notification Bars.
Pricing starts from $29, but there's a limited free version on WordPress.org.
WP Notification Bar Alternatives: HelloBar
Cost: Free version, PRO – $19/year
Get WP Notification Bar Plugin!
9. WP Review
Writing reviews for products and services is a massive moneymaker for affiliate marketers. That's because, before purchasing something, users search for reviews to see how the product works and what the PROs and CONs are.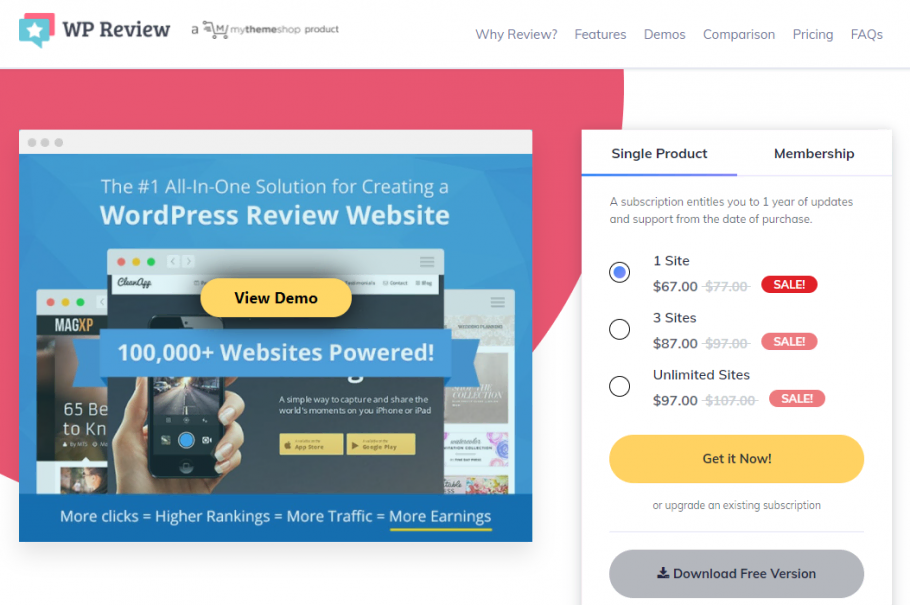 WP Review Pro is a premium product review plugin for WordPress developed by MyThemeShop. It is an easy yet powerful way to review content quickly without affecting the speed of your site.
It's fluid responsive, lightweight, and SEO optimized with 19 types of rich snippets. Plus, WP Review Pro WP plugin is fully customizable, and you can create beautiful-looking reviews using start, point, percentage, and thumbs rating.
WP Review is one of the best review plugins to review products, books, movies, games, or anything else. A total of 19 types of snippets are supported, and you can select your preferred snippet in a few clicks.
WP Review Alternatives: Taqyeem
Cost: Free version, PRO – $67/year
Get started with WP Review Today!
10. WP Coupons
If you are into affiliate marketing, you should know that discount coupons are the best ways to generate conversions. That's because product buyers always look for a quick save before purchasing, so they do a Google search for product name + discount or product name + coupon. 
With a plugin like WP Coupons, you can create a discounts page on your blog in less than several hours. Check the Monetize.info discounts and deals collection here.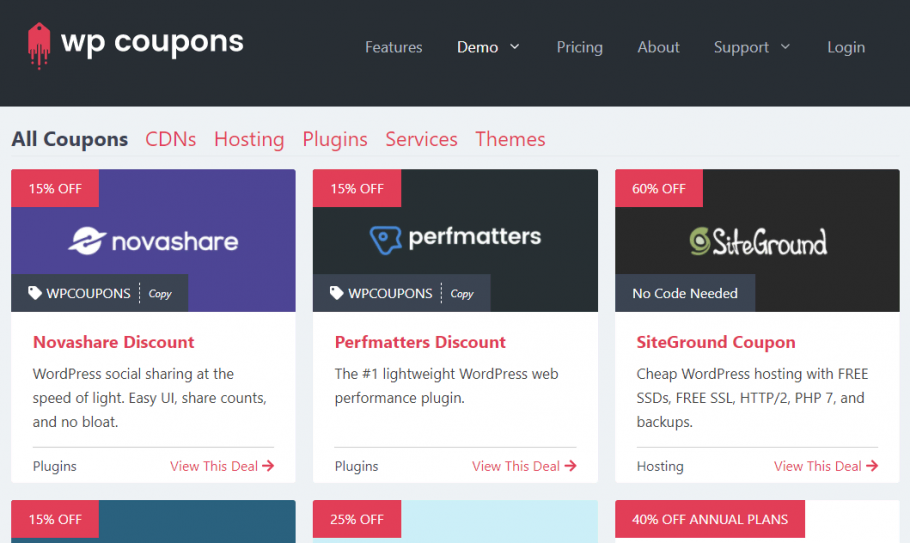 WP Coupons is an affiliate marketing coupon plugin for WordPress created by ForgeMedia. Like their other WP plugins, Novashare and Perfmatters, WP Coupons are well coded and designed to improve conversions.
WP Coupons features:
Easy to use widgets, templates, and shortcodes.
Randomly rotate coupons on site.
Show specific coupons on a specific post for greater CTR and conversions.
Custom styles and seven different archive templates are built-in.
100% responsive and super lightweight, under 40 KB.
Related coupons.
Click to reveal.
Get started with WP Review Today!
11. OptinMonster
OptinMonster is your affiliate website's best lead generation and WordPress popup plugin. Using its advanced features like targeting, retargeting, exit intent, and beautifully designed option templates optimized for conversions, you will increase your email list quickly. We use OptinMonster here on the Monetize.info blog.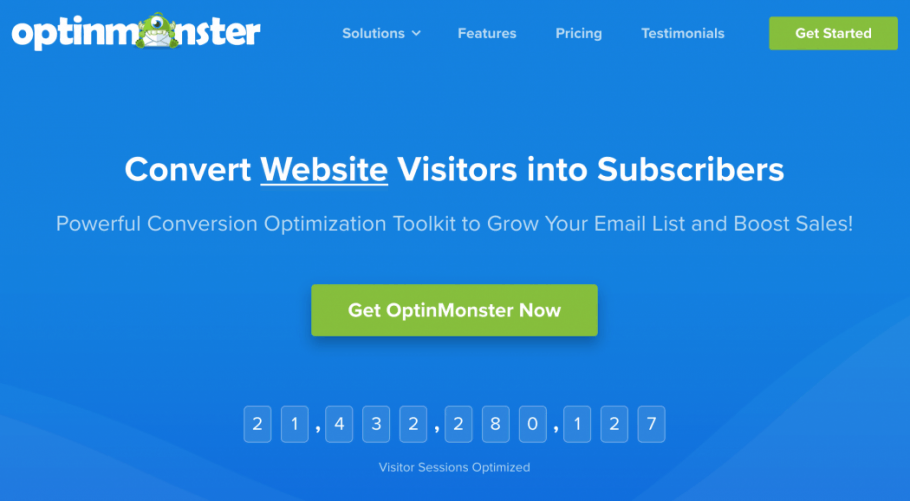 OptinMonster can show a personalized popup campaign based on individual visitors' behaviours, making your messages more likely to convert. For example, you can show a popup with an affiliate link promoting the same product on a product review page.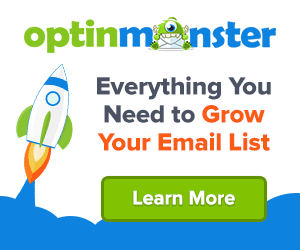 OptinMonsterFeatures:
Increase revenue: Popups triggered based on individual user behaviours are more likely to drive clicks and earn income.
Less annoyance: OptinMonster comes with many targeting options, so you can display suitable campaigns to the right users at the right time without annoying your regular visitors.
Seamless integration with your email newsletter so you can grow your email list while growing your affiliate revenue.
Get started with OptinMonster today!
12. MonsterInsights
Affiliate marketers must know what works and doesn't drive your traffic and get better conversions.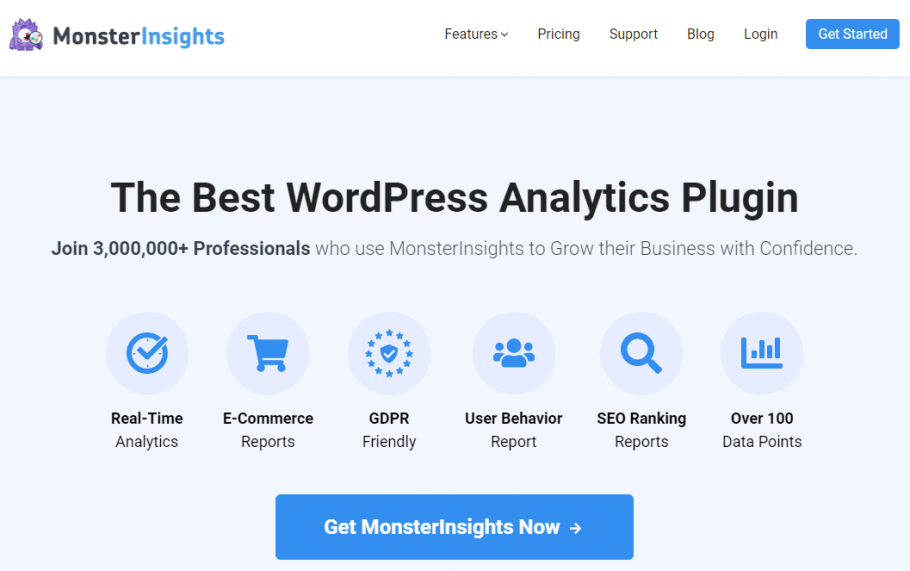 With affiliate link tracking enabled, you'll get data-driven insights in your Google Analytics that help you generate more revenue from your affiliate website.
You can identify the highest-earning pages on your site.
Understand the most profitable traffic sources
Get content ideas for your blog geared towards earning more affiliate revenue.
With MonsterInsights, you can also track your AdSense earnings, eCommerce transactions, and download tracking in your Google Analytics account.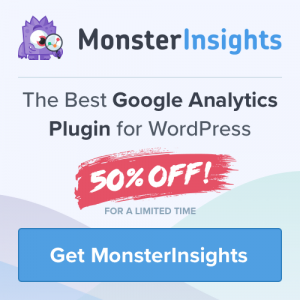 Monster Insights Alternatives: Jetpack
Cost: $99/year
Get started with Monster Insights today!
13. Raffle Press
You can quickly grow your email list, get more website traffic, and generate affiliate commissions by running giveaways and contests. You can partner with the companies you review so they can offer the prizes for the competitions.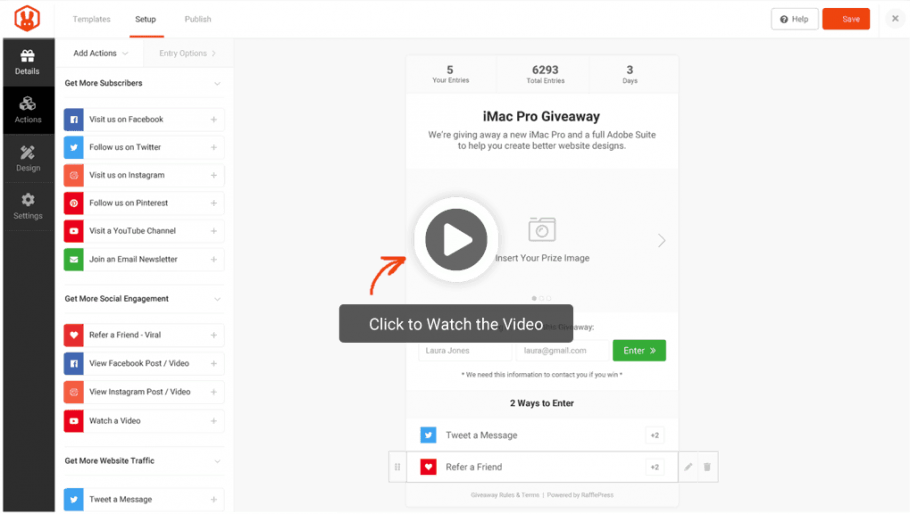 RafflePress is one of the best WordPress giveaway and contest plugins. It allows you to grow your email list, social media followers, and website traffic by creating viral giveaways and contests. It comes with a drag and drop builder to set up a giveaway instantly.
The RafflePress plugin also has a giveaway landing page to run a distraction-free contest on your WordPress website. You can use the advanced tracking and retargeting features to increase conversions and mail integrations to collect email addresses.
Get started with Raffle Press today!
14. RankMath
Rank Math is a must-have plugin so make sure you get it now and begin optimizing your posts and pages to boost your rankings. This helpful plugin lets you enter your main keyword and optimize your page.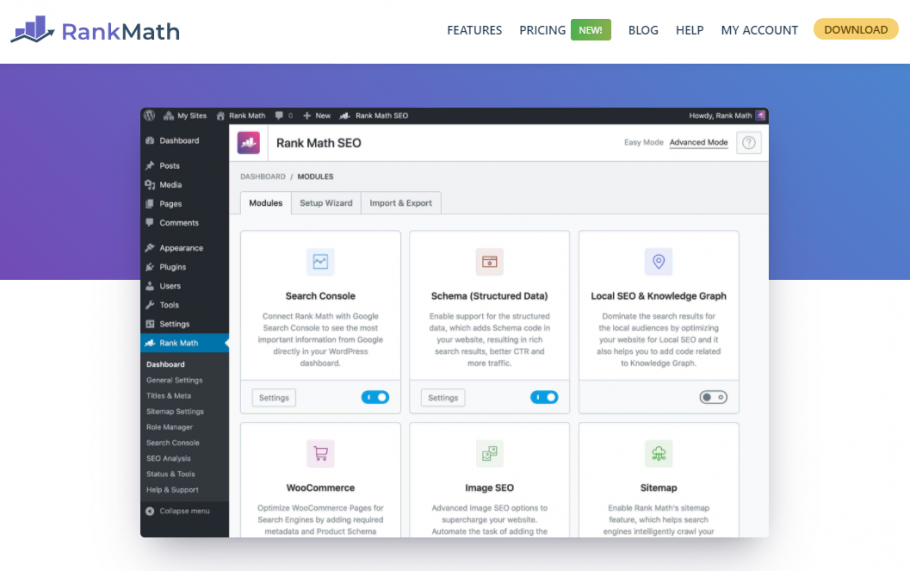 One of the best things about the Rank Math SEO plugin is its free version. You can audit your website SEO through this plugin that creates an SEO report by taking 30 factors into account.
Google Schema Markup, AKA Rich Snippets, are integrated with the plugin, so those optimizations are now possible with few clicks.
RankMath integrates with Google Search Console, which displays important information on your WordPress dashboard, so you don't have to go to Google Search Console specifically.
This one is probably on every list of the best WordPress plugins. Get it.
Get started with Rank Math today!
15. Rel Nofollow Checkbox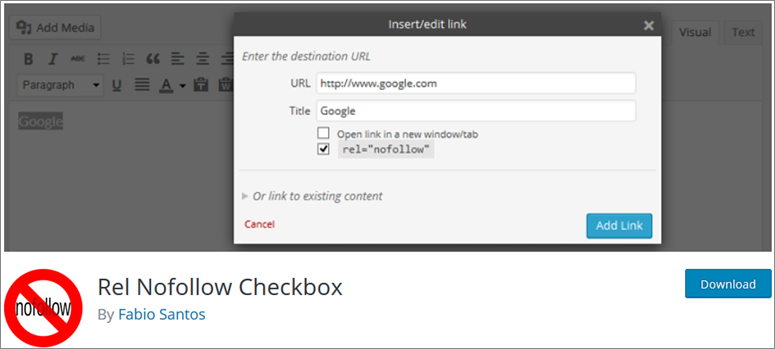 Rel Nofollow Checkbox adds a checkbox option in the insert/edit link popup, allowing you to add a no-follow attribute to your links easily. Adding a no-follow attribute to your affiliate links tells search engines not to pass link juice to those links.
You can promote your affiliate products without worrying about getting penalized on Google.
Rel Nofollow Checkbox Alternatives: –
Cost: Free
Get started with Rel Nofollow Checkbox today!
16. Semrush Writing Assistant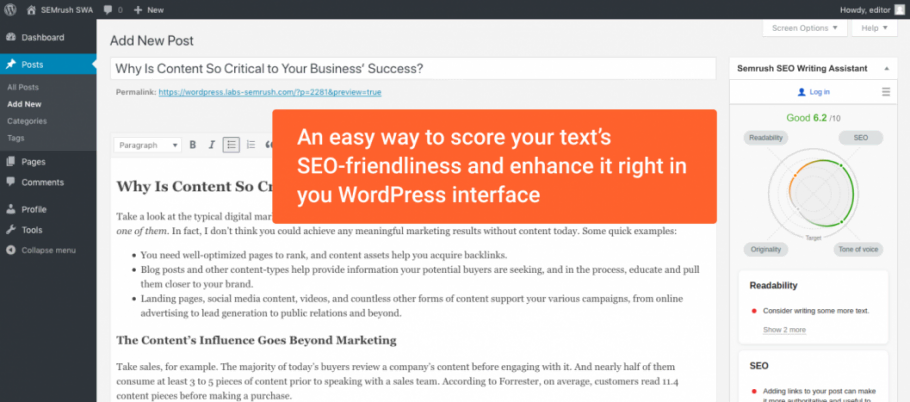 The Semrush Writing Assistant WP plugin lets you ensure that your post is flawlessly structured for a target keyword and written in an SEO-friendly technique before publishing.
I use it as an addition to the Rank Math plugin. What sets them apart is that all the recommendations and analyses are based on your top 10 rivals ranking for your target keywords with Writing Assistant.
You have to sign up for Semrush free account to use this plugin.
Semrush Writing Assistant Alternatives: –
Cost: Free, $119 for PRO
Get started with Semrush today!
17. Broken Link Checker
Broken links and missing images can harm your website rankings. As per Google Rater Guidelines, broken links measure a homepage's credibility for SEO.
Being an affiliate marketer, you should take care of broken links.
The Broken Link Checker plugin scans your posts, comments, and other content to find broken links. If broken links are found, you'll be notified via email immediately so you can fix them before they hurt your website.
You can execute link edits from the plugin dashboard and stop search engines from following those links.
Broken Link Checker Alternatives: –
Cost: Free
Get the Broken Link Checker plugin!
18. Link Whisper
The LinkWhisper revolutionary WordPress Plugin Speed Up the Process of Internal Linking and Help You Rank Better on Google.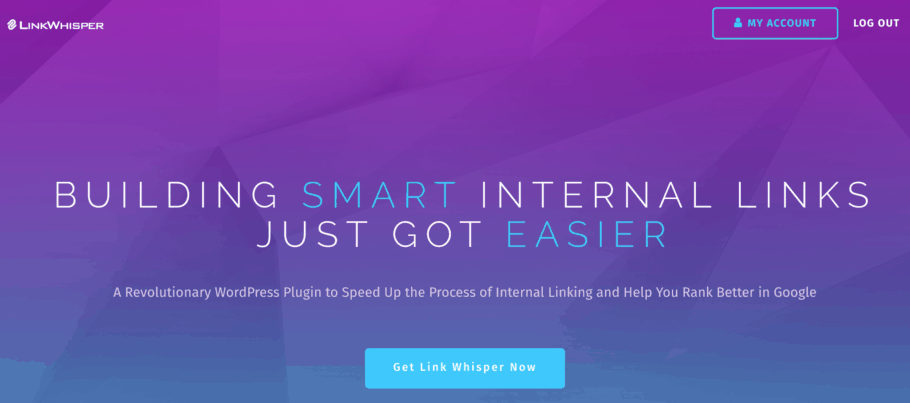 Link Whisper suggests links based on the content of your site. In other words, it finds relevant connections that are related. These in-content, relevant links are the most powerful internal link type. You are in complete control to either accept or reject the link suggestion.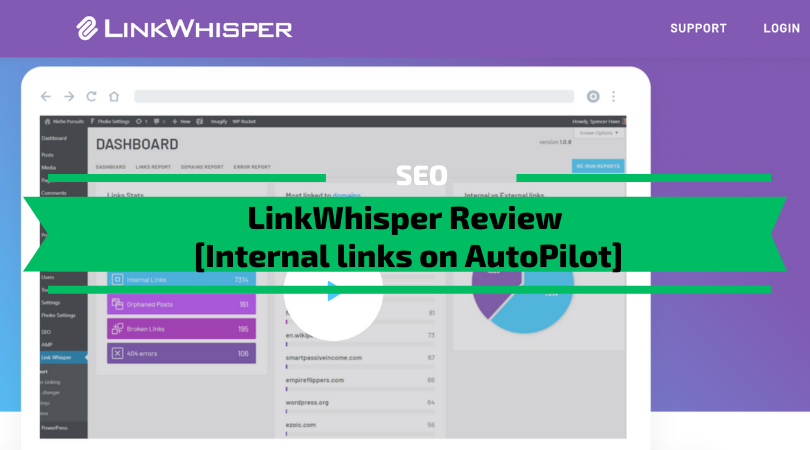 Get the Link Whisper plugin!
19. ShortPixel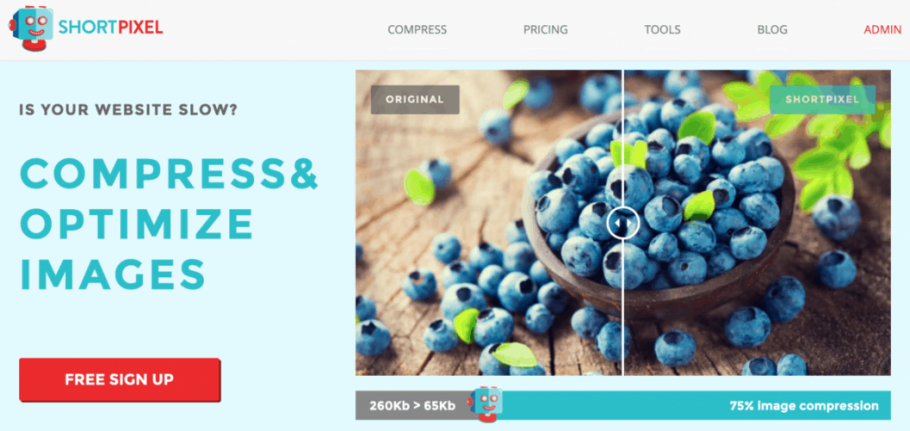 Images can help you drive more visitors to your website, promote social sharing, and improve user experience by visually appealing to your website. But high-quality images are big files that load slow.
ShortPixel is a high-powered compressor and optimizer that drastically reduces image file sizes to improve website performance and SEO ranking. It makes compression incredibly easy for anyone with a WordPress site.
All you have to do is install their magical time-saving plugin, which will automatically optimize your page.
Get the Short Pixel plugin!
20. WP Rocket
The importance of loading speed in SEO is not a secret anymore. It does not only impact the user experience but also negatively affects SEO rankings.
A slow website can ruin your conversions and user experience. What do you think your visitors will do if they have to wait 10+ seconds to see your website? Sure, they are going to leave and never come back.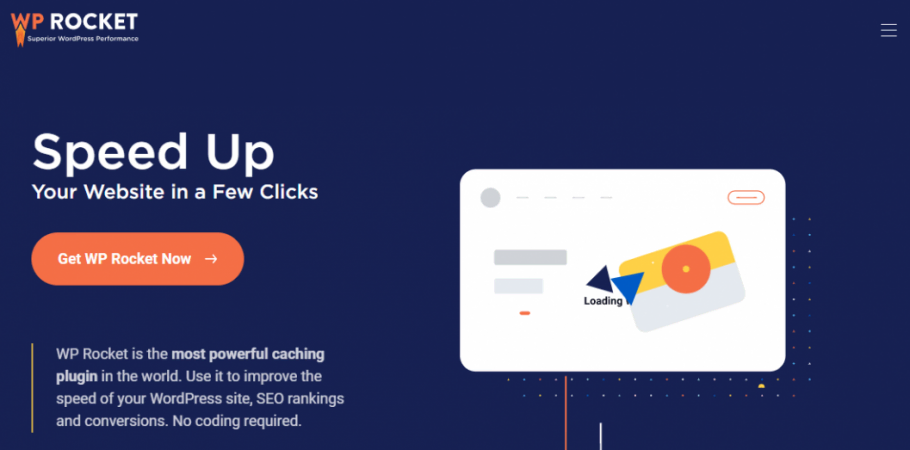 Website visitors don't like slugging pages. In fact, for every 100ms delay in loading speed, there is a 1.11% increase in session-based conversion.
WP Rocket creates static pages of your site. These pages are then served instead of processing the complete PHP scripts. Without caching, your pages will load much slower.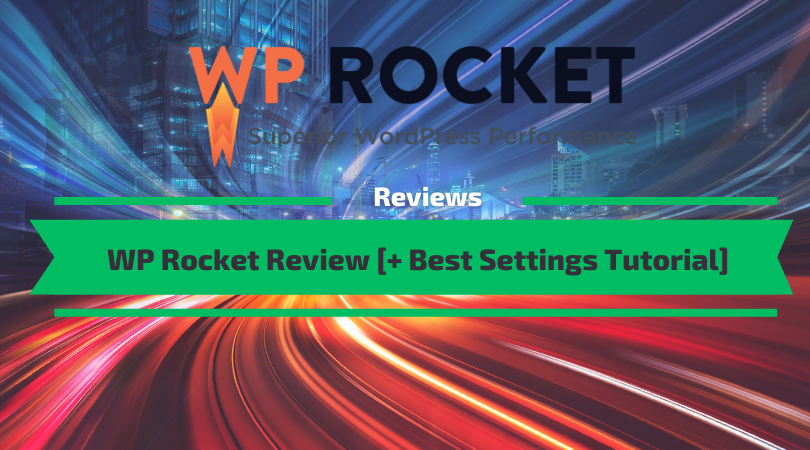 Get the WP Rocket plugin!
21. Perfmatters
Perfmatters is a lightweight WordPress performance plugin that includes over 30 hacks to gain extra speed by removing the WordPress features you use. Besides that, a powerful script manager lets you choose which JS script and CSS file you load and which pages.

Perfmatters main features:
Removing not used WP features: disable emojis, disable embeds, remove query strings, disable XML-RPC, disable dash icons, disable Woocommerce scripts, disable Google fonts, etc.
Script manager: This powerful feature allows you to remove the loading of individual JS scripts and CSS styles per category, post/page, or globally.
Speed up functions: Configure a CDN, Host Google Analytics locally, Add DNS prefetch URLs and pre-connect URLs, Add a blank favicon and add scripts in the header and footer.
Using Perfmatters along with ShortPixel and WP Rocket, I increased my page speed score by around 25-40% on every site I've used.
Get the PerfMatters plugin!
Best Plugins For Affiliate Marketers List
Thirsty Affiliates – Affiliate links management and cloaking.
URL Shortner Pro – Affiliate links management and cloaking.
Affiliate Booster Blocks – To create affiliate articles that convert well.
AAWP – Amazon link management and cloaking.
Amazon Auto Links – Same as above.
Easy Azon – Same as above.
AdSanity– Advertising Management Plugin
WP in Posts Ads – Same as above.
WP Notifications Bar – Show small ads on your blog.
The WP Review – Create converting reviews on your blog.
WP Coupons – Coupon Management Plugin for your blog.
OptinMonster – Lead Generation and Popup Management.
Monster Insights -Analytics Plugin
Raffle Press -Contest and giveaways plugin
Rank Math – SEO
Rel Nofollow Checkbox – No follow affiliate links
Semrush Writing Assistant – Write better content
Broken Link Checker – Links Management Plugin
Link Whisper – Internal Links Creation Plugin
ShortPixel – Image Optimization and Delivery Plugin
WP Rocket – Speed Improvement
WordPress Plugins For Affiliate Marketers FAQ
What are the mandatory plugins for my affiliate marketing blog?
In my opinion, you should install the following plugins on your WordPress blog: Thirsty Affiliates (or URL Profiler or Pretty Links), Affiliate Booster Blocks, AAWP (if you use Amazon), Rank Math (or SEOPress or Yoast) and WPRocket.
How I can install these plugins for affiliate marketers?
All these plugins are quite easy to configure and install. Still, if you need advanced customization, integration with 3rd party tools, or feature tweaking, I recommend you get an account with one of the
best WordPress maintenance service
.
Conclusion
If you have a WordPress affiliate website or are considering starting an authority website, these are 21 must-have plugins for every affiliate website.
These plugins are completely free and can help you get more affiliate sales. These plugins are my recommendations, of course, and it's up to you to install them or not.
Further readings on Affiliate Marketing for WordPress:
So are you already using any of these 21 best WordPress plugins, and which one do you think you should install? Are you using another plugin not on this list and think it should be on it?