This article will review the LinkWhisper WordPress plugin, which we are using for a couple of months already, with excellent results in creating internal links to our content.
As you could may know, here at MediaDigi, we administrate a network of 10 content sites (Monetize.info is one of them), so we were looking for an excellent solution to interlink related articles. We have multiple authors that create the content in 2-3 years, so it was a pain to add or update backlinks.
Not anymore 🙂 but first, let's discuss the importance of internal links:
#1. Internal links are mandatory for SEO and traffic
There is a specific type of links that Google encourages you to build to help you rank better. What type of links are those?
Well, we've said it already, Internal Links!
Google has very clearly stated in its SEO guide that you should be building internal links. And using keyword descriptive anchor text is a good idea.
Building these internal links does two things:
First, it helps human readers of your site find other relevant content.
Second, the hyperlinks help Google fully crawl and better understand what your site is about.
Overall, internal links can have a massive impact on your site, not only from Google's perspective but also from your visitors.
How Adding internal links  helps your website:
They can help you to inform Google which pages or posts are the most important (since they will likely have more internal links)
People spend longer on your site as they navigate related content instead of ending the first article's visit.
Reduce the bounce rate as the longer people spend on your site, the more chance they will convert to your offer. It will also increase the user's dwell time, which might be a factor if the user has come from a Google search before visiting your site.
You can also inform Google of the context of each hyperlink destination by optimizing the anchor text (Mentioned above)
This is how you create content clusters (a series of related articles that are all interlinked), and this is a great way to build your topical relevance on a subject in the eyes of Google.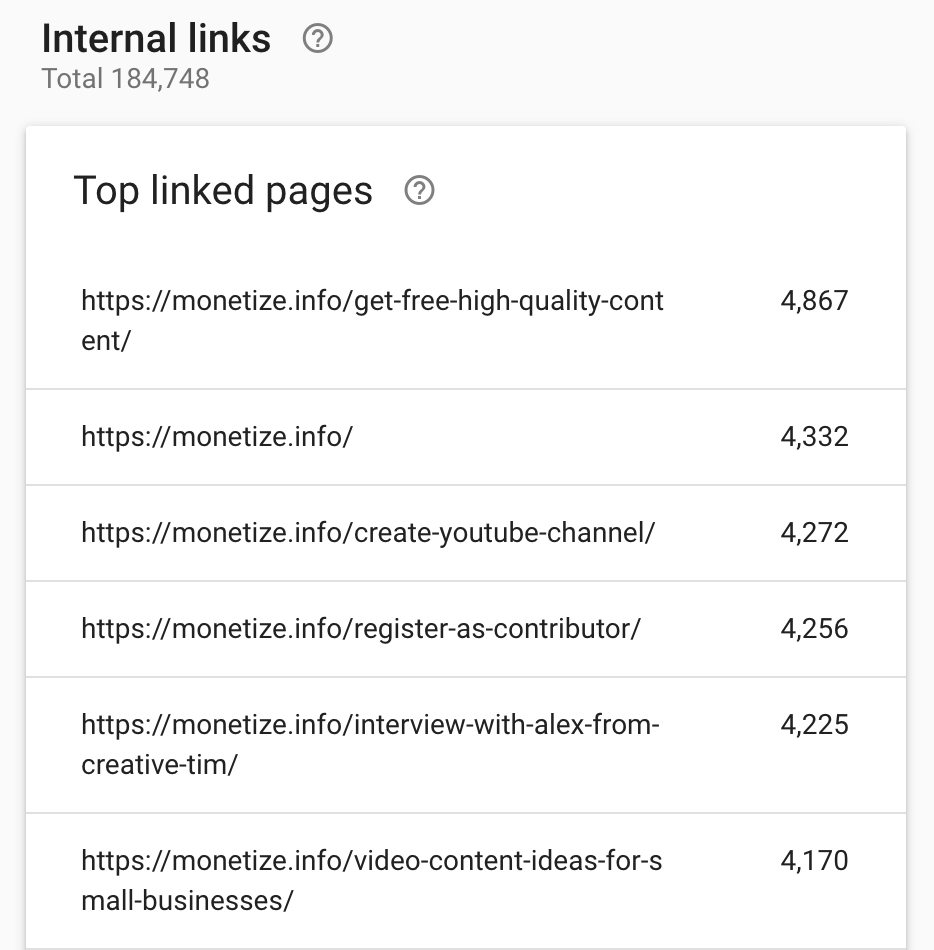 So take a look at your site and see if you could do a better job of building some internal links.
Google says it's a good idea to build these types of links, so don't hold back!
AuthorityHacker even analyzed 1,000,000 internal links and proved a correlation between these types of links and pages ranking higher.
So if you want to rank higher in Google, you should pay attention to your site's internal linking.
You can do this manually, spending many hours looking for related articles, or you can do it the smart way, using the link whisper WordPress plugin.
#2. Creating internal links manually (ugly way)
To fully understand the power of LinkWhisper, or you can't afford its price yet, you can still create internal links manually. Unfortunately, the process is very time consuming and may result in some errors (i.e., keyword cannibalization)
#2.1 Creating outbound, internal links manually
Outbound, internal links are the links from your post to other posts on your blog. After you wrote a post, look for keywords and topics that you know you've written about in the past and press the link button in the WordPress toolbar and type the keyword. WordPress will return the links (posts) containing the keyword.
Check in the picture below how I search for the keyword "backlinks."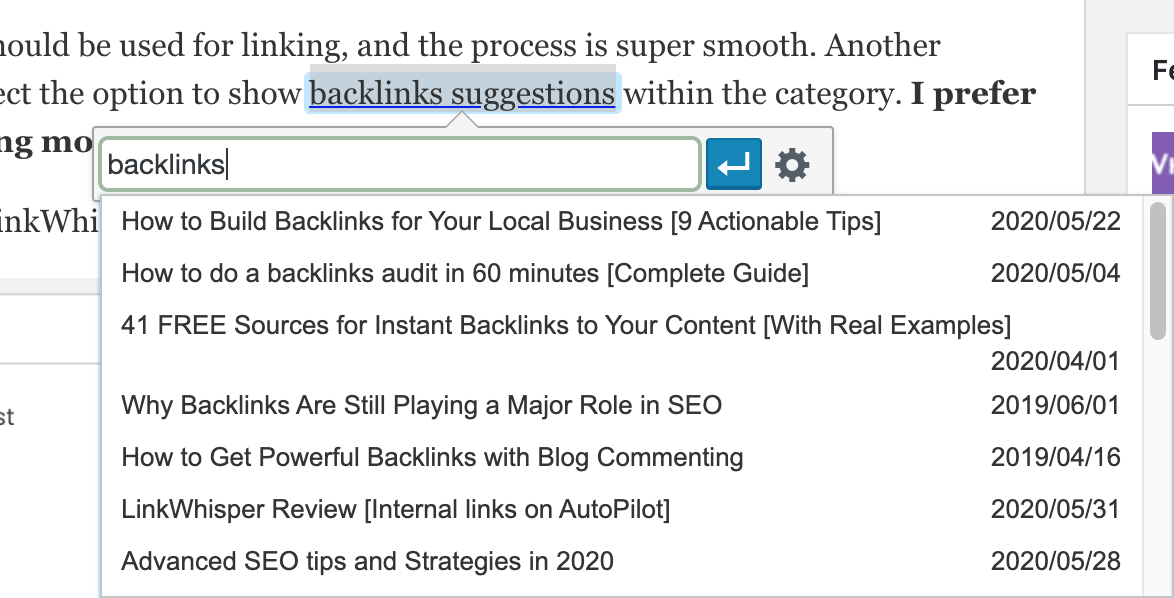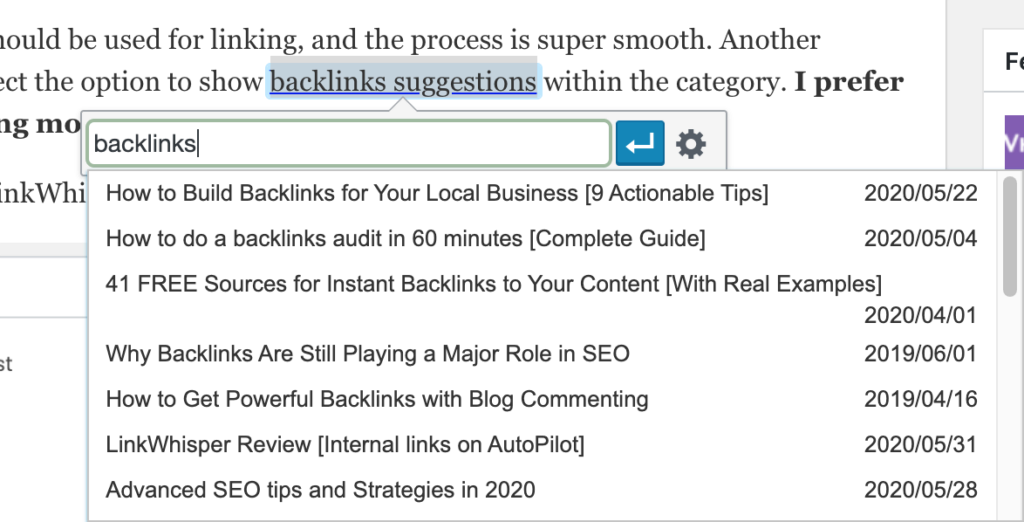 Select the most appropriate article worth linking. Of course, this works if you have enough related articles, usually when your blog is already established.
#2.2 Creating internal inbound links manually
Inbound internal links are links from other posts to your current post. These are important to get traffic and link juice to your new post. Also, it helps Google to crawl it faster.
After you publish a post, go in the Posts section of WordPress and, using the Search function, look for articles where you can introduce through a paragraph your new published post.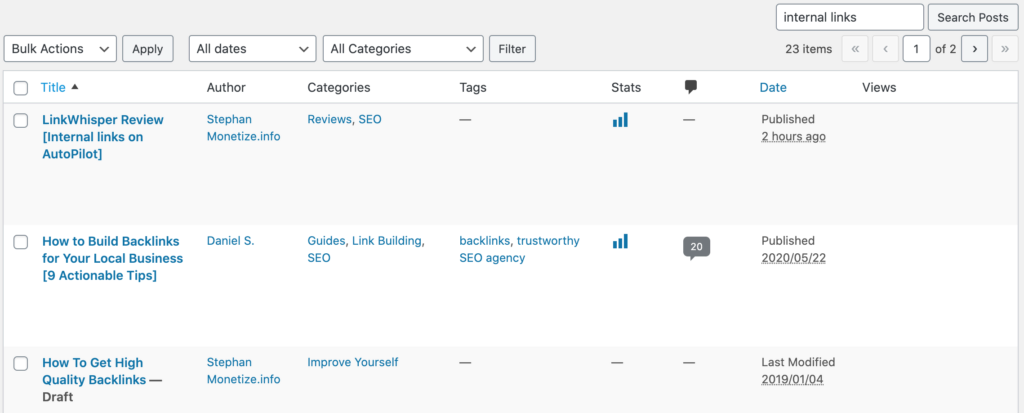 As you can see from the picture above, we've identified several posts where we can link this new post using the internal link's anchor already present in articles. Repeat this for all the keywords you want to link.
Pretty time-consuming, huh?
Let me introduce LinkWhisper.
#3. What is LinkWhisper Plugin?
Linkwhisper is a popular link management WordPress plugin that makes it super easy to analyze an entire WordPress website and recommends creating new internal links. It also helps fix the keyword cannibalization, which may have happened due to improper anchor text linking.
This plugin is developed by Spencer Haws, who is also the mind behind Longtailpro. New features are being added to this plugin rapidly and based on my interaction with Spencer. He aims to make it the best WordPress internal linking plugin.
There are many more features and benefits of using the Linkwhisper WordPress plugin, which you and I will explore in this article's further section.
3.1. Automatic Link suggestions as you type
Here is how LinkWhisper suggested link works:
When you are writing or editing an article, the plugin automatically suggests which article you should link to your website.
You have complete control over which anchor text should be used for linking, and the process is super smooth. Another important thing to pay attention to here is selecting the option to show backlinks suggestions within the category. I prefer using this most of the time to make the linking more contextually related.
In the picture below, you can see several posts that LinkWhisper suggest us link to: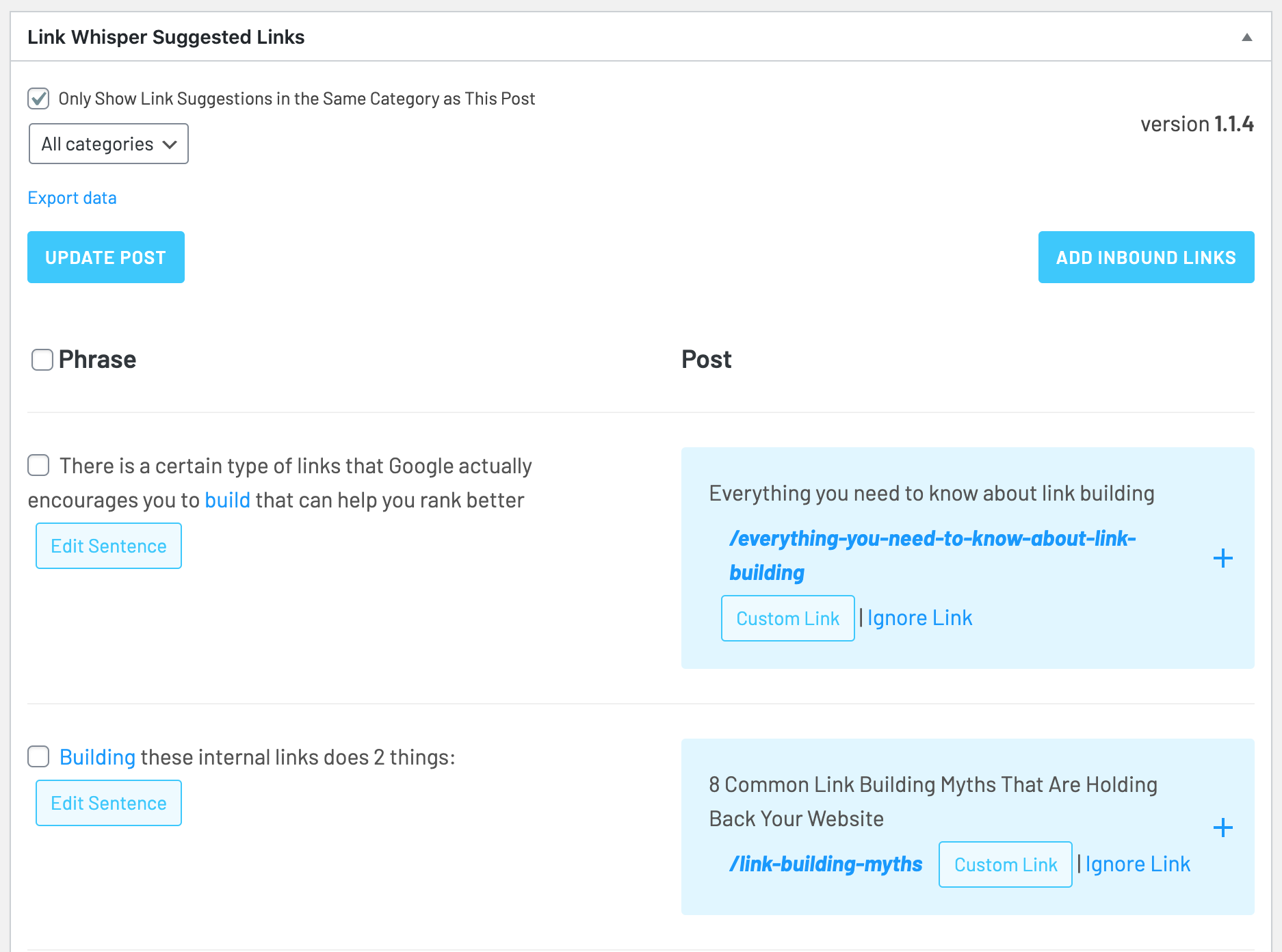 If you are not completely happy with the link suggested, you can edit the sentence and the links. I use this function pretty often as I tend to link phrases and not keywords.
3.2. Internal Link Dashboard
Linkwhisper offers you a dashboard where you could analyze the internal links and external links of any article on your website. This is the best place to start using Linkwhisper to improve the internal links and add external links.
Here is a tip:
Find the pages with zero incoming internal links.
Click on the + icon, and add internal links to such orphan pages.
This is perhaps the best way to start improving the internal link structure.
Here you have a complete overview of your website crawl:
Posts Crawled – How many posts Link Whisper crawled
Links Found – How many links are on your blog (both internal and external)
Internal links – Well, this is pretty self-explanatory.
Orphaned Posts – Posts that do not have any links from your other posts and pages. 
Broken Links – Links that are not working and you should fix them ASAP.
404 Errors – Pages that return a 404 error.
3.3. Link Whisper Link Report
In the LinkWhisper Link report, you have an overview of the posts and links. If you click on the Orphaned posts in the dashboard, you will see a link report with the pages that do not have any incoming links.
As you can see in the picture below, the InfoLinks Review and the Best Sales Funnel Builders do not have any incoming backlinks from other articles.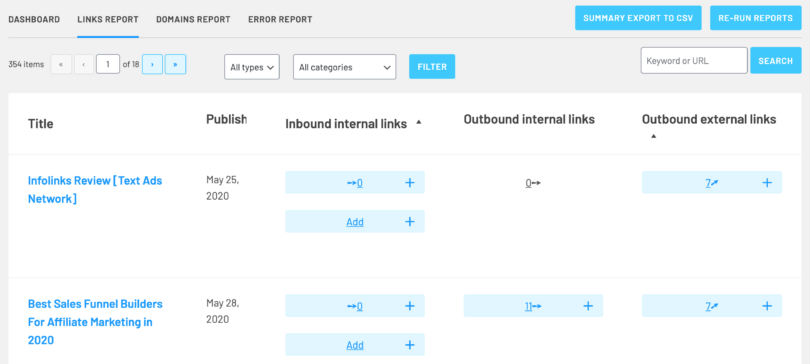 Let's build some! So I clicked the Add button, and LinkWhisper found 29 link suggestions to add to this post.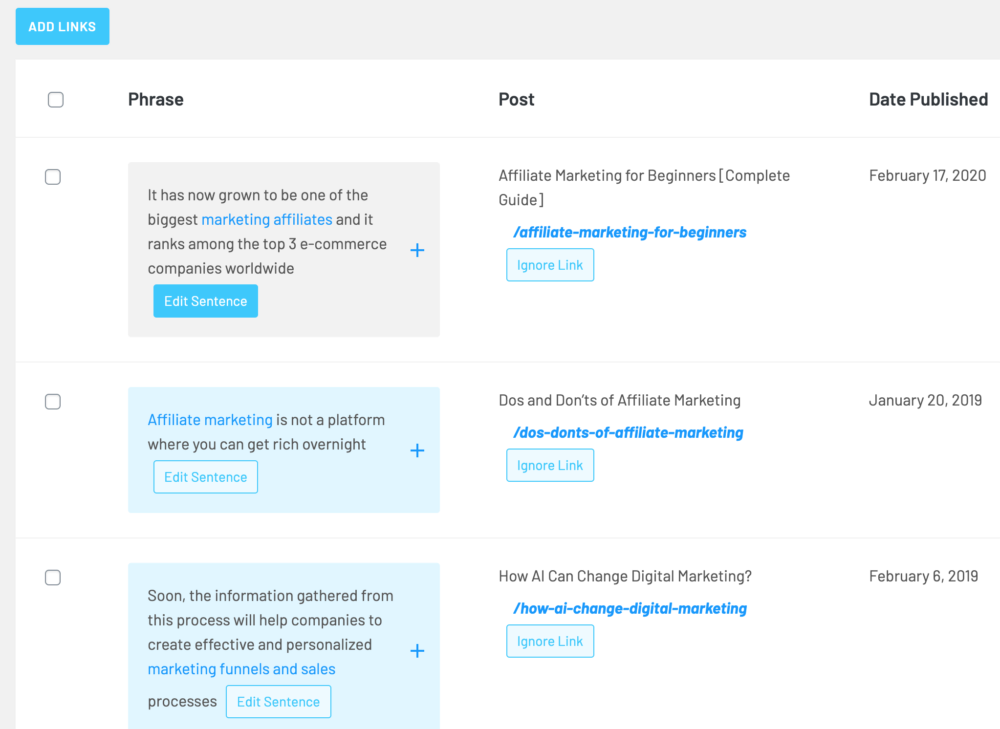 From their 29 suggestions, I selected only ten more appropriate for this post and didn't cannibalize other posts.
As you can easily see in the picture below, I've quickly added nine internal links to this review using LinkWhisper:

More on Keyword Cannibalization below:
3.4. Fix Keyword Cannibalization:
This is an indirect benefit of the LinkWhisper plugin, and if done right, it could help you get out of a Google SEO penalty risk.
While creating more internal links helps boost overall SEO, using the wrong anchor text can sometimes do more harm than any good.
Especially if your website is penalized due to "keyword cannibalization, "Linkwhisper could help you see which anchor text is used to link to a particular post, and you can quickly fix wrong anchor text to improve anchor text SEO.
3.5. Domain Report
In the domain report tab, you can easily see the domain you are linking to. This is useful when you want to replace regular links with affiliate links if you are into affiliate marketing or diversify your backlinks for SEO.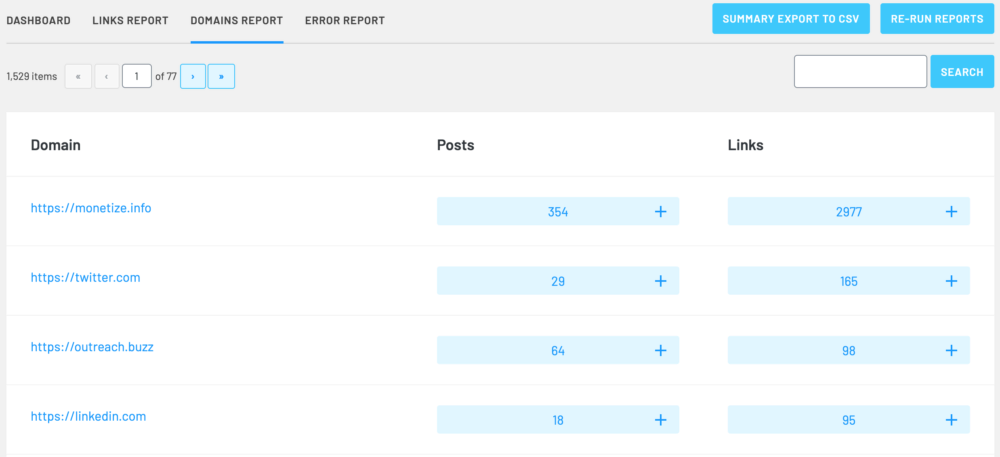 3.6. Link Whisper Settings Dashboard
Link Whisper also offers an easy to use configuration option that let you configure a few options such as:
Include/exclude specific post type
Open links in a new tab
Exclude numbers and specified words from link suggestions
3.7. Link Whisper Auto-Linking
Here we have another handy feature, especially for affiliate marketers. You can specify keywords and links that are automatically added by LinkWhisper.
You can add all your affiliate links here, so the brand names and keywords will automatically be replaced with your links. In my case, I've written several articles regarding SEMrush that I want to drive traffic to the SEMrush website using my affiliate link so I can get commissions.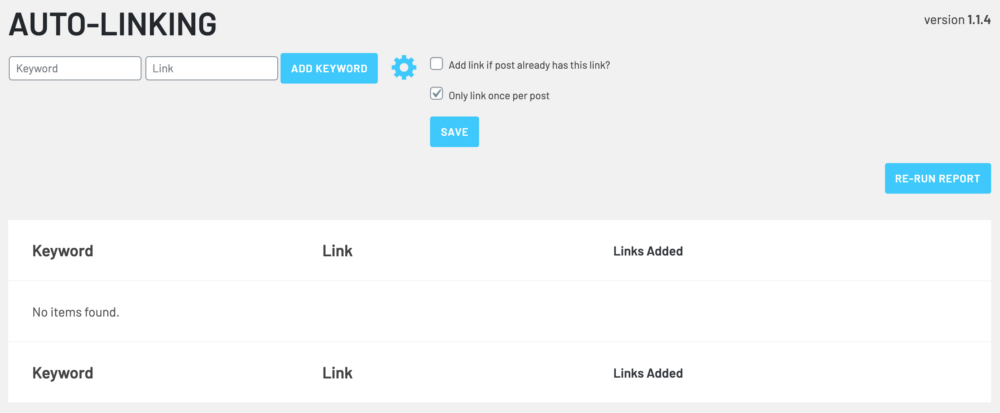 #4. LinkWhisper Review: PROs and CONs
Here you can see in a nutshell what are the PROs and CONs of the LinkWhisper plugin.
LinkWhisper Advantages
Automatic link creation to any keyword you choose
Anchor text creation using Artificial Intelligence
Quick addition of links to new and existing articles
Reports that show how many links you have
Reports regarding broken links
Compatible with WordPress Page Builders
Helps Pass link Juice to Orphan pages
Huge Time Saver
LinkWhisper Disadvantages
Only available for WordPress websites
Can not add no-follow attributes to links
Suggestions can be inaccurate sometimes
Pretty expensive for beginners
What I like about LinkWhisper because it is continuously developed, making it better and better. Of course, I hardly believe it can create accurate internal links on autopilot without any manual work involved, but definitely, it saves a lot of time.
#5. Link Whisper Price: Is it worth it?
Linkwhisper is reasonably priced and costs about $77 for a single site license. They offer three plans, three site license costs $117, and 10 site license costs about $167, which is idle for any agency offering SEO services to their client. You should pick the Linkwhisper license based on the number of websites you have.
Below you can see the picture of the prices during a LinkWhisper discount campaign: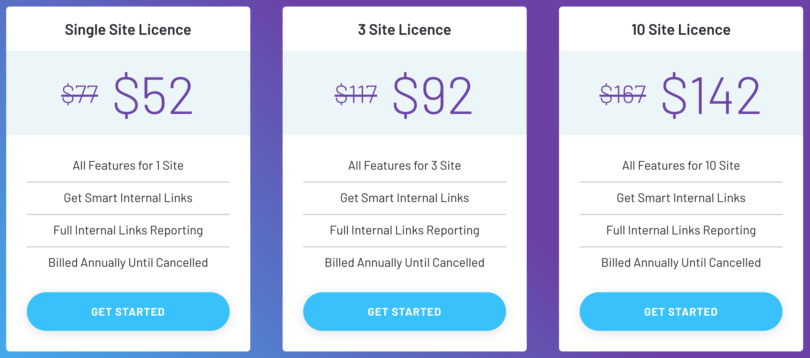 LinkWhisper can be purchased using a credit card or with PayPal. Another nice thing is that if you decide that Link Whisper is not for you, they will refund your purchase up to 30 days after your purchase. 
#6. Link Whisper Support
LinkWhisper support is very active, and you will get an answer to any problem you may encounter.
First, you have the tutorials section, which impressed me. At the moment of writing, 17 video tutorials explain how to use most of the LinkWhisper feature.
Second, there is a support desk available here. You will get an answer to your request in a max of 48 hours.
Thirdly is the email newsletter where Link Whisper creators send weekly tips and new features they develop so you can make the most of Link Whisper.
#7. LinkWhisper – What others are saying
Here are just a few testimonials from existing customers of Link Whisper:
"Link Whisper has allowed us to easily link our content together, which makes the articles and topics on our site easier to navigate for our readers, plus we can pass SEO value to our older content. It's helped us grow our organic traffic over the last year!"
Daniel Cody – Editor-in-Chief, NoMajesty.com
"I had mistakenly thought a related post plugin was helping my internal links out before but realized I need to add them in the actual content to over 200 pages! Link Whisper made this super easy. A few weeks after I finished, my traffic started climbing, and in April, we more than doubled our traffic without posting too many new articles!"
Jeremy Hood, Ktchndad.com
"Link Whisper is an absolute must for any content marketer. […] Link Whisper makes internal link building a hands-off, hassle-free way to build your internal links within your website. It's favorably priced and updated often. The Link Whisper plugin is a must for bloggers and content marketers who use WordPress, and I won't create content without it."
Beau Brewer, BeauBrewerDigital.com
#8. LinkWhisper Review Conclusion
Link Whisper (discount here) is a handy tool that will find many relevant and sometimes not so relevant internal link suggestions. It works with the major page builders, doesn't slow down your site, and overall helps you rank better for a fair price.
Get LinkWhisper here. Check the LinkWhisper exclusive discount.
I am using LinkWhisper on live sites (Monetize.info included), and also, I'm an affiliate for Link Whisper, so I get a commission if you buy it. My results are fantastic. That's why I've written this LinkWhisper review, and I'm happy to recommend it.
I appreciate any help you can provide.