Are you wondering about making money online with the combination of affiliate marketing and solo ads? If the answer is yes, you have come to the best place in the world. The online world is very competitive. To beat your competitors and make money fast, you need to promote your affiliate offer.
In this part of the discussion, we will show you a step-by-step guide to promoting affiliate offers with solo ads. The debate will be held so that you can easily relate to it. Fasten your seatbelt and fly through this exciting blog.
What is affiliate marketing?
You may often hear the term "affiliate marketing," and the number of affiliate marketers increases. Affiliate marketing is all about promoting others' products, services, or businesses with your very own medium. The most significant advantage of affiliate marketing is that you don't need to own your business.
The very shocking news that may surprise you is that 80% of brands worldwide have affiliate programs for affiliate marketers. This will give you a good amount of data on the affiliate marketing industry.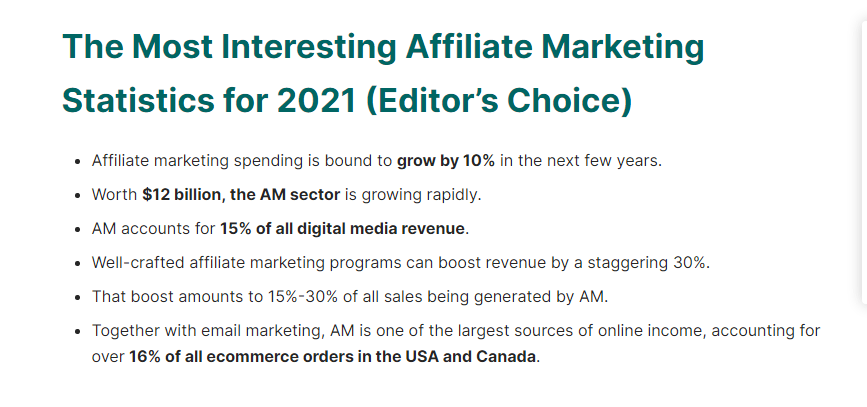 How do things work in affiliate marketing?
Affiliate programs will benefit if someone can create a better medium to promote affiliate programs. We will cover the vital medium after that. You can start affiliate marketing if you have enough time and patience as you don't have to invest much money.
You have to promote affiliate programs (mainly links) from the company that offers affiliate programs and you will get a commission if you meet the target set by the affiliate programmers. There may be some rules that vary by company as well.
The main job of an affiliate marketer is to make sales happen through their promotional links.
What Are Solo Ads?
Solo ads are one of the most remarkable ways to reach your targeted audience. No matter what sort of goal you tend to achieve online, solo ads have come into play recently. Solo ads are a type of email advertising system where you can send promotional emails with the help of the mail owners.
If you have been around on the internet for a while, you should know the importance of email marketing. You'll need to have some good email lists to perform email marketing. But, not everyone has that.
Solo ads advertising can play a prominent role here. By investigating an amount of money (not very much). Marketers prefer this marketing a lot, often because of its effectiveness.
The Benefits of Solo Ads
There are many significant benefits that you will get if you run solo advertising. This will be a crucial discussion as we explore Promote Affiliate offers with Solo Ads.
Good Return On Investment
It would help if you were sure about the rate of return on the money you are investing in a project. When we talk about solo ads, you can have an excellent return on investment. That's the reason why reputed marketers prefer solo ads.
You don't have to provide a lot to get some clicks, for sure.
Measurable Performance
You, as a user, can easily manage your solo advertising project. This makes the platform even more enjoyable. Tracking your approach will gradually provide you with some essential facts that you can use to make decisions. That's what all marketers want.
Very Good Conversion Rate
In the latter part of the day, marketers want leads to achieving their online goals. It will be tough for you if you cannot create quality leads. Solo advertising has the highest conversion rate compared to any other platform out there. It has a conversion rate of over 25, which is very attractive.
You should know how important it is to have high conversion rates. High conversion rates make your business very successful.
You Don't Need to Be Expert.
In running a solo ads campaign, you don't have to know an expert. The process is straightforward to operate for you. If you are one of the newbies of affiliate marketing, you can make things happen.
Why Are Solo Ads Effective For Affiliate Marketing?
In this particular section of the blog, we will dive into the main discussion about promoting ‌affiliate links with solo‌ ‌ads. After reading this section very carefully, you will have an unmistakable idea of the relationship between solo ads and affiliate marketing.
There are many systems to promote affiliate links. As we live in the era of the internet, you have tons of ways available. But why should you choose solo advertising in this sense? This may be a question that you are wondering now.
Solo ads can play a huge role in this perspective. Once you have a good number of email lists in your pocket and you know who you are targeting, this will give you a lot of ease while promoting any new products.
Excellent Traffic Source
As a marketer, you need traffic to your website. To generate enough traffic, there are many opportunities available—for example, Google Ads, Facebook Ads, video advertisements, etc.
Let's say you want an affiliate link with the help of Google Ads. For this, you need to spend a lot of money as the Google Ads platform is very competitive. Most online marketers have an eye on this. Besides, the CPC is relatively high as it is an established platform.
You may never want your money to go in vain as you perform affiliate marketing. It is more likely that you don't have enough money to spend as you are a newbie. So, what will you do then?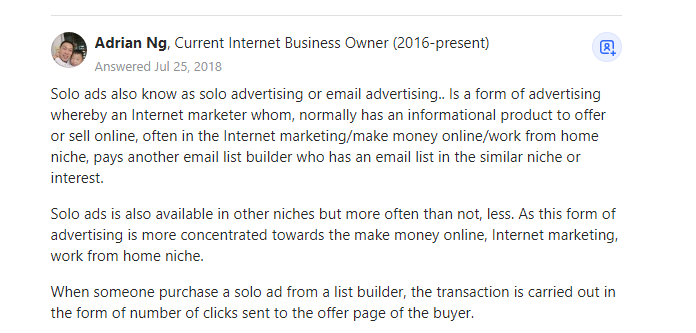 Do you give up on your affiliate marketing journey?
The same thing will happen for the rest of the advertisements as well.
Cost-Effective
So, it would help if you indeed looked for a particular platform where you can get a lower CPC to afford it. In this sense, solo ads advertising through the mail will generate a very low CPC. As I said before, you don't overthink about money if you compare solo ads with others.
Not only that, but you will also get quality clicks.
If you are running affiliate marketing, you need to make sales happen. To attain your affiliate marketing goal, you need to reach your potential customers. With the help of solo advertising, you can reach your potential customers relatively easily.
Reach to Exact Audience
If we talk about another way to promote affiliate links, you will hardly find the guarantee of reaching your very exact customers. But in this case, you can do that. This is one of the biggest opportunities for solo ads.
When you get the Solo ad service, you will get the mail address from the targeted audience you are targeting.
It would help if you thought about the pricing of solo ads to promote affiliate links. Compared to other traffic-generating tools or software, solo ads are pretty affordable. That's why this platform is very suitable for newbie affiliate marketers.
Now, we will have a glance at another example. You are asked to promote a product link by an affiliate programmer. It is often tough to promote new products as there is already a product available on the market.
Guide To Promote Affiliate Links With Solo Ads
Knowing how to perform solo ads is crucial as you tend to promote affiliate offers with solo ads. Read the guidelines below carefully to get a better idea.
Find Trusted Solo Ads Vendors
You will need to find a good vendor with a targeted audience for solo ads. There are many established sites out there that are ready to provide you with the best services, like Udimi.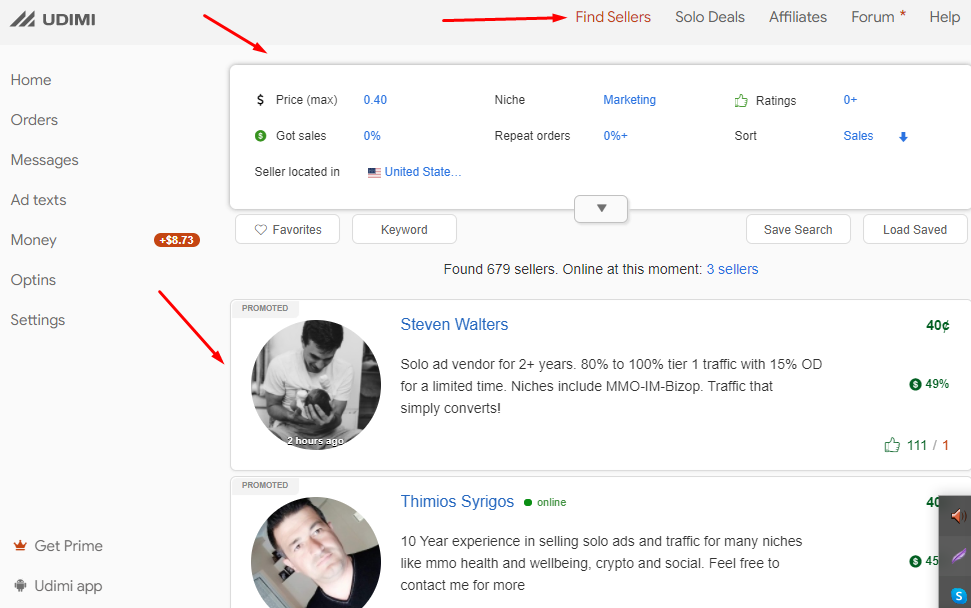 Besides, you can buy the list from anyone out there who sells solo ad lists.
Once you are pretty sure about the niche that you will be working on, you can search some forums, Facebook Groups.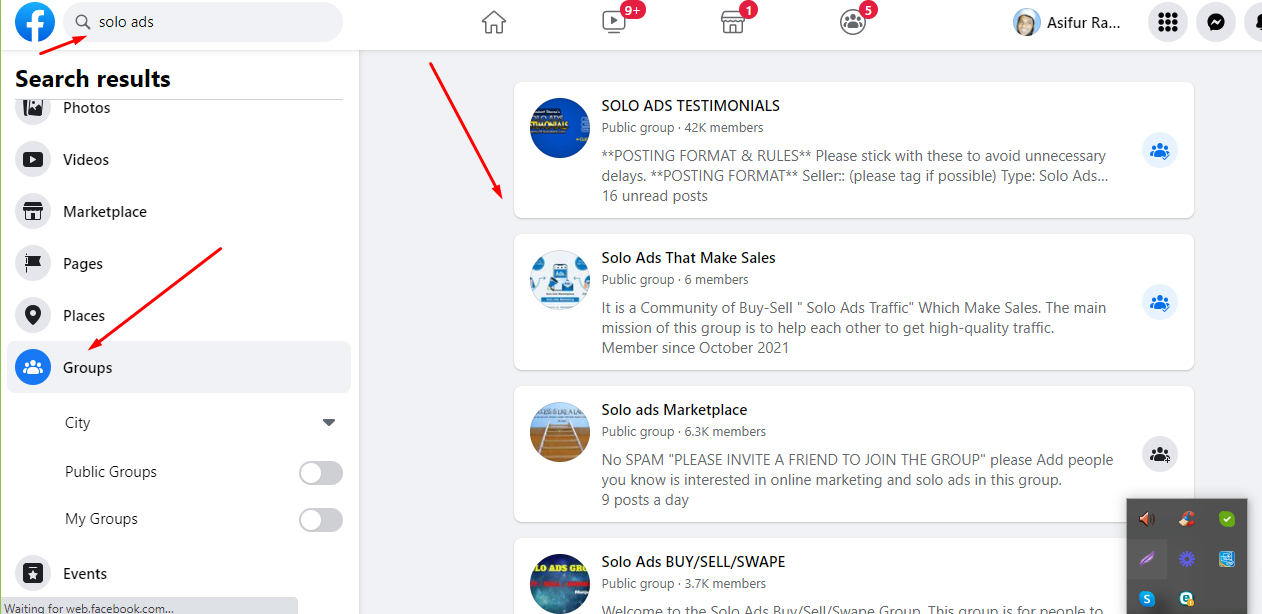 There, you may get your actual sellers with a high reputation in this field.
Make Sure Your Budget Is Correct
Spending money on solo ads is a sort of investment. No matter what portion of money you invest, you have to be sure about your budget. You are doing affiliate marketing to make money online without investing a lot of money.
It would help if you always tried to afford that amount of money you lost. Don't rush into or create a vast solo ad campaign.
Now, the question is, why are we saying that? We are saying that because, as a beginner, you need to know how the solo ad campaign works.
This is very important when talking about how to promote affiliate offers with solo ads. You have to work with patients to make the solo ad campaign successful.
Choose the best affiliate programs.
People want to be affiliate marketers. They know that they can make money through it. But there are some things that you badly need to take into deep consideration. If you randomly choose any affiliate products or services to promote, you will be at a loss.
As you are looking forward to making more and more sales happen, you have to research the marketing. Besides, you also have to know the products or services the customers talk about a lot. Though promoting new products is challenging, it can create more opportunities for you.
In this regard, you should try to choose the affiliate programs that have the highest conversion rates. You can quickly know this fact by carefully analyzing the affiliate programs out there. Make sure you perform this particular task quite carefully.
When you promote a link to a particular product, make sure it contains the quality. Thus, people will find it very valuable. There are a lot of affiliate networks available for finding good affiliate offers to Promote with Solo Ads like ClickBank, JVZooo, Digistore24, MyLead.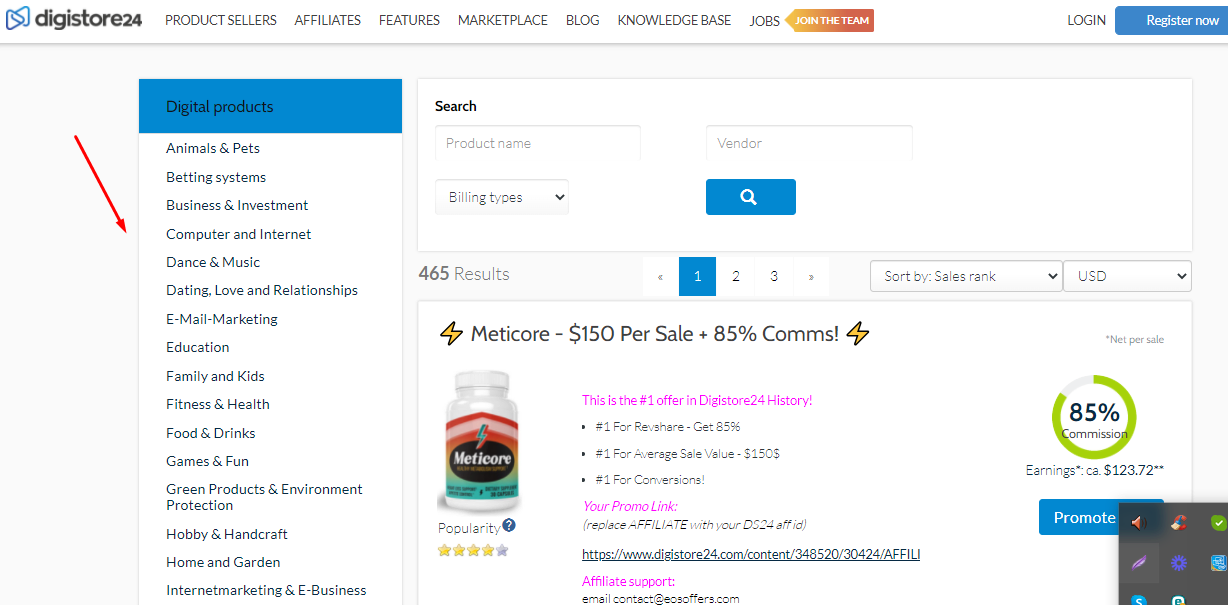 A Good Sequencing Page
A sequence page will help you convert leads. Your targeted audience will most probably come to your sequence page to find out what you are precisely offering to them. Try to make that page more attractive so that your audience can feel its help. Your efforts may go in vain if you cannot generate leads.
The sequence page must have some features. All the established marketers around the globe emphasize this point. For some reason, you should try to make an exceptional page. The first and foremost reason is that you are not the only person promoting affiliate links. There may be plenty of people too.
The main point is that you have to show the potential of the products through a sequence page. But bear in mind, it is not essential for Solo Ads Marketing.
Track Your Solo Ads' Performance.
If you don't know how things are going, you will lag. That's why renowned affiliate marketers worldwide want you to track your campaign. There are many ways to do so.
You can track the CTA to get some idea about your campaign. You should also notice the open rate of the emails you send and the conversion rate. There is a lot of Solo Ads Traffic tracking software available. But I'm highly like ClickMagick because Clickmagick can track fake or bots traffic.

Go For A Small Number Of Clicks
Don't dream too much when you are at the beginner level. You don't need to buy a good number of clicks to run your ads. When you need to do this, go for the smaller number and take note of it carefully. When things start changing, you can go with the big numbers.
 I usually suggest buying 250-500 clicks to test a solo ads seller. 
Take the initial clicks as your warm-up process.
Good Communication With The Sellers
You have to have excellent communication with the seller. If this doesn't happen, you may not perform the process with ease. Please make sure you are confident about the list you are buying from them.
It will be pretty good to buy the list from a reputable website like Udimi.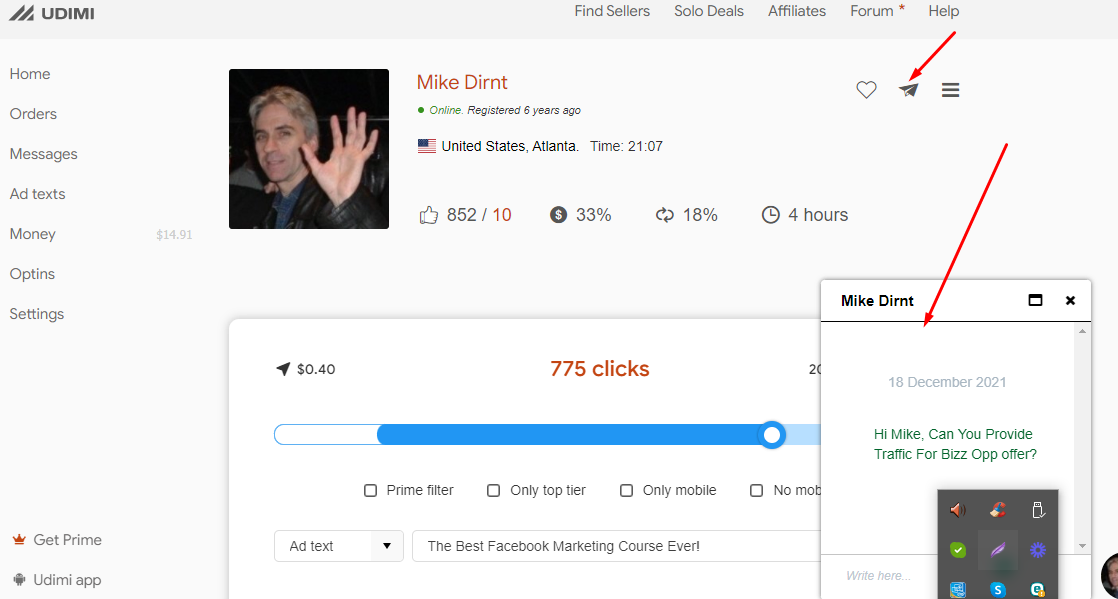 Attempt to maintain better communication there as well.
Take your time to reap the rewards.
Any advertising needs to provide you with the expected benefits. Solo ads here are no exception. Promoting affiliate links with solo ads is also a bit time-consuming. So, we suggest you wait patiently to get an outstanding amount of affiliate commission.
It is also necessary to keep your hope alive. Making money online needs time and effort, but you will be at the top once you choose solo ads to promote affiliate programs. It would help if you worked with complete consistency.
Start Copywriting
We mentioned this earlier. If you can attract the attention of your targeted audience with proper copywriting, it will pay you a lot. Just send the followers superb copywriting to get some idea regarding your links.
How To Make Effective Solo Ads Campaign For Affiliate Marketing
Promoting affiliate links needs to have a strong campaign. But, this is not rocket science. What you have to do is to take some time and plan the proceedings. Let's say you want to promote a specific product. You have to make sure you want to promote links directly, which may not be so effective.
The most effective way to promote affiliate links is with a landing page. With this, you can create value, which is the king of any marketing campaign.
You should be aware of who you are aiming for.
Create value with the mail for your targeted audience.
Make the additional changes happen if needed.
A/B test of the funnel
We hope you can make a better solo ad campaign if you closely follow the above facts. Some people want to start solo advertising campaigns without thinking a lot about the campaign. So, always keep this issue in your serious consideration.
Promoting links through solo ads won't be enough. Instead, you should create compelling content to make your affiliate marketing journey stand out. However, you need to know how to perform solo ads to promote affiliate offers.
Another plus is that there are no restrictions, so you may never be labeled as banned. This is why examining the solo ad campaign is very impressive. In short, this opportunity will come into the field with some positive results for affiliate marketers.
Executive Summary
If you badly want good paid traffic, solo ads will be appropriate for you. Do you have enough time and potential? Why not affiliate marketing? When you have a suitable medium to promote affiliate offers with solo ads.
We hope you have started to get the point discussed above. Though solo ads are not an old marketing system, you don't need to be confused. Solo ad marketing to promote affiliate programs is so effective that even new affiliate marketers have an eye on this.
If you complete the task correctly, you can have an excellent profit margin. Make a strong campaign and get ready. Good Luck!