Who needs the 9-5 grind and struggling to pay rent when you can easily make money online using high-paying affiliate programs? This guide will show you 65+ affiliate marketing programs with high payments.
Making money online gives you the choice of living wherever you want. You can work from home or travel the world (after the covid pandemic is over). Thousands of publishers monetize their blogs better every day by partnering with other companies via affiliate programs.
Affiliate marketing is one of the best ways to monetize your blog, mainly when you don't sell products or services. Joining an affiliate program can get you exclusive access to new content and special deals for your audience — all while earning you more money.
Here are the best high-paying web hosting affiliate programs.
1. Best Crypto Affiliate Programs
Crypto is still a hot industry with many products and services that offer high commissions to people promoting them.
On top of that, you can be paid in fiat or crypto to stake that earnings even more. Knowing their commission plans, marketing tools, and offers is also essential.
Here are some of the best cryptocurrency affiliate programs we recommend:
1.1. You Hodler [up to $150 CPA – Join YouHodler]
YouHodler is a finTech platform focused on crypto-backed lending, exchanging and trading with fiat, crypto, and stablecoin staking. The platform supports BTC, BCH, BNB, ETH, LTC, XLM, XRP, DASH, HT, REP, and other popular cryptocurrencies and tokens.
In a single place, you can easily keep your crypto secure, earn up to 8% annual yield on USDT and another crypto without risk, one-click exchange, get a loan using your crypt as collateral, and get rewards or profit from market volatility with the MultiHODL functionality.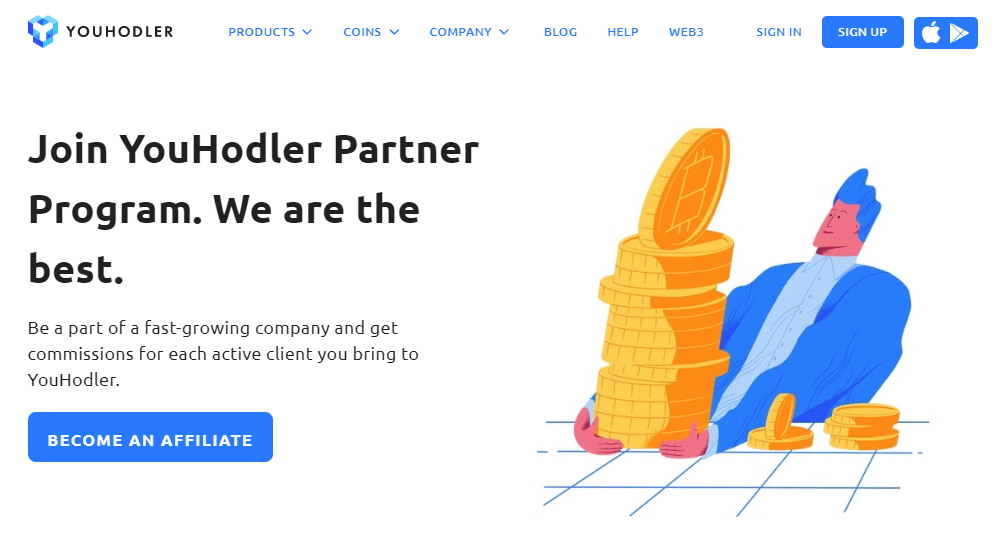 The YouHodler affiliate program has an up to 15% conversion rate, and over 180 GEOs are accepted. They pay $20 for an opened Savings account and $130 for a Classic Loan taken or opened Turbocharge or Multi HODL. The payments are issued monthly with a minimum payout threshold of $200 for payments in crypto via SEPA bank wire and $1000 for SWIFT bank wire.
YouHodler Affiliate program PROs
A very attractive and trustful product that sells itself;
Users from 235+ countries may be onboarded;
Access to a wide range of supportive creatives and advertising materials;
Dedicated Account Manager;
High CPA and payouts through various payment methods;
YouHodler Affiliate program CONs
It cannot target the US market yet.
Users need to complete KYC before being able to use it fully.

If you have a crypto audience, I suggest you signup toYouHodler affiliate program and monetize your cryptocurrency traffic.
1.2. Binance [20-40% Recurring]

Binance is the largest cryptocurrency exchange in the world. It provides a platform for trading various cryptocurrencies. The Binance Affiliate program pays 20% of the referral's trade fees and 40% if holding 500+ BNB. The payment is made in real-time to the Binance account, and you can withdraw it anytime.
1.3. Coinbase [Referral program]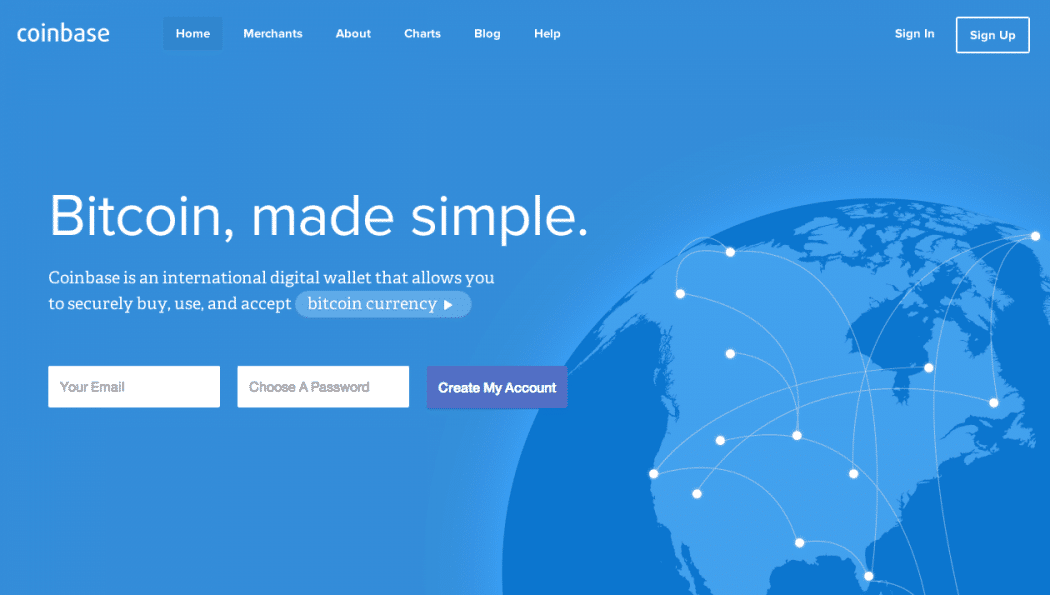 The CoinBase Affiliate program pays you to bring customers. When you refer a new customer to Coinbase, you'll earn 50% of their fees for the first three months.
1.4. SafePal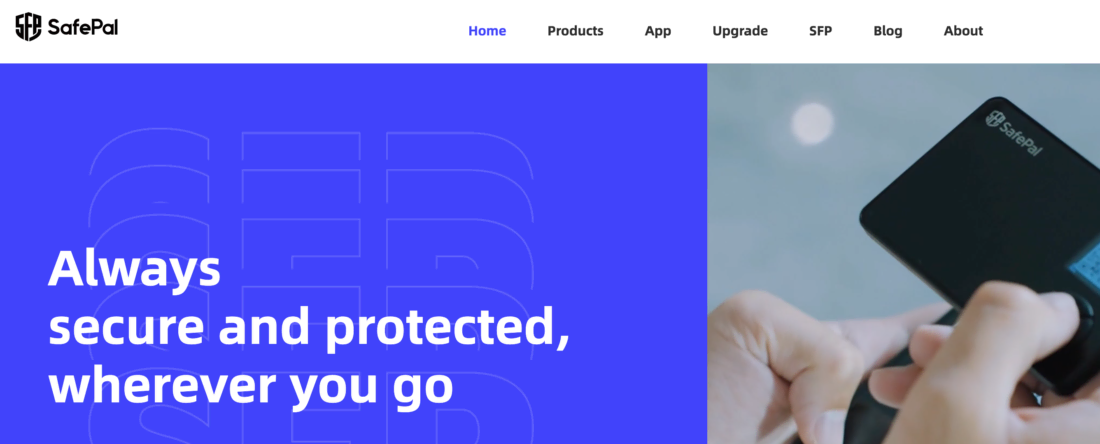 SafePal is a state-of-the-art hardware wallet that keeps your cryptocurrencies protected. Using their app, you can easily convert, trade, and store crypto.
The SafePal affiliate program pays 15% for each new sale you generate until you refer 50 people and 20% after passing this landmark. You will be paid in PayPal. Here are more details about the SafePal affiliate program.
Commission: 20% of the user's trading fee per trade
Earning period: 1 year from the user's registration date
Commission: 20% of sales
2. Best Website Affiliate Programs
After web hosting as the most popular affiliate category, website builders like Wix, Squarespace, Elementor, and Thrive builder.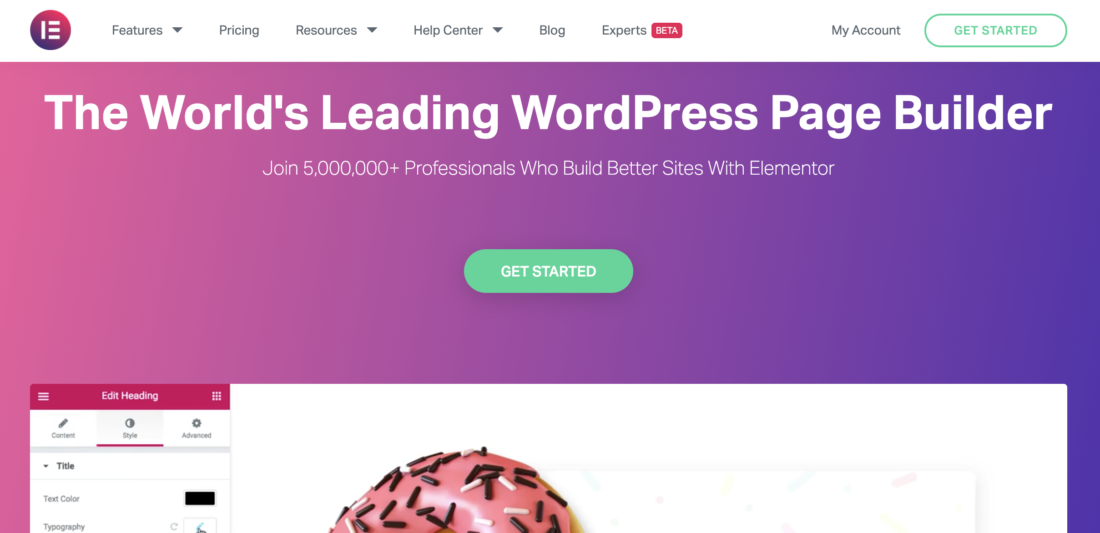 Elementor PRO has excellent conversion rates, so Elementor practically sells itself. They work hard to make Elementor the revolutionary website builder tool. You can earn $50 per sale by promoting Elementor PRO. It has over 4,000,000 active installs, over 3K five-star reviews, and one of the top 15wordpress plugins.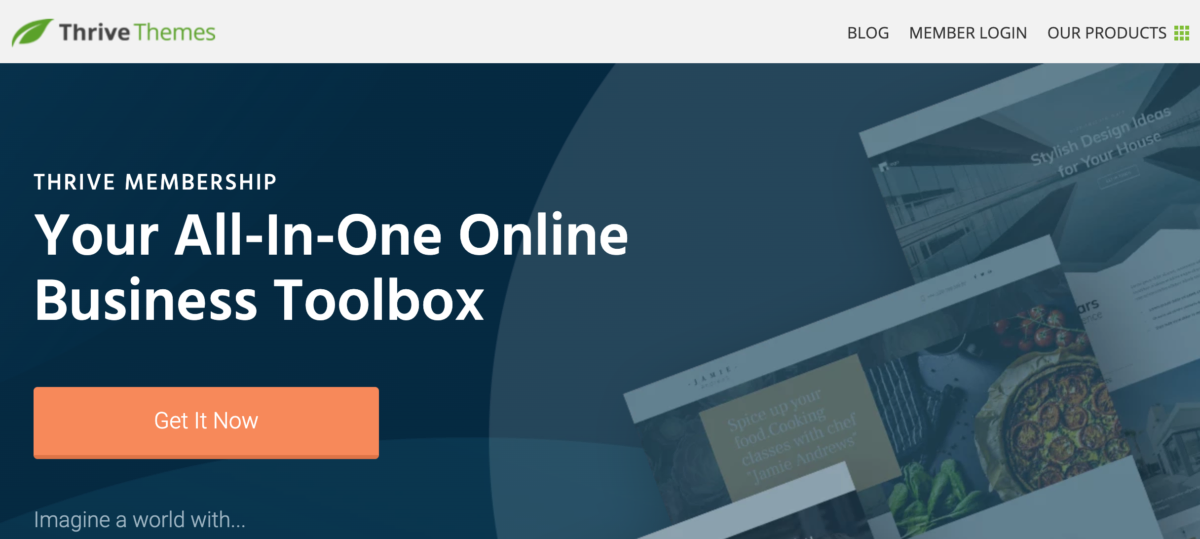 Thrive Themes is a popular website builder among bloggers and web admins. You get an affiliate commission of 35% for each sale you make as well as25% recurring commission. You can get your commission into your account through PayPal as soon as you reach $20.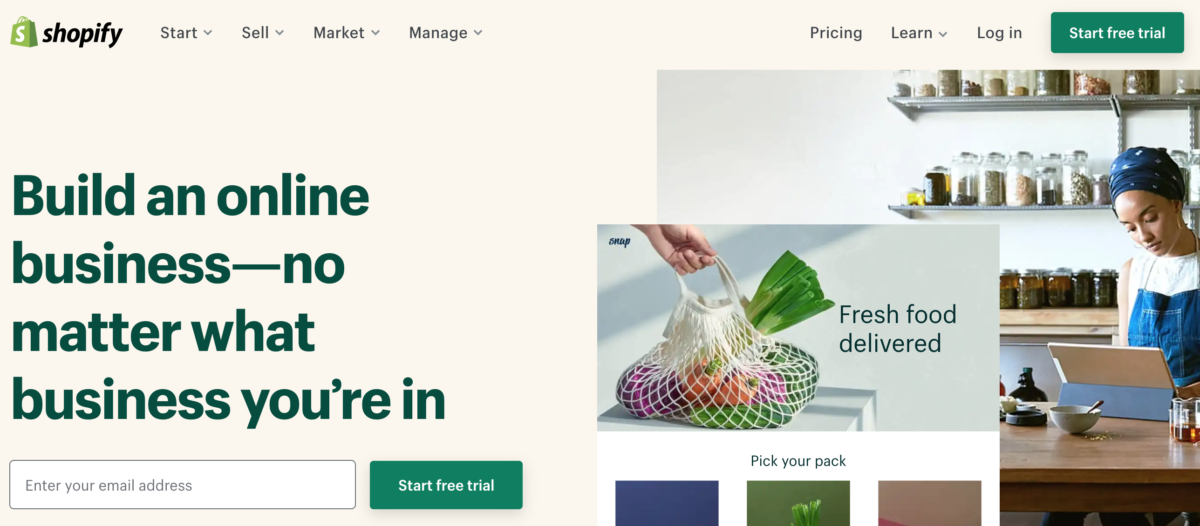 Shopify is the world's most popular eCommerce website builder, boasting 400,000 merchants and a substantial 200% commission on paid stores. With their name recognition comes stable conversion rates. Plus, their website features helpful affiliate FAQs and promotion ideas.

Wix is another high-quality website builder with an insane 100 million users. They provide their affiliates with $100 per sale and feature many great landing pages in multiple languages.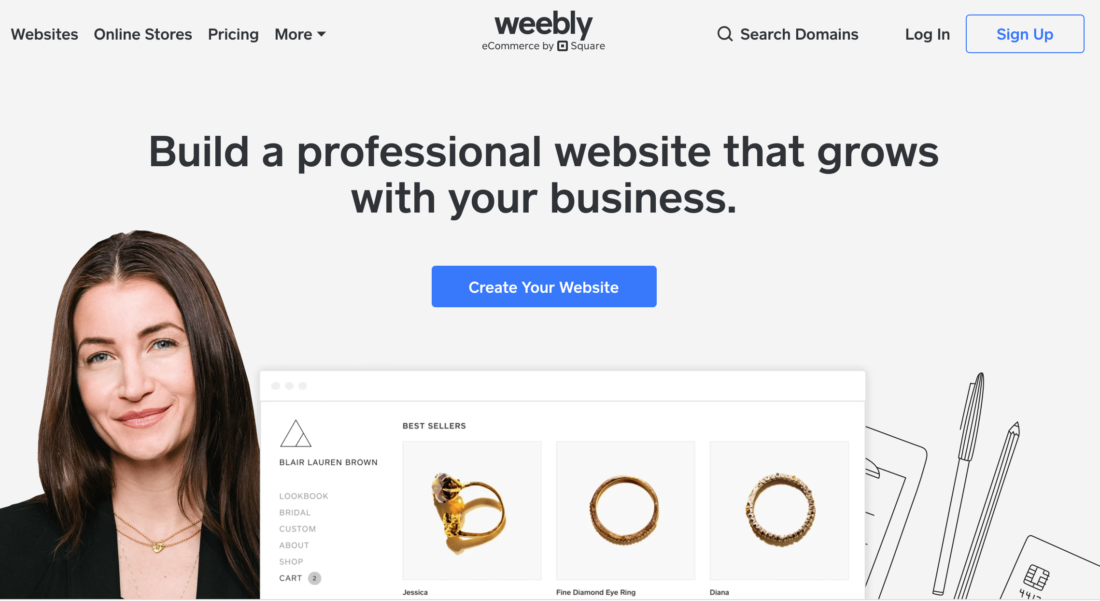 Weebly is a simple website builder with an impressive 40 million+ users. It is, not the most advanced website builder, but its drag-and-drop interface makes it very easy to build a quick website. In addition, they offer a 30% recurring commission for as long as the customer is active and feature a generous 120-day cookie window.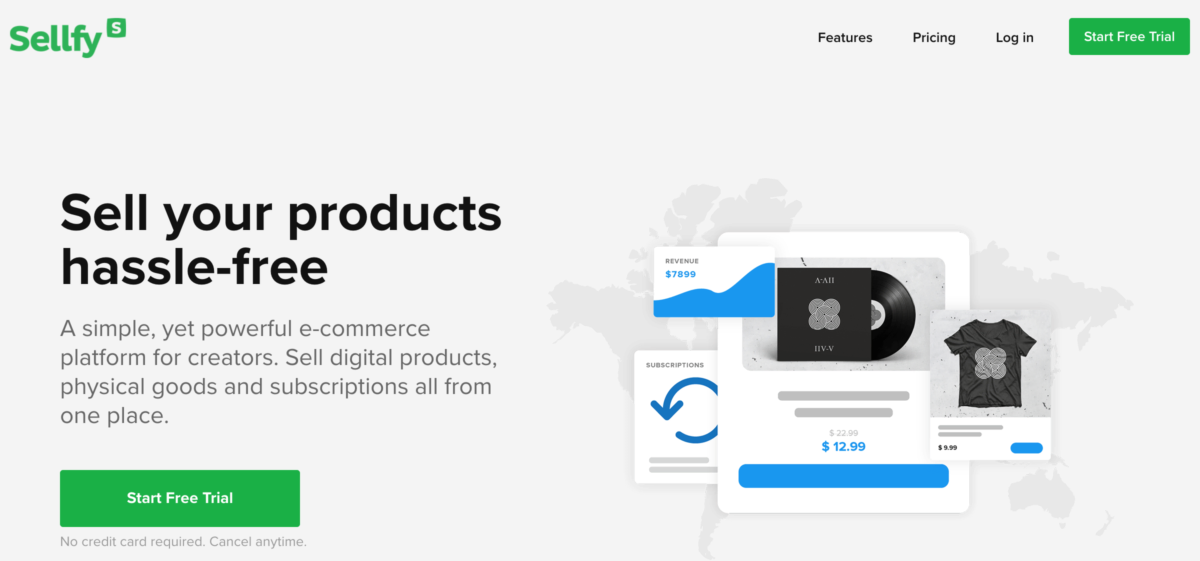 Sellfy is a full-featured eCommerce tool built for bloggers and creators who want to sell digital products, subscriptions, and physical goods. Their affiliate program provides a 25% recurring commission for one year. In addition, they have a strong affiliate manager I know who can provide affiliates with help on content and other collaborations.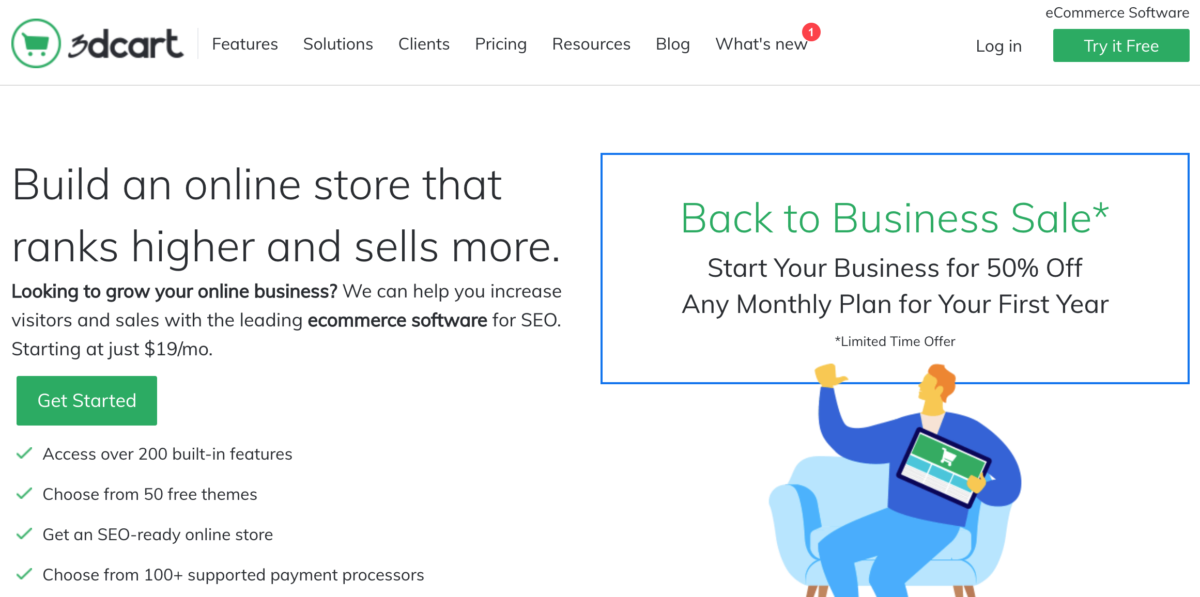 3Dcart is a fast-growing eCommerce platform that hosts its program and offers a 300% commission for paid conversions. They boast reliable conversion rates and have accommodating Affiliate Managers that lend a helping hand. Additionally, you earn $2 for a valid lead and have a 45 days cookie.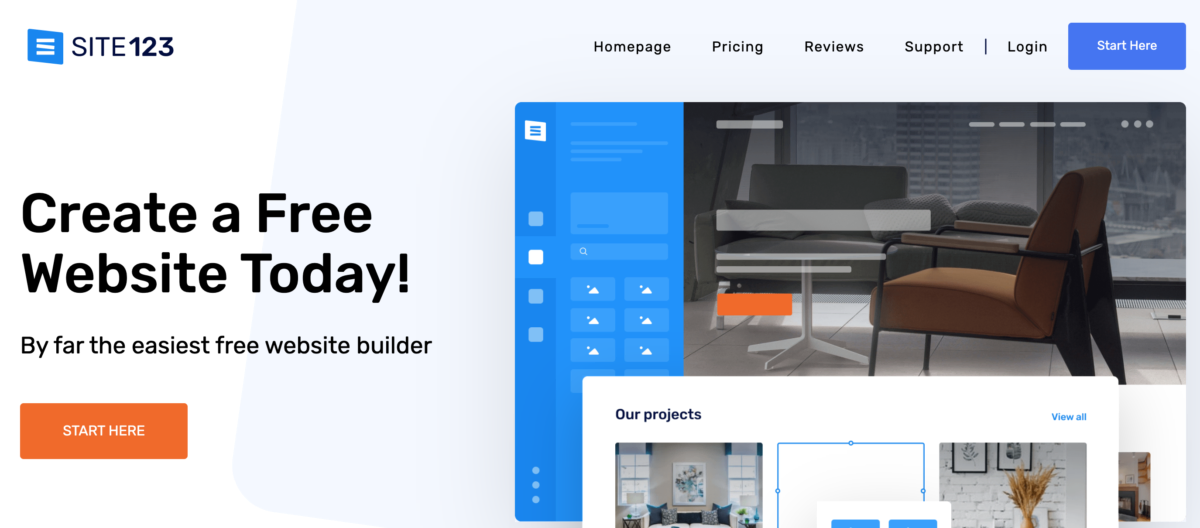 Site123 is another famous website builder that allows you to create mobile-friendly websites with many templates and a simple user interface. Their affiliate program provides up to $182 payouts, and you can only withdraw your funds after receiving $300 in commissions.
3. Best Web Hosting Affiliate Programs
The hosting industry is very competitive, so hosting companies offer great affiliate commissions to get a better market share.
Here are the best hosting affiliate programs you can promote on your blog and earn lucrative commissions.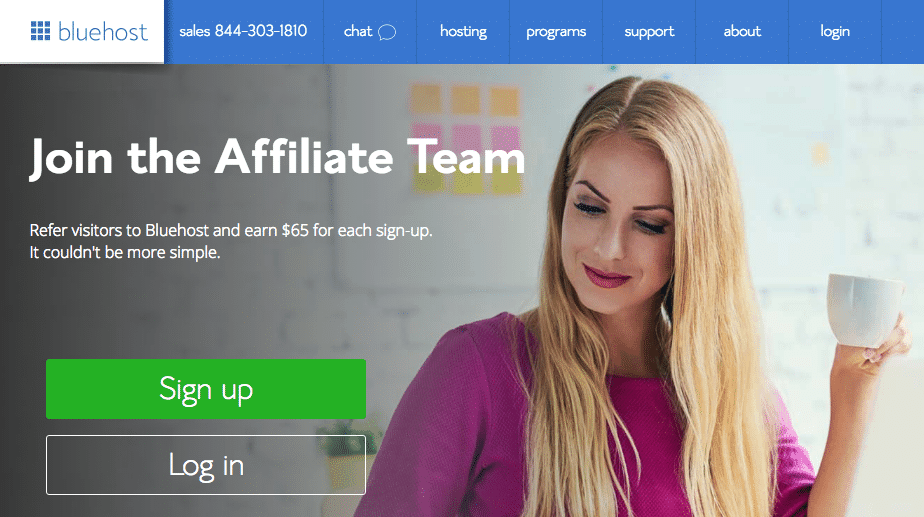 The Bluehost [BlueHost Exclusive 60% Discount affiliate program is super popular in web hosting. With their plans at $2.95/month and one-time payouts at$65+, the cost barrier is low, and the commissions are high. If you still need to launch your affiliate website, click my link below to get 63% off your Bluehost plan.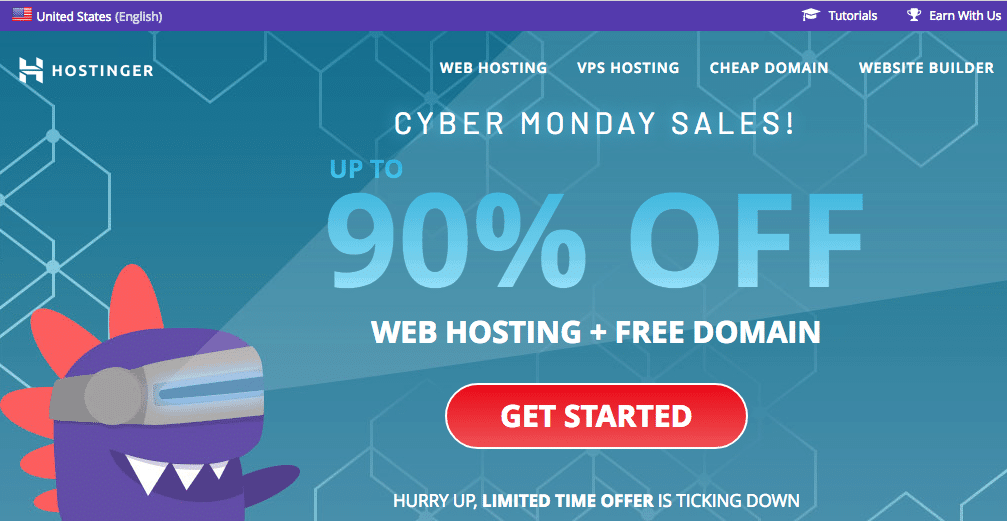 Hostinger is another popular web hosting platform that can offer affiliates up to $150 per sale on a tiered pricing structure. Their affiliate partner program provides a base payout of around $60, with the opportunity to make up to $150. And since their small business and WordPress plans have a 90% discount and start at $0.99/month, they boast excellent conversion rates.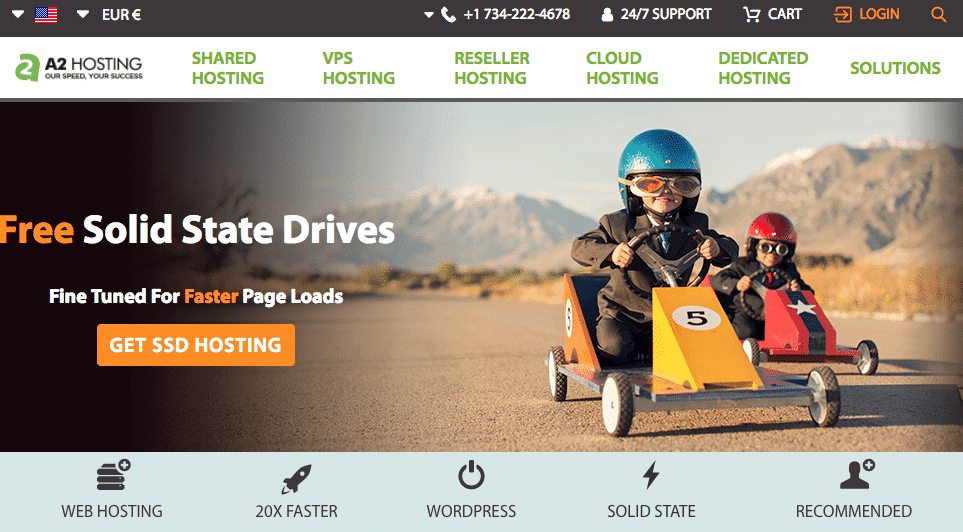 A2 Hosting is another popular affiliate program that offers a high payout and stores 90-days cookies. You earn more for every sale based on the number of sales you deliver each month. For example, you can make up to $140 per if you could close 31+ sales. They also offer a $ 5-second tier commission! That means you refer to our affiliate program for each user, earning $5 per sale they make!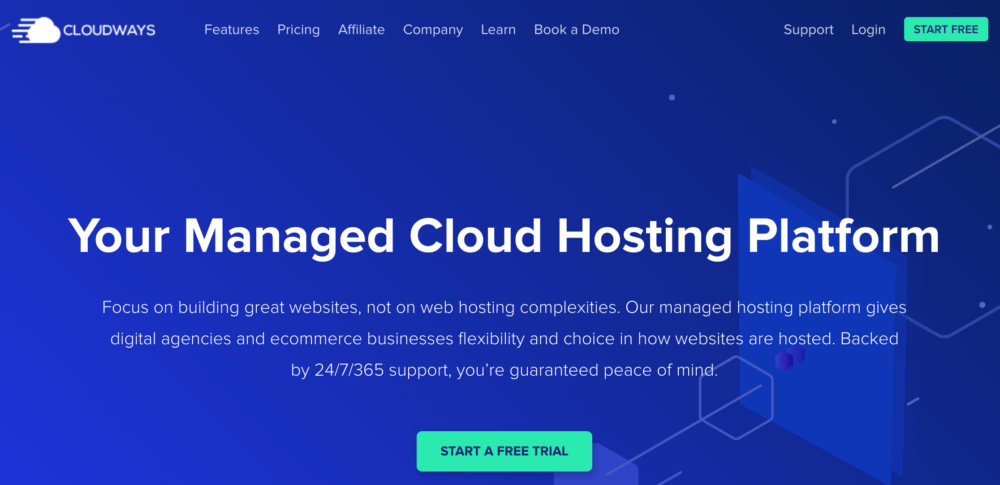 The Cloudways web hosting affiliate program offers high payouts, long recurring commissions, and three flexible payout models for their affiliates. You can either earn up to $125 per sale based on your performance tier for one-time payouts.
Additionally, you can use their hybrid model and get $30 per sale plus a 7% monthly lifetime commission for the customer's life.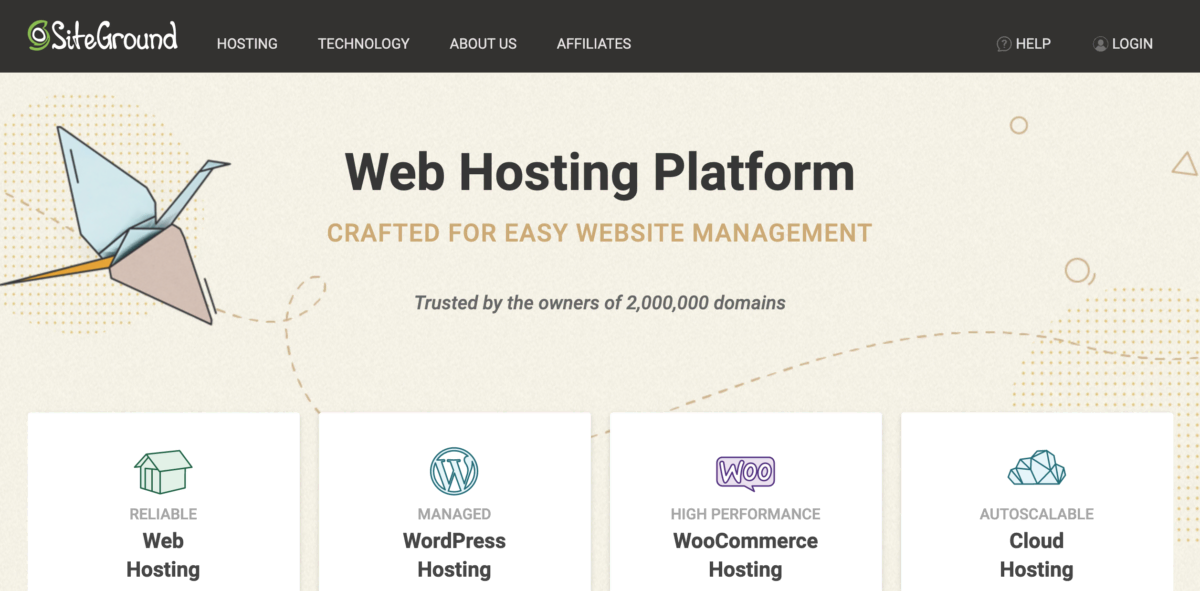 SiteGroud Affiliate Program [SiteGround Exclusive Deal] offers high commissions with weekly payouts and a short withhold period. Initially, you get $50 per sale, but after 21+ sales, you can ask them for custom commissions for each sale. Promoting SiteGround is easy because it is a popular hosting provider among bloggers and web admins.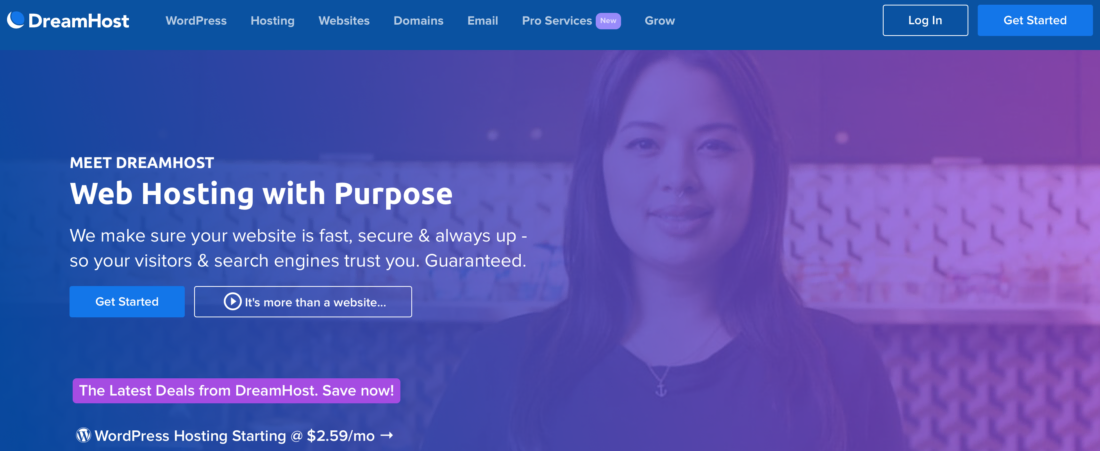 Join the DreamHost affiliate program to get cash quickly. Earn up to $200 per referral! It is a partner with the managed WordPress solution that WordPress.org officially recommends.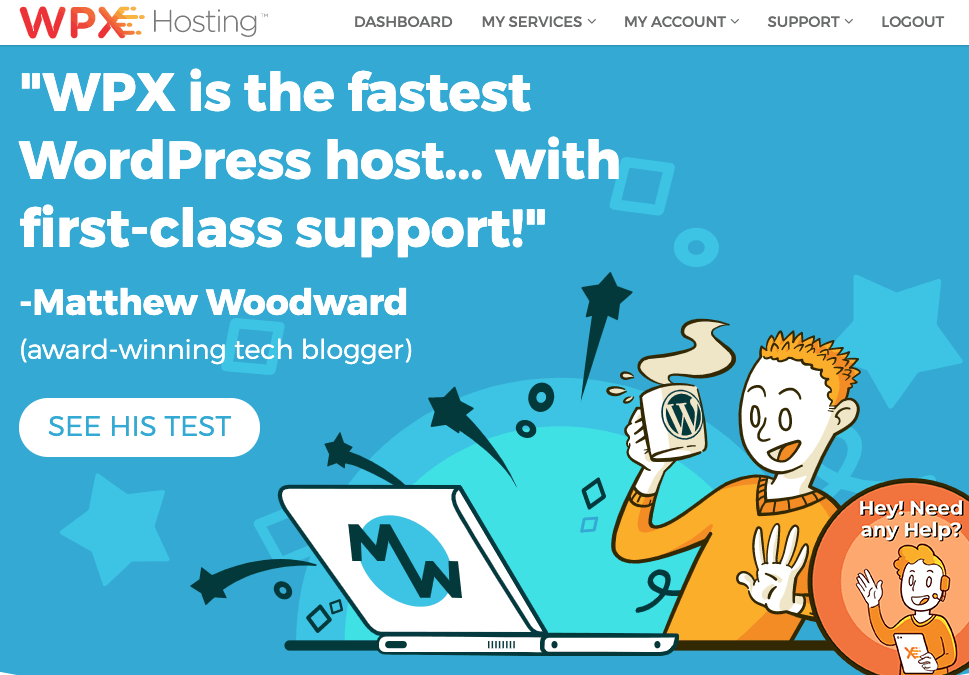 By joining the WPX Hosting affiliate program, [WPXHosting Deal], you can earn up to $100 per sale based on performance and traffic levels. Commission payouts are as soon as 35 days pass after signup. In addition, you can access your affiliate manager directly through skype on Mon-Fri.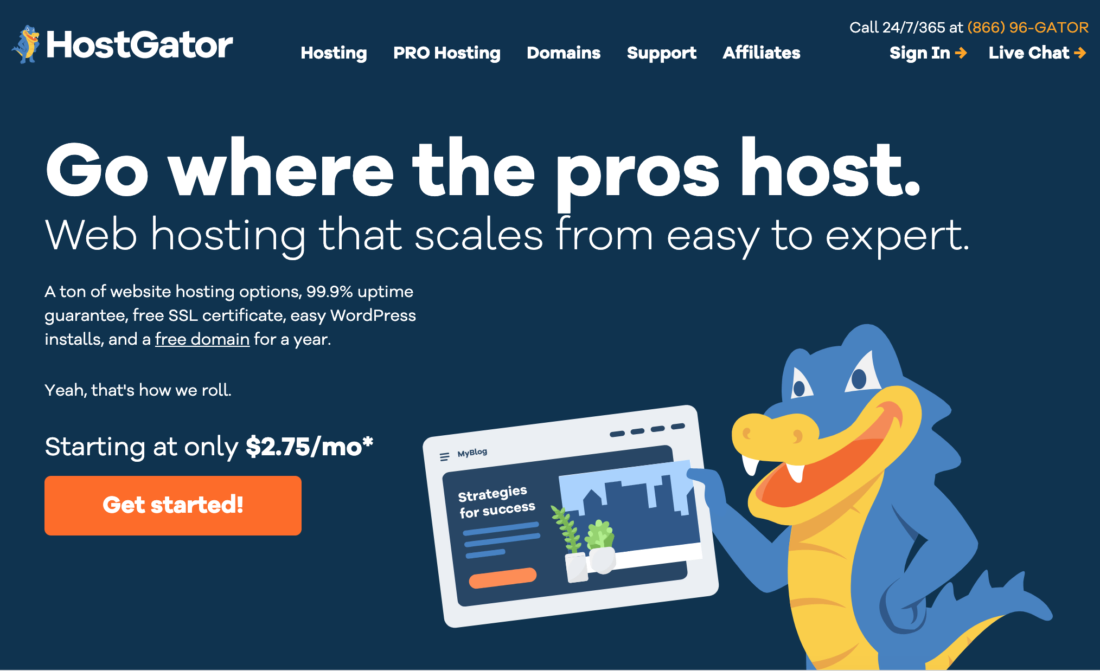 By promoting HostGator, you can earn up to $100 per sign-up and get flexible commission structures and your co-branded landing pages and offers. In addition, by joining their program, you get a dedicated affiliate account manager and access to marketing tools like banners, text links, excellent article content, and email templates. They're a great web host when starting an affiliate site as well.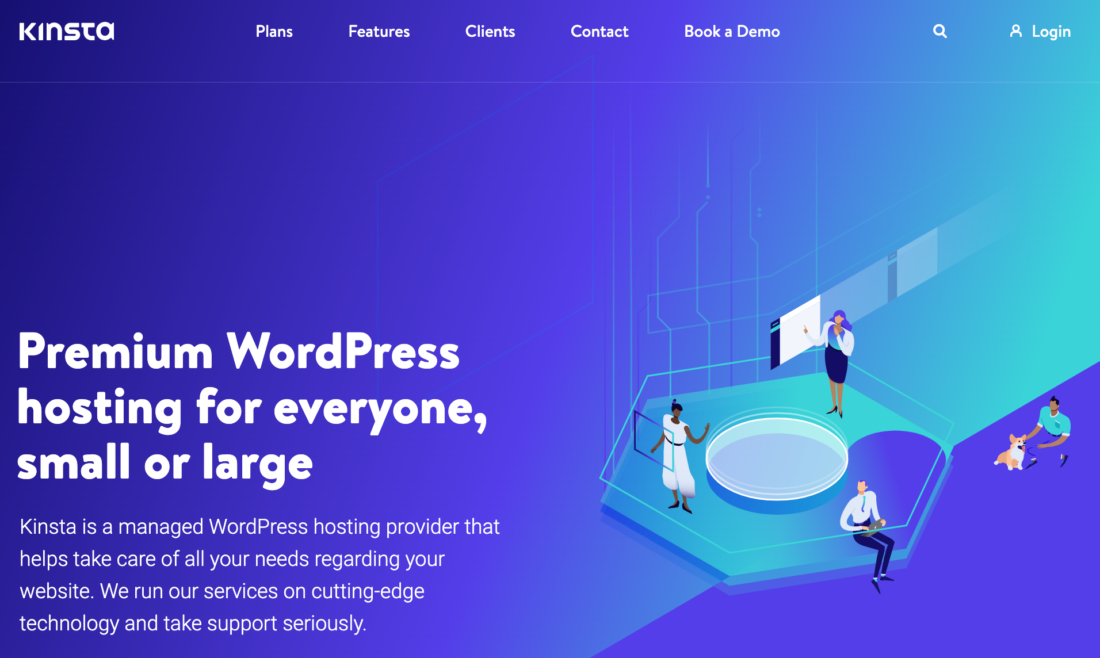 Become a Kinsta affiliate and get true profit sharing. Earn up to $500 for every referral +10% monthly recurring lifetime commissions. Partner with us, and we'll share what we earn. This is the best hosting affiliate deal you'll find in the industry.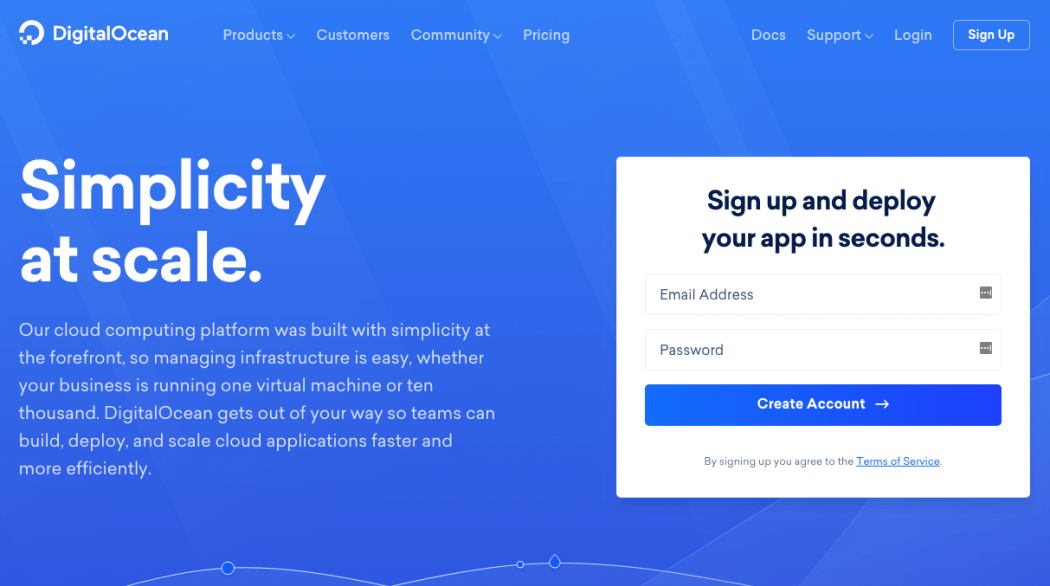 DigitalOcean [DigitalOcean deal] offers unmanaged VPSes for hosting starting as low as $5 per month. You get 1GB and 1CPU, 25 GB SSD, and 1 TB transfer data at this price. That's enough even for a medium-traffic optimized WordPress site.
Everyone you refer gets $100 in credit over 60 days. Once they've spent $25 with us, you'll get $25. There is no limit to the amount of credit you can earn through referrals.
Keep in mind that Bidding on branded keywords, which include 'digital ocean and/or 'digital ocean' for ads, is prohibited.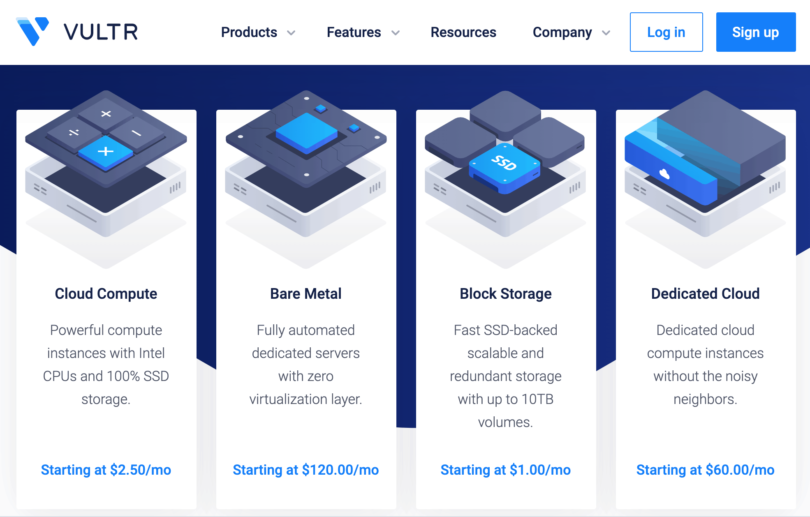 Like DigitalOcean, Vultr [Vultr Deal] offers unmanaged VPSes for hosting starting at $10 per month. Additionally, if you become a Vultr affiliate, you will receive $25 for each unique paid customer you refer.
Also, the users you refer receive $100 to test their platform. Remember that referred users must be active for 30+ days and use at least $25 in payments to be counted as verified sales. Payouts are finalized and issued on the business day following the 1st and 15th of each month.
4. Best Hosting Addons Affiliate Programs
Every hosting account needs several add-ons like a control panel, a CDN, or a maintenance service to ensure the service works smoothly.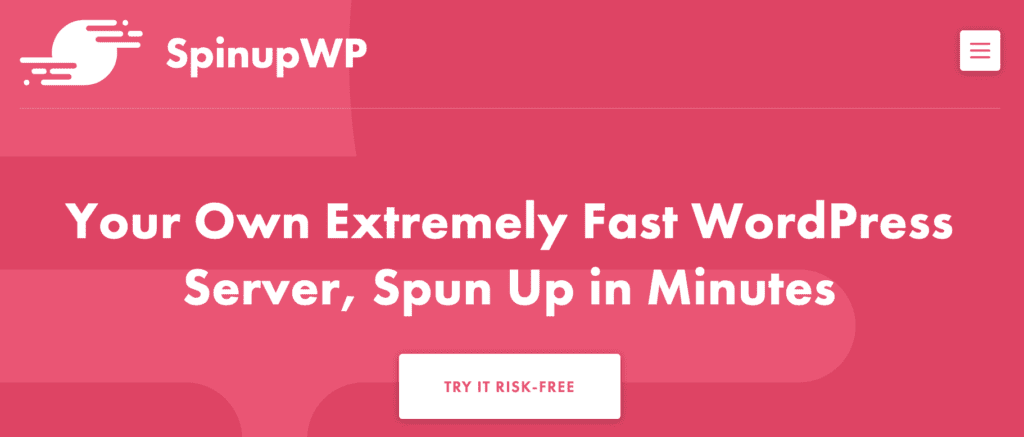 SpinupWP is best for developers or webmasters looking for a clean upgrade from shared hosting or "managed hosting." SpinupWP makes you think running VPS and hosting WordPress is that easy.
With the Spinup Affiliate Program, each friend that signs up to SpinupWP with your unique referral link will get $50 in credit 30 days after signing up. Once they've spent $25, you'll get $25. There is no limit to the amount of credit you can earn through referrals.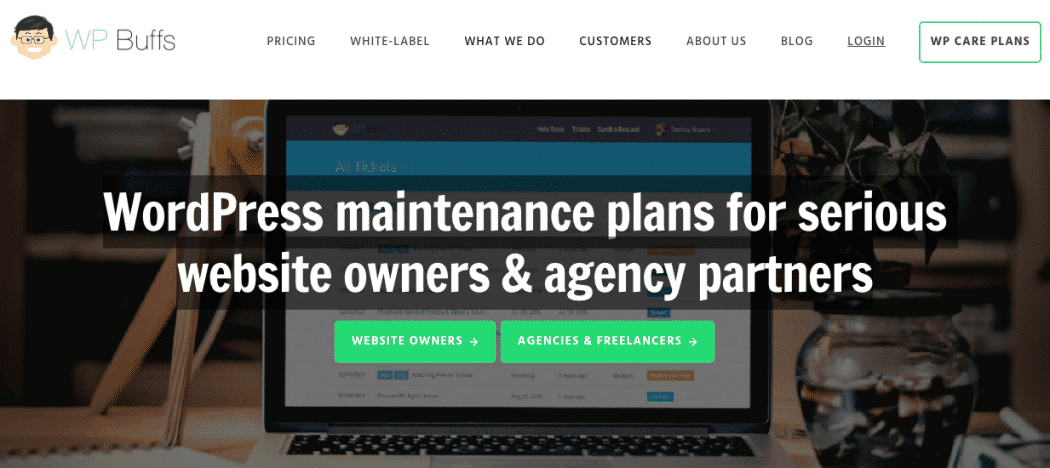 WP Buffs offers WordPress speed service and maintenance plans for website owners and agencies. Check our WPBuffs discount deal. With WPBuffs Affiliate Program, you can earn 10% lifetime commissions. The cookie lifetime is set at 60 days. You will get paid monthly as long as they keep an active plan. Your earnings are paid automatically via PayPal.
5. Best WordPress Affiliate Programs
As you are a blogger or digital entrepreneur, most probably, your website or your blog is powered by WordPress. Here are the best affiliate programs for WordPress plugins and themes.
5.1 Jetpack [20% Recurring]

Jetpack is the ultimate toolkit for WordPress. It gives you everything you need to design, secure, and grow your site in one bundle. Check out our JetPack 20% off discount deal.
The JetPack affiliate program pays you 20% for every client you bring in if he doesn't cancel within 30 days.
5.2 BlogVault [20% Recurring]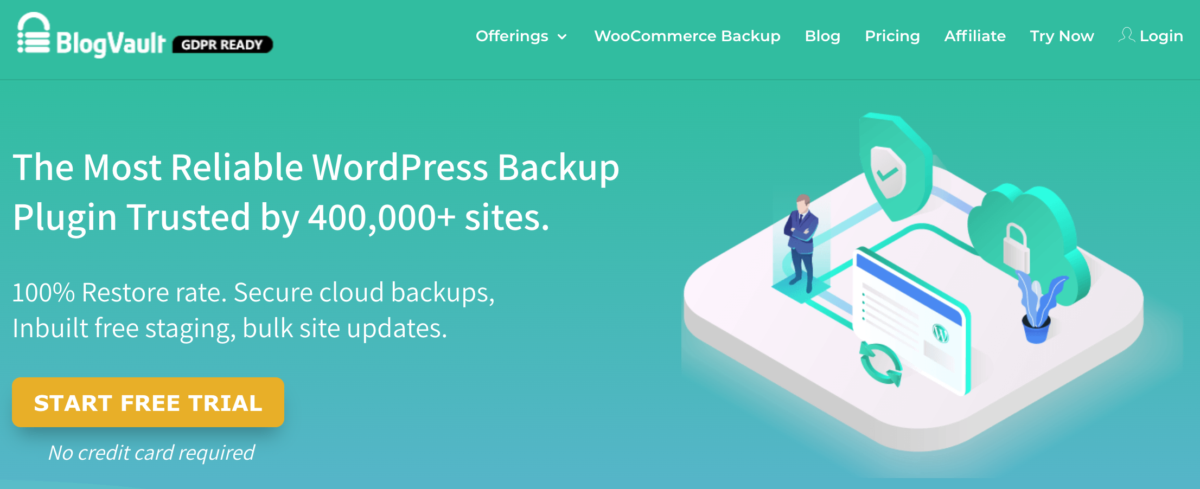 BlogVault is one of the most reliable WordPress backup plugins being trusted by 400,000+ sites. We use it here at Monetize.info and on our entire network of brands.
The BlogVault affiliate program pays you 20% recurring commissions for as long as the customer you refer pays. The cookie life is set at 60 days, and the earnings, sales, and free trials are tracked in real time. Also, if the customer upgrades to a higher plan, your commissions increase too. You receive $19.8 for each $99/year personal plan purchase and up to $477.6 for each $2388/year developer plan purchase.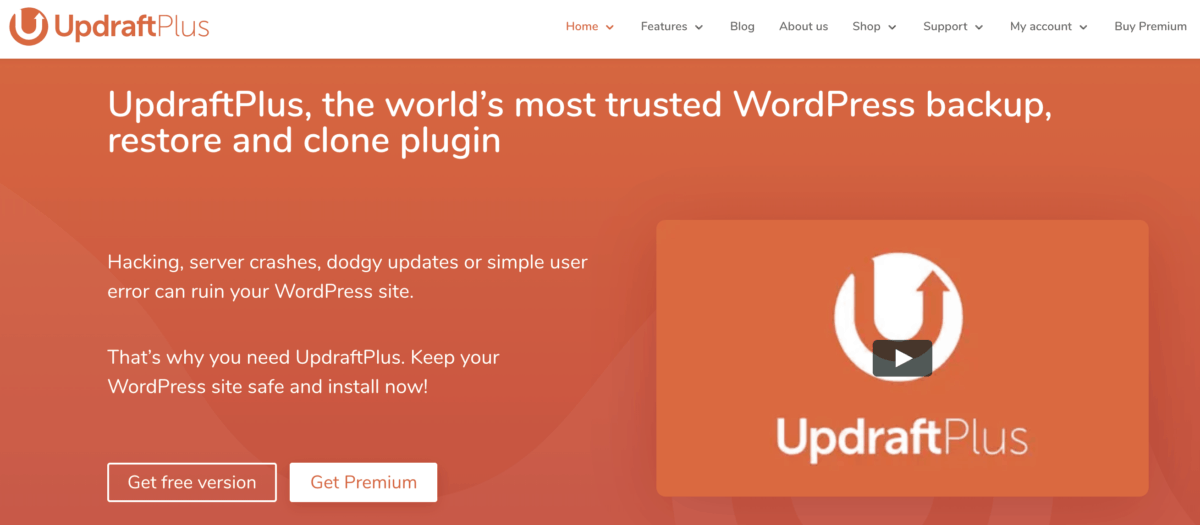 UpdraftPlus simplifies backups and restoration. It is the world's highest-ranking and most popular scheduled backup plugin, with over a million currently active installs. Also, check our exclusive Updraft discount deal.
UpdraftPlus Affiliate Program pays you a generous 30% affiliate commission on every referral purchase. There is no minimum purchase, you don't need to have an active purchase, and you get payments quickly to your PayPal account.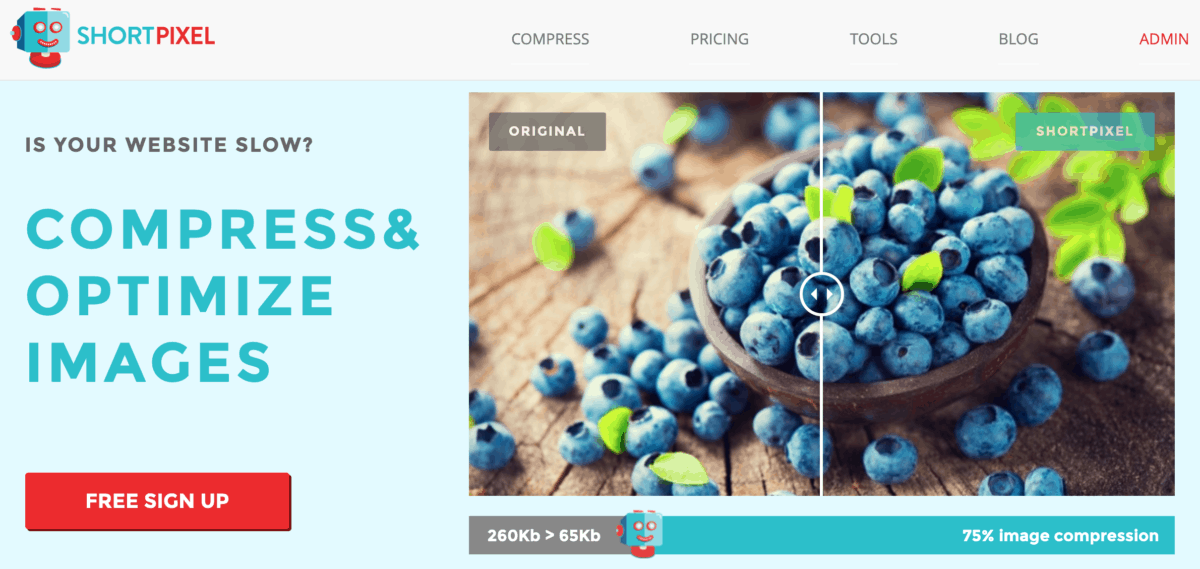 ShortPixel is a high-powered compressor and optimizer that drastically reduces image file sizes to improve website performance and SEO rankings. Check our ShortPixel Exclusive discount.
The ShortPixel affiliate program pays you 30% commissions for each purchase made by your referrals, including recurring sales. The tracking cookie lasts 30 days, and the commissions are paid via PayPal.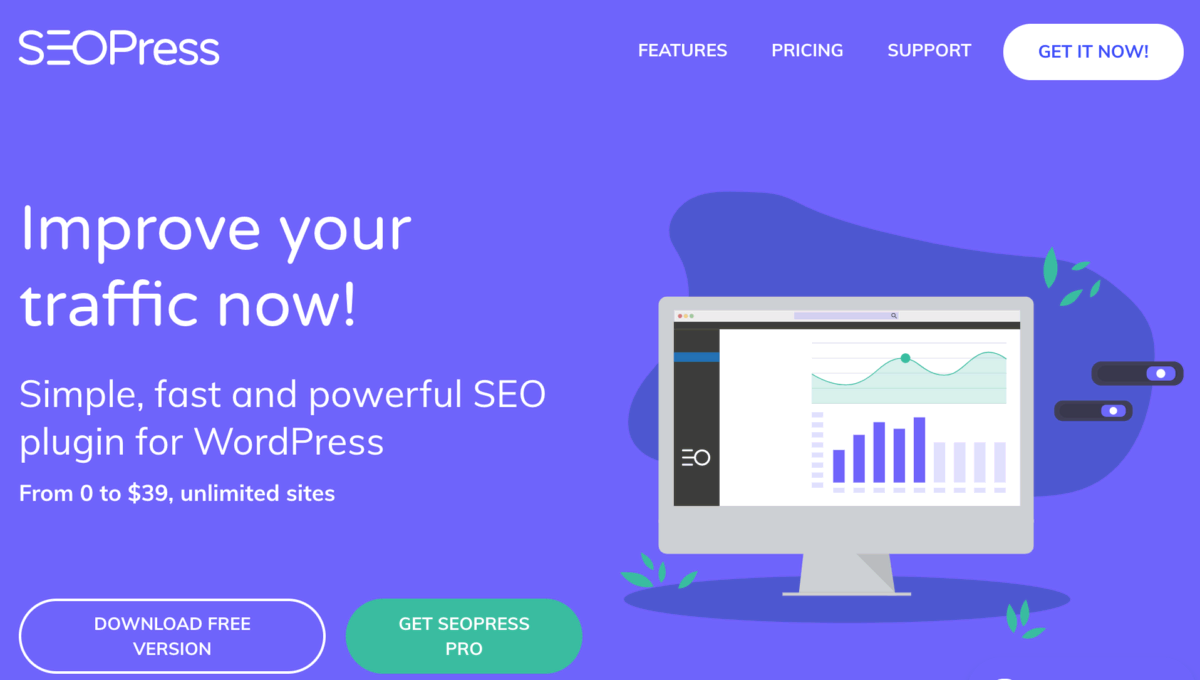 SEOPress is an all-in-one SEO plugin for WordPress. For only $37, VAT included, with our SEOpress coupon code, you get all the features included in other premium plugins like Yoast, WP Schema, AIO SEO, and much more.
With the SEOPress affiliate program, you earn 20% for each sale! Payment of commissions is made from $50 in winnings through PayPal. Keep in mind that transfer needs to be manually requested.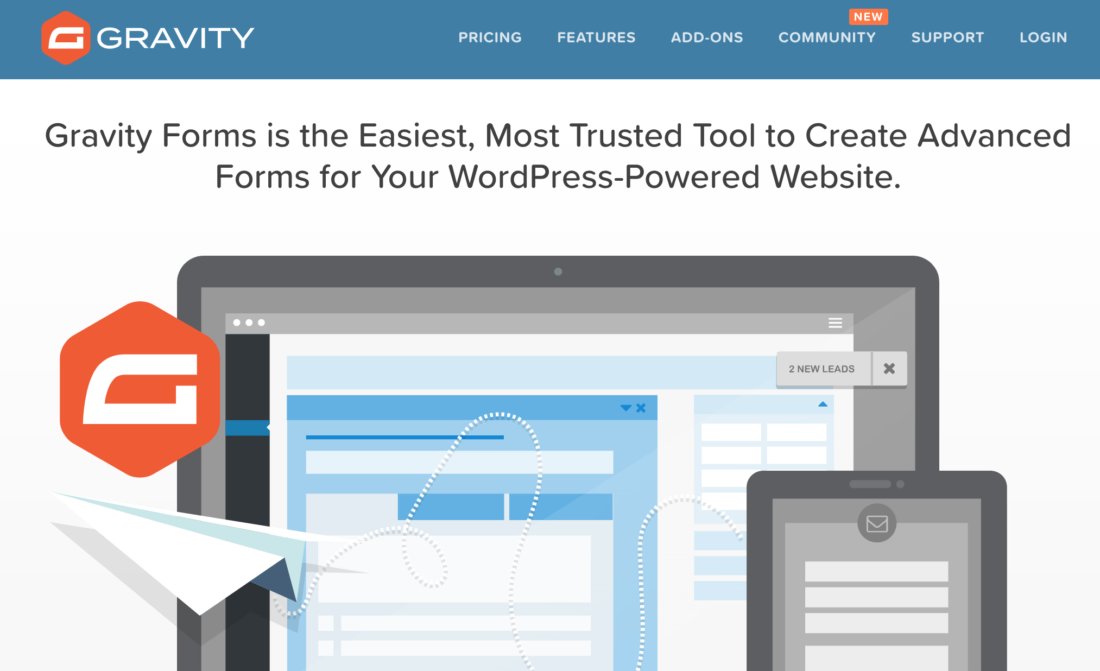 Gravity Forms is the most straightforward, trusted WordPress plugin for creating advanced forms. For example, on Monetize.info, we use Gravity Forms to create the contact us form, the register contributor form, quizzes, polls, and payment forms.
With the GravityForms affiliate program, you will get a 20% commission on every sale you refer. So if your referral purchases the Basic license, which is $59, you receive $11.80. If he buys the Elite license, which is $259, you earn $51.80. You need an impact radius affiliate network account to promote Gravity Forms.
5.7 WPRocket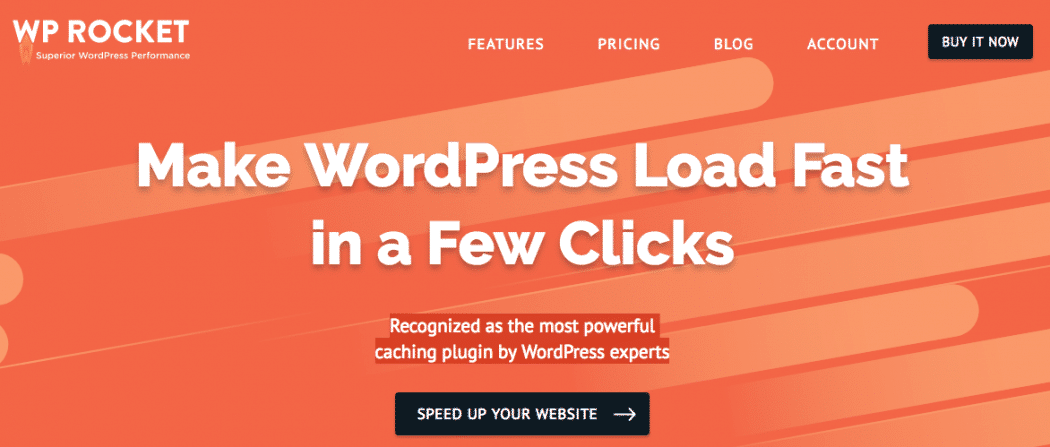 WPRocket is a caching plugin to speed up your WordPress site. WPRocket is easy to use, plug, and play and is recognized as the most powerful caching plugin by WordPress experts. See here our WP Rocket Discount deal.
The WP Rocket affiliate program is available through the ShareASale affiliate network and pays you 20% commissions for each purchase. For example, the single plan sells for $49/year, and you earn $9.80. The Infinite plan sells for $249, and you earn $49.80 for each qualified sale.
5.8 Perfmatters [Recurring]

The Perfmatters WordPress plugin speeds up your WordPress by 10-30%. It can do this by removing the surplus features and scripts with WordPress plugins and themes you are probably not using. We are using the Perfmatters plugin here on Monetize.info with excellent results. See the exclusive Perfmatters Discount deal.
Perfmatters has an affiliate program that pays 20% of the purchases. So if a buyer gets the one-site version at $24.95, you will get $5, but if you purchase the version of the unlimited sites at $124.94, you will get $25 for each purchase.
Here are our stats of the Perfmatters affiliate program: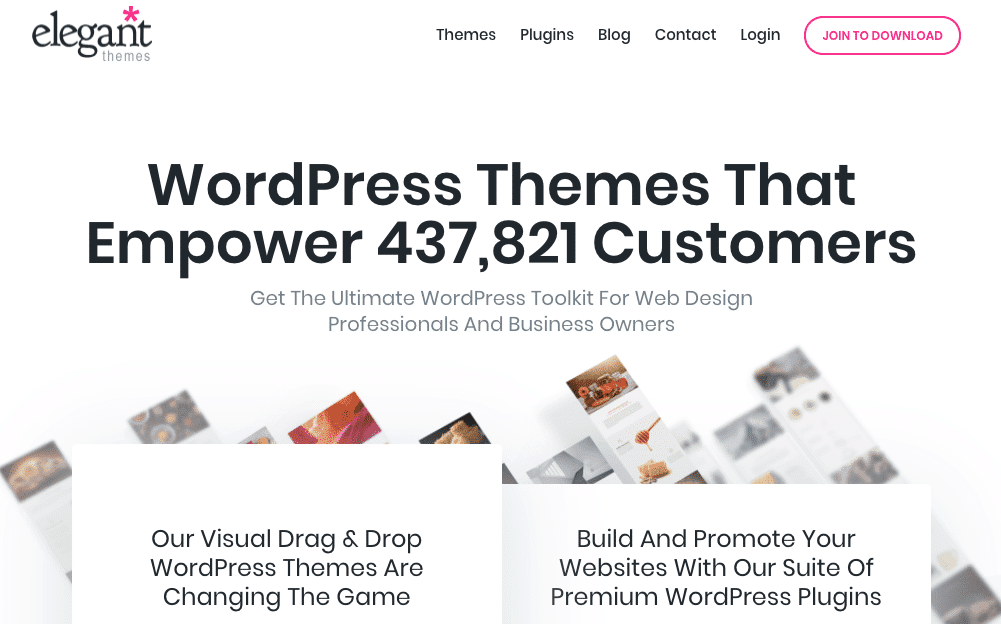 Elegant Themes is a WordPress theme library consisting of 87 easy-to-use themes and over 550,000 customers. If you're a blogger and want to recommend themes to your readers, you can send traffic to Elegant Themes and get a high ticket 50% recurring payout.
5.10 StudioPress Affiliate Program [Recurring]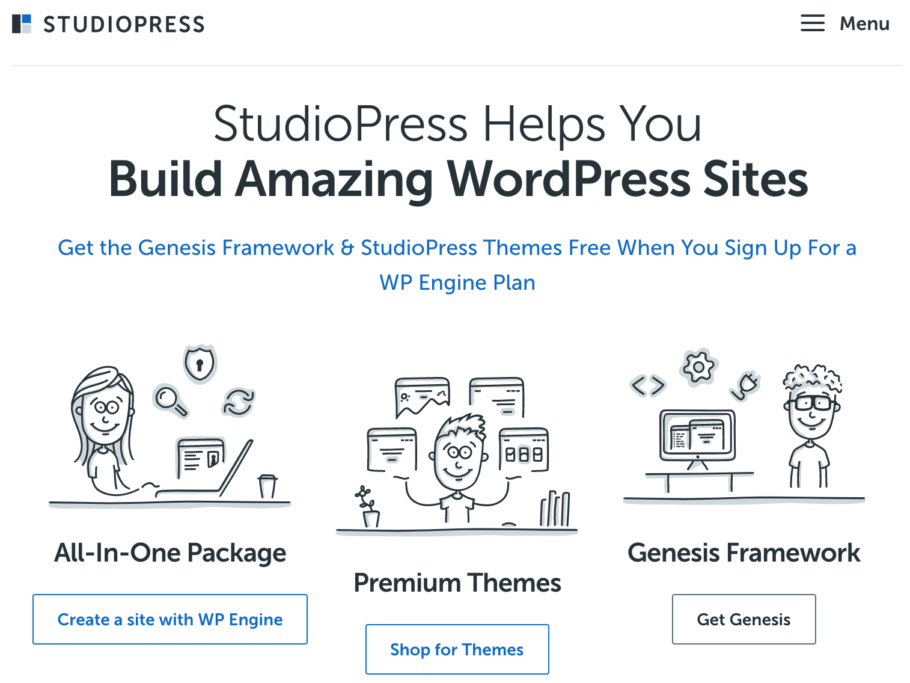 StudioPress offers one of the best WordPress themes. They look nice and are specially optimized for speed. In addition, you can easily code new features. The StudioPress affiliate program pays $35 per sale or 35%. To access the StudioPress affiliate program, you need a ShareASale account.
5.11 Brainstorm Force Affiliate Program [Join]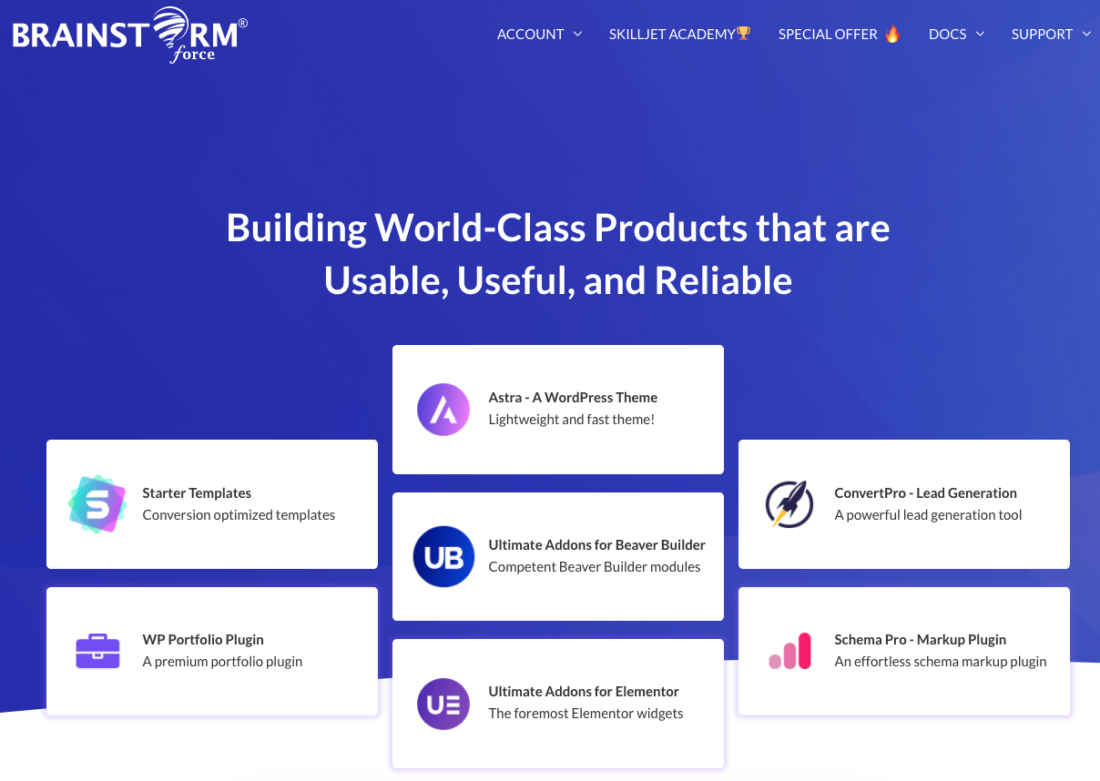 Brainstorm Force is the company that created the following WordPress goodies: WP Astra Theme, WP Schema Pro plugin, Convert Pro, WP Portfolio, and Ultimate Addons.
By signing up for the Brainstorm Force affiliate program, you can promote all these products from a single account and cash in 30% affiliate commissions. You can request payments through PayPal.
6. Best Marketing and Business Affiliate Programs
Here are the best marketing and business affiliate programs that you can promote.
6.1. Mangools SEO Suite
The Mangools SEO suite of tools has proven to be a reputable player in the SEO industry. By signing up for the Mangools affiliate program, you will get a 30% LIFETIME commission by promoting Mangools SEO tools.
Once you reach the minimum $ 150, you can request the payout. Payments are made via PayPal.
Mangools Affiliate Payment Proof
Here is our latest payment proof from the Mangools Affiliate Program: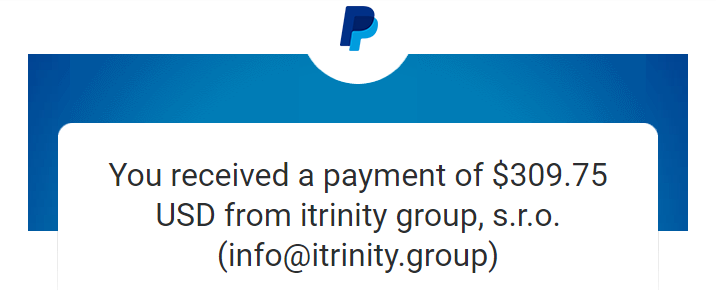 6.2. SEMrush [Recurring]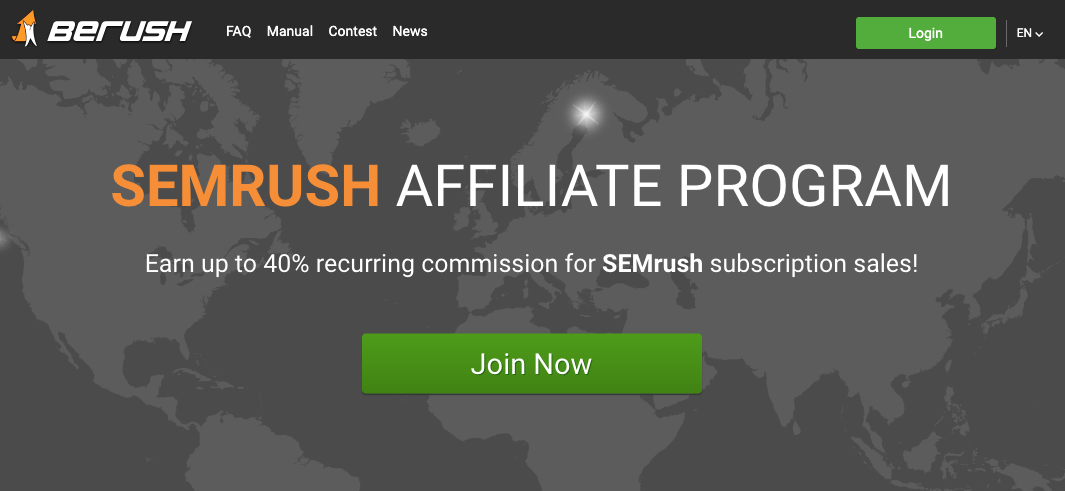 SEMrush [Review Here] [Exclusive Discount here] is an influential SEO tool website owners can use to track keywords, conduct site audits, and view competitive insights in their online marketing.
They have two affiliate programs.
1. Their program is called BErush, and they offer their affiliate partners a 40% recurring commission. SEMrush plans start with the PRO plan at $99,95 per month and end with Business Plan at $399.95 per month. So you can make between $39,98 and $159,98 per month for each new customer you bring in. The not-so-good news is that the BErush affiliate program signup is only by invitation.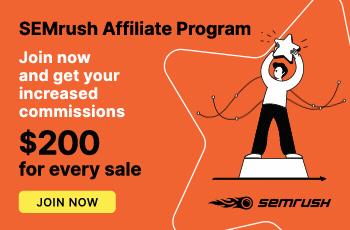 2. The second program is through the ShareASale affiliate network, and you receive $200 for every new SEMrush subscription sale, $10 for every new trial activation, and $0.01 for every new registration. In addition, the SEMrush affiliate program comes with a 2tier program, which pays you $1 for every new sub-affiliate's registration. Join the SEMrush affiliate program through ShareASale.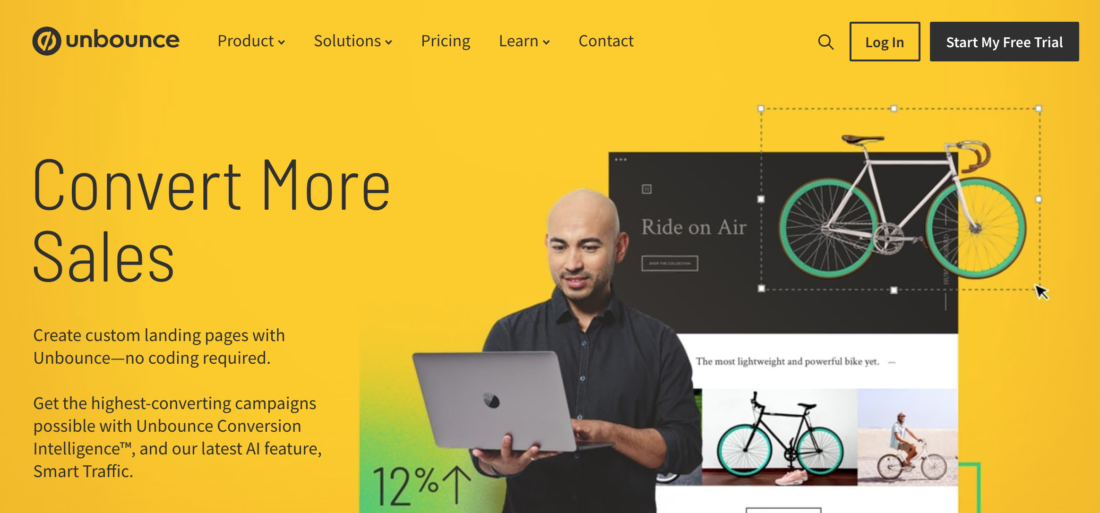 Unbounce's Affiliate program is impressive, with the opportunity to earn 20% of the recurring revenue for every customer you refer to Unbounce.
6.4. HubSpot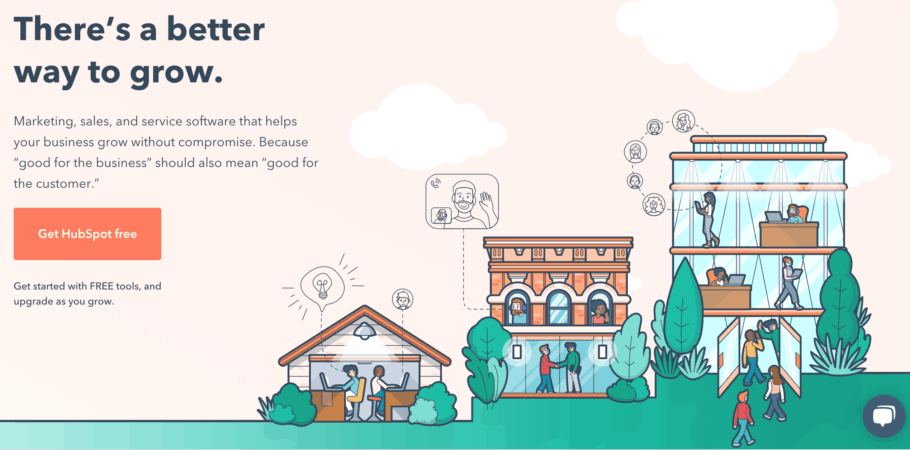 As a HubSpot affiliate, the commission you'll receive will depend on the product tier of each product your referral has purchased. It stores 90 days cookies, and you can earn an affiliate commission of up to $1000 per product purchased.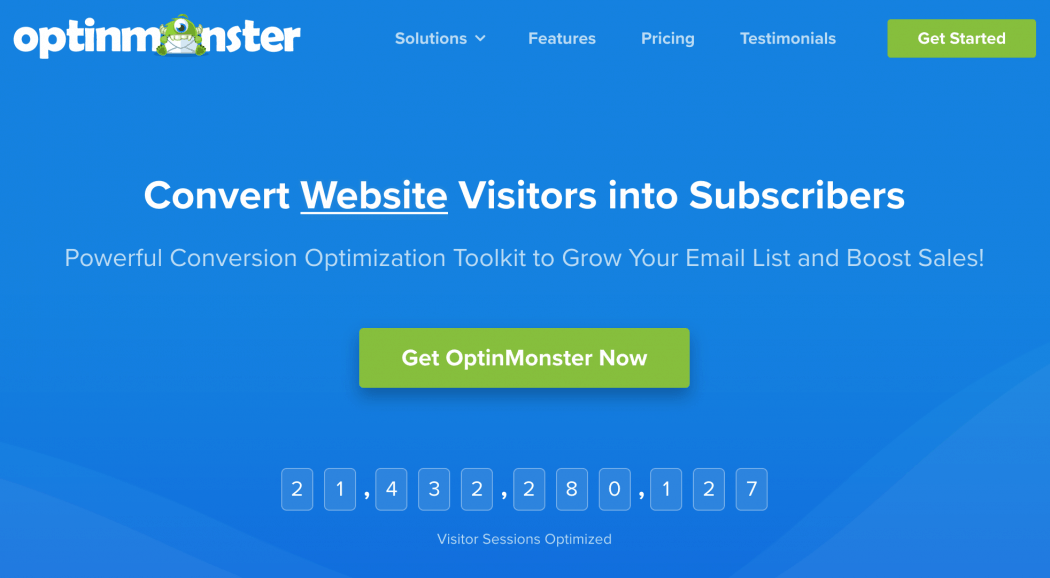 OptinMonster is another great tool for list building and has a great affiliate program you can promote. To signup, you need to join first the ShareASale affiliate network. Check our exclusive OptinMonster 20% discount.
You can earn anywhere between $21.60 and $117.60 per confirmed sale.
The basic plan sells for $108 – you earn up to $21.60
Plus plan sells for $228 – you earn up to $45.60
Pro plan sells for $348 – you earn up to $69.60
Growth plan sells for $588 – you earn up to $117.60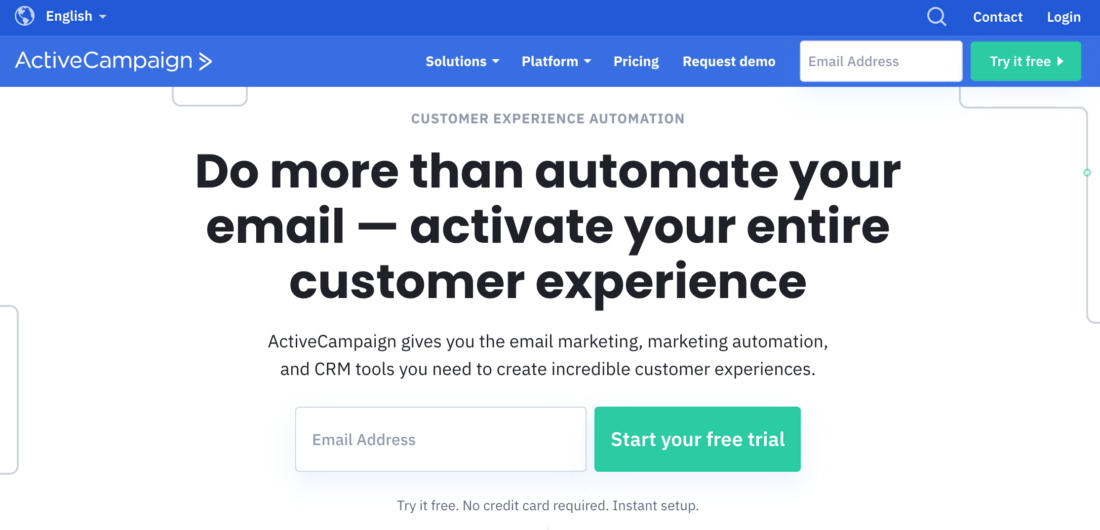 ActiveCampaign offers almost everything you need within a newsletter marketing tool, plus their advanced marketing automation is hard to beat. The entry-level plan starts at $15 per month (for up to 500 subscribers, paid monthly), or, if you want to access pro features such as the in-built CRM and lead scoring, the Plus plan starts at $70 per month.
Marketing automation is a hot topic now, so you can make good money by joining the ActiveCampaign affiliate program, which pays 30% of purchases made by your referrals.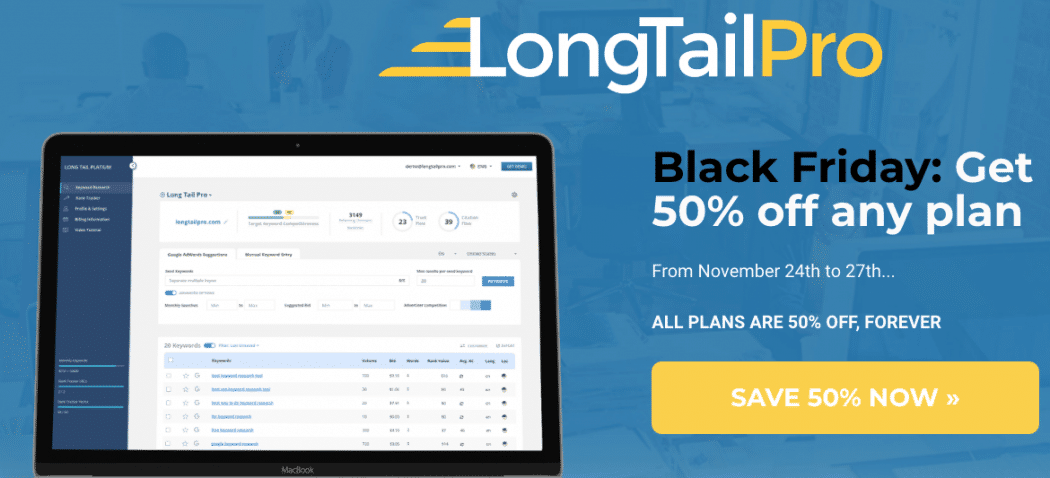 LongTailPro [LongTailPro 30% Discount] is a well-known name in the keyword research industry as you can join the other bloggers, marketers, and SEO agencies for niche site keyword research.
With the LongTail Pro affiliate program, you can earn a 30% commission for each referral on all sales and recurring transactions. You can join the affiliate program through Post Affiliate Pro or the ShareASale affiliate network.

Outreach.buzz is the perfect tool for Guest Posting as it Gives You Access To 3500+ Websites where you can publish your content (blog posts, infographics, press releases, etc.). You will not have to worry again about finding blogs and influencers.
With the Outreach.buzz affiliate program, you will earn a 25% residual monthly income every month for as long as your referral keeps the subscription active! This is $9.75 for each month's subscription or $97,5 for each year, continuously.
You will get paid through PayPal, and there is no minimum for requesting. Signup as an Outreach.Buzz affiliate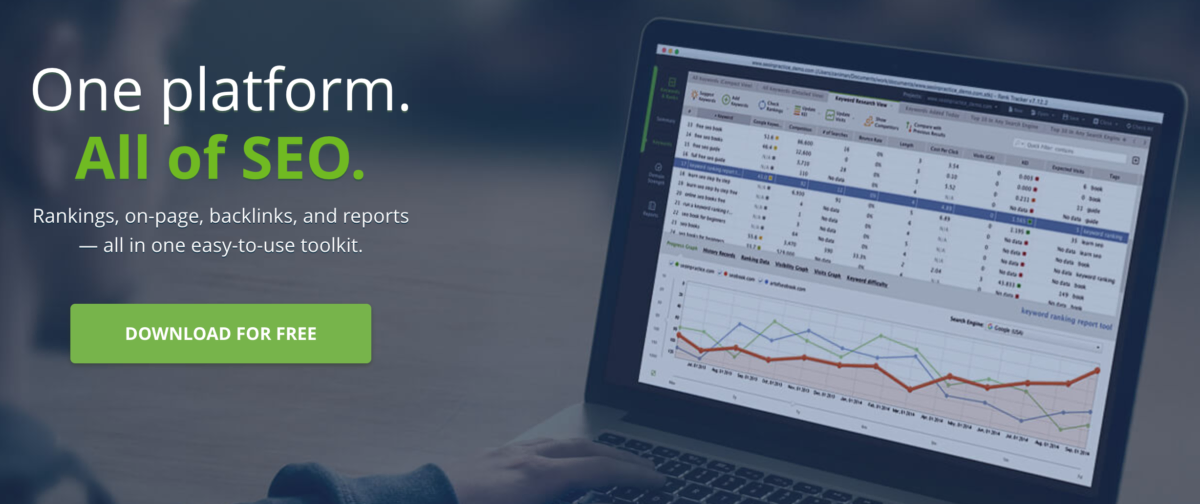 SEO PowerSuite  [SEO Power Suite Discount] [SEO Power Suite Review] comprises four tools: Rank Tracker for rank tracking and keyword research, WebSite Auditor for on-page SEO and technical audit, SEO SpyGlass for backlink research,  and Link-Assistant for link building and outreach.
The SEOPower Suite affiliate program offers an average of $197 per sale commission. You get a regular 33% commission for all your referrals' orders. Moreover, the commission rate can even shoot up to $230 per sale. The cookie duration offered by SEO PowerSuite is 90 days.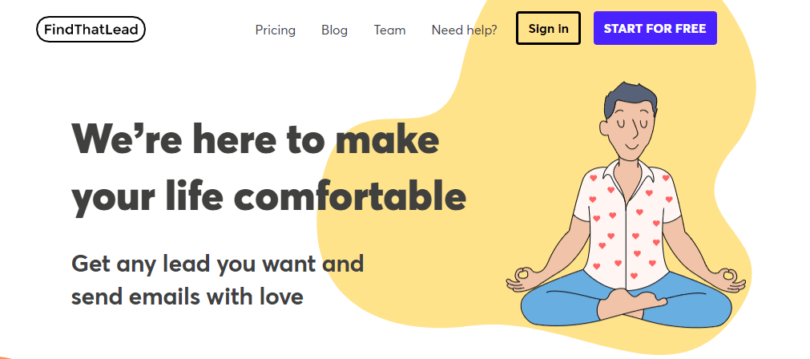 FindThatLead is an excellent B2B lead generation software that helps you get any leads you want for your business, discover email addresses, and send them to your information with love.
With the FindThatLead affiliate program, you will offer a 10% discount to your referrals and earn 10% of their purchase.
6.11. SERanking [30% Recurring]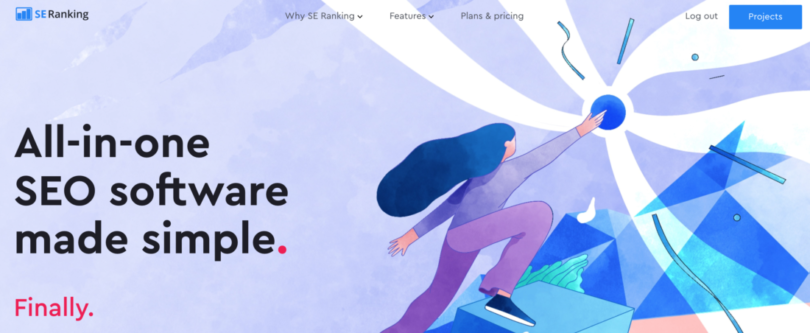 SE Ranking [SERanking 15% Discount deal] is a powerful SEO software for digital agencies and businesses of all sizes to build a robust online presence and outrank the immediate competition for your clients.
With the SERanking affiliate program, you can earn a 30% lifetime commission for every subscription sale. They use the first cookie wins attribution model, and the cookie life is set as 120 days. You will receive commission payouts twice a month through PayPal or WebMoney upon reaching a minimum threshold of $50.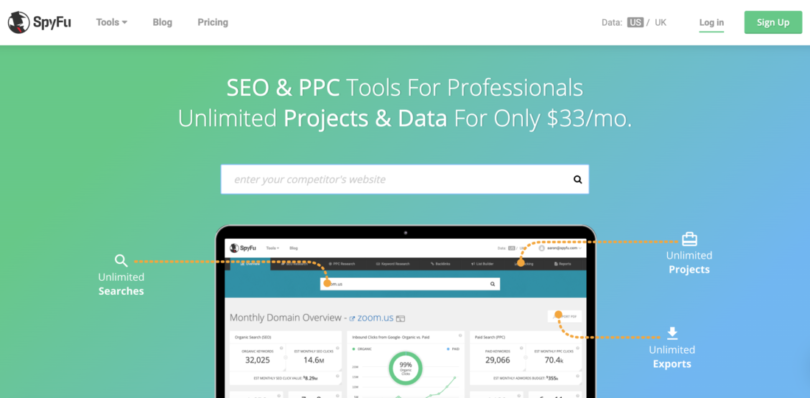 SpyFu is another SEO tool focused on competitive insights. You can use their tool to download data on a competitor's top organic and paid keywords. In addition, they feature a 40% persistent payment.
6.13. Aweber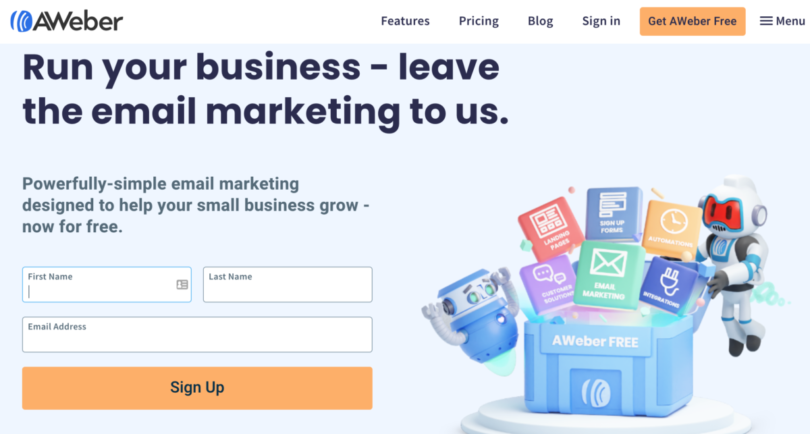 Aweber is an email marketing software great for businesses and marketing teams because of its email templates and design features. In addition, they offer a 30% recurring rate.
6.14. ConvertKit
ConvertKit is one of my favourite email marketing tools, as it's great for bloggers. They have a visual automation builder and can create triggers based on website actions and actions inside of emails. A friend of mine runs their program, offering 30% per month.
ConvertKit Affiliate program PROs
Nice 30% recurring commission.
A 14-day free trial to support affiliates.
Blog resources are available.
It works best when you provide content.
Practising it with SEO generates long-term results.
ConvertKit Affiliate program CONs
Deep linking is not available.
You need to wait 60 days before you can get paid.
Not enough FAQs about their program.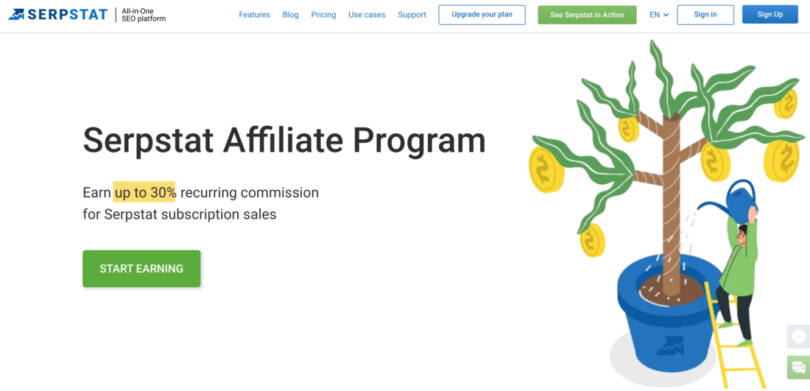 Serpstastat is a Smart and powerful tool for Backlinks Analysis, Rank Tracking, Keyword Research,  Competitor Analysis, Site Audit, and many other tools.
Their recurring affiliate program pays you up to 30% for each active subscription. You get 10% affiliate commissions if you have up to 5 active subscriptions referred. If you have between 6-20 subscriptions, you receive 20%; if you have more than 21 subscriptions, you get the full 30%.
Their plans start at $69, so you can earn anywhere from $6.9 to $21 for the smallest plan. Join the Serpstat affiliate program here.

We just started with the Serpstat affiliate program, so there is not much to brag about it.
7. Best VPN Affiliate Programs
Almost 25% of global internet users use or have used at some point a VPN every month, and the market is growing yearly. Due to this technology's exploding popularity, all affiliate sites can recommend setting up a private internet connection for their readers.
Since these companies charge a recurring fee to use their online services, affiliates typically receive a recurring payment or large one-time payout for users after signing up.
It's one of the most popular affiliate categories, and there are plenty of great programs to join.
Here are the best VPN affiliate programs:
7.1. PureVPN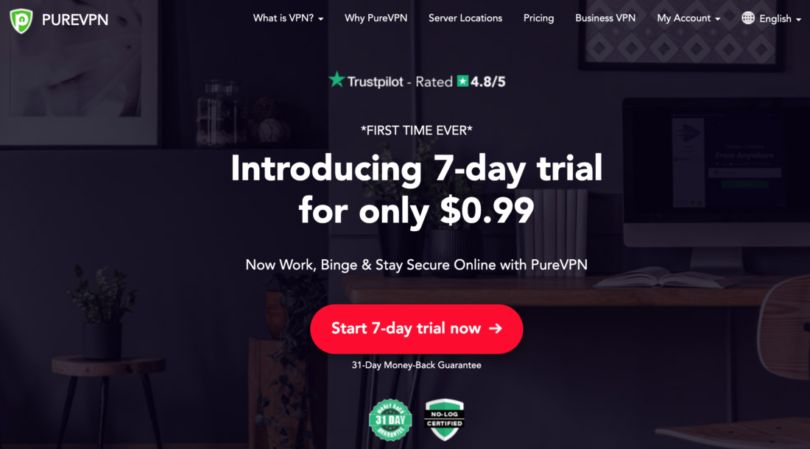 The monthly affiliate plan of Pure VPN brings you a 100% flat commission, while all other plans get you 40%. On top of that, there is a 35% recurring commission for as long as your referrals keep their subscriptions! The minimum payment for PayPal is just $100, while for a wire transfer is $500.
Also, they are offering a two-tier program, so you can earn by referring more affiliates to join the Pure VPN affiliate program.
You can signup for the Pure VPN affiliate programs with reputable networks like CJ and Linkshare or a SaaS.
Check Pure VPN Affiliate Program
7.2.IPVanish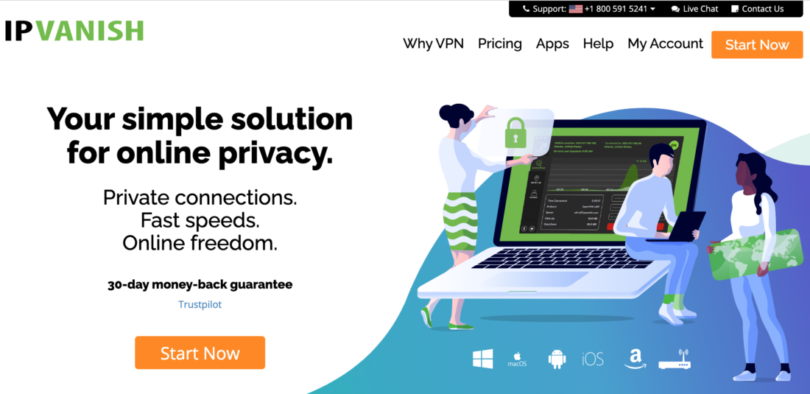 IPVanish is one of the best VPN services on the market and boasts some of the VPN industry's best payouts. One-month package: 100%, then 35% recurring. 3-month package: 40%, then 35%recurring. 1 & 2-year package: 40%, then 30% recurring.
To signup for the IP Vanish affiliate program, you must first visit and signup to CJ.com.
Check IPVanish Affiliate Program
7.3.ExpressVPN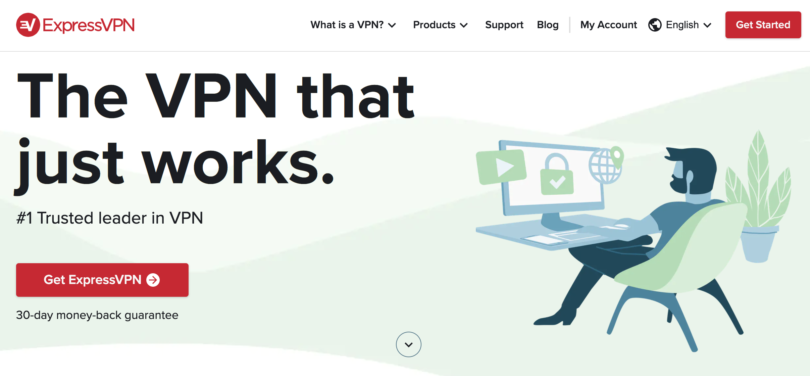 Founded in 2009, ExpressVPN is one of the most popular options for users to protect their privacy online. They offer high one-time payouts based on the plan a user signs up for: 1 month is $13, 6 months is $22, and 12 months is$36. In addition, wire transfers are supported for $1,000+ in affiliate commissions.
Check Express VPN Affiliate Program
7.4. NordVPN
NordVPN's commissions are based on the customer's subscription plan, including 100% at one month and 40% for six months, one-year, and two-year plans. All renewals come with a 30% commission rate. They also have strong conversion rates and dedicated account managers to help you drive sales.
Check Nord VPN Affiliate Program
7.5. StrongVPN
StrongVPN is one of the oldest and most trusted names in personal VPN security. The company has been in business for more than 20 years. They are also a few VPN providers with an absolute zero log-keeping policy. They pay monthly through PayPal and offer up to a 200% payout for sales generated.
Check Strong VPN Affiliate Program
7.6. Surfshark VPN
Surfshark VPN is one of the leading VPN providers and aims to make online privacy easy for everyone. Plus, it allows you to access blocked and unavailable content worldwide, including blocked streaming services.
The Surfshark VPN affiliate program pays 40% in revenue share commissions on new sales with a minimum payment threshold of $100. The affiliate cookie duration is set at 30 days, and the affiliate program is available on the following platforms: HasOffers, Tunes, Impact Radius, Avant, and others.
Check Surf Shark VPN Affiliate Program
7.7. CyberGhost
CyberGhost is a Romania-based reliable VPN service provider.  The company offers web security services for desktops, gaming consoles, mobile devices, and browser extensions. CyberGhost guarantees total anonymity through its no-log policy, web proxy, and VPN encryption. With millions of users, CyberGhost is a behemoth in the VPN industry.
The CyberGhost affiliate program is activated in several affiliate networks like Yazing, FlexOffers, Skimlinks, and CJ Affiliate.
As an affiliate, you can earn up to 100% of the monthly subscriptions you generate and 45% of the annual subscriptions. The cookie duration is 45 days for CyberGhost's affiliate program and 30 days for CJ affiliates and other networks.
Check CyberGhost Affiliate Program
7.8. VeePN [2-tier][recurring]
VeePN is a Panama-based VPN service perfect for those who need something easy. It has 2,500 servers in 55 countries, uses top-quality tunnelling protocols like WireGuard, and allows torrenting. On top of that, It also unblocks Netflix US and offers useful features.
With the VeePN affiliate program, you can earn up to 117% commissions for 1-month subscriptions and 55% for 1-year and five years subscriptions. For the 1 monthly subscription, you also receive 35% renewal commissions, and for the one-year and five years subscriptions, you receive 30%.
On top of that, there is a two-tier affiliate program, and you will receive 10% of the earnings of the affiliates you refer.
You will be able to receive your money via wire transfer, Payoneer, PayPal, WebMoney, BitCoin, Paxum, eCheck, ePayments, ACH, and many more options.
Check VeePN Affiliate Program
8. Best Affiliate Marketing Networks
If you are looking for places to find hundreds of affiliate programs in your niche, your answer is affiliate marketing networks. We've put together a list of the 21 best affiliate marketing affiliate networks that you should try. Would you like to focus on the CPA? Check our CPA marketing guide.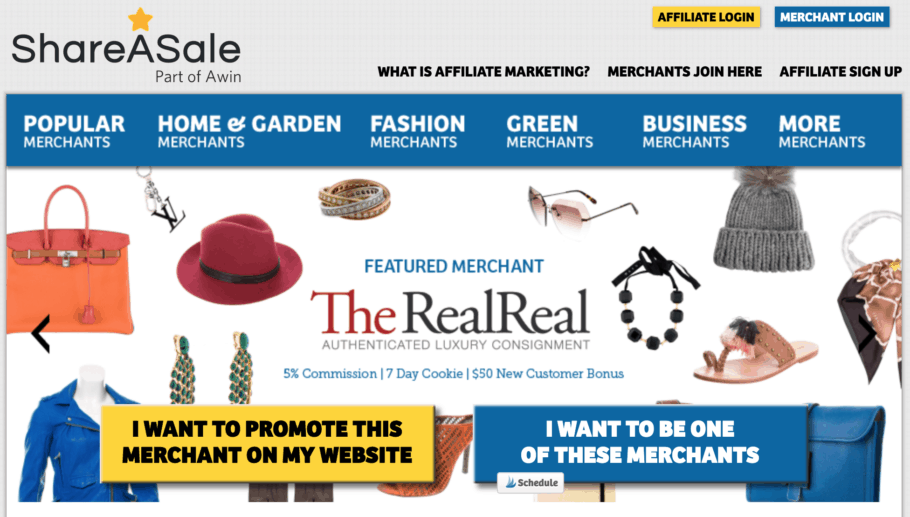 Shareasale gives you $30 for each qualified affiliate that signs up through your links. This affiliate must sign up with shareasale.com as an affiliate and generate at least $20 in commission for you to receive the $30.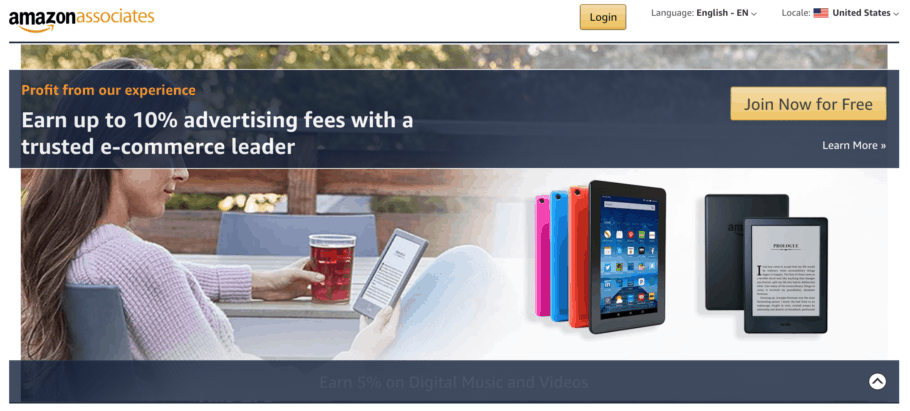 Amazon Associates
pays commissions between 1% and 10%, depending on the category the product purchased falls under. The most valuable items to promote are clothes and luxury beauty products, which can earn you a 10% cut on the price.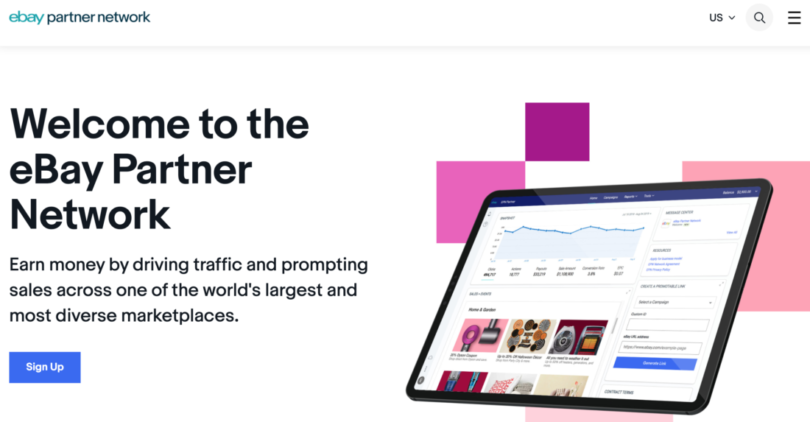 The eBay Partner Network pays a commission of 50% to 70% of auction fees — not the sale price. So for each item sold, eBay gets a cut by charging the seller an auction fee. You then earn a percentage of eBay's revenue from that purchase based on the product category.
9. Best Recurring Affiliate Marketing Programs
While many of the best affiliate programs offer one-time CPA payouts after a sale, others provide a recurring payout every month. A recurring program is when an affiliate commits to selling a site's product regularly (or monthly). We've researched 75 high-paying recurring affiliate marketing programs for you, including our tool: Outreach.buzz.
10. FAQ on High Paying Affiliate Programs
What Is An Affiliate Program?
Simply put, an affiliate program is an agreement in which a business pays another business or influencer ("the affiliate") a commission for sending traffic and/or sales their way. Promoting affiliate products through web content, social media, or product integration.
The affiliate gets a unique link (an "affiliate link") from which clicks can be tracked — typically using cookies. You will often come across "cookie length" or "cookie life," which define how long the cookie will track the user's online activity.
For example, if a cookie has a 30-day life, your referral must purchase within 30 days of clicking your affiliate link to get paid. Otherwise, the lead will no longer be trackable.
Why Should You Be An Affiliate Marketer?
If you're like me, when you join affiliate programs, your primary goal is to make commissions by recommending products so that you wake up in the morning to something like this:
Get out of bed and see that you have $957.60 in your bank account from a single affiliate sale. Keep reading if you want to learn how to start a blog and take part in this market projected to hit $6.8 billion by 2020.
This list includes affiliate programs to join in standard categories like web hosting, website builders, VPN, and digital marketing. If you don't have a website yet to make money with affiliate marketing, I recommend launching one WordPress.
Ultimately, you can set up a site with Bluehost for just $2.95/month.
Disclaimer: Some of the links in this guide are affiliate links that may give me a small commission at no cost to you.
What Are The Best Affiliate Programs?
Web hosting is one of the most popular affiliate marketing programs globally. That's because every new website requires a host. Therefore, most affiliates who write about marketing, starting an online business, or blogging will first join a web hosting affiliate program.
Takeaways
No matter which one of the best high-paying affiliate programs you want to join, many different high-ticket categories match your unique interests.
Remember to check the commission rates, average order values (AOV), average earnings per click (EPC), and cookie durations when choosing a program. Second, look into if the program is recurring or provides one-time payments. Finally, choose a niche that matches your interests and that you can passionately promote.
The affiliate market is growing as fast as ever, and the opportunities are wide open.
Remember, the first step is to build your affiliate website on WordPress using an affiliate marketing theme optimized for traffic and conversions. First, I recommend starting with Bluehost for 63% off or just $2.95/month to create your affiliate site. Second, Check out our step-by-step guide on starting a blog if you haven't started one.
More high-ticket affiliate programs: [1], [2], [3], [4], [5], [6], [7]