Today I'm going to review the SEO PowerSuite tools for our readership. I will go through all tools from the suite showing the good and bad of each other. I've used this SEO software tool for over six years, almost every day. That's how I know all the hidden gems of it.
Don't have time to read the entire review? Grab the Free version of SEO Power Suite. You will thank me later.

What is SEO PowerSuite
There are four tools in the SEO PowerSuite. These four tools cover every aspect of SEO — keywords, rankings, backlinks, on-page and content data, mobile SEO, social media, analytics, and reports.
These four tools that make up SEO PowerSuite are Rank Tracker for rank tracking and keyword research, WebSite Auditor for on-page SEO and technical audit, SEO SpyGlass for backlink research,  and Link-Assistant for link building and outreach.
Each tool in the suite works as a standalone desktop program that can run on any operating system: Windows, Mac, and Linux.

This SEO Power Suite review will look at each tool individually before rounding off with pricing info, support, and our overall conclusions about SEO Powersuite.
If you'd like to try a free, basic version of SEO PowerSuite, download the program here and start installing while you read this review. This way, you can analyze your website with me.
#1. Rank Tracker Review
The first tool that we're going to review it's Rank Tracker. The key to a good keyword ranking and research tool is accurate rankings, and Rank Tracker allows us to track keyword rankings from different search engines worldwide. Besides that, we can conduct extensive keyword research, look at competitors' rankings, and 'steal' their top rankings.
1.1 Rank Tracking
Keyword Tracking is the main functionality of this tool. You can track as many keywords as possible and check the rankings and changes. Also, Rank Tracker Historical Data allows you to see where you have been over a while and the competition. Keep in mind that it is not available in the tool's free version.

Rank Tracker is integrated with Google Analytics and Google Search Console. If you add those to your project, you will get information about how much traffic a specific keyword brings and how many SERP impressions it gets so you can optimize the page accordingly.
Another nifty feature is the possibility to configure from a list of search engines only the Search Engines you are interested in tracking rankings for. Besides Google (in all countries), Bing, Yahoo, DuckDuckGo, and Yandex, there are local search engines: Rambler and Mail.ru for Russian Federation, Naver for Korea, etc.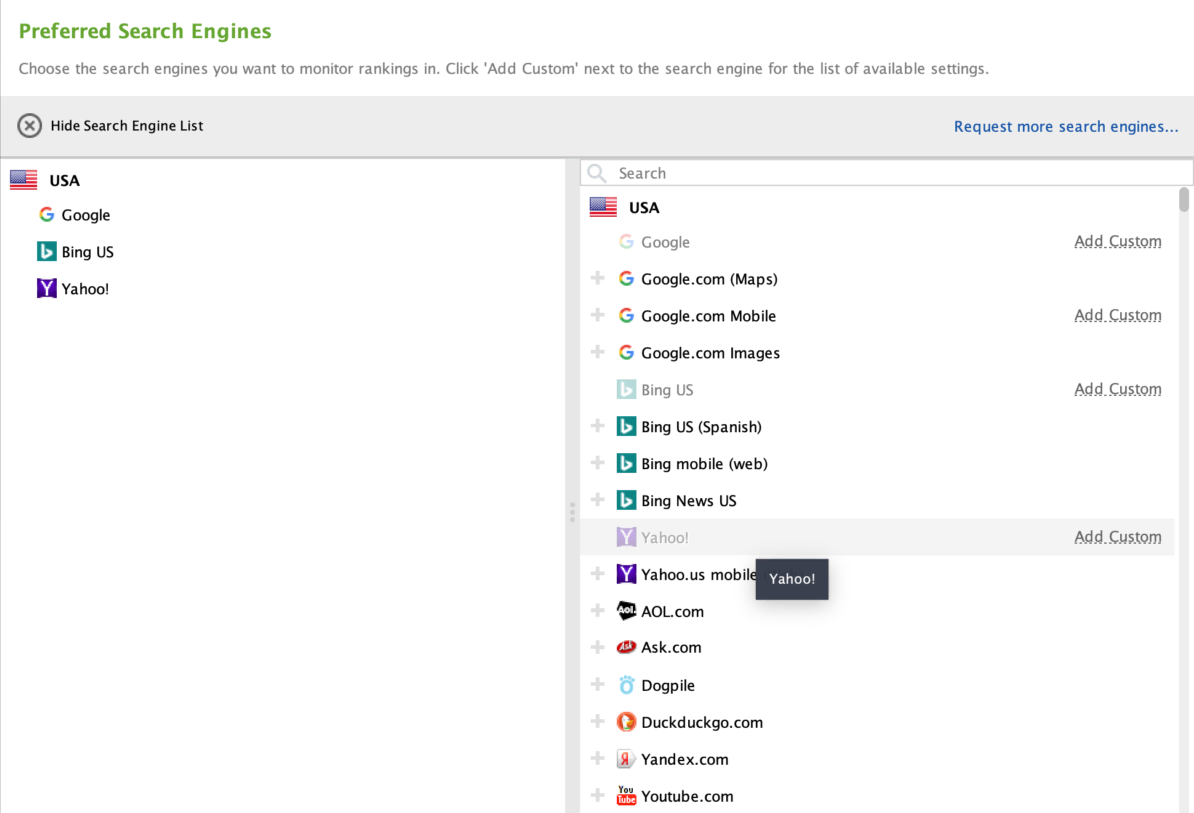 With the Keyword Map function, you will group keywords and assign them a URL/page. This way, you can create content clusters.
1.2 Keyword Research Feature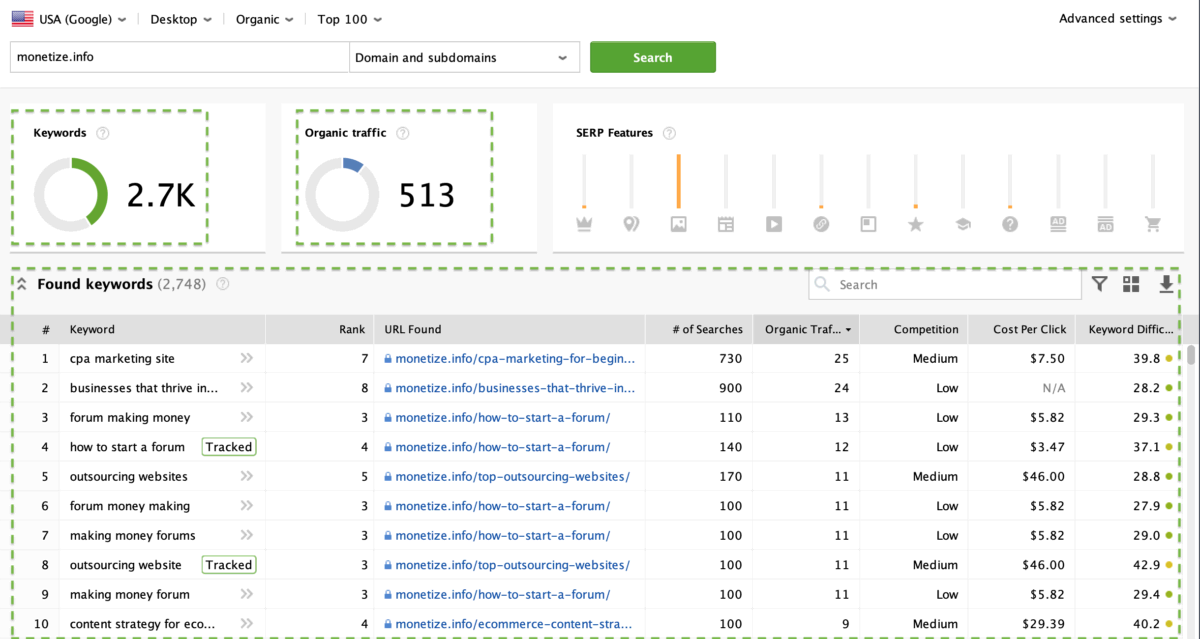 The Keyword Research feature is compelling. You can easily see what keywords you are ranking for and in which region/country. This will help you find keyword opportunities, and there are too many parts of this section to cover everyone, but below is a bit about what each one does.
Keyword Research Sources of Rank Tracker
Ranking Keywords – allows you to find keywords a website is ranking for
Keyword Gap – find keywords a competitor is ranking for but you are not
Search Console – collect the keywords you rank for from Search Console or Google Analytics
Keyword Planner – keyword ideas from Keyword planner
Autocomplete Tools – Find keyword ideas from a variety of sources:  Google, Bing, Yahoo, Amazon, Youtube, Ask, Yandex
Related Searches – related keywords to your input keyword that commonly show in the SERPS as related terms
Related Questions – check out People Also Ask and Questions Autocomplete to find questions people are asking about specific keywords
TF-IDF Explorer – allows you to find topic-related keywords that are used most often by your competitors
Keyword Combinations – enter a keyword and play around with the options to find other keyword opportunities
Keyword Sandbox – where all of your keyword research from above lands – this page has all the keywords in this one location so you can further refine your research
1.3 Competitor research
Domain Competitors – Using the Domain Competitors tab, you can find the websites that are your most related competitors in terms of the keywords you aim to rank for. I've added the monetize.info domain; you can see some of our top competitors and our keywords' intersection levels.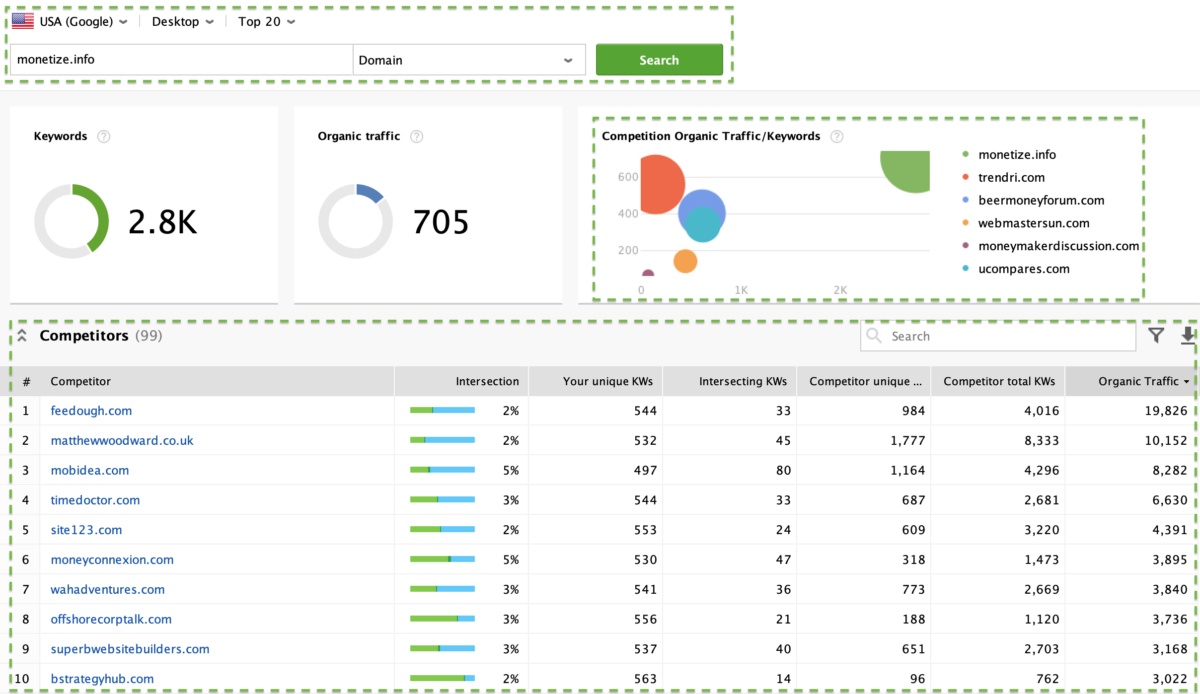 Topic Competitors – Using Topic Competitors, you can easily spot your biggest competitors for a specific topic. The results show a variety of metrics to help me understand the term's competitiveness to see if it makes sense to try and optimize for it and, if I can – who I need to review to see how to beat them!
Top Pages – Use this feature to find out the top pages of your competitors! In this example, I've entered the tweakyourbiz.com domain to see the top pages that bring the most traffic. You can see an estimate for their organic traffic, keyword ranking for each page, top keyword, and more.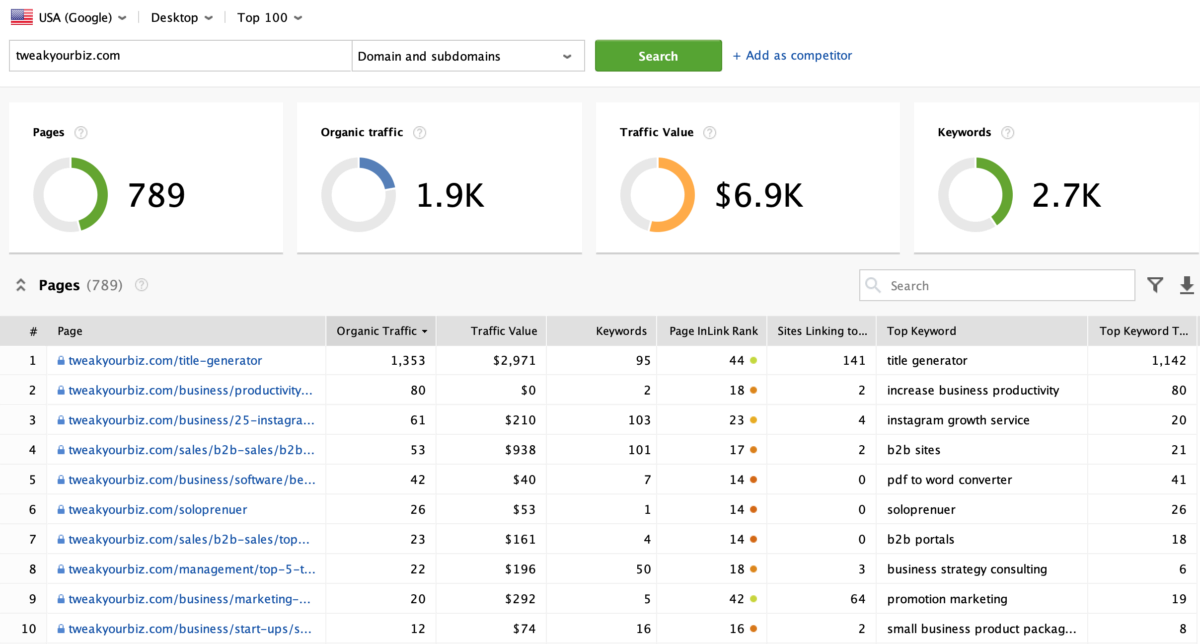 1.4 Rank Tracker Conclusion
Overall, the Rank Tracker tool is a reliable tool that comprehensively analyses keywords and provides rankings from multiple search engines. I would recommend this to my team when tracking rankings and keyword research.
Considering all the functionalities and the price of this tool, in my opinion, is a must-have in any SEO professional's toolbox. Remember that similar tools charge $100+ per month for similar options, while if you purchase Rank Tracker alone, you get it at $10/month, and if you purchase the entire bundle, you get it even cheaper.
More readings on Keyword research:
#2. SEO Spyglass Review
The second tool I'll review is the SEO Spyglass, an SEO backlink checker tool that looks at your website's backlinks or competitors' websites.
Like starting a new Rank Tracking project, all you have to do is enter the URL of the website, and the Spyglass will analyze the backlinks.
If you analyze your website's backlinks, select as source SEO Power Suite Link Source, Google Analytics, and Google Search Console to get the maximum number of links.
You can select only SEO Power Suite Link source for a competitor's website as you don't have access to their Google Analytics and Search Console accounts.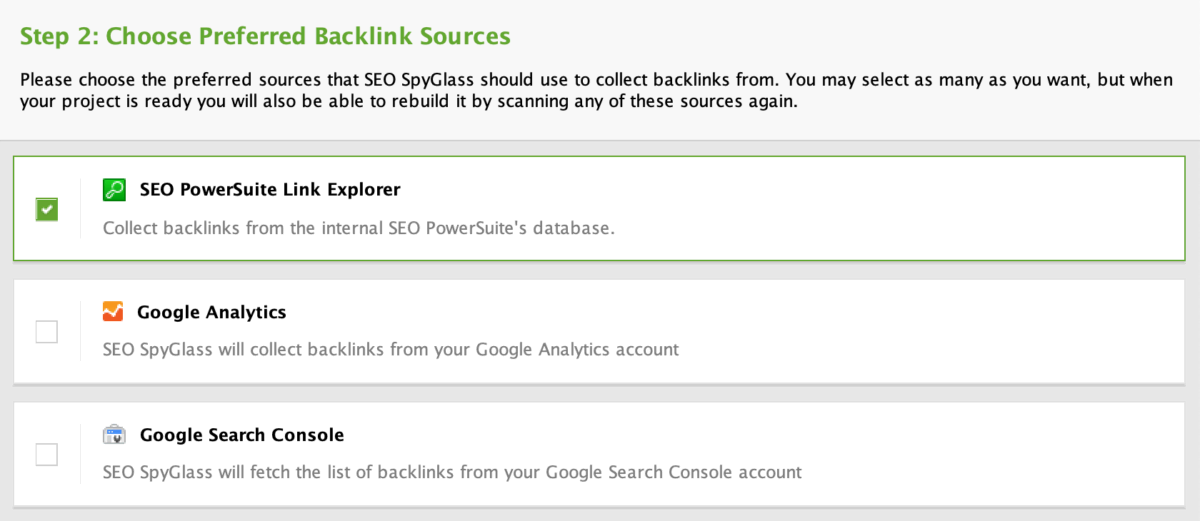 2.1 Backlink Profile
The first tab of SEO SpyGlass is the Backlink profile of a website.
Summary – Offers a complete overview of the backlink profile:  backlinks amount, domains linking, IPs, TLDs, countries of backlinks, anchor texts, linked pages, gain and lost backlinks.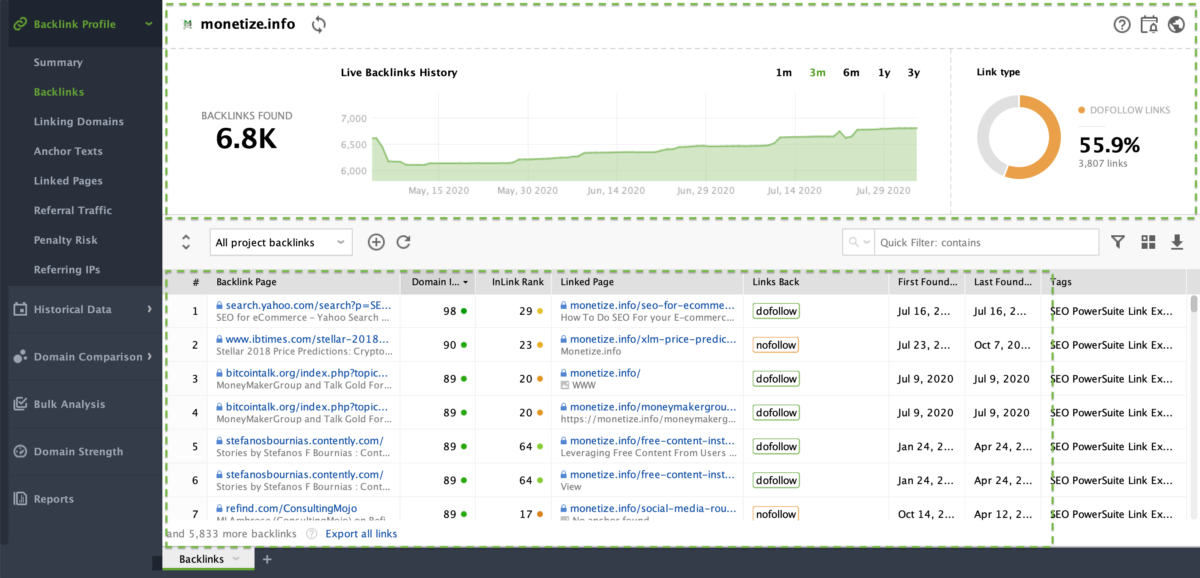 Backlinks – Here, you have a complete list of your backlinks. You can configure up to 34 tabs of information to have a comprehensive overview of your backlinks profile:
Backlink info (Backlink page, Linked page, Backlink page Url, Anchor Text, Linkback, First found Date, Last found date, Linked Page status code, Tags), Penalty risk (Penalty risk, Disavowed),
Backlink page info details ( Title, Meta description, Meta keywords, Total links, External links, Backlink Page Status code), Linking domain info (Linking domain, Domain age, Country, Domain IP, Contact Info), Backlink traffic & authority (Referral sessions [GA], Referal bounce rate, Alexa Rank, Inlink Rank, Domain Inlink Rank, Page authority, Domain authority, Link value, Yandex Domain SQI ),
Indexing in search engines (Cache date in Google, Cache date in Bing, Cache date in Yahoo, Cache date in Yandex),
Social media popularity (Facebook likes/shares, Pinterest bookmarks).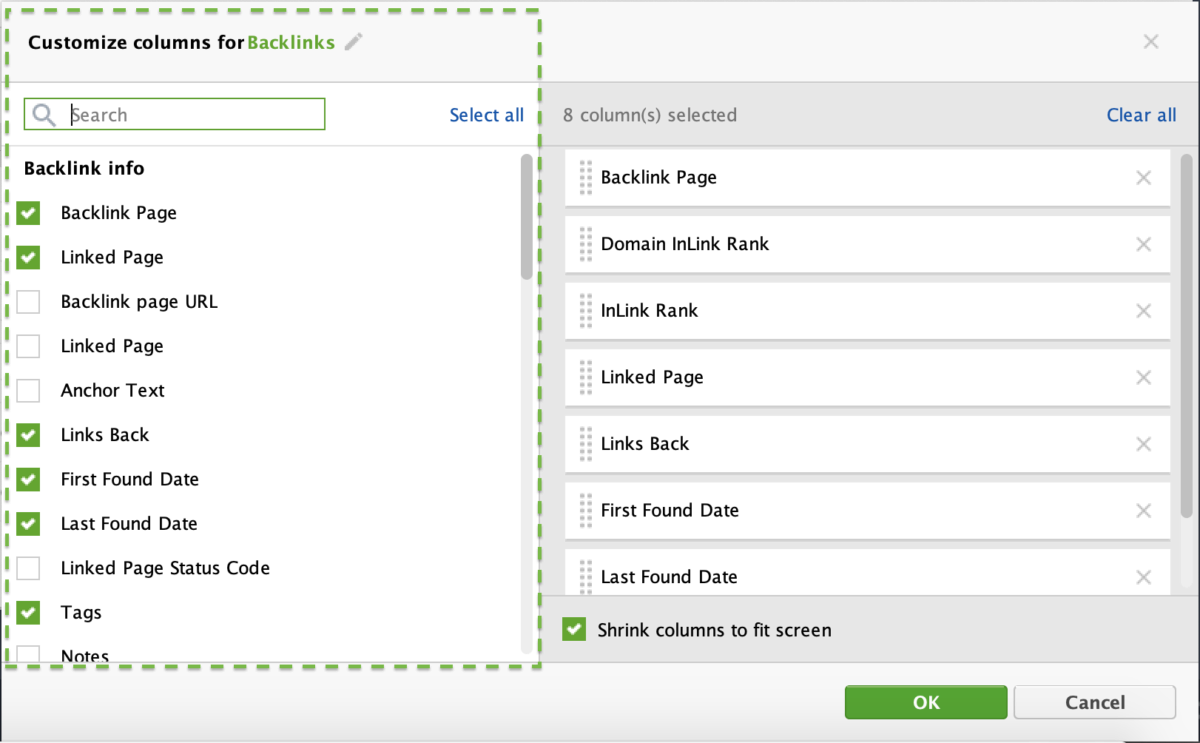 Linking domains – Here, you have a complete list of the domains linking to you.
Anchor texts – Here, you have a list of anchor texts, including link type (text, image), number of backlinks, and how many of them are do-follow.
Linked pages – You can see here a list of all the pages of the website analyzed, including the number of backlinks, number of do-follow backlinks, number of linking domains, and the linked page status code.
Referral traffic – If you connect to Google Analytics, you will see how backlink traffic brings you. You can sort the list by referral sessions, bounce rate, number of backlinks, and do-follow backlinks.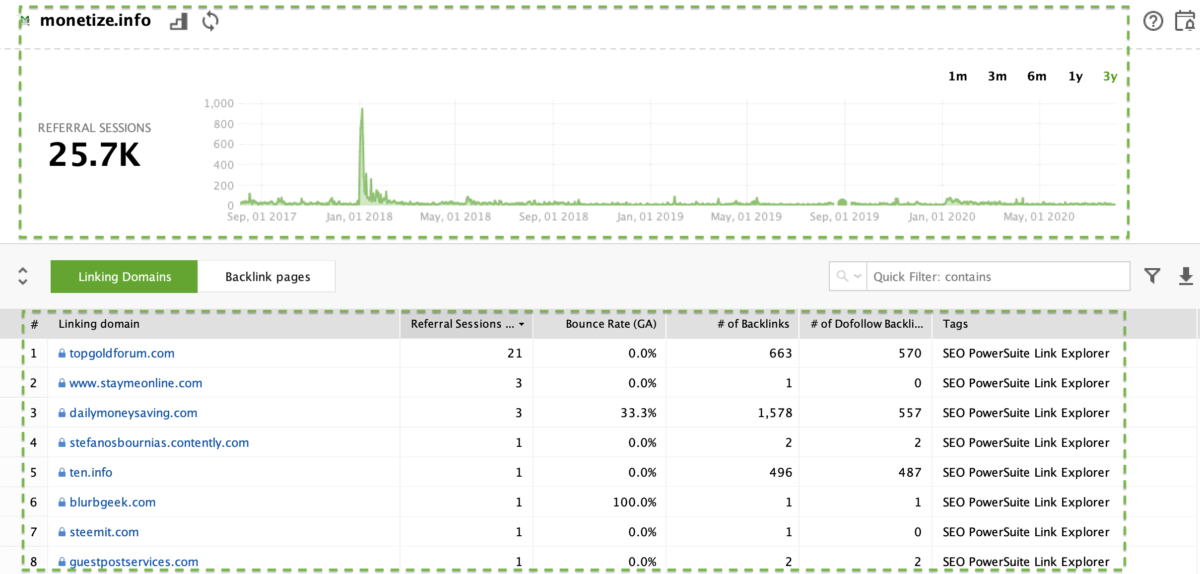 Penalty risk – In the penalty risk tab, you have information about the toxicity of backlinks. The most toxic ones are shown first, and you should disavow them not to risk any penalty from Google.

Referring IPs -This section contains the list of unique IPs and C-Blocks that belong to the linking domains. Search engines give backlinks from different domains but share the same IP address, usually less value.
2.2 Historical data
The report below provides statistical data about the number of linking domains your website earned and lost in different periods of its history. You should use it to investigate what backlinks your website got and what backlinks it lost and see if you can reclaim them.
2.3 Domain comparison
Domain comparison allows you to add your competitors' domains and see their features. In the picture below, you can see how our website places between two main competitors.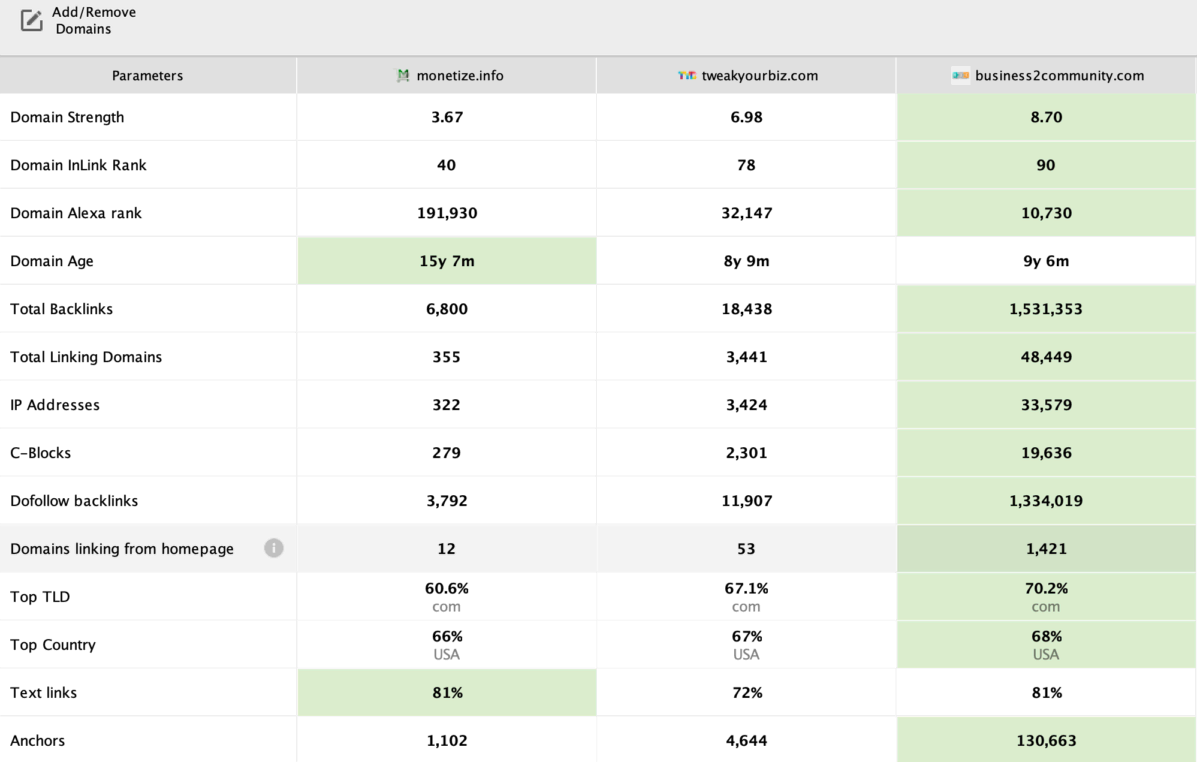 Link intersection is another excellent feature of SEO Spyglass from SEO Power Suite, as it can show you what backlinks your competitors have, and you don't. Using this information, you can use Link Assistant to try getting them (more on this later).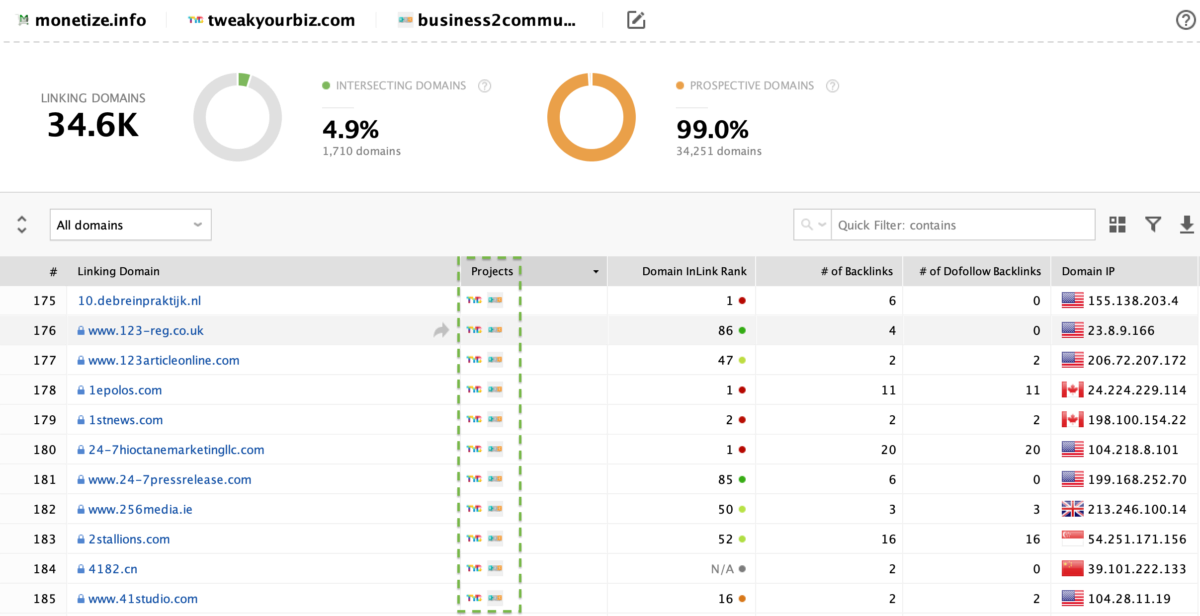 2.4 Bulk Analysis
Bulk Analysis allows you to analyze domains and see at a glance their metrics like ranking keywords, organic traffic, inLink rank, domain inLink rank, number of backlinks, etc.
2.5 Domain Strength
Domain Strength offers you all the details about a domain. Still, it focuses on its SEO Power Suite metric called Domain strength (from 0 to 10), a complex quality metric calculated based on numerous key SEO factors (domain age, backlinks, social signals, etc.). You should use this metric to track how your website's SEO "strength" grows over time.
2.6 Reports
The reporting feature is great in SEO Spyglass, having extensive reports you can watch and export regarding your backlink details.
You can create your own if you're not happy with their prebuilt templates ( Backlink summary, Backlink details, Domain comparison, Domain strength). This is handy if you run an SEO agency and send reports to your customers.
2.7 Comparision between SEO SpyGlass Ahrefs and SEMrush
I've decided to compare the backlinks profile of our website, Monetize.info using three popular backlinks checkers: Ahrefs, SEMrush, and SEO SpyGlass. I've not connected Google Analytics and Google Search Console to any of these tools, so all the information is from their indexes.
Here are the details:



2.8 SEO Spyglass Conclusion
Here is a quick video on how to create a project in SEO SpyGlass and find backlinks:
As you can see from the picture above, SEO Power Suite shows comprehensive details, making it a solid backlink information source.
Considering all the functionalities and the price of this tool, in my opinion, is a must-have in any SEO professional's toolbox. Remember that similar tools charge $100+ per month for similar options, while if you purchase SEO SpyGlass alone, you get it at $10/month, and if you purchase the entire bundle, you get it even cheaper.
#3. Website Auditor Review
If you're not new to SEO, you know that even if you aim for the best keyword and have strong backlinks, you can not rank well if you have onsite SEO issues. That's where Website Auditor comes into the game.
You can use the Website Auditor to optimize your website and content to get more views. The tool also enables you to get a behind-the-scenes look at your website, similar to Google crawlers.
3.1 Site Structure
3.1.1 Site audit
After the website audit is complete, you overview the identified issues grouped by type: Indexing and crawlability, Redirects, Encoding and technical factors, URLs, Links, Images, On-page, and Localization.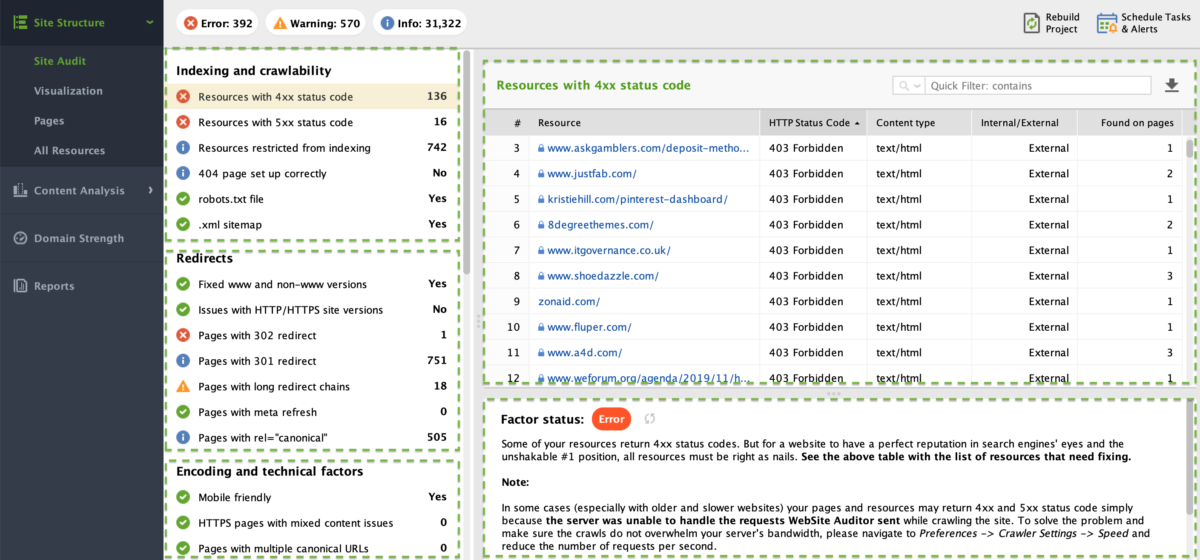 Errors (red crosses) are the ones that need to be fixed ASAP; Warnings are the second in line, and Info (i) are things that are nice to be fixed. One nice thing is that you have a pretty comprehensive tab for every issue type where you get detailed information on how it impacts your website.
3.1.2 Visualization
Visualizing your website structure quickly is critical to ensuring you offer users and the search engines the best experience in terms of hierarchy and structure.
Here are several reasons why Visualization of your website is helpful:
Spot structure problems at one glance (e.g., orphan pages, isolated parts of the site, long redirect chains, etc.)
Visualize the site structure by Internal PageRank to understand the importance and authority of pages
Visualize the site structure by pageviews to see the traffic flow to certain pages
Fix spotted problems in-app and export the changes for further application.
In the below example, you can see how our website hierarchy looks from a creative perspective. It is not a perfect example of how a website should look – but it is definitely on the right track.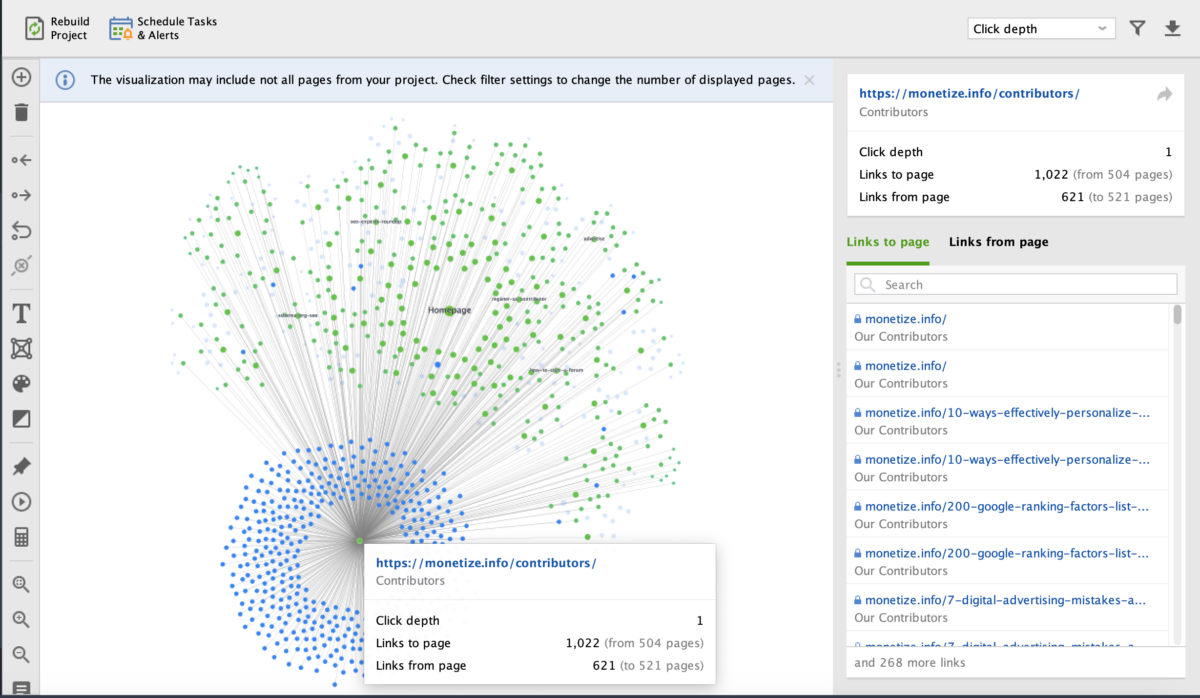 If you own an Enterprise license of Website Auditor from SEO Power Suite, you can export all pages and links to CSV.
3.1.3 Pages
In this section, you will see a list of your website pages and a slew of information about each page. You can customize the reports to filter only the data you would like, and the options seem endless for customizing the data and reporting.
You may configure your reports or use the one already built-in: All pages, On-page factors, Open graph & structured data, Links & Technical factors, In link Rank, and Page traffic (if you add Google Analytics data).
I like the Page traffic tab in particular as you can sort the pages by bounce rate so you can spot pages that don't bring enough value to customers, like in the example below:

Also, a Website tools section may create a custom sitemap page, a robots.txt editor, and add localization variants for pages. Pretty awesome!.
3.1.4 All resources
In this tab, you can easily see all the website resources you audit: HTML files, JS, CSS resources, images, etc. Both internal and external.
3.2 Content Analysis
The Content Analysis area of the tool is one of the best parts of the program. Once you go to the Page Audit tab, you will be given a popup with all of your website pages – select the page you want to improve, and then you will be prompted to add the keywords/phrases you would like the page to rank for.
3.2.1 Keyword map
A keyword map is a place to get help for properly planning keyword distribution across your website. Simply, it is content to keyword mapping places.
3.2.2 Page audit
This is the place to audit one page to do on-page and technical analysis to optimize and focus on the first place in the search engine results.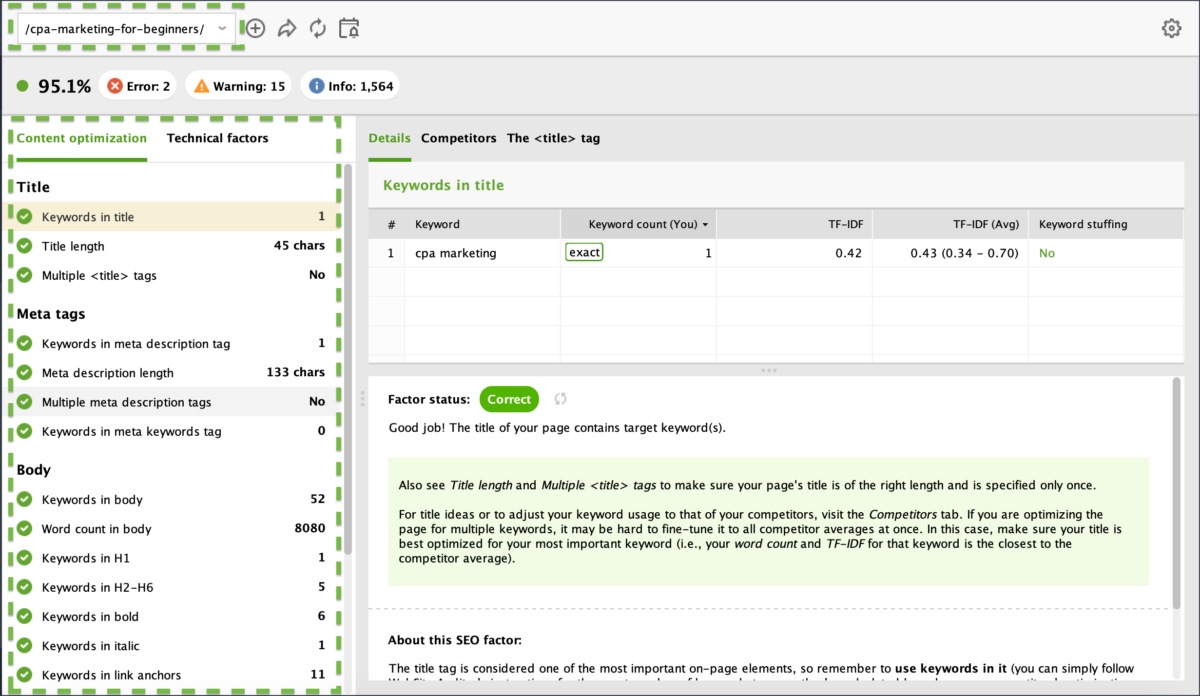 The tool analyzes the page using a semantic algorithm like Google. After choosing the audit's blog page, you must add keywords to optimize the content. After analysis, it suggests content optimization guidelines.
3.2.3 Content editor
The new content editor from the Website Auditor is an excellent tool for seeing changes live! This will allow you to modify your page as needed and copy the source code and move it to your website. We do not use this feature since we do all of our editings on the website in WordPress, but it may be beneficial for users with HTML-powered websites without a CMS.
3.2.4 TF-IDF
TF-IDF stands for Term Frequency with Inverse Document Frequency.
We won't get into the nitty-gritty of all these means, but here is a good article that talks more about it. TF-IDF will not directly affect ranking – but will help the search engines better understand your content, which will help in the long run!
This report tells you terms and phrases related to your target keywords based on the content from your top competitors. Applying some of these phrases and keywords to your content can help improve your "content topic," allowing your users and the search engines.
This part of the tool shows you how often they use specific keywords/phrases and recommends adding or removing a term based on your competitors.
3.3 Reports
The Report module provides the complete technical and on-page SEO audit. You can export the entire audit in PDF in two forms – Summary (outline audit report) and Details (Complete report with solution).
These are fully customizable reports. You can share or send this audit report to your clients. The reports are easy to understand, and you can follow instructions to improve your website pages and resources.
3.4 Website Auditor Conclusion
Here is a quick Website audit using Website Auditor done by Joseph S. Kahn, one of SEO Power Suite's long-time users.
One thing that I would like to see added in Website Auditor from SEO Power Suite is integration with Google Page Speed Insights API in the pages tab. This way, we can get details about each page's speed factors and easily identify which ones are slow and you need to work more on them.
Considering all the functionalities and the price of Website Auditor, in my opinion, is a must-have in any SEO professional's toolbox. Remember that similar tools charge $100+ per month for similar options, while if you purchase Rank Tracker alone, you get it at $10/month, and if you purchase the entire bundle, you get it even cheaper.
#4. Link Assistant Review
Link Assistant is a link outreach tool that can help you find opportunities for building backlinks. Type in a keyword, and you have several options for researching opportunities: Guest posting backlinks, Reviews site, Blog comments, Giveaways, Forums, Links Pages (Resources), Link submission forms, Directories, Topical blogs, Competitor backlinks, Your backlinks, or custom search using your criteria.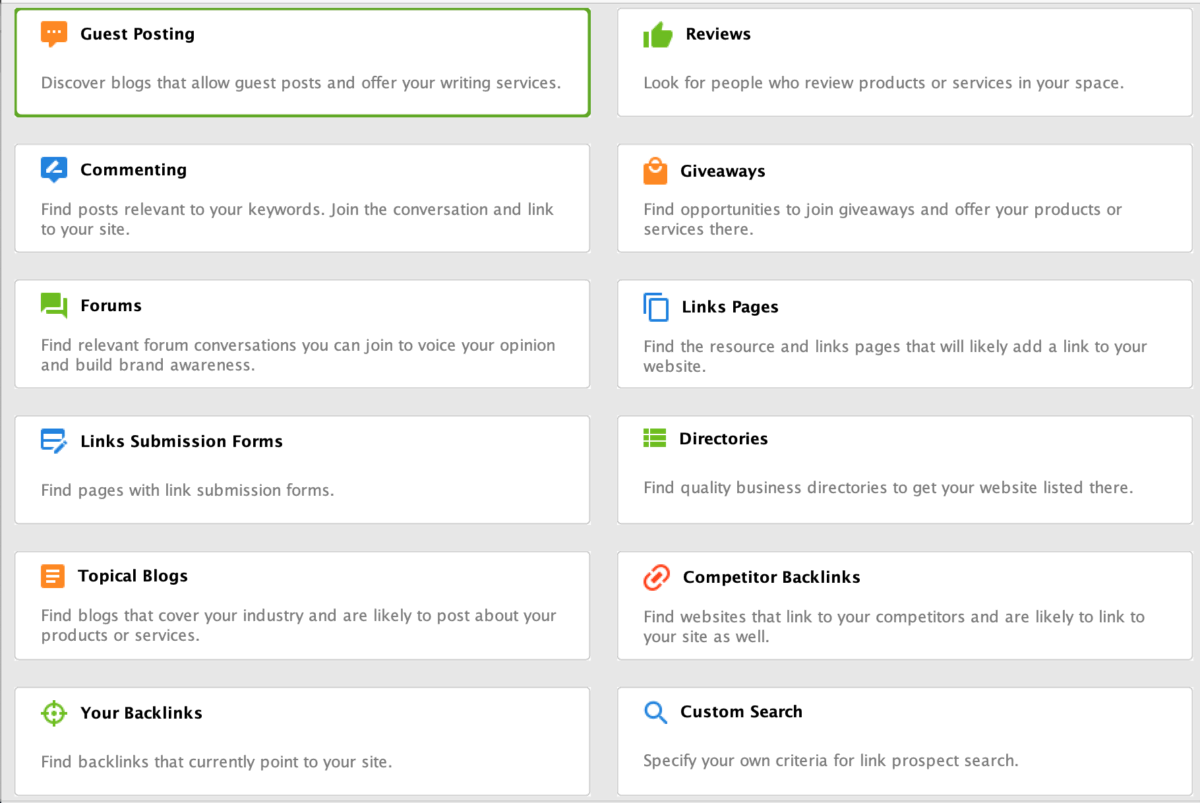 After selecting the prospect criteria and the type of backlinks you try to acquire, Link Assistant will ask you about keywords related to your business. If you need suggestions, you should connect your Google Ads account. The next step is final settings, including if you want to acquire contact methods.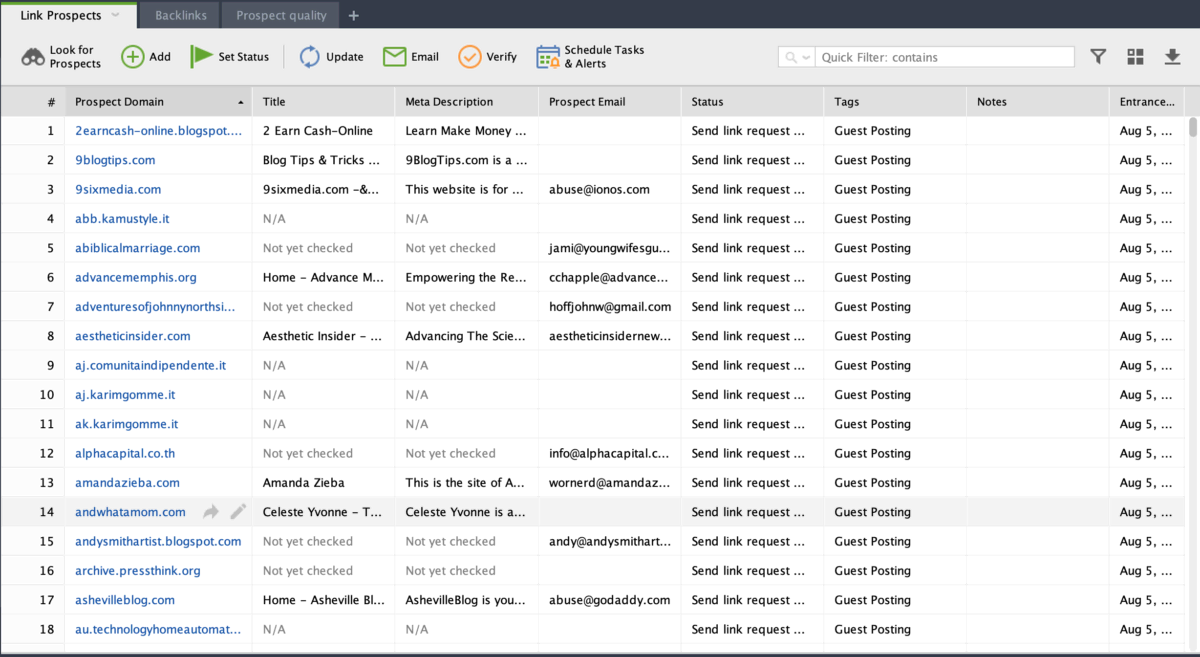 Unfortunately, Link Assistant doesn't do an excellent job when gathering contact methods. That's because it doesn't get the email address from the website or 3rd party services. Instead, it gets it from Whois info and posts many unrelated ones, especially the abuse@registrar emails you shouldn't send.
SEO Power Suite Global Settings
All these four tools run independently, but they share the same global settings, so you may configure them once and use them when you need them.
Company Profile –  This is where you should save your company or business details in your reports. You may specify your company name, email address, physical and website address, and add a logo.
Dropbox Settings – You can specify your Dropbox login details to store your projects. If you don't want to use Dropbox, you may use the SEO Power Suite cloud, allowing you to save project files. Also, you may sync your account to have the latest project files.
Publishing Profiles – After creating a publishing profile, SEO Power Suite will remember your preferences (file format, email, or FTP delivery option), so you won't need to re-enter them for other reports.
Moz API Settings – You may add multiple MOZ API keys to connect SEO Power Suite with MOZ to grab Domain Authority (DA) and Page Authority (PA) metrics for your projects.
Search Engines API

 

Keys – If you run multiple big projects daily, you should add Yandex and Bing API keys as these search engines have crawling limitations.
Search Safety – Human emulation is another excellent feature of SEO Power Suite that improves your research's safety to prevent the crawlers from being banned.
Proxy – Once again, you should consider using proxies if you run multiple projects or crawl websites faster. Otherwise, you risk getting banned by the servers, and the crawl will stop.
Scheduled Tasks & Alerts – The scheduler lets you set SEO Power Suite to run certain tasks on a specific time and date regularly, so you won't need to interfere and initiate repetitive tasks. This way, you can automate your SEO reports to your clients weekly or monthly.
Export templates – The Export templates feature lets you customize how the exports will look like. You can choose which data to export, select the data type, presentation format, etc. You may create multiple export templates and use them when needed.
SEO PowerSuite Feature Comparision
As I've previously said, SEO Power Suite comes in 3 versions: Free, Professional, and Enterprise. There are several differences between these versions, which are clearly outlined in the picture below: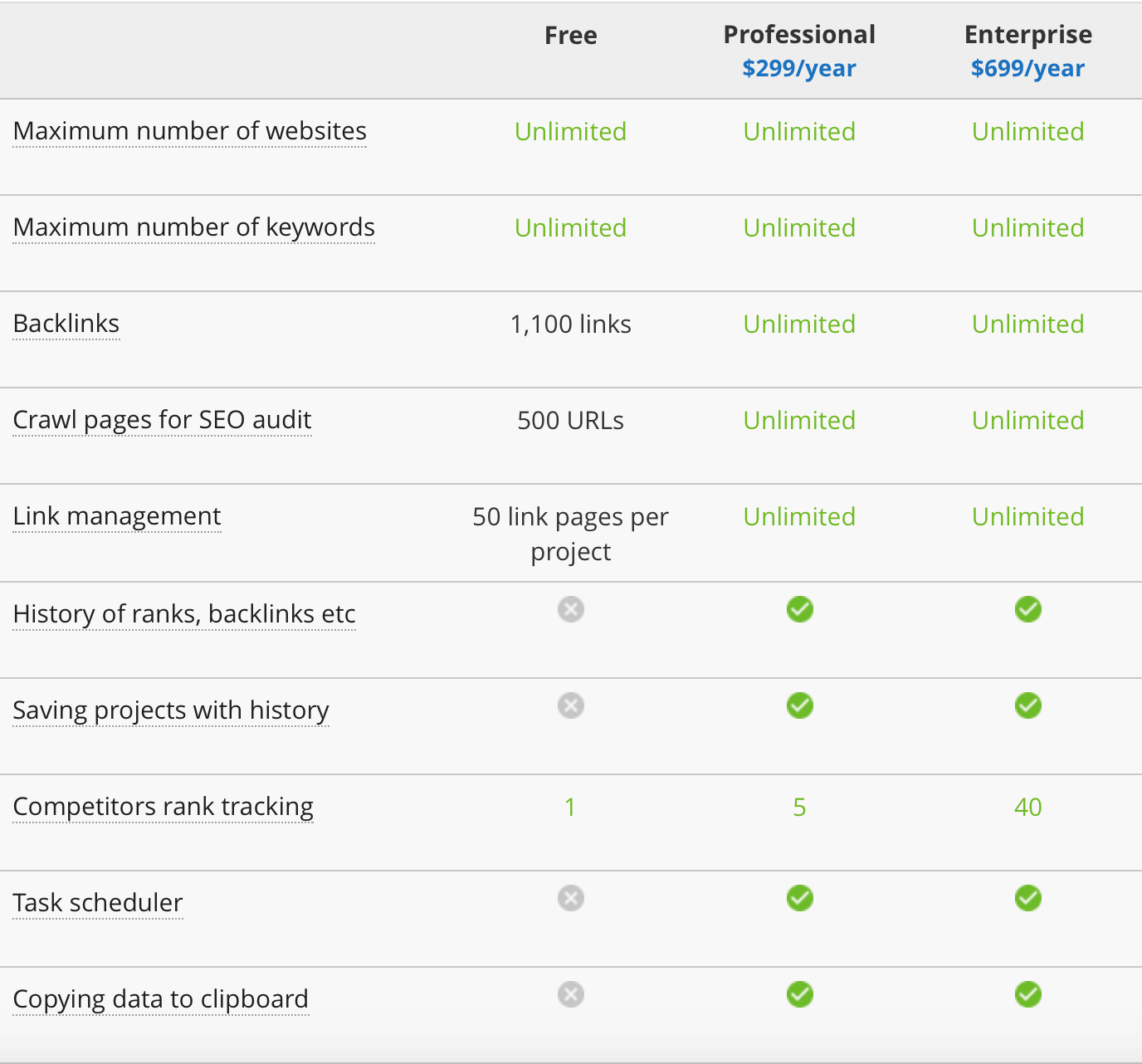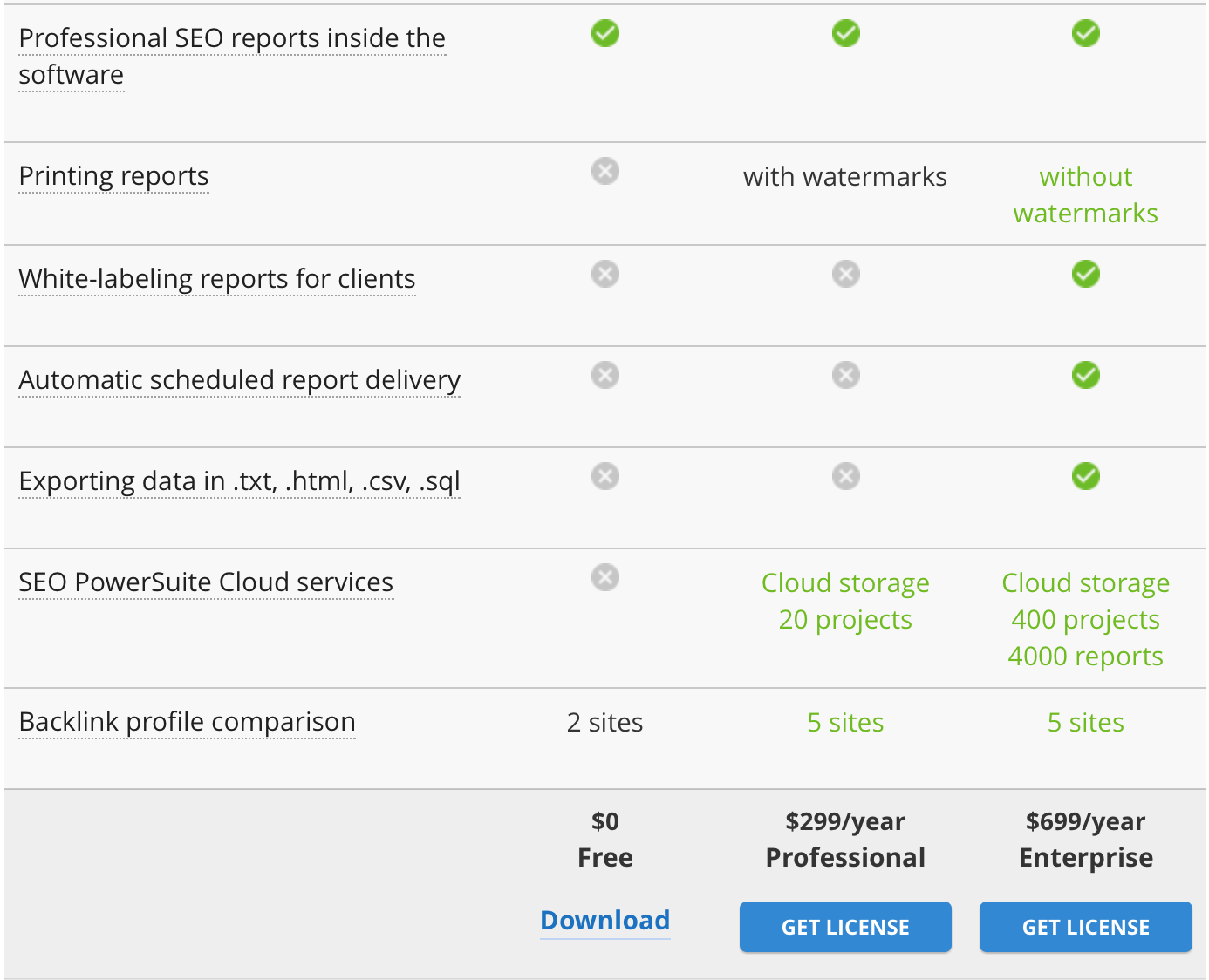 The Professional edition will be fine for most in-house SEOs who work on just one or a few websites. Agencies will likely need the Enterprise edition with its beefed-up competitor analysis and capability to produce reports without a watermark. The latter feature will be required to generate nice-looking PDF reports to send to your clients or prospective clients.
I own the SEO Power Suite Professional version, which is more than enough for us as we don't need the custom report and expert export functions.

SEO Power Suite PROs and CONs
Pros of SEO PowerSuite
It's easy to use
You'll have access to great tools and features, which are updated frequently.
Works on lots of different operative systems (Windows, macOS, Linux)
You have access to detailed reporting with each tool
Affordable annual payment plans
Multi-client friendly
Great value for money
Cons of SEO PowerSuite
It doesn't offer as many backlinks as tools such as Ahrefs or SEMrush
It's a desktop app so that it can slow down your computer
Additional licenses may be required to use it on multiple computers
As it is complex, it takes some time to learn everything properly.
SEO PowerSuite Pricing Plans
SEO Power Suite comes in three versions. One is Free but comes with limitations and two paid flavours: Profesional and Enterprise.
The Free version is for individuals who want a clear picture of their website's SEO metrics.
The Professional version costs $299 yearly for users who promote their websites or SEO specialists working for a company.
The Enterprise version, which costs $699, is specially designed for SEO and SEM agencies that offer customer service. That's why it has multiple reporting and export options, including custom branding, automatic scheduling, etc.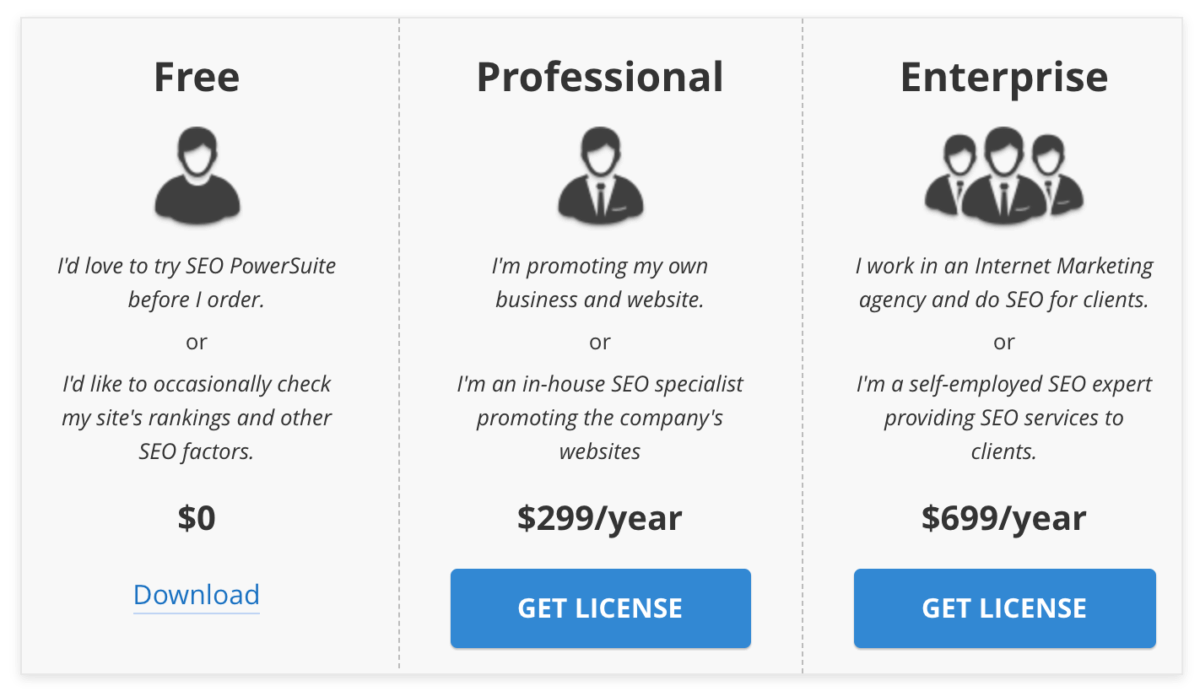 If you don't want to purchase the entire suite, you can buy only the necessary tools. Each tool (Rank Tracker, SEO Spyglass, WebsSite Auditor, Link Assitant) costs $124/year for the Professional license and $299 for the Enterprise one.

SEOPowerSuite Individual Tool PricingOne downside to Powersuite is that it only offers single-user licenses. This means that if you have a whole team of SEOs who need access to the tool, you'll need to buy multiple licenses if they use the software during the same working hours.
I suggest you download the Free version, test it and later upgrade to a paid license to enjoy the full benefits.
SEO Power Suite is sold as a subscription, so you will be billed annually for your acquired plan. Of course, you can cancel your subscription anytime but contact their support team.
You can purchase it through 2Checkout using a credit or a debit card, local bank transfer, wire transfer, real-time bank transfer in the USA, WebMoney, UnionPay, and other payment methods.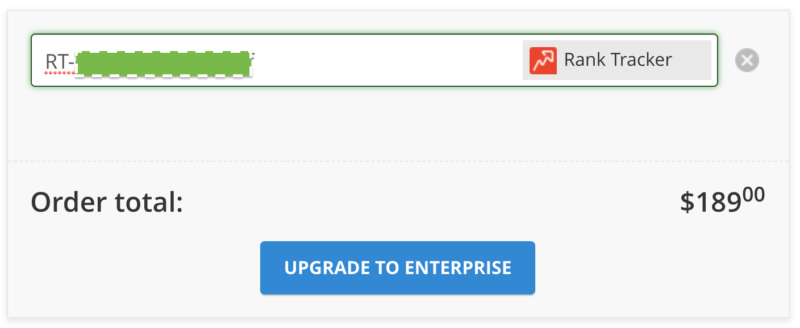 There is also an upgrade option from Professional to Enterprise that you can access by inserting your license key and paying the difference.
It is worth mentioning that with a paid license, you have access to professional support (more on this later), training materials, and user perks program with $500-worth discounts to popular tools la Awario and others.

Is SEO Power Suite worth its price?
Totally. Consider that SEO Power Suite Professional version has everything a person interested in SEO needs (KW research, KW ranking, backlinks information, website auditor, and outreach manager) for $299/year, which is less than $25/month. If we talk about the SEO Power Suite Enterprise Version costs less than $60/month and has everything you need to run an SEO agency and do SEO for clients.
SEO Power Suite Support
SEO Power Suite assists its SEO users in many ways: Webinars, Blog articles, Video guides, a dedicated Youtube channel with tutorials, a public Facebook Group, a discussion forum, a live chat, and of course, a ticket system.
You can join one of the upcoming live events. They'll help you get started with the tools and share some little-known usage tips.

The SEO Power Suite blog is a great place to get SEO news and guidelines. I am impressed with the quality of the articles as they are based on case studies and research. There is a lot of actionable information that you can use to rank your websites better.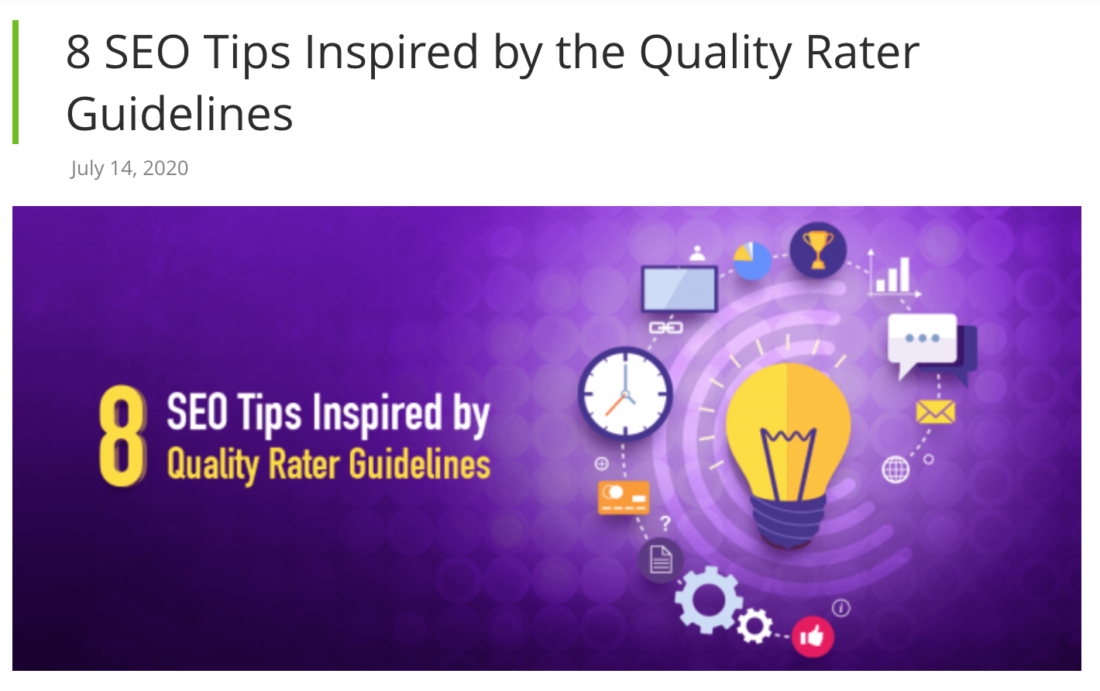 If you prefer watching videos instead of reading articles, SEO Power Suite has something for you. Their short videos cover all main SEO PowerSuite features & optimize your website for better traffic and rankings: Keyword research, Rank Tracking, On-page optimization, Backlink Research, Link Building, and other features.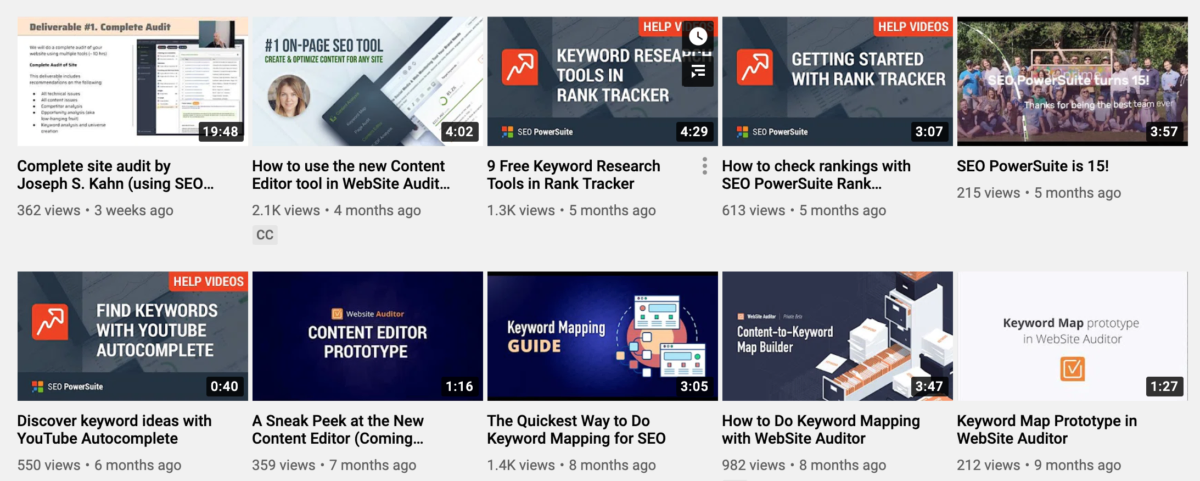 If you need help on a specific function or ask how to do a particular task, you could ask in the Facebook SEO Power Suite User Group, which has over 9800 members,s or in their dedicated support forum.
I recommend using LiveChat or the support centre for billing, accounts, license questions, and technical support.

Considering all these options, you are very well covered. Even if you're starting with SEO, you have everything needed to become a PRO and use SEO Power Suite at total capacity.
Conclusion
Congrats for walking with me through the entire review. This SEO PowerSuite Review 2020 helps you get a basic idea and use it to better search engines.
As you can see, SEO Power Suite can help you with all the major SEO factors: Keyword Research and Ranking, Backlinks, OnSite SEO issues, and Content updates.
Considering all these and the beautiful price tag, I highly recommend the SEO Power Suite for affiliate money makers, bloggers, SEO experts, and SEO agencies.

Here is the SEO Powersuite download full version free now. Grab this 14 days trial and analyze your blog.
Have questions about specific features? Need help? Let us know in the comments form below.
Affiliate disclosure
Some of the links in the post above are "affiliate links." This means if you click on the link and purchase the item, I will receive an affiliate commission. You will still pay the same amount, so there is no extra cost. I am disclosing this under the Federal Trade Commission's 16 CFR, Part 255: "Guides Concerning the Use of Endorsements and Testimonials in Advertising."