In the following affiliate marketing vs. referral marketing article, you'll find out what affiliate marketing and referral marketing are, a side-by-side comparison of the two, and which is the best for your business.
What does it take to stay afloat in a competitive market?
Companies invest in digital marketing, leverage modern technologies like artificial intelligence (AI), and optimize their websites to improve conversion. Indeed, user experience is decisive for making a purchase. That's why savvy online retailers achieve a better product page UX, configure on-site search, and remove friction toward the checkout.
A well-designed website should have a stable visitor flow that converts into customers.
How can you ensure it? When promoting a business, you can't overestimate the importance of word-of-mouth marketing. People share the experience of using a product or service, what they liked, and what could be better. It's one of the most trusted formats compared to professional ads.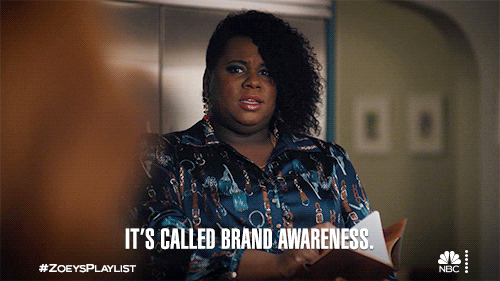 But how do you encourage others to talk about your brand? That's where referral and affiliate marketing come to the stage. People may mix these types of marketing, but there is a considerable difference between them.
Let's explore affiliate marketing vs. referral marketing comparison, their pros and cons, and which is better for you (or both).
What is Referral Marketing?
People like to surround themselves with other people. Even though we live in a work-from-home environment, most of us use social media, communicate via messengers, or talk on the phone.
Referral marketing revolves around this fact. It involves telling relatives, friends, and others about the impression of dealing with a company. It is also known as word-of-mouth marketing, and referral programs work for loyal customers.
They promote brands and programs organically, i.e., without being specifically paid to do it. However, you may reward existing clients for referring the brand to anyone they know. Here is a screenshot from Uber Eats. Recipients can get $20 off the order (as well as their friends) for sharing the code.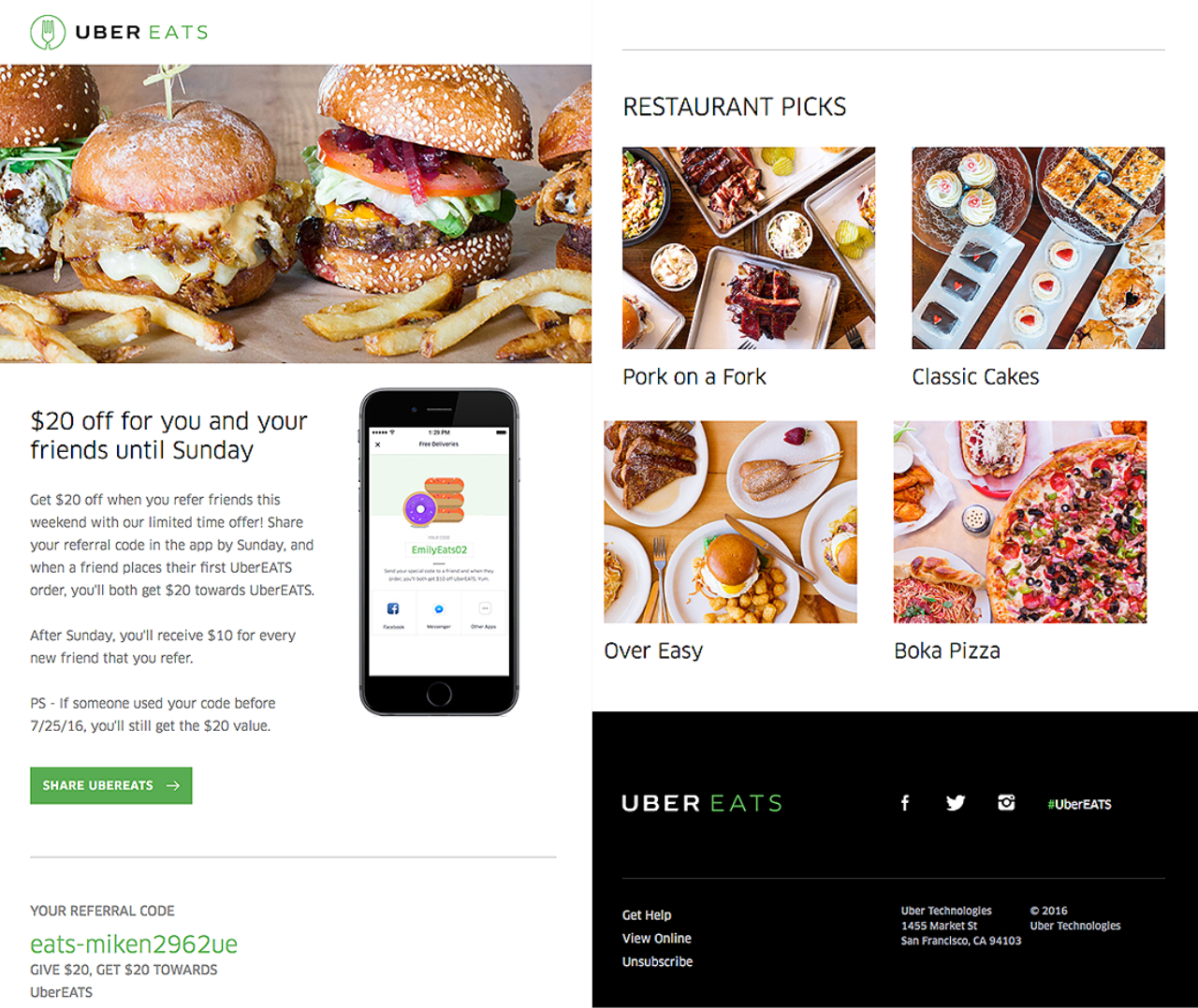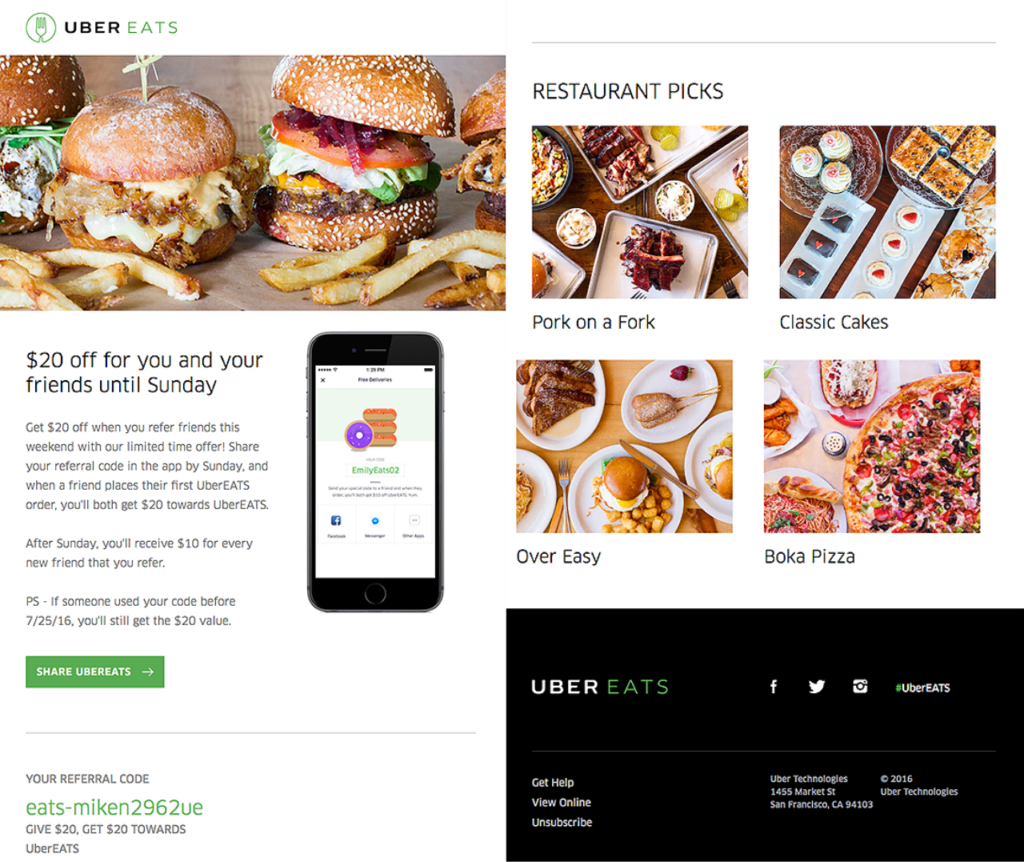 Uber Eats sends emails with the referral code and restaurant pics to encourage clients to invite their friends and get a discount for both.
Read more: 15 Examples of Innovative Ecommerce Referral Programs.
PROs and CONs of Referral Marketing
Now that you know what referral marketing is, let's look at the PROs and CONs of it so you can have an overview and decide if it's good for your business.
Referral Marketing PROs
Can offer non-monetary rewards (discounts, credits, and upgrades);
Mutual benefits for the person that refers and referee;
Maximize shares from brand advocates.
Referral Marketing CONs
Customers may forget over time about the ref program;
There is no control over what customers you acquire;
Customers may not feel motivated to share their ref link;
It's not suitable for all niches.
Why Does a Company Need Referral Marketing?
If you have satisfied customers, they will likely tell about your company within their social circle. They may wear stunning clothes by your brand or a haircut done by your employees.
So why not delight customers with lucrative incentives to persuade others to switch to your brand?
It will encourage clients to bring more prospects. Some customers may forget about promoting the company. Your task is to provide a reminder (or reward) to do it.
Statistics from Finances Online about referral marketing:
Referral marketing increases conversion rates by 30% compared to other marketing methods.
The retention rate for referred clients is 37% higher than for clients gained from other acquisition tactics.
Personal recommendations encourage 92% of consumers to buy.
49% of US consumers said their friends and family have helped them discover new brands or goods.
Referral Marketing Benefits all stakeholders:
Existing customers altruistically assist friends in finding the perfect product and the company in acquiring new clients. They usually get discounts, gift cards, cash back, or other perks.
Prospects receive trusted advice and a discount on the first purchase.
The company builds strong relationships with consumers, converts more leads, and increases sales.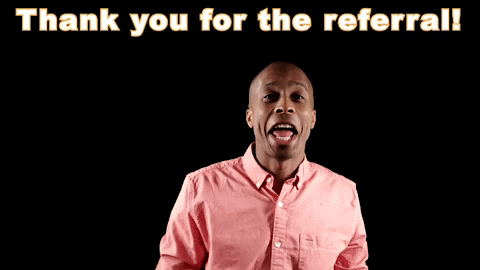 What is Affiliate Marketing?
Affiliate marketing is another way to raise brand awareness. In this case, you employ an affiliate to promote your products, services, and brand. These affiliates can be social media influencers, bloggers, and website owners. Third-party publishers direct traffic to the website and get paid for that.
How?
They place special trackable links to receive a fixed fee or a percentage of the number of conversions. You can grant them a commission from sales of the product price. These commissions usually range from 5% to up to 50%. If the commissions are higher than this, the quality of the products may be questionable. You can also provide them with free products to show outstanding results.
The practice has gained traction thanks to Amazon Associates, eBay, Etsy, and other companies.
A case in point is the Amazon Associates Program. It's one of the most prominent affiliate programs to help bloggers get paid for their work. Content creators review products, place links to the relevant Amazon pages, and receive money after successful purchases.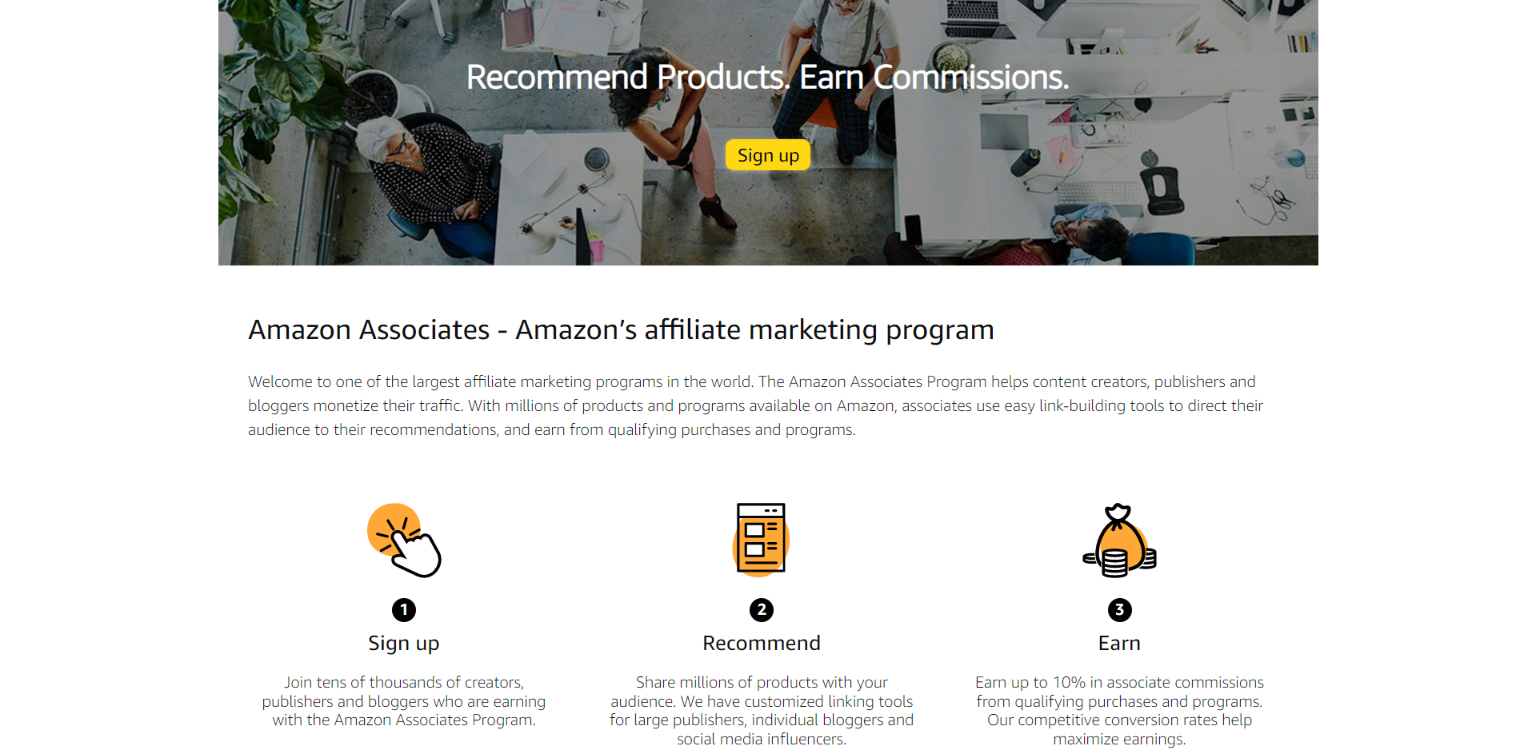 Above is a screenshot of the official Amazon Associates website. Amazon tells about its affiliate program and outlines the steps to join it, such as signing up, recommending products, and receiving 10% off qualifying purchases.
Further reading: How to Start an Affiliate Marketing Program [Complete Guide]
PROs and CONs of Affiliate Marketing
Now that you know what affiliate marketing is, let's look at the PROs and CONs of affiliate marketing so you can have an overview and decide if it's good for your business.
PROs of Affiliate Marketing
You are paying only for performance.
There is considerable customer acquisition potential.
You may capture untapped markets.
More free Branding! Links and rankings.
CONs of Affiliate Marketing
There is a risk of affiliate marketing fraud.
It can become expensive and inefficient if not managed right.
Brand and reputation issues.
Unfair competition from affiliates.
Why Does a Company Need Affiliate Marketing?
Check the affiliate marketing statistics below:
Affiliate marketing is a way to interact with current clients for 79% of marketers.
It serves to increase brand awareness for 83% of companies.
40% of US merchants use affiliate programs as their primary client acquisition method.
Around 16% of all eCommerce sales worldwide result from affiliate marketing.
The affiliate marketing method lets start-ups save on hiring a dedicated team to promote their products or services.
Affiliate marketing is a type of pay-for-performance program. It means you have to pay for completed orders. As a result, partners expose the company to numerous prospects at an affordable price, and cooperation becomes less risky.
You can control how much to advertise and who will see the ads. If you pick affiliates with the relevant audience, the chances of resonating with prospects and conversions increase. All these make affiliate marketing a budget-friendly decision for small businesses.
Successful affiliate marketing requires you to find where your target audience spends their time. These websites and influencers are ideal partners. Because what's the point of placing ads on fashion blogs if you represent bookkeepers' services?
Amy Porterfield is an online consultant. She has a dedicated page on her website with tools to streamline the work of digital entrepreneurs. Although she shares many affiliate links, she offers discounts for purchasing services via her links.
Check this example from Amy Porterfield's website with the list of tools. She discloses her relationship with the companies she advises to try but stresses that most affiliate links bring her discounts. And she extends them to her readers.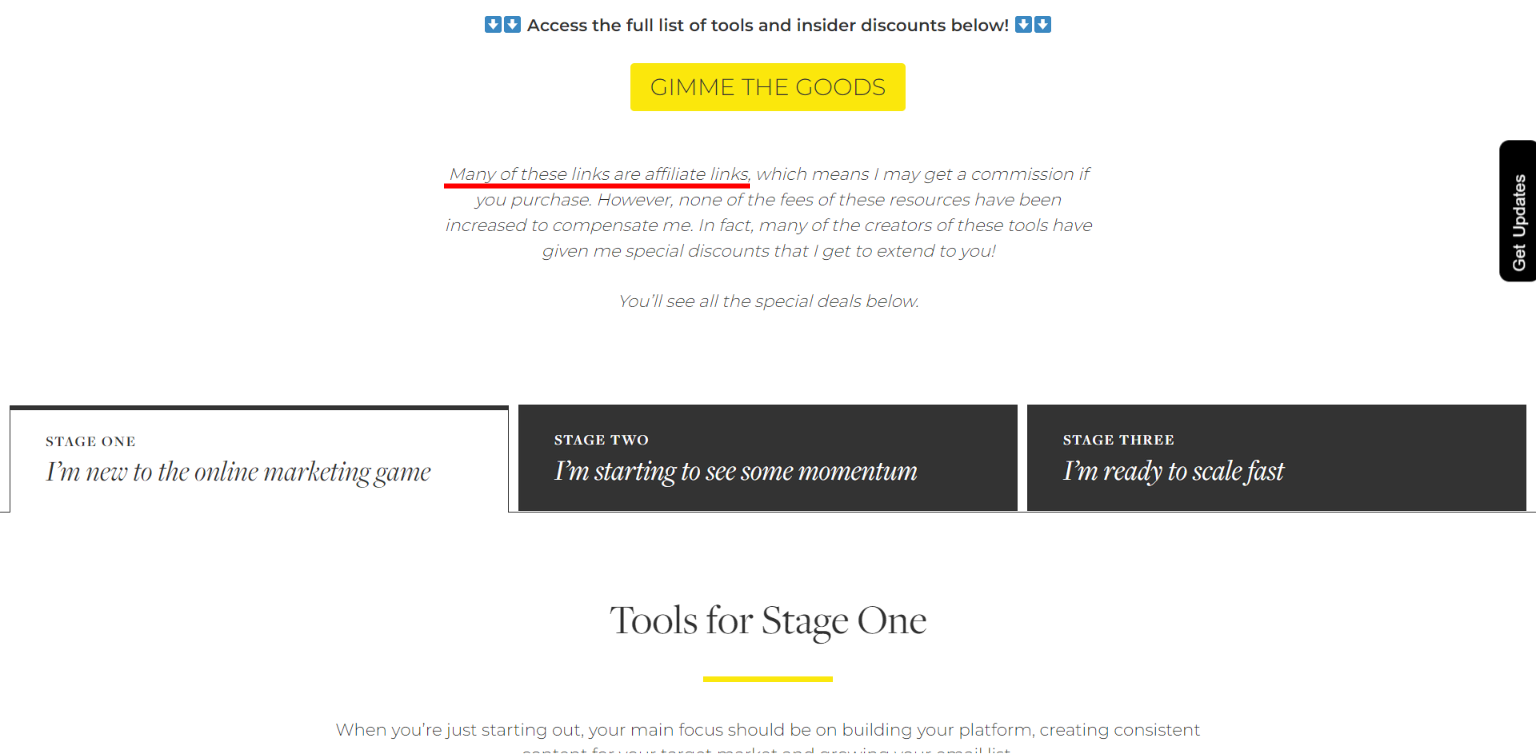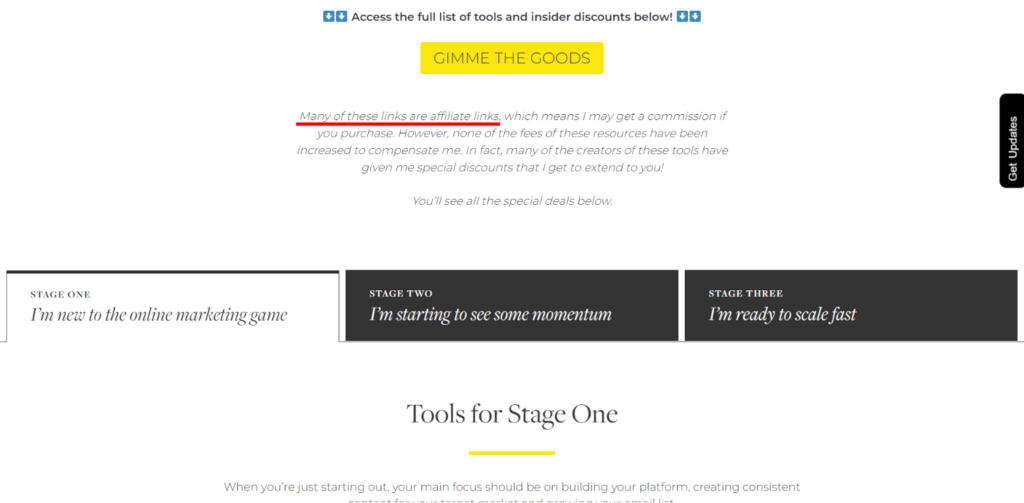 I took the screenshot on the official Amy Porterfield website
Differences Between Affiliate and Referral Marketing
1. How Are Promoters Connected to the company?
Referral marketing revolves around existing customers. They should have a positive experience with the company to be loyal and eager to recommend it to others. The bottom line is that these shoppers would promote the brand regardless of the incentive. The reward accelerates the process of driving new clients.
Affiliates aren't necessarily your customers. A case in point is a developer's blog. Authors may not use software but can include a link to some products and receive a commission if a reader makes a purchase.
Unlike loyal clients, partners wouldn't advertise the brand on social media, send email newsletters with ads, or test products without encouragement. Affiliate marketing is a way to monetize blogs, YouTube channels, or other sources.
2. To Whom Are They Promoting the Company?
Referral marketing relies on strong relationships between a referrer and new customers. The best scenario is when the advice comes from a friend or anyone they know. Look at the Saje Natural Wellness newsletter with 10% off your next purchase. The message begins with the heading "Spread wellness to your friends".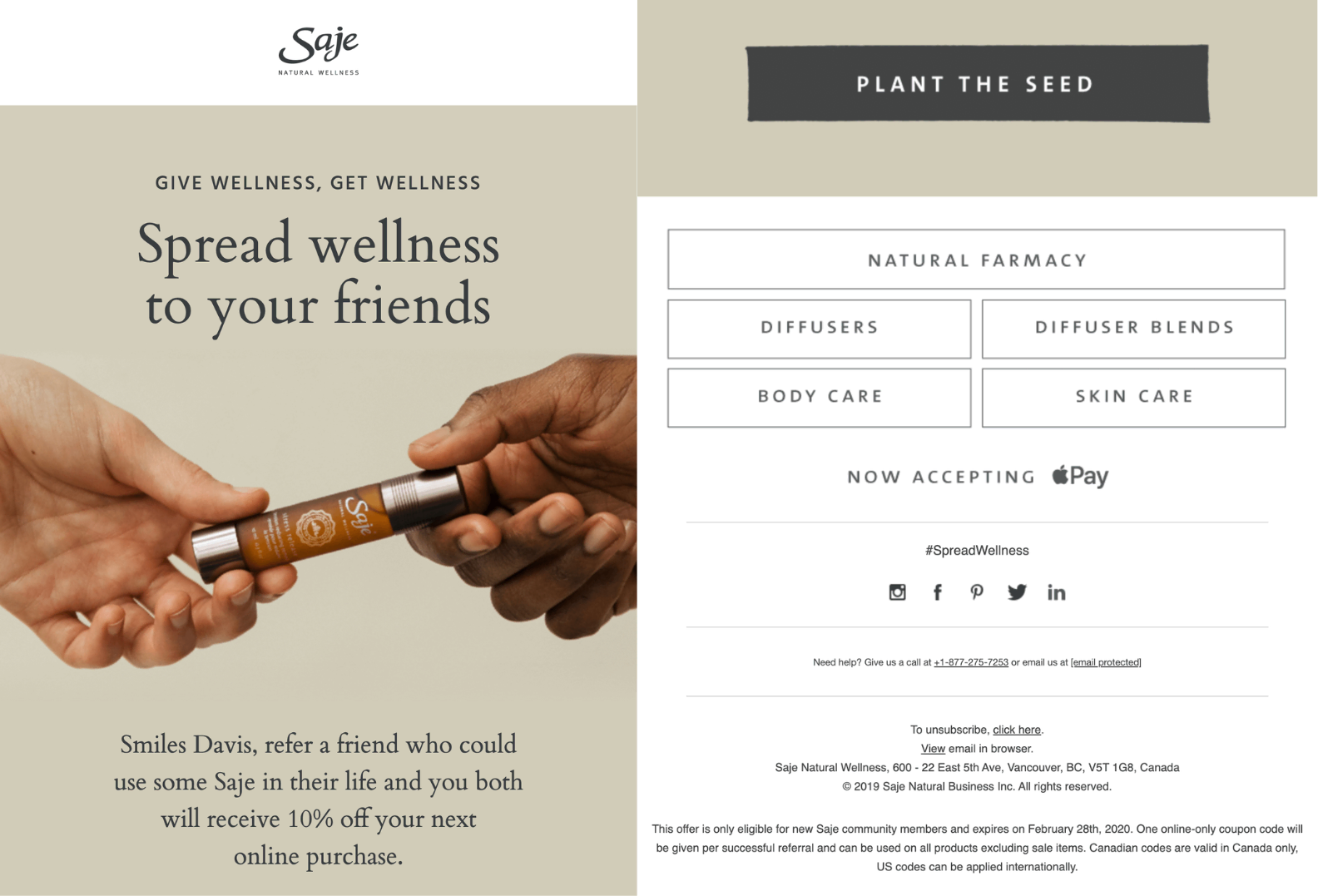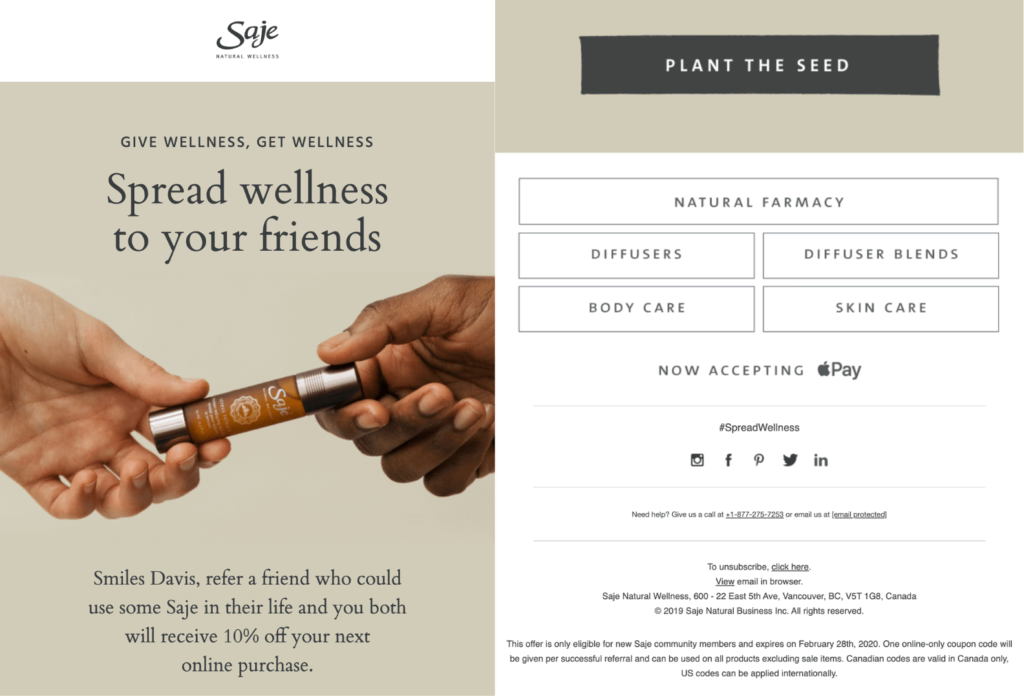 The screenshot is taken from the newsletter from the official Saje Natural Wellness website. Saje Natural Wellness provides a 10% discount for inviting a friend. The discount will be applied to the referrer and a new client.
The difference between affiliate marketing and digital marketing is that customers don't personally know the affiliate. They trust influencers' opinions thanks to the authority they established.
3. How Is the Link Shared?
Another point is how much effort is put into sharing a link. Referral links are more direct and intentional. Customers need to send them via text messages, emails, or social media and leverage emotions to influence other people's behavior.
It involves more energy to persuade someone. That's why success rates (clicks, views, and conversions) are generally higher in referral marketing compared to affiliate marketing.
Affiliate marketing is about creating a blog or YouTube channel, attracting traffic, and building authority among unknown visitors. Once people start to follow bloggers' advice, affiliate marketing becomes possible. Partners put links on websites, posts, videos, and other public places and get relatively passive commissions.
4. How Do You Reward People for Sharing a Link?
Both types of marketing need something to motivate people to promote the store and buy something. Even loyal customers, an extra boost will keep their motivation high.
Here comes another peculiarity of affiliate referral programs. Customers don't refer to the brand for money's sake so that you can reward them with discounts, coupons, upgrades, cash back, etc. Bombas sends free socks if an invited customer places an order, which you can see in the screenshot below.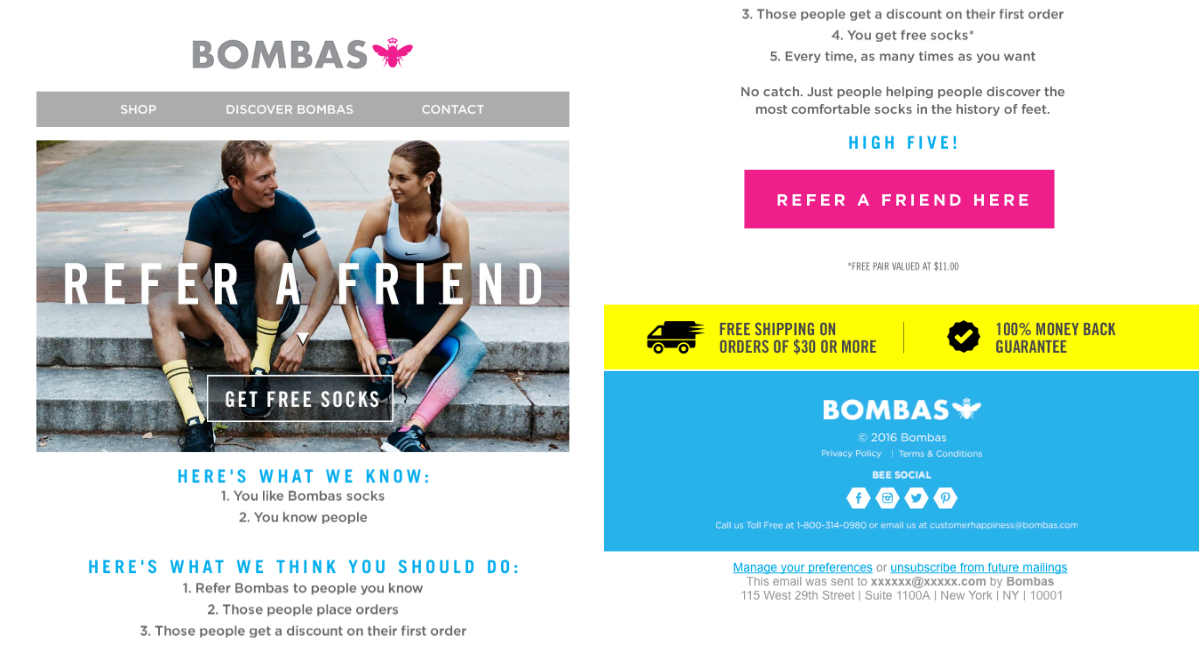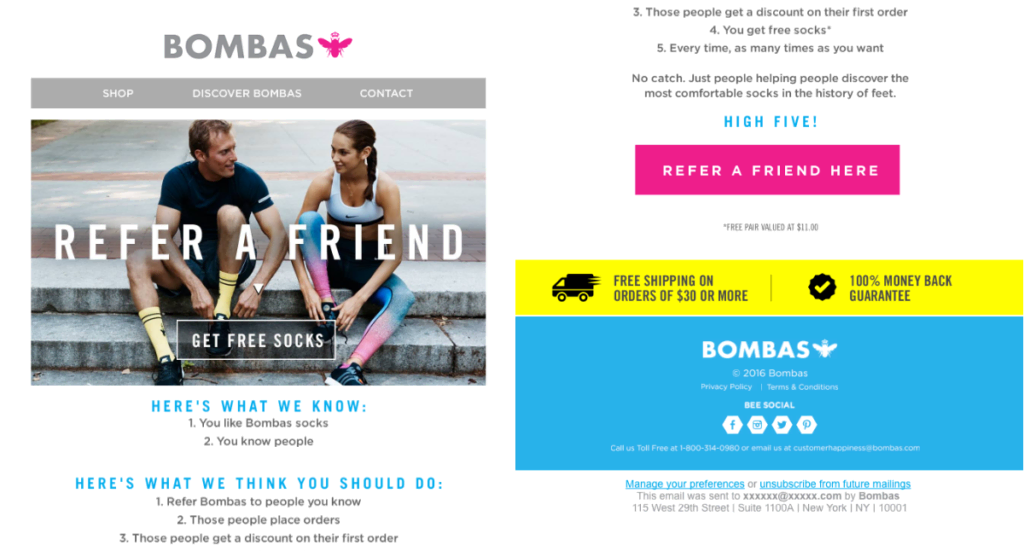 The screenshot is taken from the newsletter from the official Bombas website.
And as I've mentioned, affiliates seek ways to earn money by placing a link to the website. Offering them a free product will add a human touch to your business relationship.
5. How Long Will Customers Stay with the brand?
Another crucial point is the customer lifetime value (CLV). It denotes how much the company expects to earn from a person while being its client. The more they return to the website, the more money they leave.
As referral marketing employs loyal customers, they are more likely to make a positive impression of the company. Plus, stronger relationships between the referrer and the referral partner work more efficiently. Prospects will be eager to buy from the company several times. It leads to a high CLV.
Affiliate marketing aims at one-time conversions and doesn't guarantee repeat purchases because a partner gets paid on the first sale. Thus, CLV is lower than referral marketing.
How Are Referral and Affiliate Marketing Similar?
The essence of an affiliate referral program is encouraging others to promote a business and get rewards. Both need a certain degree of trust. Potential clients believe referrers due to their experience with the company, so the product is expected to be worthwhile. Affiliates should also build trust with the audience to appeal to them.
Referral and affiliate marketing ensure stable growth. Automate the process with software to onboard, track, and reward partners or customers. It will let you scale the programs with an increasing number of participants.
Use of Referral and Affiliate Marketing in Various Industries
| | Referral marketing | Affiliate marketing | Both |
| --- | --- | --- | --- |
| eCommerce | | | An online store will benefit from both programs equally. Many online stores follow the Amazon example and implement referral programs to give discounts or points for inviting friends. Affiliate marketing is also a successful tactic for eCommerce as it aims at spur-of-the-moment decisions. Fabulous clothes seen on influencers will drive significant traffic and sales. |
| Services | Services need referral marketing more, especially local ones. This is due to the limited geography, while bloggers may have audiences scattered around the globe. | Affiliate marketing can work for services, but you must consider several complications, such as finding local opinion leaders with high engagement rates. | |
| B2B | Referral marketing is a perfect candidate for B2B. As this sphere deals with more significant spending than B2C, companies will trust the advice based on real-life experience. For example, from the partners in the industry. Set up lucrative rewards, such as a tiered program to increase the incentive for bringing more and more clients. | | |
Affiliate vs. Referral Marketing: Which is Best 4 You?
How do you choose between referral and affiliate marketing?
The truth is, you can't substitute one with another.
What are your goals?
The first question is, "What goals do you want to achieve?" these two concepts aim at different strategies:
Referral marketing is about building long-term relationships, as personal advice from someone we trust is more persuasive than from unknown people. However, the audience reach is limited to colleagues, family, and friends.
Affiliate marketing helps you generate dozens of new buyers, so it's better for customer acquisition. Bloggers have thousands of readers or followers, increasing your reach.
Another thing to consider is the form of payment.
Form of payment
Referral marketing provides more leverage to inspire promotions without needing to pay money. You can create a point system so shoppers can spend them on purchases. Thus, you ensure repeat sales, attract new leads, and increase customer loyalty.
Since affiliates receive cash, it may create more tension on the budget. Note that it will be compensated thanks to the more significant number of purchasers.
Below you can see a screenshot from the Anabolic Aliens website. The fitness coaching provider has a separate page for enrolling in the affiliate program. It lets partners earn a 10% commission on total referral sales from its store if shoppers buy from the affiliate link or use a unique code.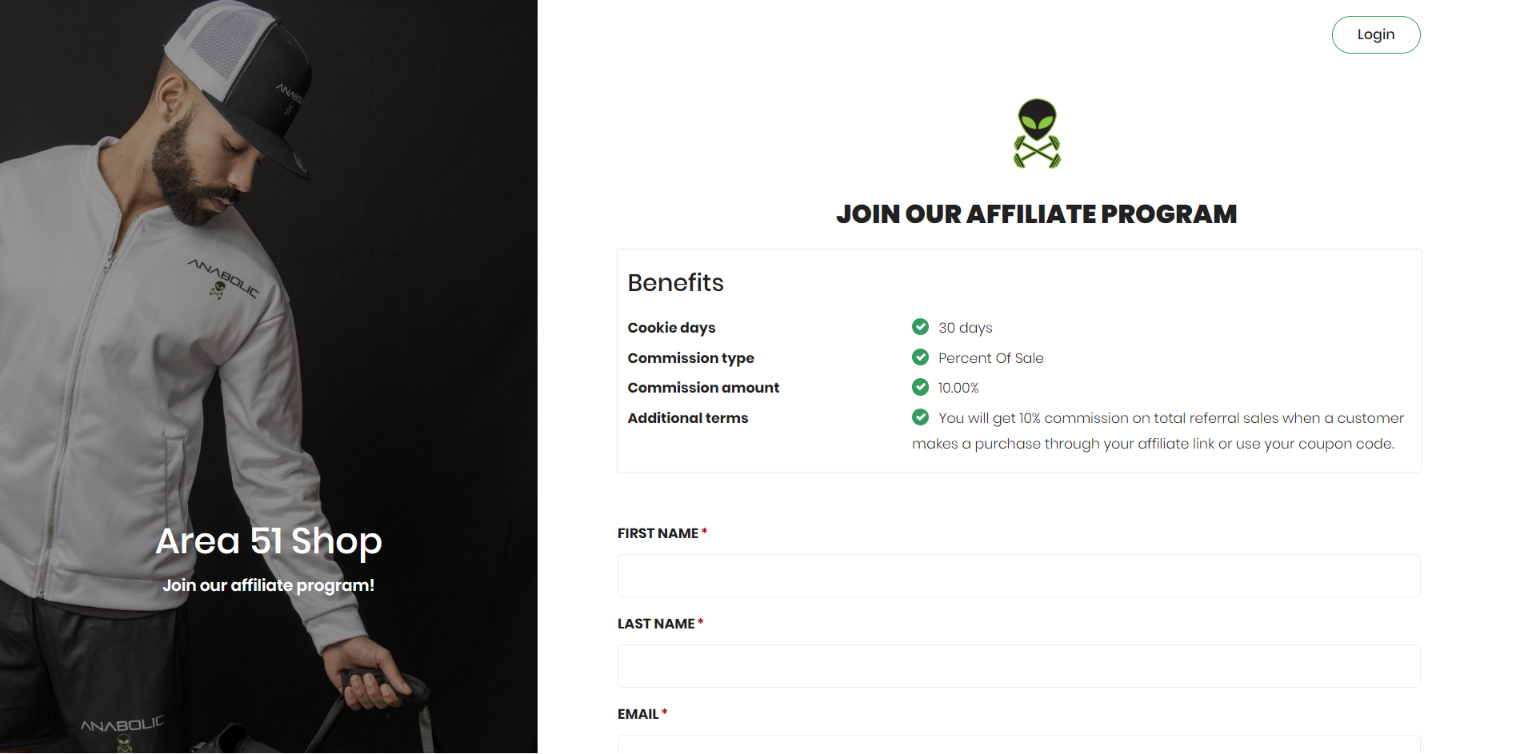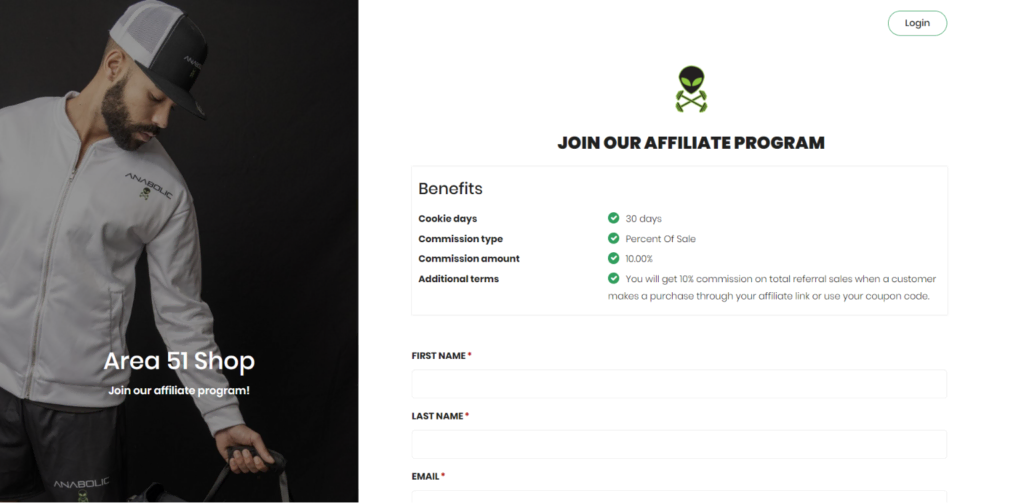 Anabolic Aliens has a separate page for an affiliate program. Partners can register and receive 10% of the total sales.
What products do you sell?
And one more factor is the type of products you sell.
If the goods require thorough research before purchasing, referral marketing should be your weapon of choice. Affiliate marketing better suits impulsive purchases. For example, when you see a stunning dress on social media and are ready to buy it immediately. A link placed at the right time may be enough to motivate viewers to buy.
Final Thoughts
We've outlined the difference between affiliate marketing and referral marketing.
There is no one-size-fits-all solution for a business that aims to attract more customers because these two types cater to different audiences.
Affiliate marketing depends on how effectively third parties attract visitors to your website. Referral marketing leverages the power of personal advice from existing customers to their friends.
Affiliates should have a large following, popularize their blogs and channels, and promote relevant goods. In turn, referral marketing is about the quality of invited prospects. As these people come due to recommendations from someone they know, they have more chances to stay with your brand for a long time.
Nevertheless, referral and affiliate marketing have something in common. Both require spreading the word about the company, which should be influential enough to increase sales.
Need help selecting the best for your business, or maybe consider using both? Check our affiliate marketing consulting package so I can research for you.
Further readings: