You probably want to make money by purchasing a website, growing it, and then enjoying monthly profits or flipping it for a higher price. Awesome! In this guide, you will learn how to buy a website that will be a winner.
We've written this guide for first-time website buyers for five and six-figure transactions: small blogs, eCommerce stores, SaaS companies, and affiliate marketing blogs.
By reading it from top to bottom, you will find out why you should buy a website, what kind of business you should look into, where you can find them, how to distinguish real opportunities from scams, and how to determine the fair market value of a website before you make an offer.
Besides that, we will talk about how to complete a website acquisition and your next steps to start monetizing properly and making money.
Plenty of work, so let's start. You can read the guide from the beginning to the top or select from the table of contents below the section that interests you.
1. Five Reasons to buy a website
There are many reasons to acquire a website. Some people do it to have a semi-passive income (I'm afraid I have to disagree with those that say that a website is a passive income stream. If you don't take care of it and grow, it will eventually stop making money). Others because they want to improve their digital presence.
The most experienced ones buy to skip the first year or two of the cashless hustle common for online entrepreneurs.
The list of reasons could go on…
You may think you should start a website from scratch instead of buying one. I recommend you not to do it:
Here are, in my opinion, the top 5 reasons why you should buy a website:
1.1 Skip the first year or two of cashless hustle 👌
At MediaDigi, we've started around 50 websites and online businesses for our clients. Trust me when I say that the first two years are the most difficult ones.
That's because you must do many tests and tweaks to see what works and what doesn't. You don't know if your product or service is what the market wants and if, in the end, it will be profitable for you.

On the other hand, when you purchase a website already established, trust and authority in the niche come with confidence and control. It also comes with a product or service already tweaked and, most importantly, generating profits.
Of course, you may purchase a website that's not profitable. Still, if you go on that path, you should ensure that you have the knowledge, the resources, and the willingness to invest in reversing the trend and transforming it into a money-making machine.
1.2 Gives freedom 👌
Not being tied to a particular location or desk every day can be very empowering. Don't mistake freedom for time to slack off. True entrepreneurs respect freedom and understand that hard work is worth spending more time with their families and partake in activities that most miss out on because of their jobs.
1.3 Offers incredible scalability 👌
As Thomas Smale said, scaling any business is challenging, whether a brick-and-mortar location or an online business, but a website has advantages. For instance, a brick-and-mortar retail store has a defined audience, typically a radius from the business location. An online business isn't restricted by this and can market to a worldwide audience.
Once successful marketing and advertising strategies are identified, an online business can open up its target and increase the budget to grow quickly.
1.4 Gives access to a worldwide market 👌
A website can run 24/7 without boundaries. There are no geographical boundaries and no specific hours of operation. Also, it produces revenue around the clock, even while you sleep.
An online business can thrive with a well-thought-out social media plan, search engine optimization, and paid media strategies. You have access to the entire world right at your fingertips.
1.5 You are building an income-producing asset 👌
You should see a website as an asset. Everything you build (customers list, newsletter, blog and content, social media followers base, software, backlinks, reviews, etc.) increases the value of that asset.
Building and growing a website in these turbulent economic times comes with great benefits. Instead of seeing your hard-earned money eaten slowly (or not) by inflation, you should consider investing in a website that not even produces your revenue monthly but increase its value.
2. What kind of online businesses can you buy
There are many kinds of websites nowadays. To name a few: blogs, niche authority websites, affiliate websites, Shopify stores, SaaS, courses & consultancy, etc.
Next, we will talk in detail about five of them that I consider better to be purchased by first-time buyers.
2.1 Buying blogs
Blogs are significant assets because they have an active audience that sticks with the website. So buying a blog may be the safest way to increase your profits.
A warning: Stay away from blogs tied to a personal brand. When the previous owner leaves, the audience may leave the blog if the new owner can not engage them with the project.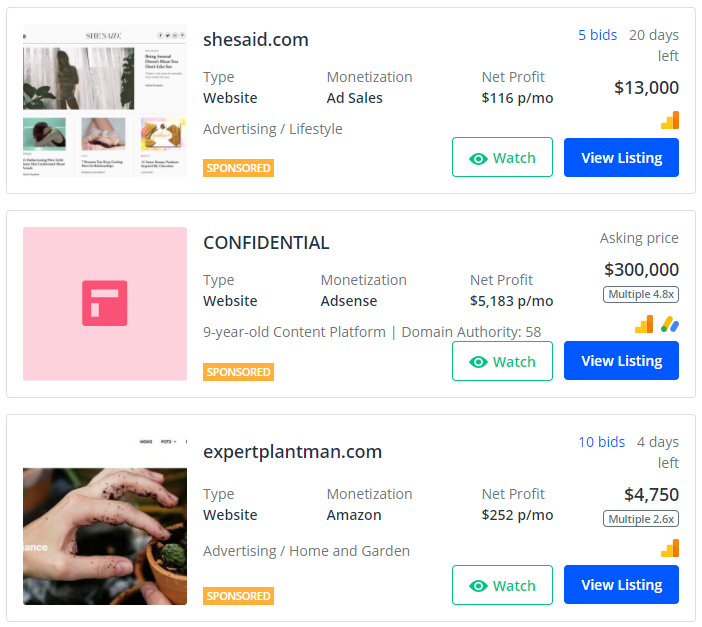 When you consider buying a blog, there are two significant questions to consider:
How is the blog monetized?
How do readers discover it?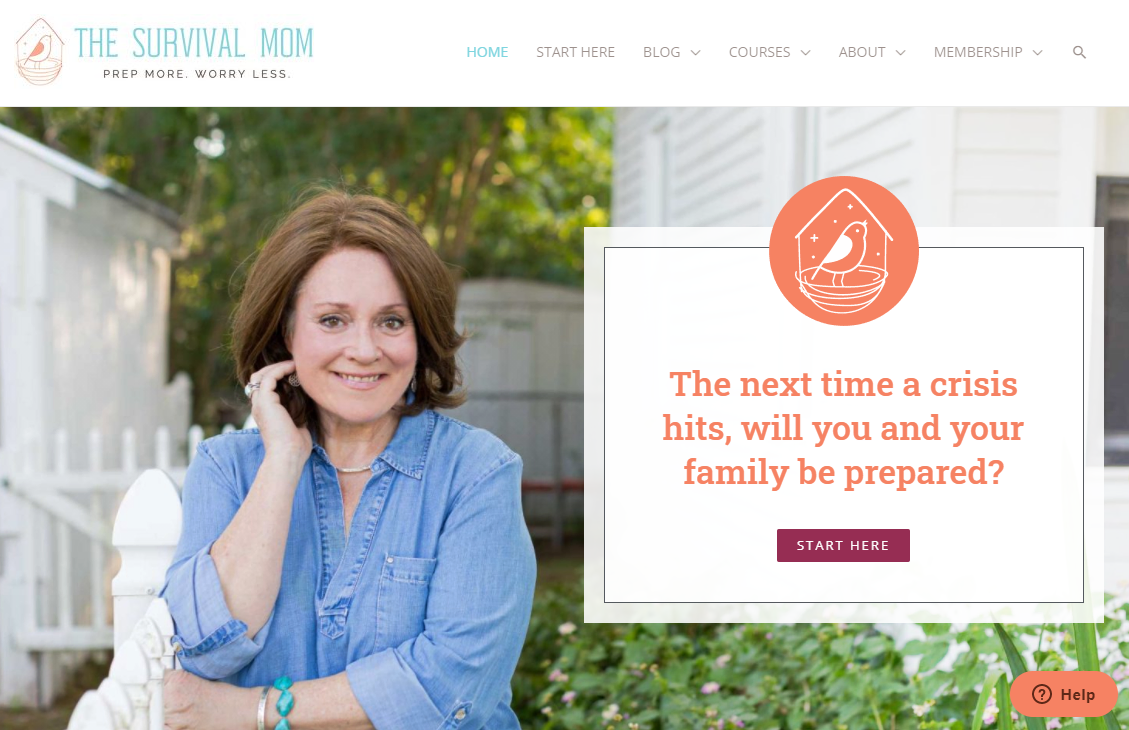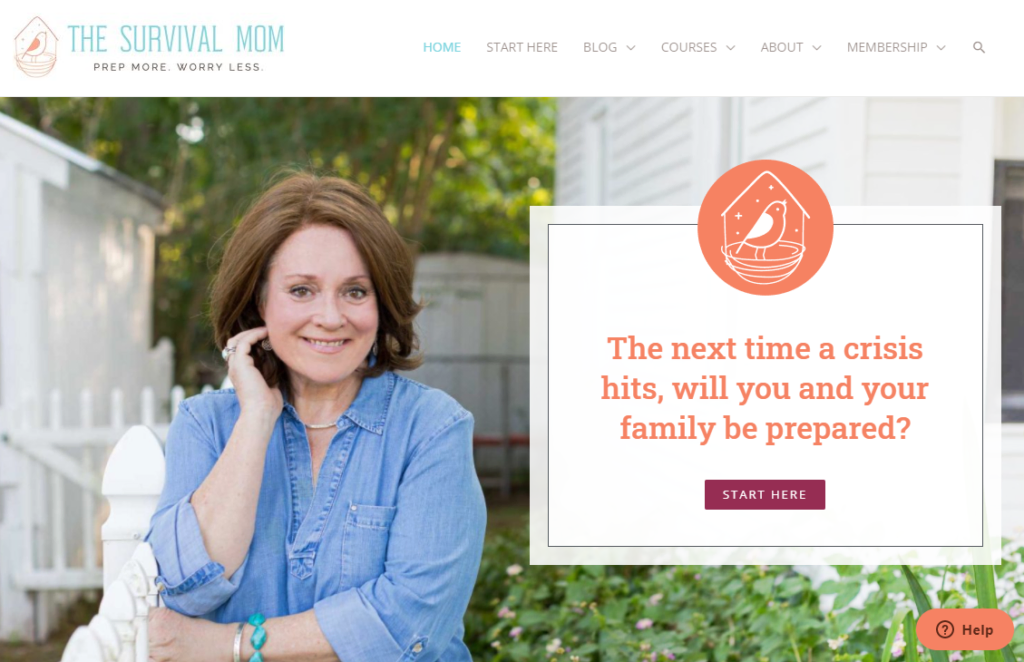 How is a blog monetized?
There are several common ways to monetize a blog. You can use display ads, affiliate marketing, sell digital or physical products, or offer professional services.
Once you know how the blog is monetized, you can look for low-hanging fruit in the form of under-monetized aspects of the business. Maybe the former owner only used ads and never took the time to add affiliate marketing or create and sell their digital products. That could be an opportunity to increase the monthly recurring revenue.
Or maybe the current ads are under-monetized. Every ad platform compensates people differently. It may be time to renegotiate with advertisers for better rates.
How does the blog receive traffic?
Do most of the blog's monthly readers come from social media? Paid ads? Search engines? A newsletter? Backlinks from other blogs? Here, again, is where you want to consider risk. If most of your traffic comes from a single source, how secure is that source?
Consider the example where most of your traffic comes from a single high-traffic blog post on another website. What happens if that blog post becomes less popular or even gets deleted?
2.2 Media and subscriptions
The media industry has historically been a target for private equity on a broad scale. Most newspapers and media outlets globally are owned by private equity firms or billionaires. And many of them these days have been bought, as opposed to building.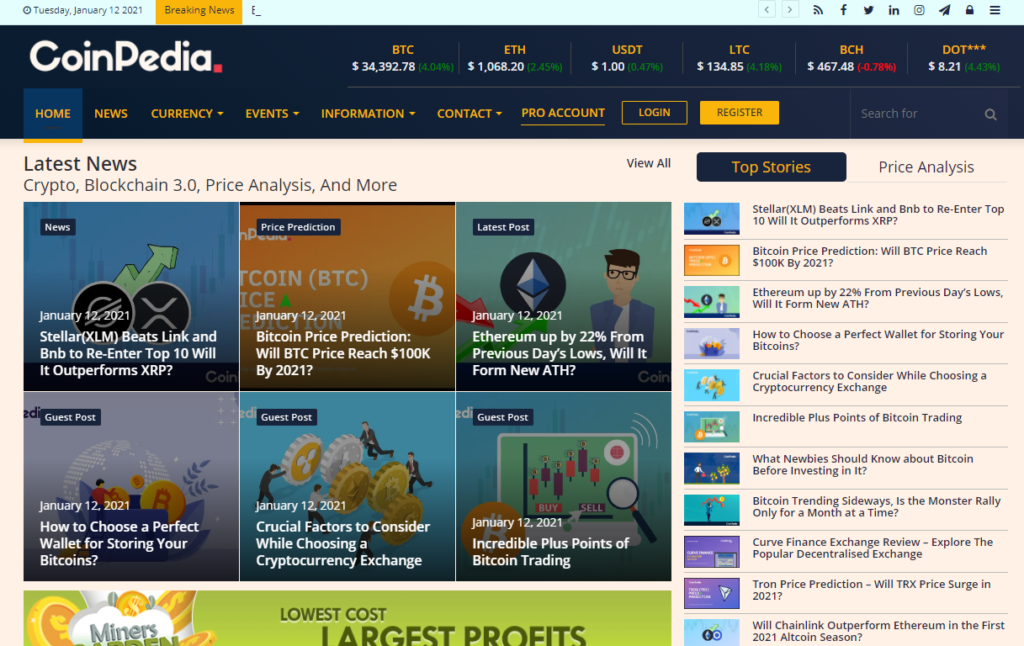 Private equity firms love subscription businesses and anything that has a steady cash flow. Everybody thinks it's a great idea, but it's hard work to create content consistently. So there's a mass graveyard of news and digital magazines with excellent backlinks and content but no longer have an audience.
2.3 Buying SaaS websites
Unlike content-forward websites that you can be run by a single person and independently, a SaaS can be a bit more involved. They often require technical expertise, a sales team, and the ability to hire skilled employees or freelancers.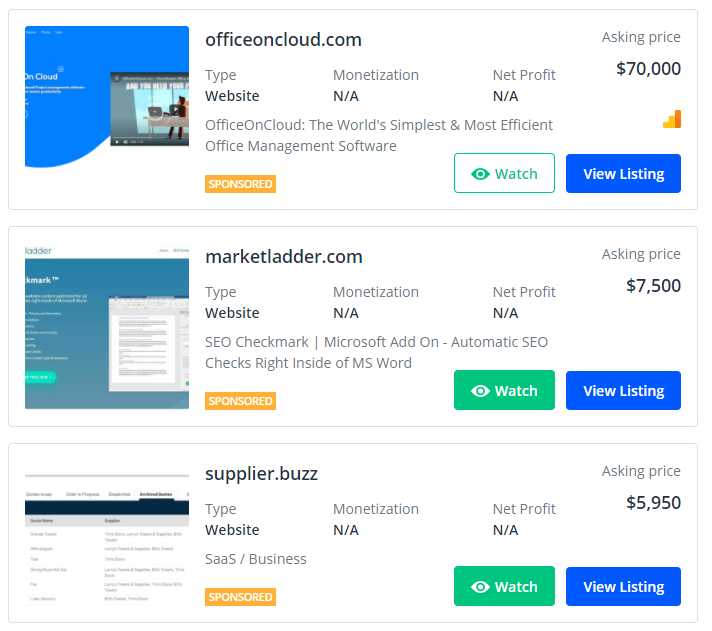 Also, SaaS companies have higher buying prices, lower margins, and require higher monthly expenses. Buying a SaaS company means solving customer problems using the software.
Factors to consider while buying SaaS companies are:
Knowing the industry – You need to know the industry and the customers' pain points. Otherwise, you will spend time designing functionality your customers are not interested in.
Consider Essential Metrics – You should study and analyze P&L statements, operational costs, annual revenue, and profit margins. You can also ask for marketing metrics like LTV: CAC, and ROAS.
The Pricing Model – Understand the pricing model and try to find ways to improve it. SaaS business models offer many pricing plans, including multiple-tiered options based on customers' needs, flat pricing, etc. The number of existing customers and customer acquisition rates can also influence this decision.
Source Code – Access to the source code is another essential consideration in a SaaS business. When I purchased my first SaaS program, the programmer never delivered the source code, so I had to stay with that buggy version for almost a year till I could get a team and recode it from scratch.
Customer Acquisition Channels – Find out the percentage of acquisitions made by each channel. A business that relies on organic, direct, and social media will likely improve its bottom lines. However, a business that relies overtly on paid advertising is unlikely to be sustainable in the long term.
Look At The Scalability – Can you improve customer satisfaction, enter new markets, and offer new services? Would that allow a slight increase in the pricing?
2.4 eCommerce websites
Statistics suggest that by 2040, 95% of all purchases will be via eCommerce stores. Moreover, the eCommerce industry is growing at 23% YoY. Buying or selling an eCommerce website can be pretty lucrative most of the time.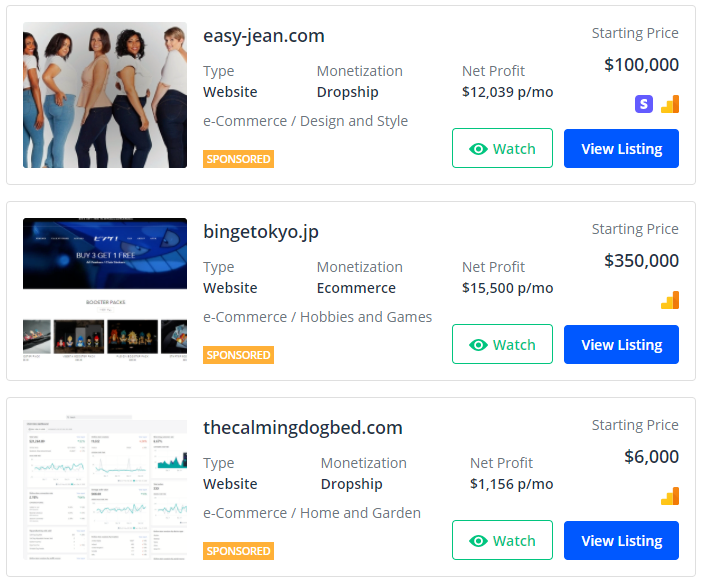 In my opinion, eCommerce websites are one of the most lucrative websites you can purchase but require the most attention. You should analyze the figures, profit margin, and traffic sources well, or you may end up with a store and inventory that are not profitable.
2.5 Affiliate Review Blogs
Unlike personal or business blogs, affiliate review blogs are designed from scratch to make money via affiliate marketing programs like Amazon Associates or others. They are designed around a niche, like kitchen appliances, and review products people search for.
Below are several examples of affiliate review blogs that are available for sale. As you will see, the niches are diverse, and I recommend purchasing only one if you have expertise in that particular niche.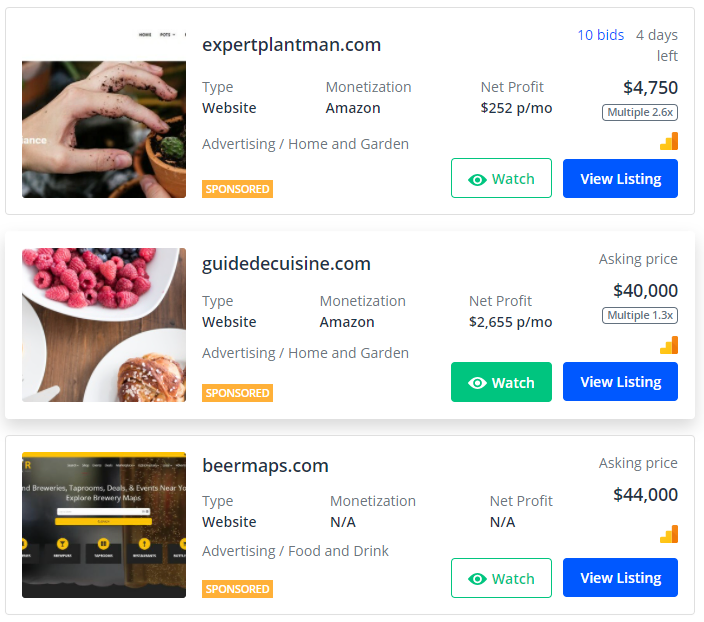 There are affiliate marketing blogs that make more than one million in profits year after year. It will not be easy to replicate their success, but with persistence and scaling your work, you can come close.
Check our guide on starting and managing affiliate marketing blogs that make $100K/year.
It's time for a short recap. Until now, you know the advantages of online businesses and what type of online businesses you can purchase.
Let's talk next about where you can buy websites.
3. Where can I purchase websites?
There are a few different routes that you can take to buy your future website:
3.1. Auction Sites for Smaller Websites
These services host auctions for sites and businesses and typically work well for small transactions (less than $100,000) as they are quick to list on and expose the sale to many buyers.
Yes, it's fun to scroll through endless businesses, but you typically have to act quickly and expect competition if you want to buy. These websites can attract a lot of traffic, and good deals don't last long before someone grabs them.
Here's just a handful of auctions sites to buy businesses:
Motion Invest – All the websites listed on their marketplace are verified and vetted by their team. Most of them are amazon affiliate websites with a monthly revenue ranging from $30 to $5000.
Flippa: If you don't mind vetting businesses on your own, Flippa is a trendy business marketplace. You can browse thousands of online businesses, with purchase opportunities starting at hundreds of dollars.
Exchange Marketplace: Owned by Shopify, this is an eCommerce marketplace exclusively for buying and selling Shopify businesses. The big benefit here is that Shopify uses its internal data about each store to verify numbers before you make a purchase.
Digital Point Forum – This auction forum has many just-started websites for sale. So if you are looking for new projects at low prices, you should pay a visit.
eBay – There is an auction section for websites on eBay where you can find goodies to purchase. Like on DigitalPoint, many of the listings are projects that just started.
3.2 Business Brokerage Companies
Business brokers are agents who help shop around a site. These companies typically help with due diligence, evaluate the business and help with the negotiation process. Of course, they also take a cut of the sale!
Here are several website brokers I recommend:
3.3 Cold email founders for off-market deals
The best deals happen where there's no competition. But finding off-market deals requires a lot of creativity and drive. They're called off-market deals for a reason. You're reaching out to people who may have no interest in selling.
This might be done through strategic emails sent out to companies you think might be interested in selling the websites. Look especially for companies you've dealt with before (advertisers, partners, etc.).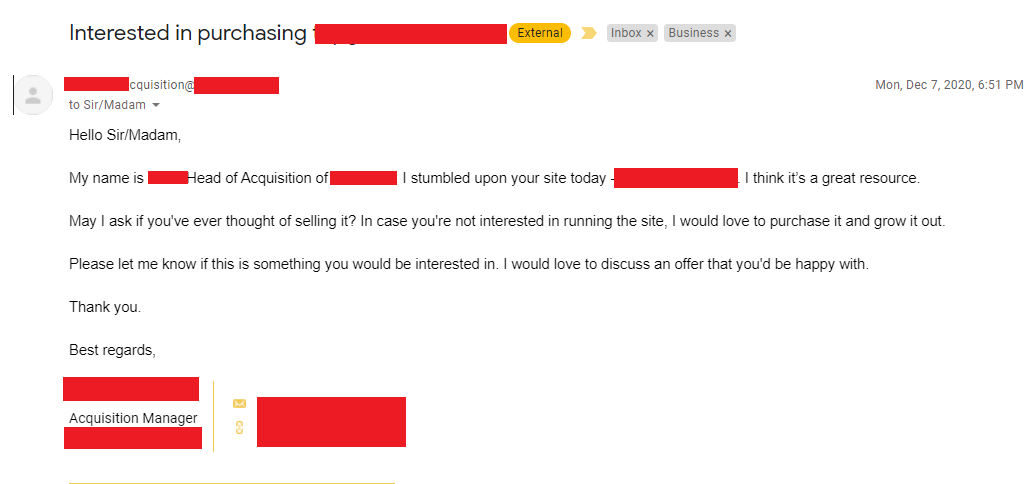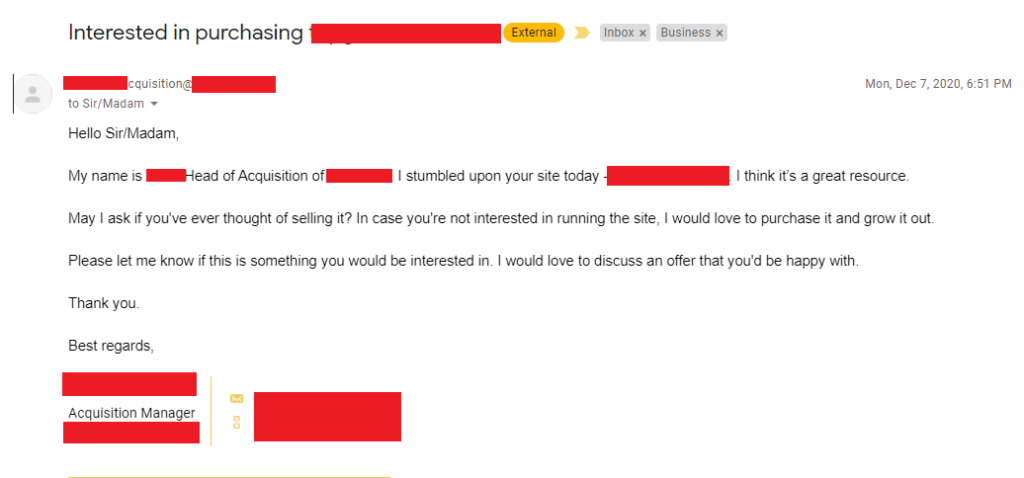 The rejection rate can be enormous, and you should get used to hearing "no thanks." But remember: you're playing a numbers game. Send enough inquiries, and someone will eventually be interested.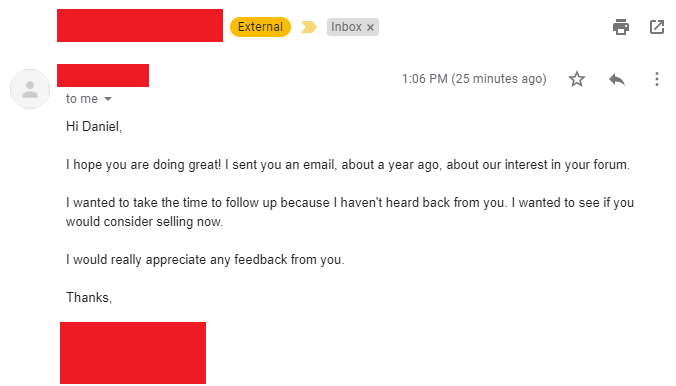 Now that you know where you can purchase businesses, find out how to evaluate them so you will learn to distinguish great opportunities from online businesses that are not right for you.
4. Best practices for vetting a business before you buy
This is a crucial step in spotting great opportunities from a bad investment. You should analyze with cold blood and don't skip any step. You will thank yourself later.
4.1 What's the trend of online business?
There are four states a website income might be in at any time. Depending on your strengths and goals as a soon-to-be business owner, you'll look at the month-over-month financial trends of the last few years in business.
1. Downtrend 📉
Different trends appeal to different buyers. Some people look at a downward trending graph and see an opportunity to flip a website. Others looking at the same chart see a sinking ship just waiting to become a disaster—they'll avoid trying to catch that falling knife.
2. Uptrend 📈
Upward trending businesses are similar. Maybe the business was riding a trend about to lose appeal and suddenly come crashing down. Others see an upward trend and buy in to ride the wave. It's always a judgment call.
3. Flat 📊
Perhaps the safest investment is in the businesses that produce consistent sales year over year. Yes, these are less flashy and exciting. But that's precisely why they may go under the radar of other investors.
4. Non-monetized 💸
These are websites that have never generated income. These may be valuable for their brand, audience, or product quality, but for some reason, they were never used to generate returns. Know how to monetize them? Great.
4.2 Ask yourself how you can grow the website
I've seen many websites that went downhill after the purchase. The main reason was the new owner's lack of time or experience to grow it further.
So before making any purchase, make sure you know how to manage, grow and monetize that particular business you are interested in.
4.3 Beware of scams and illegitimate businesses
There are ways to twist business metrics or give the appearance of substance without actually having a real business. Unfortunately, people try to scam aspiring business owners every day.
Businesses are often set up so inefficiently that a proper business transfer isn't possible without losing customers.
Here are some of the most common you should look for when vetting a business:
Are the website traffic and sales real?
Many sellers purchase traffic and offer incentives to generate sales to get better figures before selling a business. After you buy it, they stop advertising spending, so the traffic and sales drop. Make sure the business you are purchasing has steady growth and that all the figures presented by the seller are real.
Does the seller use any black hat SEO tactics to grow the website?
It is crucial to check the website's SEO metrics and analyze the growth diligently. Some sellers use black hat SEO tactics to grow and sell the website. After several months Google catches the website and penalizes it so you can experience up to a 90% drop in traffic and sales. Make sure all the SEO and marketing tactics are legit.

Is the website piggybacking on a trademark without authorization?
Some websites have experienced growth by piggybacking on registered brands like Apple, Amazon, Microsoft, etc. However, if they don't have the proper authorization from the brand owner, you will end up with a cease and desist letter to stop your activities. This means a total loss for you.
Is the underlying software transferable?
A common problem in small subscription businesses is PayPal accounts, which are personal to the user. To transfer a business using a PayPal account, the new owner has to request each customer to sign up on a new payment processor—which is almost certain to lose many users.
Fortunately, Stripe doesn't have such a problem.
Is it defensible against the competition?
Many affiliate stores can be set up in a day or two. They drive all their traffic through ads to the website and then sell it while affiliate income is high. The problem is, nothing is stopping a dozen other people from stealing your idea—and your traffic—using the same model. It's not easy to defend against the competition.
So always conduct due diligence. Due diligence should include a close review of the financial and operational health of the business. Potential buyers should look for and understand the acquisition cost-to-revenue ratio, review the business's site traffic, financials, and what assets are available in the sale.
4.4 Look for businesses with competitive advantages
To ensure your newly purchased business is not replicated by a competitor, ensure it has some competitive advantages that others can't quickly achieve.
Potential competitive advantages of online businesses:
Diverse website traffic: A business with multiple strategies for gaining website traffic is hard to replicate or disrupt. Even if one traffic source dries up, they have others to lean on.
Diverse monetization: There's power in having multiple income streams. This moat is safer for your business, often means safer (and more) money for the stakeholders, and is more challenging for competitors to copy.
Strong search traffic: Not all marketing funnels are created equal. Organic search is one of the hardest (and slowest) traffic streams to disrupt. Having a solid search presence can be a moat against competitors.
A large (and active) email list: An email list is an audience and can become a business unto itself. Growing an engaged email list requires a lot of effort. It's tough for others to copy.
Trademarks, patents, and intellectual property: Do you own the secret formula? Or a secret algorithm? Various patents and intellectual property can differentiate your business through exclusive technology or knowledge only you have.
A five-star listing with hundreds of online reviews is compelling in marketplaces. Reviews are one of the highest forms of social proof. They show future buyers that you offer a popular product that delivers on what it promises.
5. How much should you pay for a website?
I've bought and sold websites and have helped other website owners to purchase sites. That average of 25- to 35-times monthly profit is accepted, but it leaves much room for negotiation.
You will hear most of the time that the cost of a website is determined by how much annual profit it brings in.
If we were to put this into a straightforward formula, it might look like this:
[Annual profit] x [determined multiple] = Sale cost
5.1 How to evaluate the annual income of a website
Understand that many income sources are difficult or even impossible to verify. This means there's a risk that the owner is inflating the website's income to get a better price.
Steps to estimate and verify a website's income:
Verify the website traffic through access to Google Analytics and Google Search Console.
Verify sponsored posts with the sponsor over the last three to six months.
Ask to see any reports from affiliate networks to verify affiliate commission.
Ask for a detailed list of expenses for running the blog, including the plugins used.
Even if you can verify the income reported from each source, the income source and percentage of total website income will determine the amount you should pay.
So how much is a reasonable multiple to pay for a business?
The range for this usually falls between 2x to 5x annual profits.
Here's what that means in actual dollars:
You can buy low-profit companies earning hundreds of dollars per month for several thousand dollars into the low five figures. If you want a business bringing in $1,000 – $2,000 in monthly profits, you usually look at mid-to-high tens of thousands of dollars.
And once you start looking at businesses earning $2,500 – $6,000 in monthly profits, you're talking about a low six-figure investment.
Here are several examples of how to do a price calculation for websites: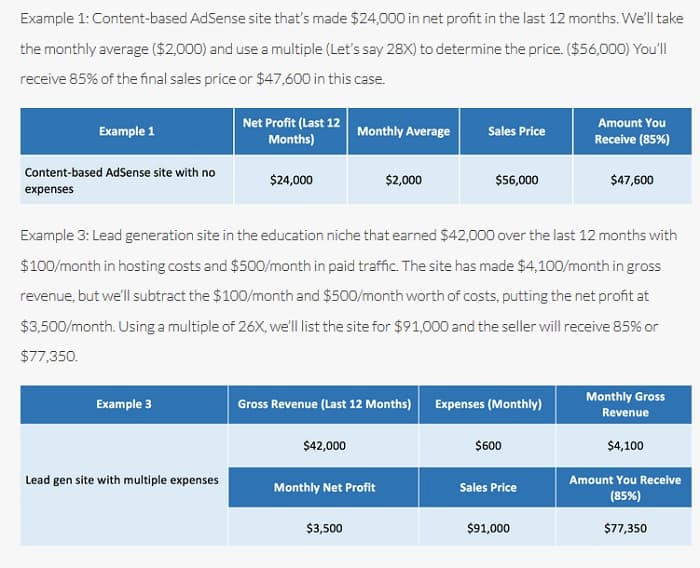 6. What financing options do you have?
Most buyers looking to purchase an online business have all the funds ready.
However, if your funds are tied up in your current company or other business endeavors, there are several things you can consider:
6.1 Look for potential investors
As long as you have a part of the funds, you can seek potential investors who will cover the rest for company shares and/or profits. This lowers your initial costs but multiplies your time and headaches trying to work with a partner. It also means you'll have to split any profits from the business.
So if you want to go on this path, check your business contacts and ask them if they are interested.
6.2 Get a Small Business Administration Loan
The SBA is a federal agency that helps small businesses get loans. They don't issue loans themselves but instead work with lenders to overcome obstacles to business lending, such as guaranteeing loans, reducing risk, and sourcing capital.
Whether you've been declined credit before or have a poor credit history doesn't matter. You might still qualify for a loan with the SBA. That said, they do have specific eligibility requirements, including:
The business must trade in the US.
You must have invested in the business yourself.
It must be a for-profit business.
You must have tried but could not source funding from traditional lenders.
You can borrow up to $5 million, which is more than enough to acquire small or even medium-sized businesses. However, you can only borrow what you can afford to repay, which an SBA-approved lender will determine when you apply.
As a federal agency, the SBA enforces responsible lending and risk management so lenders can afford to charge lower rates and fees.
6.3 Get a Home Equity Line of Credit
If you have more than 20% equity in your home, you may qualify for a home equity line of credit (HELOC). A home equity line of credit (HELOC) taps into your home equity value and functions similarly to a credit card. Still, the interest rates are often significantly lower.
You have access to HELOC funds on a revolving basis for a defined period, after which you must pay it back with interest at a variable rather than a fixed rate.
You need to know when and how much your interest rate might change before you borrow. Will you be able to afford the monthly payments if they go up later? How much of an increase can you stomach?
Keep in mind that the equity in your home is what you use as collateral for the loan, meaning that if you cannot pay it back, you could lose your home in foreclosure.
7. Make an offer and do price negotiations
After reviewing the business selling prospectus, following up with Q&A, and conducting your due diligence, you should be ready to make an offer for the business. 
The most important things to factor into a competitive letter of intent are: 
Consideration

– make it explicit what the offer structure is. What is the split between upfront consideration vs. holdback and seller financing? What are the conditions attached (if any)?

 

Owner financing

– financing is typically offered on a case-by-case business. The majority of smaller transactions are all-cash.

 

Non-compete 

–

 

most sellers will typically commit to a non-compete agreement of 2-3 years but ensure you ask for this in any event.

 

Speed and certainty 

–Often, the best offer is not the highest but with the most significant degree of speed and execution certainty. Buyers that can proceed through due diligence, legal workstreams, and into closing the fastest will be more likely to have their offer accepted from the outset. 
Below you can see an example of a letter of intent (LOI) we received: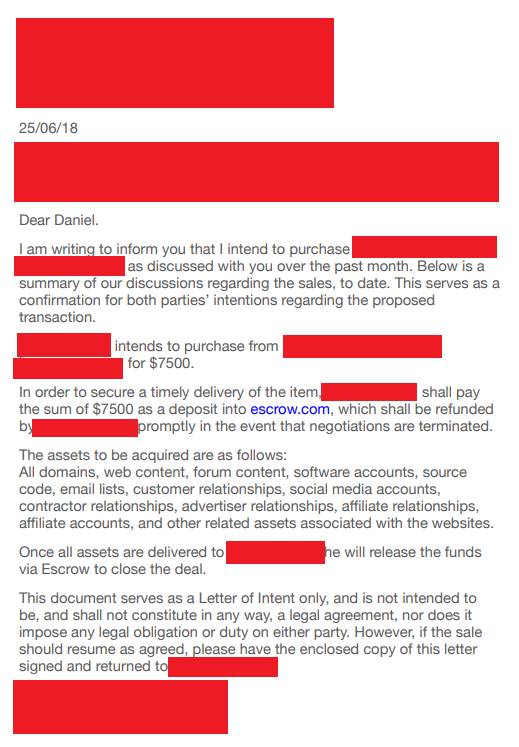 8. Complete the purchase
I recommend using an escrow process to facilitate the secure funding of the transaction and transfer of assets. The go-to solution below $500K is usually Escrow.com. Be highly cautious about transferring funds outside of an escrow service.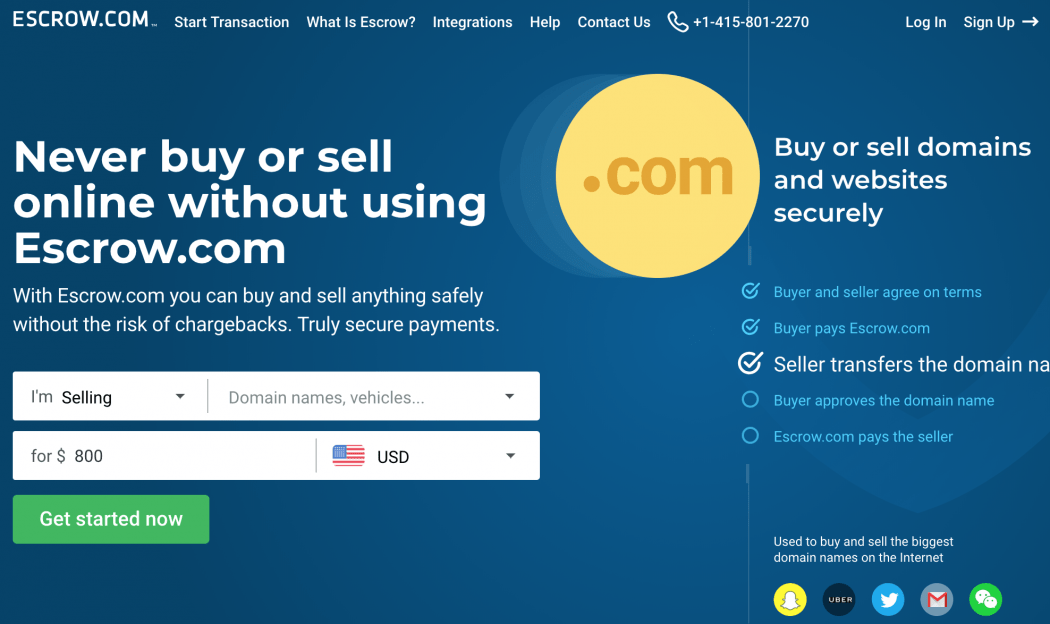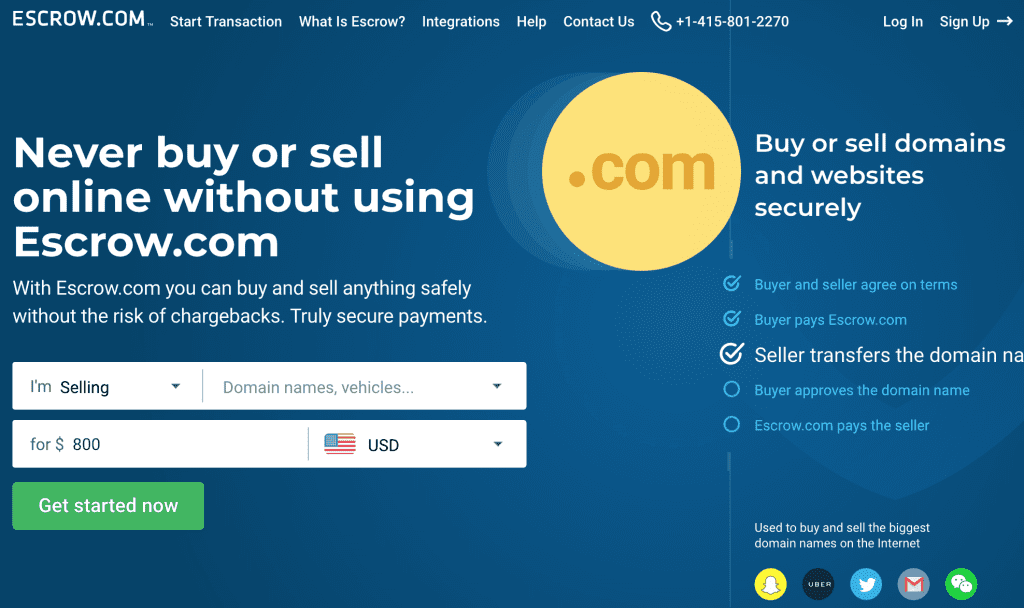 8.1 Assets Transfer and Inspection
The transfer of assets usually involves (but is not limited to) the handing over of: 
The domain name(s)

Website content

 

Branding assets.

 

Social media accounts.

 

Client database (email lists)

 

Source code repository

 

Advertising and affiliate accounts (if applicable)

 

Physical inventory

(if applicable)

Services accounts (e.g., OptinMonster, HelpScout, etc.)

 

 
In the sporadic case that assets have been misrepresented or not transferred in their entirety, the buyer can notify the escrow agent during the inspection period. Escrow.com staff will reverse the transaction if there is a legitimate misrepresentation.
However, the escrow inspection period is not a "try before you buy" – once all of the assets listed in the APA are transferred, accounted for, and operational, the buyer is expected to release funds immediately. 
8.2 Support from the seller
After the transaction has closed, there is typically a 1-3 month period of training and support where the seller helps the buyer learn the business's day-to-day operations. Occasionally, in transactions with contingent consideration or seller financing, the seller will maintain a high level of involvement to meet mutually agreed performance or training goals. 
Make sure that the level of post-sale support is agreed upon beforehand.
9. What are the next steps after buying a website?
Now that you ultimately control the online business and the transition went smoothly, you should start growing it. I've seen many sellers trying to rush making as much as possible of their investment back and not further investing in the business.
They do this by adding more advertising or running extensive discount campaigns. In the long run, this will devaluate the business, and I don't recommend doing it.
First, you purchased the business because you wanted to grow an asset, not because you wished to earn money fast, no?
10. Buying an online business FAQ
How to buy a website?
In this complete guide, we describe step by step the process of purchasing a website: what kind of business you should look into, where you can find them, how to distinguish real opportunities from scams, how to determine the fair market value of a website before you make an offer and how to complete the transaction without issues.
How much does it cost to buy a website?
Usually, most websites sell for a multiplier of 2 to 5 of annual profits. But this is not always true. There may be websites with exclusive trademarks, proprietary software, a vast customer base, or marketing deals that need to be considered separately.
Is buying an online business a good idea?
There are numerous benefits to buying an online business. To name a few:
Skip the first year or two of cashless hustle 👌
Gives freedom 👌
Offers incredible scalability 👌
Provides access to a worldwide market 👌
You are building an income-producing asset 👌
11. Tips from people that purchased websites
Emilia Gardner bought websites from both Empire Flippers and Flippa back in 2019. In the video below, she gives her unbiased opinion about buying passive income websites through both companies. She drops a few points for you to consider as you move through the website buying or selling process.
Ahrefs have a step-by-step video tutorial for finding and identifying undervalued websites.
Zach Zorn from MoneyNomad shares in a video review what he learned from spending $49,000 buying an affiliate website:
Conclusion
Buying an established website or an online business can be a great way to buy into a successful venture and start making money right away… you could even make back the money you invested in the purchase reasonably quickly and then enjoy steady monthly profits.
We hope we've managed to shed some light on the issue of buying a website or an online business.
Purchasing a website in the price range of five and six figures isn't something you can do overnight. It requires an investment of both time and money.
You can hire us if you need help getting a professional website or online business evaluation.
Are you on the other side of the fence, and you'd like to sell a website? Check our tutorial for website sellers.