This article will review the 21 best advertising networks for publishers in 2021. Also, I will show you how to signup and get approved in these advertising networks, what's best for you and how to get your payments.
The ad tech industry is highly disruptive. Therefore, it wouldn't be a stretch to say that Google has competitors who give them a good run for their money.
It may take many hit-and-trials to figure out which ad network, or even a combination of ad networks, generates the highest revenue for publishers.
However, when you finally do figure it out, it would be worth the effort.
The Best Ad Networks for Publishers
When we talk about monetizing your blog or digital magazine, the first name that pops up is Google AdSense. While there's nothing wrong with that—it is, after all, the world's largest ad network.
However, to sit on the assumption that any ad network can't outdo AdSense is so far from the truth.
As I said, the ad tech industry is competitive with many players who want a pie slice. That's why most networks focus on optimizing ad delivery and finding the best ads for your website, which translates into more money for publishers and better results for advertisers.
As a publisher, this is good news for you as these networks try their best to increase your website revenue and make you stick with them.
So here are some of the best ad networks for publishers looking to boost their yield:
1. AdStyle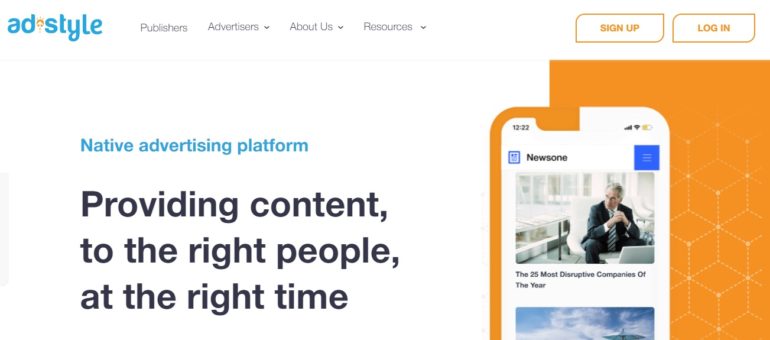 AdStyle is a native advertising platform serving 65B impressions to 210M unique visitors each month. Their partners include Estee Lauder, Booking.com, Nestle, and many others. Unlike other types of advertising like display ads or popup ads, native ads integrate well with the website's content, not creating friction for the readers but also improving the conversion rate.
AdStyle promises to be one of the best advertisement networks out there. It has a lot to offer, with features like 24/7 customer support, excellent payouts, a personal account manager, and a dashboard filled with all the metrics you need.
AdStyle Review
AdStyle can be considered one of the best native advertising networks, providing value for both publishers and advertisers. As a publisher, once approved, you will gain access to high-quality native ads, with only a small amount of time or effort needed to get up and run. You will also receive 24/7 technical support. On top of that, you have a min. payment threshold of only $50 so you can implement ads and get paid easily.
AdStyle's rigorous quality controls also ensure that publishers can rest assured that their content will be matched up with brand-safe ad content.
I advise publishers to check out AdStyle if they're looking for an alternative to their existing ad network or their first native advertising platform.
2. Media.net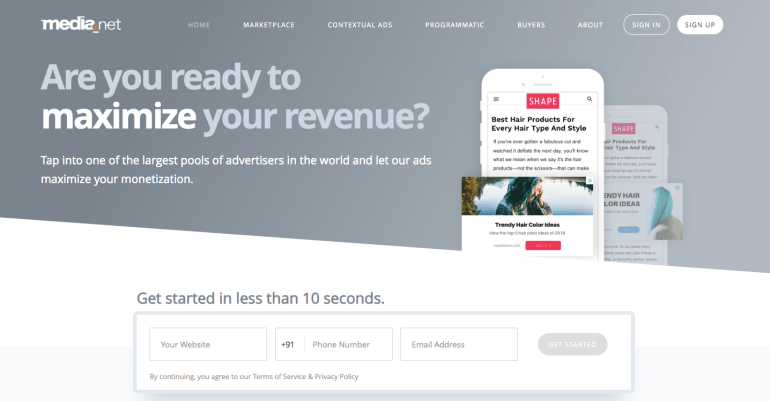 The ad network supports standard IAB ad sizes and has access to high-quality ads from all major DSPs. Moreover, Media.net supports display units desktop interstitial, in-content native, and mobile-docked ads.
Media.net affiliate program:
The media.net affiliate program offers you 10% of your referral's earnings until 12 months from the first day they go live. Your referral publisher earns a BONUS 10% on their earnings up to 3 months from their first live date. So it's a win-win for everyone. The affiliate dashboard comes with links, banners, and detailed reports of your performance.

Media.net review:
Media.net serves ads from Yahoo! Bing contextual ad network, which comprises many national and local advertisers, ensuring a 100% fill rate across all verticals and ad formats. Some of Media.net's publishers include Forbes, Elle, Reuters, Cosmopolitan, Esquire, and more.
3. Ezoic
Ezoic review:
Ezoic claims to make more money with the same traffic you get. That's possible because: [1] they extensively test the best ad placements for your site, [2] have optimization software that will increase your page speed if you route your site through their servers, and [3] they offer you access to Google's Ad Exchange program. The Ezoic advertising network is a higher-tier ad network than Adsense from Google.

Ezoic worked with over 21,000 websites, increasing their revenue by an average of 115%. They also have an affiliate program that pays you 3% for all the earnings of the members you bring in. You can signup using our affiliate link below:
4. Mediavine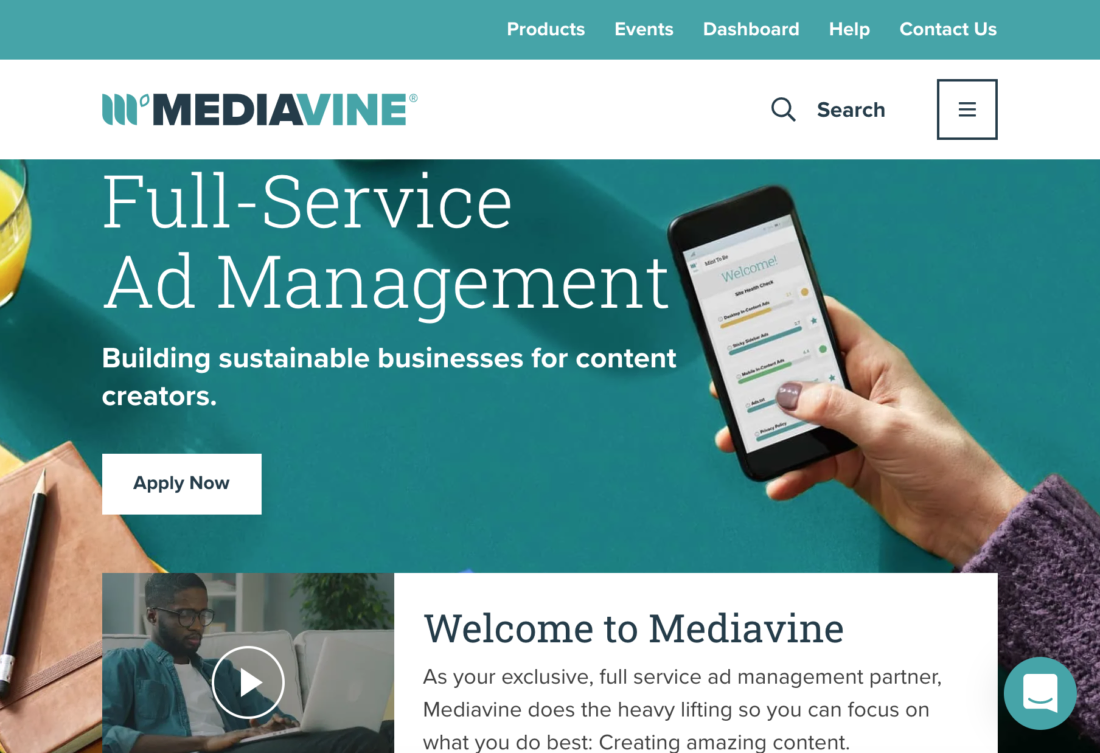 Mediavine review
Mediavine is a fully adaptable, ready-to-grow, future-proof, fully serviced ad management company. They work directly with the largest ad exchanges and advertisers to get maximum profit for their ad inventory. This results in faster load times, improved user experiences, and more traffic.
They focus on cooking, fashion, and DIY content. I like that, just like Ezoic, they invest in the platform offering improvements for publishers: lazy load ads, recipe plugin for food bloggers, social sharing wp plugin, etc. In my opinion, Mediavine it's a great network to switch to once you hit their minimum requirement to be approved into their network.
With the combination of Google Adsense ads and Mediavine's partners, they have a precious inventory of ads. They also give you 75% of the earnings, compared to just 68% with Adsense.
5. adThrive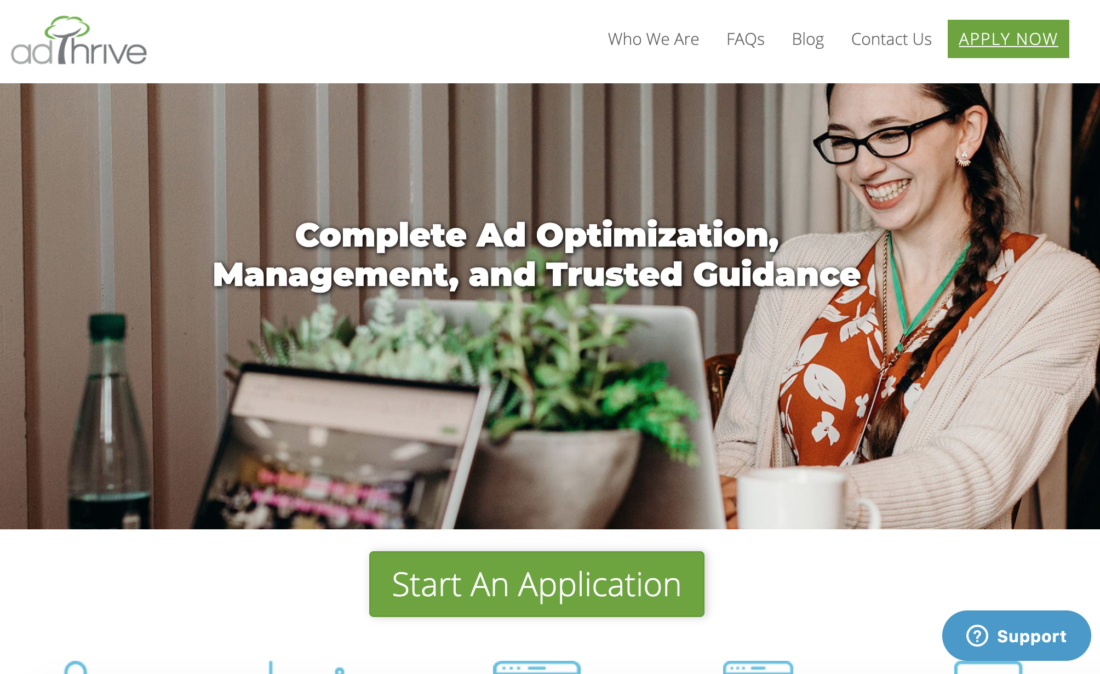 adThrive review:
adThrive is widely recognized as the best CPM-based ad network for bloggers. However, this also makes AdThrive selective regarding new bloggers who want to join.
adThrive is incredibly helpful and supportive of their publishers. Their staff is well versed in the realm of publisher advertising, and they've always managed to take their time and answer all my questions. Also, they offer courses that can help you boost your RPM and earn even more passive income with your blog.
adThrive also gives publishers 75% of the earnings, and they have a vast network of advertisers. However, it's not easy to get accepted.
6. Monumetric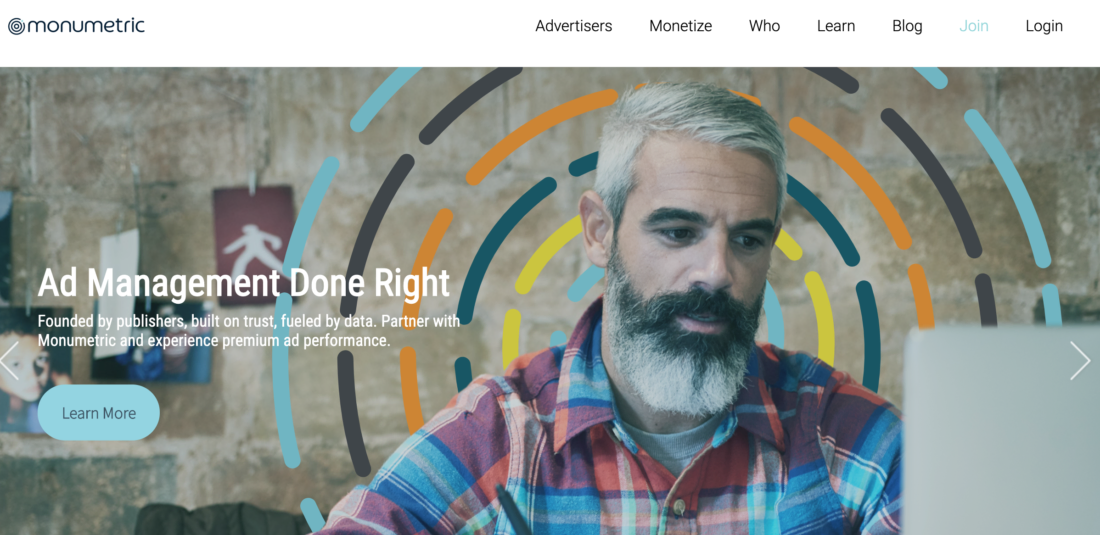 Monumetric review
Monumetric has a bit of a different strategy from the other ad display networks mentioned above. They will automatically show dynamic ads based on your content and your visitors' interests.
Most ad networks like Google Adsense only offer static ads. With Monumetric, the ad units will continuously update and show new ads even if the reader stays on the same page. Because of this, you'll generate more clicks, ad impressions, and more revenue.
Some bloggers claim that switching from AdSense to Monumetric increased their blog ad income by 1,000%.
7. ExoClick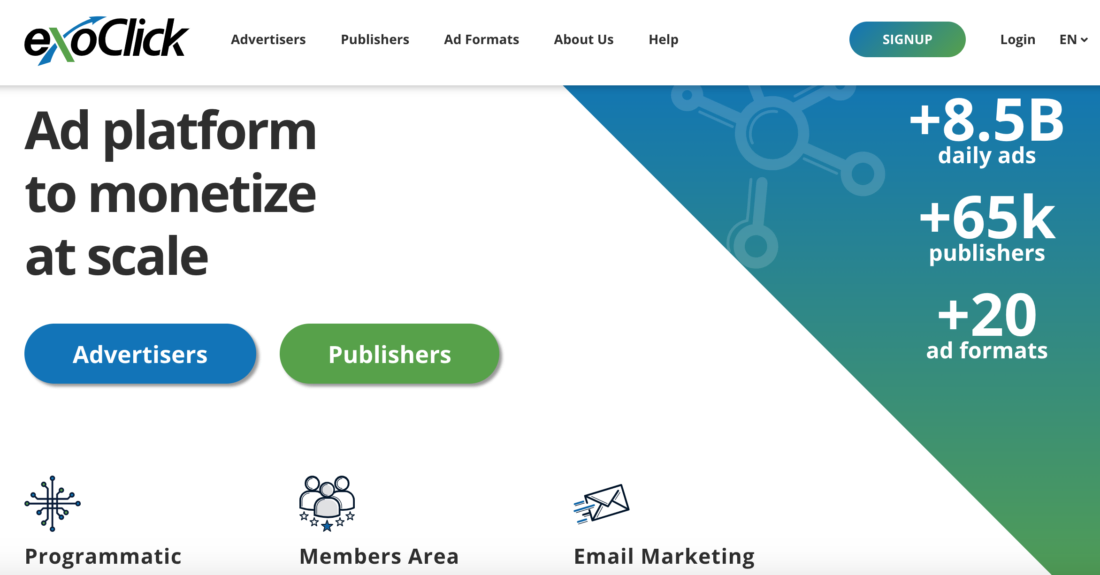 Exoclick review:
Founded in 2006 and based in Spain, ExoClick provides two channels for advertisers and publishers: An Ad Exchange and an Ad Network. They serve 7 billion geo-targeted ads daily via our ad network and exchange.
If your site is in the Adult, Lifestyle, and Entertainment niche, ExoClick is the right ad network for you!  ExoClick will ensure your ads perform better than your competitors.  As a large publisher for the adult niche, your ads can be published in over 20 different formats with optimized and behavioral targeting.
ExoClick offers 5% of the revenue from referred publishers for a lifetime as long as it remains online.

8. RevenueHits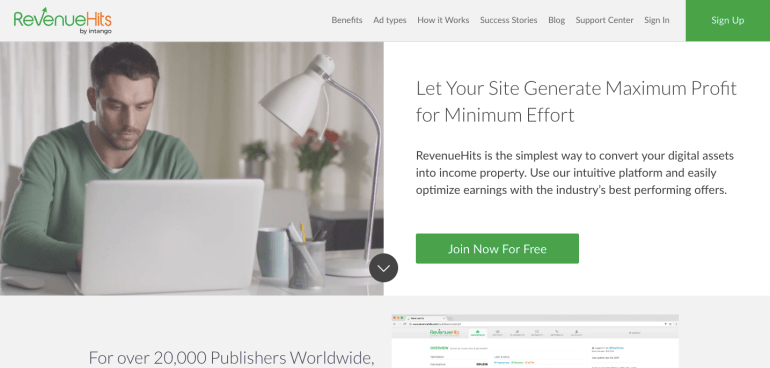 RevenueHits review:
RevenueHits uses contextual and geo-targeted ad-serving technology, making it a favorable choice in the times of GDPR一monetize websites, mobile sites, add-ons, widgets, toolbar, and more.
It serves over 2 billion ad impressions daily with a 100% fill rate promise across all geographic regions. Besides display ads, the ad network lets publishers monetize their websites using text ads, pop-ups, apps, widgets, XML feeds, and other custom formats.
Revenue Hits don't pay based on clicks or impressions. Instead, your income with them is based on a cost per action (CPA) model. When you signup, you will be automatically enrolled in their affiliate program. For a publisher with monthly revenues up to $1500, you will receive a 5% share from his earnings for one year. For a publisher with monthly revenues over $1500, you will receive a 10% share from his earnings for one year.

9. PropellerAds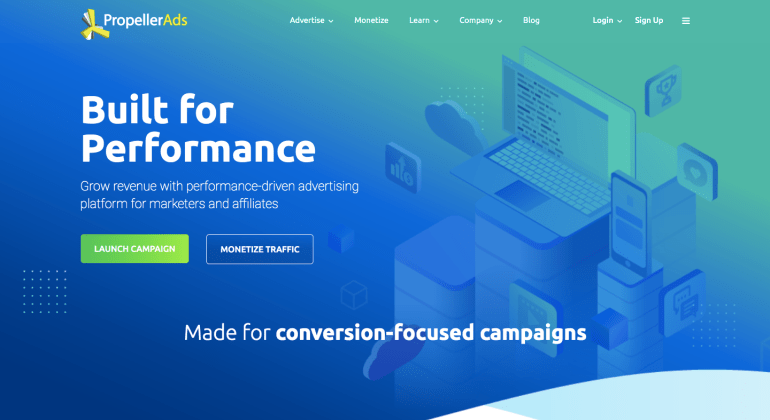 PropellerAds review
PropellerAds support banner ads in all standard sizes, such as 728×90, 300×250, 160×600, 120×600, and more, apart from on-click and in-banner video ad formats. Therefore, publishers can expect CPMs as much as 1-2$ for the US and UK inventory if the ads are positioned strategically.
They have 3,000 active campaigns worldwide and perform manual checks to remove all unsafe and suspicious advertisers—ensuring high ad quality. Publishers benefit from a 100% monetized inventory, in-time payouts, a personal account manager, and detailed real-time reporting.
With minimum payouts of just $5, you don't have to wait to reach a high payout threshold. PropellerAds supports a good selection of payout methods, too.
10. Adsterra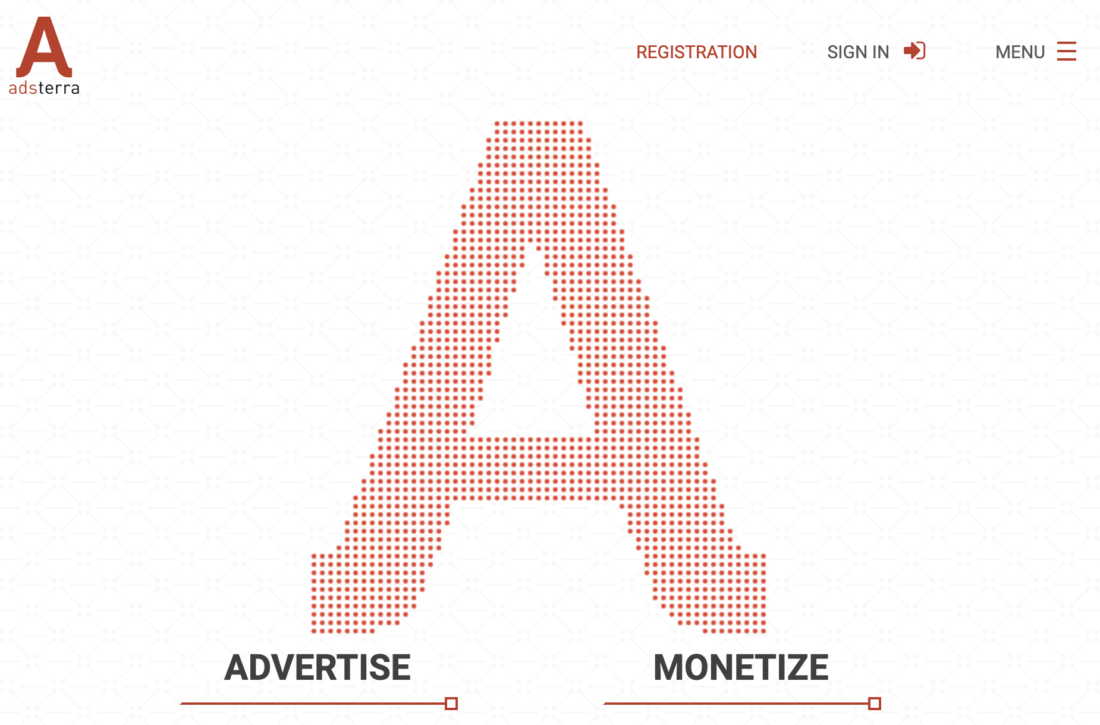 Adsterra review:
Adsterra is a smart technology publisher ad network. They claim 100% fill rates and take pride in their custom solutions. Moreover, the ad network offers the highest CPMs and safety against bad or malware-hit ads through its fraud protection detection systems.
Adsterra offers the most effective web- and mobile-based ad formats, viz. For a website or mobile app inventory, interstitial ads, display ads, direct links, etc., respectively. Recently, Adsterra recorded about 50K campaigns across 190 geographies serving over 22 billion monthly impressions.
Adsterra has a referral program that offers 5% of the revenue from the publishers you referred for a lifetime.

11. Infolinks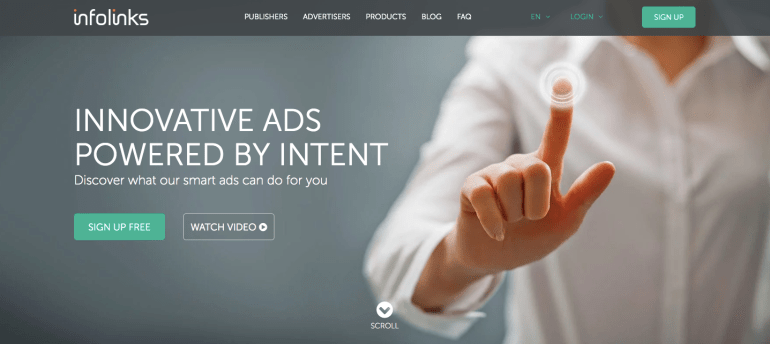 Infolinks review:
Firstly, banner ads have one big problem that results in revenue losses: banner blindness. Users (consciously or subconsciously) ignore the ads because most break the content experience. Infolinks solves this problem by offering an innovative set of free-to-use and profitable ad units. InFold (overlay ads), InText (text links ads), InTag (tag cloud ads), InFrame (banner ads in margins and frames), and InScreen (smart interstitial ads).
Infolinks generate high monthly revenue for over 100,000 publishers. They work with the biggest advertisers, Facebook, Microsoft, Amazon, and eBay. The platform is simple to integrate with a website and is open to any publisher with no setup fees and no minimum page views or visitor requirements.
Please note that it can take several days until all advertising partners of Infolinks have reviewed your site. The partners will find the best ads to display on your site to ensure your earnings are as high as possible.
12. ClickAdu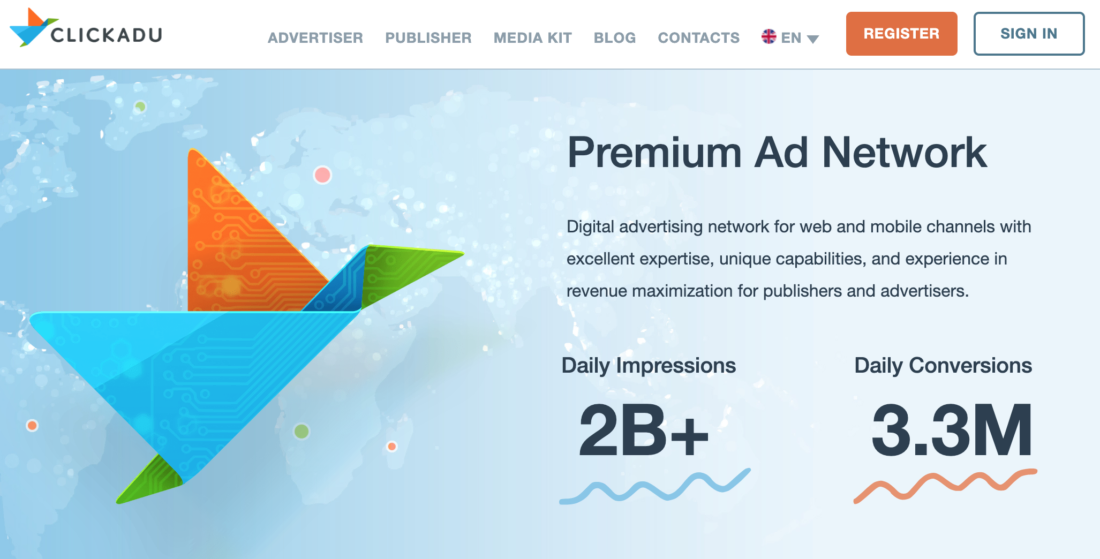 ClickAdu review:
ClickAdu is a digital advertising network to maximize the revenue for publishers. They serve over 250 million impressions daily with an active base of 1300 publishers and 6500 campaigns.  Besides, the ad network offers high CPMs based on nearly 240 countries with 100% ad fill rate assurance.
The most common ad formats they offer are pop-up ads, video, and pre-roll ads. Above all, the ad network will soon serve display banner ads, which could deliver a decent CPM-based model for publishers.

13. Adcash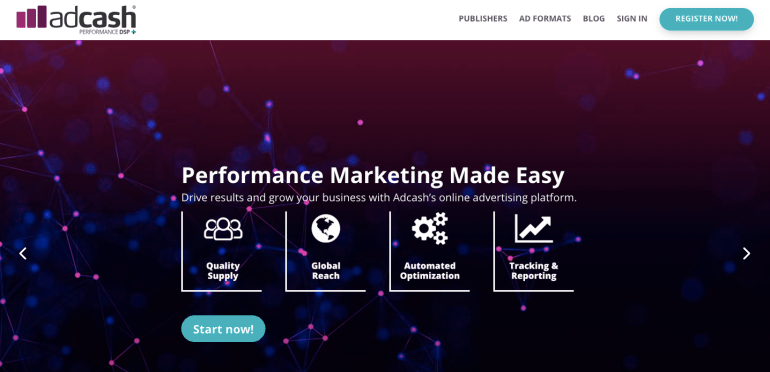 Adcash review:
Adcash DSP+ is an online advertising platform for advertisers and publishers with 10 000+ active campaigns worldwide.
It offers all the best-performing ad formats for web and mobile monetization, including pop-under, native ads, push notifications, banners, and interstitials. They have many tools and features that help publishers monetize their traffic more effectively, and their technology bypasses adblockers.
Publishers can expect high eCPMs, flexible payment terms, real-time stats, and support from them. Their experienced and multilingual account managers help publishers take their monetization strategy to the next level.
AdCash Affiliate Program:
AdCash also comes with an affiliate program so you can invite new publishers to monetize their website traffic and earn 5% of their lifetime earnings.

14. BidVertiser

Though your mileage may vary, Bidvertiser is an ad network with an exciting monetization model. In addition to earning money for each ad that is clicked, the publisher also makes additional revenue when the click leads to a conversion, i.e., sales for the advertiser.
BidVertiser supports multiple ad formats, including banners, skyscrapers, rectangles, and others. And publishers can use the provided point-and-click tool to customize these units' layout to match their website's look.
Their bidding system ensures that publishers always get the highest possible revenue from each ad unit. Publishers can easily monitor their ad performance, clicks, click-through rate, and the total amount they've earned using the reporting interface.
Bidvertiser Affiliate program:
BidVertiser also comes with an affiliate program so you can invite new publishers to monetize their website traffic. When a user signs as a publisher and first earns $10, they'll credit your account with $10. When that same publisher makes $50, they'll credit with an additional $40.

The min payments are pretty low for each of the following methods: PayPal ($10 min), BTC ($100 min), Check ($100 min), Bank ($500 min).
15. Coinzilla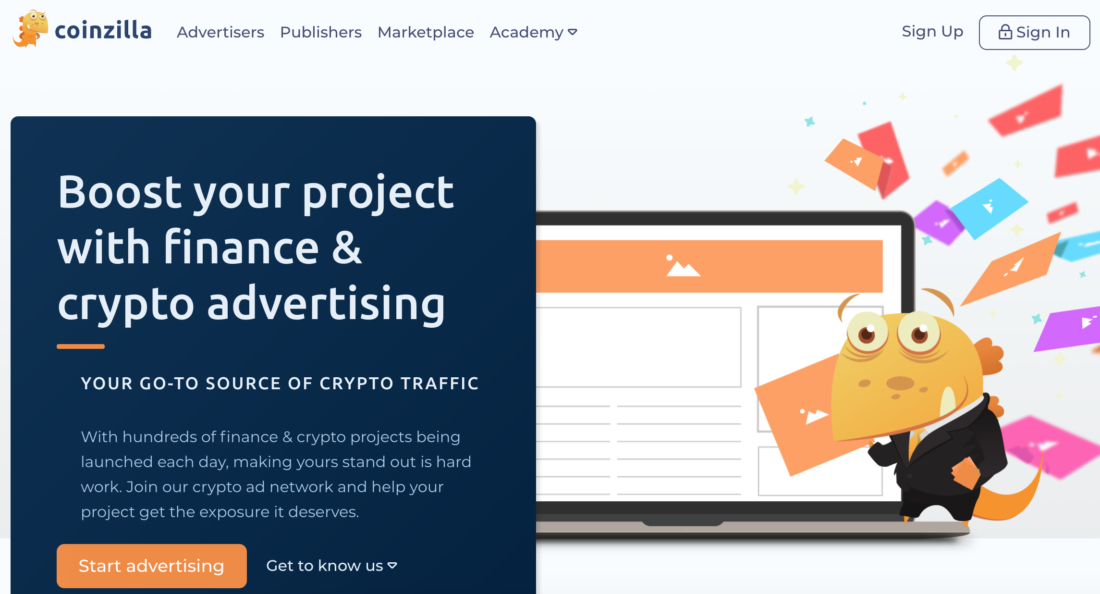 Coinzilla Advertising Network was founded in 2016. They helped the advertisers to promote finance & cryptocurrency projects by displaying various ads. So, this platform allows you to easily display several ad formats on your websites like native ads, banner ads, header banners, sticky banners, and pop-under ads.
Coinzilla Affiliate program:
Coinzilla also comes with an affiliate program so you can invite advertisers and new publishers to monetize their website traffic. Earn €50 when your referrals spend their first €500.

16. Adblade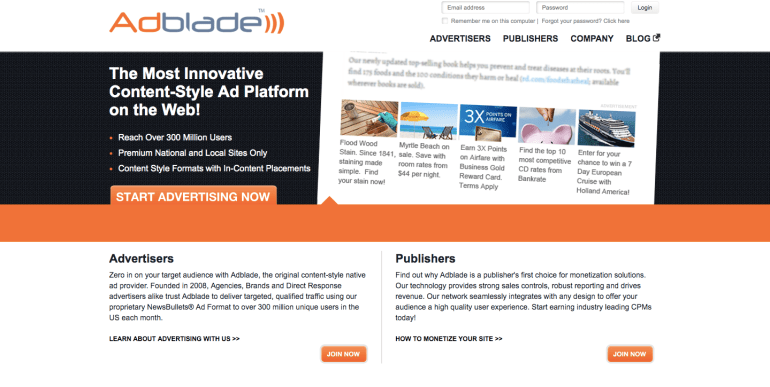 Adblade is one of those ad networks that focus on quality over quantity. Further, FoxNews, Hearst Corporation, Yahoo!, and ABC are among the 1,000 that comprise this ad network. Adblade supports standard IAB units and proprietary NewsBullets® units that claim to deliver up to 3X better performance.
One great thing about Adblade is they offer native advertising capabilities. Check our native advertising guide for beginners.
17. AdMaven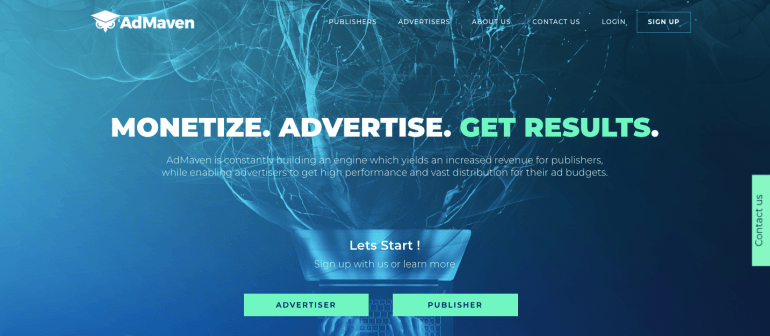 AdMaven is called the best pop-under ad network for publishers. However, the network also supports mainstream display ads like banner, lightbox, interstitial, and slider ads. They serve hundreds of millions of ad impressions in about 200 countries.
The bandwidth of their reach and impression gives advertisers a wide range of options to explore geotargeting. Their well-constructed and structured real-time bidding system also helps in precise targeting. AdMaven has a publisher base of 25,000 who are monetizing their sites with them.
18. PopAds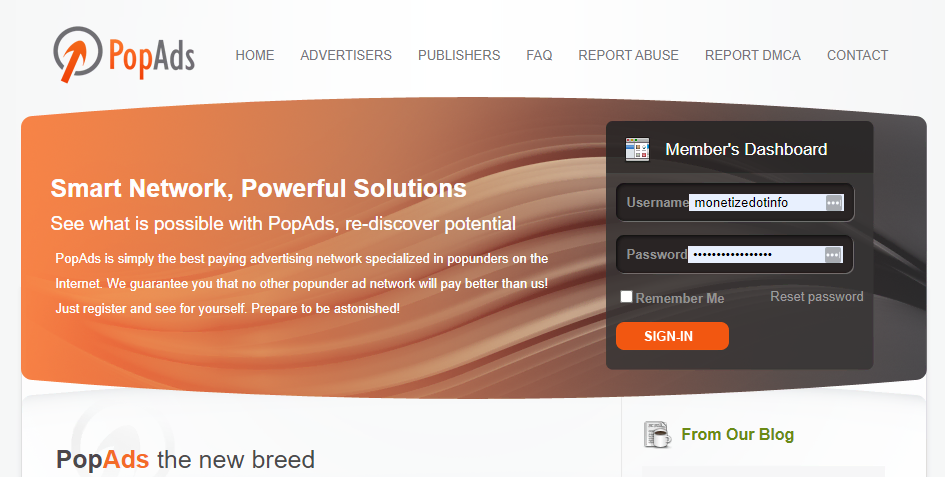 PopAds is another pop-under ad network that is known to be relatively fast and secure. It gives publishers the medium to monetize their website traffic with the help of high-quality pop-under ads.
An advantage for publishers is that it allows on-request payments and access to advertisers from about 50 countries. As a result, this leaves publishers with a wide scope in choosing keywords and targeting to monetize their traffic in their niche effectively.

19. Vibrant Media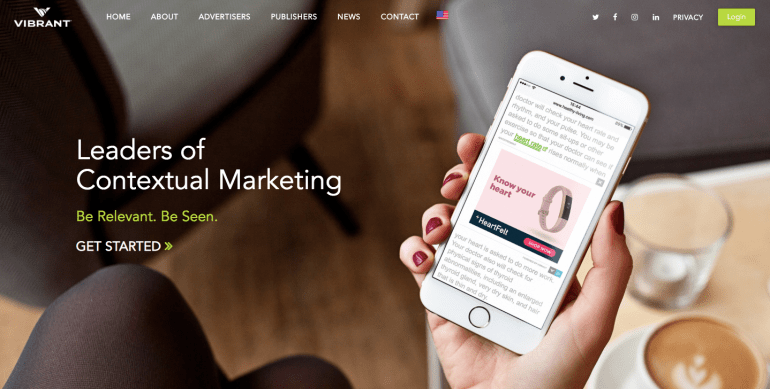 Vibrant Media offers Better-Ads and Chrome filter-friendly ad formats such as in-text, in-image, lightbox, storyboard, mosaic, and brand canvas in addition to the standard IAB display ad units.
Depending on the needs, publishers can use Vibrant Media as their primary display ad network or employ their native ad solutions to increase revenue without changing their existing ad configuration. As a result, the ads are responsive and can be delivered across multiple platforms seamlessly.
20. Propel Media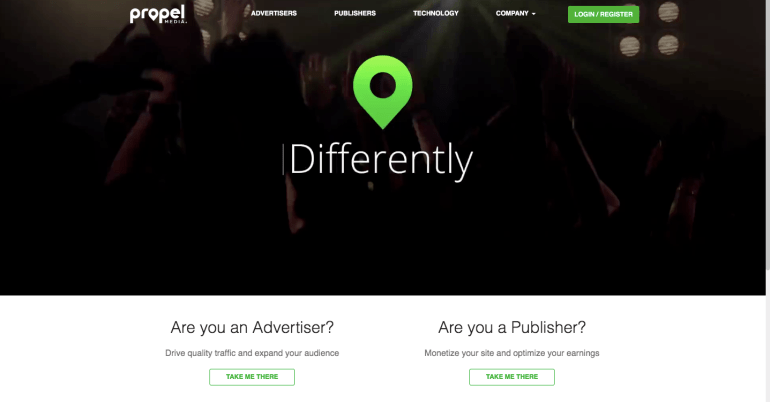 Propel Media, unarguably, is the best CPV/PPV (cost per view/pay per view) ad network known for reaching a high-intent audience. They specialize in reaching the audience through contextual text links and display ads.
The ad network is known for its cooperative after-sales support and easy-to-use interface to optimize ads in a matter of seconds. And the interface is supported by visual analytics to allow easy monitoring of trends and features to enable easy editing of the campaigns.
21. TrafficForce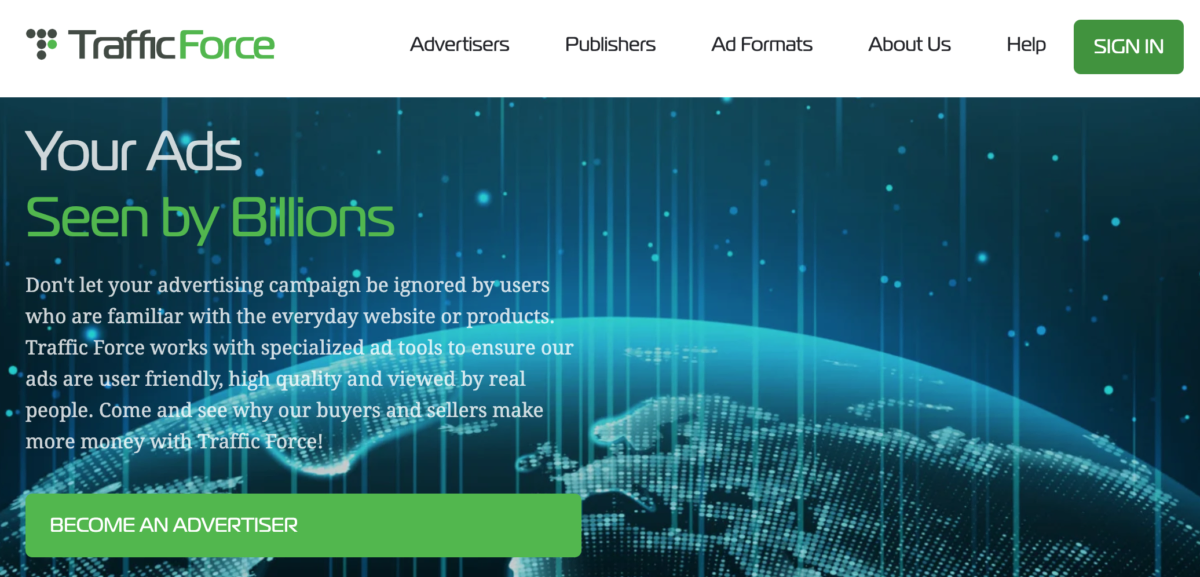 TrafficForce helps publishers and advertisers maximize their ad revenue by offering various forms of online advertising. The ad network sells targeted website and mobile traffic on an impression basis.
Being a supply-side platform, the network helps publishers access over 100 demand-side partners. They follow the header bidding or open RTB technology to deal with traffic. The network supports ad formats like display banners, pop-under, IM floater, and in-stream video ads for publishers to leverage. Currently, it serves over 15 billion impressions every month.
22. Google Adsense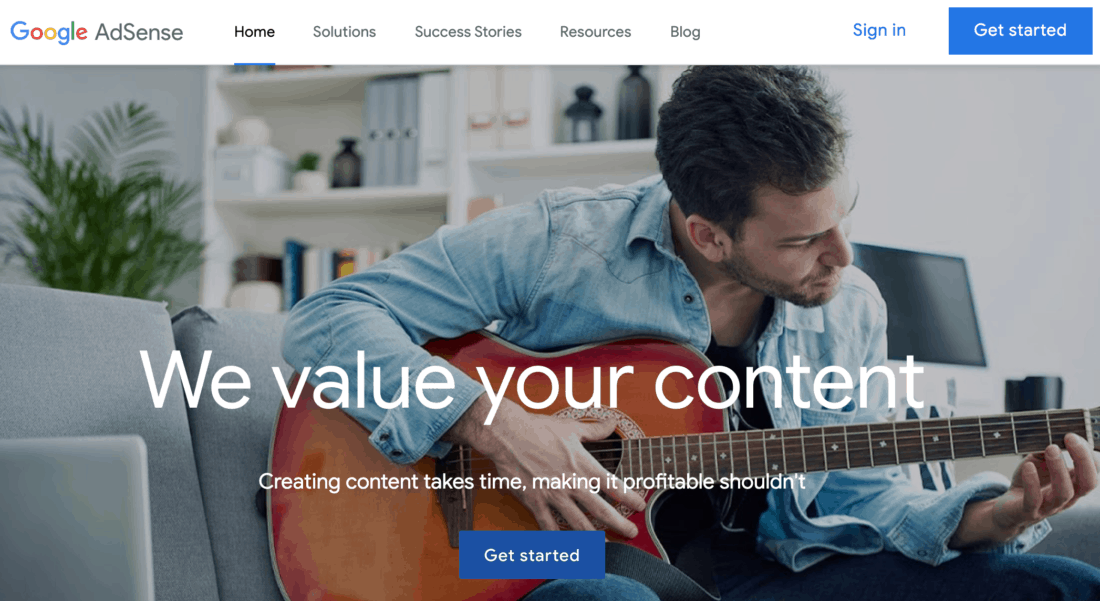 Google AdSense is probably one of the first ad networks you've heard of. However, they didn't stop innovating. You can save a bunch of time by using Auto Ads. They will populate your blog automatically without you having to choose their locations separately. And if you don't like a certain ad type or location, you can deactivate it in your auto ad settings.
Vote your favorite
So here you have it. A complete list of the best advertising networks for beginners.
Advertising Networks FAQ
What is an advertising network?
An advertising network, or an ad network, connects businesses that want to run advertisements (advertisers) with web admins that own websites or apps (publishers) that host them to make money.
How do advertising networks work?
Ad networks work with publishers all over the Web, helping anyone who has unsold inventory or ad space and wishes to monetize their offerings. The networks then aggregate this inventory, package it and sell it to advertisers.
Conclusion
You can use these online advertising networks and make money with your website. Try it today and see how much you can earn from this.
Let us know if we missed something in the comments below!
If you are still confused with any above topics, please do not hesitate to ask a question via the comment section. I will try my best to answer every question.