Many business owners and companies consider starting an affiliate program a good strategy to increase e-commerce sales. But that's only one part of the truth. Because an affiliate program that's not actively maintained and promoted will not improve your sales. So you should learn how to promote your affiliate program and bring the best affiliates onboard.
In this complete guide, I'm going to show you how to promote your affiliate program and get active affiliates that will do sales for you.
Have trouble promoting your affiliate program?
Without question, it's bothering to see your affiliate marketing program being overshadowed by a ton of others in your niche.
With so many businesses busily promoting similar affiliate products as yours, it is not entirely surprising to lose footing, especially when your competitors have been longer in business.
But don't despair because I have some good news: promoting your affiliate program and getting the right affiliates can be quite easy. but you need to have the courage, will, and a good strategy to conquer the market.
Pretty sure those successful marketers you have looked up to were as puzzled as you when they started the venture.
Being a certified affiliate marketing consultant, I have to tell you that unfortunately is almost a general rule to see affiliate programs underpromoted.
For some reason, I see that most business owners consider that if they launch an affiliate program, their job is done, and the affiliates will come in crowds.  That's no longer the case, so I'm going to show you 20 proven ways to promote your affiliate program and get the affiliates you want.
Be 101% committed to what you do. Otherwise, you will not only be wasting greenbacks along the way but pretty much of your time and effort.
I'm going to show you 20 affiliate program promotion methods that are proven to be successful. We will start with free promotional tools and then advance to some paid ones.
1. Affiliate Program Page
Keep in mind that this is the main page of your website any potential affiliate sees. You may have the best commissions or the best creatives, but if you don't appealingly present them to your affiliates, most of them will not signup.
What you should include on your affiliates page:
An appealing USP (Unique Selling Proposition) that will make your potential affiliates willing to signup;
The affiliate commission rate you are offering + other tech details like cookie duration;
List the benefits for the affiliates that make you stand up from the competition (payment details, payment timeframe, conversion rate, etc);
An explanation of how your affiliate program works;
Testimonials and top earnings from well-recognized affiliates;
Links to affiliate program terms and conditions and a FAQ page.
An application form that's easy to fill by affiliates.
Check below an affiliate program page containing most of the elements you should include. The affiliate program of Mangools has an appealing affiliate page where they share the average monthly payout, the commission rate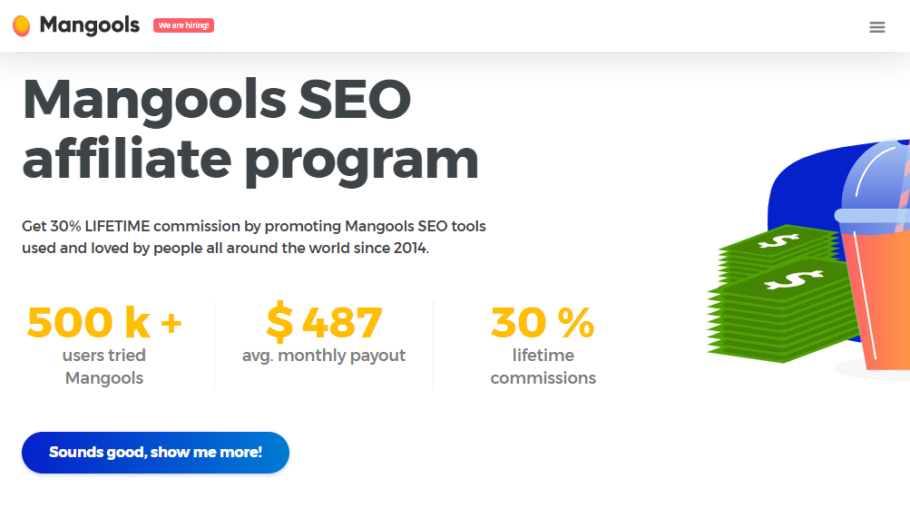 You may also check the affiliate program page of OutreachBuzz, our outreaching SaaS: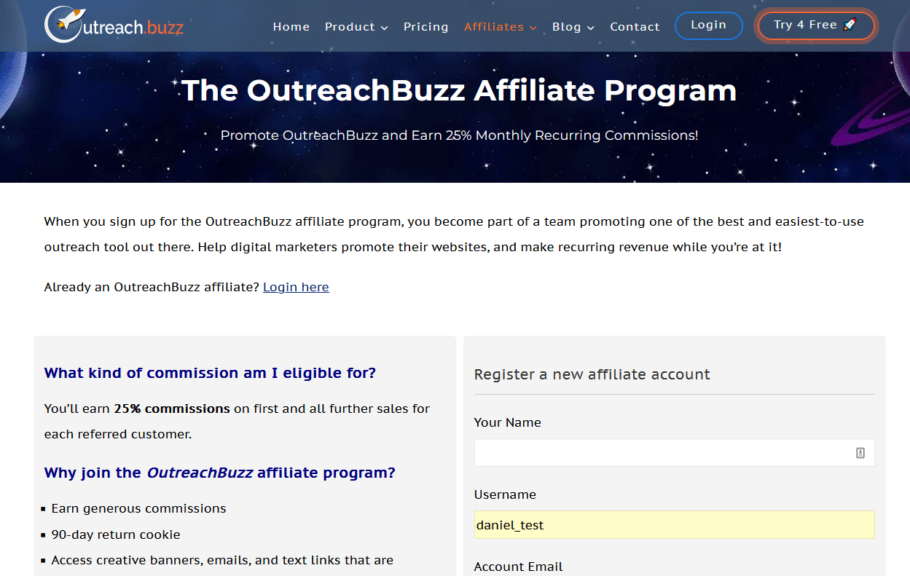 2. Consider a 2-tier affiliate program
The vast majority of affiliate programs have only one tier but there for several niches where you can get leverage by having a multiple-tier affiliate program.
In a nutshell, in a 2-tier affiliate program, affiliates also receive commissions for onboarding other affiliates. This will make your program stand up from the crowd and will get you a bunch of new affiliates from the promotion efforts of your current affiliates.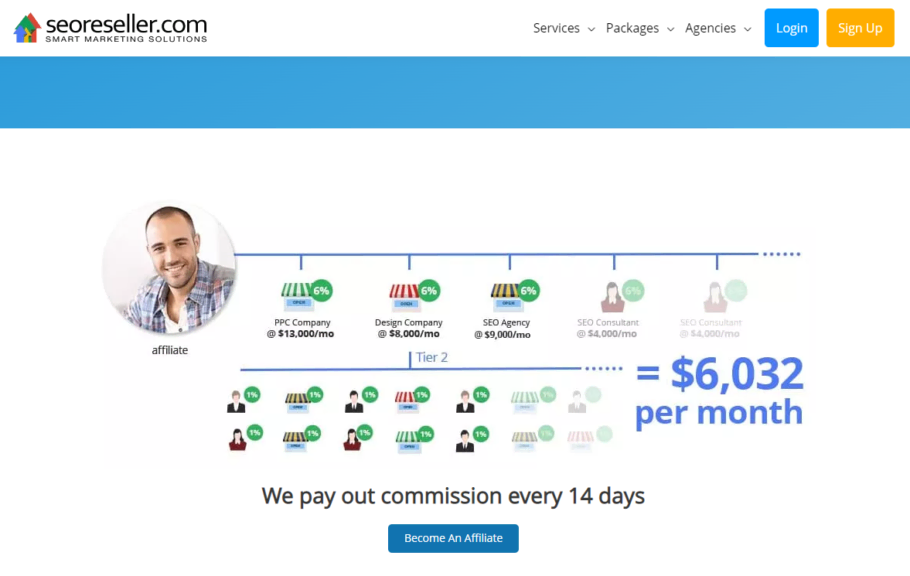 There are several niches like digital services, finance, gambling, and digital marketing affiliates where this strategy works great while for others like e-commerce for instance it doesn't. That's because affiliates that promote hosting, software, and digital tools, have an audience that is also interested in affiliate programs.
3. Add links to your affiliate program on your website
You will be amazed at how many business owners ignore this advice and don't promote the affiliate program on their websites.
Affiliates interested to promote your product are firstly checking your main navigation and top and bottom links for the affiliate program link.

I recommend you to place links to your affiliate program in the footer of your website, in the top navigation bar, in the top converting pages of your blog, and inside your members' area if your website has one.
Keep in mind that someone interested in signup to your affiliate program is primarily checking your website. So make sure you guide them to your affiliate program in the places they are looking.
While this method works best for referral programs,, you should also consider email marketing and newsletters to promote your affiliate program.
The good news is that through email newsletters, you are contacting your customers, who can be your biggest promoters.
Here are some examples that you can use in your email communication to attract affiliates:
You could invite your top customers to join your affiliate program with a personalized email. Thank them for being such a great customer, highlight how they've helped your business, and then explain the win-win structure of your affiliate program (they earn passive income, and you gain more exposure).
Or you could let all your email list subscribers know you have an affiliate program with a dedicated promotional email. (Mentioning your commission rate is a good way to pique your customer's interest.)
Promote your affiliate program in transactional or thank-you emails, which are sent at times when customers are most engaged with your brand.
Include a section about your affiliate program in your regular email newsletter.
Your email signature is in every message, so why not use it to quickly promote your program?
Whichever way you promote your affiliate program via email, include a direct link to your affiliate program landing page.
Fortunately, there are many social networks nowadays that can be used to promote your affiliate program. Just to name a few: Facebook, Twitter, Linkedin, and Pinterest have millions of users interested in opportunities to earn money through affiliate marketing.
In the picture below, you can see a sponsored ad that invites users to signup for an affiliate network that targets people involved in affiliate marketing: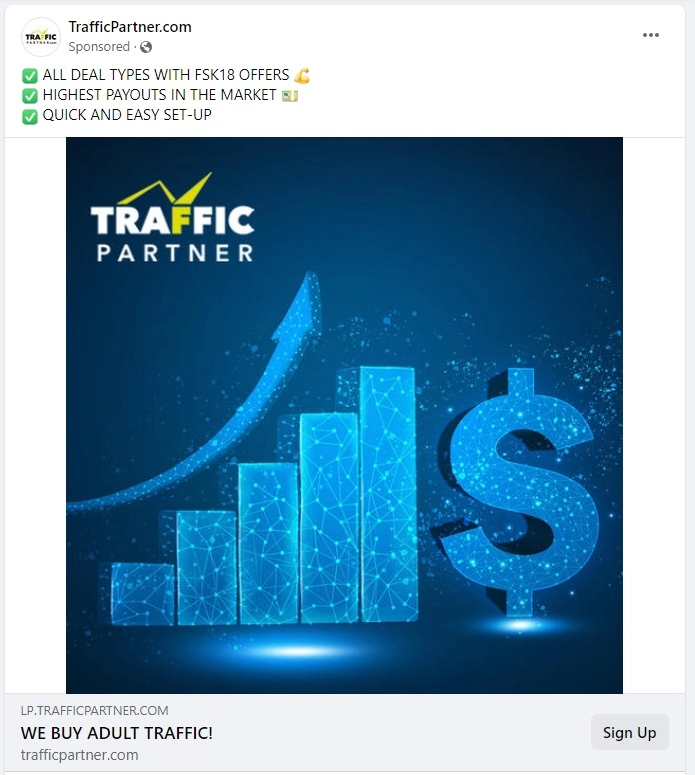 Keep in mind that you are not promoting your products but your affiliate program. So make sure that you make the ads appealing to affiliates.
6. Use SEO
Most probably, you are using SEO to drive traffic, leads, and of course sales to your business. But do you know you can use SEO to get affiliate signups for your affiliate program?
As you can see in the picture below, there are 223,000 searches on terms that include the word affiliate. Unfortunately, the competition is not a walk in the park, however, with the right strategy and efforts, you can overcome it.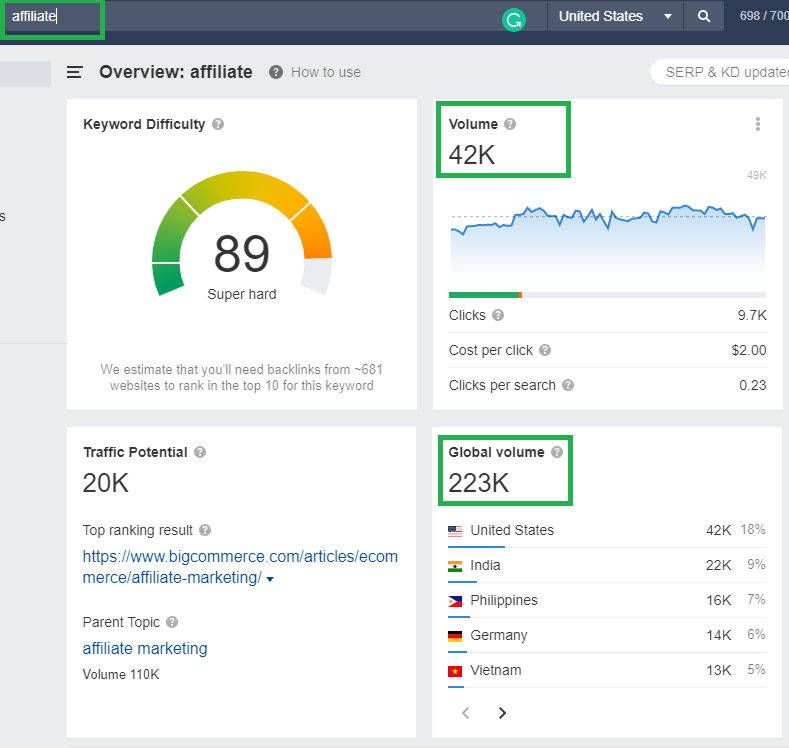 So people are searching for affiliate programs and knowledge on Google, and you can tap on these searches. Do your keyword research, create a content plan to cover the keywords you target, and then publish this content and market it properly, and you will start getting quality affiliates to your program.
Further reading(s):
7. Use PPC
Just like promoting your affiliate program with SEO by optimizing the website for affiliate marketing-related keywords, you can also promote it with PPC. As soon as you identified the keywords that will drive traffic to your affiliate program you can launch a PPC campaign and measure the response.
On top of those keywords, you can also use PPC to bid on your competitors' affiliate programs and lure affiliates to try your affiliate program. In the picture below you see how SuperMetrics is showing ads through PPC advertising when someone searches for the Semrush affiliate program.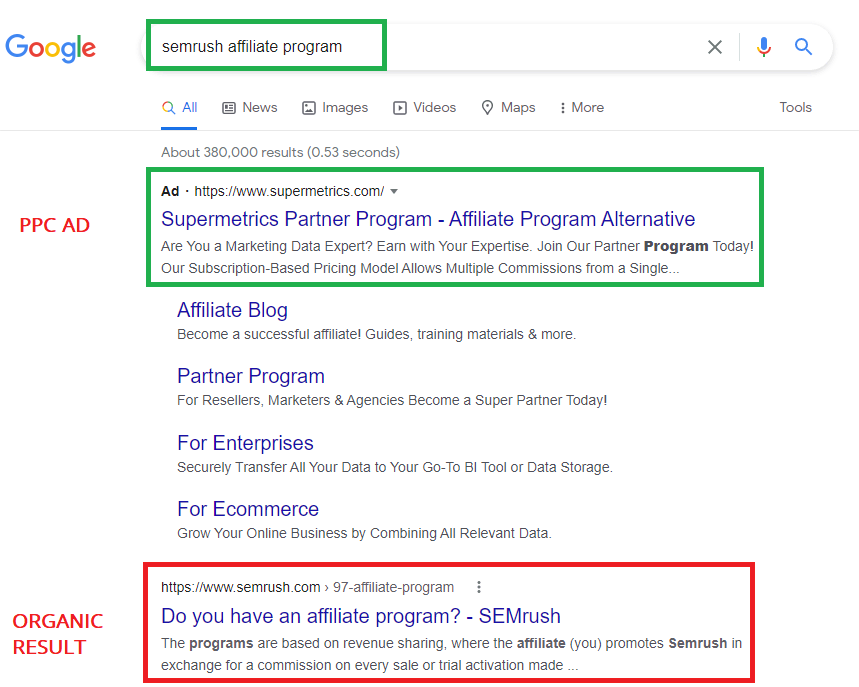 Being creative and finding innovative ways to drive affiliates to your affiliate program with PPC will ensure the success of this marketing channel. Fortunately, PPC advertising for affiliate programs is not so crowded, and the prices are better than if you bid on service-related keywords, as the competition is lower.
8. Try Video Marketing on Youtube
Some people consider Youtube being the second largest search engine after Google. Whether true or not, we simply can't ignore the huge potential of getting our affiliate program in front of such a big audience.
There are a couple of ways you can promote your affiliate program on Youtube:
Partner with Youtube influencers in your niche, asking them to promote your affiliate program.
Do Youtube ads targeting affiliate marketers in your niche.
Start a Youtube channel if you don't have one and create videos on how users can promote and make money with your affiliate program.
9. Join Affiliate forums
Even if forums are quite on a descendant path in the last couple of years as they lost momentum due to social media, some are still doing well, especially those related to affiliate marketing.
It is important to make sure these forums are related to your niche. Of course, no one will be interested in discussing shoes when the forum is created for those who are into designer clothes. Also, you need to make sure these have high traffic and a very good reputation from people. Hence, you must browse for reviews before entering into a discussion. And once you have proven their worth, it is time for you to write highly informational posts – compelling enough to attract others into the thread.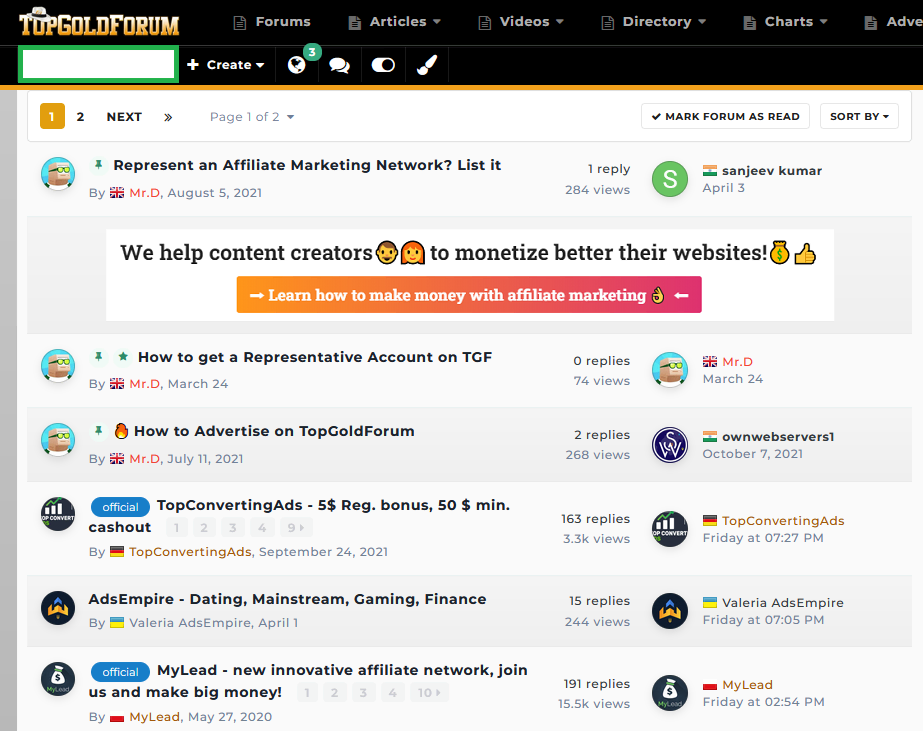 There are many advantages of joining affiliate forums. The most important ones are that you will be able to show your affiliate program and gather new affiliates while keeping an eye on the latest trends in affiliate marketing.
Fortunately, there are several good affiliate marketing forums I could recommend. Some of them are the Monetize.info forum, TopGoldForum (mostly for financial and digital marketing programs), Afflift, and AffiliateFix.
Join these forums, start building your profile, post your affiliate program and offer updates and support to your members who have questions or need help.
Read more:
Once again, we talk about social media but instead of using ads or organic posts on your page we talk about communities and groups. There are many affiliate marketing groups on Linkedin and Facebook that you can join and look for affiliates.
If you search for "affiliate marketing" on Facebook and select only group results, you will see plenty of affiliate marketing groups you can join. Some of the largest groups have over 100K members, but some smaller groups are well administrated, and the community is strong.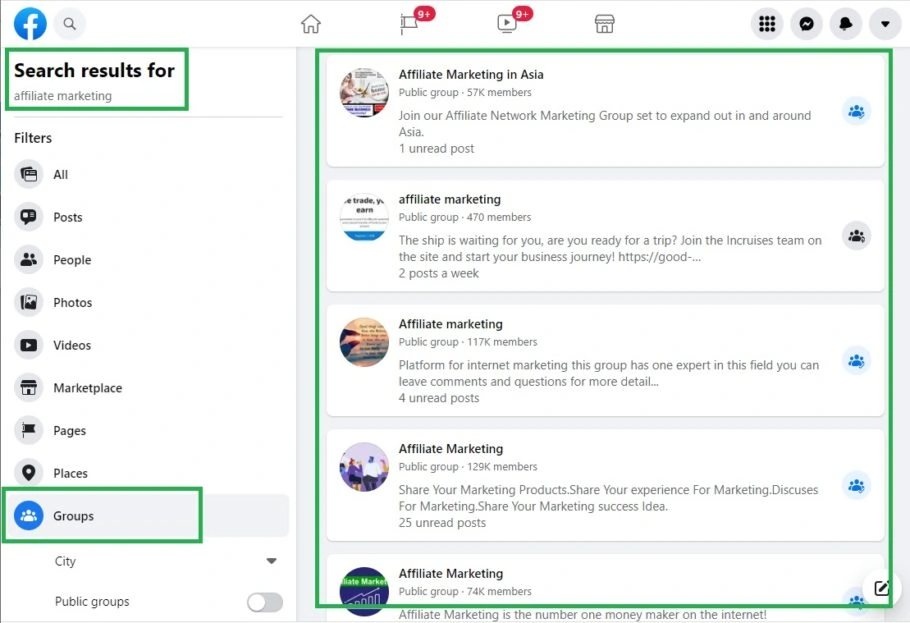 As you would do with forums, don't promote your affiliate program right after you are accepted. Start meeting the other members, engage in conversations, and offer help. Then you can promote the affiliate program without being labeled as SPAM by the admins and moderators.
Further reading: Best 12 Affiliate Marketing Groups on Facebook, Reddit & LinkedIn
11. Visit Affiliate Marketing Blogs
There are a couple of affiliate marketing blogs where affiliates hang out and get advice and news. While some are reputable legends in the affiliate marketing industry, others focus on other niches like online earning and monetizing, and affiliate marketing.
You can blog owners and ask them to review your affiliate program and showcase it to their audience. Be warned that most of them will ask for a fee.
Here are several reviews we did for affiliate programs you can get inspired from:
12. List the program in Affiliate directories
While affiliate directories have faded in recent years, these are good places to list your program and recruit affiliates.
Here are some we recommend: Affiliate Program Database, High Paying Affiliate Programs, Affiliate Programs, Affiliate Watch, Get Lasso, Monetize.Info
13. Affiliates podcasts
Podcasts have risen in interest in the last couple of years, and there are a couple of them that target affiliate marketers. I recommend you check the best ones for your niche and audience.
Here you can find some of the best affiliate marketing podcasts.
14. Outreach to potential affiliates
Outreaching affiliate marketers is a proven-to-work method to increase the number of your affiliates. Unfortunately is quite labor-intensive. Mainly by outreaching affiliates, your search for relevant affiliates (bloggers, website owners, influencers, etc.), and you contact them to persuade them to join your affiliate program.
Below is an example of an email from an affiliate program owner that invites us to join their affiliate program.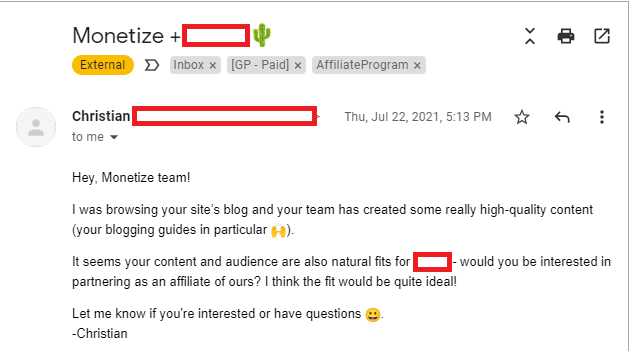 There are several ways you can find potential affiliates and outreach to them.
Here are some strategies to outreach to affiliate marketers:
Check your competitors and use tools like Ahrefs and Semrush to find bloggers and website owners that promote them.
Search in Google for blogs and websites in your niche and see if they run affiliate marketing campaigns. If they do, you can outreach them. If they don't, you can present the benefits of affiliate marketing and invite them to try your affiliate program.
Check social media platforms like Youtube and Instagram and find relevant influencers in your niche that are open to collaboration and get in touch with them.
Join affiliate marketing networks and look for your niche's best affiliates.
15. Ask your partners
Most companies today have partners. The good news is that you can convert these partners into affiliate marketers that will generate sales for you. For instance, let's consider you own a WordPress development agency. Being in this business, you probably already work with other companies like digital marketing agencies, WordPress plugins & theme creators, and hosting companies.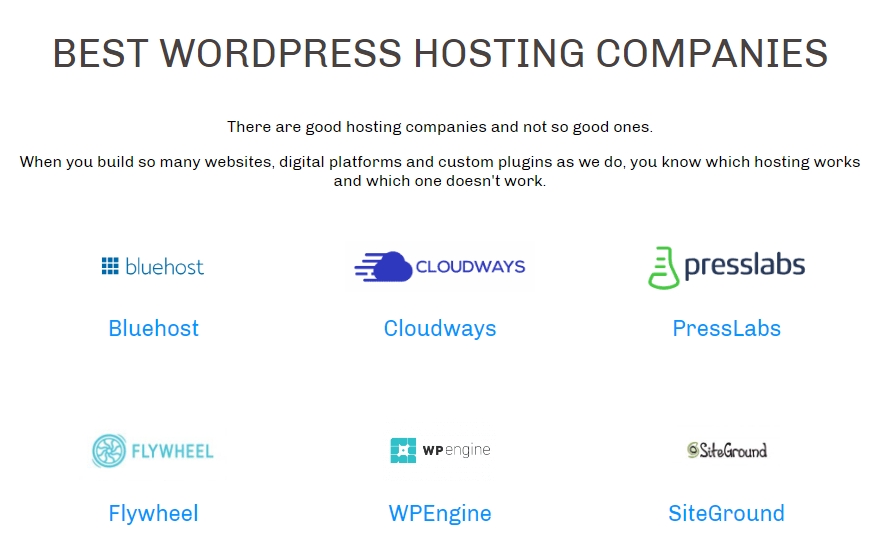 Get in touch with these partners and invite them to your affiliate program so you can reward them with a commission every time they send you a client. Also, this can work as you signup for their affiliate program and get a commission when you refer a customer to them through your affiliate link.
16. Guest Posts
Guest posting is undeniably one of the best ways to build quality backlinks to your website and reach new audiences. That's why is very popular among SEO experts. However, you can intelligently use guest posts to promote your affiliate program and invite affiliates to join it.
I recommend you target publications in your industry that are visited by affiliate marketers. These are affiliate marketing blogs like Monetize.info, digital marketing online magazines like Search Engine Journal, and many other blogs. There you can share your thoughts and experiences about your business.
Besides getting affiliates, you will also get some quality backlinks and digital PR for your main business.
Before adding information about your affiliate program to your guest post, discuss it with the company you'll be guest blogging for. Use what you learned at the previous point (Outreach) to pitch these publications.
17. Join an affiliate marketing network
One of the advantages of affiliate networks over independent affiliate programs is that they have many affiliates signed up, ready to start promoting yours. If you started an independent affiliate program on WordPress, for instance, or even if you are on an affiliate network, you may signup for a 2nd or even a 3rd to get in touch with a different pool of affiliates.
Here is a list of over 22 affiliate marketing networks I recommend.
18. Attend affiliate marketing conferences
Take part in special affiliate conferences and events (we have an up-to-date list here) that are held all over the world. The most important is the Affiliate Summit, where you can find a lot of important affiliates. You will have the opportunity to confront your potential affiliates and present your program in a friendly way.
But you shouldn't limit yourself to affiliate marketing conferences only. Conferences and events in your industry are also good spots to find people interested to promote your products so you can lure them to become your affiliates.
19. Give a chance to free classifieds websites.
I will tell you upfront that classified websites are not the best way to find affiliates and promote your affiliate program. That's because these are not where affiliate marketers usually hang out. But,  for some niches like e-commerce and NUTRA, you can find persons willing to promote your product in exchange for a commission for the sales they generate.
So consider classified websites like Craiglist.org, Gumtree.com, or OLX for your affiliate product promotion. Here you can find more classified websites where you can place your ads.
Write better ads that can particularly attract readers' attention. Seriously brood over which ads are effective and are not helping at all. Also, check on the right location before posting.
20. Find affiliates of your competitors
I've left one of the most lucrative tactics to find affiliate marketers at the end of this article for two main reasons. If it is used right is very lucrative, and on the other hand, it needs to know SEO tools like Semrush or Ahrefs and outreach systems.
In a nutshell, investigate which affiliates are sending the most traffic to your competitors and get in touch with them. The next step is to lure them to join your affiliate program and promote your products.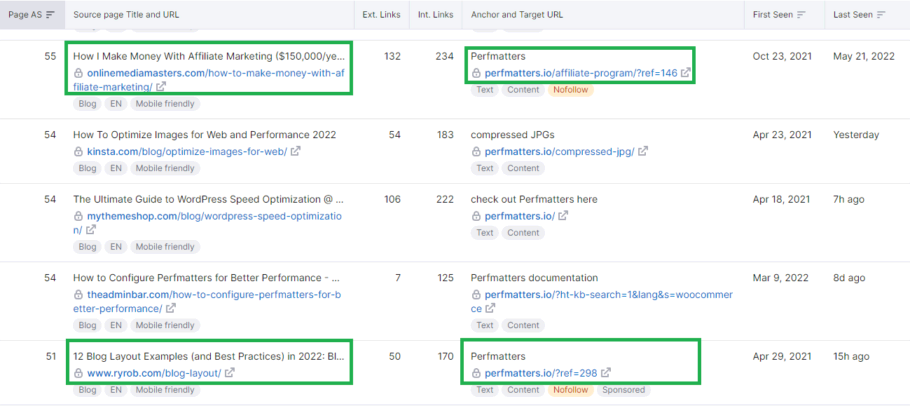 In the picture above, you can see a couple of backlinks to our friends at Perfmatters. Out of all these backlinks, some are links with the ref parameter which means these are affiliate links of people that promote their tool through the affiliate program. Of course, you can go deeper with the research and analyze PPC ads,  look to the websites and rank them by organic traffic, etc., to find out the best affiliates and invite them to promote your program.
Conclusion
And that's it. One of the most complete guides you can read online on how to promote your affiliate marketing program and get the best affiliates on board. While some methods will work great for you, others may not. It depends a lot on your niche, budget, and dedication of your affiliate manager to onboard affiliates.
If you don't have an affiliate program, you should choose our guide on starting an affiliate marketing program for your business. The last part of our guide is How to manage your affiliate program effectively, which will be available soon.
Need help with getting more affiliates? I can help you with that. Check our affiliate marketing consultancy service.