So you've first meticulously chosen your products and crafted a beautiful design for your new site. Then you built it, set it live and watched that heart-warming first sale go through. Which may not come easily. That's why you need low-cost ways to grow your e-commerce business.
Here are 11 of them that proven to work great in E-commerce.
Low-cost ways to grow your e-commerce
Of course, that's easier said than done. Growing your eCommerce business takes the same amount of patience, and the right balance of ingredients as it does when it comes to growing any plant. And while it would be preferable to buy the $50 fertilizer that you know will work wonders, sometimes it's just not within your budget.

That doesn't mean that you can't grow without that costly fertilizer. After all, the plant isn't going to die just because you used water and sunlight instead of fertilizer and a controlled environment.
It's the same for your eCommerce store – you don't need to spend big bucks on PPC or sponsored posts to get some growth.
Here are a few low-cost methods to kickstart your growth.
1-2. Customer Service: Go Above & Beyond
There are some out there who will avidly claim that it costs less to retain existing customers than it does to get new ones.
Whether that's true or not, one of the key reasons that prevent a customer from returning to your business is poor customer service. Kayako reported that "60% of consumers said they were unlikely or very unlikely to return to a business they had experienced poor customer service from, even if a trusted friend said the service had improved."
Make sure your customer service is top-notch from the go. This might mean doing things that are unscalable, but if they help your business to grow now, it's worth it.
There are two low-cost ways you can go above and beyond:
1. Include an extra gift with their purchase
Add a little extra something to your customer's package. It could be a small packet of sweets or a sticker from your business, but adding just a little extra surprise there can really make a customer feel appreciated.
Around Easter earlier this year, I purchased some contact lenses from Feel Good Contact lenses, aside from the fact that they delivered them super quickly, there's a reason I remember that parcel so well.
In with my lenses was a small pack of mini eggs. Nothing huge, but a pleasant surprise (particularly for a chocoholic like myself). Even better when my second parcel a few days later also came with mini eggs!
Bulk buying some sweets doesn't cost much – on Amazon, you can easily get 3kg for $20-30. When it comes to stickers – Stickermule can do you 1000 stickers for about $100.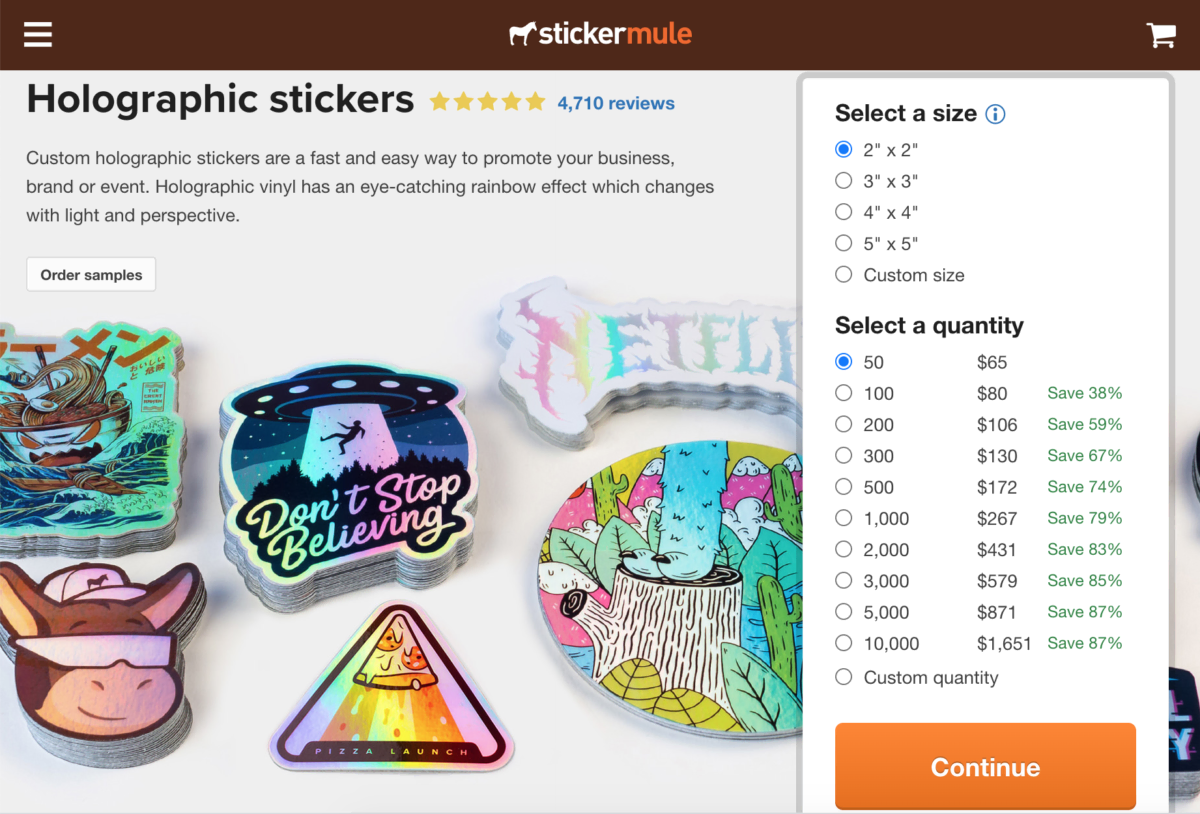 2. Handwritten Notes
If sweets or stickers aren't your styles, something personal can do just the trick. Including a handwritten note in your customers' package can leave just the same, if not, a better impression.
Writing might not be a natural thing for you, or you might be pushed for time, so just write a simple thanks and send it off.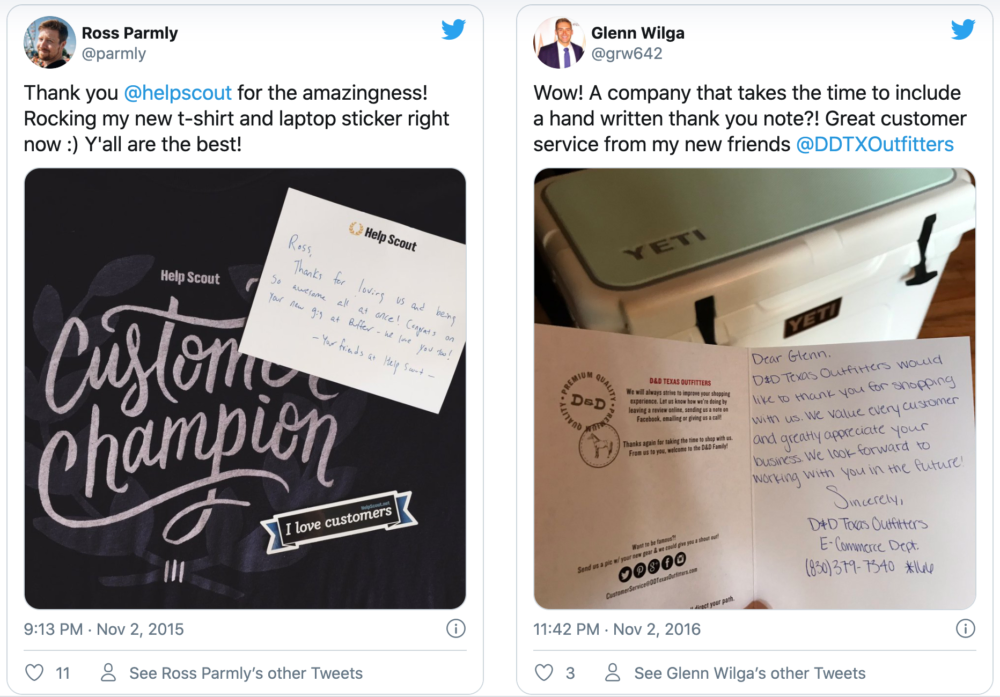 Both of these tips can have benefits beyond bolstering your customer service. As you can see in the screenshots above, these customers appreciated the gestures so much, they shared their experiences online through reviews and social media posts, giving your brand image an extra boost.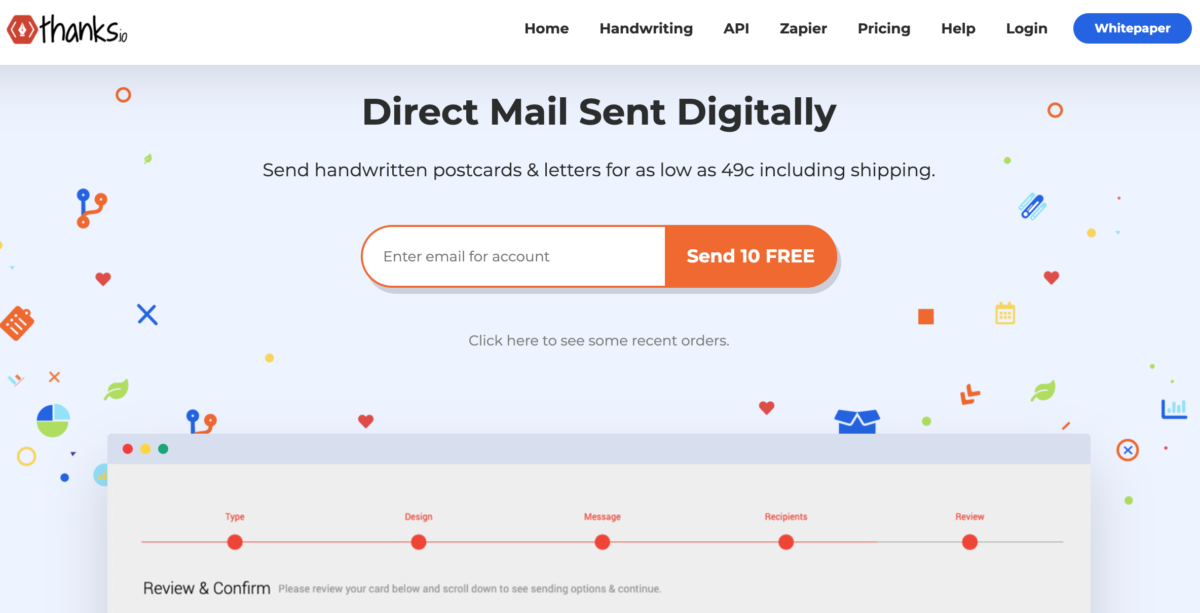 Thanks.io is a nice service that does this for you automatically. For 49 cents you can send a 4×6 postcard with a personalized message. A 6×9 postcard costs 49 cents and the letter is $1.19. It comes with Zapier integration and an API so you can configure the service to take the message and postal address directly from your eCommerce software.
Here is a guide on how to write and send handwritten notes to your customers.
Essentially, your customers are marketing your business for you, which leads us nicely to the next method….
3. Referral Programs: Keep it Simple
Getting other people to do your marketing for you for free, is without a doubt one of the cheapest ways to grow your business.
Who better to do it for you than your existing customers?
If your customer service is amazing, then they might already be doing it for you, but sometimes they could use a little incentive. This is where referral programs can work really well.
I'm an advocate of affiliate marketing both as a vendor and as an affiliate. That's because you get access to hundreds or even thousands of people looking to promote your products for a commission.
If you don't know yet much about affiliate marketing then you should check our affiliate marketing for beginners complete guide. Also here is a list of 65+ affiliate marketing high paying programs that can inspire you. Now you should know enough about affiliate marketing so check the best 21 affiliate marketing networks you can signup.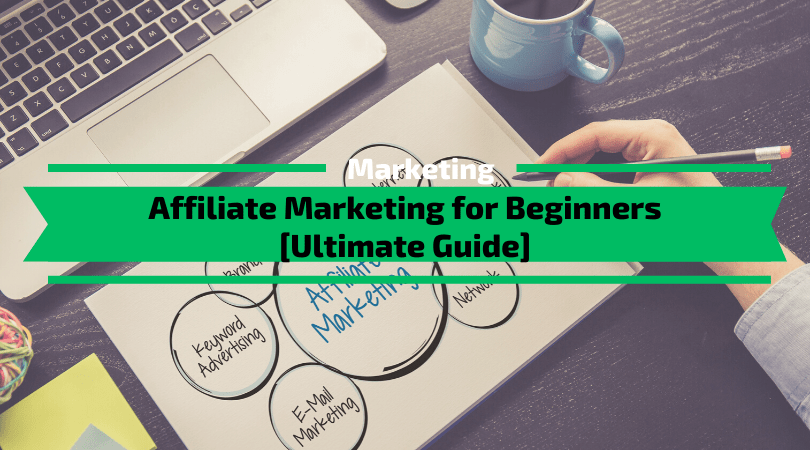 Using a tool such as 
Sweet Tooth
 can help you boost your sales by up to 28% – pretty impressive right? But you don't even need a subscription for a monthly tool like that in order to have your own referral program.
The simplest and cheapest way that you can set up a referral program is by using a tool such as Pay With A Tweet. You offer your customers an exclusive discount code and in order to access it, they pay with a tweet. Did I mention it's free?
4 – 6. Email Marketing: The Best Tool In Your Arsenal
If you haven't had it drilled into your head by every other blog, email marketing is not dead (there's a whole website dedicated to it). In fact, it's one of the best low-cost tools you have when it comes to eCommerce.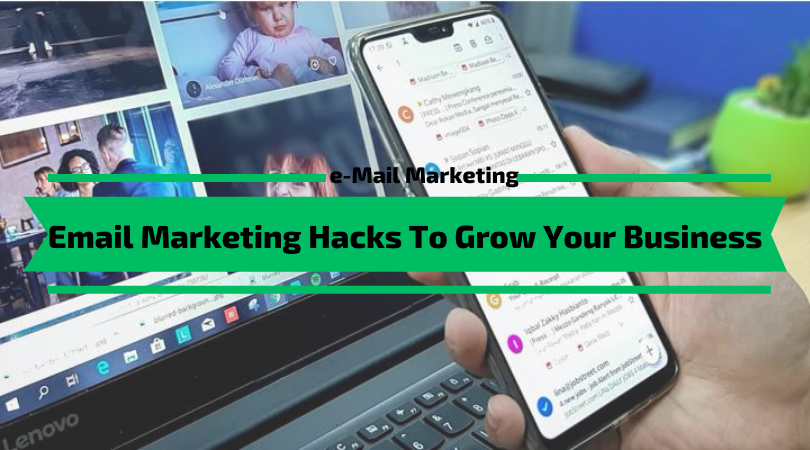 You've likely already got your transactional emails set up (i.e. Order Confirmations, Shipping notifications and so on; if you haven't, that's your cue), so now it's time to start optimizing your email marketing strategy.
There are a few different ways you can do this.
4. Upsell Your Products
It sounds obvious but so many people miss this tip out of their strategy, or if they do it, they throw it in without thinking about it.
The thing is, it's such a simple thing to do, and you don't need expensive automation tools to do it.
Here's one example, let's say you run a gardening supplies store. You have a bunch of customers who recently purchased a bird feeder for small birds, it's highly likely that they'd be interested in purchasing some bird food.
All you need to do is create a segment of customers who purchased that bird feeder in the last week, export that lists into Mailchimp and then creates an email campaign promoting your latest offer on bird food.
Done, and with no extra tools required!
5. Personalize It
Of course, on a broader scale, what you're doing when you're upselling your products, is personalizing your content for your customers. And it doesn't have to be purely focused around products and sales promotions.
Looking back at our bird feeder example, you could decide to create content solely focused around birds, from bird-watching, how to create the right environment for wild birds, to the best type of feed for different birds and so on.
Every time a customer purchases anything from your Bird collection, you can then sign them up to a segment of the subscriber list that only receives bird-focused content.
6. Automate it
The last low-cost tip to grow your email marketing is to automate it. And surprisingly, it's not as huge a cost as you might expect. Using something like Mailchimp's automation tools costs only $10/m or are part of your package if you're already on a paid plan.
Those previous two tips I discussed? You can automate those. If it's your customer's birthday coming up soon then automate and send them a lovely treat or discount code to celebrate. If they're one of your top customers, treat them to VIP exclusive sales and a sneak peek of upcoming products. You could even celebrate the anniversary of becoming a customer, like Twitter.
Part of creating that personalised content for your customers is establishing yourself as an authority on the subject and building trust. After all, if you're selling the product, you're gonna know a lot about it!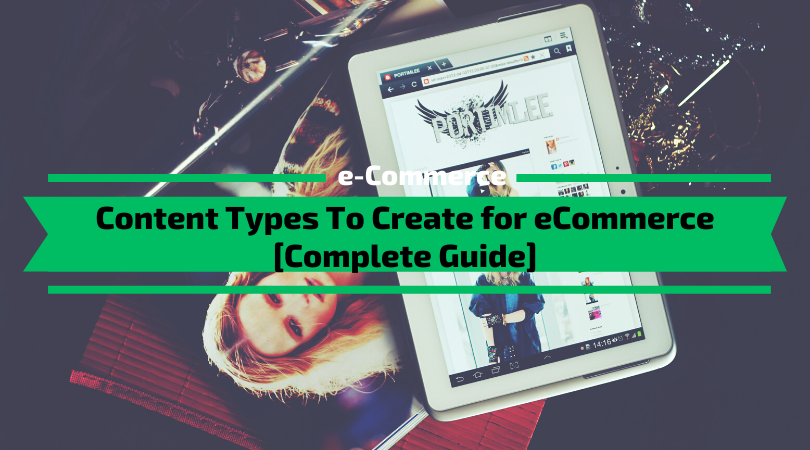 Your most valuable resource is the knowledge that you have of your product, so why not share it with more than just your customers?
Building up your name as a (let's stick with it) gardening expert, builds your authority with your existing customer base. Also within the industry and potential customers.
Even better, this tip costs you nothing but your time.
Here's how to share your knowledge: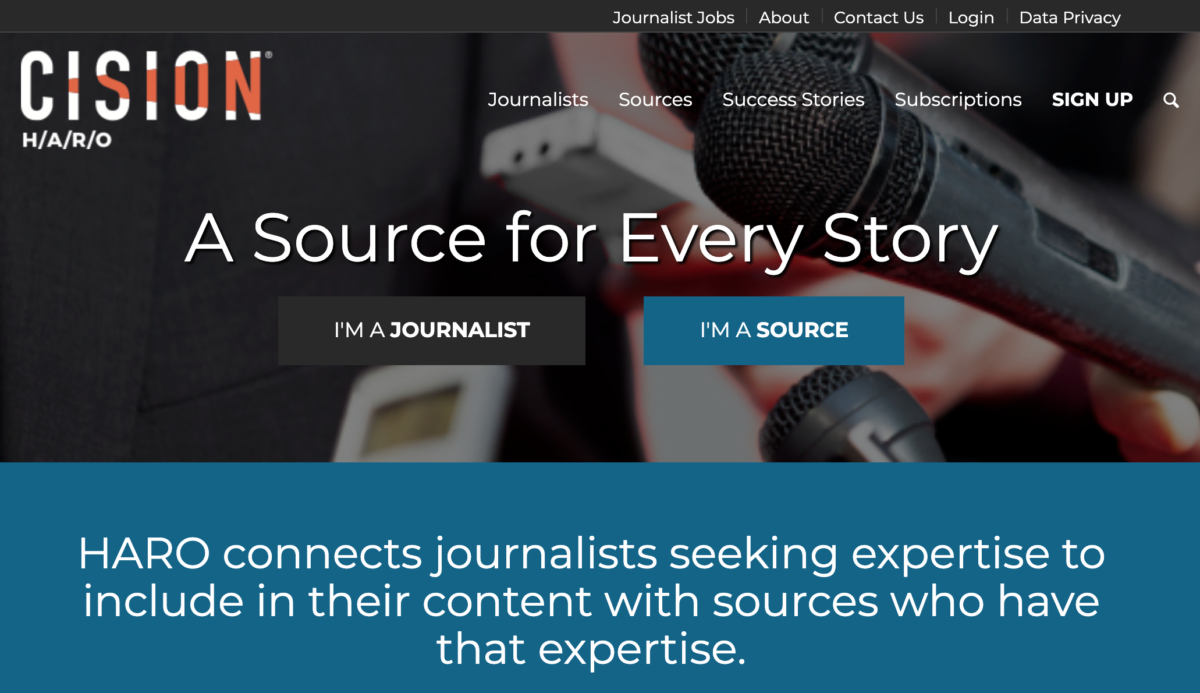 Help a Reporter Out does exactly what it says on the tin – offers you the opportunity to help a reporter out with a story they're working on. Reporters put forward the stories they're writing about and people like you (if you deem yourself relevant) can answer their questions or put yourself forward for interviews.
When you've signed up to HARO, simply choose the industries you're interested in and then you'll receive a daily email with the latest queries.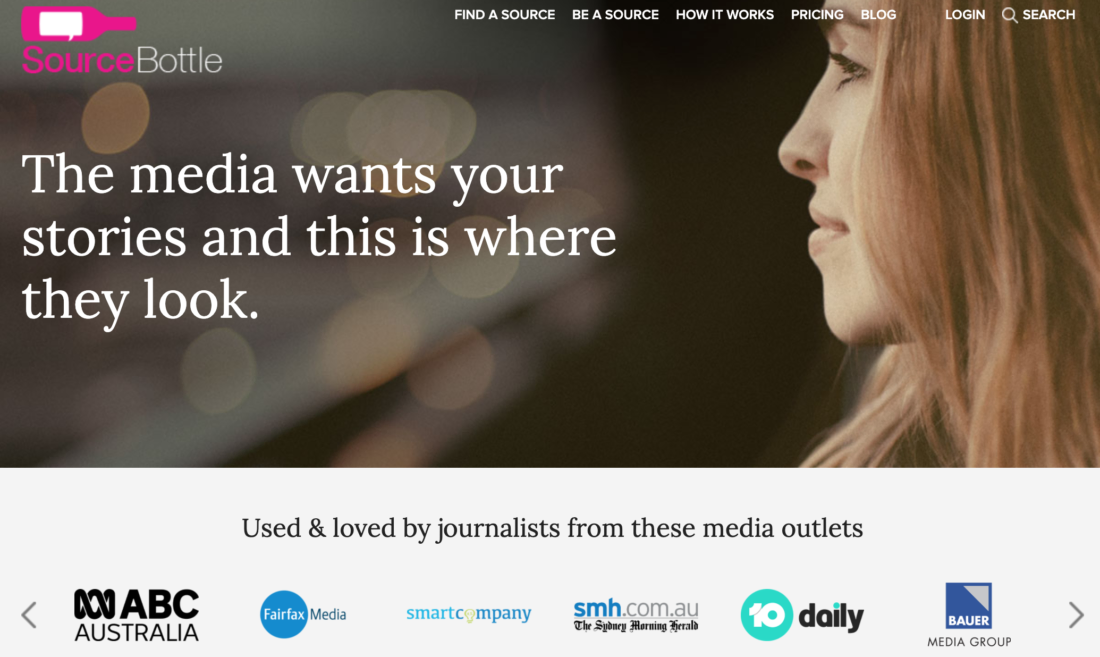 SourceBottle is pretty much the same as HARO but is just another site for reporters to put forward their queries. Again, simply sign up and you'll get an email digest of the latest queries. You might have to weed out a few irrelevant queries, but it's worth the two minutes it takes to set up!
9. Become an Expert Source
You don't have to wait for the queries to come to you either. Many of the news sites and blogs related to your industry, have opportunities for you to become an expert source. Simply sign up, tell them about your expertise and they'll get in touch with you when they need a quote or some questions answering.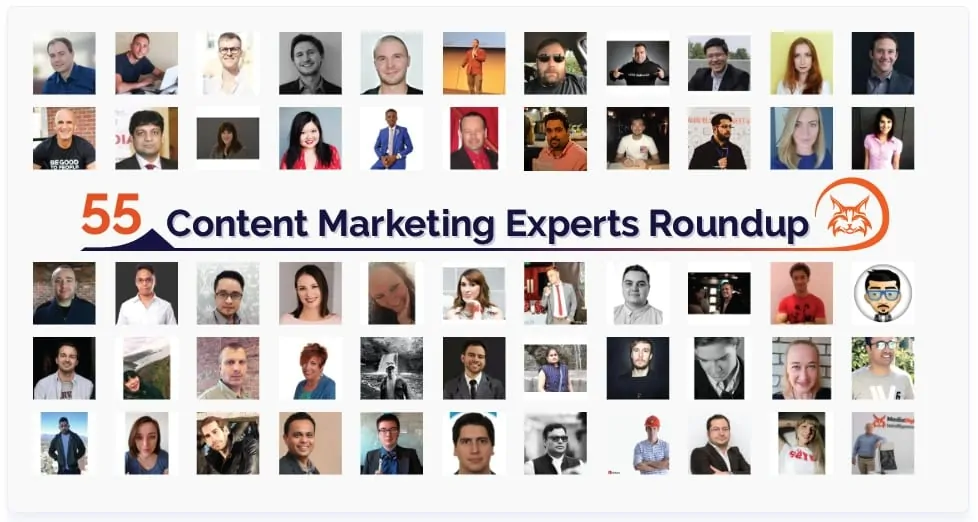 If you're serious about becoming an expert, you might also want to start building relationships with journalists and writers in your field. Instead of trying to sell yourself and your product to them, a simple email asking what they're working on lately can do the trick.
10. Partnerships
Your knowledge isn't the only thing you can share either. Even if you only have a small existing customer base, you can still use this to help you grow further too.
Using partnerships to help grow your business can be a super-effective way of getting your brand out to a completely new audience that may not have come across you previously through cross-promotion.
Using partnerships to reach new audiences is nothing new, in fact, it's something that high street fashion stores and exclusive designers have been doing with more frequency as of late (think H&M's partnership with Balmain).
When looking for a potential partner, look for a business that doesn't compete with you directly but rather complements your products. If you're selling fitness nutrition products, teaming up with a fitness clothing site would be a great fit.
How you run the partnership is entirely up to yourself, whether it's a promotional offer or a competition – work with your new partner to figure out what suits each of your customers best.
Make sure that the cross-promotion is equally valuable to both of you, and then reap the benefits as they come in!
11. Use Snapchat GeoFilter
Most of the tips above have been about creating or adapting low-cost strategies to help you grow your business. The following tip is one that I only recently uncovered and couldn't believe how cheap it is.
The growth of Snapchat over the last few years was phenomenal. You should know that they reportedly have 238 million users logging in every day. To put it simply, Snapchat is not a platform to ignore.
That said, you might be unaware of the best way to build a Snapchat audience and strategy for your business. That is where this handy little tip comes in.
Snapchat Geofilter's are overlays you can add to your snap that showcase where and when you took it. If you're an avid 'snapper' you might already have seen these when you're in your local city; when you're in Austin, swipe left and you can add the following overlay to your image:
Neat huh?
What if I told you that you could make your own for as little as $5?
It takes just three steps.
1. First, create your design.
You can use Snapchat's templates as a guideline, but make sure they follow these guidelines:
1080 pixels wide by 1920 pixels tall in a PNG format. (Shouldn't be bigger than 300KB)
No photographs, URLs, phone numbers, or emails can be included
No logos or trademarks you don't have the right to can be used
Make sure it's relevant to the location as well as being creative and fun!
2. Next, choose your date range. You can put your Geofilter live for up to 30 days (though bear in mind this does affect the price).
3. Then it's time to draw a fence around the location you want to target. You must choose between 20,000 and 5 million square feet. The prices change based on the square footage you cover and the date range. From playing around with it, I've found that you can get about 30,000 sq. ft for one day for only $5!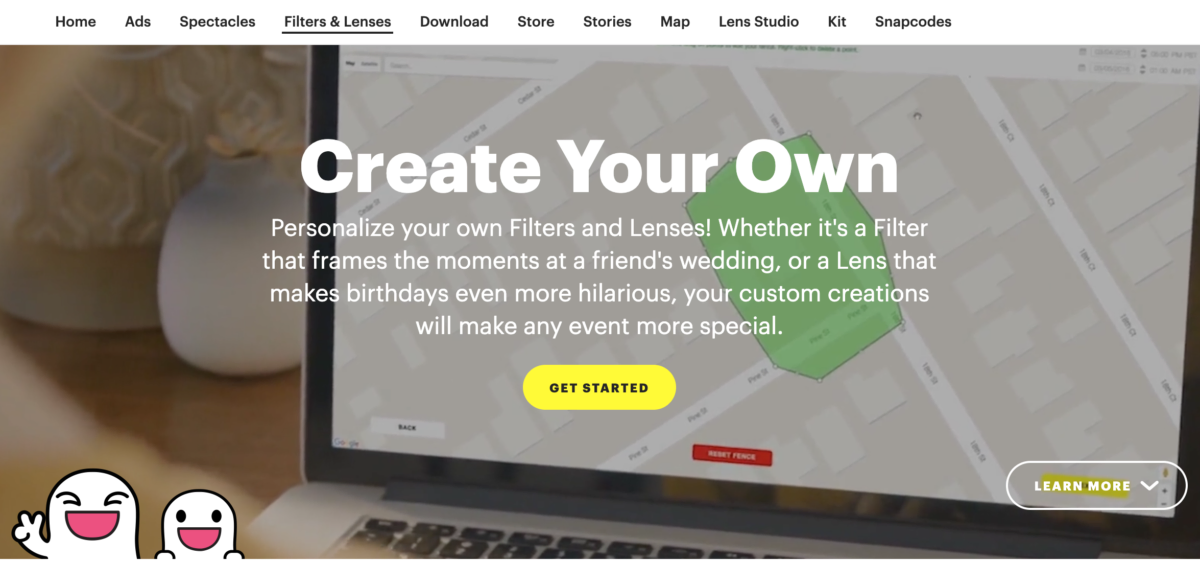 This works really well for promotions, and product launches – just check out Taco Bell's launch of the 
Quesalupa
.
Takeaways
Growing your business doesn't have to be an expensive process if you can't afford it. As we've seen in this post, there are low-cost, even free options out there that you can use.
Interested in more out of the box, low-cost ideas to grow your business? Check our article about 27 books about e-commerce growth.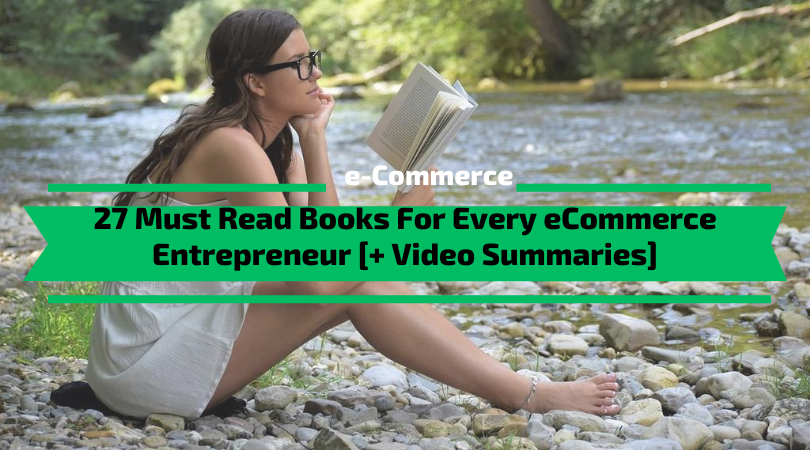 We have even more tutorials on low-cost ways to
grow your business
which are especially helpful for startups and in fact any business, during this
recession
.
Conclusion
Want to bump up your customer service strategy to boost the sales from existing customers or focus on building your brand? You can use these 11 tips to give your business some low-cost growth.
Do you have any other tips you'd recommend?
What's the most cost-efficient method you've used to grow your business?
Let us know in the comments below.