Popups are great tools for promoting and marketing your product. They make use of a natural window of time available to all online customers. Nowadays, having an eCommerce popup on your website is an absolute must-have if you want to make the most of your traffic.
Even if you never place one in the browser or webpage, they still have a number of benefits you might not be aware of!
This article will tell you more!
What Is An Ecommerce Popup?
Ecommerce popups are one-time, highly targeted advertising messages that appear right at the top of a webpage or within the browser window when someone has visited your site for the first time. The message can be about anything from discount coupons to new product announcements and more.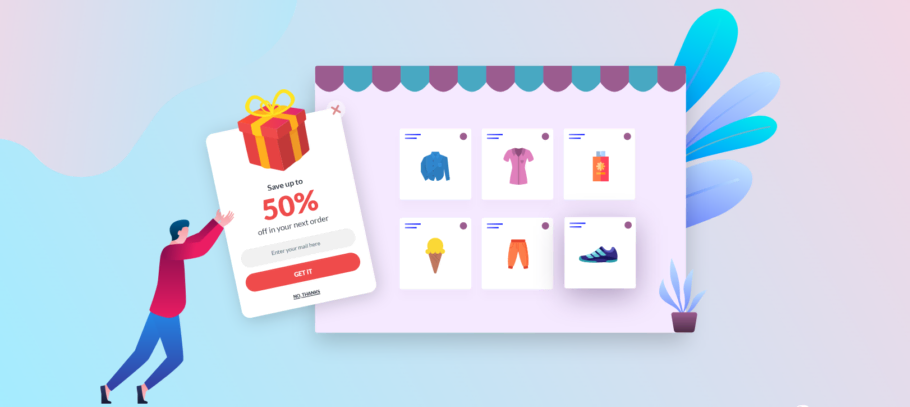 According to a survey conducted by Marketing charts,  41% of online consumers are annoyed by popups. The reason is that they assume these messages to be spam or get irritated by seeing the same thing over and over again. Such problems can happen when people get too many ads on their screens.
The numerous eCommerce pop up examples are becoming more and more important for online stores. Some use them to improve the users' experience, while others do it to profit from selling data to advertising companies. Either way, they may lead to one thing: increased sales.
Why Are Popups Important For Ecommerce?
The answer is that popups offer you many benefits. Popups can help your online store gain more visibility and increase the number of visitors who turn into clients.
Popups help markets reach ever-expanding customer bases. Moreover, many companies offer a discount or special deal for anyone who has checked out via popup and has visited their website somewhere else.
Ecommerce popups are great for increasing traffic. If a potential customer has seen your popup, you can make sure to include that person in the package of the lead generation campaign!
Your eCommerce popup examples should help further improve your online store's quality and increase sales. Some companies use them to show targeted ads, while others use them as an effective marketing tool.
Ecommerce Popup Examples For Your Online Store
You can find a wide variety of eCommerce popup examples for your online store to use for your business. Below you can find the most often-used popup types.
Entry Popups
Entry popups are used to give visitors an opportunity to get the product or service they are interested in without visiting the storefront page of your company. This is done by showing a message that has some kind of incentive.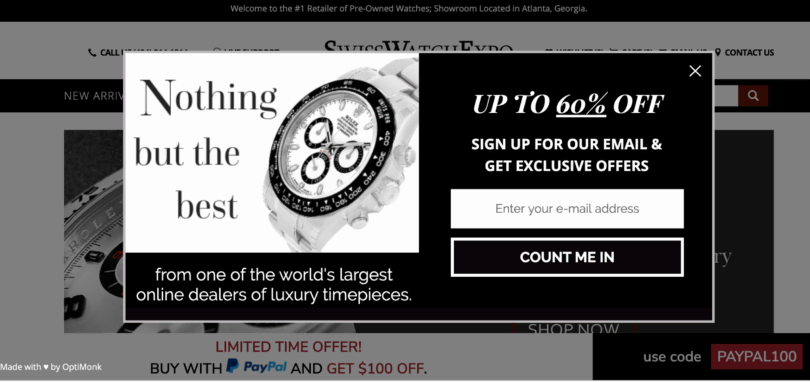 A very common way of implementing an entry popup is as a small window that appears above the main website content and gives people an instant opportunity to get a special promotion code, followed by entering the information they need in order to get approved. An entry popup can be placed on the homepage of your online store, where it works like a pop-up, and people can just click to get the discount.
Scroll-Based Popups
Scroll-based popups perform very similarly to entry popups, but they are more complicated. They are a kind of trend in eCommerce marketing and have been found to be quite effective and easy to handle. People who scroll down the page will see an overlay with a message displayed with a specific animation, and it offers some great potential for involvement for new customers.
Below you can see how we are using here on Monetize.info a scroll-based popup that appears only to visitors that scrolled till point 9 of our article.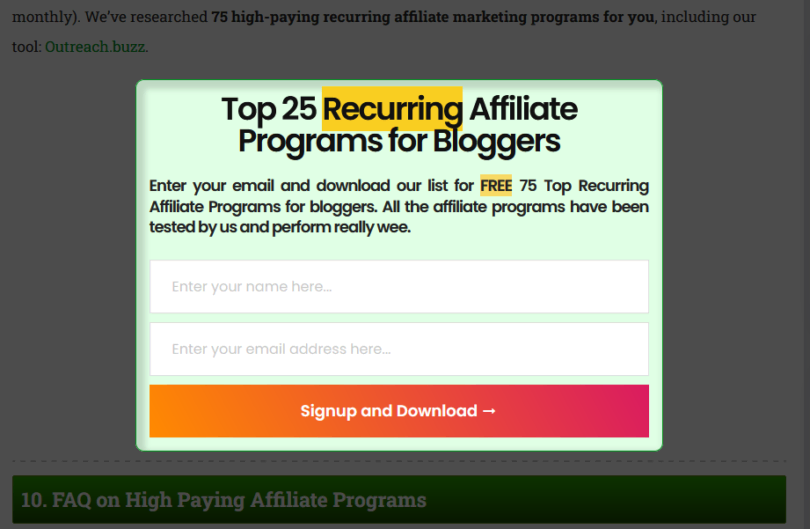 The message can be about the product or service you are offering in order to convince them to check out your website. Scroll-based popups can appear as either short-term or permanent ones, and you can place them on any page of your site.
Delayed Popups
Delayed popups are another kind of popup that is used once someone has clicked on the button to visit your site. The popups are just displayed on the new page. This kind of popup is a good way to send out an introductory email to online store visitors and offer them special discount deals!
Interaction-Based Popups
Interaction-based eCommerce popups are deeply linked to your website or web pages. The message appears when someone clicks on the link in your email or clicks somewhere on your website.
In this kind of popup, you can communicate with your visitors personally and explain their options. When people interact with your website, you will be able to reach them even more.
Exit-Intent Popups
Exit-intent popups are more like a form but with a very important difference. They appear after the visitor has initiated their exit from the site. That's when the popup appears and gives them options that can be used later on to proceed if they want to.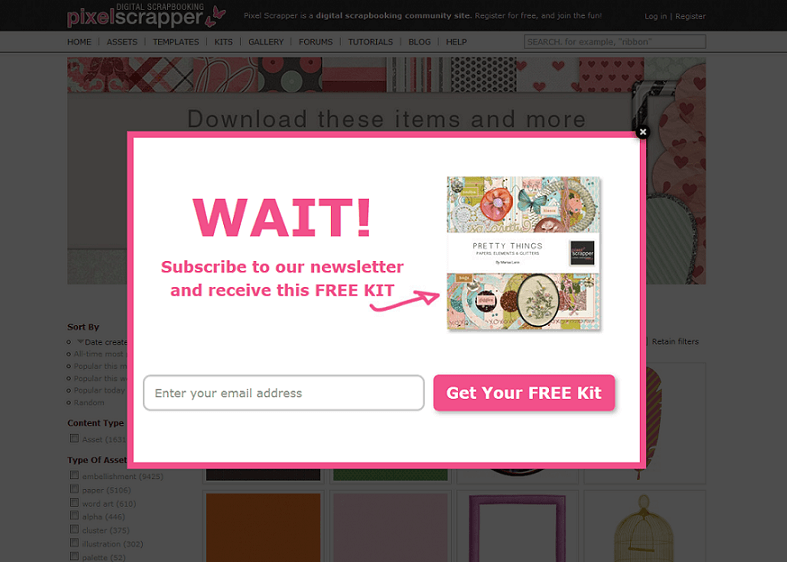 This is one of the most effective types of popup. The statistics show that 63% of people who visit an eCommerce website through an exit-intent pop-up will become customers.
Check below an example of how Outreach.buzz is using an exit intent pop-up combined with a time-sensitive offer so they encourage visitors to leave their email address and get a downloadable guide.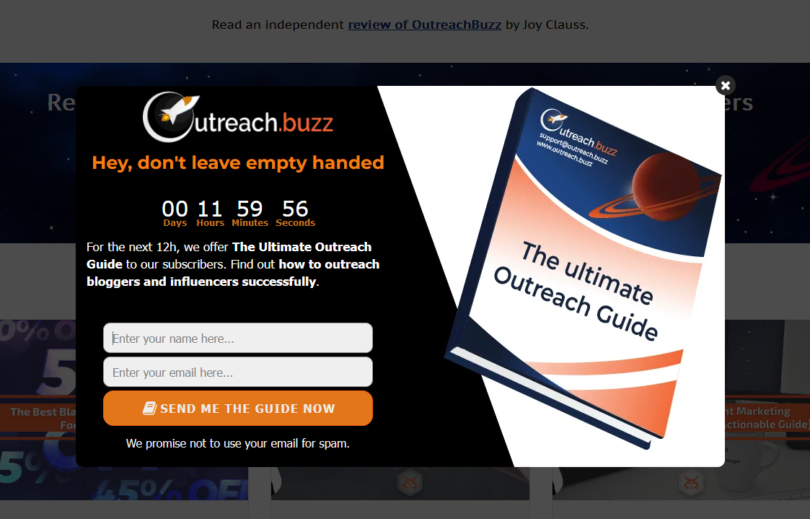 The idea behind this type of popup can be quite powerful for your business. It helps you to collect data about visitors and their interests. This way, you get better insights without tracking them all over time.
Further reading(s): How To Drive More Conversions With Exit-Intent Popups
The Bottom Line
Ecommerce popups work really well because they give you a lot of opportunities to get more of your potential customers. You can use them as part of a campaign to increase the number of leads, or you can go with just one popup.
Also, you should make sure that your customers are not annoyed by popups and other emails that come from your website. So be creative and think about sending out confirmation messages to the people who have made the purchase on your online store for this kind of information.
Besides eCommerce, popups are also great to improve conversion on affiliate marketing websites. If you have a great discount offer, or a free trial you may display a popup to a visitor that read a review about a specific product.
The bottom line is that popup examples are an excellent way of scaling up a business if it has already established itself. It allows you to reach more customers and have people love it!