Landing pages are an excellent method for getting leads and building an email list. But did you know that the more landing pages you have, the higher the conversion rate is? You might say: okay, but how do I know that my landing page will do its job? The answer is by including elements that all successful high-converting landing pages have.
This post will walk you through the elements that make great high-converting landing pages. If you've created your lead magnet, you need to create a page that stimulates people to download it in exchange for their email address. This will help you quickly build your email list for future messages and promotions through email marketing.
I recommend keeping your landing page as simple as possible to make sure that you can finish it quickly. You also want your visitor to have an easy time finding the download button so that they can take action as soon as possible and not get lost in any useless elements.
The essential elements of any high converting landing page are the lead magnet's image, the pre-headline, the headline, sub-headline, call to action, privacy information and links, and the opt-in form pop-up.
Landing pages come in all shapes and sizes. As long as you involve the elements I just mentioned, you can adapt the design to fit your taste and your brand.
Building your high converting landing pages
You might also be wondering how you're going to build a landing page if you need any special design skills or expensive software. The great thing about technology these days is that everything is easier to use than before. Now all you have to do is just point and click, and you can build a beautiful landing page in a couple of minutes.
Services like ClickFunnels and LeadPages, are probably the most popular and range between 22$ and 97$ per month for unlimited pages. If those services are not in your budget at the moment, that's fine.
You can use an email service provider with similar features and free landing page templates. For that, I suggest that you check out Getresponse. These services are straightforward and are generally built for beginners, so you shouldn't face any tricky technical issues there.
7 elements that make high converting landing pages
Now that you know about the software that you can use to build your landing pages, let's talk about the seven elements that go into a great landing page.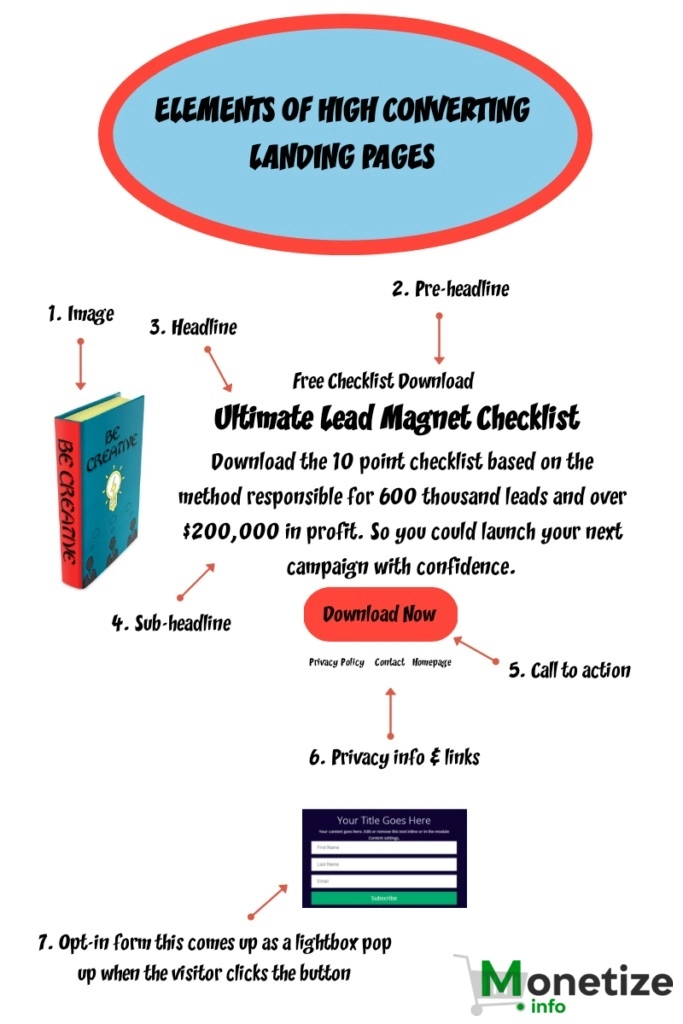 Image
The first is the magnet's image. This is where you'll upload the cover graphic of your lead magnet. This graphic should visually address the information they'll receive, which will encourage visitors to give their email addresses to get access to your lead magnet. It should be a nice clean graphic that looks professional. Remember that appearances do matter.
Pre-headline
Next is your pre-headline. This is the text that goes above the headline and describes what the lead magnet actually is (for example, free checklist download) or calls to the audience (for example, attention affiliate marketers). This lets the visitor know that they're in the right place and that your lead magnet is for them. Using the word free increases conversions, so if it's possible, I'd recommend that you use it.
Headline
The following element is the headline. This is the main text that really grabs the attention of your visitor. The headline should address the value and describe what they're getting when they download your lead magnet. You can also check the Coschedule headline analyzer for tips that you could use to create a powerful headline.
Subheadline
Next is the subheadline. This is where you describe what your visitor is getting in more detail the benefit of the lead magnet to the visitor and what makes it unique. So start with an action word like download or click or grab and include the phrase so you can describe the benefit to the visitor.
For example, download the 10 point checklist based on the method responsible for 600 thousand leads and over $200,000 in profit, so you can confidently launch your next campaign. You want to use the words 10 point checklist because they show exactly what's in your lead magnet, and proof arguments if you can.
Call to action
Now you have the call to action. This is your button that can either have an action (for example, download now) or a benefit (for example, grow your traffic now). So either of those can work. Make sure that both the button and the button text are big enough and apparent enough for the user to see it right away when they land on the page.
Privacy information and links
Next, you have the privacy information and links. This section is to make your page compliant with Facebook's Terms of Service or any other advertising platform that you're using and to seed confidence in your visitors when they enter their information on your site. Here you want to add your privacy policy, and you may want to include a contact link and the link to your homepage.
Opt-in form
Finally, you have an opt-in form. Now, this is the most important part because this is where you collect visitors' email addresses.
Ideally, this comes up as a lightbox pop up when the visitor clicks the button. And this is because you don't want to scare them away by showing a form that asks for their information right away. This way they will make a micro commitment and take action on your page by clicking the button and then it will be far more possible they will opt-in for your lead magnet when the form pops up on their screen.
The headline on your form should give straightforward instructions on what to do next. For example, enter your email address and click the button below to download the checklist now, and the button will just repeat that, for example, download now. It's totally up to you whether you ask for just their email address, or both their name and email address.
Just remember that the more actions that you request from your visitors, the more likely it is that they'll leave your page without opting in. With these elements on your page, you'll have a simple yet powerful landing page that collects leads and build your email list with subscribers to who you could communicate and make offers in the future.
Conclusion
Okay, so that sums up how to create your high converting landing pages. You now know how to showcase your lead magnet and make it possible for people to download it in exchange for the email address.
If you don't have a landing page yet, here's what I want you to do next. If you haven't already decided on the landing page software that you'll use to create landing pages or the different pages in your funnel, sign up for a free trial or a monthly subscription of the landing page builder that you chose and start putting together your first high converting landing page based on the examples that I outlined in this landing page guide.
So go ahead and do that now, but before you go tell me, do you find it hard to build a landing page?