In this complete guide, I will teach you how to start a discussion forum. We will begin with the mindset you should have as a successful forum owner, how to pick a lucrative niche, how to technically set up the forum (domain, hosting, forum software, mandatory pages), and how to promote it to get members and how to monetize your forum correctly.
I hope you are NOT intimidated by the massive growth of social networks discussions groups like Facebook Groups and LinkedIn. Even if forums lost some momentum to social media, many successful, profitable communities are out there. And I'm eager to help you start one.
I've created, maintained, and sold over ten forums so far, and I'm ready to give you the exact recipe to guide you through creating a platform that will make you a profit in several months.
Like to watch a video instead of reading?
Check how to start a forum tutorial created by the guys at NameHero, and then come back to check the article for more insights:
There is plenty of work in setting up a forum, so we better start:
1.  Starting a forum: PROs and CONs
Discussion forums and online communities have been around for a very, very long time.
There are several reasons why forums remain active and have been preferred by many over the decades.
However there are some issues with starting a forum, but if you do it properly, you can overcome them and enjoy the benefits of having a thriving community.
Let's analyze the PROs and CONs of starting a forum:
Discussion Forums PROs:
You can create a forum in any niche.
The amount of information available can snowball.
Subjects are archived, allowing newer generations to learn.
Active users are very loyal, at least for some time.
You can grow an active member base and monetize it properly.
Offer a simple way to answer reader questions quickly.
You create a way for your members to interact with each other.
You get fresh content generated by your members.
People tend to leave social media networks wondering about privacy and security issues.
Discussion Forums CONs:
You need substantial traffic, or your forum will remain quiet and slowly die.
It's hard work to moderate posts and keep the forum interesting.
You need good antispam tools to keep the forum clean.
If your forum becomes popular, your traffic could spike during hot topic discussions and use a lot of bandwidth. (God bless 🙂 )
How can you make it work for today's fierce competition, especially with the rise of social networks and other friendly communities?
First, let's get a few points out of our way.
2. Before starting a forum
There are several things you should know before actually starting a forum. Please pay attention to the following section because it can differentiate your project between a thriving, growing community or another failure.
2.1. Be Driven By Passion, Not Money
Having a financial plan laid out is crucial, but it should never be your project's primary motivator. Many forum owners are making money today because of their deep, admirable love for the community's subject matter. That brings me to my next point:
2.2. Understand How Communities Work
Let me ask: Do you still visit every website you once were a loyal fan of? You have moved on at this point, even if the websites are always great.
It's human nature to use things in cycles, leaving for a time and then (maybe) coming back. This means that obtaining some forum subscribers will never be enough. By double that amount (or even triple it), many previous users will have moved to other places.
Think, for instance, on a forum for quitting smoking or getting over a divorce. The members will be active for a year or more, but they will move on with their life when the issue is solved.
However, there will still be several members that will remain loyal because they got friends or simply want to help others get over their problems.  But, new members will sign up every day because they want help with their issues.
This, too, brings me to my next point.
2.3. Be Ready to Work Your Butt Off
I won't lie or sugarcoat it: Managing a forum is tough. People who sign up for a relatively empty forum are unlikely to start a conversation. But how do you get the ball rolling if you need people to interact?
Tips to Grow A Forum
Inviting you to participate: You have more connections than you realize. Look into your Facebook profile, or politely ask your friends to help. Offer an incentive if you must.
Hiring someone or asking for volunteers: If you have little to no money, places like Craigslist allow you to place unpaid gig listings.
Staying active: Getting the forum off the ground means being there to answer questions and starting new topics every day, especially toward the beginning. So for an hour or two every day, check your forum and answer questions from members, delete spam and post engaging content or ask questions that encourage your members to engage.
Offer incentives and organize contests. When you have very few members is crucial to encourage people to register and make posts. I got good results by offering incentives for registering (money, amazon cards, trophies, the member of the month contest, etc. Here are several ideas I've used for games in my community.
Now let's officially look at how to start a forum.
3. How to start a forum
In the following section, I will describe starting and promoting a discussion forum.
In my opinion, a forum should be an addition to your website and not a standalone site. So if you already have a blog or a website, add a forum, or just start it, make sure you add a section with articles, guides, or tools to the forum.
It's challenging to start only with a discussion forum, as at the beginning, there are no members to engage in the discussions and spread the word about your community.
3.1 Choosing a Niche Topic
This goes without saying, but the more focused your forum is, the more money you will make in the long run. Will you have fewer signups? Perhaps increasing your forum's interaction and profits is about quality, not quantity.
However, remember to choose a niche you are familiar with or passionate about. It will be funny if you receive questions from your members who do not know the answer. So you will have to search Google every day. If you choose a niche you're not passionate about, you will later become less and less involved in your forum, driving people away.
Thankfully, researching a niche has become easier over the years, thanks to the vast online communities available.
2.4.1 Where can I get forum niche ideas?
Here are the ones I recommend most:
Places to Research Forum Topics
Reddit: Browse through the thousands of subreddits and see how many years they have existed, and how many subscribers they have, and pay attention to their level of interaction. Any subject has a loyal following, but you must also consider your chosen niche's financial viability.
Facebook and Linkedin Groups
Quora, Yahoo Answers, and Similar: Look into new, trending, and all-time popular questions on these websites. What questions keep consistently popping up? Why? What do you think you can offer your members if you start a forum based on said topic?
Google Trends: Set up email alerts about your chosen topic on Google trends. You can turn virtually any trend into a forum topic by asking questions about it. This is a goldmine. You can use Google Alerts to set up notices for your niche.
Competitive intelligence tools:  Using tools like Semrush, ahrefs, SpyFu, and iSpionage can give you a complete overview of what people search online.
Browse similar forums: What subjects are they covering? What are they missing? How are those members treated there? Can you bring something new to the table or improve their existing methods? You should not try to simply mirror a current forum unless you have a lot of money and time to overcome it. Otherwise, it is going to be a lost battle from the beginning.
You should not try to simply mirror an existing forum unless you have a lot of money and time to overcome it. Otherwise, it is going to be a lost battle from the beginning.
Make sure your forum has something unique that will make visitors choose it instead of competition. These advantages can be the level of the member's engagement, writing detailed tutorials, rewarding members, etc.
3.2 Choose a domain name
A domain name is your address on the internet. It's not expensive to register a new domain name—doing it with GoDaddy or NameCheap can cost you as little as $12 a year, and other services offer domain registration in the $20 to $40 range. Some domain names are more expensive than others.
A different path is to buy an already registered domain. I do this for multiple reasons. Just to name several:
Most of the great names are already taken by competition or domain brokers. Try to stick with COMs.
Old domains have SEO power and will pro-pulsate faster at the top of search engines.
Old domains may have a nice chunk of traffic that will help you build your community faster.
I use Godaddy auctions to find quality domains at a reasonable price. Recently I purchased worldhostingforum.com at an auction held there.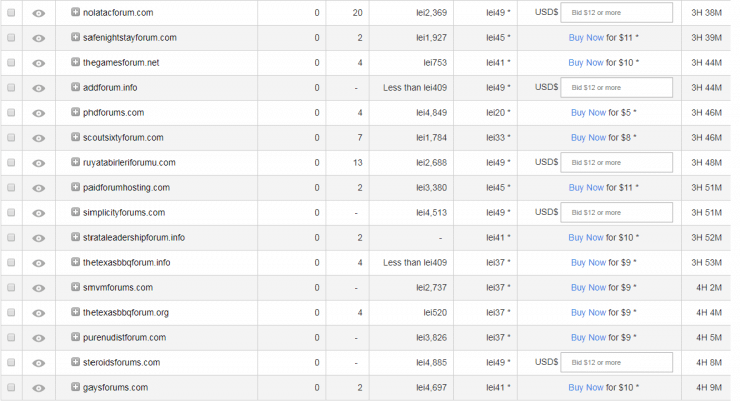 Another option is to go to a premium domain marketplace like Odys [review here] and see what domains they have available. All their domain are aged, have decent SEO metrics, and may bring traffic already.
If possible, your domain name should match the name and topic of your forum. 
Think of some words and phrases related to your niche and your perspective on it. Once you've found a combination you like, check if it's available through an online registration service.
Generally speaking, single-word titles (especially those related to popular fields) are more likely to have been purchased by a domain investor and to cost extra money to obtain.
Two and three-word combinations are less likely to have been used already. You can find an available domain name related to your niche with a little creativity and is more quirky and memorable.
3.3 Choose a hosting company
You first want to evaluate your current web hosting company and look at your other options. If you are happy with your current web hosting company and would prefer not to move, you may want to utilize these uptime monitoring tools to ensure your hosting is the best it can be and your site is not having downtime.
If you're building a simple website, the best way is to jump for a website builder like Strikingly, which comes with hosting.
In my opinion, the best cost/results option when you start a forum is to use a managed VPS, and when your forum becomes popular, you should upgrade to a dedicated server.
I'll avoid hosting a forum on shared hosting accounts because forums are pretty resource-intensive and also may need some settings that can't be done without a VPS.
Our hosting recommendation
I recommend using DigitalOcean (DigitalOcean $100 free credit offer here) as it has a scalable infrastructure and can install advanced software (HTTP2 etc.) to help you with speed and security. SpinupWP and ServerPilot are suitable to control panels for Digital Ocean servers.
Also, get details on the costs involved in upgrading should your forum become popular.
3.4 How to choose a forum software/platform
The forum software you are using in your community is another crucial thing for your community. The good news is that there are many forum scripts you can use, both free and paid.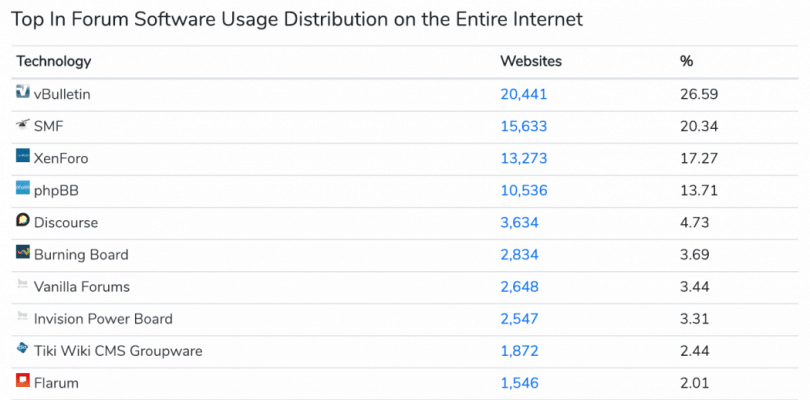 Here I will list several of them, but you can find many others, and if you have experience with one, I suggest you choose one.
A forum software's learning curve can take days to weeks, or even months to discover all the features.
Also, there are both paid and free forum scripts. If you don't have the funds to order a paid license, I suggest you start using a free forum script like MyBB or phpBB. It doesn't have as many inbuilt functions as paid ones and may need more hours to set up and install everything, but it saves you some money initially, and you can use the funds for marketing and promotion.
3.4.1 Invision Power Suite (PAID: $175 self-hosted or from $30 monthly)
Invision Power Suite offers, as the name implies, a suite of applications for your community: Forums (Board), Commerce, Pages, Downloads, Calendars, Galleries, and Blogs. This premium forum software offers comprehensive community features. So users can discuss effortlessly and encourage them to return to your site. It also allows users to share and promote content from your website.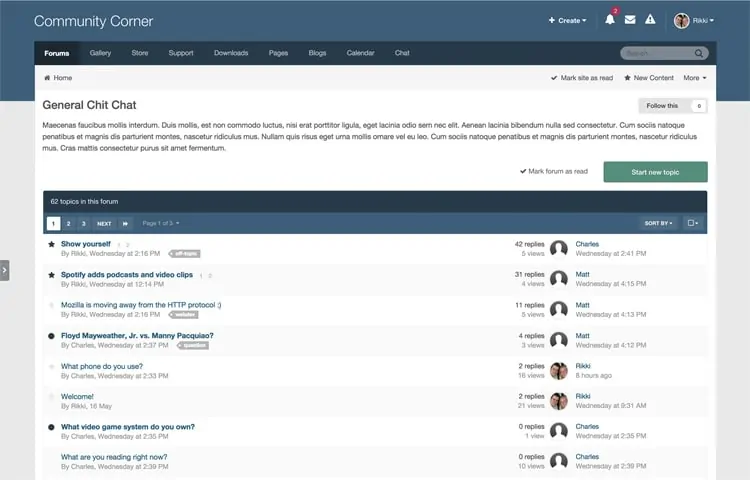 I have worked with Invision Community for over ten years and have launched several communities. I'm thrilled with it as I already know how to set up things and add-ons I need for specific tasks. Currently, the Invision community is at version 4 and is stable, powering communities with millions of users and posts.
I like that it is updated almost monthly with new features and has an anti-spam module that's priceless. That's because it keeps your forum almost clean of spam.
If you invest more and purchase more apps like Commerce used for monetization or Pages, a great CMS, you end up having a great community.  In the marketplace, you will find hundreds of useful add-ons created by community members. These add-ons extend your forum's functionality with Videos, Classifieds, Tutorials, News, and so much more, + a nice collection of free and premium skins for your IPS forum.
3.4.2 XenForo (PAID $140 self-hosted)
This paid forum software runs on PHP, like many other ones. It has developed by a senior vBulletin developer and has a seriously competitive environment at a lesser price. This forum system has some pretty good SEO features in our daily routine of forum postings and managing.
Many forum owners that used Vbulletin have switched to Xenforo and are quite happy with it. Their community is very active, and many add-ons are released or updated daily. Check Xenforo Resource Manager.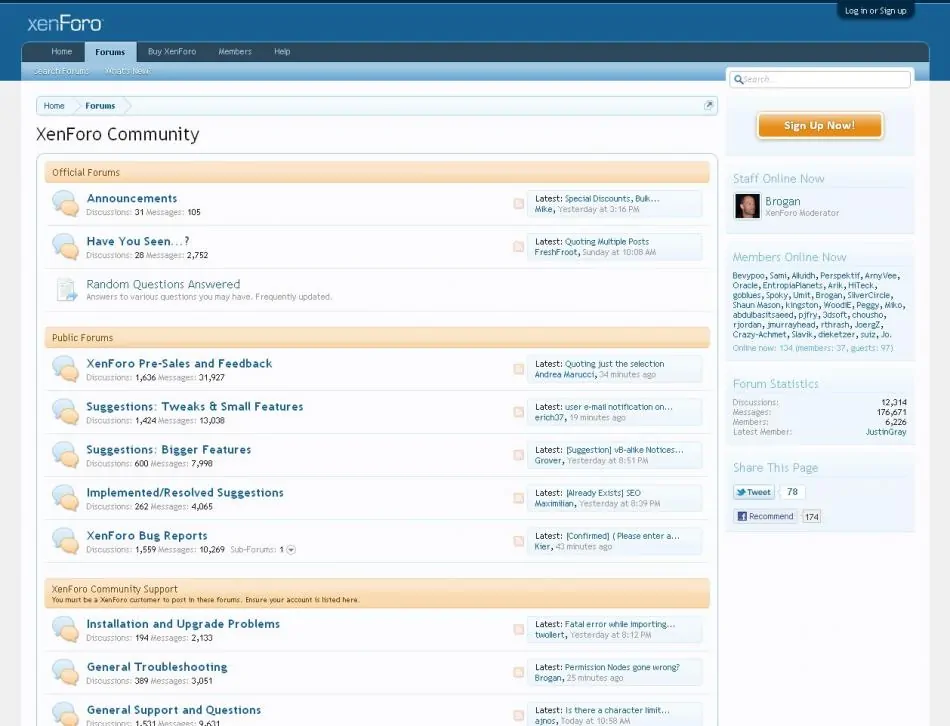 3.4.3 Vbulletin
vBulletin, or vB, is one of the most popular paid forum software on the internet. Many prominent websites using forums have taken vB as their first preference. It has so many great features like – photo albums, groups, event and task management, blog sites, calendars, forums, and much more.
With its latest version, you can get three elements – Publishing Suite, mobile suite, and a classic panel that allows every forum publisher to grab their audience. A must-have for professional forum needs.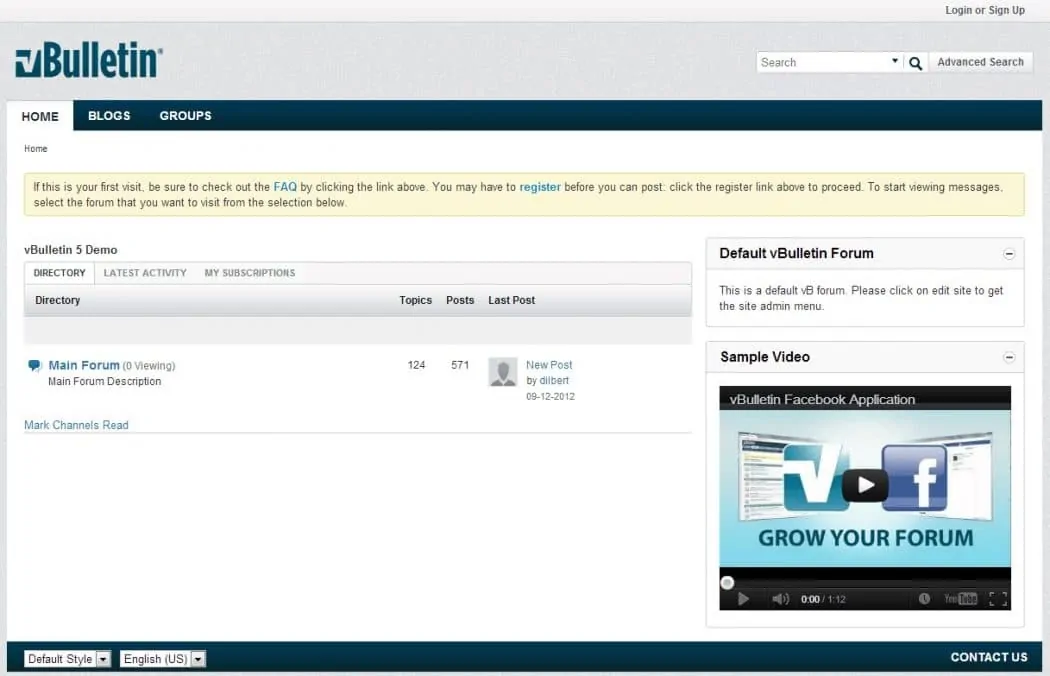 3.4.4 Simple Machines Forum (SMF) – Free
Simple Machines Forum — SMF in short — is a free, professional-grade software package that allows you to set up your online community within minutes. SMF is written in the popular language PHP and uses a MySQL database. It is designed to provide you with all the features you need from a bulletin board while having an absolutely minimal impact on the server's resources.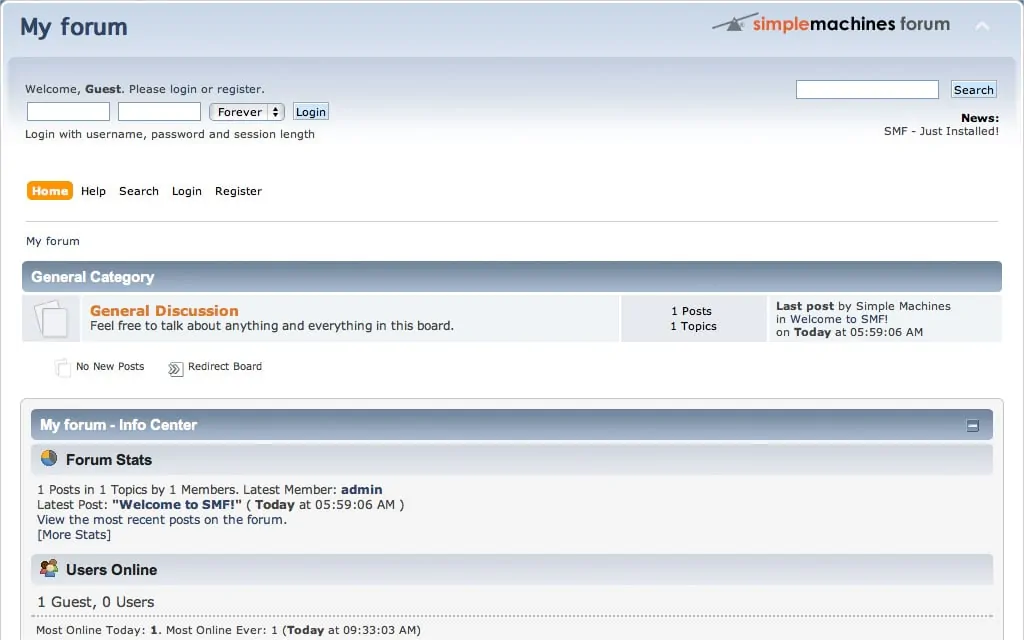 3.4.5 bbPress – Free
bbPress is a free, open-source forum software built on top of WordPress. It can be installed as a WordPress plugin into a WordPress-powered website. This is simple, fast, secure, and easy to use, and easy to administrate. It is also very extensible and capable of handling custom forums efficiently. There are also very active support forums with contributors willing to help fix issues and bugs.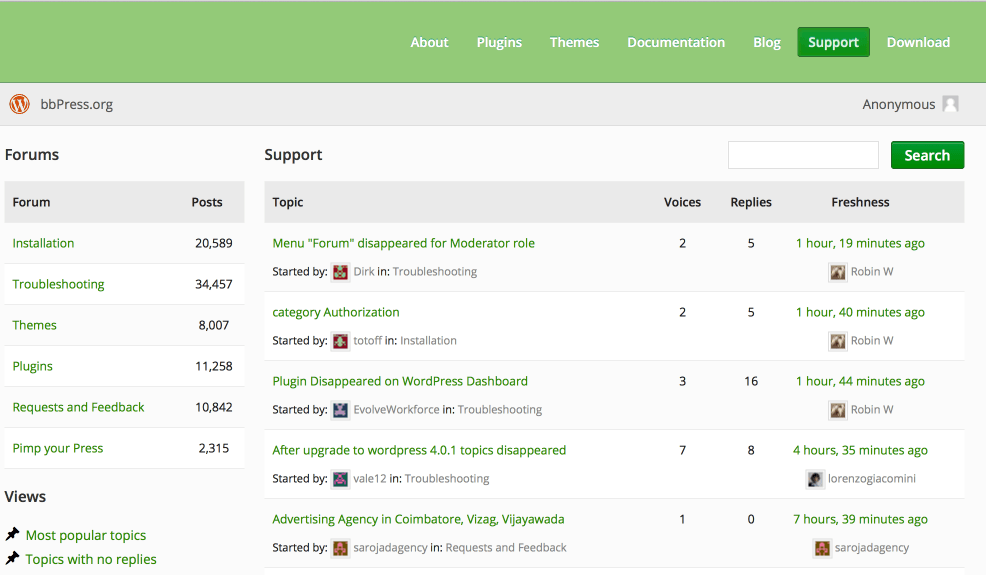 Not happy with bbPress? Try WPForo, which is the new kid in the WordPress forums-powered town. Here is a step-by-step tutorial on setting up a WordPress forum using WPForo.
Other forum software that worth mentioning: PhpBB (Free), MyBB (Free), Threaded (Free).
What forum software should I use?
As you can see, there are many scripts that you can use for your forum. If you are on a tight budget, you may start with a free script like SMForum or MyBB. Later on, you can switch to a more advanced, paid solution. Fortunately, all reputable forum software creators offer scripts to easily convert your forum from one platform to another.
If you run your site on WordPress, you should go with BBPress. Otherwise, I'd go with Invision Community or Xenforo.
[Article] What forum software are you using?
3.5 Forum Design
Besides content, another important thing on forums is the branding: logo, colors, and overall look. You may design your logo using software like Canva.com, which I use to create logos, banners, blog post images, and social media profile pictures.
You can also hire a designer to create unique materials for your forum to make it stand out from the crowd.
I suggest you spend some time finding a suitable theme(skin) for your forum that will match your niche. As I work with Invision Power Board, I use skins from Ehren – IPSFocus.com, which gives a stylish look to my forums.
3.6 Setup rules, categories, and pages
Ok, so now you have your forum up and running.
Before launching, there are several things you need to take care of:
Create the necessary pages: About us, Disclaimer, Terms and Conditions, Privacy Policy, and Contact us. Later on, when you have a solid base of members, you may start selling advertising and add an advertise with us page.
Set up categories. Spend time researching the most active categories on other forums and creating them on yours. Also, add categories that are relevant to your forum. Do not forget to add several categories like Introduce yourself, General discussions, Announcements, and Advertisements. Since I've set up an advertisements category, the number of spam messages on my forum has reduced drastically as most members posted their ads there.
Create a page with forum rules or post in the announcements forum and ensure everyone reads them. If they don't follow the rules, they should get a warning and a penalty. Make sure you are strict enough with the rules you impose. Otherwise, your community will be spammed, and your legit members will leave.
Set up member groups for admins, moderators, and regular members. Guests should not be able to post till they register an account.
Write some informative and controversial posts that will encourage your first members to engage in discussions.
4. How To Promote your Forum
Interestingly enough, promoting your niche forum is best done using the above sources you used for research in the first place. Of course, don't confuse natural promotion with blatant spamming, either. Simply remain active and, when appropriate, link to an existing topic on your forum if the website allows it.
4.1 Outreach people from your niche.
I've had a lot of success promoting my forum by outreaching members from my niche. Create a list of people that are active and email them. Create a friendly message explaining your forum about your plans and invite them to sign up and become active.
Of course, an almost empty forum will not be appealing, but you will see that many would like to help you spread the word about your community.
Need help on how to outreach people from your niche?
4.2 Ask for a link or banner.
Another method with good results is to ask bloggers and web admins from your niche to place a link or a banner to your forum on their websites. If you are not in highly competitive niches like SEO, you will get links quickly by asking.
Also, you can comment on blogs in your niche. Here is a complete guide on how to grab powerful backlinks through blog commenting.
4.3 Use Social Media to your advantage.
While many forum admins are pissed off that many users moved on social media sites like Facebook or LinkedIn instead of forums, you should use Social Media to your advantage.
Use your social media pages (Facebook and group, Twitter account, Linkedin page and group, Pinterest page) as gateways to your forum. Drive users to these pages and convert them to signup for your forum by offering them the reasons to do it: Check here several incentives you can provide to your forum members.
The key is to not compete with Facebook groups but offers your users a community with organized information and tools they can use. If you are into the weight loss niche, create a calorie table, weight management calculators, etc.
If you need help to drive traffic to your social media profiles, check the Mass Planner Review. It's a great tool to help you promote your forum on Twitter, Facebook, Linkedin, etc.
4.4 Add your forum in your email signature
Don't forget to add your forum in your email signature so the people you interact with will find out about your forum. Also, if you are a member of another forum, you can add it to those signatures.
Just make sure you don't write something too blatant like Signup on my Forum or something as most forum admins do not allow forum promotion – they don't like to lose their members to a competitor.
4.5 Organize contests and offer incentives.
I've used forum contests to get more activity on forums, and I consider it a powerful technique. Check here several forum contest ideas. You can offer money, Amazon gift cards, USB sticks, t-shirts, books, or other things that people from your niche find interesting for prizes.
You may also offer incentives for members to signup. It may be digital products like booklets, or reports, or you may offer them cash. However, I don't recommend offering them money because most members will not be active after getting their prizes or are not interested in your niche, so they do not contribute to your community.
4.6 Consider paid advertising
If you have a marketing budget, you may also consider paid advertising. However, you need to see this as an investment long-term because it doesn't pay off immediately. You can monetize it later if you don't sell something but build an active community. Facebook ads or Stumble upon ads are recommended.
4.7 SEO
SEO is an excellent way to get traffic and promote your forum in any niche. The only downside is that ranking your website for the terms you want takes time, and the competition is fierce.
Make sure your forum is SEO-friendly. Follow our complete SEO Checklist and tick most of the bullets. Fortunately, most of the forum platforms are built following SEO rules.
Add your forum sitemap to Google Search Console, create posts on keywords from your niche (If you need help with keyword research, check this article), and build backlinks.
We've written many on-site and offsite SEO articles and covered everything you need in detail. Here are several of them that will help you do proper SEO:
5. How to manage your forum
In my opinion, managing your forum, it's not an easy job. Most importantly, it can distinguish between an active community and one that no one is visiting.
As I manage the TopGoldForum community for over 10 years already, I'm going to give you some helpful tips for managing your community and keep your members engage.
5.1 Stay in contact with your members
One of the best ways to keep members engaged is to stay in contact. This is mandatory.
7 ideas for ways to keep your members engaged:
Welcome new members and ask them to introduce themselves to the community. Check TopGoldForum's Introduce Yourself category.
If you notice a member posting thoughtful, smart responses, invite that member to write an article or give him a special contributor status.
Keep track of the birthdays of prominent members by featuring their names and a birthday wish. Make your members feel special.
Do contests and giveaways regularly. You can offer prizes in cash, gift cards, or special memberships. Check the TGF Cash Folder as an example.
Add an area where business owners can promote their businesses or services. People love to share or self-promote. Check the TopGoldForum's Marketplace.
Create regular events in the form of webinars or gatherings for your members.
Add a General discussion / Leisure area where members can post funny, real-life questions.
5.2 Maintain a friendly community spirit
Creating a safe zone within your online community should resemble a family. So make sure the members are respectful, helpful, and polite. That is the same feeling members of an online community should experience.
6 ideas to Maintain your Community Friendly Spirit:
Put firm rules (no name calling, no cursing, no racial slurs, etc.).
Appoint community moderators to enforce the rules, keep the peace and get discussions going.
Don't be afraid to change the rules if you notice abuse.
Don't be afraid to remove people from the community or to block them if necessary. You should start with a warning and go from there.
Respect the privacy of your members.
Remind the community rules from time to time to your members.
5.3 Banning abusive members
One main issue of discussion forums is the increase of spam and self-advertising. With automation software like Xrumer, spammers can now create hundreds of forum accounts in minutes and start posting their adverts everywhere. If your members see such unrelated, non-sense posts don't get deleted will think the forum is not maintained anymore and will abandon it.
So you should maintain good antispam measures like captcha protection on registration, members approval, link posting preventing, and automatically banning users registering with the same IP or question challenges related to your niche.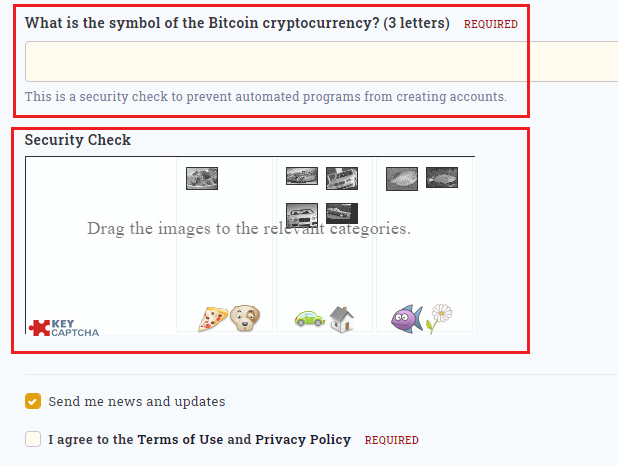 If someone comes into your forum and attacks other users, makes racial comments, or otherwise disrupts the flow of giving and take, they can damage your site and reputation.
Speaking of banning abusive members, don't be afraid to ban troublemakers from your forum via their registered account and IP.  It is highly improbable that the troublemakers aren't likely to convert into good contributors.
6. Tips from forum admins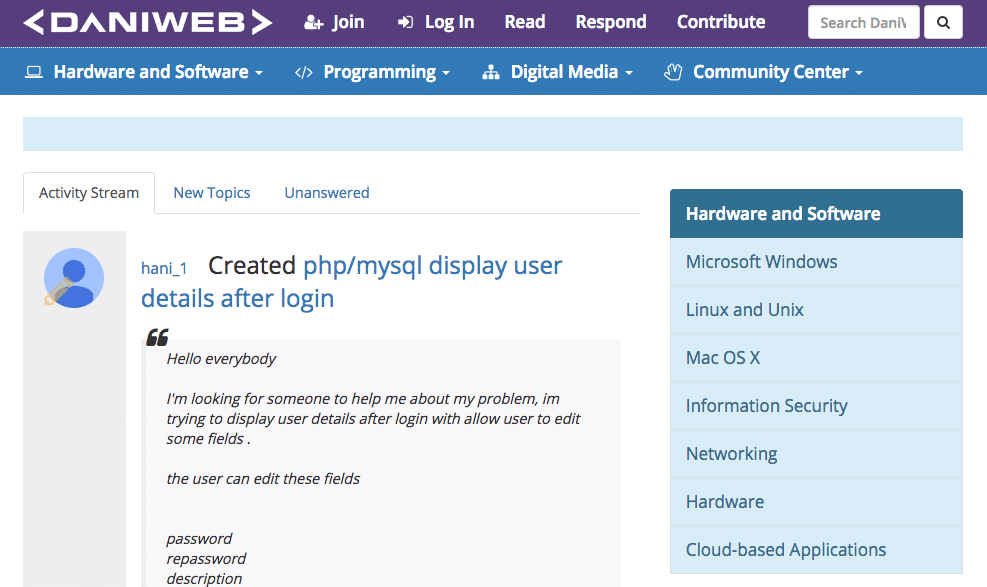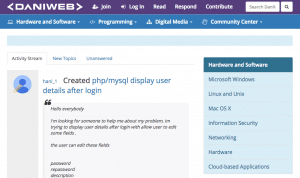 Dani Horowitz – DaniWeb.com
I started DaniWeb back in 2002 while I was pursuing a computer science degree as a means for computer science students to learn and gain help from each other. I fell in love with Internet marketing and went into it full-time immediately after graduation.
The most important lesson I can share is that what people say and do are often two very different things. But numbers never lie. As your community grows, you'll inevitably have a group of passionate, core members giving you suggestions and advice in the direction they want to see the forum go in.
Keep in mind that, no matter how hard you try, you can NEVER appease everybody all the time!! Keep track of analytics usage and monitor how people are interacting and using your site. Tweak and improve based on analytics … Otherwise, you'll end up with 100 feature requests, you'll implement them all to appease everybody, and no one — not even the feature requesters — will use any of them. Instead, just add features based on evaluating current usage and making informed projections.
7. Examples of Excellent Forums
Here are several forums I visit daily and interact with other members. Don't be surprised that there will be mostly internet marketing forums and money-making forums 🙂
Study them with attention because you will get many tips on properly starting a forum.
7.1. Warrior Forum
Warrior Forum is the world's largest Internet Marketing Community, and Marketplace and people on there tend to be very helpful to one another. Categories on the forum are laid out with new categories on top. Within each category is a sub-forum where the topics are broken down even further.
There are millions of threads and posts on this site. One of the things that Warrior Forum does that keeps people coming back is to have experts offering tips, streaming advice, and answering questions.
Right now, there are over 1,200,000 registered members and over 8,600,000 posts. In April 2014, Freelancer.com paid $3,2 million to purchase Warrior Forum, which had a little over 700,000 members.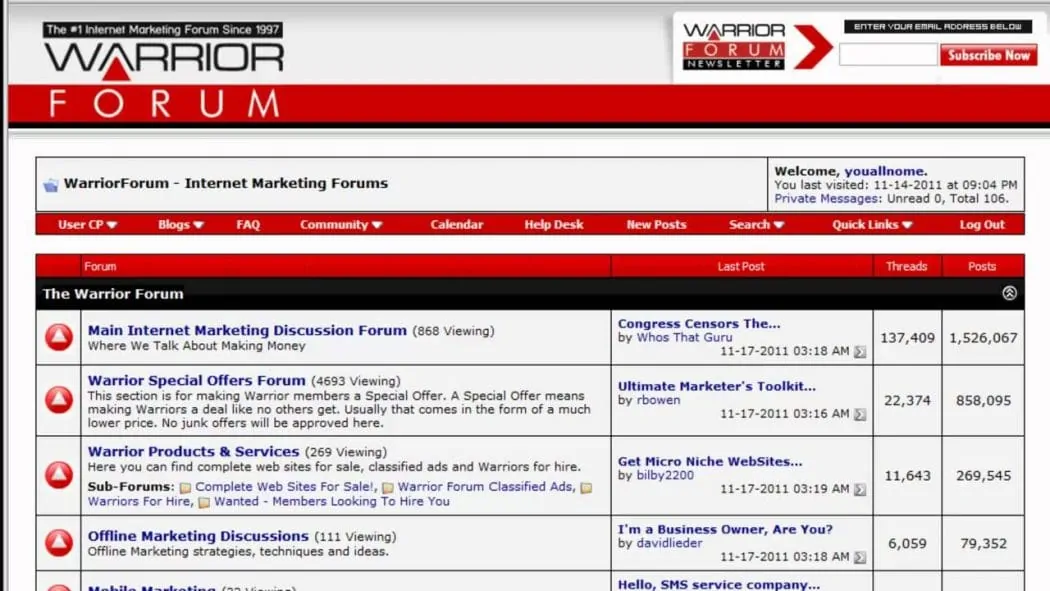 7.2. ProBlogger Job Board
ProBlogger is a website for bloggers. In addition to offering a blog filled with useful tips, they've added a job board.
The board is essentially a forum. Those who need to hire a blogger post potential jobs, and job seekers can read the potential employers' posts and private messages. The forum is set up to make a profit. Those looking for an employee can pay a small fee to post their jobs. However, the boards are free to job seekers. This is a model similar to what some resume sites offer, such as Monster.com.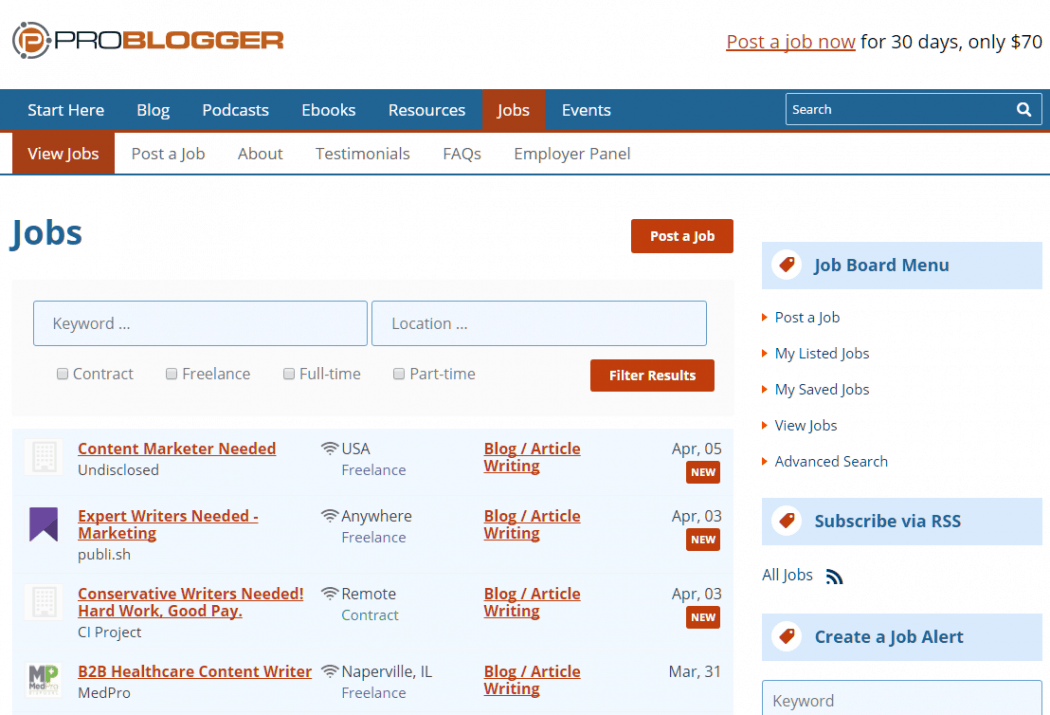 7.3. Top Gold Forum
TopGoldForum.com has been one of the prime online destinations for information and discussion about forex trading, offshore companies, online investments, and cryptocurrencies like bitcoin for over ten years.
At the moment of writing, there are almost 25,000 registered members and over 975,000 messages posted. I have administrated this forum for more than 15 years and learned much on this journey. I will share everything you need to know to start, manage, and monetize an online discussion forum.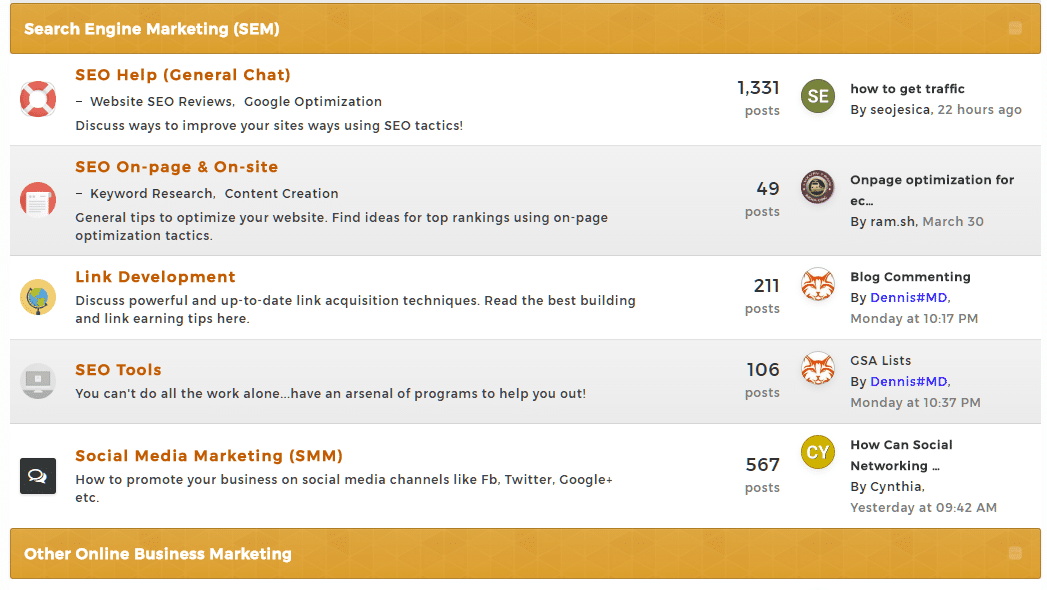 After Money Maker Group and TalkGold were closed, Top Gold Forum saw an increase in member signups, making it one of the best online money-making communities. Also, Top Gold Forum has recently been mentioned as one of the top Affiliate Marketing forums.
8. Conclusion on how to start a forum
Ok, now you have everything you need to start a discussion forum. I've detailed every step along the ride.
We just released a PDF premium Guide with 10 Proven and Verified 💰 Monetization Methods that work in 2021.
Do you have a forum or want to set up one?
Let us know in the comments form below.
Not yet ready to start your forum? Check how you can leverage online forums to drive traffic to your website for free. In our next guide, I will show you how to monetize your forum with 12 proven money-making methods that work this year and beyond.
I can't wait to read your comments on the article.