Everyone serious about doing business online needs to register a domain name for their website. In this guide, we'll step you through the process of finding, monetizing, and flipping aged domains. Moreover, I will spell out the concrete benefits you will get if you invest in aged domains.
Most of the people go to their favorite registrar and start typing keywords until they found one available. Speaking about good registrars, I can recommend you PorkBun and NameCheap, which both have fantastic prices.
The problem is that most of the good domain names (short, easy to spell, and brand-able) are already taken.
However, there is some other way you can start your online presence, and I'm talking here about aged domains.
Finally, I will step you through standard solutions effectively and efficiently to find aged domains that can help your bottom line.
1. What is an aged domain?
An aged domain is a domain name that was registered several years ago. If we talk about SEO, an aged domain is considered a domain indexed by Google several years ago.
In a nutshell an aged domain have a lot of benefits for anyone that use them
Here are the most important things that make an aged domain valuable:
Short & Easy to spell, brand-able domain name – As I've already told you, most of the good domain names are already taken. Of course, you can go with new extensions like .london or .agency if it fits, but for now, if you're serious about your business, you should aim for the .com.
SEO Weight – Domain age is a proven SEO factor as old domain names tend to rank better than newly launched ones. That's because they have been already indexed, may have a strong backlink profile, and a good reputation.
Brand mentions in publications – Aged domains may have solid backlinks from online magazines, newspapers, and other industrial sites. Also, don't forget about brand mentions.
Traffic – Aged domains still may carry a lot of traffic from people who remember the domain address or follow an old link and visit the website.
High reputation – Some domains have already got a high reputation in their niche on the market. It is a good bonus as it takes much time and effort to create a good reputation at the beginning.
For these reasons, aged domains may sell from several hundred up to million dollars. Let's take, for instance, the domain crypto.com which was registered in 1993, was recently sold for a price tag of around 5 or 10 million dollars to a crypto-currency company.
2. PROs and CONs of aged domains
Now that you know exactly what aged domains are, is time to analyze the PROs and CONs:
Aged domains PROs:
Short & Easy to spell, brand-able domain name.
Carry SEO Weight (backlinks, citations).
Brand mentions in publications.
Most of them get traffic already.
Have a High reputation in the industry.
Aged domains CONs:
Some of them have been used for malicious activities (SPAM, PBNs, etc) and are banned by Google.
SEO metrics may have been manipulated by the previous owner to sell it for a higher price.
May get into trademark issues if you don't check the registries.
3. Where to find aged domains
There are many places where you can find aged domains for sale. To list several places:
3.1 Forums
You can still find good, aged domains that are sold for several dollars on popular webmaster forums. You will not find a million-dollar domain name there, but still, if you have the time to look through the listing, you can find a domain name that you can sell for 5-10 times its acquisition price.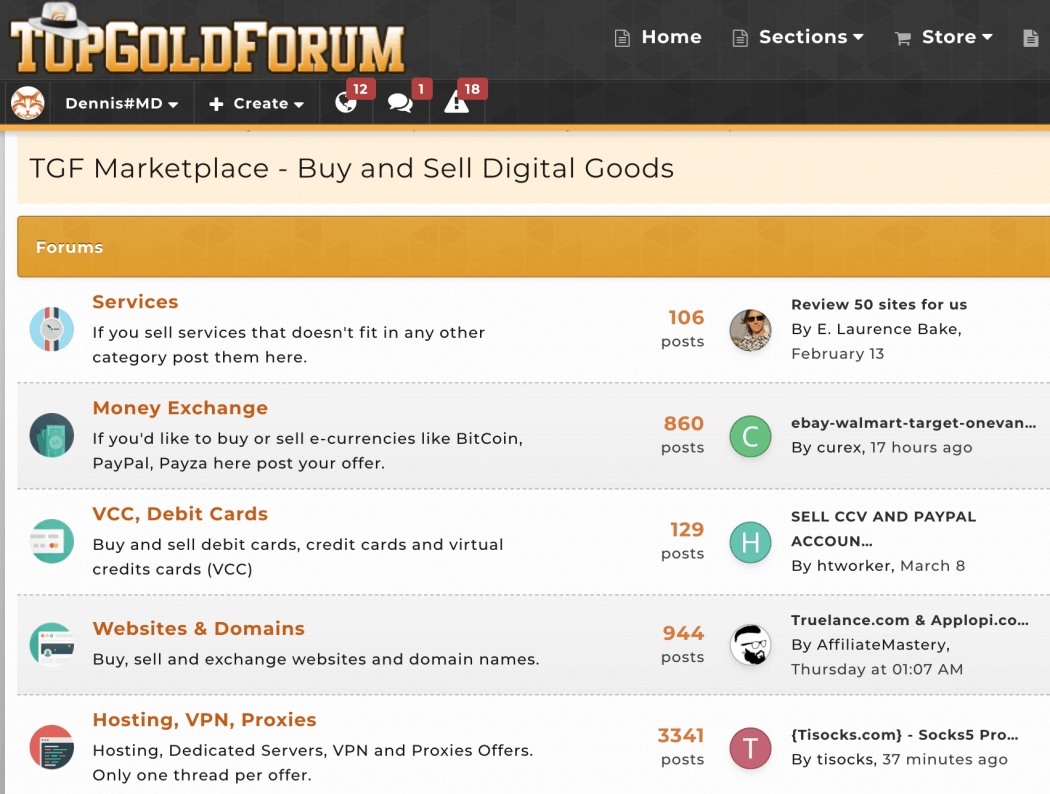 Here are several forums where you can flip aged domains:
Word of caution: Here, the domains are sold by individuals, so you should take all the precaution measures to make sure the seller owns the domain and will transfer it to you. I suggest using an escrow service.
3.2 Domain Marketplaces
The significant advantage of using auction sites to scoop up your network of aged domains is that they are straightforward to use. There is a lot of inventory available.
Moreover, you can select based on categories and metrics relevant to SEO, Social Media, Traffic, etc.
Here are several marketplaces you should check:
Sedo.com –  With over 700,000 domain sales since the set-up, Sedo is the best place to sell domain names. Sedo It is the biggest transacting platform for "secondhand" domains, which help people to obtain the desirable domain which is already taken.
Flippa.com – With over 800K registered users and approx. Thirty thousand domain sales, Flippa is the most popular site for selling websites, domains, and apps.
Godaddy Auctions –  GoDaddy has captured the domain market like fire. It is the world's most established domain name registrar with 14 million clients. And it has over 63 million domain names under supervision.
SnapNames – Snapnames is again another known web.com company for aftermarket domain names. It offers around 30 million domain names.
NameCheap Auctions – Namecheap is primarily a domain registrar and a hosting company and has a marketplace to buy and sell domain names. The marketplace has several types of domains like acronyms, advertising, auto, business, education, entertainment, etc.
Word of caution: There are cases of domain auctions that are actually rigged. The domain looks like it is about to sell for, let's say, $5,000, but the actual bids are made by people who are either employees or partners of the domain seller. So don't spend more than you decided to pay before the auction begins.
3.3 Domain brokers
There are several brokers that actively hunt for aged domains and then put them for sale. Visit this page to buy expired domains. One broker that we recommend is ODYS.
Odys.Global is a digital marketing company, which focuses on selling premium domain names. They check the domain marketplaces to find quality domains looking to expire and actively bid on auctions to secure these domains. After they acquire and secure the domains, they recreate the brand and put them for sale.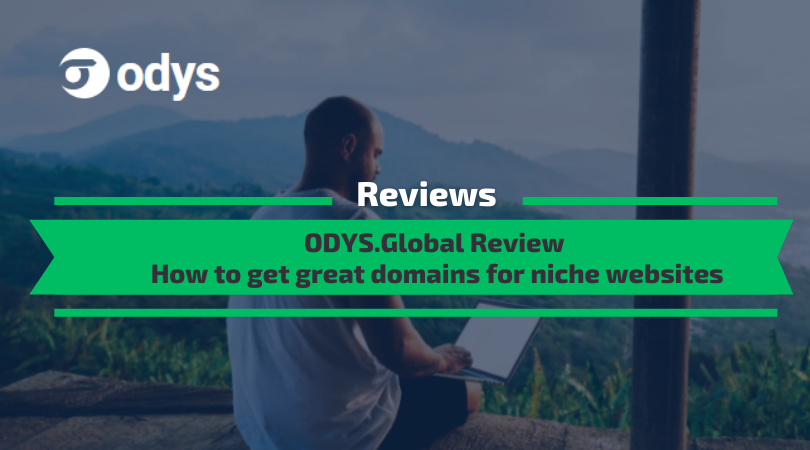 By getting an account on ODYS.Global, you will get access to their entire inventory of aged domains.
4. How to spot excellent domains
Now that you know where you can find aged domains is time to get serious and acquire some of them. Keep in mind that you may lose money if you buy the wrong domain that you will never be able to resell.
As I've told you before, good, aged domains have several characteristics: short and easy to remember, carry on SEO weight, a solid backlinks profile, brand mention, traffic, and of course, you can purchase them for a reasonable price.
To do that, you need a tool like Domain Hunter Gatherer Pro that will scan through thousands of domains to show you the best one, including relevant metrics. It is one of the best software in the market has awesome features:
Domain Hunter Gatherer Pro Features
Hunt for Niche Related expired domains from a keyword(s)
Hunt for expired domains with links from authority/niche related websites
Reverse Crawl Expired Domains, no third-party accounts required for this (like there is with competitors)
Find brandable / keyword domains within seconds with Easy Expired Domains
Recover websites from the Wayback Machine archives with DomRecovery (more on this later)
Create huge lists of domains in just a couple of minutes, ready for checking
Get Moz, Majestic, and Social stats with no need for 3rd party accounts
Filter and sort on any stats
Fastest expired domain scraping available
In the picture below, you see how fast I've found several domains for the keyword cybersec. I'm planning to create a cybersecurity-related website btw.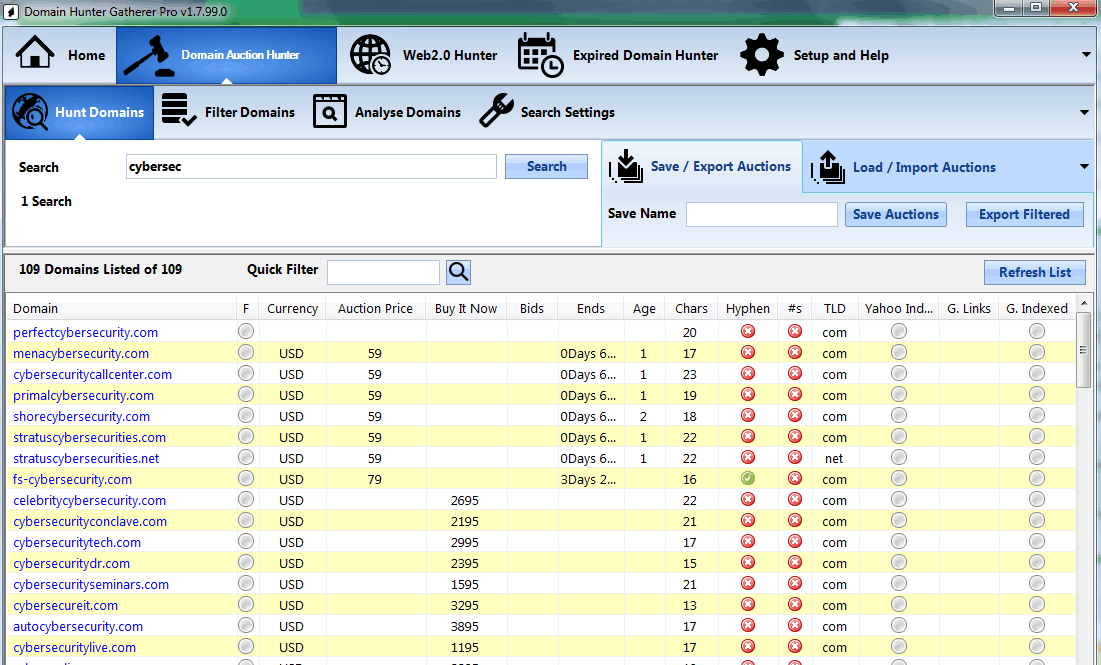 This powerful piece of software also crawls aged Web 2.0 accounts from Tumblr.com, Blogspot.com, and Wordpress.com. It has a long list of free web2.0 and blog sites that it crawls using high-quality SEO metrics.
You can rest assured that you won't miss out on totally free Web 2.0 accounts using the Domain Hunter Gatherer Software (discount here).
It also comes with a 30-day money-back guarantee, so you can ask for your money back if you decide this is not for you.
5. How to sell aged domains
There are several ways you can make money with aged domains:
5.1 Resell the domain as it is
Just after you purchased the domain, you can put it back on sale on marketplaces or send emails to websites and companies that may be interested in acquiring it.
For instance, I receive 3-4 emails every month from sellers who offer me the same domain name but using other extensions. Ex: I own the .com, and I receive offers of the .net or short version of them. This way, you can easily make 2-5 times the price you paid.
5.2 Build a website and sell it
Another way is to rebuild the website, add content, invest in SEO and Social Media, get some tremendous traffic growth and then put the website for sale.
This way, you can make ten times or way more than you invested in a domain name. Here is a Complete Guide on how to sell your blog.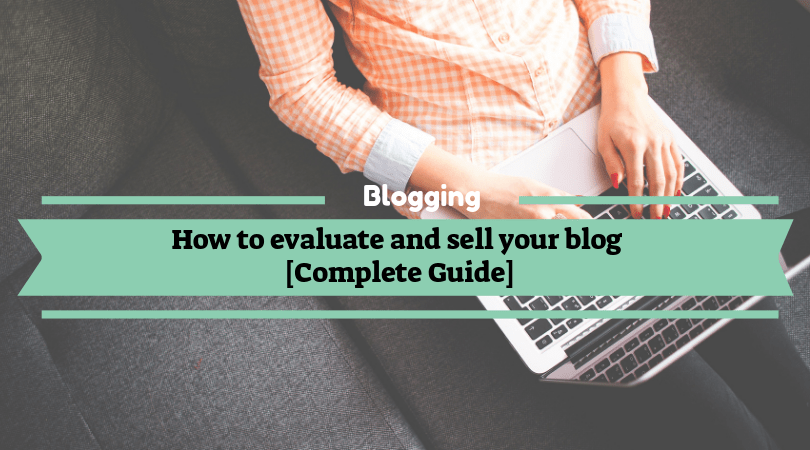 5.3 Build a website and sell backlinks, advertising
This method is like the previous one but with a twist. Instead of selling the property, you monetize it monthly through affiliate sales, posting advertorials, and placing advertisements. You still make money monthly and still keep the property.
In the tutorial below, you learn how to monetize a blog properly.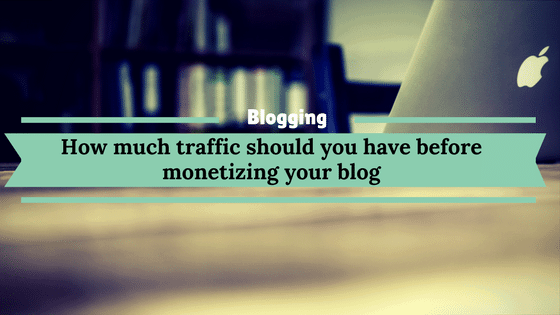 Conclusion
First of all congratulations on reading the entire article. Now you know what aged domains are, why you should use aged domains for your affiliate websites, and what are the best sources to get aged domains.
Now you have everything you need to start making money with aged domains.
In the comments form below, let me know if you flipped domains in the past and what your achievements were.