If you want to start guest posting for your affiliate marketing blog but don't know where to begin, this guide is for you. Learn how guest posting can benefit your business, plus eight important steps for setting up a plan that supports your marketing initiatives, expand your brand reach, and connects with new customers.
So, in a nutshell, in the following guide, you will learn what exactly guest posting is, what are the benefits of guest posting for affiliate marketing and how to execute a successful guest posting strategy.
What Is Guest Posting?
Simply put, guest posting is when you, as a guest, submit an original post to a targeted publication that your audience trusts.
Done right, guest posting is a win-win situation for everyone: You get to expand your reach and share your expertise by getting your content in front of new readers, and the publication gets the chance to run new content that shares diverse insights and ideas with its readership.
Here is a guest blog post example on the Monetize blog. Rushin Ballu, the writer, submitted a guest post to us, the publisher.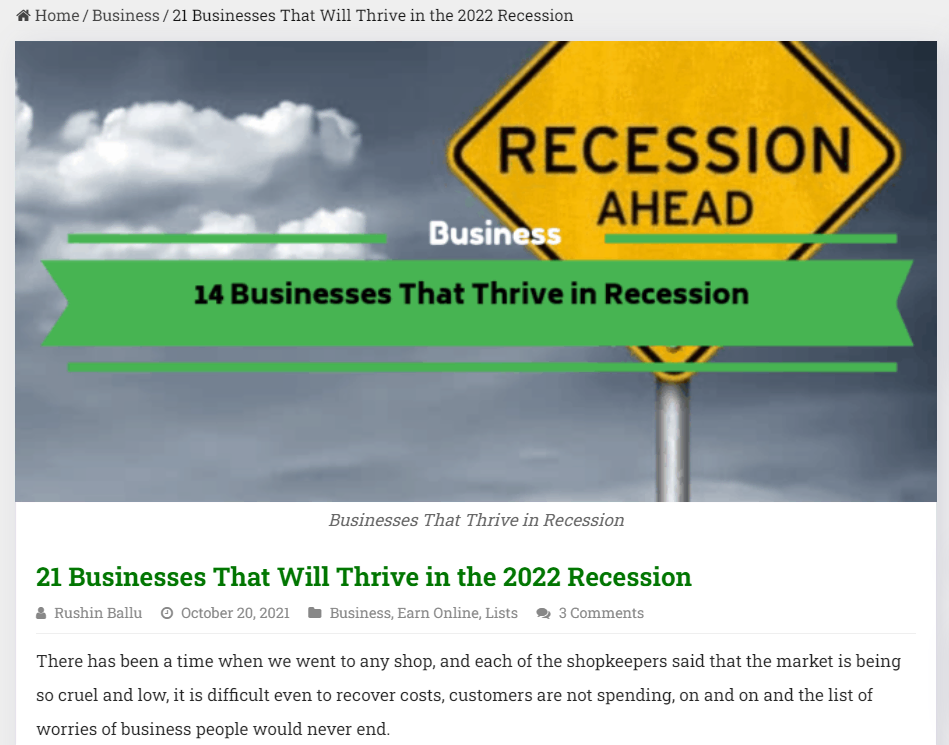 What Are the Benefits of Guest Blogging?
Guest blogging works well as a marketing tactic because it's symbiotic. It benefits both publishers and writers.
Publishers get fresh content that their audience can enjoy and appreciate when the content is relevant, valuable, and high-quality.
There are many potential benefits of guest blogging for writers:
Builds brand awareness
Builds relationships
Boosts authority
Reaches new audiences
Drives traffic to their website
Builds backlinks that boost site SEO
Grows their email list
Grows social media following
How to Execute a Guest Posting Strategy in Eight Steps
Building a successful guest posting strategy for affiliate marketing blogs includes several important steps. These steps help you set a good foundation for your plan, setting clear goals, expectations, and standards for deciding which opportunities are best for you.
The rest of this post will teach you how to:
Determine your guest posting goals
Find guest post opportunities
Qualify guest posting sites
Develop blog post topics
Create the perfect pitch
Write a post worth publishing
Follow up on your work
Track your results
Step 1: Determine Your Guest Posting Goals
As with all good affiliate marketing strategies, a smart guest posting strategy starts with outlining your goals. Knowing what results you want to see from your work will help you create a clear road map for getting there.
Consider what can be accomplished through guest blogging and determine which two or three goals align best with your marketing objectives.
Increase brand awareness. Get more people to know about you and your brand.
Introduce your products and services. Get more people to know about what you offer.
Show audiences how you can help. Get more people to see how your expertise, products, or services can solve problems.
Improve visibility on social media. Get more people to follow and engage with you or your brand on social media.
Boost SEO. Get high-quality backlinks to support your off-page SEO strategy.
Build industry authority. Share your expertise to get people to see you as an expert in your industry.
Increase traffic. Drive more traffic to your website through referral traffic.
Increase leads. Generate more leads by reaching new audiences.
When you know what you want your guest posting to accomplish, it will be easier to identify the best guest blogging opportunities. Always prioritize sites that will help you get closer to your goals.
For example, if your goal were to increase traffic to your affiliate marketing pages, you wouldn't want to spend time guest posting on a small, niche site that has very low traffic.
If your goal is to improve your keyword rankings for some pages, you should consider guest posting on websites with strong SEO rankings (Domain authority, traffic). Also, if your goal is to build industry authority, you may benefit from writing for a small, industry-specific blog.
Step 2: Find Guest Post Opportunities
If you aren't sure how to find guest posting sites, use these three tactics.
Find sites that interest your audience.
Start by looking for sites that attract and interest your audience. If you aren't sure what your audience is interested in, use a buyer persona template to create a profile of your ideal customer. Also, use Majestic Topical Trust Flow to discover what topics your audience cares about and what sites they visit most.
Enter your site or a site you already know your audience uses. The tool generates a list of categories that interest that site's audience.

The report also includes details like the percentage of the audience who cares about the category, sites that relate to the category, and popular topics within the category. You can use this information to narrow down potential guest posting sites and brainstorm content ideas you could submit to them.
Find sites similar to your ideal guest posting sites.
When you know the sites your audience uses most frequently, you can use this information to find other related sites.
Enter the URL of a site you know your audience visits in Ahrefs Competing Domains or Semrush. The tool will provide a list of other sites with an audience similar to the target site.
For example, if you'd love to guest post on Monetize.info, enter that site into the Ahrefs Competing Domains Tool. You'll get a list of sites with an audience similar to Monetize.info, which may also create good guest posting opportunities.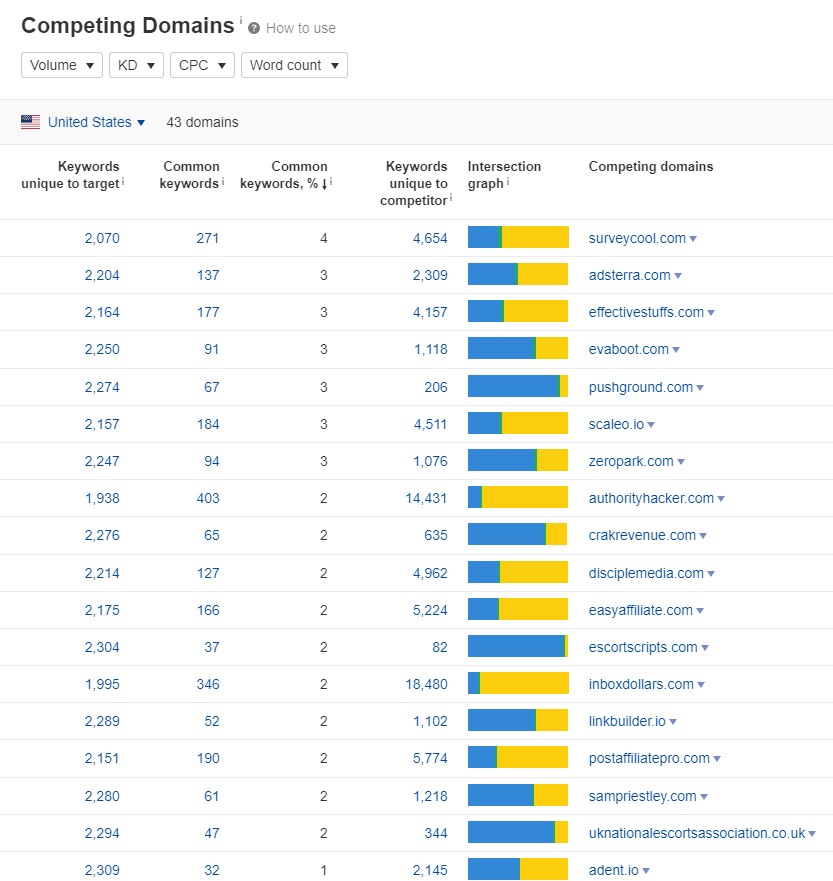 Select individual sites to get more information about their site metrics. Analyze these sites further with a competitive website analysis or save them to your Workspace to refer back to them later.
Find where your competitors post.
Another way to find guest posting sites is to look at what sites already link to your competitors. If a site already links to your competitor, they will likely also link to your site.
To find competitor backlinks, enter up to 10 competitors into Ahrefs Links Intersect. The report shows the sites already linking to one or more of the listed competitors.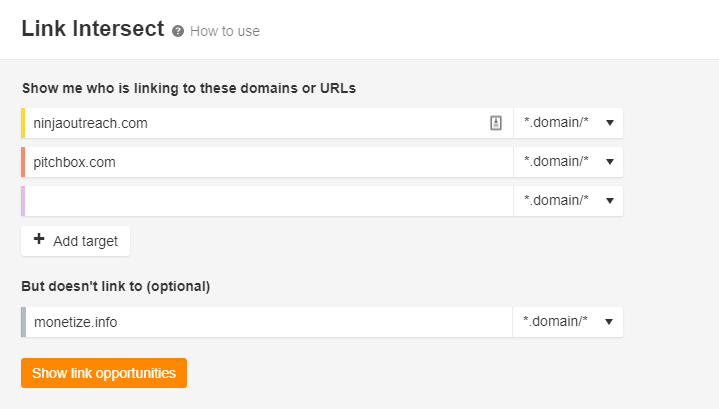 The report also shows the URL of the pages that link to competitors. Click on the linking site to see the URLs that include links.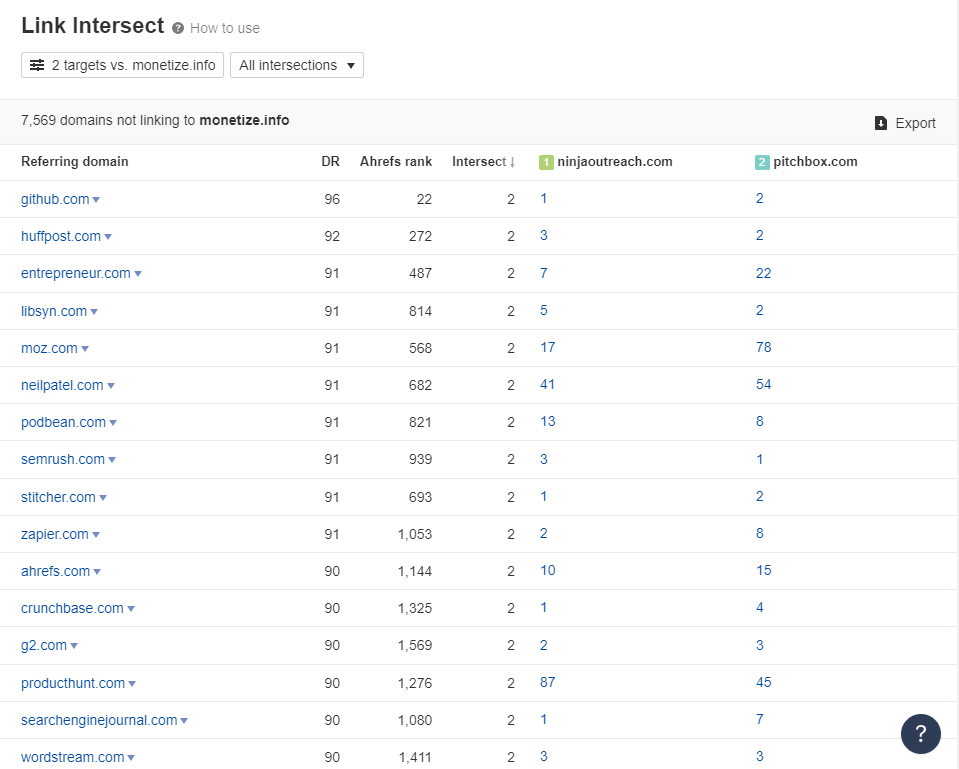 Not only can you see what content popular sites prefer to link to, you may also come across guest posts. This is a sign that the linking site could also be a good guest blogging option for your brand.
You may also check online tops and lists of blogs in a specific category. For instance, we just created a list of the best 16 affiliate marketing blogs.
Step 3: Qualify Guest Posting Sites
Once you have a list of potential guest posting sites, start qualifying them. Look for blogs that accept guest posts but are also a good fit for your strategy and goals.
Create a criteria that align with your goals and guidelines for guest blogging. Look for sites that:
Have the target audience you want to reach
Have the size of the audience you want to reach
Drive a certain amount of traffic
Have strong authority in search
You can use many tools to find metrics that will help you measure and qualify sites. Enter the target site's URL in tools like Moz, Ahrefs, Semrush, and UberSuggest to find information regarding Domain authority, traffic, social media shares, etc.
To compare multiple guest blogging sites at one time, you can use a bulk comparison tool like URL Profiler or Screaming Frog. This report easily identifies the best guest post opportunities from a group of sites.
Step 4: Develop Blog Ideas
Once you find a site that fits your guest posting criteria, it's time to develop blog ideas. Brainstorm a few ideas for posts that will support your goals while also serving the wants and needs of the publisher and their readers.
Make sure it's a fit for their readers.
Consider the publisher's audience and develop topics that align with their interests.
Remember, you can use the Audience Interest Tool to identify the most popular topics for a site.
Enter the URL for the site to see what their readers care about. Click on a category to see clusters of topics within that category. Develop topics that tie into the site's most popular categories.
Look for content needs and gaps.
You don't want to pitch topics that have already been covered on a blog. Ideally, you'll pitch ideas that fill content needs and gaps. Review the site and identify topics that would be a good fit for the site but haven't been covered yet.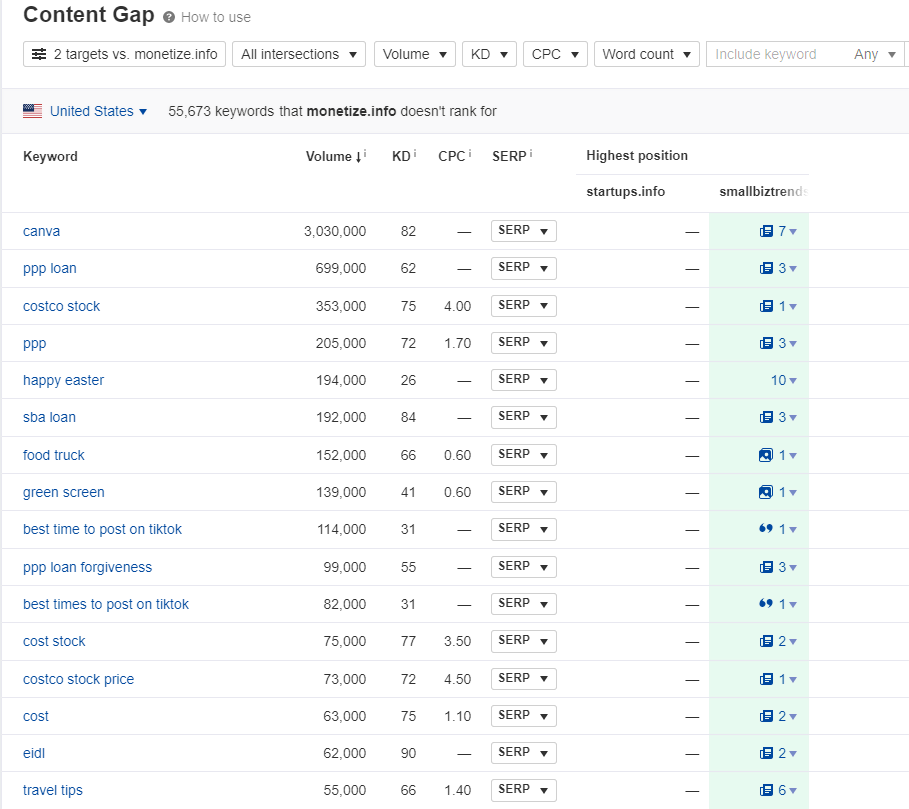 You can easily find content gaps using Ahrefs Content Gap. Enter the target site and some of their competitors.
A keyword research tool will create a report that shows the top keywords driving traffic to competitors of the target site, but not the target site itself. From here, you can see what topics interest the audience of the target site, but they don't have content for The keyword research process is a great way to generate a list of relevant guest posting topics.
Make sure the topic connects to you and your goals.
While you want to make sure that your topic fits the site and serves the publisher's audience, keep in mind that it also needs to serve your interests. Choose topics that will allow you to promote your interests, refer back to your industry, and connect with your ideal audience.
Step 5: Create a Guest Post Pitch
Guest blogging isn't as easy as submitting a guest post and having a publisher run it on their blog. Before your content can be considered for publishing, you must first catch the publisher's attention by pitching your post.
To craft a guest post pitch that will get noticed:
Find the right person to contact. Don't go right to the general contact page of a site. See if you can find the name of the editor or blog manager, seek out their contact information, and reach out to them directly.
Look for and read the site's guest posting guidelines. Before you pitch, see if there are any requirements for guest posting. Don't waste your time (or the publisher's time) pitching posts that have no chance of being accepted.
Create a compelling subject line. Likely, you aren't the only one pitching the publisher, so you must stand out in their inbox. Write a subject line that is interesting and eye-catching instead of something vague and stale like "Guest Post Submission."
Be personal, not promotional. You may send out dozens of guest post pitches, but that doesn't mean you should copy and paste the same message to every publisher. Write your outreach email as though you are writing a one-to-one correspondence.
Lead with benefits. Tell the publisher what they'll get out of the deal. Highlight the benefits of publishing your post by sharing what their readers will gain and how the post will serve their site. (Make your posts stand out even more by including a screenshot of the Competitor Keyword Matrix to show that you've done your research and your post will fill a content gap on their site.)
Add proof of your quality and value. Include links to other guest posts you've written, your social metrics, and more to show the publisher what you can bring to the table and why they should work with you.
Step 6: Write a Post Worth Publishing
Once your pitch is accepted, you still have to write a post that the publisher wants to publish on their site. Publishers will be more likely to publish your post and work with you again if you can deliver on your content.
Submit a guest post they will love by following these best practices:
Follow guidelines. First, ask for guest posting guidelines and editorial standards (if they aren't provided) and follow them.
Don't be overly promotional. Remember that most publishers won't accept overly promotional posts if your goal for guest posting is to promote your products and services.
Add value. Rather than be overly promotional, focus on adding value. By giving readers something they can take away, you serve them while increasing the chances that the publisher will publish your post.
Proofread. Repeat. Don't leave it up to publishers to make your post worthy of publishing. Go through a few rounds of editing and proofreading to ensure it is clean and professionally written.
If possible, link a page on your site in the blog post. Most publishers have guidelines on linking in guest posts. Follow them, and if permitted, include a link to a piece of content on your site. This helps to drive relevant traffic back to your site while supporting off-page SEO.
Write a bio that welcomes readers to learn more. Another way to drive readers to your site is through your author's bio. Include a link back to your site (if allowed) and include a call to action to drive readers to want to click to learn more. Consider using your bio to promote a freebie or opt-in on your site to drive even more traffic.
Step 7: Follow Up
Your work isn't over once you submit a guest post. If you want to build a good relationship with the publisher and write for them again, follow up after your post is published. Help the publisher promote and manage the post.
Share your post on social. Engage in blog promotion Share the content with your audience by posting it on your social streams. When possible, mention or link to the publisher's brand to show them that you are working to help promote your piece.
Respond to comments. Keep an eye on the comment section of your post. If people leave messages, follow up in a timely fashion.
Link to it on your website. Promote the post on your site by either linking to it on a portfolio page or writing a post summary with a link to the original on your blog.
Step 8: Track Your Guest Posting Results
You can't fully understand what you gain from guest posting unless you track your results. For each guest post, use metrics to track and monitor the marketing ROI of your work.
Create a list of your posts along with the name of the website, the live link, and relevant marketing KPIs. Track metrics that are most relevant to your goals outlined in step one.
Guest Posting Metrics You Should Track
Amount of referral traffic
Number of new website visitors
Number of social shares
Changes in SERP placement
Number of new leads
Number of brand mentions or links
With these metrics, you can identify sites that helped you reach your goals and sites that missed the mark. This will help you determine which sites you should attempt to guest post on again and which should be removed from future guest posting plans.
Start Building Your Guest Posting Plan
Now you know how guest posting can support your affiliate marketing blog. You also know eight steps you can take to plan and execute your strategy.
Put this information to use and start building a guest blogging plan to increase your brand awareness, generate leads, and drive more organic traffic to your site.