Guest posting is a great way to build your credibility online. You gain exposure to a new audience which can lead to new followers, subscribers, partners and of course, clients.
You also get links back to your site, which Google uses when ranking your site.
Useful quality links are the lifeblood of a website, so it is essential to make sure the websites you choose to offer guest blogs to are going to be worth your while.
After all, guest blogging takes a lot of time, effort and resources.
You will need to:
Spend time researching blogs
Find the contact details of the correct person to approach.
Reach out and propose that you write a guest post
Discuss the content and focus of your post and agree to that before you start
Write the article, or have a ghostwriter write it for you.
Hire a native speaker to edit the article if it is written in a language other than your primary language
Send them the article
But before you even start approaching websites, you need to know how to identify those that are not only good-looking, but that is going to be worth your while.
What do you need to do to identify them?
In this straight forward guide, I'm going to show you nine easy metrics to check on a website before pitching them for a guest post.
Before anything else check our list of 500 websites for guest posting. You can use the information we teach here on selecting the websites that are perfect for you.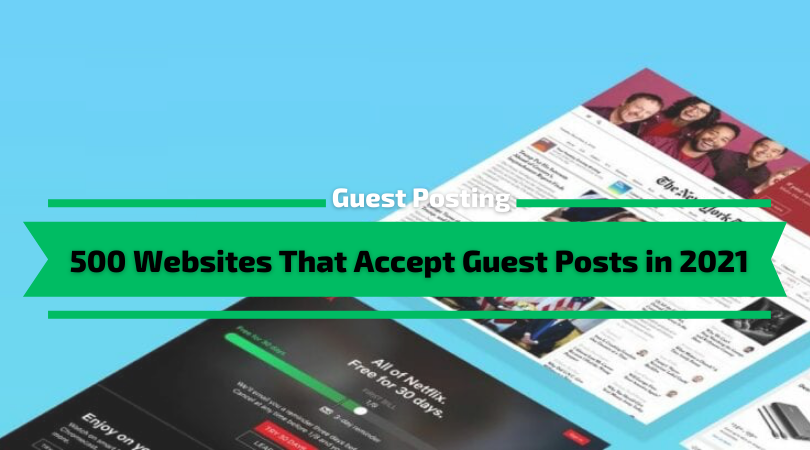 Need more websites along with contact details and social media details? In Outreach.buzz database we list 3500 websites, in 38 categories with even more handful details for each website: email address for outreach, SEMrush rank, Alexa Rank, Write for us and About us pages, Whois details, Social media profiles (Twitter, Facebook, Instagram, Linkedin). Get an Outreach.buzz account now.
1) Check their Domain Authority
It is a metric, with a value from 1 to 100 where sites like huffingtonpost.com, forbes.com and nytimes.com get very high scores.
Domain authority is based on 40 different metrics that measure things like the number of links to your site and the number of other sites that link to yours.
However, domain authority is only one metric you should check, because there are many sites with high authority that do not provide quality backlinking.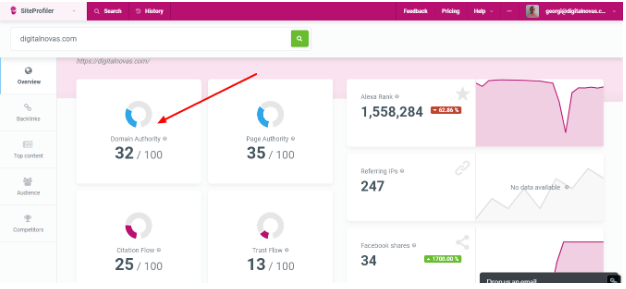 The DA metric improved after a massive update on the 5th of March.  You can use MOZ DA browser extension or SiteProfiler to find out what's the DA of any given website.
Another option to check out DA of multiple websites are the following services: DA&PA Checker, Bulk DA Checker or SEOWeather DA Checker.
At the moment the DA of monetize.info is 31: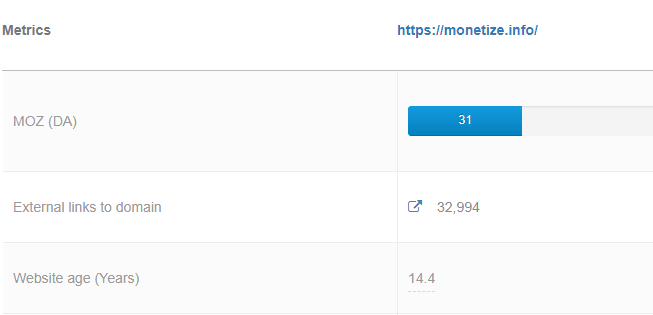 2) Check their Citation Flow against their Trust Flow
Trust Flow and Citation Flow are metrics from Majestic that measure the trustworthiness of traffic that flows through a URL and how influential each link might be based on how many sites link to it.
However, these two metrics should be read in conjunction with each other. A site with a high Trust Flow measurement and a low Citation Flow is not going to be worth the effort.
A good ratio of TF to CF is 0.50. Google ranks at 1 – that is, it's Trust Flow metric is 99, and its Citation Flow metric is 99. Focus on sites with a high TF and a good ratio between TF and CF, and you can't go wrong.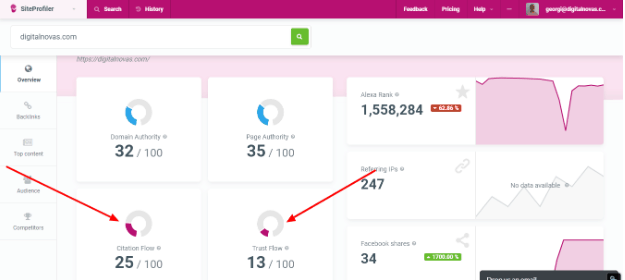 If you don't have a paid subscription to Majestic, then you can use SiteProfiler. It shows Citation Flow and Trust Flow.
3) Check their Alexa Ranking
Alexa provides a Global Ranking metric which, according to their tooltip, is calculated using a combination of average daily visitors to this site and pageviews on the site over the past three months.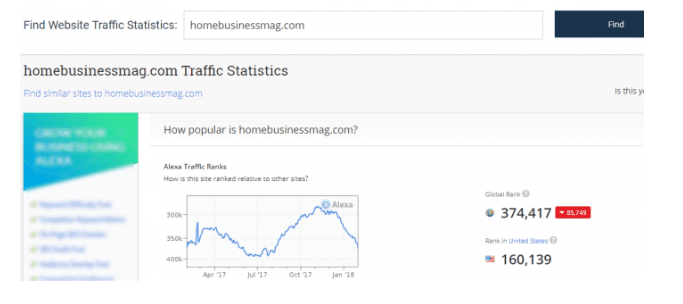 In the example above, the site homebusinessmag.com ranks at 374,417 in the world, and 160,139 in the US. It would be best if you were looking for sites with a ranking of 600,000 or less. According to Alexa, Monetize.info has a global rank of 575,779.

You can install the browser plugin SEOquake to show you the data about the website you are browsing in real-time.
4) Check where their Traffic is Coming From
Alexa provides loads more metrics that will be useful to you – including the site's Audience Geography, or where the visitors to the site come from.

If your target audience is people from North America, it will not make sense to publish a guest post on a site whose traffic comes from Australia.
The link may still prove to be valuable, in terms of gaining followers in the alternative country, but if you are seeking the best return for your time and effort investment, you would be wise to target blogs where you will gain the best exposure.
5) Check their Search Engine Rankings for Keywords
It would be best if you were targeting blogs that rank well in search engines, and they will accomplish these rankings by using well-performing keywords. Check title and h1 tags, alt tags and blog post titles for appropriate keywords, then search in Google to see how the keywords perform in search results.
You can use SEMrush to see if a website is ranking for any relevant broad volume keywords. Other tools you can use are Ahrefs, MangoTools or SerpStat.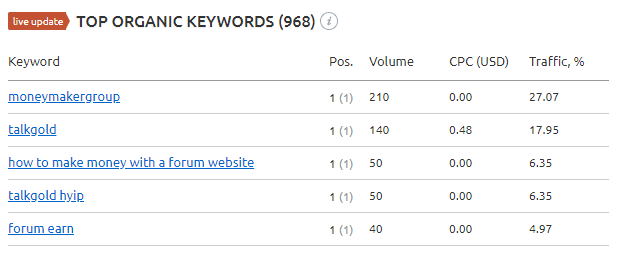 Another tool that you can use to track keywords ranking is SerpWatcher.
6) Check the Quality of their Backlinks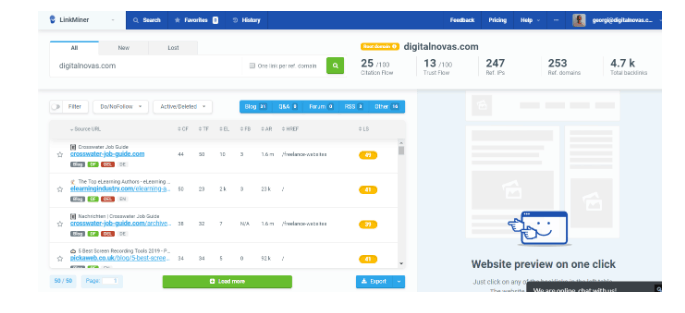 Their backlinks can be checked using the backlinks tool LinkMiner from Mangools. That's a backlink checker with 8+ trillion backlinks in their database. Type their URL into the checker and links on their site will be listed.
There are many other backlink checkers we recommend: SEO Spyglass from SEO Power Suite [review here][discount here], SemRush, Ahrefs, Serpstat, or Neil Patel's free backlink tool.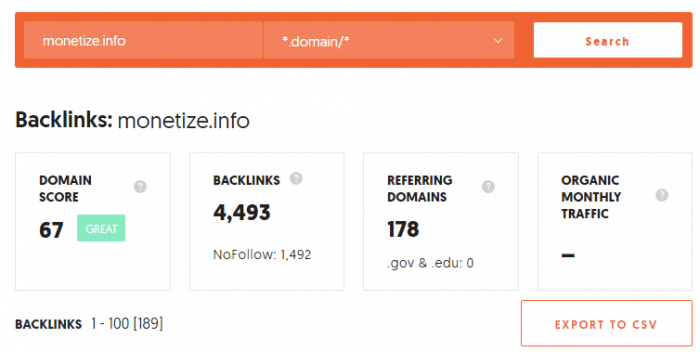 Check whether they have good quality and reputable links, or if they have any brand mentions from big sites. Also make sure they don't feature spammy, valueless backlinks.
7) Check how Strict they are with Giving Backlinks
What links does the site allow you to provide?
Links back to your site, or just author bio links?
Will they make all links nofollow?
Make sure that you look at their guest posting guidelines before you start and ensure you are happy with what they will give you. Some sites will accept your guest post but then remove your links or tag them with a nofollow tag after a very short time.
Some sites will remove backlinks after some time.
Make sure that you are comfortable with this before you put the time and effort into creating a guest post for the site.
8) Check their Website Engagement
Social proof is invaluable when looking at whether your guest post will be of benefit to you.
Look at how many shares, likes and tweets posts on the site are getting. While you are responsible for sharing your post with your audience, you need to know that the blog's audience is also going to engage with your post.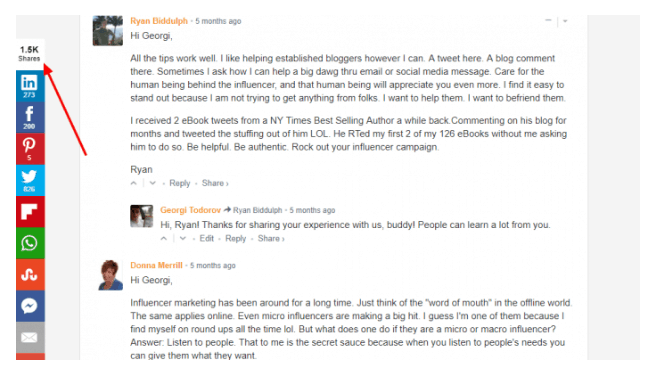 Secondly, check that the website is getting comments and that they include influencers. From there, you can develop relationships with them that may lead to other opportunities.
9) Check their Social Media Pages
Check for further followers on Facebook, Twitter and LinkedIn. Look at whether they post their blogs to their social pages and the kind of responses that are received there.
Do they tag their guest bloggers? These tags can provide a boost each time someone reposts or retweets the share.
Conclusion
It may take some time to choose which websites you will target for guest posts, but it will be time well spent when your blog goes out to the broadest possible audience, provides you with positive backlinks and social proof, and increases your reach.
What about you?
Do you think the above methods are relevant for checking into websites?
Do you have a further suggestion?
Tell us in the comments form below. We are talkative 😉