Do you want to know how many visitors visit a particular website?
By learning how to check the website traffic for every site, you'll be able to take insides from competitors to optimize marketing strategies for your business.
By analyzing the website traffic of a business competitor, you can unearth the total number of visitors and how their traffic changes over time, the keywords facilitating traffic drive, top-performing pages, and the channels through which they receive visitors.
Website traffic checking platforms are tools offering you the ability to analyze sites' traffic across the world. A traffic checker utilizes various resources to gather data, including ISPs, web crawlers, browser extensions, and more.
Now, a lot of data goes into creating a picture of a website's performance levels. Conversely, a site checker tool can prove to be a worthwhile asset to business growth for websites receiving traffic steadily.
Without further ado, here you'll find a list of the best tools you can use to analyze website traffic for any site without spending a dime.
#1. Alexa.com
This tool suite which is now owned by Amazon, it's a competitive analysis and SEO solution designed to support businesses in understanding their target audience and befitting marketing strategies.
Check website Traffic statistics about any website you enter. You can find similar websites or the top sites for each country or niche. Content marketers can find popular articles for any topic.
The site checker of Alexa is free for everyone to use. Signing up isn't mandatory.
Using Alexa.com at your disposal, you'll gain valuable insights into the performance of any website.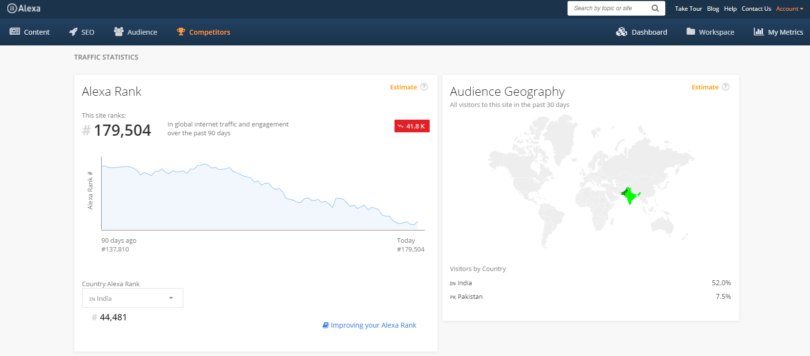 Besides that, if you install the Alexa toolbar, you can instantly get traffic information about any website.
Alexa.com offers you the following reports:
It will show you top-ranking keywords for a website, as well as the gaps where the site isn't ranking as much as its competitors.
You can run competitive analyses to see how a specific website's traffic, backlinks, and ranking keywords compare to its competitors.
You'll also see a website's Alexa Rank, a list that organizes websites across the world depending on fame.
It helps you understand a website's audience better with a list of topics they find interesting and the keywords used.
If you upgrade your account to the advanced plan, you will get access to a suite of premium tools like Audience Overlap, SEO Audit Tool, Competitor Keyword Matrix, Site Comparisons, Keyword Difficulty, On-Page SEO Checker, Competitor Backlink Checker.
Explore these features below and try it free for 14 days, then $149 per month.
Try Alexa.com 14 days for free
#2. Semrush
Semrush [read our Semrush review] is an all-inclusive suite of business promotion solutions for online enterprises. This platform can provide you with a robust set of tools, including SEO audits to content planning, backlink analysis, and ranking tracking.
There's a Traffic Analytics section of SEMRush with a tool you can use to check competitors' website traffic.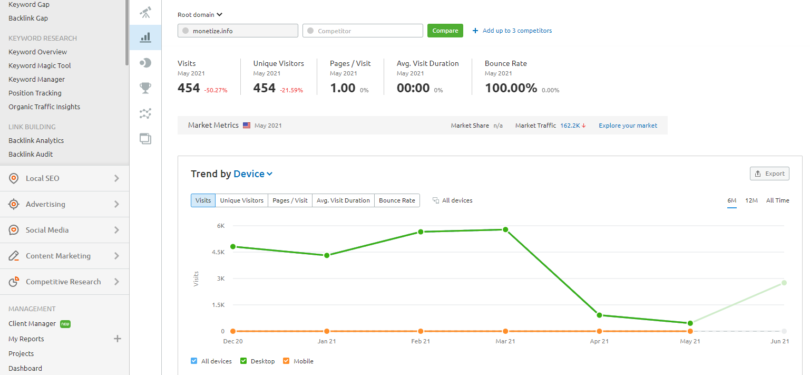 Now, this platform has a paid version, as well as a free version you can use. However, the free version only allows you to view 10 traffic overview reports within 24 hours. With this tool, you will unravel total visits, bounce rate, pages per visit, unique visitors, and average visit duration.
Additional traffic reports of Semrush:
Audience insights will let you see the websites visited by the users of a competitor's site.
You will be able to discover how competitors acquire their visitors and pinpoint their top referring sites.
You'll also gain insights into what works best for a website with a report of its best-performing pages.
Finally, you can see the geographic locations driving most of the site's traffic.
Try Semrush 14 days for free
#3. Similar Web
SimilarWeb is a website traffic checker similar to Alexa, except it's got a lot more detail put into it, so it's more accurate!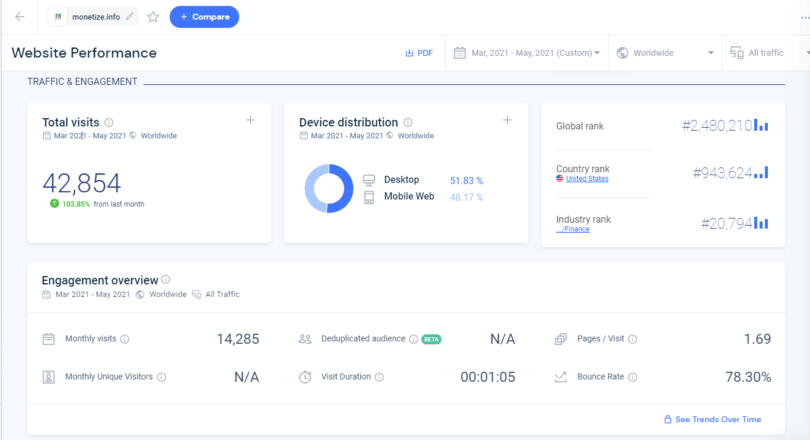 The creators of this traffic intelligence solution built it to provide users an in-depth analysis of the visitors frequenting a website. Some of the other platforms mentioned here offer a range of marketing and SEO tools. Similar Web, however, focuses only on website traffic analysis.
Whenever you search for a site, you'll receive insights diving into the following sections:
The traffic overview section will display global, national, and category-wise ranking for website traffic. It will also provide a few basic engagement stats, such as average visit duration, bounce rate, pages per visit, and geographic breakdown of traffic.
The referrals section tells you which websites send traffic to the site and the most popular exit destination – the place where visitors go after leaving that website.
The search section offers a detailed analysis of the site's top-performing organic and paid keywords.
The social section points out the social media channels driving the most website traffic.
The display advertising section showcases a list of the published and ad networks used by the website for display advertising.
The audience section lets you find out every other category the website's audience deems interesting.
The competitors' section gives you a list of the closest competitors of the website and other similar sites.
Try SimilarWeb for free
#4. Sitechecker
Sitechecker is an excellent SEO solution with various tools designed to support business owners in improving their online performance. The most noteworthy features of this platform include Rank Tracker, Site Monitoring, and Backlink Tracker.
However, these features are part of its paid services. This platform can offer you the following:
It gives you a traffic overview in the form of a graph showing the total traffic volume experienced over the last 6 months.
It provides important metrics worth measuring for site performance evaluation, including overall visits every month, average page visits, average visit duration, and bounce rate.
The specialty of this particular platform is that it can give you a breakdown of how much and what percentage of traffic a website gets from various nations.
It will also show you how much traffic comes from every channel, the percentage value of the same, and total traffic.
Finally, it can provide you with a list of the top five paid and organic keywords leading visitors to that site.
#5. Ahrefs
Ahrefs has been providing excellent website inspection services since 2011. It's a superb tool that you can use to grow search traffic, research competitors, and keep tabs on your niche. It helps you understand why your competitors rank so high and what you can do to outrank them. Users can create a free account to get details concerning website statistics.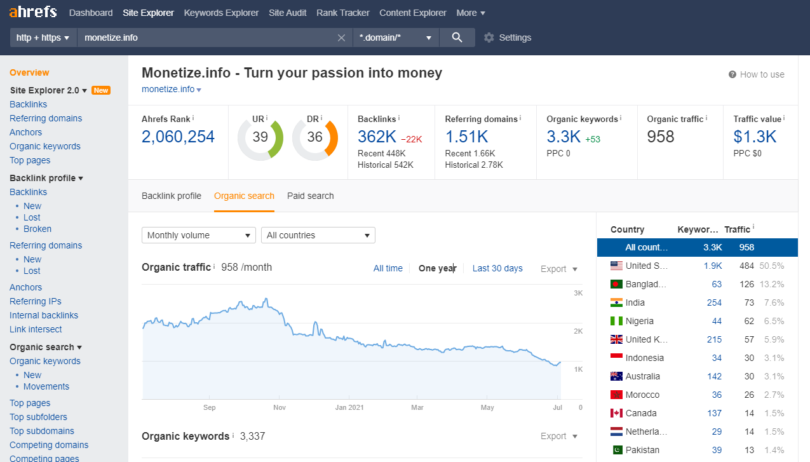 Without a doubt, Ahrefs is one of the best tracking tools I have ever used! This software provides such a wealth of website traffic information.
If you resort to the premium plants offered by Ahrefs, you'll get every detail of every website you can think of. Traffic analysis is possible on this platform with complete data and statistics. The database of Ahrefs has around 240 million keywords used by the people of the US, combined with more than 100 other countries.
Try ahrefs 7 days for only $7
#6. SERanking
SERanking [Check our SE Ranking discount] is an SEO solution that has everything required to help users research keywords, track rankings, and inspect the website traffic of every site. As soon as you search for a site on SERanking, you'll receive a quick overview of its total organic and paid traffic every month.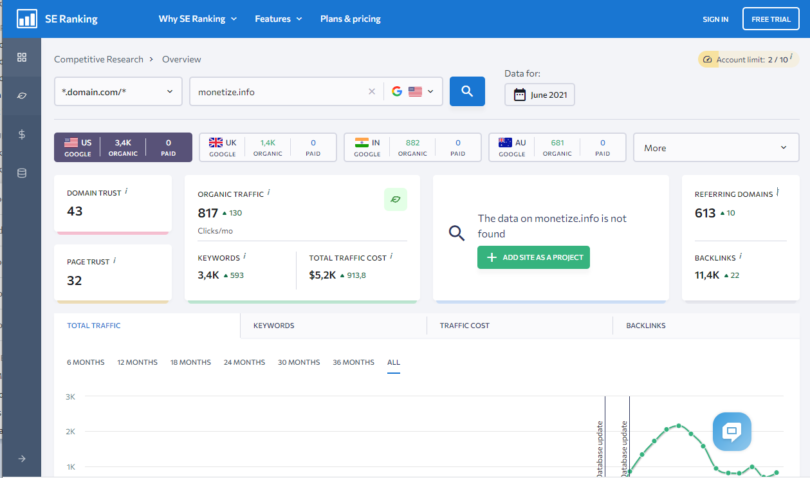 Besides that, there are many other SEO details like the keywords the site is ranking for. If you go further down on the results page, you'll find graphical representations of the total traffic received by the site, the ranking keywords, and how they have been progressing over time.
SERanking will also give you a list of the website's ranking keywords, top-performing pages, and a breakdown of the main organic and paid competitors.
Try Seranking 14 days for free
#7. Serpstat
When it started, Serpstat was just a simple keyword research tool. Today, it has an entire suite of SEO solutions. It can offer users a significantly more comprehensive set of features to help them measure the performance standards of their websites, including rank tracking, backlink analysis, traffic checking, and site auditing.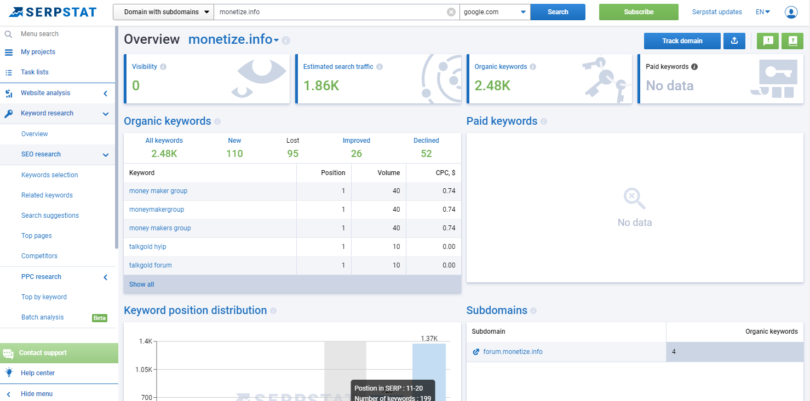 The results page of Serpstat can provide you the following insights:
Show you a list of the paid and organic SEO keywords driving traffic to the site.
Display the visibility index that measures how often it appears when someone enters relevant keywords in a search engine.
Provides a line graph showing how the site users' interest affects the ranking of keywords over time.
Present a list of pages driving the most traffic to the website from organic search results.
Try Serpstat for free
#8. SEO Power Suite
There are four tools in the SEO PowerSuite [Check our SEO Power Suite review]. These four tools cover every aspect of SEO — keywords, rankings, backlinks, on-page and content data, mobile SEO, social media, analytics, and reports.
These four tools that make up SEO PowerSuite are Rank Tracker for rank tracking and keyword research, WebSite Auditor for on-page SEO and technical audit, SEO SpyGlass for backlink research, and Link-Assistant for link building and outreach.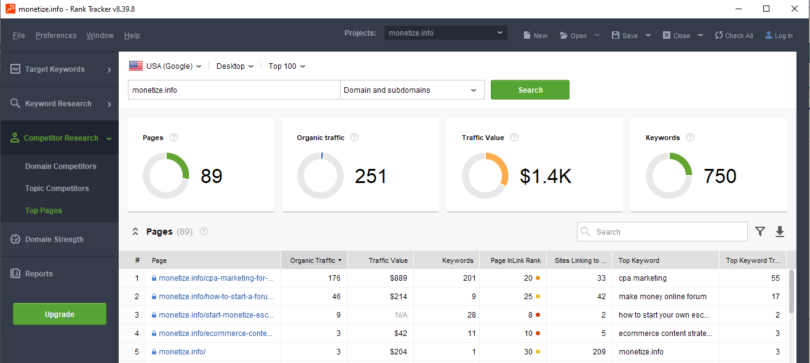 Using Rank Tracker, you will find a lot of information about the traffic a particular website gets. In the competitor research tab, you will find competitors' domain, the topic of competitors, and the top pages that rank a particular domain.
The only downside is that you will get traffic estimation only of organic visits (visits from search engines)
Try SEO Power Suite for free
#9. Google AdWords Display Planner
Google Ads Display Planner, previously called Google ad planner, underwent several changes other than the name. This platform can tell you exactly how much traffic a website gets. Check here a complete guide of Google Ads Display Planer on the KlientBoost blog.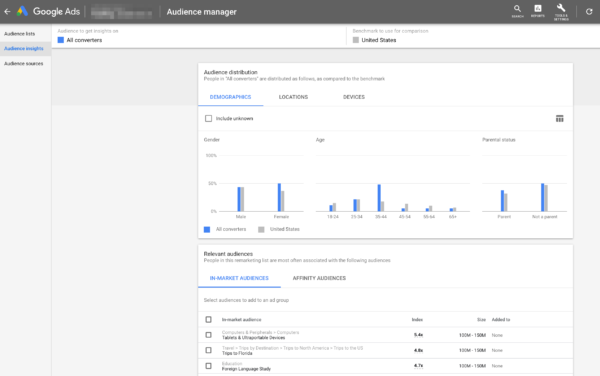 Google AdWords Display Planner combines 3 different tools such as contextual targeting tool, Google Ad Planner, and placement tool. As Google is the largest network, you can expect the most accurate data from it. Google Ads Display Planner is also highly secure – an incredible platform for scrutinizing estimated website traffic.
#10. UberSuggest
UberSuggest is another SEO tool crafted to help users perform keyword research, plan content marketing, and inspect competitor website traffic. It has both paid and free versions.
If you use the free version, you'll get only three website reports per day. You can view a website's traffic just by typing the domain into the search bar on the homepage of UberSuggest.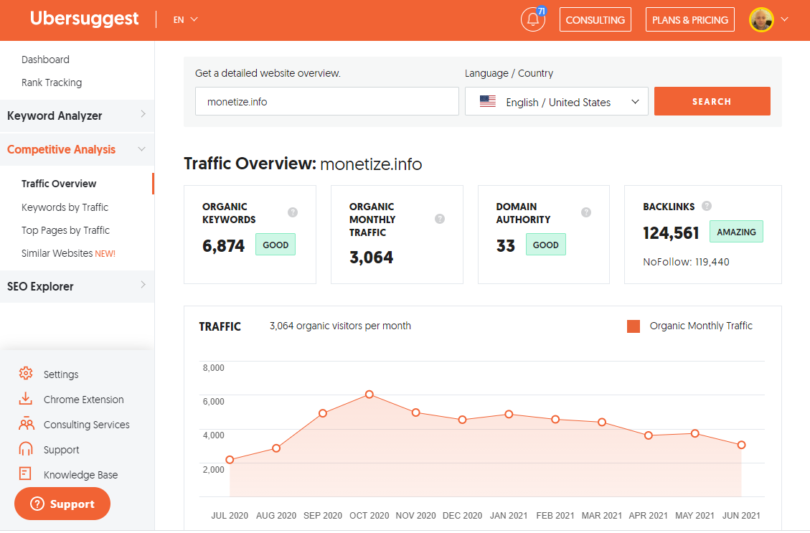 The results page will give a quick overview of the site's traffic, including the number of organic keywords the site is ranking for and its total organic traffic. You'll even receive a list of the site's top keywords and SEO pages.
Try Ubersuggest 7 days for free
#10. MediaKit [Bonus]
As I've said at the beginning of this article, the previous tools I've presented estimate the traffic a website gets. However, an estimate is what it is. Some of these tools' reports are far from the truth, while others do not count social media traffic, direct and referral traffic, etc.
The good news is that most of the blogs and magazines have media kits available for advertisers that want to purchase ads and placements on their websites. One better way to double-check these estimates is to ask the website owner of their media kit.
Here are our traffic details available for advertisers, and on request, we can offer in-depth details.
If the website owners don't have a media kit, you can tell them you want to advertise with them and ask them about traffic figures. Another method is to ask them if the website is for sale, and if they say it is, you can ask them about traffic figures as part of your due diligence process.
Crucial traffic metrics
Now that you've seen the best tools to find out how much traffic a website gets, it's important to see what exactly you should look for.
Several important metrics give you an excellent insight into the performance standards of a website and the strategies used by the business.
That's why I've listed below the metrics you should pay attention to.
 Important Traffic Metrics When Analyze an Website:
Pageviews – It's the total number of pages viewed by visitors on a website in any given period.
Unique visitors – It's the number of people visiting a website at least once in a given period.
Average visit duration – It's the average amount of time spent by each visitor on a website.
Organic search traffic – It's the number of people arriving at a website searching for relevant information on a search engine.
Top traffic sources – It's the list of online channels driving the most visitors to a website.
Bounce rate – It's the percentage of visitors leaving a website without exploring more than one page.
Conclusion
Well, there you have it – the top 10 tools for website traffic checking purposes. The best thing about them is that they're free to use. However, some of them have specific limitations regarding free usage.
You have to adhere to them and plan your moves carefully. If you find one of these tools better than the others, consider opting for a paid plan to get your hands on the full suite of tools it has to offer.