Writing compelling and authentic affiliate product reviews is probably the most important task if you are an affiliate marketer. Be it any niche. Product reviews are the gateway for driving a lot of traffic, thus increasing your affiliate sales.
This guide comes from many articles dedicated to affiliate marketing. Before reading it, check The Affiliate Marketing Guide for Beginners, How to start an affiliate marketing blog and Best Niches for Affiliate Marketing. I want to make sure you know what affiliate marketing is, generate income with an affiliate marketing blog, and pick your niche and target audience.
Writing eye-catching and compelling product reviews is not an easy affair, and there are many mistakes affiliates make. This guide will give the complete framework to write reviews that drive sales and generate income without deceiving or lying to the customer.
Before buying any product, customers search for a firsthand experience to outline the product they plan to buy. And, with millions of people using the Internet daily, this step can accelerate your affiliate sales to a great extent.
1. Why you should write affiliate reviews
Think about your online shopping habits. Most probably, you rarely make a purchase blind. You would generally seek a recommendation, whether from a friend or a trusted online source. You would also want to know how the product works for others, its PROs and CONs, and how it compares with competitors' products.
What if you could become that trusted source offering this information while cultivating a new inflow of cash?
How to generate income through product reviews:
Sign up for a company's affiliate program. Check the list of the best affiliate marketing networks or the 65 high-paying affiliate programs list.
Write a compelling, informative review covering one of the company's products. This review will include a unique tracker link that you should receive when you sign up.
Hopefully, the person pursuing the review is convinced, clicks on the link, and makes a purchase, becoming a customer because of your influence.
You receive a commission.
There are several benefits to writing affiliate product reviews beyond financial gain. If you run a blog or a small business website, writing honest, in-depth, well-crafted reviews will help you the following:
Benefits of writing product reviews besides generating income:
Maintain, grow, and engage your audience.
Drive traffic to your site through the use of specific, targeted keywords.
Collect emails by offering content upgrades (guides, news, tutorials).
Establish you as a trusted expert on the kind of products you are reviewing.
2. How to determine which products to review
When trying to figure out what kind of affiliate products to review on your website, you should consider the following:
Determine these 4 things before writing a product review
The level of interest of your audience in the product or category of products.
The affiliate commission.
Your target audience.
Using the product yourself.
Considering these three factors, you're essentially figuring out your specific niche and what exactly fits into this niche. We've discussed signing up to an affiliate network or an affiliate program and evaluating its performance here.
The following essential elements will help you write an excellent thought for any product:
3. Essentials of affiliate product reviews
3.0 Follow Google Recommendations about product reviews
To help shoppers discover your product reviews in search, the Google team has created a checklist of things your product reviews should match. You can access it here but I've also pasted it for an easier read. Follow these best practices to ensure your reviews will rank high in Google and you will also avoid getting your website penalized by algorithms updates like the Google Product Review Update which will happen in December 2021.
Checklist of Google Recommendations about product reviews
Evaluate the product from a user's perspective.
Demonstrate that you are knowledgeable about the products reviewed – show you are an expert.
Provide evidence such as visuals, audio, or other links of your own experience with the product, to support your expertise and reinforce the authenticity of your review.
Share quantitative measurements about how a product measures up in various categories of performance.
Explain what sets a product apart from its competitors.
Cover comparable products to consider, or explain which products might be best for certain uses or circumstances.
Discuss the benefits and drawbacks of a particular product, based on your own original research.
Describe how a product has evolved from previous models or releases to provide improvements, address issues, or otherwise help users in making a purchase decision.
Identify key decision-making factors for the product's category and how the product performs in those areas (for example, a car review might determine that fuel economy, safety, and handling are key decision-making factors and rate performance in those areas).
Describe key choices in how a product has been designed and their effect on the users beyond what the manufacturer says.
Include links to other useful resources (your own or from other sites) to help a reader make a decision.
Consider including links to multiple sellers to give the reader the option to purchase from their merchant of choice.
Source: Write high-quality product reviews on Google Search Central Blog
Now that you've read the Google recommendations about reviewing products it's time to go through all the essentials of a product review:
3.1 The Headline
When writing reviews, think from the perspective of your customer and write the headline accordingly. No one is going to read your review if the title does not attract them. The title should not only force customers to read the full article, but the search engines should also love it.
There is no point in writing a heading when you know the search engines will not pick them up, or it will be displayed on the tenth of the eleventh page in Google search.
An example of a bad headline is "A cream that works"; this title is too general, and it will not draw customers. There is no information about shaving cream, scar removal cream, or acne-reducing cream.
The same title can be rephrased as "A scar removal cream that works." This headline is precise, contains your keyword, and tells the customer that the review is about a scar removal cream.
Some pointers for great headlines:
Short
Clear
SEO ready
Relevant
Eye-Catching
3.2 Introduction and Honest Opinion
Describe the product's usefulness as if you have used the product and you are posting an honest review of it. In the introduction section, mention what the product is about and what it does. The article's body mentions how, as a user, you found the product helpful and why you are recommending it to other customers.
It is always best to use the product before writing because there is no substitute for an experience. It will also help you connect more with the readers.
3.3 PROs and CONs of the Product
Sales pitch product reviews are a strict NO. The readers can sense the authenticity of such reviews, and they might choose some other product. You have to avoid the 'Buy-me-message' tone, and the best way to prevent flair in writing is by mentioning both the pros and cons of the product you are an affiliate with.
However, you have to remember that your job is not to degrade the product but to mention its drawbacks too subtly. People know that no product is perfect – Keep that in mind. So write the cons of the product, but cleverly.
For example, one "con" of a scar removal cream can be – "The scar removal process works brilliantly, but it takes its due time. The user needs to be patient". This is not considered a negative comment because none of the scar removal creams available today can immediately diminish the scar.
Check below the PROs and CONs section of the SEMrush review I did a while ago. I've balanced the PROs and CONs to see exactly what they should expect from the product.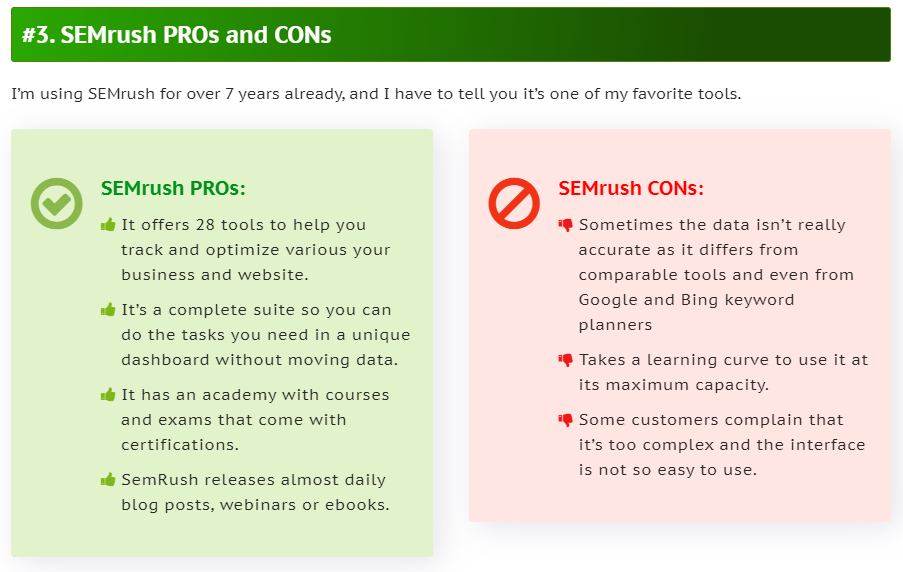 3.4 Product Features and Benefits
Irrespective of whether the feature is good or bad, it is essential you highlight every aspect and feature of the product. When the tangible and intangible points of the product are covered, users are in a better position to make a decision, and they develop trust in your product review, thereby indirectly increasing your sale. Mention the price and any other information you feel will help build trust and make the readers comfortable.
3.5 Links, Photos, and Videos of the Product
It is best to post your pictures, highlighting the usefulness of the product you are marketing, to lend credibility, and make the readers believe your review. It gives the reason for the reader actually to listen to what you have to say.
Moreover, adding links to the product will give your customers a chance to have a glance at the product, and they can decide whether the product is valuable or not. Personalizing the product will add value and build trust among the readers. Also, add pictures of the affiliate product in your review.
Google, too, likes links and photos on web pages, which automatically improves your chance to rank better.
Creating a short video review of the product will add significant credibility to the review and increase your sales. Also, you can post that video on youtube for more traffic and sales. Check our Affiliate Marketing Guide for Youtube.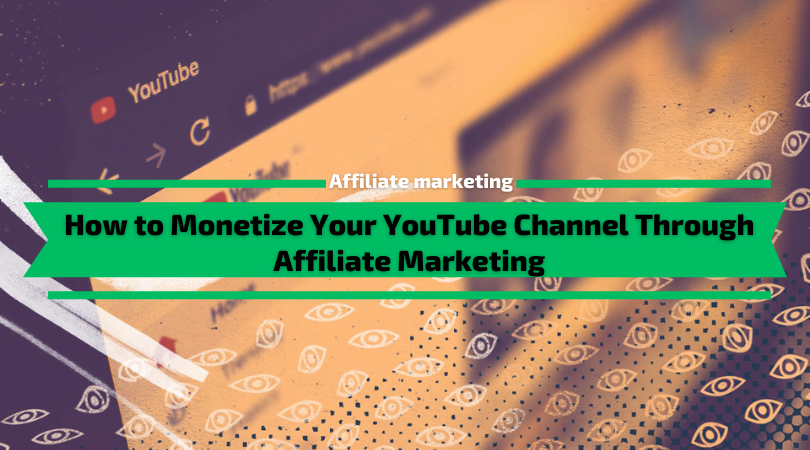 3.6 Product Comparison Table
Everyone loves healthy competition, and including product comparison in your review will help you gain credibility.
Again, avoid degrading the other product and give honest opinions on why your product is better and why the readers should choose it over similar things present in the market today.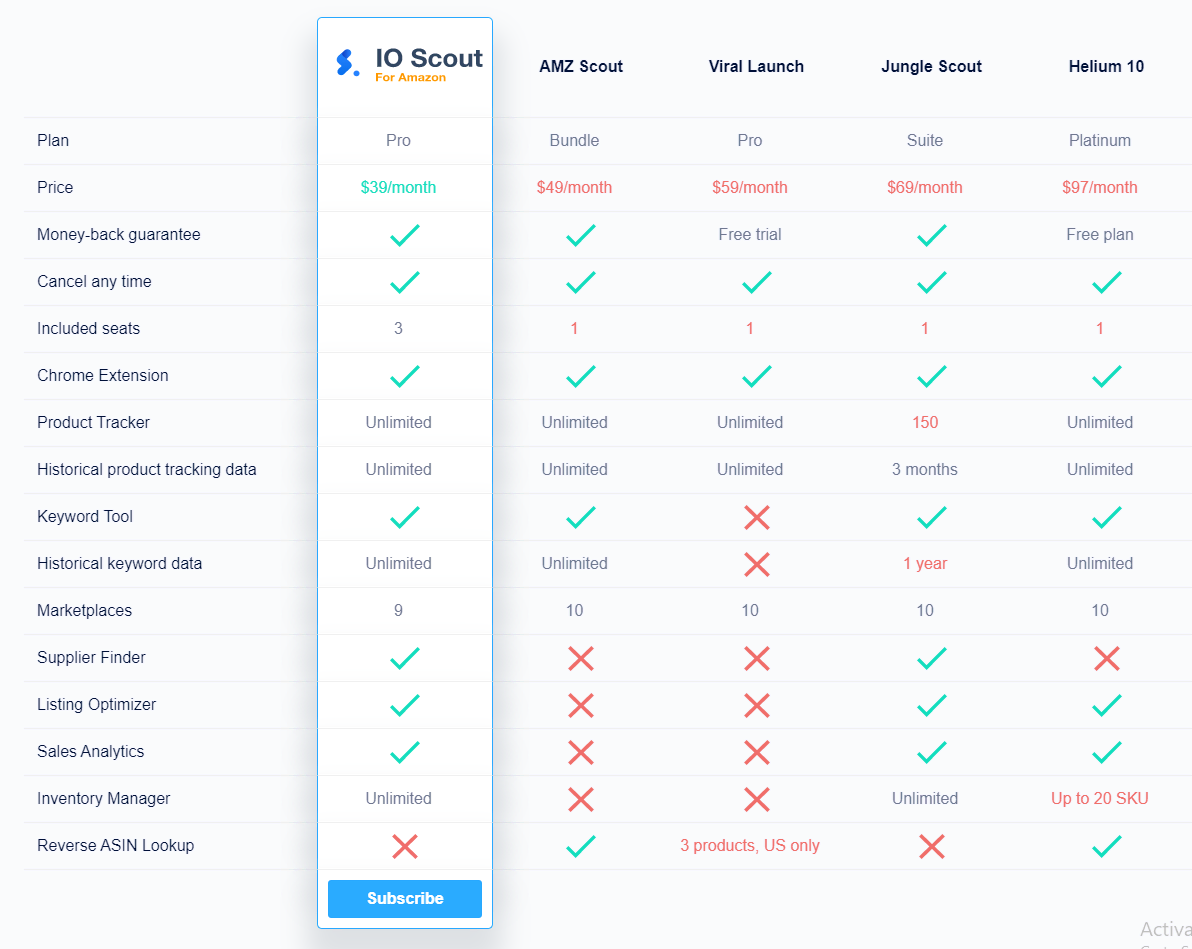 Compare the effectiveness of products, primarily cosmetic or medicinal, without over-praising your affiliate product. The image above gives you an idea of comparing two products without damaging the other product's image.
3.7 The alternatives
Want to build trust with your blog audience? Show them alternatives while writing product reviews. The key here is to recommend those products mainly similar to the main product you're promoting.

So how many alternatives can you recommend?
It depends on what type of content you are creating. If you're making a list post, you can recommend the top 5 alternatives, or you can simply create product comparison posts by recommending two or three products at once. Or you can show a couple of other options at the end of your product reviews so your audience can decide what's best for them.
3.8 The FAQ section
FAQ section (Frequently Asked Questions) is a must. Not only does it help you list down all the relevant questions that your audience may have in their minds, but it also helps with SEO.
How?
You can find and add relevant long-tail keywords or question-based keywords (for example, "how much does SEMrush cost?") in your FAQ section to get more traffic from search engines. Use a keyword research tool like SEMrush [SEMrush review][SEMrush discount], Ahrefs, NeilPatel's App, Answer The Public.com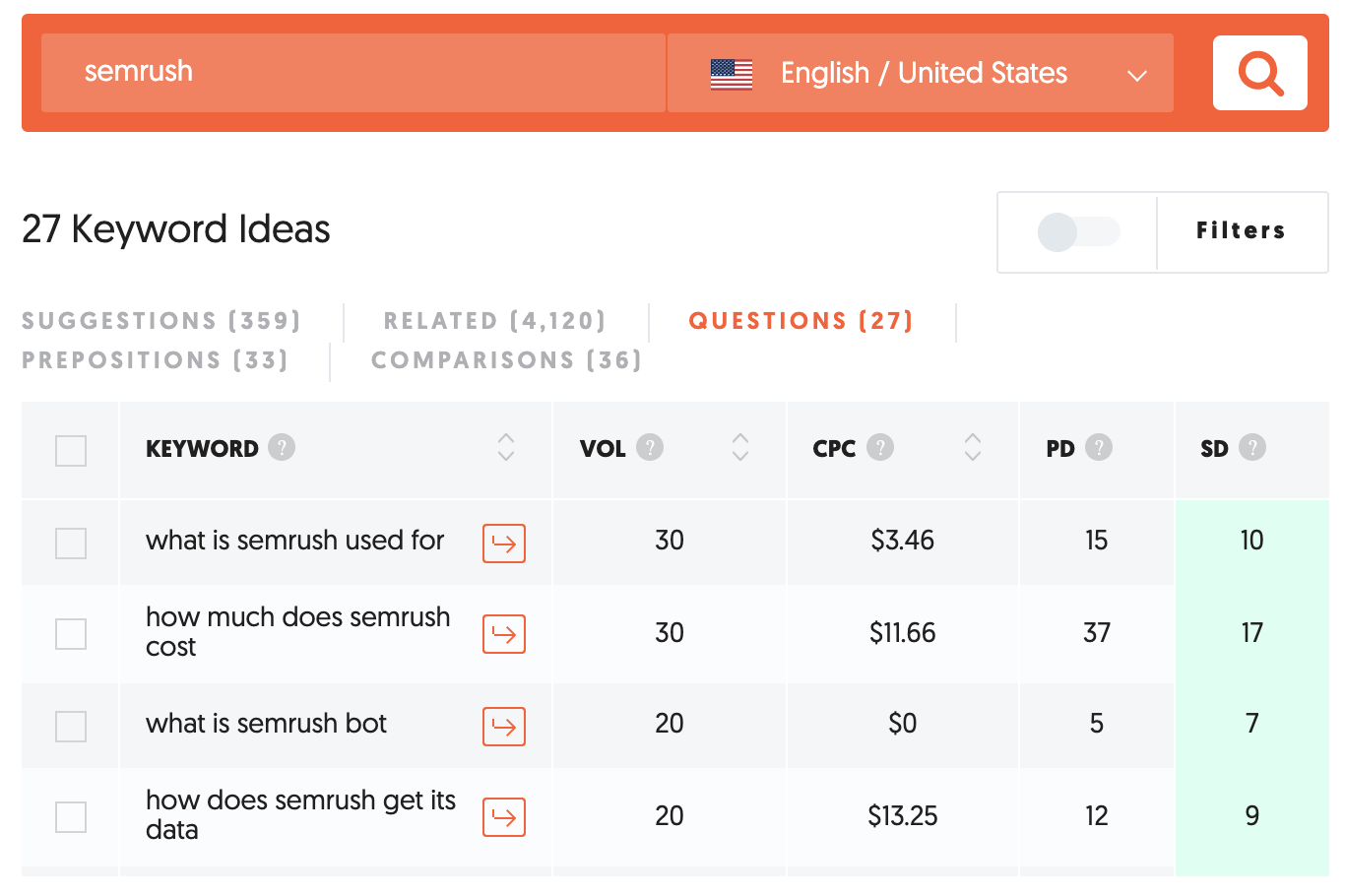 3.9 The Review Conclusion
The conclusion is an essential aspect of any product review. It is a summary of what you have written in your review. To make the conclusion perfect, you can give a rating of 7 or 10 to the product under consideration.
Furthermore, never give full marks to any product you're an affiliate with because no product is perfect and has positive and negative aspects. And you can validate the rating by giving appropriate arguments. Mention how the product has helped you, is it worth the money you have spent, and done the product fulfills all its promises.
Don't forget to add a strong CTA that will encourage the users to check the product. Pay attention not to purchase but to review the product. If you are using Amazon Associates or any major affiliate network, you will still get credit if they visit the page and purchase later. So a CTA like "Check the price of the product on Amazon" may perform better than "Purchase the product on Amazon."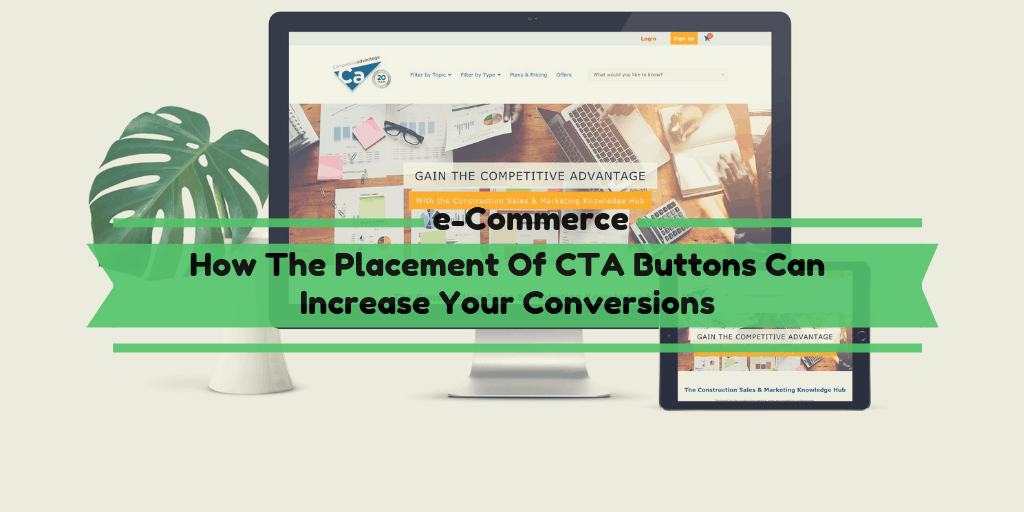 3.10. Affiliate Links Placement
Now that you wrote the review, you will need to place your affiliate links within the content to get people to buy the products. The best methods of doing so will vary on the type of site you want to have. If you are doing a strict sales site with reviews of your niche products, it is pretty simple.
You can link the names of the products to Amazon or other sites you use for sales, add clickable images within the articles, lead to the product buy page, and set up a special call to action button or text that will entice people buy the product.
If your content is more general or "quality" content, meaning it gives people more than just an idea of what to buy, then your marketing will usually need to be subtler. You could be talking about a general topic and name a few products to help a particular problem within that topic.
Additionally, setting images that link to Amazon on the content's sides, above or below the content, or within the content's body can also lead to direct and indirect sales.
4. How to write affiliate programs reviews
Most people fail to make even one sale from their product reviews. Do you know why? They usually brag about the product to increase sales. They don't talk about the limitations.
What happens when you talk only about good things about a product? You'll not only mislead your target audience, but they can easily smell that you're hard-selling to generate a commission. So they don't buy it.
So it would help if you learned the art of writing helpful product reviews that help your audience.
When it comes to writing product reviews, there are several types, which include:
Comparison posts (where you compare multiple products).
A detailed product review.
Tutorials (where you talk about how to use a product step by step).
Lists posts (multiple product reviews usually provided with offers).
So make sure to find what type of product reviews work best for you. No one can tell you what works best for your website. So try it out by yourself. Experiment. Track your results.
That's how you can quickly figure out what type of content works well for you to generate more affiliate sales (without selling your soul).
4.1 Start with keyword research
The first thing you will need to do is make sure you use keywords that people search for a lot. There are online keyword research tools that allow you to do just this. Researching your niche for particular keywords people look for will let you know what keywords you should use in your posts to satisfy your customers' needs.
Finding the RIGHT keywords is the key to generating more search traffic and sales. So if you're new to keyword research, my #1 suggestion is to start using free keyword research tools so you'll know the whole process of finding better keywords.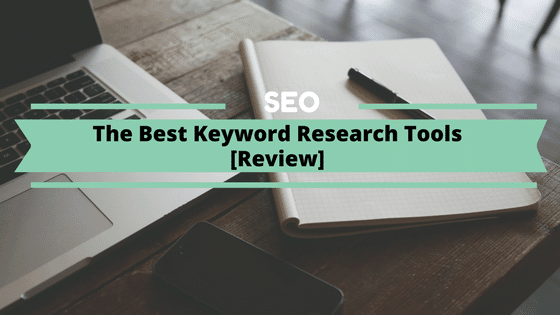 Once you get comfortable with keyword research using free tools, you can start trying premium SEO tools like SEMrush, Ahrefs, etc., to find hidden and profitable keywords in any niche.
We'll now pick one tool to begin our keyword research. Are you ready?Here's how you can do keyword research using a freemium tool like Ubersuggest.
Step 1: Go to Ubersuggest
Enter any keyword of your choice. Let's take an example keyword, "WordPress SEO plugin." Here's how it looks like;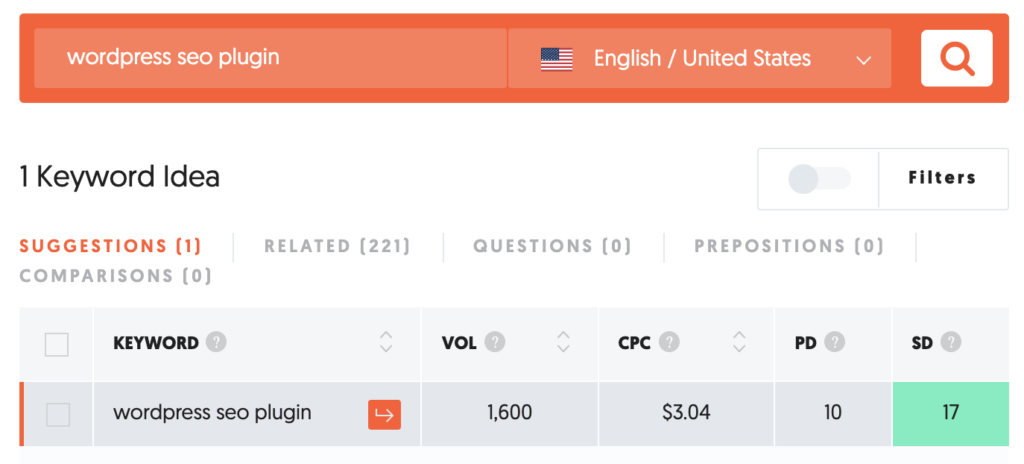 Step 2:
Hit the Search button to continue. Click on the "Keyword Ideas" tab, and it will immediately start showing a ton of keyword variations for our example keyword.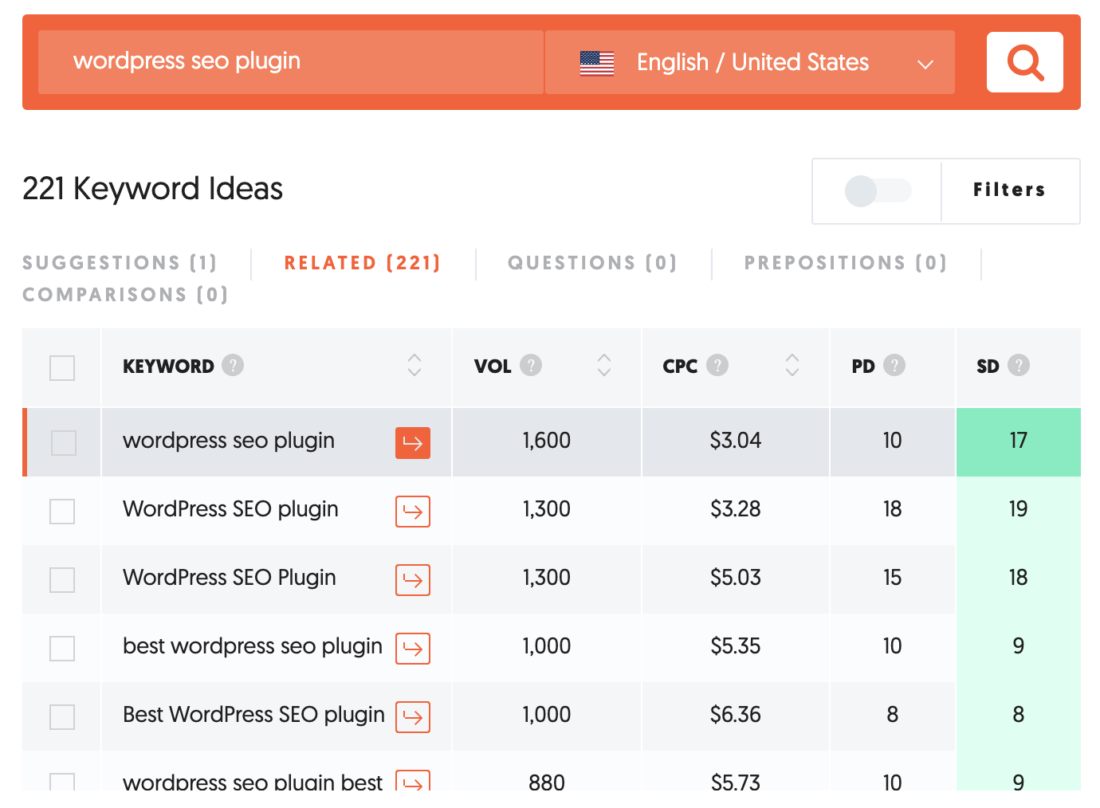 Now you have a list of keywords with details for each one that helps you decide if you should target them and include them in your review.
Data you can discover:
Various keyword ideas.
Related keyword ideas.
Question-based keyword ideas.
Prepositions, comparisons.
See other essential keyword metrics, such as:
Keyword monthly search volume.
CPC (cost per click value of the keyword).
PD (Paid difficulty).
SD (SEO difficulty).
Step 3: Pick the RIGHT keywords.
There are three crucial things to remember while picking better keywords, which are:
CPC (CPC, cost per click value should be HIGH)
Search volume (Search volume of the keyword should be LOW)
Keyword difficulty (difficulty to rank for any keyword should be LOW)
As a rule of thumb, it's always better to find keywords below 500 to 1000 monthly searches. Also, the chosen keywords should look natural to write dedicated blog posts or content around.
Make sure also to consider the CPC value (as high as possible), so you can target "easier yet profitable keywords," which can help you with both search traffic and sales.
Further readings on how to do keyword research:
4.2 Explore and present the product in detail
Before you start writing a product review, use the product first. You can't write a genuine product review without using it.
If you're promoting online products, mostly you'll get free trials. So you can simply sign up for their free trials, get a feel of the product, take the necessary screenshots, and start reviewing it. You can also approach the product seller and ask them to sponsor you for a review.
Although it might not always work, especially for beginners with zero online reputation, why not give it a try?
As there are still a lot of growing companies that always find new ways to market their products.
The key here is to use the product first. Make sure to spend quality time exploring all the features to provide an in-depth review of the product to your target audience.
4.3 Replicate and improve what top marketers are doing
Affiliate marketing is continuously evolving, and there are many methods discovered every year that work and improve your conversion.
Make sure you stay updated with the big guns' latest techniques in the affiliate marketing industry. Check these lists made by ninja outreach with the 25 most influential affiliate marketers, learn from them and then implement them on your sites and see what strategy and methods work best for your niche.
Also, do a search on Google for "product + review" to see what your competitors have written about the product. Make a list of the review points, collect impressions, and read the comments to determine what questions users have.
4.4 Be honest and unbiased while writing
Affiliate marketing is all about building trust first, selling later. If you get it wrong, you'll fail to make more money from affiliate marketing. If you focus on building confidence, your sales will skyrocket.
So be honest and unbiased whenever you're creating a product review. No matter how much you love a product, make sure to find and list all the drawbacks or limitations of that product. That's how you win trust.
If possible, you can also give your audience other product recommendations (if they are cheaper). The thing to remember here is, write honest reviews about the products you promote and let your audience decide whether it's right for them or not.
4.5 Describe a Problem and Show its Solution
If you are an affiliate for a product that helps people get rid of something or solve their problem, you can effectively play with words and build an emotional issue to capture your readers' attention.
After describing the problem, tell your readers how the given product can effectively eliminate the problem and why it is reliable. It would be best if you gave them real-life examples to build trust. Based on your product, you can highlight issues and create solutions for the same.
4.6 Keep it Simple
Your readers can be a 15-year-old child or a 65-year-old man. Therefore, you have to keep the language simple so that it is easily readable by everyone. There is no point in being a wordsmith while writing product reviews.
The writing should be simple and easily understandable, even for a child. It is best to avoid frills and over convoluted sentences. As a thumb rule, always consider your content to be written for a fifth-grader.
4.7 Check for grammar and spelling.
As an affiliate, you mustn't let the product down. Bad grammar and unfortunate spelling mistakes make the product review unreadable and attract negative publicity.
"I used product found good and recommending to my friends." This sentence is a perfect example of an image ruining a product review.
So, double proofread your document before releasing it online. Read the review slowly and carefully to chalk out erroneous content. You can take the help of online grammar checking software.
4.8 Avoid "funky" Names while Posting Reviews.
While posting reviews on the Internet about your affiliate product, always post them under your name or any original name. User names such as 'King of the world,' 'Trust Me,' 'Best review,' or 'JamesBond007' speak of an unprofessional and fake review. Use your name while writing product reviews to avoid attracting unhealthy publicity and losing potential clients.
4.9 Follow a proven format
As an affiliate marketer, you'll be creating dozens of product reviews across various categories. So it's a brilliant idea to make a "product review format" that you can use as a template for every product review you create on your blog or website.
Coherent and well-organized writing is eye-pleasing and attracts readers, whereas no one will look at haphazard and distorted writing. Below is an outline of a product review template you can use next time to write a review.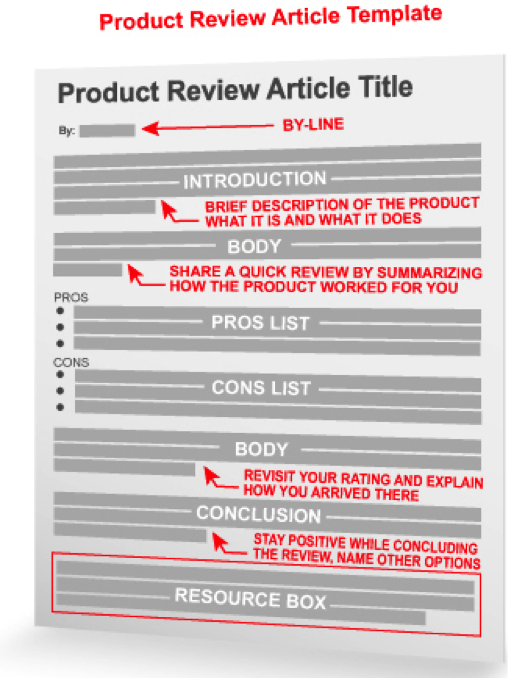 You may find various product review templates on the Internet, and you can decide upon which template to use because the components of every template will more or less be the same.
When creating such a template, try to include the following things to write better product reviews every time:
Things to Include When You Review a Product 
Captivating headline
Review box (you should have a review box, use plugins like WP Review Pro to include a summary of the product along with the call to actions)
Featured image (along with lots of screenshots of the product)
Social proof (wherever applicable where you can include how many people are using the product, customer reviews, etc.)
Product features section (where you'll list down all the features, benefits of the product)
Pros and cons section (this is a must)
Your opinion section (this is optional, where you can share your honest views about the product)
FAQ section (where you can list down all the frequently asked questions)
Support section
Conclusion section
For instance, you can check the following product reviews from us (as we follow a similar product review format), which always works great.
Learning to balance the sales pitches with actual stone-cold useful information is the trick of the affiliate marketing trade, which the business has mastered.
4.10. Update Your Content Regularly
One of the things that makes excellent sites great is that they have lots of content and update it regularly. The more posts you have and the richer they are in content, the more chance you will hit the top spots on Google with some of them for some of the keywords.
What is more, Google likes the sites that update and regularly refresh, so adding content daily will give you more chances for all your pages to rank well. Making blogs with 20-30 posts and letting them sit there can work in theory. But making a website with regular, relevant updates will certainly make your site stand out more, get more traffic, and in the long run. The point is that it will generate much more revenue per hour spent making or dollar invested in it.
Always remember that your review can easily make or break your affiliate marketing career in no time. So, spending quality time writing it and thorough research will ensure you move one step closer to your dreams.
Always keep in mind – Writing compelling reviews is not a one-day affair but is a skill you can master with practice.
5. Mistakes when writing affiliate product reviews
To make your task convenient, I have listed six major mistakes that should be taken care of while writing a review on the affiliate product.
Here goes the list:
5.1 Writing fake or bragging reviews
Don't ever write fake reviews to earn money. This will create a massive mess of grabbing attention in the first place. Consider yourself as a customer while writing a review.
If you insist on the customer buying a particular product without conducting in-depth research, then it's of no use. To write a persuasive and authentic review on the product, first, go and buy the product by yourself.
Do not build castles in a dream. When a customer finds your product review worth a read, the conversion rate will increase, leading to good sales of the product.
5.2 Inform about the product, don't sell it.
The excellent quality of an affiliate marketer that reviews products is that he knows what he is talking about in his reviews. Writing reviews for the sake of promoting a particular product will land you nowhere in this world.
Initially, people can fall prey to your false words, but you will find yourself running from pillar to post to earn money in the long run.
I would personally advise you to create a conversation in your review. Talk about the product. Why is it beneficial for the readers? What safety measures need to be taken care of?
Write a review as if you are talking to your next-door neighbor. This sort of quality ensures your reader that you aren't writing an advertisement instead. You're recommending something which has worked for you and can work for them as well.
5.3 Don't plagiarize.
A million reviews exist on the web, yet people don't go through each of them before making a purchase decision. But that doesn't give you an open opportunity to imitate their reviews and point of view about any particular product.
If you want to attract readers, create your unique writing style. You can do so by studying the product and trying it by yourself.
Many reviewers don't try the product because of its pricing. They still write and recommend the product after reading others' reviews. But it's a wrong strategy that cannot yield results in the long run. Once you start writing genuine reviews, you come into the limelight with a huge reader base. Also, you get the products free from the companies to try and report on them.
5.4 Don't deliver incomplete information
What's the use of writing a review in the first place when you cannot provide its complete information? To write the best affiliate product review, you have to step into the reader's shoes to explore the hidden facts about the product.
It could be in terms of pros, cons, uses, features, comparison with the competitor's product, what do people say about it? And finally, would you recommend it or not? It would help if you also emphasized ratings to define their value in the market.
If you don't believe in writing authentic detailed reviews, you will lose your readers. They will explore more reviews and finally make a purchase. So, why do you want to take a risk? Cover up everything from toe to head and see the results by yourself.
5.5 Avoid being impersonal
No! I won't buy your product if you don't share your personal opinion about it. How come on earth you can recommend something out of the blue without sharing your personal experience? As a writer, you need to share your best and worst experiences with a product. There's nothing in this world that is perfect, so a fair and honest review will bring you closer to your readers.
For instance: – You can write it as I do…
*In my opinion, this product scores the best in…………"*
*After making my first purchase with ………………, I got the chance to interact with their fantastic customer care team.*
*When I first purchased the Fat Loss Factor, I got a free bonus DVD of Diet Plan, which helped me customize the diet plan according to my busy work schedule.*
5.6 Don't distract the user
Including too many links and pictures in your review will force the readers to click on each link, and thus they start losing interest in your review and the product. So, include only relevant links and avoid spam links and pictures. Include the affiliate links very carefully so that the reader knows it's there without being forced upon them.
Conclusion on Affiliate Product Reviews
To conclude, being an affiliate marketing blogger for the past four years, I must say I have come a long way ahead. I have also been through the same struggles and learnings, which you must have been going through at present in writing reviews.
However, there comes a time when you learn from your mistakes. This is the right time to promise yourself that you will write a review with the tips mentioned above. Trust me; you won't see the face of failure again. Need help to make money with affiliate marketing? Hire me as your affiliate marketing consultant.
These tips will surely increase your conversion rate and create a good reader base for the rest of your products. Until and unless you don't experience it, you cannot write about it.
So, target the readers by writing genuine product reviews, and you'll find yourself treading on the right path of earning money online.